Are you looking for good Leadpages alternatives? And do you need an easy way to create high-converting landing pages for your small business?
Leadpages is a popular tool among marketers for landing page design and email marketing. But that doesn't mean it's the right fit for every business.
With so many options on the market, it's hard for business owners to know which platform to choose – especially with some lead generation software costing thousands of dollars. So in this article, we'll share some of the best Leadpages competitors and alternatives to support your digital marketing efforts.
TL;DR: Our Favorite Leadpages Alternative
If you're in a hurry and don't have time to read the full article, here are our findings on the top alternatives for LeadPages.
Overall, we belive the best LeadPages alterntive is SeedProd. It's a powerful WordPress website and landing page builder trusted by over 1 million websites.
With drag-and-drop functionality, tons of customizable features, and bloat-free code, it makes building flexible WordPress layouts effortless.
Despite our findings, we believe it's worth checking out the other alternatives on this list below. Click any link to jump to our comparison:
What Is Leadpages and How Does It Work?
Leadpages is a marketing tool that allows you to build landing pages, popups, and more for your marketing campaigns. You can then use these assets to market and connect with your target audience to generate leads.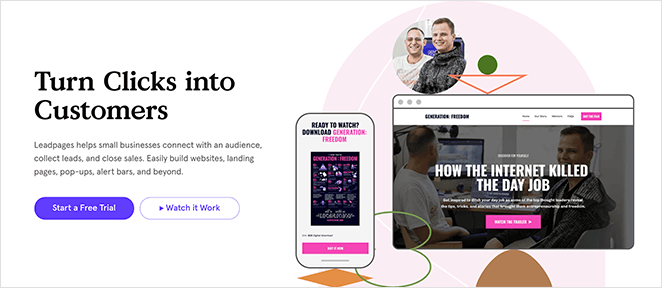 With Leadpages, you can:
Create landing pages for your webinars, books, courses, and other products.
Set up email opt-in forms to collect email addresses and grow your list.
Deliver lead magnets like free downloads to convert visitors into leads.
Create a simple sales funnel linked to your email marketing service.
Carry out A/B testing to see what does and doesn't work.
In short, Leadpages offers a robust set of tools to help you grow your online business. But like any digital product, there are a few areas where Leadpages falls short.
For instance:
If you want to make significant changes to their templates, it isn't easy.
Limited styling options make it hard to match their landing pages to your branding.
Many features are outdated with several bugs.
The user interface doesn't always respond in the way you expect it to.
For such a high price, you don't get a lot of features for your money.
How Much Does Leadpages Cost?
Leadpages currently offers 2 pricing plans to choose from: Standart at $37 per month and Pro at $79 per month.
Plan
Price
Features
Standard
$37 per month (billed monthly)
– 1 site installation
– Free hosting
– Responsive templates
– Lead notifications
– Standard integrations
– Standard tech support
Pro
$79 per month (billed monthly)
– 3 site installations
– Free hosting
– Responsive templates
– Lead notifications
– Standard integrations
– Priority tech support
– Online sales & payments
– A/B split testing
With the above in mind, you may want to look at some Leadpages alternatives to see if there's a solution that's a better fit for your website.
For more details, check out our detailed Leadpages Review. You can also see our guide on Leadpages vs Instapage vs SeedProd to see how they compare.
Is There a Free Alternative to Leadpages?
There are several free alternatives to Leadpages in this comparison that offer free versions and free trials to see if they're the best fit, including:
SeedProd
HubSpot Landing Pages
Mailchimp
What Are the Best Leadpages Alternatives?
Below we round up the best alternatives to Leadpages for your small business. We'll start with our top picks that give you the best features for the smallest price.
Here are the top Leadpages competitors: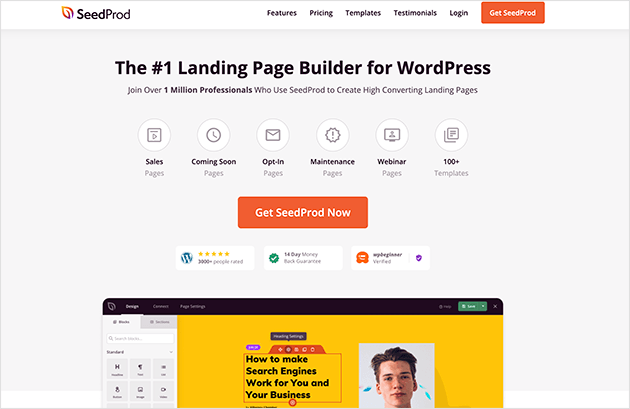 SeedProd is the best website builder and landing page builder for WordPress. It makes it easy to create any type of landing page or WordPress theme without hiring a developer, making it the best alternative to Leadpages.
You can make stunning WordPress themes and landing pages from scratch and use the drag and drop editor to design your layout any way you like and see the changes in real-time. Or you can choose from a wide variety of mobile-responsive landing page templates and customize them in the visual editor.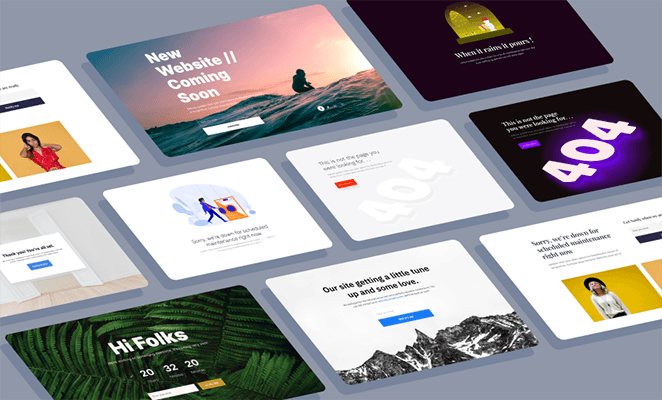 SeedProd has user-friendly landing page templates for many industries and goals, including:
Login page templates
And many more.
It also comes with 4 pre-made landing page modes: coming soon, maintenance, login, and 404. This means you can activate different pages on your WordPress site without installing other WordPress plugins.
The theme builder feature gives you complete design control over your entire WordPress theme.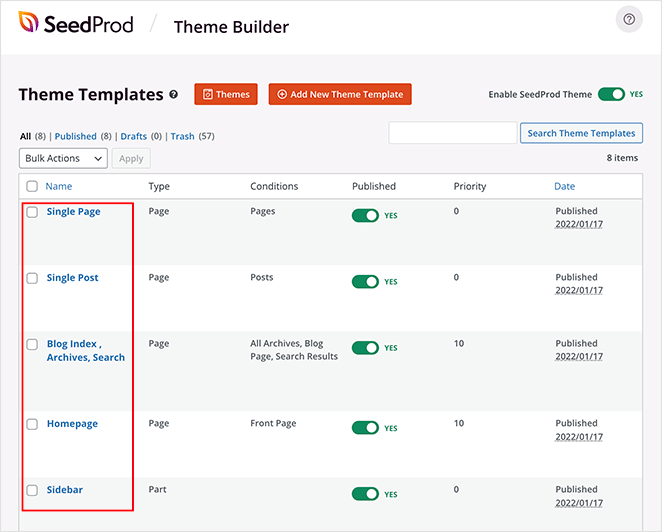 You can either start from scratch and create each part of your theme individually or choose a starter theme that makes each section automatically.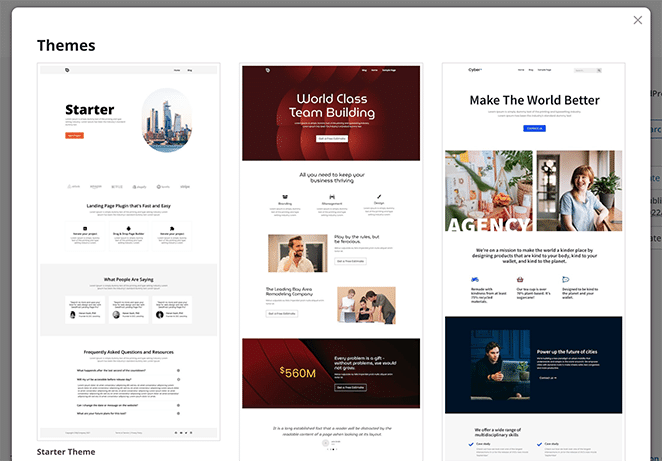 You can customize any theme or page in the lightning-fast visual editor.
To add more functionality to your pages, you can use SeedProd's customizable landing page blocks and sections to add more functionality to your pages. Just drag any block onto your page preview and point-and-click to add your customizations.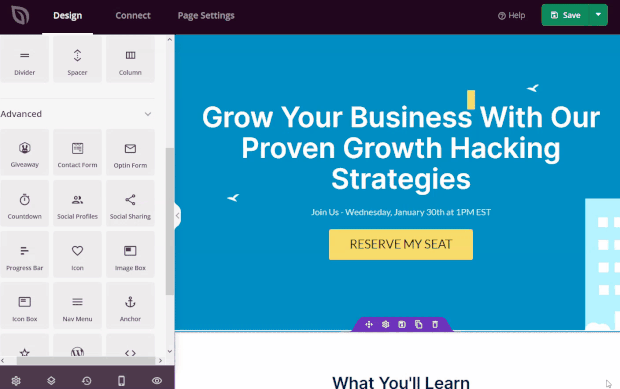 SeedProd's blocks are specifically designed to generate leads for your business and include:
Lead capture forms, like opt-in forms, contact forms, and login forms.
Social media profile icons and sharing buttons.
WooCommerce blocks include add-to-cart buttons, shopping carts, checkout blocks, and product grids.
WooCommerde template tags to display dynamic eCommerce products
Countdown timers and progress bars to create urgency.
RafflePress giveaway widget block for showing online contests.
Testimonials and star ratings for social proof.
Dynamic text replacement to personalize pages based on search results and advertisement
And all the standard elements like buttons, images, video, headings, etc.
You can integrate SeedProd with your favorite email marketing services, like Constant Contact, GetResponse, ActiveCampaign, AWeber, Drip, etc. And you can see your subscribers in its built-in subscriber dashboard.
You can even use your existing SEO and WordPress analytics plugins to control your landing page SEO and performance. And with live mobile previews, you can ensure anything you create works perfectly on mobile devices.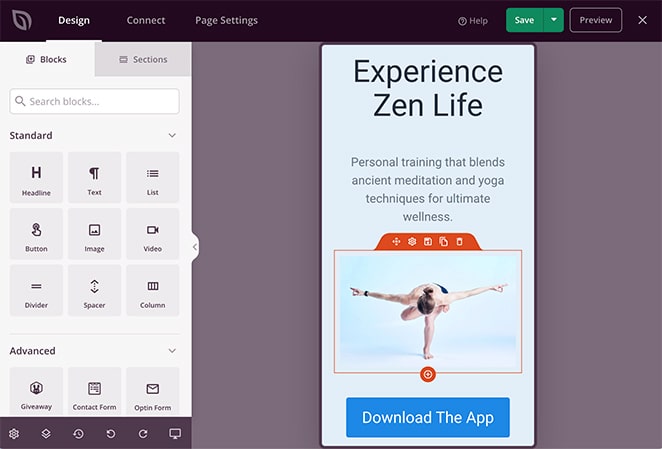 The best thing about SeedProd is it's bloat-free and lightweight. This means any page or WordPress theme you make will load lightning-fast and won't slow your website down.
Compared to Leadpages, SeedProd offers a more beginner-friendly experience, with only the features you need and no extra bells and whistles. And as a bonus, it offers top-notch customer support.
SeedProd Pricing
SeedProd offers both a free and paid version. The free version has everything you need for LeadPage's free alternative.
You can start using the paid version for as little as $39.50 per year for more advanced features.
Get Started with SeedProd Today!
Did you know you can get an unlimited free trial of SeedProd? Click the links to find out how.
2. OptinMonster – Top Alternative to Leadpages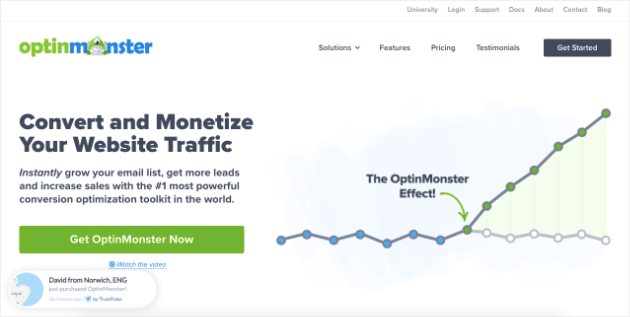 OptinMonster is another one of the best lead-generation tools on the market. It offers an inexpensive way to grow your list with warm leads regardless of the marketing channel to drive traffic to your site.
With OptinMonster, you can quickly build professional "optin campaigns." These are lightbox popups, floating bars, fullscreen welcome mats, etc.
And the best part is that you don't need any coding or design experience to use it. Instead, anyone can create stunning optin campaigns in minutes.
OptinMonster has over 50 pre-built templates to choose from. From there, you can use its drag-and-drop builder to customize your campaign with easy-to-use blocks.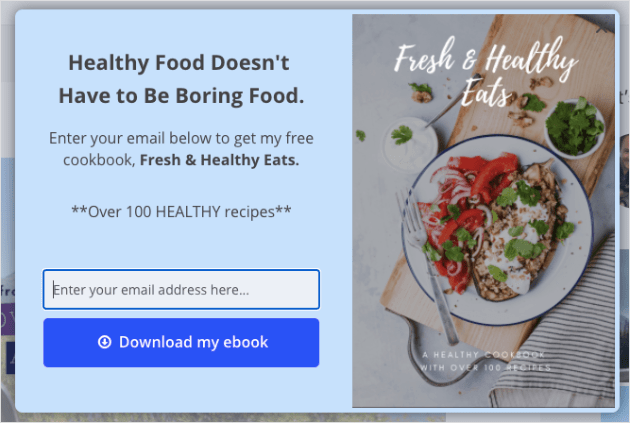 Another reason why anyone can build such highly effective campaigns is OptinMonster's advanced targeting rules. These let you show your offer to the right people, in the right places, at just the right time.
Some of OptinMonster's most popular targeting rules include:
Exit-Intent® Technology: Show campaigns as users are actively leaving your website.
Geolocation Targeting: Display campaigns based on where your user is physically located.
OnSite Follow-Up Campaigns®: Create "drip" campaigns to automate showing new offers based on how your visitors interact with previous ones.
OptinMonster Pricing
OptinMonster is a super cost-effective alternative to Leadpages, with prices starting from just $9 per month for unlimited campaigns. But we recommend the Pro plan for access to all the best features.
Get Started with OptinMonster Today!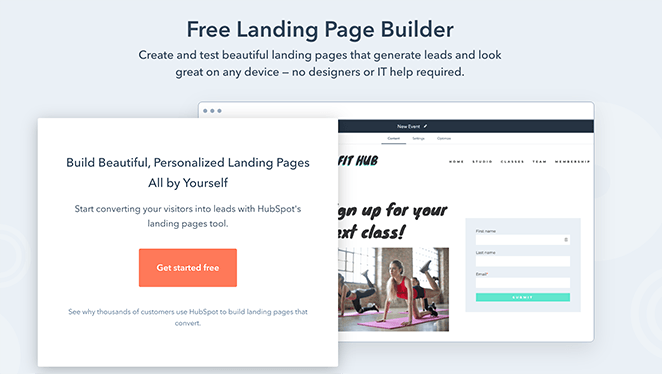 HubSpot's landing page builder is another free Leadpages alternative that lets you build landing pages that fit easily into your marketing campaigns. It has a drag-and-drop editor with several templates for various content offer types.
It has all the basic features you'd expect, including:
Rich text
Forms
Buttons
Videos
You can also use the Meetings module so visitors can book meetings with your sales team right from your landing page.
The landing page builder comes with HubSpot CRM included. With this, you can track people's interaction with your brand.
This allows you to create marketing campaigns that focus on the customer experience. You can also use the HubSpot Academy to brush up on your marketing skills.
HubSpot Landing Pages Pricing
HubSpot Landing pages are free to use. Yet, the page builder modules are limited and lack advanced lead generation features.
For more features, its plans start from $45 per month.
4. GetResponse – Robust Leadpages Competitor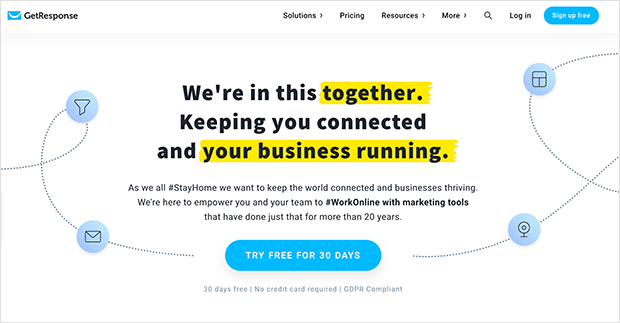 GetResponse is a powerful inbound marketing tool with everything you need to build powerful marketing campaigns. It includes an email marketing platform and pre-built sales funnels that allow you to market to the leads your landing page generates quickly.
GetResponse also has a landing page builder to create your campaigns, making it a fantastic alternative to Leadpages. The page builder includes:
Customizable landing page templates
Drag-and-drop page editor
Live mobile previews
A/B split testing
Popups
Facebook ads integration
And more
You can integrate your pages with your GetResponse email list. Plus, it has Giphy and Shutterstock integration to create highly visual designs.
GetResponse Pricing
GetResponse's cheapest plan starts at $15 per month for a list size of up to 1,000 contacts. It scales up from there for more advanced features and a larger list.
5. Brevo (Sendinblue) – Popular Alternative to Leadpages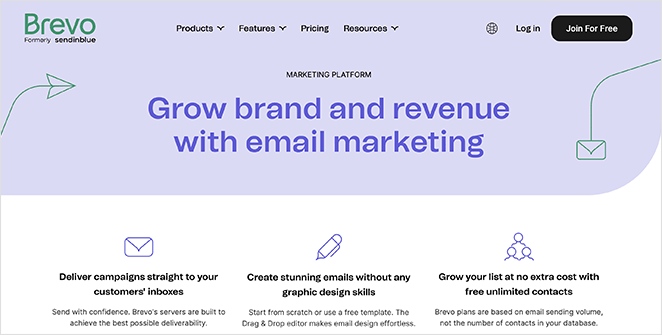 Brevo formerly Sendinblue, is a powerful marketing automation tool widely used by many small businesses. It's easy to use and has a plugin to help you integrate with WordPress.
Brevo offers a suite of tools to help you communicate with your customers effectively, including:
Email marketing
SMS
Facebook Messenger
CRM
Marketing automation
And more
It also offers a drag-and-drop landing page creator to drive leads and conversions to your website. With various landing page templates, you can quickly create a design to fit your needs.
Brevo Pricing
Brevo has a free plan for just its email marketing for up to 300 emails per day. But to use its landing page builder, marketing automation, and other features, you'll need the premium plant that starts from $65 per month for 20,000 emails.
6. Mailchimp – Free Leadpages Alternative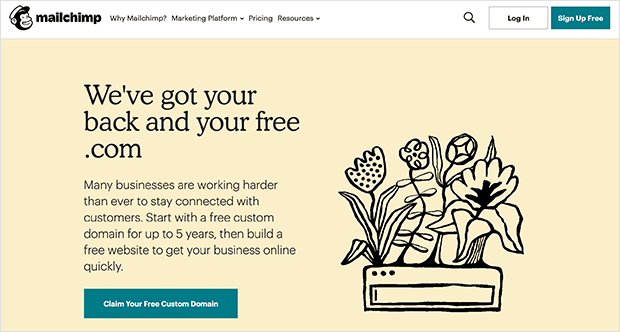 Where Mailchimp was once just an email marketing service, it now has a full suite of marketing tools. These tools help small businesses get up and running with their marketing efforts quickly and easily.
One of their tools is a drag-and-drop landing page builder that works with their ads, email, and social media tools. That way, you can build effective landing pages that match your brand.
Mailchimp also integrates with tons of services, such as:
Eventbrite
Calendly
Social media networks
WooCommerce
And more.
Mailchimp Pricing
Mailchimp's landing page builder is free for up to 2,000 contacts. But you'll need to upgrade to a paid tier to collaborate with teammates, access more templates, or optimize your campaigns. Paid tiers start from $9.99 per month for basic features.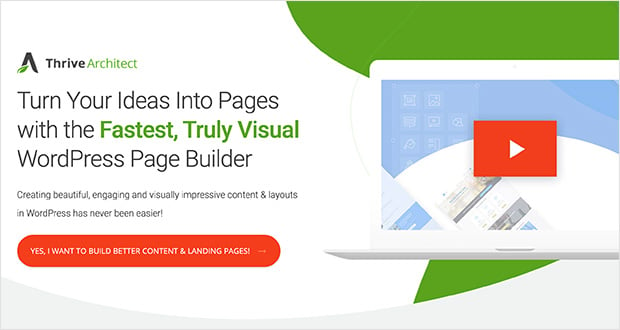 Thrive Architect is another great Leadpages alternative. It was created by the team behind Thrive Themes, a company that sells conversion-focused WordPress themes and plugins.
It's a visual WordPress page builder plugin and website builder that allows you to create beautiful landing pages visually in its drag-and-drop page editor.
With tons of responsive landing page designs and modules, it's easy to design a high-converting page quickly. You can create a stunning homepage, sales page, blog posts, and more right inside WordPress.
Thrive Architect Pricing
Thrive Architect's pricing starts at $67 for a single site license or $19 per month for Thrive membership.
8. Unbounce – Popular Leadpages Substitute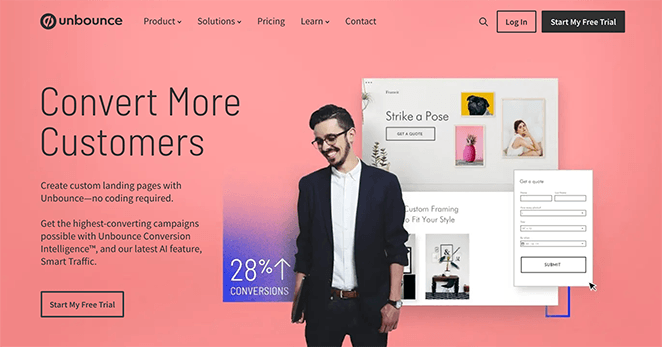 Unbounce is an online platform that helps you build landing pages to assist your business marketing strategy. Its primary focus is on creating landing pages, but it includes several features that, when combined, help you convert visitors into leads and customers.
Unbounce has 100+ landing page templates you can use with its drag-and-drop editor. You can also use them quickly on your WordPress website.
Other features include:
A/B tests to see what works best
Popup Builder and sticky bar feature
Dynamic text replacement for landing page personalization
AMP landing pages
But while it's a powerful platform, it's also expensive, as you'll see below.
Unbounce Pricing
The pricing for Unbounce starts at $80 per month.
9. ClickFunnels – Alternative Solution to Leadpages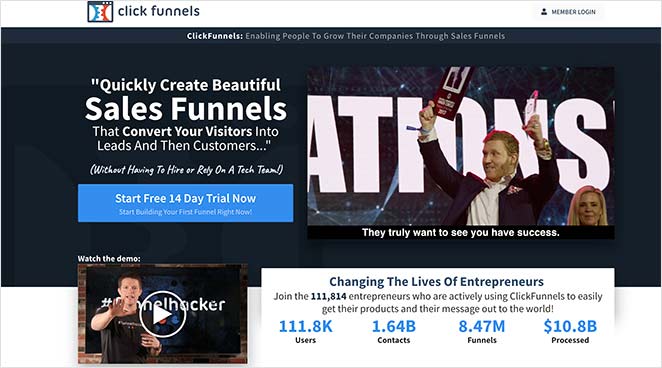 ClickFunnels is a sales funnel builder that allows you to market, sell, and deliver products online. It comes with a suite of tools that helps you build a complete sales funnel, including:
Drag-and-drop builder
Email marketing
And more
ClickFunnels comes with several pre-built sales funnel templates that you can customize in its drag-and-drop funnel builder. It's an easy solution and doesn't require any technical experience to set up and run.
ClickFunnels Pricing
ClickFunnels costs a lot more than its competitors. The basic plan starts at $97 per month.
Related: ClickFunnels vs Leadpages vs SeedProd: Which is Best?
10. OptimizePress – Leadpages Alternative for WordPress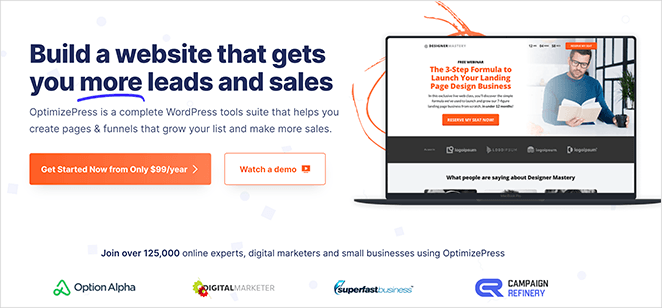 OptimizePress is another landing page plugin for WordPress. It allows you to easily create landing pages, sales pages, and membership sites in WordPress.
You can make almost any type of page with this plugin and use it to offer website visitors free downloads in exchange for their email list. It also has a variety of customizable landing page templates you can edit in its page builder.
Other OptimizePress features include:
One-click upsells and downsells
Premade sales funnels
Membership and content delivery
Integration with popular email marketing tools
And more.
OptimizePress Pricing
The pricing for OptimizePress starts from $99 per year for a single website.
11. Instapage – Popular Leadpages Replacement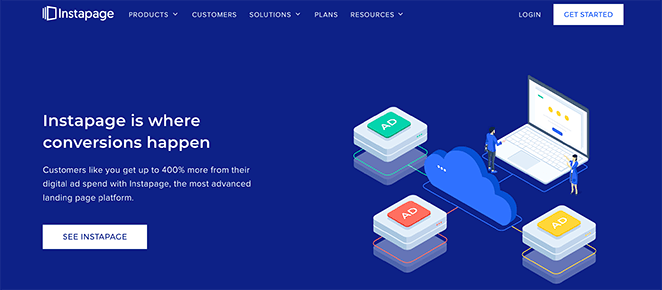 Like other solutions on this list, Instapage includes an easy-to-use landing page editor and a variety of templates for creating your page quickly.
Instapage also has a feature called AdMap. This lets you imagine how well your ads match your landing pages and see your campaigns' effectiveness.
You can also allow people to leave comments on your landing page design. This is a great way to collaborate on marketing campaigns with your team members.
Other Instapage features include:
Heatmaps to see where people are looking and clicking.
Access to Bigstock images (pay for each image separately).
AMP support for Google AMP landing pages.
Form builder & asset delivery
See how Instapage compares in this Instapage vs ClickFunnels vs SeedProd comparison.
Instapage Pricing
Instapage's pricing starts at $199 per month or $149 when paid annually. If you prefer, you can check out these great Instapage alternatives.
Which Leadpages Alternatives Are the Best?
After looking at the solutions on this list, which is the best Leadpages competitor?
In our opinion, the answer is clear. SeedProd is the best Leadpages alternative. SeedProd has everything you need to create WordPress landing pages that convert.
From its genuinely visual drag-and-drop page builder and templates library to customizable blocks explicitly made to generate leads, it's a must-have tool for marketing your business.
Plus, it offers many fantastic features for such a small price.
FAQs
Is there a free alternative to Leadpages?
Yes. SeedProd, the best WordPress page builder, offers a free version you can download from the WordPress plugin repository.
Which is better, Leadpages vs ClickFunnels?
Leadpages is better than ClickFunnels because of its cheaper price. However, ClickFunnels has many more features. A good solution with a low price point and extensive features is SeedProd.
What is the difference between ConvertKit and Leadpages?
Leadpages is a landing page creator with lead-generation features. However, ConvertKit is primarily an email marketing and automation solution.
There you have it!
We hope this article helped you find the best Leadpages alternatives for your business. You might also like our guide on landing page best practices for incredible conversion rates.
If you liked this article, please follow us on Twitter and Facebook for more helpful content to help grow your business.