Are you looking for the best social media plugins?
Maybe you tried to install a social media plugin on your WordPress website, leading to a broken or slow site.
This is a common problem many website owners face. Some social media tools don't perform the way you expect them to, and some lack the features you need to grow your online presence. So which social media plugins should you be installing?
In this post, we'll look at the best social media plugins for WordPress that you can start using right away.
But before we start, what exactly is a social media plugin?
What Is a Social Media Plugin?
A social media plugin is a tool that allows you to connect your WordPress website to your social media accounts.
It can do this with:
Social Media Share Buttons: Buttons that allow website visitors to share your content.
Social Media Profile Buttons: Icons that link your social media accounts so users can follow you.
Social Media Feeds: Embeddable feeds of social media content you can show on your website to engage your visitors.
Social Media Auto Posting: Plugins that automatically share your WordPress content to your social media channels.
Besides helping to grow your social media followers and brand awareness, social media plugins are an excellent way to enhance your WordPress site's functionality. You can install them right away and won't need help from a developer.
But how do you choose the right social media plugin for your website?
How to Choose the Right Social Media Plugin?
The problem with many social plugins for WordPress is their performance. Often they load extra scripts and stylesheets that can slow your website down.
When choosing a good social media plugin, it's important to get the right balance between features, usability, and performance. A plugin with lots of features might not be as useful if it's slowing down your site and is hard to use.
You should also think about which social networks you want to show on your website. Displaying too many options can cause clutter and confusion for your visitors, so keep them to the minimum to improve your website's user experience.
Lastly, consider where you want to show your social sharing buttons. Some plugins let you show them before a post, after a post, or even as a floating sidebar. Choose a WordPress plugin that offers the positioning you prefer most.
Recap: When choosing a social media plugin, think about:
Performance
Which platform the plugin supports
Social sharing button styles
Ease of use
With the above in mind, let's look at the top social media plugins on the market.
Best Social Media Plugins for WordPress
Considering how many social media plugins there are, we've narrowed them down to the very best solutions. All of the social media plugins below are easy to use, have excellent features, and perform seamlessly with WordPress.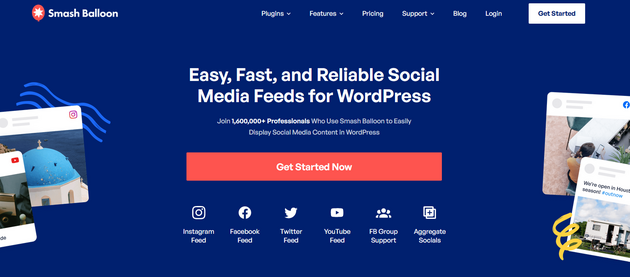 Smash Balloon is, hands down, the best social media plugin for WordPress. In fact, it's a whole suite of social media plugins that allow you to show social feeds from the top 4 platforms on your website.
Here's an overview of each plugin:
These plugins include in-feed social follow and sharing buttons, customizable layouts, and are easy to use right out of the box. As a result, you can grow your social followers, increase social engagement, and keep your WordPress site updated with fresh, relevant content.
Get started with Smash Balloon Today.
Or for more details, see our Smash Balloon review.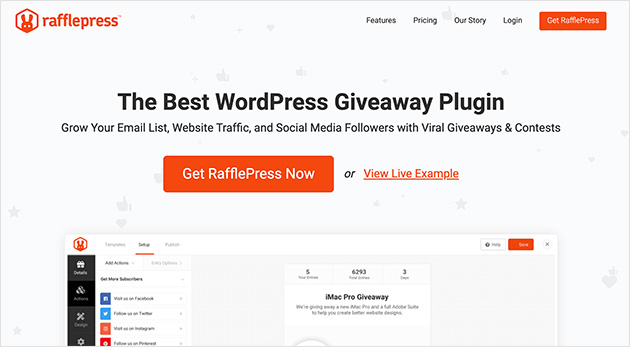 While RafflePress isn't a conventional social media plugin, it's one of the fastest ways to increase your social following and drive traffic to your WordPress website. As the best WordPress giveaway plugin on the market, it allows you to create insanely popular online contests that can make you go viral on social media.
It does this by making it easy to create any contest on your WordPress website that you can promote on social media. You can then reward people that enter your contest with extra entries if they:
Share your post on social media
Follow your social media accounts
Like your post on social media
Refer friends to your contest (viral sharing)
And more
RafflePress also includes pre-made giveaway templates designed to help you grow your social media followers on Instagram, YouTube, Twitter, and Facebook. Each template includes the giveaway actions needed to create a viral social media contest.
With distraction-free giveaway landing pages, you can also drive tons of targeted traffic to your business website.
By creating viral social media contests, it's easy to increase your follower count.
Get started with RafflePress today.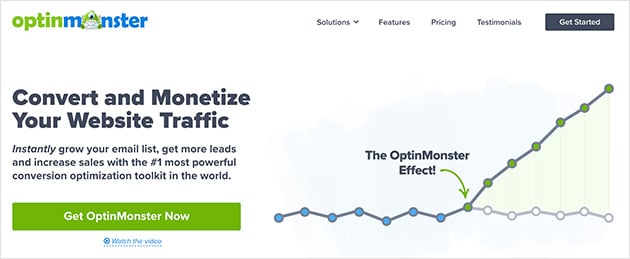 While OptinMonster is the best lead generation software for small businesses, it's also another fantastic way to increase your social media presence. This is because OptinMonster includes tons of optin campaigns like:
Slide-in scroll boxes
Floating bars
Welcome mats
And more
And each campaign includes templates specifically designed to grow your followers on popular social media platforms.
Here's an example: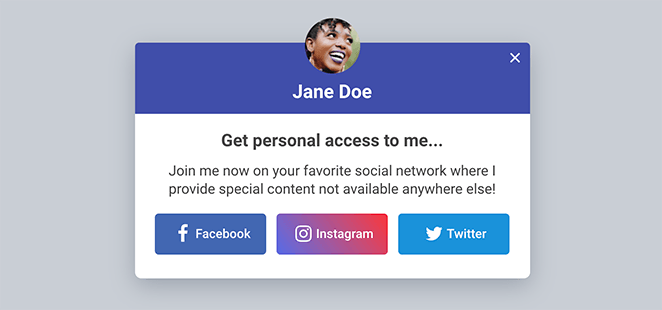 With campaigns like this, you can take advantage of OptinMonster's powerful lead generation tools and use them to benefit your social media marketing efforts.
For instance, you can:
Use Exit-Intent Technology to target WordPress users when leaving your site with exit popups, and ask them to visit your social profiles.
Add a slide-in timed to display when users finish reading a post, asking them to share it on social media.
Use A/B testing to see which campaigns generate the best results.
In the end, you have a tool that can both increase leads on your website and connect with more people on social media.
Get started with OptinMonster today.
4. Monarch

Monarch is a popular social media plugin for WordPress created by the team at Elegant Themes. It allows you to add social media share buttons to several different areas on your WordPress website.
You can add sharing buttons to:
Floating sidebars
Above and/or below content
On images and videos
Automatic sharing popups
Automatic popup fly-ins
Monarch lets you choose from over 35 social media profiles and networks and allows you to show your existing follower count. You can also show follow buttons in any WordPress widget area or with a shortcode.
This social media plugin is highly customizable, with settings to change button shapes, colors, and positions. Plus, you can view your social media statistics in your dashboard easily.
Get started with Monarch today.
5. Social Warfare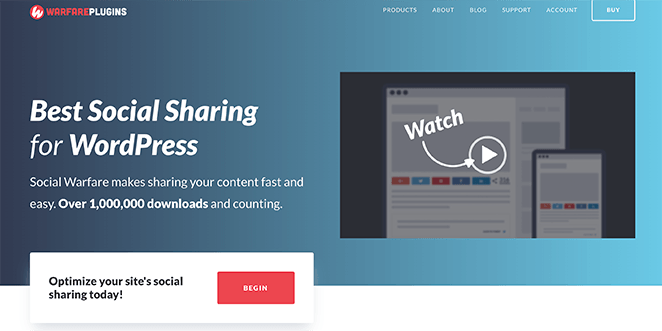 Social Warfare is another one of the best social media plugins on this list. It allows you to control what people share from your site on social media and how they share it.
With Social Warfare, you can add custom social media titles and images to your posts tailored for each social platform. This is especially helpful for increasing clicks and visits to your website content.
You can also use:
Popular posts widget to show your top posts based on the number of social shares.
Analytics tracking to see the performance of your social media posts via Google Analytics.
Share recovery to retrieve share counts after changing your website's permalink settings.
Social Warfare has a free version with everything needed to add social sharing options to your website. The premium version includes extra social media networks, "pin it" buttons, share counts, and more.
Get started with Social Warfare today.

Shared Counts is one of the best free social media plugins for WordPress. It lets you show how many shares blog posts and other content on your website get on different social media platforms.
This plugin supports several platforms, including:
Facebook
Pinterest
Twitter
LinkedIn
Yummly
Email
Print
You can choose multiple button styles, positions and even enable it for custom post types in WordPress.
Shared Counts automatically collects the share count from each social network. Alternatively, you can choose to show just the total number of shares.
Get started with Shared Counts today.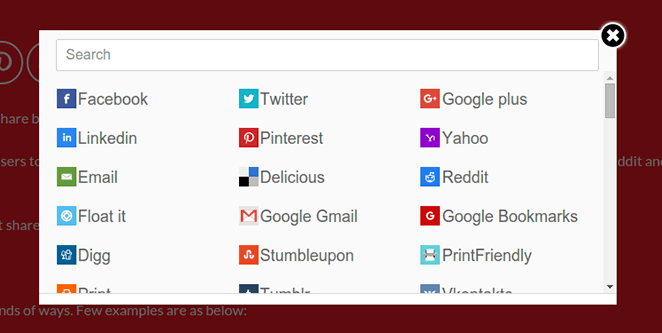 Sassy Social Share is a popular social media sharing plugin for WordPress. It allows your website visitors to share content on their favorite social media channels easily.
This WordPress plugin has support for a variety of social media websites. It lets you add share buttons in your post content and as a sticky floating social menu.
Sassy Social Share comes with several button styles, position settings and supports social share counts. It's lightweight, so it won't impact your page load speeds and works seamlessly with BuddyPress and WooCommerce.
Even better, this plugin is free, so it won't cost a thing.
Get started with Sassy Social Share today.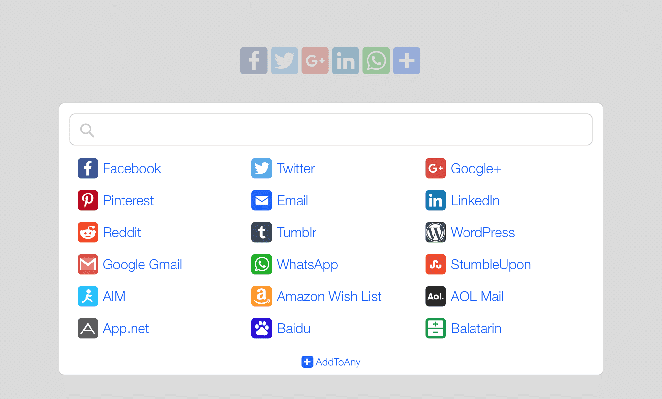 AddToAny Share Buttons is another top free social media plugin. If you want a light-weight and simple plugin with universal social sharing options, it's an excellent choice.
It supports:
Multiple social media platforms
Both floating and standard floating bars
Universal sharing menu
Social counts
And more
This plugin also integrates with Google Analytics to track your social media performance. And when it comes to website performance, it has one of the smallest footprints compared to the alternatives.
Get started with AddToAny Share Buttons today.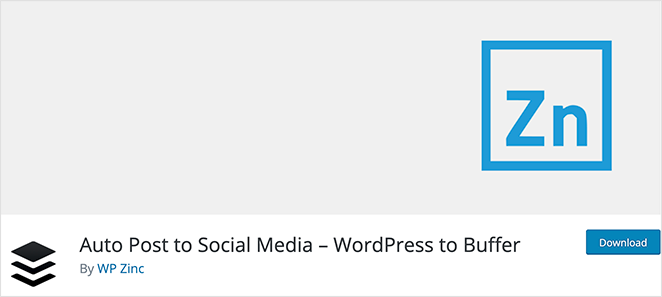 If you use the popular social media management tool, Buffer, you'll love WordPress to Buffer. This social media tool allows you automatically add updates to your Buffer queue whenever you update, schedule, or publish content on your WordPress website.
This is an excellent, free way to drip-feed your content to your Facebook, Twitter, LinkedIn, Pinterest, and Instagram social media profiles via Buffer.
You can use Buffer's default schedule or create one with the times and days that suit your marketing strategy. With dynamic tags, you can pull the title, post excerpt, and images from your content and add them to your updates automatically.
Plus, Buffer's smart technology ensures you won't face suspension for accidentally posting the same content more than once.
As a result, you can safely grow and engage your website traffic and social media following.
Get started with WordPress to Buffer today.

Just like the name suggests, Simple Social Icons is an incredibly easy-to-use, lightweight social media plugin for WordPress websites. It allows you to show simple social media follow icons in any widget-ready area and WordPress sidebar.
While the number of social platforms is limited, it covers all of the most important channels. You can also choose:
Icon colors and background-color
Custom icon size
Icon border-radius
Add your own icons
You can also reorder the icons to put your most important profiles at the top. Overall it's a free and easy plugin to use that won't impact your website's performance.
Get started with Simple Social Icons today.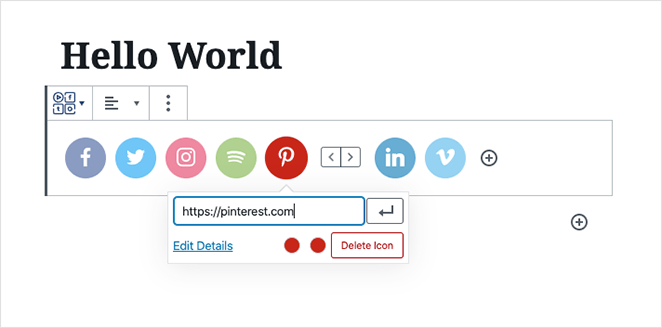 Social Icons Widget & Block by WPZoom is another excellent free social media plugin. It lets you add icons with links to your social profiles in WordPress.
This plugin comes with several icon sets, allowing you to link to more than just your social media profiles. You can customize the icon colors and borders and add them to your website using the easy sidebar widget.
It's also possible to add icons inside your content with the handy WordPress block. This is an excellent solution if you use the block editor.
Get started with Social Icons Widget & Block by WPZoom today.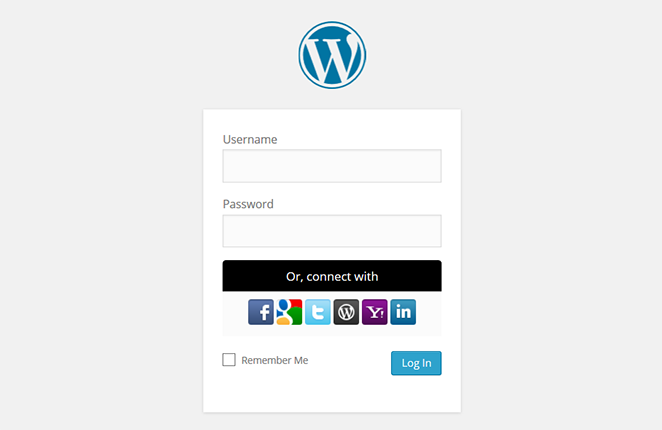 WordPress Social Login is a handy free social media plugin that lets your website visitors register and log in to your website with their social media accounts. This saves them from filling in lengthy registration forms.
It's an easy plugin to use with support for several social networks, including:
Facebook
Google
Twitter
Windows
LinkedIn
Reddit
Tumblr
Instagram
Twitch
And more
It has simple and flexible customization options and allows complete control over people's access to your website.
Get started with WordPress Social Login today.

Revive Old Posts is another one of the best social media plugins for WordPress we can't leave off this list. It allows you to automatically share old WordPress posts to social media, breathing new life into otherwise long-forgotten content.
You can automatically share old content to Facebook, Twitter, LinkedIn, and Google My Business, and even share posts right when you publish.
Here's what else this plugin includes:
Share posts, pages, media, and custom post types
Add optimized hashtags from post tags, categories, or custom fields
Share content multiple times
Use multiple custom messages and hashtags per post
Track clicks with Google Analytics
And more
Revive Old Posts is easy to set up and gives the older content on your website the extra vitality it needs to generate more traffic and engagement for your business.

Better Click to Tweet is a popular WordPress social media plugin that allows you to add tweetable content to your website. Its easy WordPress block or shortcode adds a customized quote box that users can click to tweet on social media.
This plugin supports URL shorteners, which lets you utilize as many characters as possible. It also lets you track the engagement of your Tweetable content.
A premium addon for Better Click to Tweet is available with different styling options.
Get started with Better Click to Tweet today.
And there you have it!
We hope this article helped you find the best social media plugins for your WordPress site.
If you'd like to improve your website's search engine optimization, you might also like these best SEO plugins for WordPress.
And don't forget to follow us on Facebook and Twitter for more helpful tips and tutorials.