Are you looking for a detailed TrustPulse Review?
Many of our readers have asked if we think TrustPulse is the best social proof app. With TrustPulse, you can easily create real-time notifications to build your brand's credibility. So when your visitors land on your website, they'll see people buying from you and enjoying your content.
With your questions in mind, we've put together this TrustPulse review highlighting the features, ease of use, and pricing so you can decide for yourself.
Before diving into our TrustPulse review, let's explore what TrustPulse is and how it works.
TrustPulse Review: Hands-On
What Is the TrustPulse Social Proof App?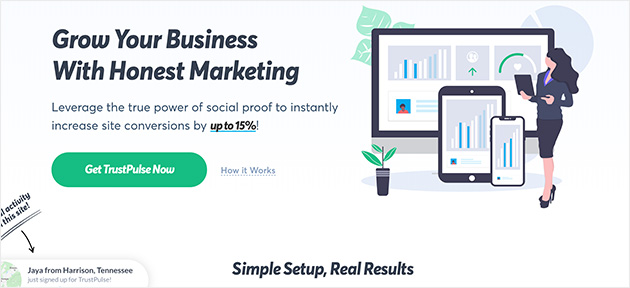 TrustPulse is a social proof app that lets you create stunning real-time messages for your site and is trusted by over 1 million websites.
With its easy notification editor, you can build eye-catching social proof notifications. Each time someone takes action on your website, you can trigger a new message to pop up on your screen.

You can display a social proof message whenever someone:
Makes a purchase
Joins a newsletter
Leaves a comment on your blog post
And more.
In fact, you can highlight pretty much any type of conversion.
These alerts may be tiny, but they're powerful. That's because they give your site visitors the confidence to take action on your site.
Many TrustPulse customers report increasing conversions by as much as 15%.
When someone new visits your website, they have no reason to trust you. After all, the internet is filled with tons of exaggerated claims with little evidence to back them up.
This makes it hard for people to sort through the noise to find the products, services, and content that are truly worth their time.
That's where social proof can help.
Social proof is like a stamp of approval. Like many of the most powerful marketing techniques, social proof notifications are based on established human behavior.
It's the idea that we turn to others for help making decisions, especially when we're not sure what to do. Social proof is why we check online reviews before practically any type of purchase these days.
Displaying social proof notifications on your website sends the right signals to your site visitors. It shows people, maybe even people just like them, are gaining value from your business.
And that's where TrustPulse can help!
Now that you know what TrustPulse is, let's kick off our TrustPulse review by looking at its many features in detail.
TrustPulse Review: Social Proof App Features
TrustPulse comes with a suite of features to let you quickly create stunning social proof notifications. Here's a breakdown with a little more detail.
Real-time Event Tracking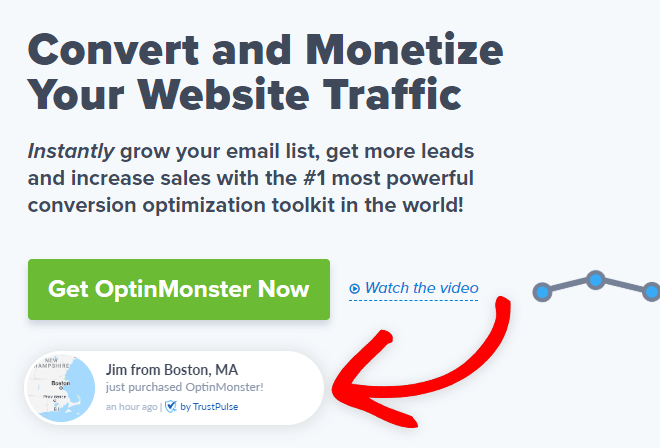 TrustPulse will show a live stream of activity on your website. With a few clicks, you can display purchases, newsletter signups, webinar registrations, and more as they happen.
On-Fire Social Proof Notifications

On-fire notifications let you aggregate the activity of groups of people over time. These are great for time-sensitive offers, like flash sales and online giveaways.
Easy Notification Editor
With TrustPulse, you can customize your notifications without writing a single line of code. You can change the color, copy, and images to match your website and brand.
Targeted Display Settings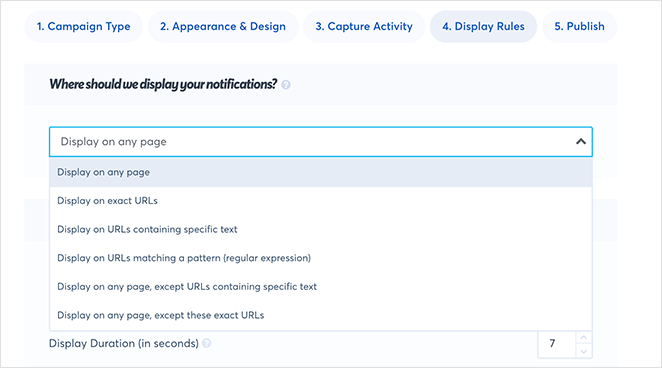 It's also possible to choose exactly where and when to show your notifications. Whether you want to display your messages across your website or on select pages only, you'll be able to fine-tune your display settings.
Simple WordPress Integration
TrustPulse works on any website, including WordPress and Shopify. Adding TrustPulse to your WordPress website is as easy as downloading and activating the plugin.
Analytics
View analytics to find your best-performing notifications. Using the data, you can view the pages that deliver the highest conversions.
Using the TrustPulse Social Proof App
Now that you're aware of TrustPulse's robust features, let's look at how to use it.
One of the great things about TrustPulse is it's incredibly easy to set up and use. You'll go from creating your account to setting your notifications live on your site in 3 minutes or less.
It's really that simple.
Let's look at the steps.
Step 1: Choose Your Social Notification Type
The first thing you need to do is click here to get started with TrustPulse. After that, log in to TrustPulse to see your dashboard.
From there, click the Create Campaign button on your dashboard.

Now, you'll be able to choose your notification type.
Here, you'll have two options:
Recent Activity
On-Fire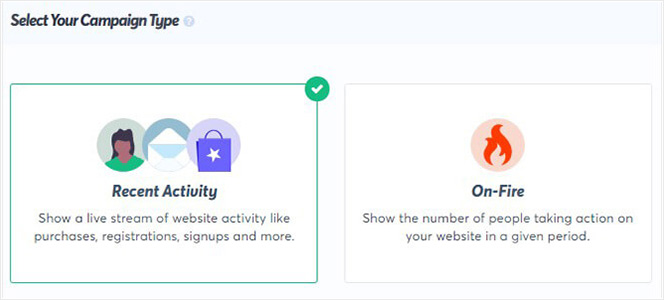 Let's take a closer look at how each of these works.
Recent Activity notifications are great for showing a live stream of activity on your website. For example, each time someone makes a purchase, you'll be able to trigger a new notification.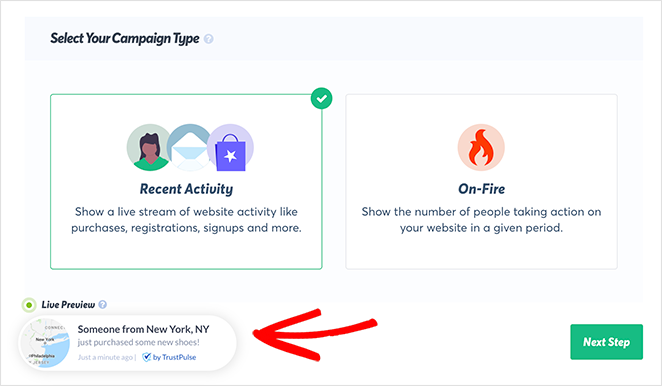 On-Fire notifications, on the other hand, aggregate the actions of groups of people. They're great for when you expect lots of conversions around the same time. Site owners use on-fire notifications to create buzz for limited-time offers, like flash sales or preorders.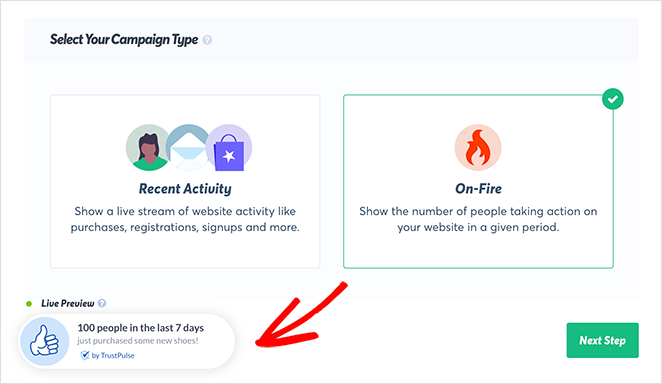 Today, we'll go with Recent Activity because we want to show a new notification each time someone takes action on your site.
Once you've selected your notification type, you're ready to customize your notification.
Click the Next Step button.
Step 2: Customize Your Social Proof Notification
On the next screen, you'll see the TrustPulse notification editor.
Here you can change everything about your notification even if you have no coding or design skills.
The first thing you'll see is your editing options.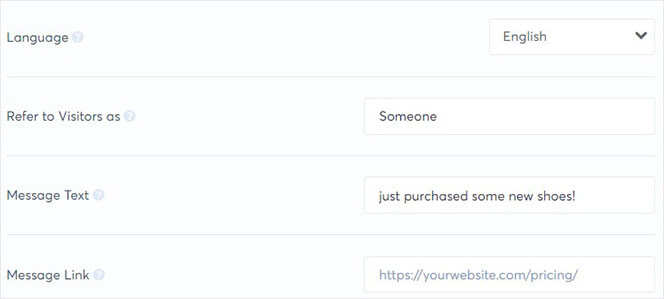 To change anything about your social proof message, you simply need to add some text to a field or choose from a dropdown menu.
Here are some of the important fields you might want to customize:
Language: the language your message will be displayed in
Message text: the copy in your notification
Message link: the page your visitor will be sent to when they click on your notification
That covers the content of your notification. How about the appearance?
By default, your social proof message will have an image of a map. If you prefer, you can a default image or upload one from your computer.
It's also possible to change the position, style, and size of your notification.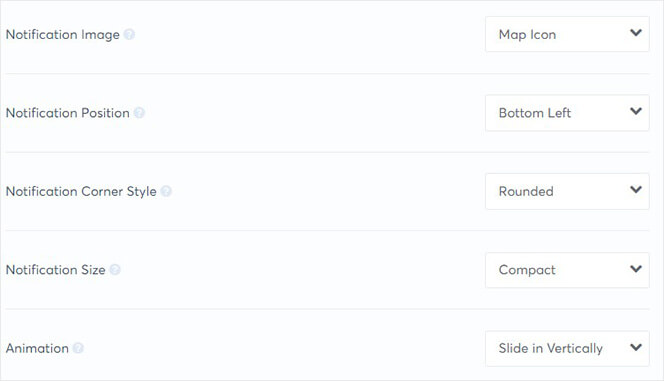 Click the Advanced Settings heading to access additional editing options, like fonts and colors: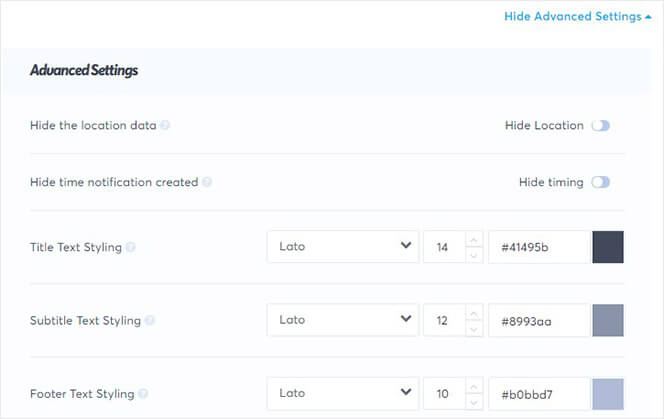 The next step is to capture activity on your site.
Step 3: Capture Activity
In this step, you can tell TrustPulse which activity you want to track. In other words, which conversions do you want to display to new site visitors?
You'll want to highlight the kind of action you want to see more of. Looking to increase newsletter signups? Trigger a new message the instant someone joins your list. Want to increase sales? Show a real-time notification whenever someone buys from your online store.
TrustPulse comes with two options for capturing activity:
AutoMagic
Zapier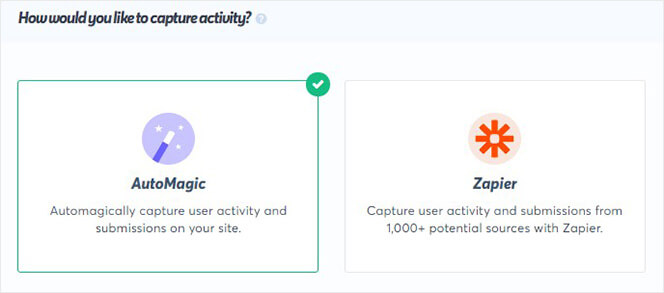 Here's how these methods work:
AutoMagic automatically records activity on your website. Zapier, on the other hand, tracks activity off your site from more than 1,000 sources. So, when someone leaves you a Yelp review, you can show that.
Today, we'll go with AutoMagic.
Next, you can choose the form activity you want to track.
Head over to the section called Where should we watch for activity on this site?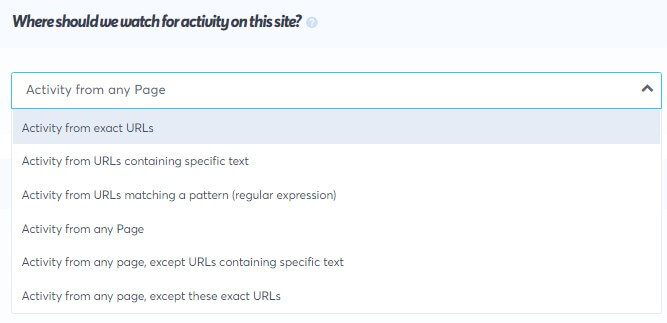 From here, you can decide to capture activity from:
Exact URLs
Any page
From URLs containing specific text
And more.
Once you've selected the activity you want to track, click Next Step.
Step 4: Display Social Proof Notifications
You can display your social proof notifications anywhere on your website.
By default, notifications will appear on all pages, but you can target specific pages.
Head to Where should we display your notifications?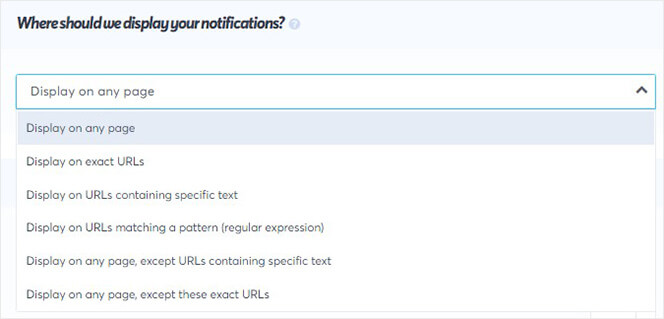 Then, you can control other notification settings, like:
Duration of the notification display
Whether to load notifications on mobile
Show notifications on loop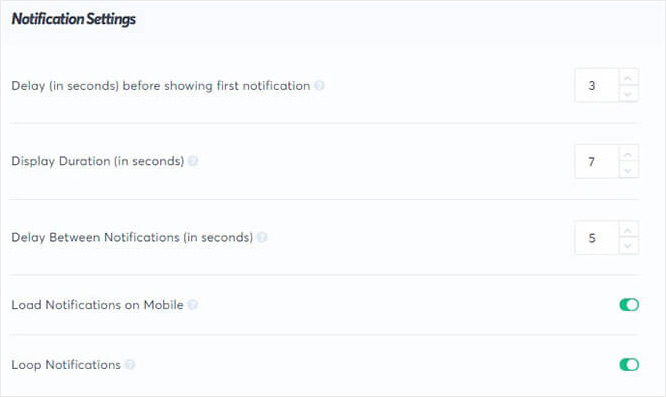 Click Next Step to publish your notification to your WordPress site.
Step 5: Publish Your Social Proof Notifications on Your WordPress site
The final step is to launch your notifications.
If this is your first notification, your site might not be connected yet. Don't worry. Adding TrustPulse to your WordPress site is quick and easy.
All you need to do is download the TrustPulse plugin.
So, head over to WordPress and download and activate the TrustPulse plugin.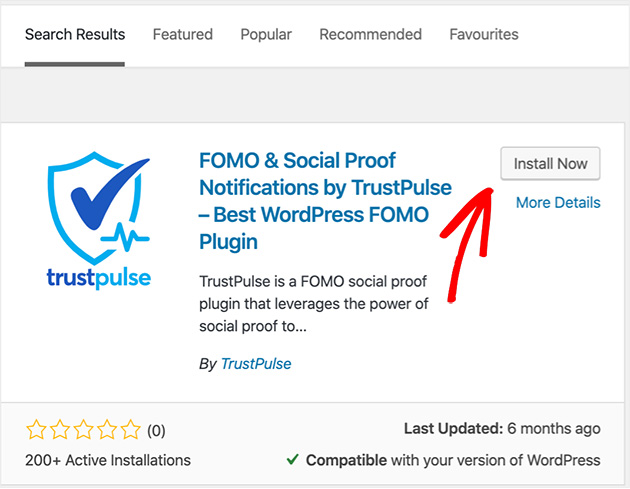 Once TrustPulse is activated on your website, click the TrustPulse icon in your WordPress admin panel.
From there, click the Connect Your Existing Account button.

Now, you'll need to return to TrustPulse to confirm your account has been connected properly.
Click the Check Now button.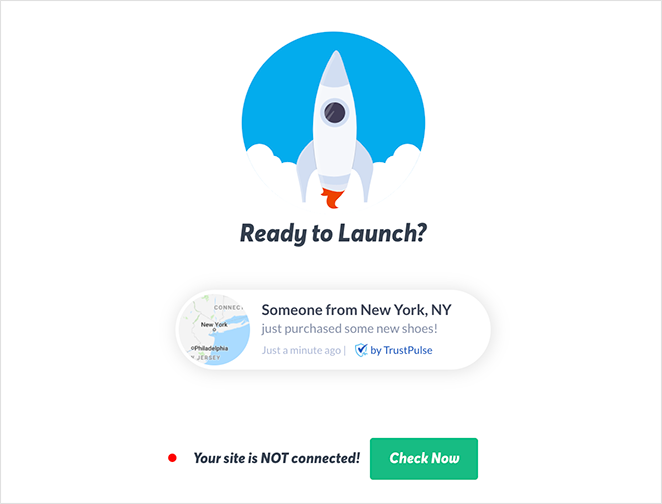 Once your site is connected to TrustPulse, you can launch your campaign in WordPress.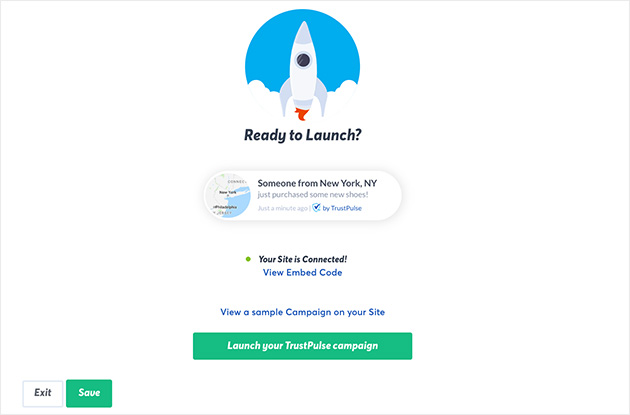 TrustPulse Review: Pricing
TrustPulse offers flexible pricing for businesses of all sizes. The right plan for you depends on the number of sessions you need.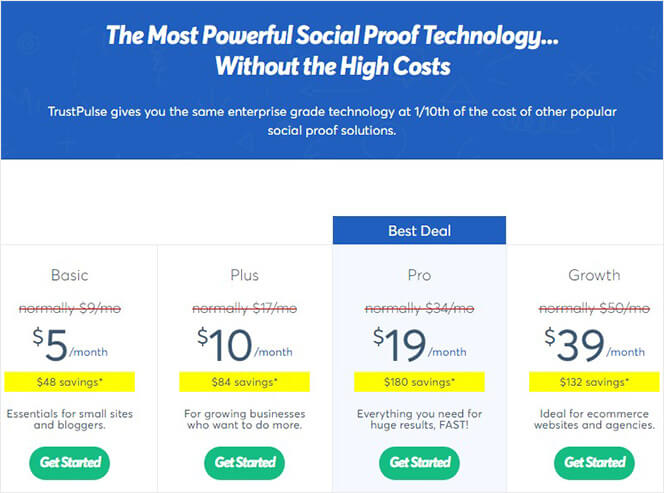 You can start from as little as $9 per month for 2,500 sessions, and all plans come with a 100% refund.
Now that you know what TrustPulse is and how it can help boost your website's conversions, is it really the best social proof plugin for WordPress?
We hope you found this TrustPulse review helpful. If you did, please join us on Twitter and Facebook for more useful tips and tutorials.