Do you want to know how to create a WordPress website for beginners?
Every day, thousands of people decide to make their mark online, and a WordPress website is often the first step. Whether you're looking to start a blog, showcase your portfolio, or set up an online store, WordPress makes it easy to create your own website, even if you're a beginner.
In this guide, we'll show you how to create a WordPress website from scratch.
And the best part? You don't need any coding skills or a degree in web design to get started.
Why Use WordPress to Create a Website?
A combination of factors makes WordPress the go-to platform for website creation. First and foremost, WordPress is incredibly popular. It powers over 43% of all websites on the Internet.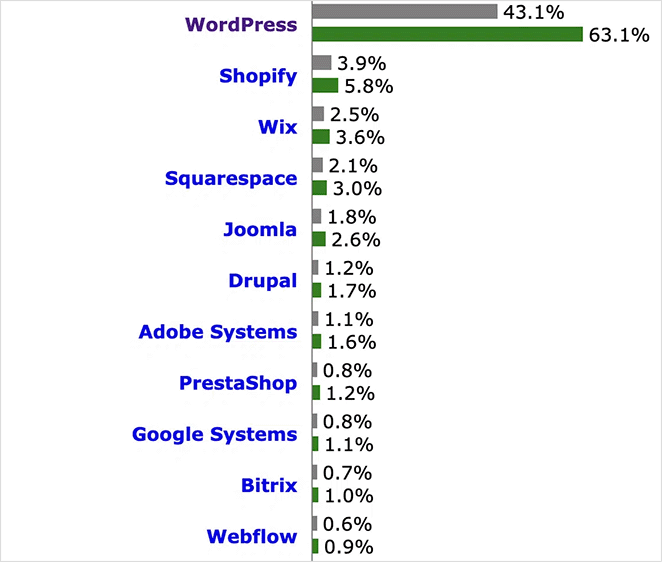 Whether you're a hobbyist looking to start a personal blog or an entrepreneur aiming to scale your business, WordPress can accommodate your needs. It's open-source, and you can customize it to your heart's content, making it as simple or as complex as you like.
With over 58,000 plugins available, you can add all sorts of functionality to your site without writing a single line of code. From SEO tools to eCommerce solutions, the WordPress plugin repository has it all.
Furthermore, WordPress is ideal for beginners. There are countless forums, tutorials, and resources available to help you navigate your WordPress journey.
Think of WordPress as your online toolkit for building websites.
What You Need to Create a WordPress Website
Before diving into this step-by-step guide on how to create a WordPress website for beginners, you'll need to gather some necessary tools and understand some basic concepts.
Here's what you'll need:
A domain name: This is the web address where visitors can find your site. Think of it as your online street address.
Web hosting: This is essentially the online "land" where your website will live. There are numerous providers for both, and we'll discuss how to choose the right ones later in this guide.
If you're new to website creation, you might be wondering what a Content Management System (CMS) is. In simple terms, a CMS is software that helps you create, manage, and modify content on your website without interacting directly with code.
WordPress is a CMS, and it's one of the most user-friendly and versatile options available.
How to Create a WordPress Website for Beginners
Now that we've covered the essentials let's get down to how to create a WordPress website. We'll guide you through each step, ensuring you have all the information you need to get your site up and running.
Step 1. Set Up Your Domain Name and Hosting
First, you'll need to get a domain name for your website. A well-chosen domain name can boost your brand identity and make it easier for people to remember and find your site.
When choosing a domain name, keep the following tips in mind:
Keep it Short: A shorter name is easier to remember and less prone to typos.
Use Keywords: Include keywords related to your niche to improve search engine optimization (SEO).
Avoid Numbers and Hyphens: These can be confusing and often misunderstood.
Choose the Right Domain Extension: While .com is the most popular, consider other extensions like .org or .net if they better fit your brand.
Next is web hosting, which is the service that stores your site's files and makes them accessible. Think of it as renting space on a server.
There are numerous hosting providers, many of which offer managed WordPress hosting plans to make things easier. Some hosting companies also offer add-ons like email accounts, website backups, and SSL certificates for online stores.
For WordPress websites, we recommend the following:
Bluehost: Officially recommended by WordPress.org, Bluehost offers excellent customer support and comes with a free domain name for the first year, an SSL certificate, and more.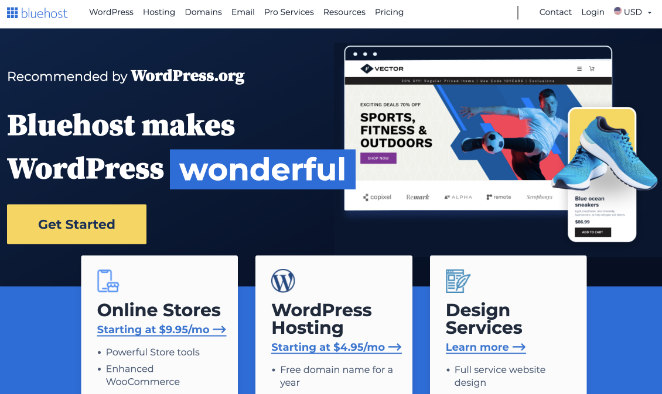 SiteGround: Known for its top-notch customer service and excellent uptime.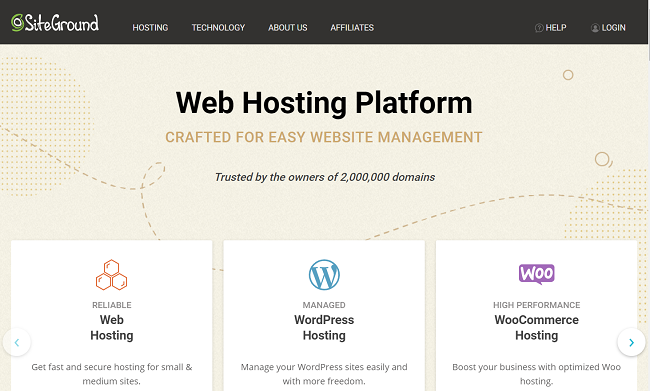 WP Engine: A bit pricier but offers robust performance and security features tailored for WordPress websites.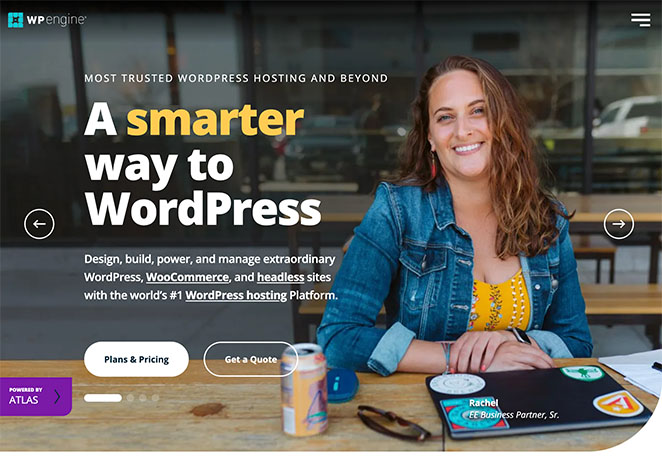 Before you proceed, make sure to read the terms and conditions of your hosting plan.
When it comes to WordPress hosting, Bluehost is one of our top recommendations. So, on the Bluehost website, click the Get Started Now button to see the different pricing options.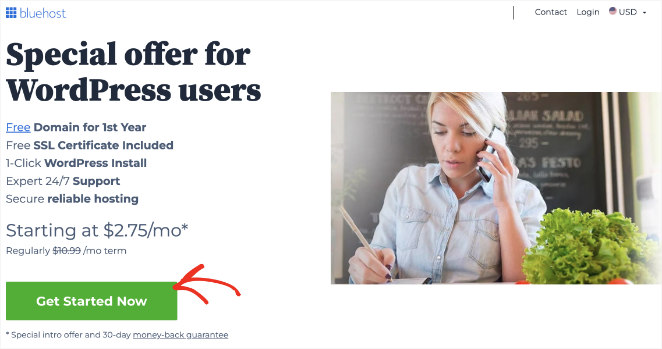 From there, find a plan that best suits your needs and click the Select button to choose it.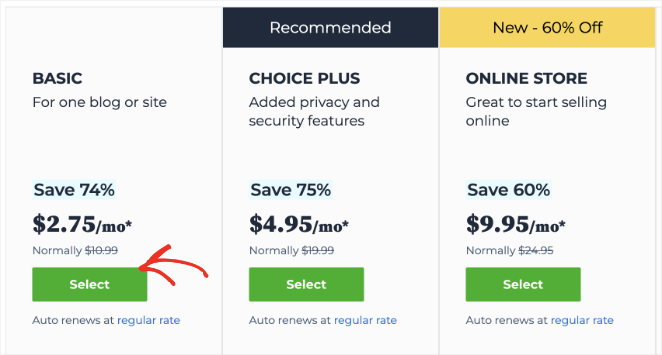 On the following screen, you can choose a new custom domain name for your website.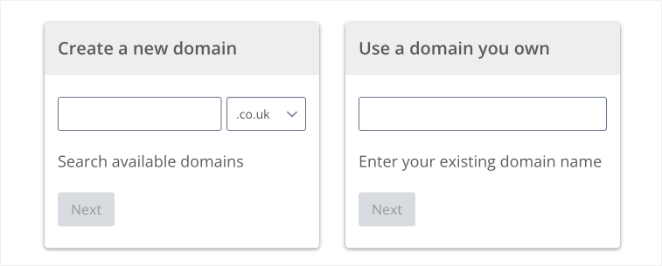 After choosing a domain, you can enter other account details, such as your name, address, and email address. You can add optional extras to your plan, but we recommend leaving these unchecked to avoid confusion.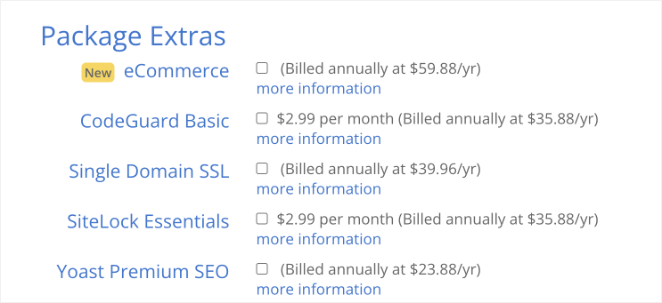 When you're ready, enter your payment details and complete your purchase.
By the end of this step, you should have a domain name that reflects your brand and reliable hosting to keep your site running smoothly.
Step 2. Install WordPress
Bluehost makes it incredibly easy to install WordPress, often doing so automatically upon creating a new hosting account with one click.
If it's not pre-installed, you can follow these simple steps:
Log in to Your Bluehost Account: Access your Bluehost dashboard by entering your credentials.
Navigate to the Website Section: Once logged in, go to the My Sites section and click the Create Site button.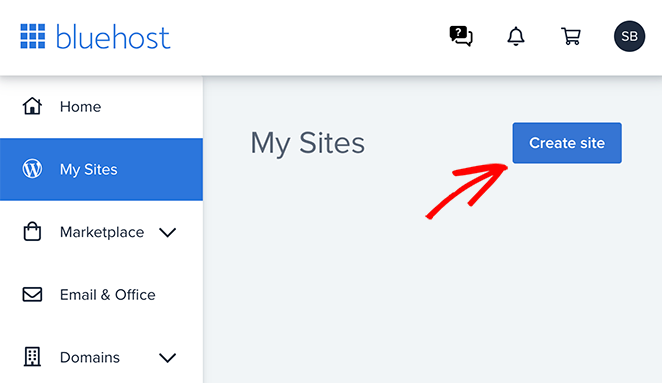 Enter Site Details: You'll be prompted to enter your site title and a tagline. Fill these in and click Next.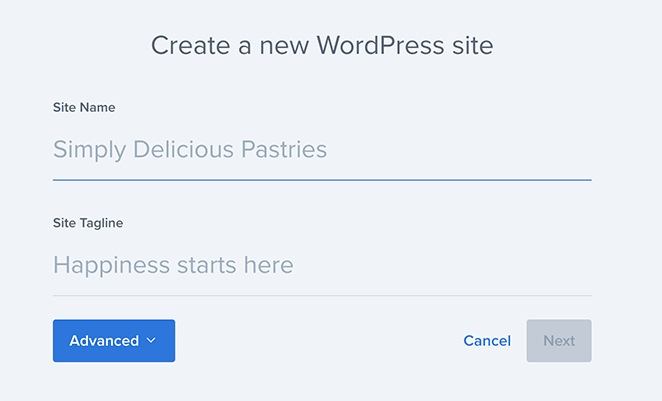 Choose Domain: Select the domain name you've registered from the dropdown list.

Install: Finally, click the 'Install' button. Bluehost will take care of the rest, installing WordPress for you.
And just like that, you've successfully installed WordPress on Bluehost! After your WordPress installation is complete, you'll receive login details.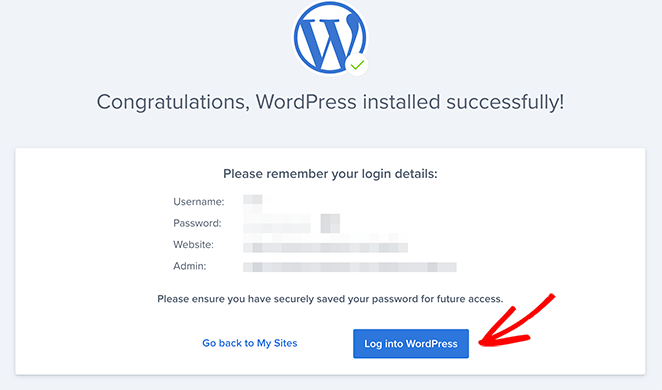 When you log into your new WordPress site, you'll see a dashboard similar to the screenshot below. This is where you can manage your website's content, install themes and plugins, and customize its appearance.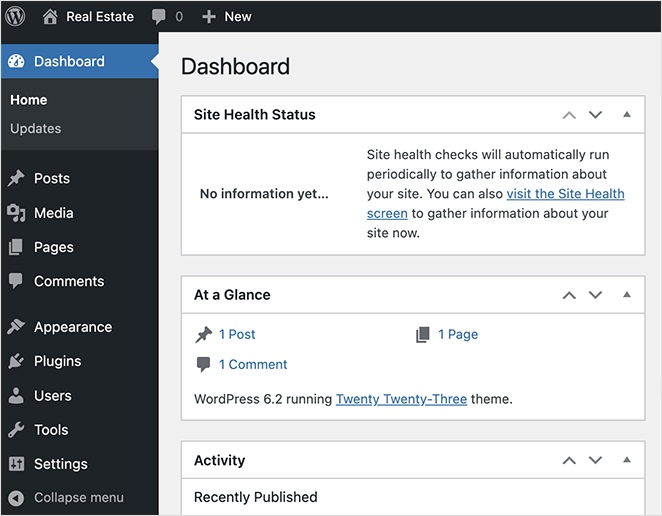 Step 3. Choose a WordPress Theme
After installing WordPress, the next step is choosing a theme. A WordPress theme is a collection of templates and stylesheets that define the look and feel of your site. Think of it as the "skin" you can put on your website to change its appearance.
When you install WordPress with Bluehost, a new theme is automatically installed to help you get started. While functional, this theme is quite simple and may not offer the unique features or design elements for your type of website.
If you want to go beyond the basic free theme, you can always look for premium themes that better suit your needs. For help, you can see our list of the best and most popular WordPress themes.
For those who want a truly unique website, we have an even better solution.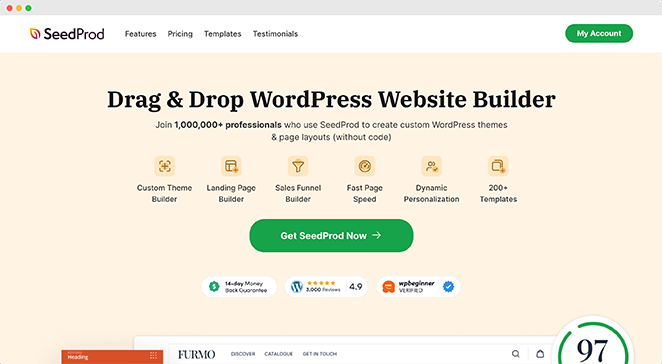 With SeedProd, the best website and page builder, you can set up a custom WordPress theme without any coding knowledge. That means no need to write PHP, HTML, CSS, or other code.
SeedProd offers a drag-and-drop website-building experience that makes customization a breeze. You can tailor every part of how your website looks to create a business website that truly reflects your brand. We'll cover this more later.
Step 4. Install Essential WordPress Plugins
As you continue fine-tuning your WordPress site, you'll soon discover the importance of plugins.
WordPress plugins are software you can install to add specific features or functionalities to your website. Whether you want to optimize your site for search engines, add a contact form, or create an online store, a plugin can help you do it.
For those just starting, here are some of the best WordPress plugins to enhance your new website and improve user experience:
To install plugins, follow these steps:
Go to Your WordPress Dashboard: Log in to your WordPress admin area.
Navigate to Plugins: On the left-hand menu, click Plugins, then Add New.
Search for Plugins: Use the search bar to find the plugin you want to install.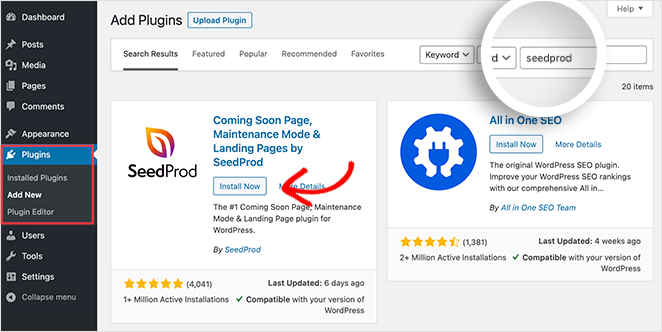 Install: Click the Install Now button next to your desired plugin.
Or Upload a Plugin: Click Add New to upload a plugin .zip file from your computer.

Activate: Click Activate once the installation is complete.
Step 5. Customize Your WordPress Website
Customizing your website is like decorating your home; it's an opportunity to infuse your personality and brand identity into your online space. Let's start with the basics and then move on to more advanced customization with SeedProd's theme builder.
Firstly, WordPress offers many customization options right out of the box. Want to add your brand's logo? Simply head over to Appearance in your WordPress dashboard, click Customize, and then navigate to Site Identity to upload your logo.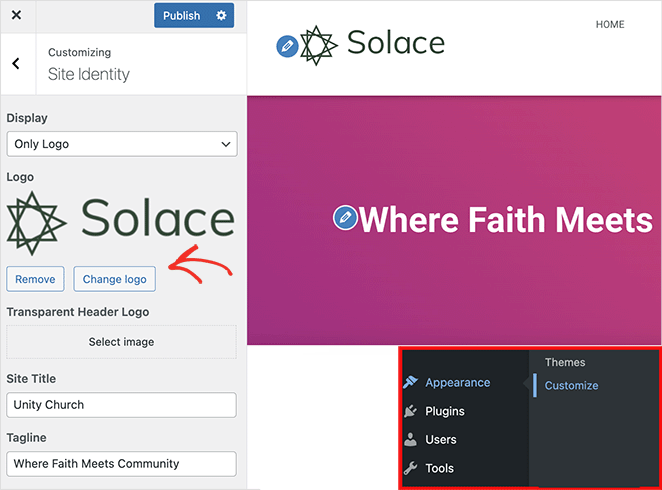 Depending on your theme, you can customize other site areas here, including its color scheme, typography, fonts, layout, and more.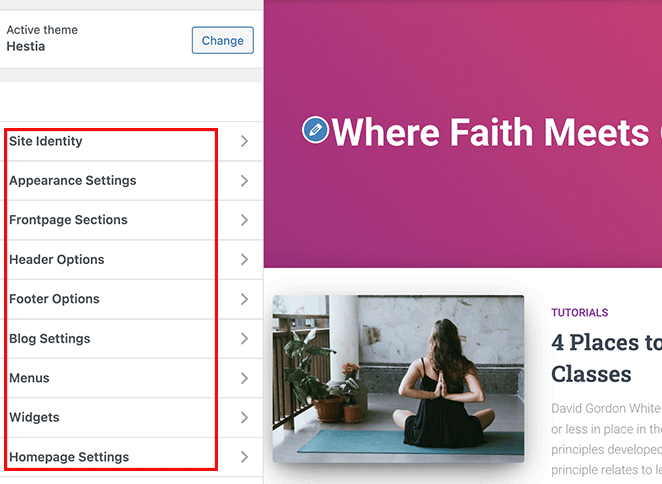 Note: You may not see the WordPress customizer using a block-based WordPress theme. Instead, you'll see the full site editor. For help with this, see your theme's documentation.
Now, if you're looking for a more tailored experience, SeedProd's theme builder is your go-to tool. After installing the SeedProd website builder plugin, you'll find a 'Theme Builder' option in your WordPress dashboard under the SeedProd menu.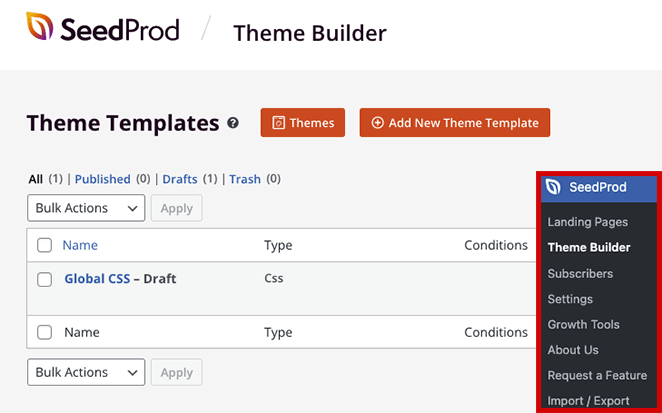 On this page, you can either choose from pre-designed templates or start from scratch.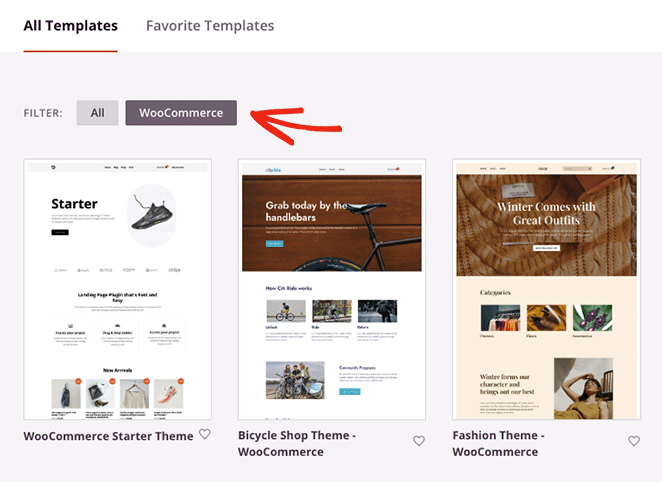 Once you've picked a website theme, SeedProd will show each part of the theme in a list. These are the templates that make up a complete theme and you can edit them visually with the drag-and-drop page builder.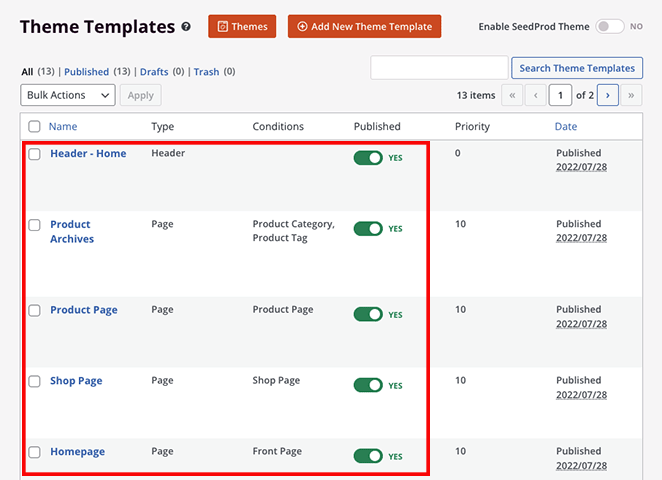 SeedProd's builder is incredibly user-friendly, allowing you to easily add elements to any web page, like text, images, and buttons.
For example, you can set up a custom homepage and add widgets, like a recent posts list, social media buttons, or a search bar.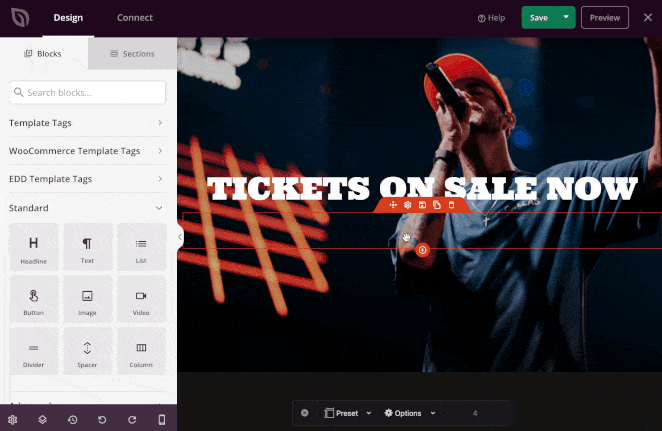 You can see this guide to learn how to create a custom WordPress theme with SeedProd. It covers everything from setting up a custom header and footer to building sidebars, blog pages, archives, and other essential static pages.
Step 6. Add Content to Your WordPress Website
You've laid the groundwork, chosen your theme, installed essential plugins, and customized your site to your liking. Now, it's time to fill your website with content that speaks to your audience.
Creating WordPress Pages
Pages are the static elements of your website, like your 'About Us' or 'Contact' pages. To create a new page, go to your WordPress dashboard, navigate to Pages on the left-hand menu, and click Add New.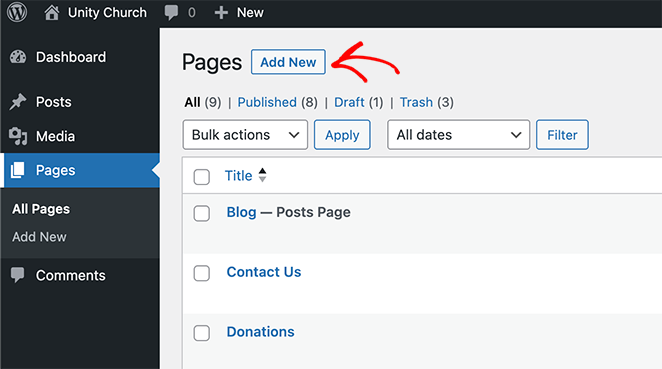 Now, you'll see the WordPress block editor, where you can add new content.
The block editor, also known as Gutenberg, allows you to insert content, like text, images, and videos, in the form of blocks. You can easily move these blocks around to create a layout that suits your needs.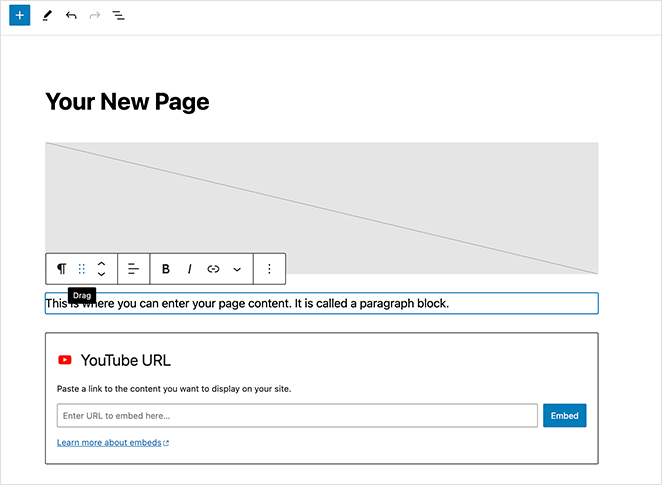 You can also use SeedProd to customize these pages. When you create a new page, click the Edit with SeedProd button.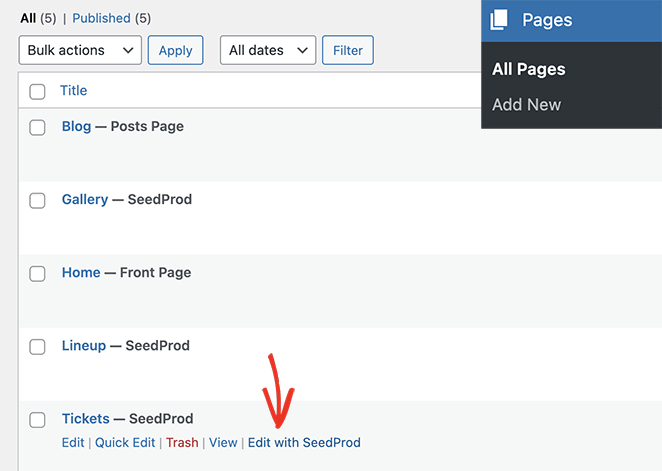 You'll see the same drag-and-drop page builder you used to customize your theme.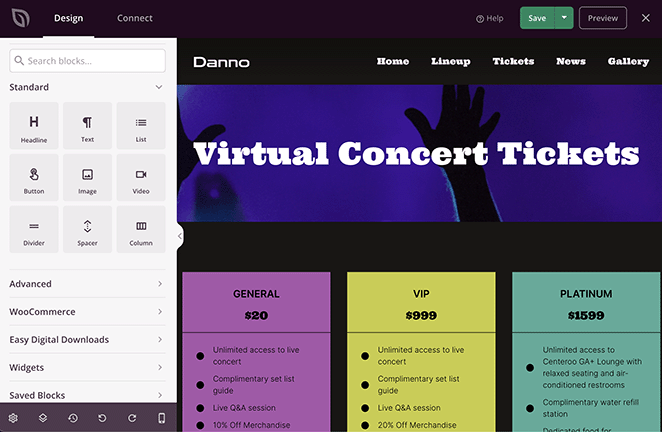 Depending on your website niche, you can create the following essential pages:
Contact page
Testimonials page
Once you're satisfied with the content on each page, click the Publish button to make it live.
Creating WordPress Posts
If you're a blogger, WordPress provides all the tools you'll need to write, edit, and publish your posts. Posts are the bread and butter of any blog and are meant for dynamic content you'll update regularly.
The process for creating posts is similar to that of pages:
Go to Posts: In your WordPress dashboard, click Posts, then Add New.
Add Content: Again, use the WordPress block editor to craft your post.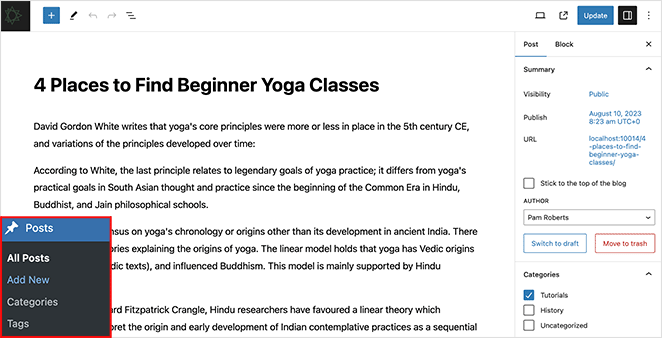 Publish: Click Publish when you're ready for the world to see your content.
If you're using SeeProd's theme builder, you can change how your blog page looks, as well as individual posts. Just click the 'Edit Design' link on your Blog Page template or Single Post template, and customize the design with the drag-and-drop page builder.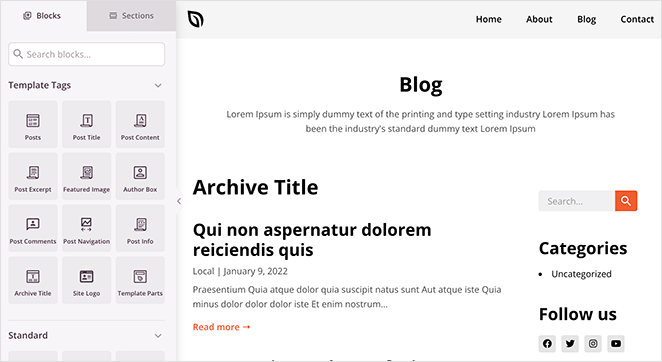 Step 7: Optimize Your WordPress Site for SEO
You've built your website, customized it, and filled it with compelling content. But what's the point if no one can find it?
That's where Search Engine Optimization (SEO) comes into play. SEO is optimizing your website to rank higher in search engine results, thereby increasing the organic (or free) traffic your website receives.
The benefits are manifold: higher visibility, more visitors, and ultimately, increased revenue or engagement.
Here are some essential SEO tips to get you started:
Keyword Research: Identify the keywords relevant to your content and include them naturally in your posts and pages.
Quality Content: Search engines reward well-written, original content that provides value to readers.
Meta Descriptions: Always add a meta description to your posts and pages, summarizing the content.
Mobile Optimization: Ensure your site is mobile-friendly, as this is a ranking factor for Google.
Page Speed: Optimize images and use caching to improve your site's loading speed.
To make your SEO journey easier, consider installing a WordPress SEO plugin like All-in-One SEO. It offers beginner-friendly settings that make optimizing your site hassle-free. Yoast SEO is another popular alternative.
We also recommend using a keyword research tool to find keywords to optimize your site. WPBeginner's free keyword generator tool is an excellent place to start. It provides 300+ keyword ideas people search for about a given topic in Google.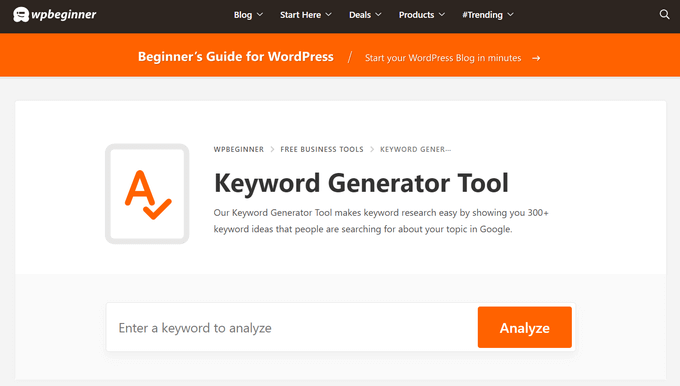 You can also use SEMRush to get valuable insights into your site's SEO performance.
Step 8. Launch Your WordPress Website
Congratulations! You've come a long way in your journey. You've built, customized, and optimized your site; now it's time for the grand unveiling.
But before you hit that publish button, let's go through a pre-launch checklist and discuss how to make your website live.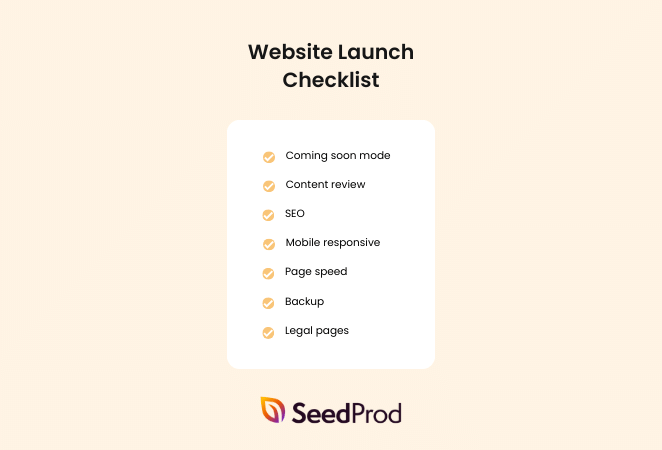 Before launching, make sure to tick off these boxes:
Enable Coming Soon Mode: Temporarily hide your site behind a coming soon page before your launch.
Content Review: Double-check all your pages and posts for errors, broken links, and incomplete sections.
SEO: Ensure all meta descriptions are filled out, and your content is optimized for relevant keywords.
Mobile Responsiveness: Test your site on various devices to ensure it's fully responsive.
Page Speed: Run speed tests to ensure your site loads quickly, optimizing any elements that slow it down.
Backup: Make a complete backup of your site. Plugins like Duplicator can help with this.
Legal Pages: Ensure your site has essential legal pages like a Privacy Policy and Terms of Service.
For a more detailed list, see our 24-point checklist for a successful WordPress website launch.
Making your WordPress website live is often as simple as clicking Save and Publish. If you have a coming soon page active, you'll need to disable this first.
In SeedProd, simply click the toggle under Coming Soon Mode until it's inactive.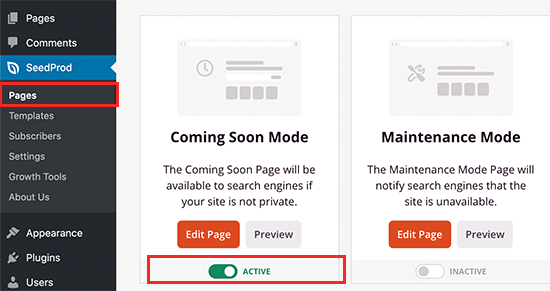 Additionally, if you're using SeedProd's theme builder to design your website, you'll need to ensure it's active. You can do that by navigating to SeedProd and Theme Builder, and turning the toggle labelled "Enable SeedProd Theme" to the active position.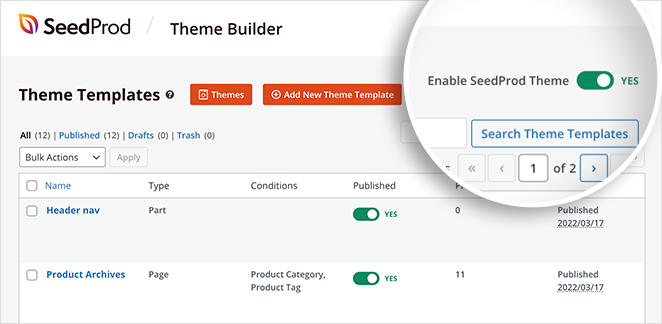 If you've built your site on a temporary domain or subdomain, you'll need to point your primary domain to your new website. The exact steps can vary depending on your hosting provider, but most offer detailed guides to help you through this process.
And there you have it!
You've successfully navigated the process of creating a WordPress website from scratch. It's a significant achievement, and now the world is ready to see what you have to offer.
So go ahead and take your first step into the exciting world of website ownership.
How to Create a WordPress Website for Beginners FAQs
How to create a WordPress website for free?
It's possible to create a WordPress website for free by using WordPress.com, which offers a basic, no-cost plan. However, limitations include having a subdomain (e.g., yoursite.wordpress.com) and limited customization options.
Free hosting services are also available but often have restrictions and may place ads on your site. If you're serious about building a website, investing in a domain name and quality hosting is highly recommended.
What are WordPress website templates?
WordPress website templates, often called themes, are pre-designed layouts you can apply to your website. These templates come with preset styles and functionalities, making it easier to create a professional-looking site without starting from scratch.
Many WordPress page builders also refer to their premade designs as templates. SeedProd, for example, offers many website template kits to use as a starting point for a custom WordPress theme.
Building a website with a WordPress tutorial vs. hiring a developer?
Building a website yourself using a WordPress tutorial is a cost-effective way to get your site up and running. It's ideal for those just starting or with simple website needs.
On the other hand, if you have specific, complex requirements that can't be met with existing themes or plugins, hiring a web developer is a good option.
Next, Discover More WordPress Tutorials
We hope this guide has helped you learn how to create a WordPress website for beginners.
If you need more help, please check out our other top WordPress tutorials:
Thanks for reading. Please follow us on YouTube, Twitter, and Facebook for more helpful content to grow your business.