Last updated on: August 26, 2019
There are two big problems that generally arise when you have a big list of tasks to complete:
you feel overwhelmed by the sheer scale of the project, and
in the midst of task overwhelm, you miss something important.
Launching your WordPress website can definitely feel like an overwhelming challenge, and one where you don't want to miss checking over something important. Fortunately, this post is here to help.
Today, we'll look at all the many tasks (big and small) you need to complete before you launch your WordPress site. We'll explain why each is important and tell you how to mark each one off your launch checklist.
Let's get cracking!
1. No Spelling and Grammar Errors
It's important to use correct spelling and fix serious grammar errors before publishing your content. We all make mistakes of course, but any more than one or two small errors on your site will lose the trust of your users and impact your business' credibility.
There are a number of ways you could check your spelling and grammar. If you want to check from within the WordPress editor, try the TinyMCE Spellcheck plugin:

This plugin adds an easily accessible spell check button to the post editor and features customization options for each user. Here's a quick tutorial on how to install it and get your content edited and ready for launch.
2. Content Has Been Placed in All Content Areas
As you're building out your site, you may end up using some placeholder content, thinking, I'll fill this in later. Placeholder content can be quite helpful as you build and design your site. However, you need to make sure you go back and fill in all your content areas before you launch.
Unfortunately, there's no magic bullet plugin that will seek out such missing content areas. In this case, you'll want to keep track of pages and sections where you've loaded placeholder content so you can find them easily. Also consider having other members of your team or a beta user group work through your site to look for problems.
3. No Web Page Formatting Errors Exist
Are your content and images formatted correctly so that they display correctly on the page? Is the usage of text and image formatting styles consistent across the whole website? Are your stylesheets, scripts, and images rendering your content the way you intended? If so, excellent. If not, fix them now before your users have to confront the problems.
Again an easy way to test this out is through having a beta user group navigate through your site and report back.
4. The Print Stylesheet Has Been Created and Tested
This is a launch checklist item that a number of websites forego. Who prints web pages, anyway?
Still there are a number of reasons your users may choose to hit print:
Project or services quotes.
Receipts.
Resumes and bios.
Info for viewing offline.
Sharing an article.
Giving your users a well-formatted print stylesheet is a nice touch, and it's fairly easy to set up. There's a great tutorial over at Smashing Magazine which covers exactly that.
5. Meta Tags Are Set Up
Meta tags are WordPress' way of talking to machines about what's on your site. The metadata supplied to search engines like Google and Bing may include information about content, authors, publishers, and media, using fields such as description and keywords.
It makes sense to spend a bit of time helping search engines as they index and catalog your web pages – ultimately directing more traffic to your site. For a plugin specifically designed to do this, Add Meta Tags is a popular choice that's been around in various forms for a decade.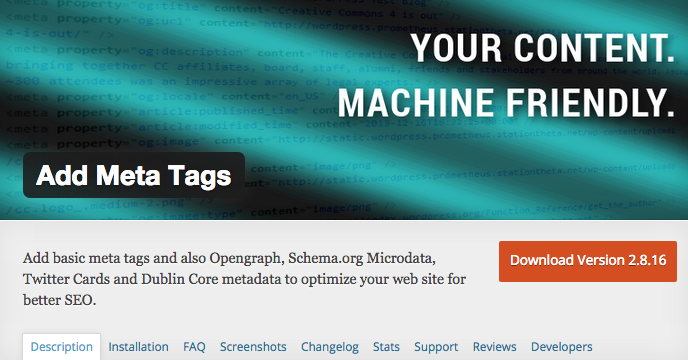 Another option is to use the Meta Tag features found in SEO plugins, such as WordPress SEO by Yoast or All-in-One SEO.
6. Page Titles Are Descriptive and Optimized for Search Engines
You probably already know that you should be using Pretty Permalinks for your post titles, because it gives users and search engines more information about your content. There are a number of options for naming your post pages under Settings > Permalinks in the admin area: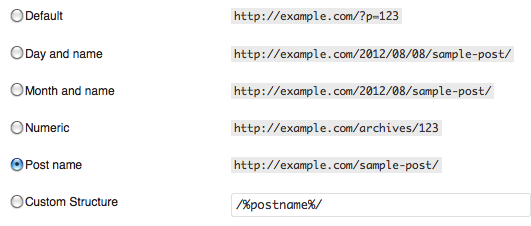 However, don't forget to set up your site's Page Title and Tagline. There are several ways to do this. You can navigate to Settings > General where you'll find the following fields:

For individual pages on your site, use an SEO plugin – this will give you the option to give each page a descriptive and relevant name, right from your admin page editor.
7. All Images Have Alt Text
Start how you mean to go on – make sure all your site's images have alt text. The Alt Text field is right under the Caption field for each image in your Media Library: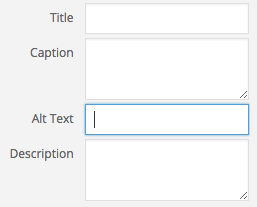 The alt text attribute was originally created to help support accessibility features such as screen readers, but it is also an important SEO feature. Along with the Title tag, adding alt text will help search engines determine how a particular image relates to the rest of the content on the page. In turn, that could help your users find relevant content on your site via search. Photographer David Coleman has more tips over on his blog.
8. The Site Favicon Has Been Created and Tested
Short for favorites icon, the favicon for your site shows up in a lot of places, despite its small size. It typically shows up in browser tabs next to the title of your page, and can also be used as a bookmark icon on desktop and mobile.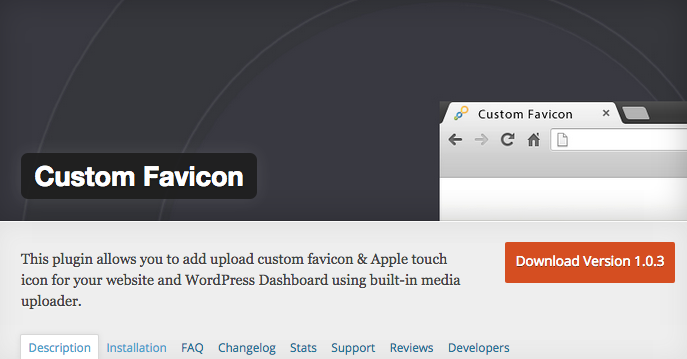 Many themes allow you to easily upload your custom favicon image within the theme. For those that don't, the Custom Favicon plugin gives you an easy way to add a favicon image to your site.
Favicons will be supported in WordPress 4.3, meaning you'll be able to upload your site icon in the admin area and be able to preview the results without needing a plugin.
9. The Footer Includes a Copyright Notice, Important Info, and Any Key Links
The footer is one of the last parts of your website users see, but that doesn't mean you can neglect it.
Your copyright notice should be included in your footer. It protects your work according to standard copyright laws or (if you want to) you can list your content under a Creative Commons license to allow others to use your content.
Some sites also choose to include important information such as their business address or contact information. Others include a mini site directory with links to all the important pages available on your site.
10. The HTML and CSS Code Is Valid
Before you launch your site, you must ensure that your code is valid. W3 Consortium has a free online validator tool. It will check your HTML, CSS, XHTML, and XML code for errors.
Why is valid code important? It helps to ensure that your site is compatible with the current standards used by major browsers. Unaddressed errors could also cause your site to break later on if a newer browser version conflicts with an error in your code.
Your site's SEO can also be helped by running your code through validation software. Some errors may cause parts of your site to go unindexed, meaning they won't turn up in search results.
11. The JavaScript is Free from Errors
If your site contains custom JavaScript, you want to make that the code is also free from errors. JSLint is one online tool that enables you to check your code.

The program looks for syntax errors, style conventions, and structural problems, and returns messages if it finds any errors.
12. There Are No Broken Links
Broken links can be both frustrating for users and damaging to your SEO. The Broken Link Checker plugin does exactly what it says it does: find your broken links, missing images, and missing redirects, and alert you so they can be fixed before you launch.

The plugin monitors your posts, pages, comments, and blogroll for any errors that may come up. You can choose to be notified in the dashboard or by email when problems are found.
13. The Site Displays and Functions in All Compatible Browsers
We'd all prefer for users to only use the latest versions of Chrome, Firefox, and Internet Explorer, but that's not how the Internet works. This year, nearly 6% of worldwide web users were still using old versions of Internet Explorer.
If your users are likely to use older browsers, mobile browsers, or non-standard browsers to view your website, you'll want to know what your site will look like and how it will function.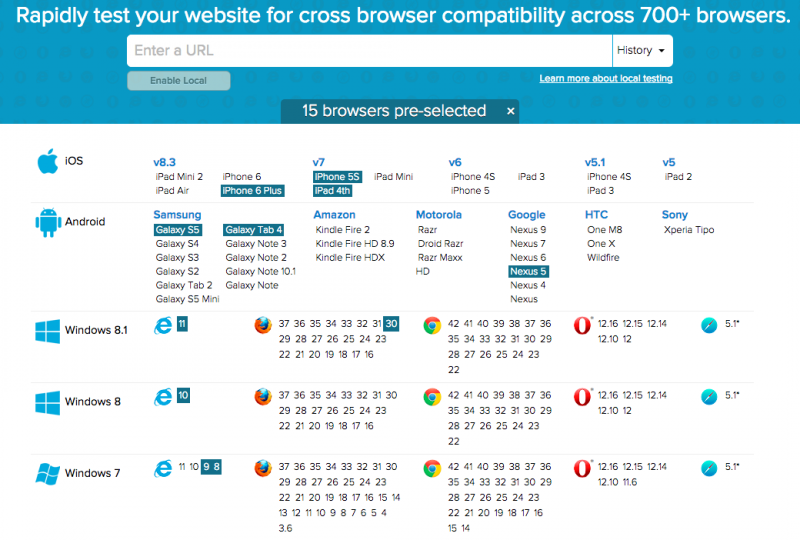 BrowserStack's Browser Screenshots is a great-looking free web tool with an easy-to-use interface. It's important to remember to check your site's functionality on mobile, which this tool also enables you to do. More and more users are accessing the web through mobile devices, so it's important that your site presents correctly for them.
14. The Site Has Been Tested for Multiple Devices
Speaking of users viewing your site on mobile, make sure that you know how your site will look and function on different devices. Google Chrome's Screen Resolution Tester is a handy tool to have. This Chrome extension enables you to see how the site will look on various devices through your Chrome browser.
For more information about how functional your site will be on various devices and why, try using a tool like Viewlike.us. This free web program gives feedback on text legibility, tap target size, and usability for various screen sizes.
15. All Forms Are Set Up and Functional
Will your soon-to-launch WordPress site include any forms, such as any made by Contact Form 7? Forms can be great for growing your subscriber base, generating leads, or answering questions.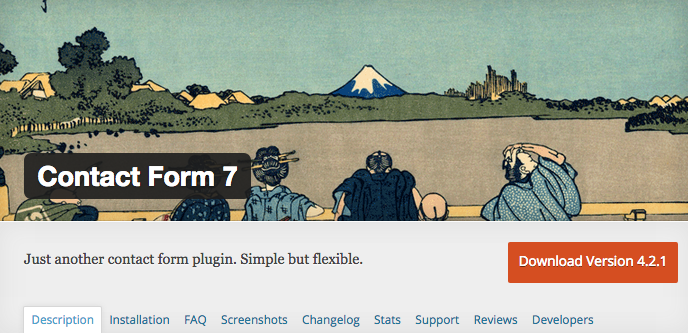 However, you wouldn't want to launch without testing that your forms work as intended. Ensure that your forms not only look great on the user side, but also that any data collected goes to the correct email address or file folder.
16. The Analytics Data Plugin is Set Up
Before you launch your site, make sure that you have a way to track your site's performance. After all the work spent on building and readying your site, you want to know how many users are visiting your new site, how they got there, and where they spend the most time.
Google Analytics is the standard choice for many websites wanting to track this data, and there are several great plugins that will integrate Google Analytics with WordPress.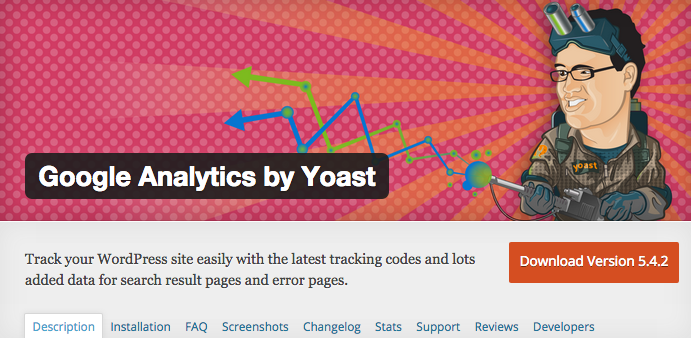 Google Analytics by Yoast makes it easy to add tracking codes to all your pages and collect a variety of data about search results and error pages.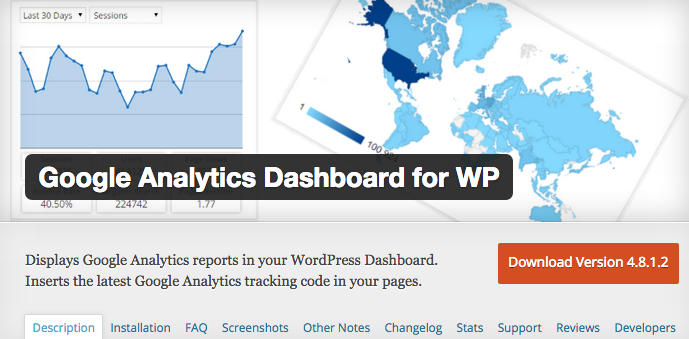 The Google Analytics Dashboard for WP plugin gets your WordPress site connected with Google Analytics, enabling you to review analytics reports straight from your WordPress dashboard.
17. The Backup Plugin is Set Up
After all the time spent building your site and going through this launch checklist, you wouldn't want to lose your work. A backup plugin will provide extra peace of mind that should a server fail or a hacker attack your site, you'll be able to recover quickly. For more on the why (and how) of backing up your WordPress site, see our in-depth post.
18. The Security Plugins Are Set Up
Now you've got your site protected with a backup solution, your focus should turn to security. Add strong security protocols for even more protection against hackers. There are a number of plugins that can help you, as well as some smart advice in our recent ten step security article.
19. The 404 Page is Set Up
If a visitor to your newly launched site does end up navigating to a missing page or a mistyped URL, that mistake should be an opportunity rather than a dead end. Setting up a 404 page before you launch can help you engage with your users, and SeedProd makes a nifty 404 page plugin that can help you do just that.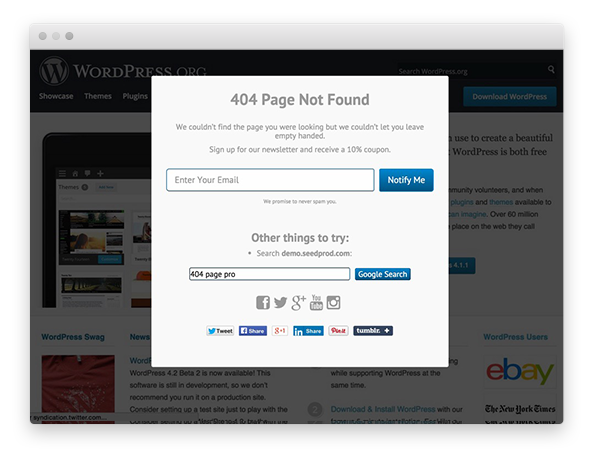 The 404 Page Pro plugin enables you to create a custom 404 page, with options to add custom text and imagery, an email signup form, search box, and social links. Head over to the product page to learn more.
Wrapping Up
Getting a web page ready for launch is no small task, as you can see. As a quick recap, beyond building the site and adding the content, you need to:
Check your content and code for errors.
Optimize your site for search engines, including images and links.
Ensure your site works on different browsers and screen sizes.
Set up SEO across your site.
Make sure you have a backup.
Check your security.
Implement analytics plugins.
Set up a 404 page.
Work through this launch checklist one step at a time, and in no time you'll be ready to release your site into the WordPress wilds.
Did we miss anything? What would you add to our ultimate launch checklist? Let us know in the comments below!