Are you looking for lead magnet examples that encourage potential customers to click?
Lead magnets are an effective way to increase your conversion rates. While there are many tools to help with your lead generation efforts, you'll need an enticing offer to begin with.
The type of lead magnet you create can influence how many leads you collect. Just as important, it can impact your lead quality.
So in this article, we'll share some of the best lead magnet ideas and examples to give you some inspiration.
What Is a Lead Magnet?
A lead magnet is a free resource that encourages your target audience to click and sign up. With a free incentive like that, people are more likely to subscribe to your email list and become paying customers in time.
Lead magnets come in several forms, but most have the following features:
They promote your business by generating leads
They don't cost anything to deliver
They're valuable, helpful, or informative
Here's an example of a Blog Tyrant campaign offering a lead magnet: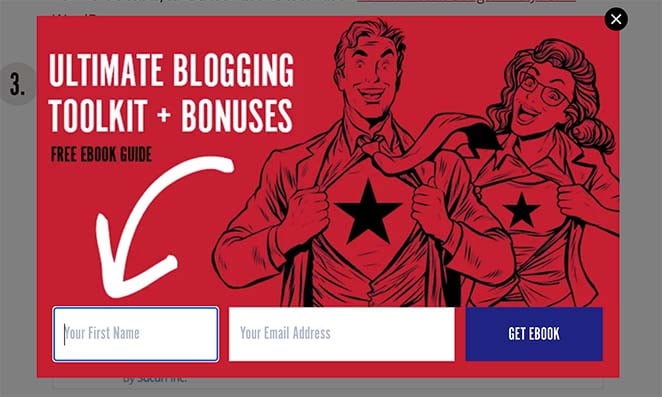 Straight away, users can see what they get. To download the lead magnet, all they need is to enter their name and email address.
In the end, customers get something valuable, the business gets a lead, and everyone wins.
Why Does Your Business Need a Lead Magnet?
Lead magnets are one of the best ways to generate leads online, no matter your business niche. That's because emails are a personal form of communication.
People are unlikely to give you their email address without reason. So as a content marketer, it's your job to give them the incentive to do so.
Let's say you have a blog post with the 10 best ways to grow your social media followers. You could ask readers to join your email list for updates at the end of the post.
Or, you could ask readers to join your list and get a free downloadable PDF case study showing how one business used your tips to grow its followers.
Which do you think would generate more leads? We can guarantee it's the second one because it offers more value at no extra cost.
What Makes a Successful Lead Magnet?
There are several things that a perfect lead magnet should do to be irresistible to your audience. For example, great lead magnets:
Solve genuine problems – If your lead magnet doesn't solve real problems that your audience has or doesn't give them something they want, you won't get the results you expect.
Promise quick wins – Your lead magnet should promise to help readers easily achieve something quickly and deliver on that promise.
Are highly specific – Generic lead magnets won't attract much attention. The more specific you are about your lead magnet's benefits, the better it will convert.
Are quick to consume – Lengthy reports can overwhelm readers, detracting from the lead magnet's value. Keep yours easy to digest by creating a PDF checklist, for example.
Instantly accessible – People love instant gratification, so you should make your lead magnet available to download right away.
Shows your expertise – When a potential customer consumes your lead magnet, it should show your expertise on the topic. As a result, leads will trust you more, making it easier to turn them into customers later.
If you can create a lead magnet that covers these characteristics, you'll soon see conversions rise across your website.
Effective Lead Magnet Examples To Try
Now that you know what makes a good lead magnet, let's look at some lead magnet examples and ideas to increase your subscribers.
1. Checklist Lead Magnet Example
Checklists are the highest converting lead magnets because they are easy to digest. They combine everything a user needs to know in a single list.
Moreover, checklists are pretty easy to create. For instance, you can summarize a blog post, converting it into a checklist. Then, you can combine it with an optin form to collect email addresses.
Here's a checklist lead magnet example from OptinMonster that uses a 2-step optin form to generate leads.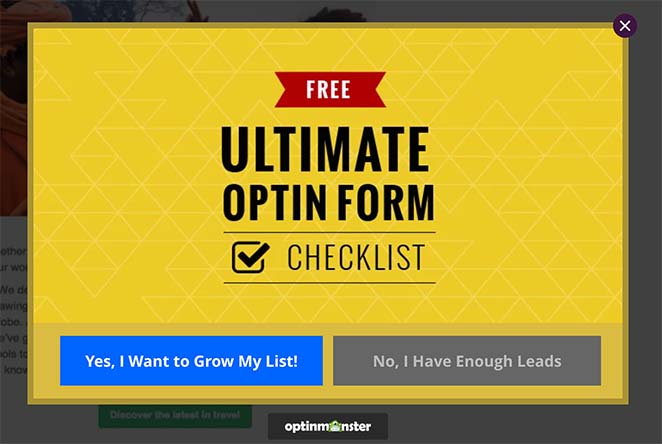 2. Cheatsheet
Cheat sheets are similar to checklists in that they're quick and easy to consume. But they differ, by giving users guidelines and processes to follow over and over again.
In other words, it lets users "cheat," removing the need to research how to do something to achieve a specific outcome. Instead, they can just refer back to the sheet.
This cheat sheet example from SmartBlogger offers tons of value to readers by removing the need to think about going viral.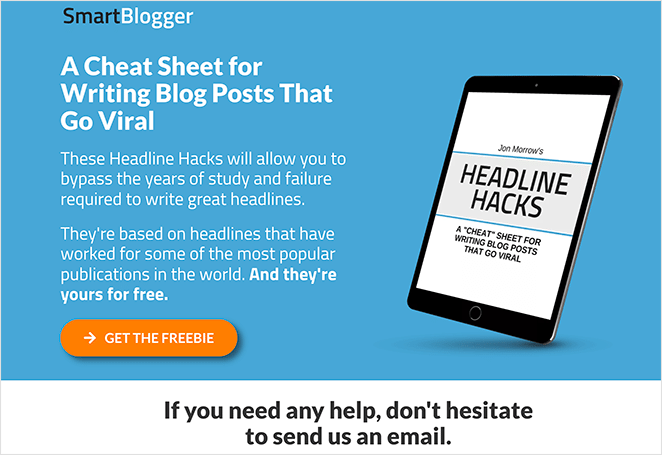 3. Giveaway
One of the most effective lead magnet examples is the humble giveaway. People love getting free stuff, so the temptation of potentially winning a fantastic prize is often too hard to resist.
To get the best results from your giveaway, you should:
Offer a highly relevant prize to qualify leads. In other words, offer prizes only your target audience would really want.
Incentivize giveaway participants to share to spread the word.
One of the easiest ways to run a giveaway from your WordPress site is with RafflePress.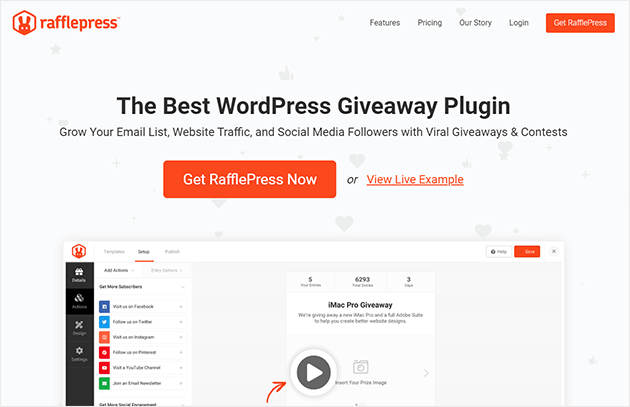 RafflePress is the best WordPress giveaway plugin on the market. It lets you create any type of giveaway contest with its powerful drag and drop builder.
Follow this guide to learn how to create a giveaway in WordPress.
4. Template Download
A template is another compelling lead magnet idea. It can be a template for anything that offers an outline or a starting point, leaving the user to fill in the gaps.
The Ultimate Facebook Ad Template Library from Digital Marketer is a fantastic example of this.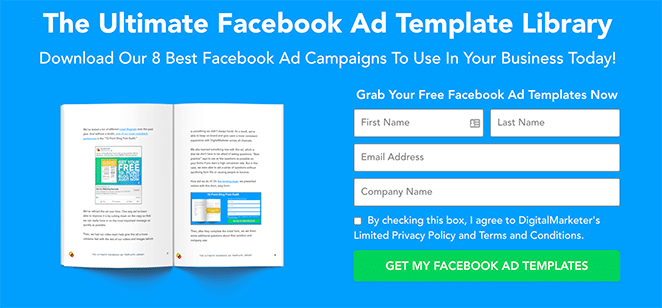 Users can copy and paste some of their most successful ad campaigns and use their proven formulas to drive clicks.
5. Swipe File Lead Magnet Example
Swipe files are often more tempting to users than templates because you can copy the contents entirely and tailor them to your project.
For example, with Impulse Creative's 300 blog topic ideas swipe file, users can access hundreds of blog titles, email subject lines, and more to kick-start their blog writing inspiration.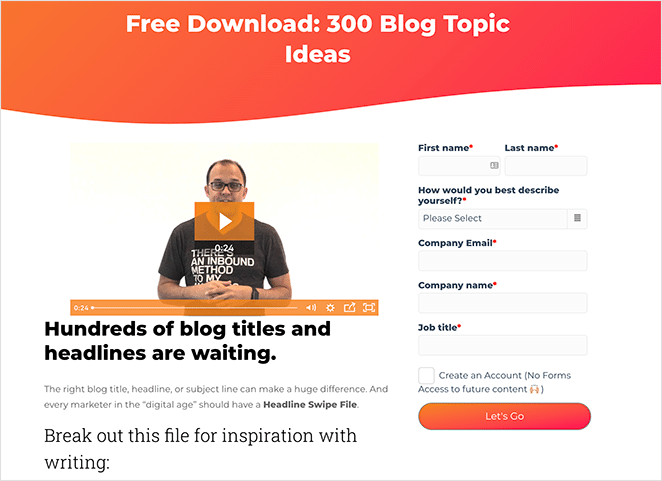 A resource like this can save content creators tons of time, leaving them free to focus on writing rather than generating ideas.
6. Toolkit Lead Magnet
Many people want to learn what tools the experts use, regardless of their industry. That's why toolkits are an excellent lead magnet example.
Toolkits are also an effective way for website owners to earn money. Most products these days offer affiliate programs, so you can use your affiliate links in your toolkit to generate extra revenue.
At the same time, your audience gets to learn about your top tools, like this Growth toolkit from Syed Balkhi.

When users sign up for this lead magnet, they access the tools Syed used to create an 8-figure business. They also get a bonus with his top growth hacks.
7. Free Trial
Chances are you've seen this type of lead magnet everywhere without noticing it. Most software companies have a call-to-action to claim a free trial or demo on their website homepage.
They use this tactic because it's an effective way to get your email address without reinventing the wheel.
Dropbox, for example, offers a free trial lead magnet on its business page. Users can sign up and try the software and cancel at any time, removing the objection of price.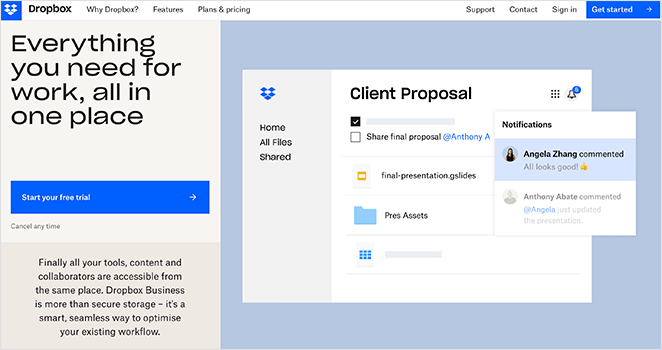 In return, Dropbox gets the user's email address to continue building their relationship.
8. Ebook Download
Earlier, we mentioned that ebooks aren't the highest converting lead magnet solution. It's mainly because they take time to digest, and users can get bored quickly.
Yet, in some instances, eBooks can work. For ebook lead magnets to work, you need a substantial benefit persuading users to take the time to read them.
Here is an ebook lead magnet example from Social Triggers that features a benefit its audience will find hard to resist.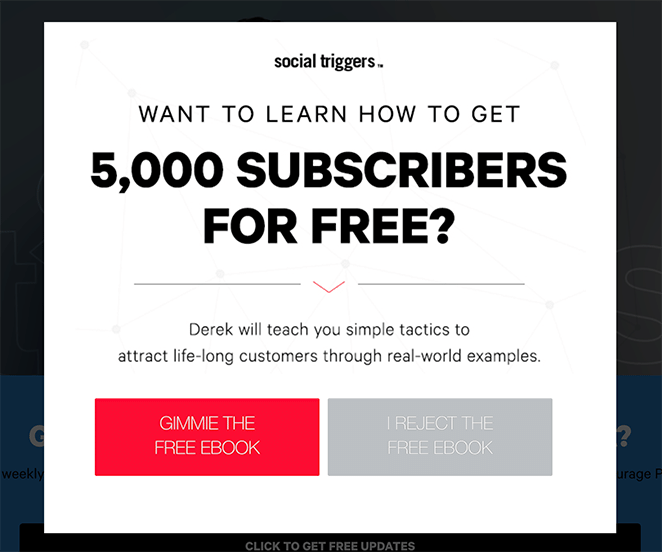 Let's face it, who wouldn't want to learn how to get 5,000 subscribers for free?
For this lead magnet to be even more effective, you could offer it on a dedicated ebook landing page. That way, you can drive targeted traffic to it by promoting it through paid ads and social media.
9. Free Shipping
If you own a website that sells physical products, free shipping is a great lead magnet idea to try.
Most people will snap up the offer of free shipping when they see it, especially if they're close to making a purchase. So the generous offer of free shipping could be what finally seals the deal.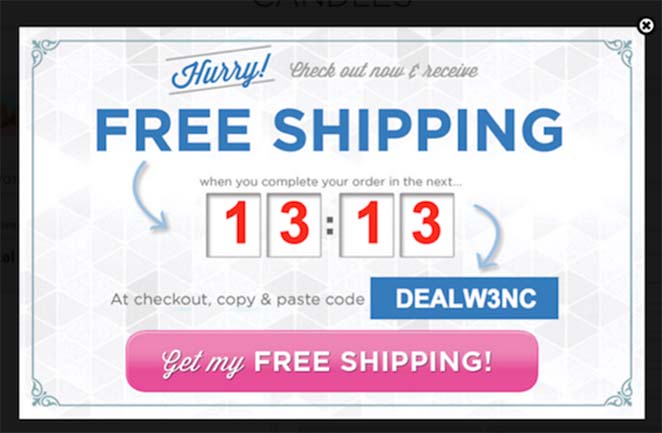 You can use a countdown timer to add even more urgency to this type of lead magnet. That way, shoppers will check out quickly before they miss out.
10. Worksheet or Workbook Lead Magnet
Worksheets or workbooks are a great way to help people complete an exercise or work through a specific problem. One of the best types of workbook lead magnets is one that users can download and fill in right on their computers.
Beyond offers a downloadable workbook that helps users realize their potential. To download it, all you need is to fill in your name, email, and company name.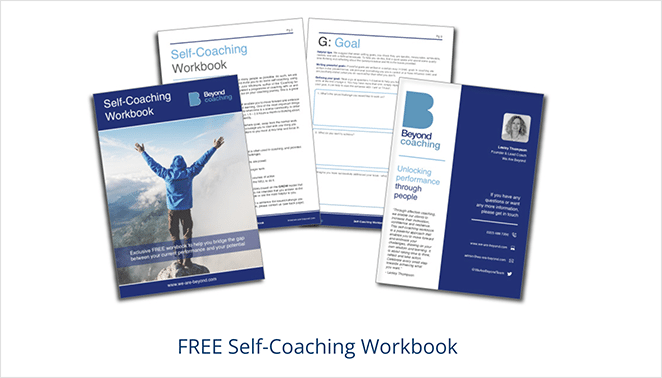 11. Coaching Session Lead Magnet Example
If you're a coach or offer a service, you can use your expertise as a lead magnet on your website. Just offer a free coaching session in exchange for the visitor's email address.
With a coaching session, you can get potential clients on the phone. More importantly, they're likely expecting a pitch at the end of the call, making it an effective way to get high-end clients.
In this example from Justin Caffrey, you can book a coaching session right on his website. This makes it much easier for users to browse his content after booking their call.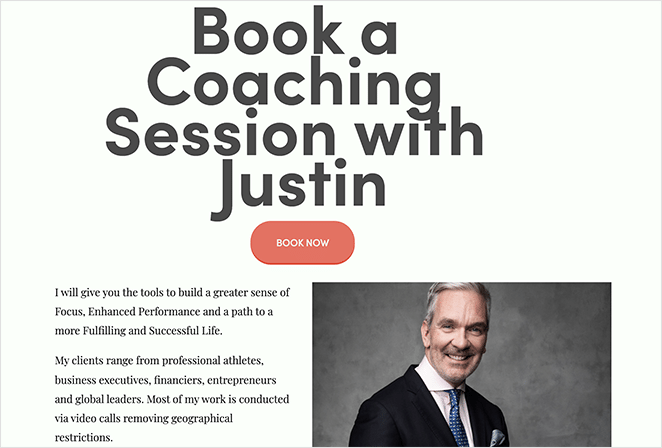 12. Discount Lead Magnet
A discount or coupon lead magnet is an excellent way to incentivize visitors at the bottom of your funnel. Since most people shop around for deals, your discount can be just what they're looking for, encouraging them to choose you over your competitors.
OptinMonster has a great example of a discount lead magnet. When you're about to leave its website, you'll see an exit popup with a 35% discount.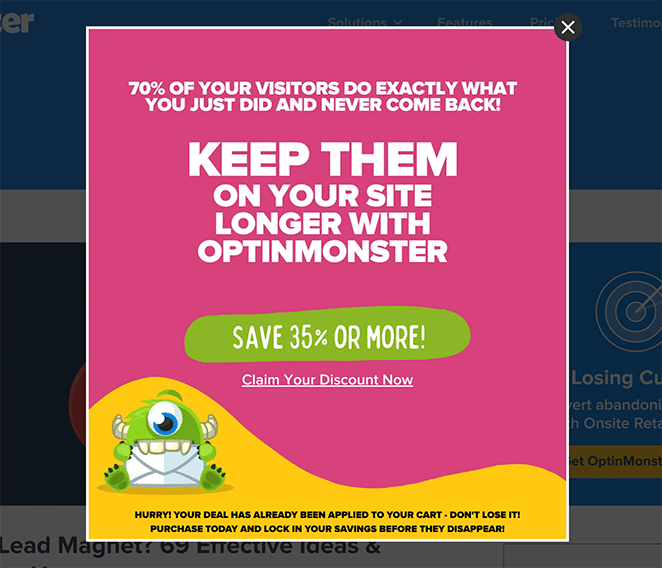 We love how they back up their claims right in the headline with proven statistics. Moreover, they include a sense of urgency by prompting users to claim the discount before they miss out.
13. Free Spreadsheets
Spreadsheets are another effective way to create all kinds of lead magnets for your audience. Given that they're a programming tool right at your fingertips, you can quickly put together resources that significantly help your audience.
DebtHelper, for example, offers its audience a free budgeting spreadsheet in exchange for new subscribers. As a result, users can calculate their expenses without making a spreadsheet from scratch.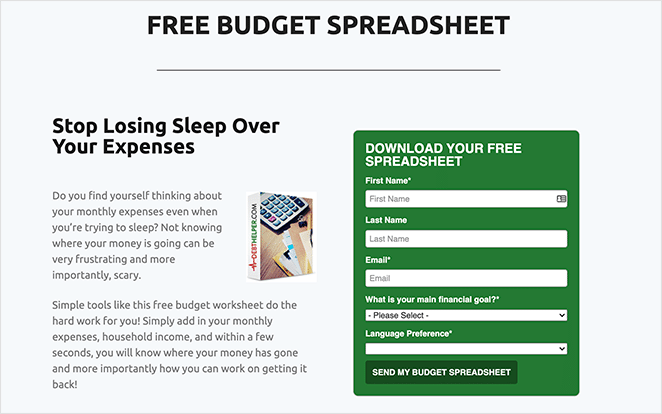 14. Guide Lead Magnet Example
Like an eBook, a guide is a longer lead magnet example. Despite its length, you can use guide lead magnets during the nurturing stage of your sales funnel to educate potential customers on why they should buy from you.
This example from HubSpot works remarkably well. Not only does it offer practical advice about lead generation, but it also educates their audience on why they need a lead management tool like HubSpot.
15. Recipes Lead Magnet
There are thousands of recipes freely available online, so it might seem redundant to offer them as a lead magnet. Yet, you'd be surprised by how many people are prepared to give you their contact details to access your curated recipes.
At Gluten Free on a Shoestring, they offer readers the opportunity to download Gluten Free recipes instantly.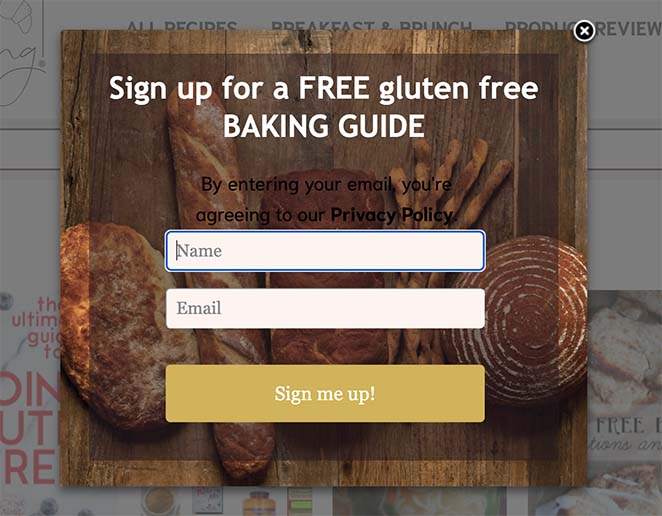 Because they also use a lightbox popup to collect email subscribers, users can continue browsing their content after signing up.
How to Deliver Your Lead Magnet
Creating a lead magnet to offer value to your audience is only half of the process. The other half is getting it to the right people, wherever they are in their customer journey.
There are several ways to deliver lead magnets to your audience. You could use a tool like OptinMonster, the best lead generation toolkit for small businesses.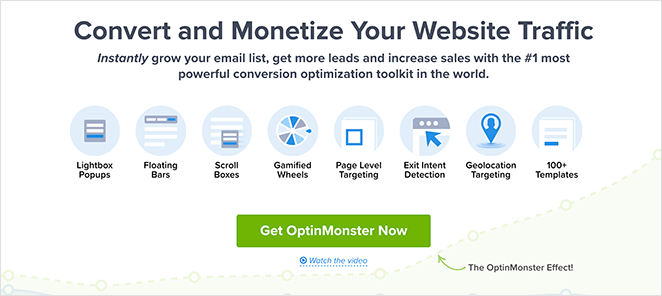 With OptinMonster, you can quickly and easily create "optin campaigns" to distribute lead magnets in a highly targeted way. For example, you can create popups, floating bars, gamified wheels, etc., using OptinMonster's drag-and-drop visual editor.
Then, after entering their email address, you can deliver your lead magnet to users instantly.
Follow this step-by-step guide to learn how to create a lead magnet with OptinMonster.
Another way to deliver your lead magnet is by uploading it to your website and locking it behind a landing page. After signing up for access on your landing page, you can send users to a thank you page with a link to instantly download your lead magnet.
The easiest way to create a landing page in WordPress is with SeedProd, the best WordPress theme builder plugin.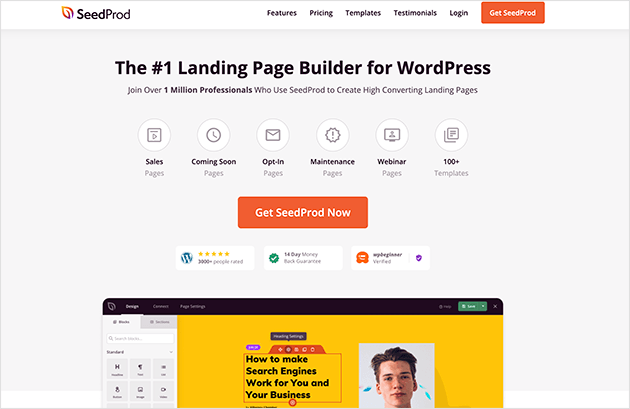 It allows you to create any WordPress theme or landing page easily without writing code or hiring a developer. With its powerful drag-and-drop editor, you can build pages quickly by pointing and clicking and seeing the changes in real-time.
Check out this guide to learn how to create a landing page in WordPress.
There you have it!
We hope this article helped you find the best lead magnet examples for your website. Go ahead and pick one and see how they boost conversions for your website.
You might also like these high-converting squeeze page examples to grow your leads further.
Thanks for reading. Please follow us on YouTube, Twitter, and Facebook for more helpful content to grow your business.