Are you looking for some stunning squeeze page examples?
With a squeeze page, it's much easier to encourage visitors to take the action you want. Yet, the terminology can be confusing, with many marketers having different opinions on a squeeze page.
In this article, we'll dispel the confusion and explain the true definition of a squeeze page. We'll also show you some squeeze page examples to inspire your next design.
Let's start with what a squeeze page really is.
What Is a Squeeze Page?
A squeeze page is a type of landing page designed to collect email addresses from your visitors. Normally squeeze pages offer something valuable in return for people's contact details, such as:
Downloadable content offers
Exclusive access to online content
Free courses and workshops
And more.
Squeeze pages are typically short, yet they almost always include the following page elements:
Headlines communicating the benefits of your offer.
Supporting copy providing enough information for users to make a decision.
A contact form or optin form so users can take action without leaving your page.
When creating a squeeze page, you should always remember that you shouldn't coerce people into doing something they don't want. The best squeeze pages offer something super-valuable and relevant to your audience for their information.
Difference Between a Squeeze Page and Landing Page
Squeeze pages and other landing pages have several similarities. Both include everything on a single web page, have a single call to action (CTA), and are ideal for targeted campaigns.
That said, there are a few key differences between squeeze pages and other types of landing pages, which we highlight below.
| | |
| --- | --- |
| Squeeze Pages | Landing Pages |
| Includes 1 or 2 form fields (name and email address) | May have multiple form fields to collect as much information as possible |
| Typically short and straightforward | It can vary in length |
| Always includes form fields for lead generation | May use call-to-action buttons as well as forms |
| Often used near the start of the buyer journey | You can use it at any stage in the buyer journey |
| It doesn't usually get traffic from email sources | Traffic comes from multiple sources, including email, social media, etc |
You can create both squeeze pages and landing pages despite their differences using SeedProd's drag-and-drop WordPress landing page builder. Check out this step-by-step guide to make a squeeze page with SeedProd.
Squeeze Page Examples Made Using SeedProd
Now that you know what a squeeze page is, here are some fantastic squeeze page examples built using SeedProd. We'll cover why each page works and how you can improve them for your own designs.
1. Regular Squeeze Page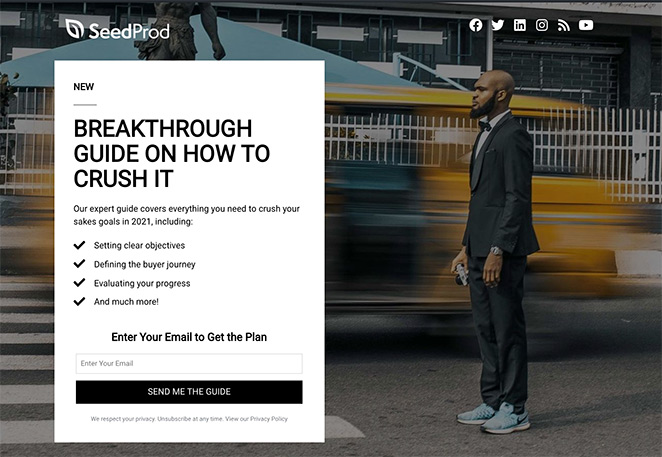 In this squeeze page example, visitors can sign up for a free guide on achieving their sales goals for the year ahead.
Offering a free guide is an excellent way to generate potential leads. But remember, your free resource must align with your audience's interests for it to be successful.
Why this squeeze page design works:
Headline: The headline is bold and eye-catching and explains the benefits of opting in.
Description: Users get a good idea of what's included in the guide.
Optin Form: The subscription form only asks for an email address, removing friction from signing up.
CTA: The CTA button stands out from the rest of the page, encouraging users to click.
2. Free eBook Squeeze Page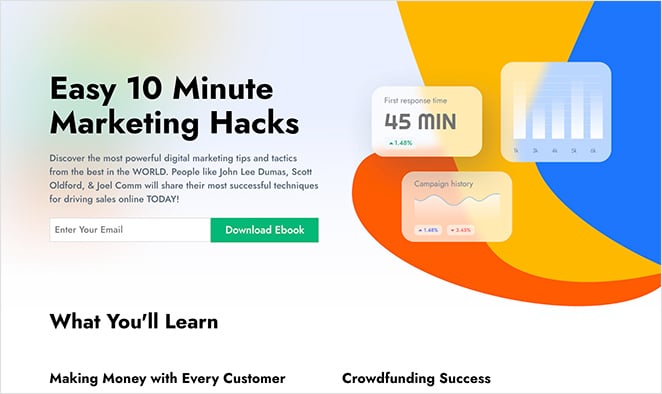 In this design, squeeze page visitors can enter their email address to download a free ebook. Ebooks are a popular lead magnet choice for content marketers because they offer significant value through the information they contain.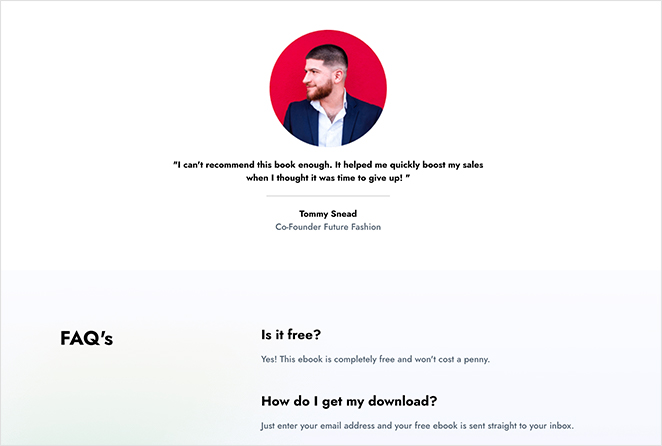 Where this squeeze page example differs from the previous design is in the extra details it offers. It's a little longer than traditional lead squeeze designs but not so long that it's distracting for users.
Why this squeeze page works:
Headline: By using the words "easy" and "hacks," the benefits for visitors are clear.
Description: Included in the description are names from leading experts, which gives the page more credibility. People are more likely to sign up if authority figures back your content.
Social proof: Using testimonials effectively assures users that your offering is legit and endorsed by other users.
FAQ: With a FAQ section, you can answer popular questions before people subscribe. This removes objections that prevent users from taking action.
Optin form: Like the previous example, the form doesn't ask for phone numbers or names. It only asks for an email address, making it easy to subscribe.
CTA: The CTA button is in a contrasting color helping it stand out from the page. It also uses direct copy, which is more effective in persuading people to act.
3. Real Estate Squeeze Page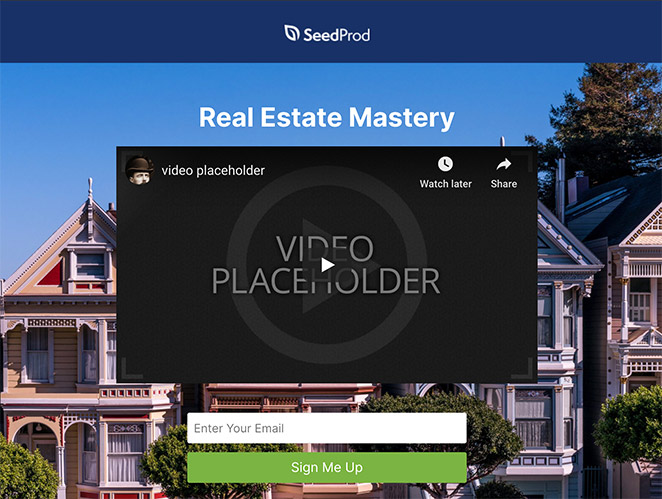 Offering an email course to visitors is a great way to boost your email marketing efforts. Regular emails packed full of useful information will keep your leads engaged with your business.
This real estate squeeze page example from a popular real estate website also uses engagement to get their message across via video. Since videos are easier to remember than simple text, including them on your squeeze page could be just what you need to persuade people to take action.
Why this squeeze page design works:
No navigation: By removing the navigation bar from the top of the page, there's no option for people to click away. This keeps them around long enough to hear your message and take action.
Video content: As mentioned above, video is more effective at driving your message home than the copy. It's more memorable and explains complex information easily.
Optin Form: The subscription form is short and asks for only the information you need.
CTA: A CTA button that explains what you want users to do works better than generic button text like "join" or "subscribe."
4. Webinar Registration Squeeze Page Examples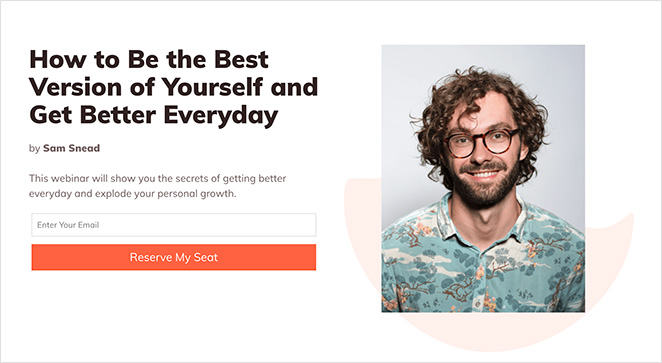 This squeeze page example encourages users to reserve their seats for an upcoming webinar. Not only is a webinar landing page a great way to collect email addresses, but it's also one of the best ways to increase registrations for your event.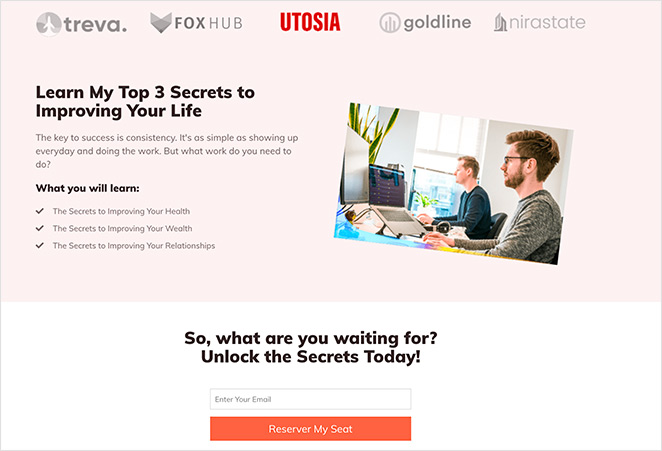 With no other distractions, visitors are completely focused on what you want them to do: register. This example can also be used as a waitlist landing page.
Why this squeeze page works:
Headline: There's no doubt about what people will learn from attending this webinar, increasing their registration chances.
No navigation: Again, this design has no navigation to prevent people from leaving before signing up.
Trust: By using logos from existing clients, you send trust signals to your users, which increases your brand's credibility. You could also use case studies and testimonials.
Description: The body copy on this page uses short, straightforward bullet points to clearly explain the benefits. They're also super-easy for readers to scan in a hurry.
Multiple CTAs: Instead of 1 optin form, this page has 2. This serves as an extra reminder for people to subscribe after reading the benefits of doing so.
5. Sneak Peak Squeeze Page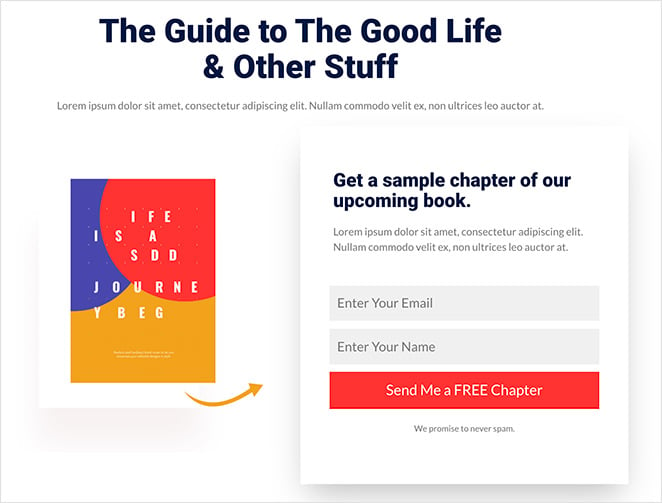 We love the simplicity of this squeeze page design example. It's clutter-free and offers something valuable for free that readers will love.
Instead of offering a free ebook or guide, users can get an entire free chapter of an upcoming book. This works much like a free trial, where if they enjoy what they read, people are more likely to buy the book when it launches.
Why this squeeze page example works:
Headline: The headline gets straight to the point about what the page offers.
Product image: Showing an image of what users can receive makes the offer much more desirable.
Optin form: Even though this sign-up form has 2 fields, it's still short enough for users to complete quickly and easily.
CTA: The CTA button stands out yet follows the same color scheme as the rest of the page. This creates a consistent and branded look.
6. Urgency Squeeze Page Examples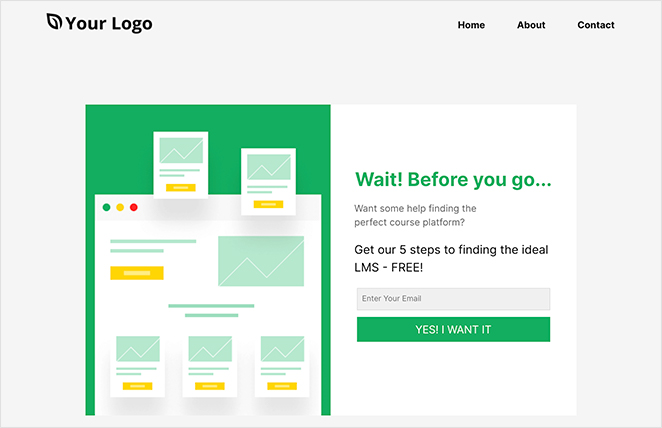 In this landing page design, users are asked to stop and wait before leaving. By opting in, they can get a free guide on finding the perfect platform for online courses.
The only thing we'd change on this page would be to remove the navigation. This would prevent people from leaving before they opt-in.
Why this squeeze page example works:
Headline: Words like "wait" instill a sense of urgency in readers. This naturally leads them to find out why they should wait.
Description: The description is simple, short, and explains why readers should wait and sign up.
Optin form: This signup form only requires an email address to subscribe, allowing users to sign up quickly.
CTA: Instead of generic terms, the CTA button uses emotive language to connect with the reader and persuade them to act.
7. Engaging Video Squeeze Page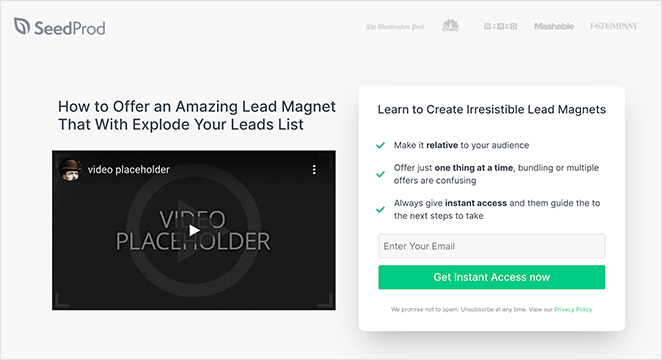 Earlier, we mentioned the power of video in persuading people to take action. This squeeze page design uses it in combination with creative body copy to access an instant online course.
For pages like this, you could use a video of the course instructor or even offer a sneak peek at the course content to whet people's appetites.
Why this squeeze page example works:
Trust: Instead of using a navigation menu, this page shows logos to reassure users of the course's credibility.
Headline: "How to" headlines are among the most popular ways to increase conversions. They promise to show you how to do something, which is a powerful motivator for signing up.
Video: With engaging video content, you can back up your headline by showing examples of what users will learn.
Optin form: Not only does the optin form include minimal form fields, but it also breaks down the benefits of subscribing in easy-to-read bullet points.
CTA: The CTA button copy promises instant access. This reassures visitors that they won't need to wait.
8. Promise Squeeze Page Examples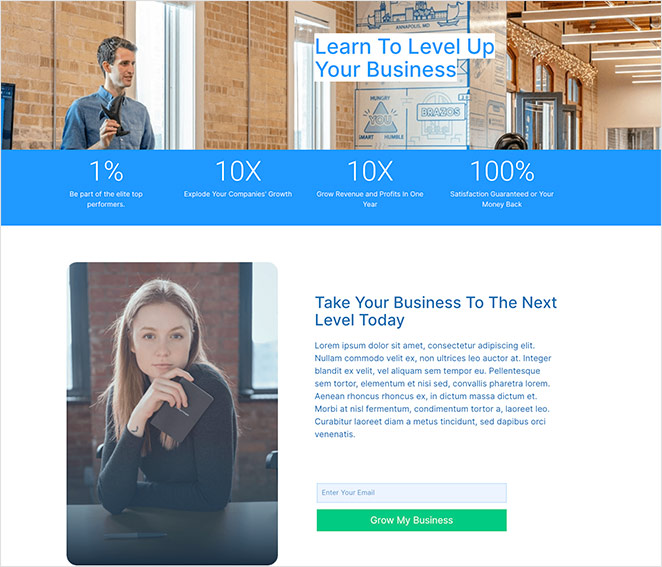 In this example, users are encouraged to subscribe to learn how to level up their business. Even though the design is straightforward, it includes several powerful elements that transform it into a high-converting landing page.
Why this squeeze page design works:
Imagery: In marketing, your audience is more likely to relate to other people. When used properly, the use of people and faces on your landing page can help you establish trust and encourage strong connections between customers and your brand.
Number promise: This page uses eye-catching numbers that promise you're part of the top 1% and to 10x your revenue. As a result of those promises, people are more likely to subscribe.
Optin form: With so much text on the page, keeping the form short and simple is essential for ensuring users can optin quickly.
CTA: The CTA button copy is benefit-driven, indicating that users should click to grow their business.
9. Coaching Squeeze Page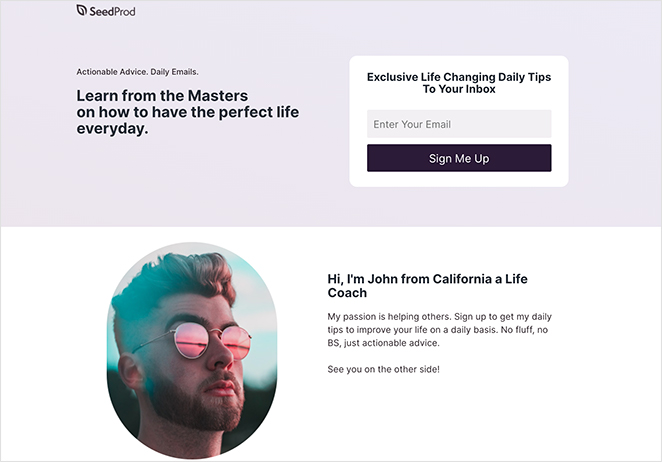 It's easy to think that squeeze pages are reserved for big businesses and eCommerce websites. Yet even personal brands and coaches can achieve success with a well-designed squeeze page.
The example above, although simple, is a great way to encourage potential clients to subscribe to your list without sounding too pushy.
Why this squeeze page design works:
Headline: This headline claims to offer advice from the "masters," which is both a powerful and convincing use of words.
Description: The description clearly tells you you'll get actionable advice daily, revealing exactly what users can expect.
Personal touch: By introducing yourself to your audience, you can create a more personal connection to readers.
Optin Form: The form is short, doesn't take too much space, and includes a clear CTA button.
10. Podcast Squeeze Page Examples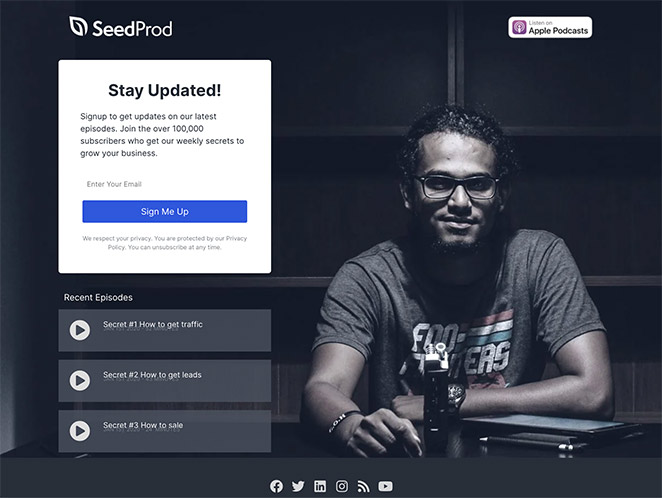 Next up is this stunning squeeze page example for podcasts. By subscribing, users can access thousands of weekly podcast episodes with secrets to growing their business.
Not only is this an excellent way to grow your email list but also expand your podcasting audience.
Why this squeeze page design works:
Badges: By including platform badges for your podcast landing page, you can reassure users that you cover their app of choice.
Recent episodes: Allowing users to listen to recent episodes right on your squeeze page gives them the chance to see if they enjoy your broadcasts before signing up.
Social buttons: Showing buttons for your social media profiles helps grow your following on those channels.
No navigation: Since there are no other navigation options, users have no choice but to subscribe, listen, or follow you.
11. Black Friday Squeeze Page Examples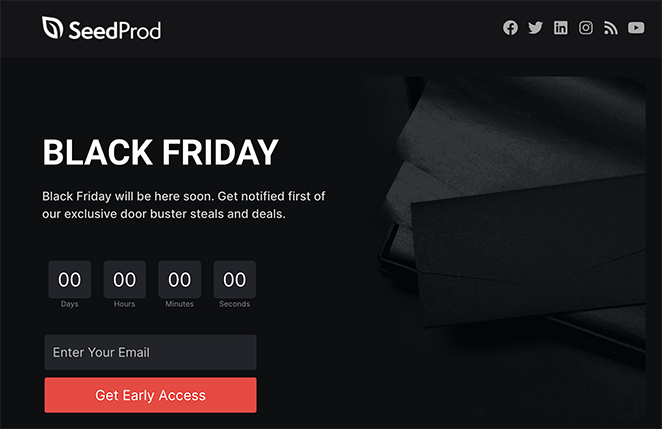 Our final squeeze page example is an excellent way to kick-start your Black Friday and Cyber Monday marketing efforts. To be among the first users to get the deals and discounts, you need to subscribe with your email address for early access.
Why this squeeze page design works:
No navigation: With no way to exit the page other than closing the browser, users are forced to decide if they want to get access.
Headline: Sometimes, the simplest headlines are the most effective, and this one, without a doubt, encourages you to take notice.
Description: The language used in the description is witty, urgent, and engaging. It works to persuade you to take action now.
Countdown timer: For another layer of urgency, the countdown timer evokes the fear of missing out. It makes you want to subscribe now before your chance is gone.
Optin form: To keep things simple, the subscription form is short, with only 1 field. You won't want to fill in lengthy forms if you're in a hurry.
CTA: Red is a powerful color and makes you want to stop and take notice. Using it for your CTA button is a great way to get users to pause, think, and act.
There you have it!
We hope this article gave you enough squeeze page examples to inspire your next design.
If video is your marketing weapon of choice, learn how to create a video landing page here.
And if you liked this article, please follow us on Twitter and Facebook for more useful content to help grow your business.