Do you want to know how to create a waitlist landing page for your business?
A waiting list page is a good way to collect leads for a new product, service, or website. You can then send customers an email when you begin selling and bring them back to your site to place an order.
In this article, we'll show you how to create a waitlist landing page to increase conversion rates step-by-step.
What Is a Waitlist Landing Page?
A waitlist landing page is a standalone page on your website where your target audience can enter their email address and join your waiting list. The idea is after signing up to join the waitlist, users will get email notifications telling them when they can see your offer.
For example, you might create a waitlist page for:
In this waitlist landing page example, Tapster offers a pre-launch waitlist to promote its new mobile app.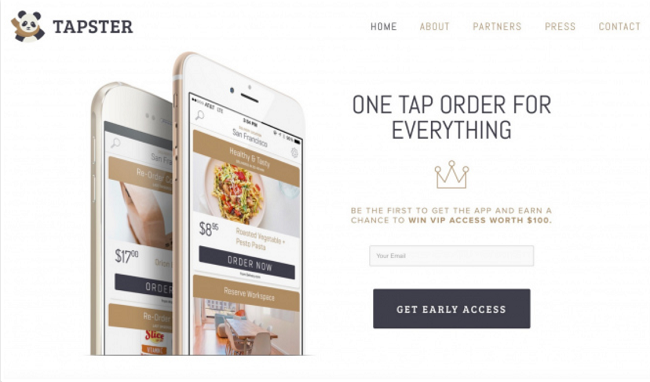 And what makes this pre-launch landing page so compelling is the incentive Tapster offers to encourage users to sign up. As you can see, signing up enters users into a prize draw for V.I.P access worth $100, making them more likely to take action.
In the end, leading your audience to a waitlist landing page allows you to continue the conversation with them and convert them into customers.
How to Create a Waitlist Landing Page in WordPress
You may have heard that setting up a waitlist landing page is hard in WordPress. But with the right tools, it's easier than you might think.
For instance, landing page plugins like SeedProd can help you spin up professional pages in under 30 minutes.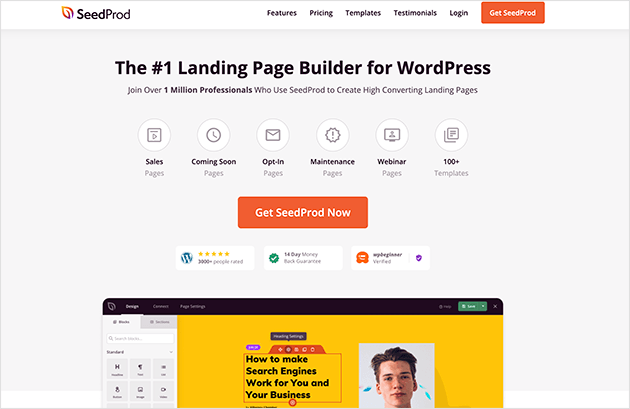 In fact, SeedProd is the best WordPress page builder, with over 1+ million users. With hundreds of pre-made landing page templates, it's easier than ever to get started with a new page fast.
Moreover, SeedProd's visual drag-and-drop builder lets you customize any page to meet your business goals. And because it doesn't require any coding or help from a developer, even non-techy users can create a high-converting landing page.
Note: You can also use SeedProd to create a custom WordPress theme, but for today, we'll focus on the landing page builder.
So if you want to create a successful waitlist landing page without the fuss, follow these steps.
Video Tutorial
Step 1. Install and Activate SeedProd
First, you need to download the SeedProd plugin.
You then need to upload the plugin to your WordPress website and activate it. Check out this guide on installing a WordPress plugin if you need help.
After installing SeedProd, you'll see a welcome message asking for your SeedProd license key. So paste your key into the license key field and click Verify Key.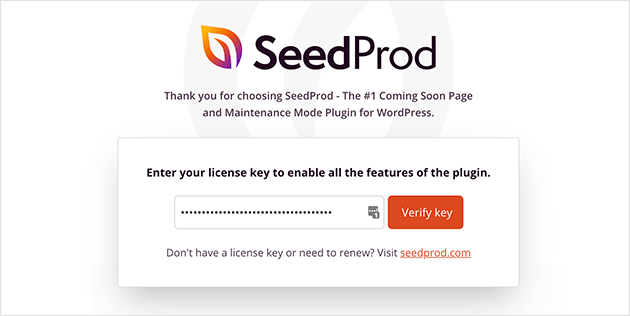 Note: you can find your SeedProd license key in your account area on SeedProd's website. Just log in to SeedProd and head to the Downloads section.
Once you verify your key, scroll down and click the Create Your First Landing Page button. That will take you to the landing page dashboard, where you can start creating a new page.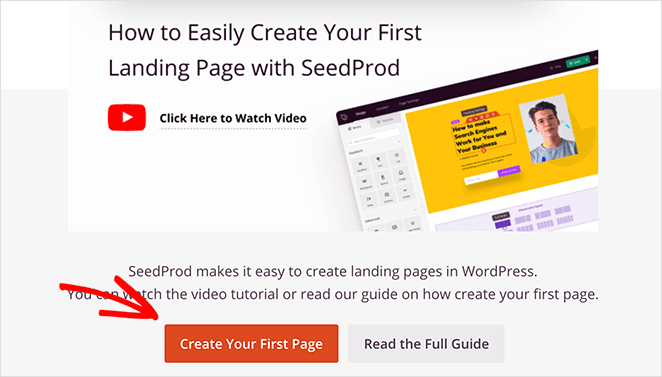 Step 2. Create a Pre Launch Landing Page
SeedProd's landing page dashboard has 2 sections. At the top are page modes that allow you to: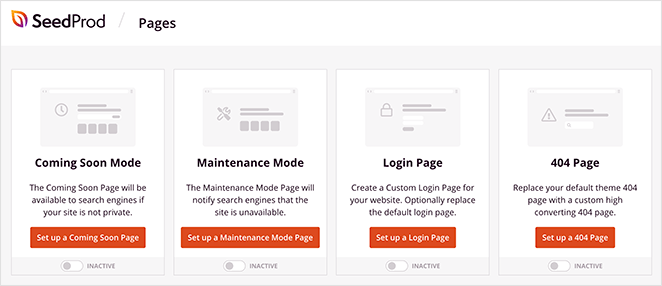 Plus, you can turn each page on and off with a single button click. The great thing about that is you won't need lots of extra WordPress plugins to add those features to your website, saving you both time and precious web space.
Then under that section is where you can find any standalone landing pages that you make. For this guide, we'll keep things simple and use the standalone feature to create a waitlist page. So click the Add New Landing Page button to get started.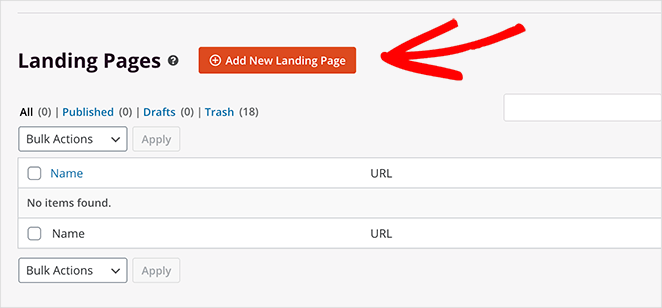 On the next screen is SeedProd's landing page template library. It offers various designs that you can filter by page type, including:
So browse the templates until you find a design close to how you want your waitlist page to look. From there, hover your mouse over the template and click the checkmark icon.
For instance, we like the look of the City Coming Soon Page template, so we'll pick that one.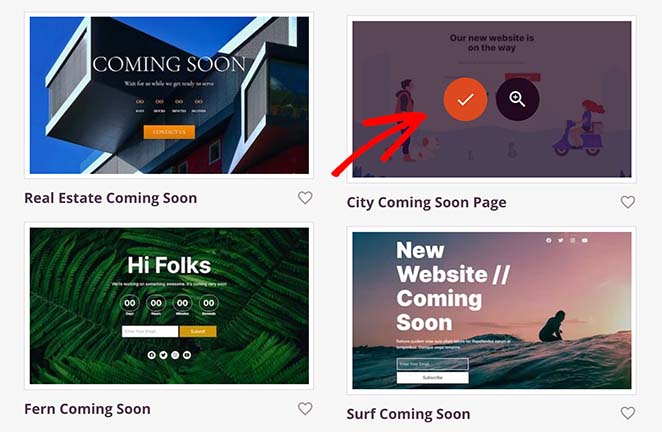 After choosing your template, you can enter your landing page details in the following popup, like its name and URL. From there, click the Save and Start Editing the Page button to launch your template in the drag-and-drop editor.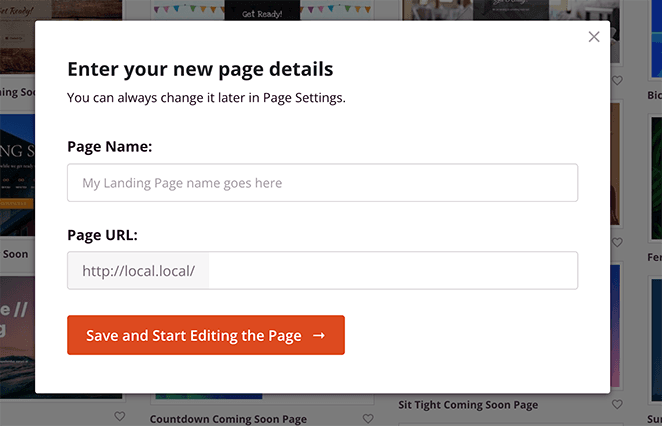 Step 3. Customize Your Waitlist Landing Page
For the best waitlist landing pages, focus on customization to meet your specific business goals. But before we do that, let's have a quick look at the visual editor so you can find your way around.
As you can see, SeedProd's visual editor has 2 primary columns.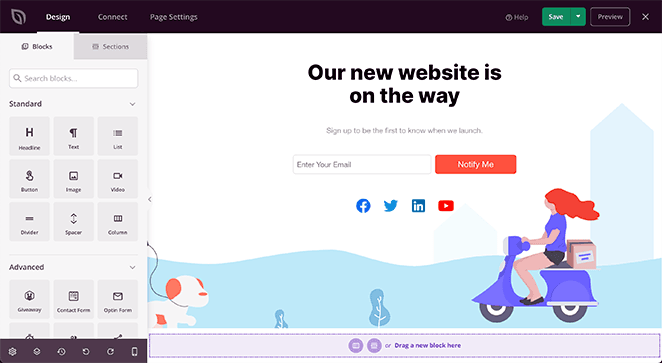 You can find blocks and sections for adding content on the left. And on the right, you can preview how your customizations will look.
To customize any element on the page, simply click it, and you'll see its settings in the left-hand panel. For example, you can change your primary headline by clicking it, deleting the default text, and adding your own.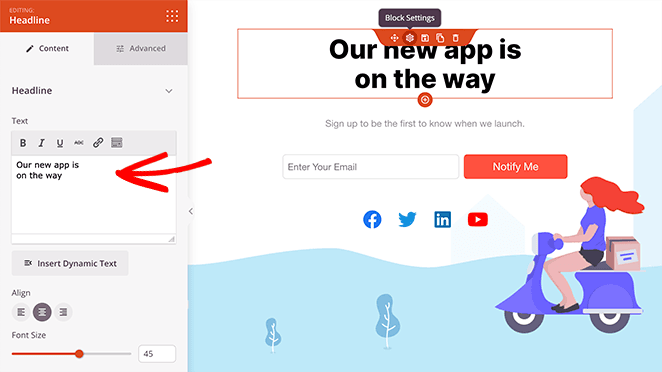 You can do the same thing for your subheading and change it to something more enticing for your visitors.
Then, you can click the Advanced tab for that block and customize it further. In our case, we gave the subheading a new color to stand out.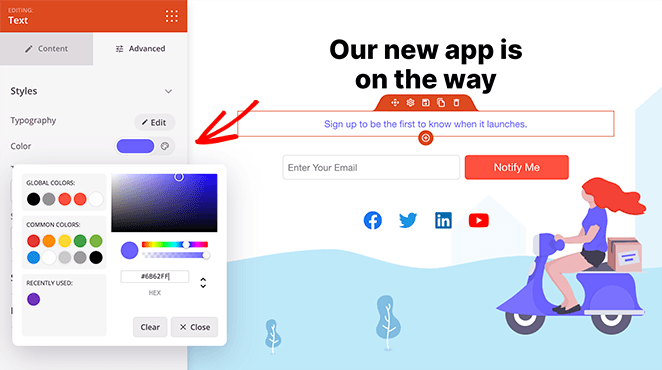 Changing the background image is just as easy. To do that, click the cog icon in the bottom-left corner and select the background tab.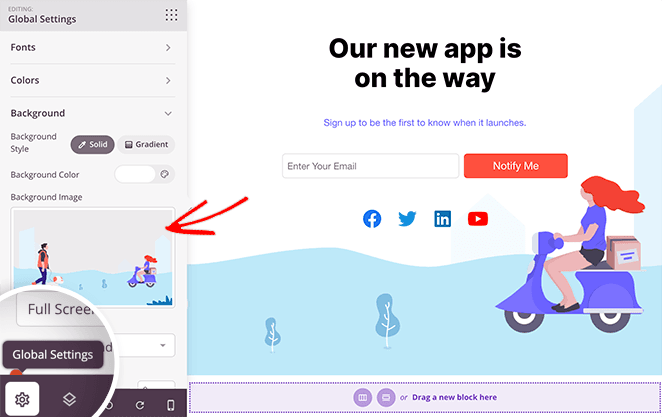 From there, you can delete the existing background image and upload a new photo from your computer or WordPress media library. Or, if you have a SeedProd Plus license or higher, you can choose from thousands of royalty-free stock images right inside the plugin.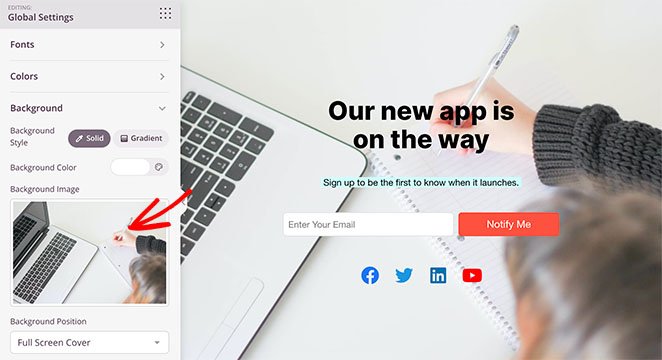 How Do I Get People to Join My Waitlist?
Now that you've customized your template, you can add more content to your page with SeedProd's powerful content blocks. The Advanced blocks, in particular, are an excellent way to build anticipation for your big launch.
SeedProd's lead generation blocks include:
There are even blocks for WooCommerce that allow you to put add-to-cart buttons and product grids on your page or create completely custom WooCommerce checkout pages.
To make your offer irresistible, consider adding a 'Join the Waitlist' call-to-action on your landing page. You can also add some urgency to compel visitors to sign up.
To do that, we'll use the countdown timer block. Simply drag the Countdown block from the left panel, and drop it onto your page.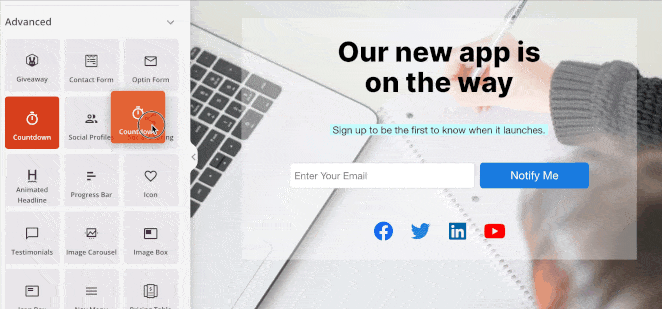 Once the timer is in place, you can change its type, choose a different timer template, and adjust the colors. And if you like, you can change how the timer behaves when it finishes counting down.
For instance, you can show a message or send users to another page or URL.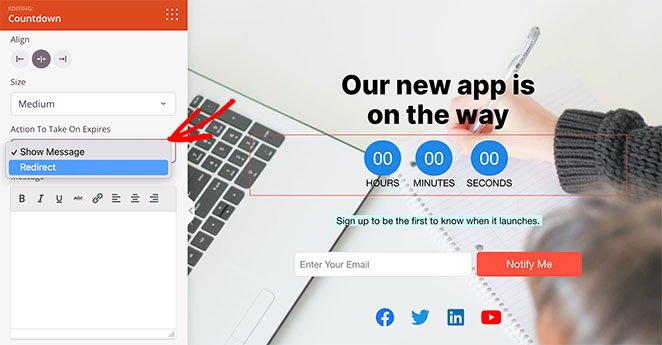 Now let's look at the signup form, which our template includes by default. The signup or opt-in form is where you can collect email addresses from visitors that want to join your waiting list.
You can edit any part of your waiting list form with SeedProd, such as the form fields and size, alignment, and buttons. Additionally, you can select different form field templates and adjust the colors and spacing.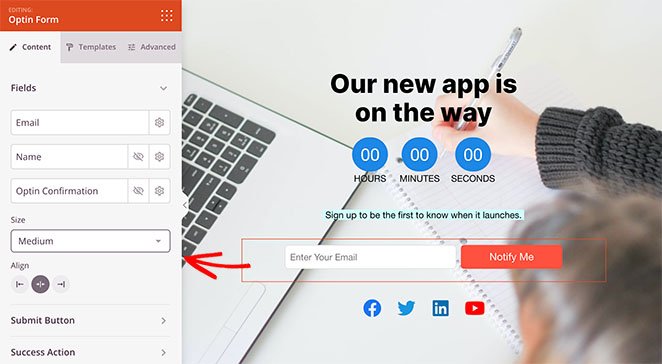 Keep customizing your design until you're happy with the results. Then move on to the next step, where we'll show you how to connect to your email marketing provider.
Step 4. Connect Your Email List
Connecting your opt-in form to your email marketing provider in SeedProd is pretty straightforward. Simply click the Connect tab at the top of your screen.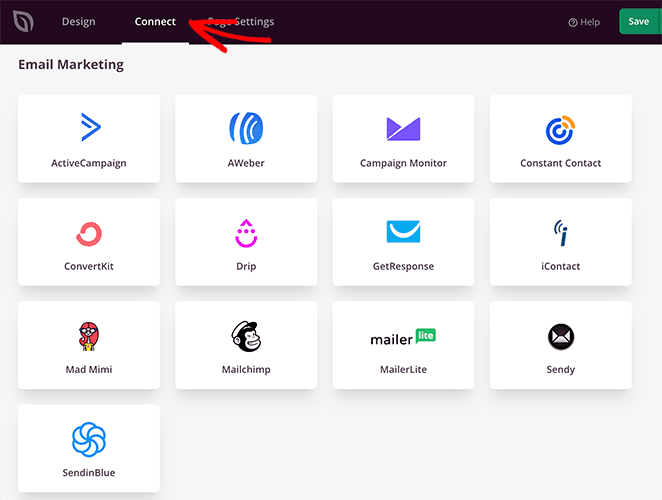 From there, you can browse popular email marketing services, and when you find yours, follow the instructions to connect your list. If SeedProd doesn't have direct integration with your email provider, you can always use its Zapier integration.
And on the same page, you also find direct integrations for Google Analytics and Recaptcha.

Step 5. Configure Your Page Settings
The next step involves making sure your landing page settings are correct. So click the Page Settings tab and browse each section.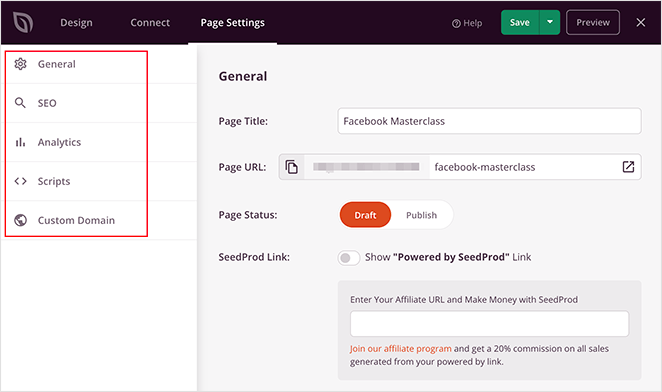 Here's a quick overview of what each section does:
After configuring your waitlist landing page settings, click the Save button in the top-right corner.
Step 6. Publish Your Waitlist Landing Page
The final step in this guide is to make your waiting list landing page live. To do that, click the dropdown arrow on the save button and select Publish.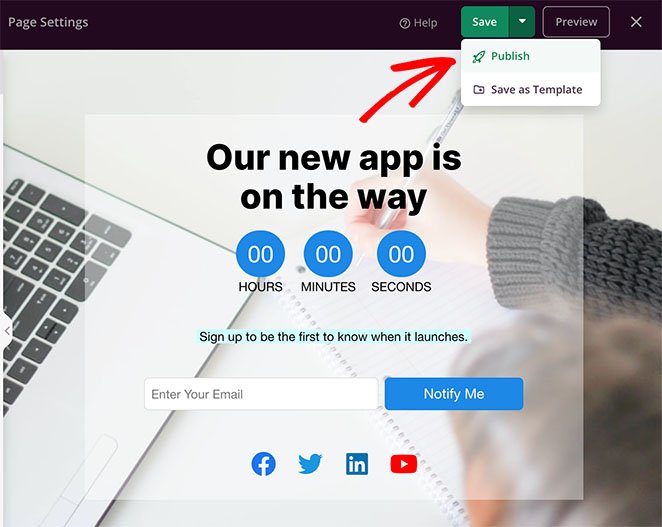 Now you can preview your page to see how it looks.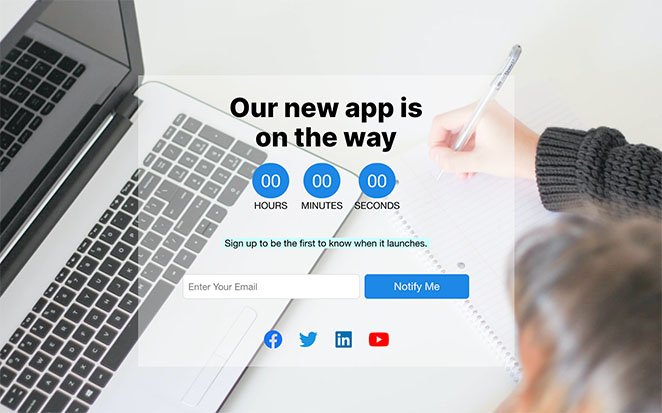 Congratulations!
We hope this tutorial helped you learn how to create a waitlist landing page in WordPress. While you're here, you might also like this overview of the anatomy of a landing page. That way, you can start your waiting list design off on the right foot.
Thanks for reading. Please follow us on YouTube, Twitter, and Facebook for more helpful content to grow your business.