Are you looking for landing page URL examples and best practices?
A carefully selected landing page URL can help your page rank higher in search engines and increase conversion rates. However, if you choose poorly, you could lose potential customers.
This article will share some excellent landing page URL examples and explain the best practices to improve user experience and boost sales.
What Is a Landing Page?
A landing page is a standalone web page on your site that focuses on generating leads and conversions. Unlike your website homepage, which has multiple links and calls-to-action (CTA), landing pages give visitors a single path towards converting, such as:
Entering an email address
Clicking a single CTA button
Making a purchase
Booking an appointment
How Do Landing Page URLs Work?
A landing page URL is a link that users click in an ad in search results or social media. Most landing pages have a unique URL comprising of your website's domain name and the landing page name:

In some cases, the URL may include an extra slug, but that depends on your website's domain structure:
https://www.example.com/category/landing-page
Creating a good landing page URL makes it easier for search engines to crawl and index your pages, leading to higher rankings and more traffic.
Landing Page URL Best Practices and Examples
Now that you know how they work, here are some landing page URL examples and best practices to improve your digital marketing efforts. Create, customize, and test your landing page URLs to make them easier to recognize for potential customers and search engines.
1. Make Your Landing Page URL Easy to Read
First, your landing page URL should be easy for visitors to read. A URL that only includes a string of numbers doesn't tell visitors anything about the page they'll visit, so why should they click on it?
Give prospects an idea of what they'll find on your page using descriptive words related to your page's content.
Here's an example from one of our Black Friday campaigns at SeedProd:

The URL includes 2 words to describe the landing page. Users can immediately see that clicking the link will take them to a page about Black Friday at a glance.
2. Keep Your URL Short
Another important part of your landing page URL is its length. Online information has shorter attention spans, and users digest information quickly.
If your URL is too long, it won't catch people's attention or encourage them to click. Keep your landing page URL to around 50 to 60 characters for the best results.
In this example from WPForms, the URL is longer because it includes the "features" category slug, but it's still under 50 characters long. The URL is easier to remember and more attractive as a result.
https://wpforms.com/features/entry-management
Think about ways to shorten your URL if yours is longer. For instance, you can focus more on your primary keywords and the information crucial to potential customers.
3. Don't Use Unnecessary Stop Words
You can also shorten your landing page URL by removing unnecessary stop words. That includes words like:
You should also avoid punctuation like underscores and numbers if they're irrelevant to your landing page copy.
Stop words in URLs don't typically impact search engine optimization (SEO). Yet, they are relevant if they make your URL longer.
Google ranks URLs by length, and longer URLs often rank lower than shorter ones, as you can see in this chart from Ahrefs: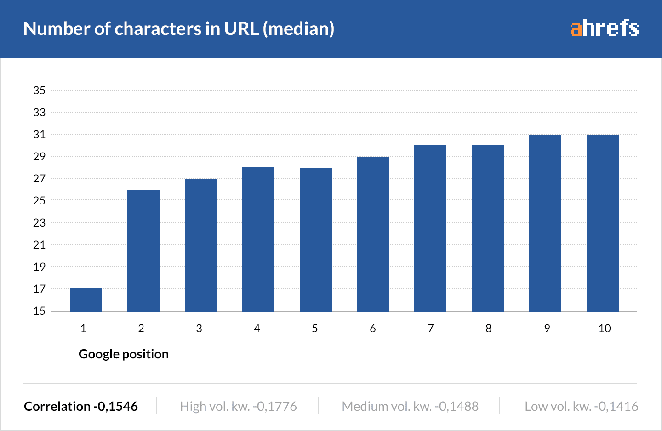 Removing stop words from your landing page URL will make it more readable and help you rank higher in search results.
4. Include Key Search Terms
Another factor that search engines like Google consider when ranking your landing page is the keywords you use.
Potential customers type keywords into Google to find what they're looking for. Users won't click on your link or convert if your landing page design doesn't incorporate crucial keywords.
You can place keywords on your landing page:
Copy
Title tags
Meta description
Image alt
Keywords can also help when you place them in your landing page URL.
Have a look at the following landing page URL examples:
Imagine the links will take users to a landing page with a registration form for Jenny's pet grooming in Tampa:
https://www.example.com/n=8801531572&fid=1&mid
https://www.example.com/pet-grooming-tampa-jennys
Can you see how the 2nd customized landing page URL includes the search term "pet grooming tampa"? Using the key search term, this URL is more likely to rank higher in search results than the first example because it helps answer what users are looking for.
5. Avoid Keyword Stuffing in Your Landing Page URL
Even though keywords are an excellent way to improve your landing page SEO, you should avoid stuffing your URL with them. Stuffing your URL with multiple keywords looks spammy and can confuse potential customers.
Let's look at an example of a landing page that compares 2 different products so users know which is best:

https://optinmonster.com/compare/optinmonster-vs-justuno/
As you can see, OptinMonster uses the key term "compare" in the category slug and the 2 product names in the page name.
A URL with keyword stuffing might look like this:
https://example.com/optinmonster-vs-justuno-comparison-justuno-alternatives-competitors/
The difference is clear. The URL with too many keywords is hard to read and confusing, whereas the first example is straightforward with just the right amount of keywords.
To paraphrase Matt Cutts of Google: if you have 3, 4, or 5 words in your URL, it's fine. But if your URL has 15 words and variants of the same words strung together, then that does look like spam.
6. Use HTTPS in URLs for Security
Next is a landing page best practice that every website owner should consider: using HTTPS over HTTP.
URLs that start with HTTPS tell search engines and website visitors that your website is using Secure Sockets Layer (SSL). SSL is a type of website security creating a secure and encrypted connection between a user's web browser and the server hosting your site, which is what the "S" in HTTPS stands for.
One of the main benefits of HTTPS is it adds security and trust to your website. It reassures visitors that they're protected from insecure networks.
Moreover, Google prefers websites with HTTPS to those without because they want to prioritize security for users. If your landing page URL doesn't include HTTPS, visitors may see the following warning: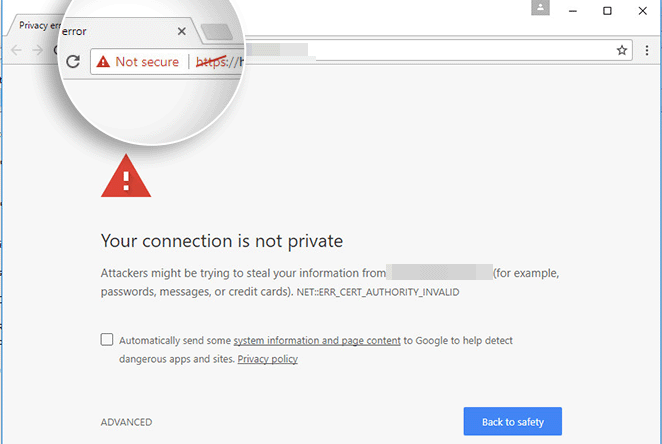 A warning like this can cause potential customers to avoid your page entirely.
7. Match Your URL to the Landing Page Content
As mentioned earlier, your landing page URL should tell visitors what they'll find when they visit. For example, if you see a URL with pet grooming in the slug, the landing page should include information about pet grooming.
You're misleading potential customers if the URL and landing page content doesn't match. That not only gives people the wrong impression of your company but also leads to lost sales opportunities.
Look at this landing page URL example from Blue Cross travel Insurance:

You'd expect to find information about travel insurance, right? Here's what you get: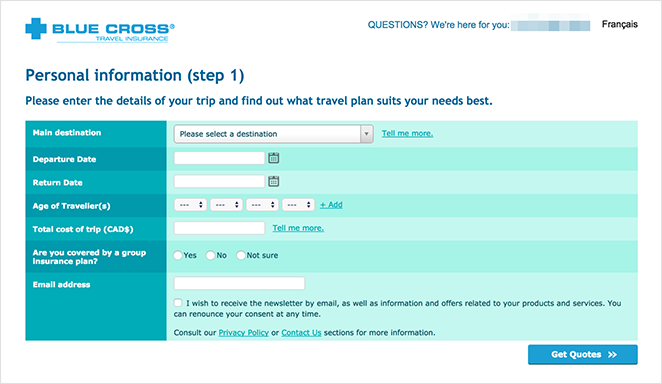 The URL doesn't match the landing page content, and to add insult to injury, it expects you to part with personal information immediately.
Now let's look at a good example. Here is the landing page URL:

Now, look at the landing page content:

We'd say that's a pretty good match. You expect travel insurance and get travel insurance when you click the link.
Bottom line: ensure your landing page URL accurately describes what users will find on your page.
After looking at the best practices for landing page URLs, here's another question we'd like to answer for you.
Do I Need a Separate URL for a Landing Page?
Some website owners think they need to use a custom domain name for landing pages. The truth is you can create landing page URLs with or without a custom domain.
As we explained earlier, a landing page URL will include your website's primary domain, then your landing page name like this: https://example.com/landing-page. It's perfectly fine to create landing pages with this URL structure.
However, you may wish to give your page a custom domain in certain circumstances, such as:
Real Estate Business: You could list properties on 1mainstreet.com and 2mainstreet.com instead of myrealestate.com/1mainstreet and myrealestate.com/2mainstreet.
Webinar Marketing: You could launch a webinar for your business at setupwordpress.com and have the webinar page at setupwordpresswebinar.com.
With a custom URL, you can make your landing pages look like individual websites, separate from your primary website.
How to Add a Custom URL to WordPress Landing Pages
You can customize your landing page URL in WordPress easily with a page builder plugin.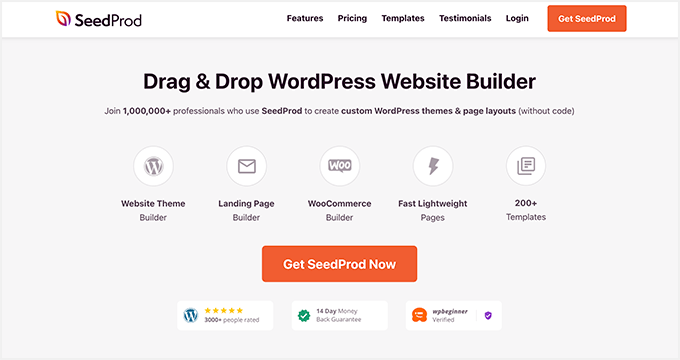 SeedProd is the best website builder for WordPress. It includes a user-friendly drag-and-drop page builder, allowing you to create any website layout without code.
SeedProd also includes a powerful Domain Mapping feature, which lets you give each landing page a unique domain name. Follow this step-by-step guide to give your WordPress landing page a custom domain.
Next Steps
We hope this article has helped you find landing page URL examples and best practices. You might also like these best social media plugins for adding social proof to your website.
Thanks for reading. Please follow us on YouTube, Twitter, and Facebook for more helpful content to grow your business.