Are you looking for landing page headline formulas?
Attention-grabbing headlines can keep visitors on your site longer, encourage them to read relevant content, and increase conversions.
This article will explain how to use landing page headline formulas to capture attention and convince your target audience to act.
What Are Landing Page Headline Formulas?
Landing page headline formulas are shortcuts for creating great headlines. Instead of guessing about what might work, you can use tried and tested formulas to make headlines for your landing page that are proven to work.
For example, Nathan Barry uses an 'objection preemptive' headline formula on his sales page subheading to catch potential customer's attention: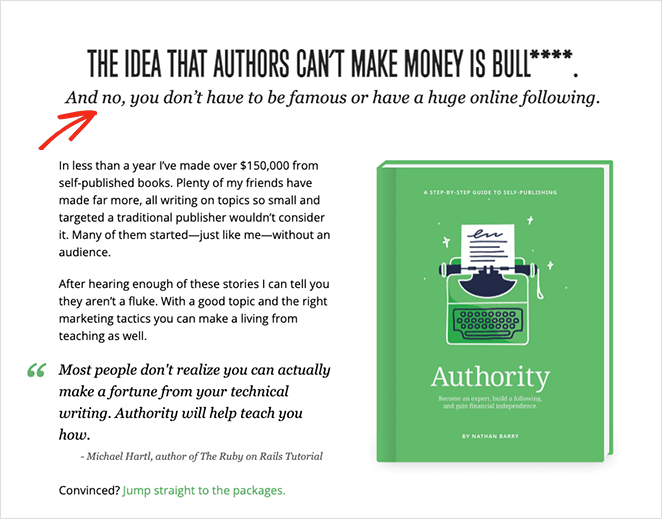 Here's the formula: [No/Yes], You [Pre-Empt Objection] to [Achieve Desired Result]
Why Are Landing Page Headlines Important?
The father of advertising, David Ogilvy, once said this about headlines:
"On average, five times as many people read the headline as read the body copy. When you have written your headline, you have spent eighty cents out of your dollar."
Because it's the first thing people see upon landing on your page, an excellent headline can help form a good impression and convince users to stay. Conversely, users will leave your site quickly if your headline makes a poor impression.
So what makes a compelling landing page headline? After looking at thousands of headline examples, we've discovered that the most effective headlines share a few common features, which we'll discuss next.
What Makes an Effective Landing Page Headline?
Regardless of the landing page you create, it will only be effective if it includes the following 3 components:
Clarity – Your headline should never be vague. It should get to the point and connect with users immediately.
Relevance – A landing page headline should also be relevant. If users click an advertisement on social media or Google search to reach your page, they'll expect to see a headline that matches the ad copy. Keep your ad and landing page design similar so users know what to expect.
Empathy – The best headlines empathize with the user's pain points. Demonstrate your product or service's benefits and reassure visitors that you can solve their problems to build trust.
By incorporating these characteristics into your headline, you can create a landing page that keeps visitors engaged and encourages them to convert.
Proven Landing Page Headline Formulas (with Examples)
Once you know what a great headline should include, you're ready to use our proven landing page headline formulas to make yours stand out and boost conversion rates.
Let's dive in.
1. The How-to Headline Formula
First is a landing page headline idea that's straight to the point, offering a firm answer to a specific problem. It creates empathy with visitors by telling them how to solve or eliminate a problem.
Here's the headline formula: How to [Achieve Desired Outcome]
You don't necessarily have to include 'how to' in the headline, but you should phrase your headline in a way that provides a clear solution to the problem.
For example, you can rephrase your headline similar to CityCliq. They began with the headline, "Businesses Grow Faster Online," but changed it to "Create a Webpage for Your Business" using the how-to formula.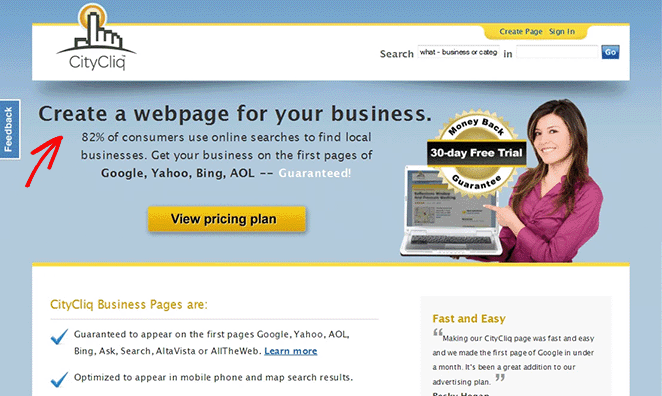 After changing its headline, CityCliq saw a 90% increase in conversions because users finally saw how the brand could solve their problems.
2. The Value Proposition
The following headline formula is one that digital marketers call the value proposition or promise because it focuses on your offer's unique selling point rather than the user's pain points. When creating this type of headline, you should introduce your product's benefits and highlight your offer.
Here's the typical headline formula: Unlock the [Promise] for [Benefit]
It may look similar to the "how to" headline, but this landing page headline puts less emphasis on the problem and more on the solution.
For example, Cameo uses this formula for its business landing page headline: "Unlock the power of celebrity for high-performing creative solutions."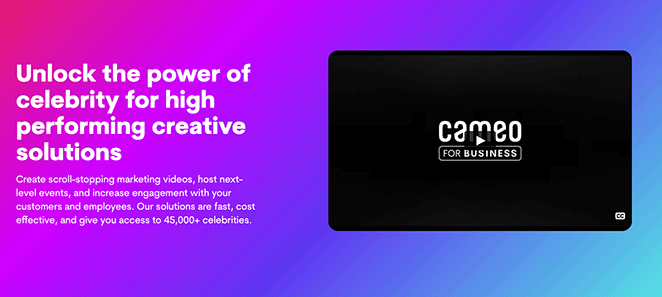 The unique selling point or promise is "the power of celebrity," and the benefit to users is "high performing creative solutions."
3. The Cliffhanger Formula
Cliffhanger headline formulas tease something exciting to visitors but hold back on the solution to encourage them to keep reading. It's a strategy used by many business websites to compel visitors to click through from search results, social media, and display ads.
This type of headline avoids pushy sales language and often uses numbers to back the statements.
Here's the formula: These [Number] [Thing] Could Help You [Desired Outcome]
An excellent example of this formula in action is when Moz changed its landing page headline from "Improve your traffic and rankings with a SEOMoz Pro Membership" to this:

Instead of going straight for the sale, Moz wanted to generate more interest with its users. As a result of their new cliffhanger headline, Moz increased its annual revenue by $1 million dollars.
4. The Number Headline
Did you know that around 36% of users prefer headlines that include numbers? Lists, for example, are consistently proven to be the most effective headlines, but you can also use statistics to give headlines more authority.
Try these numbered formulas for your landing page:
Ultimate list: [Big Number] of Ways to [Achieve Outcome] Example: 24 Point Checklist For A Successful WordPress Website Launch
Proven methods: [Number] Proven [Ways] to [Get Desired Result] Example: 18 Proven Techniques to Get More Real Estate Clients in Less Time
Social Proof: The [Object] That [Social Proof] Use To [Desired Outcome] Example: The Tool That 283,000 Websites Use to Grow Their Traffic
Take this example from KlientBoost.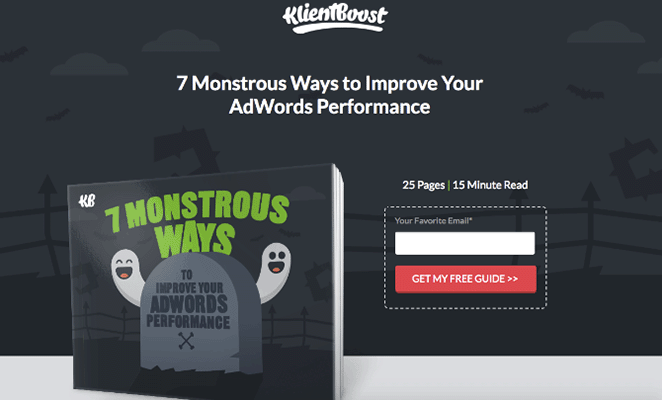 The headline is simple, to-the-point, and uses numbers to compel users to enter their email addresses to get the free guide. And if you look carefully, they use numbers to demonstrate how long the guide is and how quickly users can read it.
5. The Call to Action Formula
An eye-catching call-to-action (CTA) is important for every landing page. While you'd typically use CTA buttons and signup forms to present your call-to-action, it's also an excellent way to make your headline more effective.
As you'll see in the example below, this headline formula is the ideal way to inspire action, like filling out forms, clicking a button, signing up for a free trial, and more.
Here's the formula: [Action] [Outcome!]
Noah Kagen offers an excellent example of the call-to-action formula on this landing page: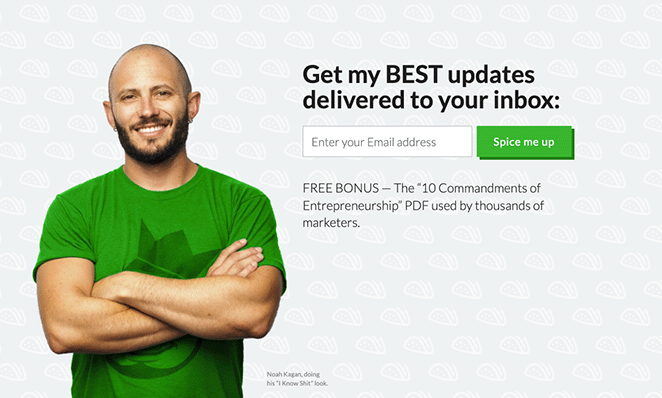 He tells visitors to get his best updates (action) delivered to their inbox (outcome), immediately encouraging users to sign up.
Pro tip: You can also include a free bonus tip like Noah to offer extra value to users.
6. Special Offer Headline Formula
If your landing page campaign aims to attract new customers, promote products, or drive sales, you can use the special offer formula to increase conversions. Everyone loves a special offer, so why not state it clearly in your headline?
The benefit is clear; users that click on your headline and take action are saving money. Plus, if they see your special offer in an ad, then see the same offer on your landing page, they'll know they're in the right place.
Here's the headline formula: Save [Discount] off [Product]!
You can see the formula on SeedProd's Black Friday landing page. Users can instantly see how much they'll save and which steps they should take to claim the deal.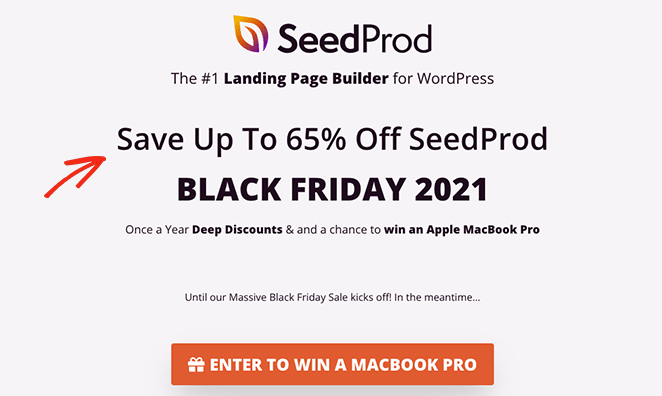 7. Testimonial Landing Page Headline
Next is the testimonial headline which uses the power of social proof to encourage visitors to take action. Using what your customers say about your business is an excellent way to improve word-of-mouth marketing because people value the opinions of real people more.
Headlines with testimonials reduce the risk factor for visitors wanting to try your products or services. If other people enjoy your products and are willing to say so, your company must be good.
There isn't a typical testimonial headline formula because you're simply using the testimonial text like this example from Zoho CRM: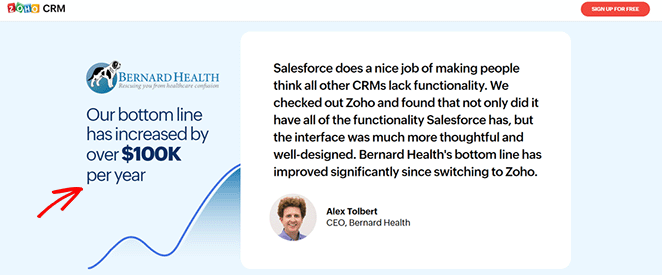 However, you can also use the case-study formula in your headlines: How [Company] Got [Result] In [Timeframe].
8. Bonus Landing Page Headline Formulas
If the landing page headlines ideas above aren't enough to spark inspiration, you can try some of these other compelling headline formulas for your landing pages:
Ultimate Guide: The Ultimate Guide to [Get a Desired Outcome]
Fear: Warning! Are You [Something Undesirable]?
Rally Cry: Let's Stop [Call to Arms]
Mistakes: [Number] Mistakes People Make When [Common Action]
Secrets: [Number] Secrets to [Achieve Desired Outcome]
Outrageous: Why [Outrageous/Controversial Claim]
Lessons Learned: [Number] Lessons I Learned From [Experience]
Question: Are You [Provocative Question]?
Celebrity: How to [Achieve Outcome] Like [Celebrity]
How To Without: How To [Outcome] (Without [Unpleasant Action])
Analysis: We Analyzed [Number] [Thing] (And This Is What We Learned)
WTF: [Person] And [Object] Doing [Odd/Funny Activity]
Imagination: Imagine [Desired Outcome]
Pattern Interruption: How [Claim Going Against What Most People Think Is True]
How to Create a Landing Page on WordPress
After planning your landing page headline and content, you'll likely be looking to create it in the easiest and quickest way possible. Luckily we have the ideal solution for creating a landing page easily on your WordPress website.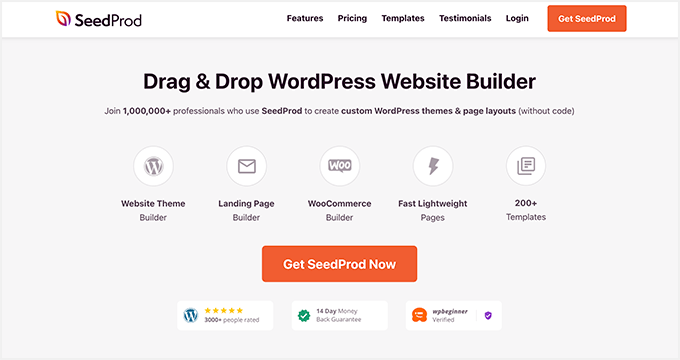 SeedProd is the best WordPress website builder with drag-and-drop functionality. Not only can it help you create complete WordPress sites without hiring a developer, but it also lets you create high-converting landing pages without code.
You can start with a responsive landing page template, then customize your design visually with drag and drop. It also includes powerful blocks and sections designed to help you achieve the best results for your marketing campaign, including:
SeedProd works seamlessly with popular WordPress plugins and integrates directly with the best email marketing providers, making it super easy to use the tools you love simultaneously. It's also lightweight and bloat-free, ensuring your page load times are always as fast as possible.
We hope this guide has helped you find the best landing page headline formulas and examples for your business.
You might also like this guide on A/B split testing your landing page with Google Optimize for even more conversions.
Thanks for reading. Please follow us on YouTube, Twitter, and Facebook for more helpful content to grow your business.