Do you want to test and optimize elements on your website or landing pages?
With A/B testing, you can experiment with different website elements to see which variations lead to the best conversion rates. But the world of conversion rate optimization is challenging if you don't know where to start.
That's why in this article, we'll show you how to run Google Optimize A/B testing easily, step-by-step.
Before we dive in, let's explain what A/B testing is.
What Is A/B Testing?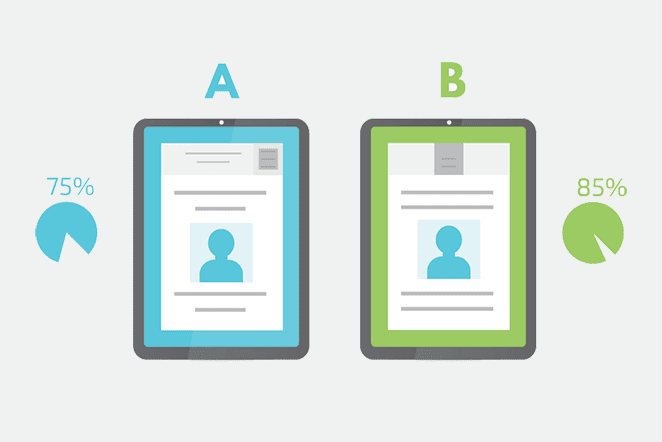 A/B testing is an effective way to find and make improvements on your business website that impact your online success.
It works by creating a second version of your page with slight differences and splitting traffic between each version equally. You can then see which variant performs better.
For example, your original page, variant A, might have a blue call to action (CTA) button. To see if a different color leads to more clicks, you can make a copy, variant B, and make the CTA button red.
Then, you can send 50% of your traffic to page A and 50% to page B to see which button color has the best click-through rate.
By running A/B split tests, you can learn ways to create a page that offers the best results for a specific goal. In the end, you can publish that page for all of your website visitors to see.
Why Should You Run A/B Testing?
Depending on how you set up your tests, A/B testing can significantly impact your business success.
In one example, digital marketing agency Inbound Logic increased conversions by 1500%. And they did this with a combination of exit-intent popups, and CTA split testing.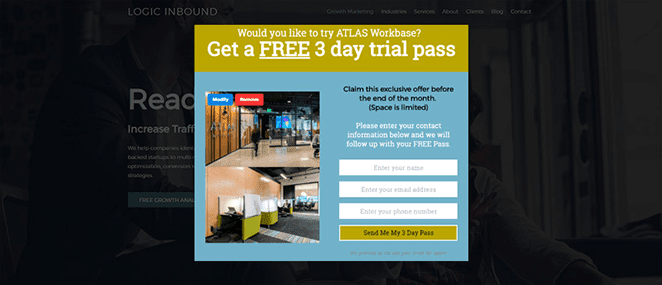 So with the right approach, testing can impact your ability to generate conversions because you can learn what works best for your audience.
While it's tempting to research what other companies are doing and copy it on your site, we suggest avoiding this. What works for one website may not necessarily work for yours because your audiences are unique to your brand.
Instead, start creating variants with your particular website visitors in mind. That way, you can be confident that they're specific to your audience, which is better than copying generic best practices.
Essential Elements to A/B Test and Optimize
In terms of what you should test, it largely depends on the type of business you run. That being said, there are several key elements you should include in your A/B testing:
Headline – Make your headline actionable, engaging, and address your audience directly. Test different versions to see which one gets the most clicks or keeps users on the page.
Call to Action Button – Test the placement of your button by moving it up or down the page. You can also test the button size, color, and animation to see which works best.
Call to Action Copy – Your CTA button copy should make it clear what you want visitors to do. As well as being actionable and engaging, try to keep it brief. Then you can test your CTA copy to see which version boosts conversions.
Sales Copy – Make your sales copy easy to understand. Speak in your audience's language and avoid confusing jargon. You could test adding feature lists to your pricing page so users won't need to switch back and forth between pages.
Product Description – Ensure your product descriptions make sense to your visitors. Explain what each feature means and how it can impact the user's experience. You can test which version has the best reaction.
Testimonials – Test the placement of your testimonials, so they're in the best place to convince users to convert. Often this is towards the bottom of a page, where users are close to making a purchase decision.
Make a plan of the elements you want to test on your website or landing page. You can then move onto finding A/B testing tools to help you with your experiments.
At SeedProd, we use Google Optimize for A/B Testing. Keep reading to find out why we think this is the best A/B testing tool.
Why Use Google Optimize for A/B Testing?
There are several A/B testing tools you can use to optimize your website. But many come with a hefty price tag and are difficult to use if you're new to it all.
However, Google Optimize is an exception in that it's free to use and relatively straightforward.
Google Optimize offers direct integration with Google Analytics, allowing you to run A/B, multivariate tests, and redirect tests based on previously collected data.
Considering Google Analytics is a "must-have" tool for website owners, having the ability to access test data in your account is super convenient. Plus, your experiments show up in your reports, so you can monitor the on-site behavior of visitors based on the variation they see.
In addition, there's a paid version of Google Optimize 360 where you can use your Google Analytics data to target the right demographic. This is an excellent choice for an enterprise-level company with the time and resources to dedicate to serious A/B testing.
However, the free version of Google Optimize has everything small to mid-sized businesses need to optimize their sites.
How about we find out how to do it next?
How To Test Landing Pages with Google Optimize A/B Test
This section of the article explains how to run Google Optimize testing with the A/B test experience in Google Optimize. We'll explain each step in easy terms so you can perform tests yourself and improve your business with the results.
1. Set Up a Google Optimize Account
The first step is to visit the Google Optimize website and sign up for a free account. Just click the Get Started button.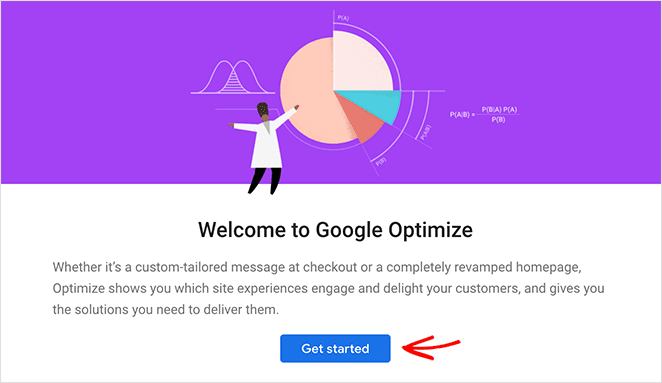 Next, fill in some optional details about data permissions and sharing and click the Done button.
You'll now head to the Google Optimize dashboard. Click the Let's Go button to create your first experience.

This expands a slide-out panel where you can give your experience a name, add the URL for the web page you'd like to use, and choose a test type.
We'll use the A/B Test type for this experiment; however, later in this post, we'll show you how to test 2 different landing pages with the Redirect Test.
With the A/B Test type, you can test different elements on your websites, such as different CTA buttons, images, and even your entire landing page design.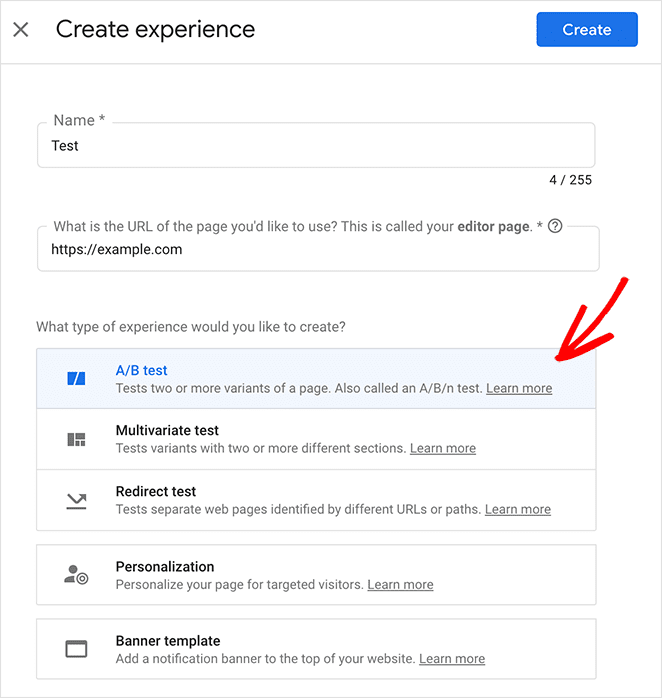 After choosing your test type and entering your primary URL, click the Create button.
2. Add a Variant to Test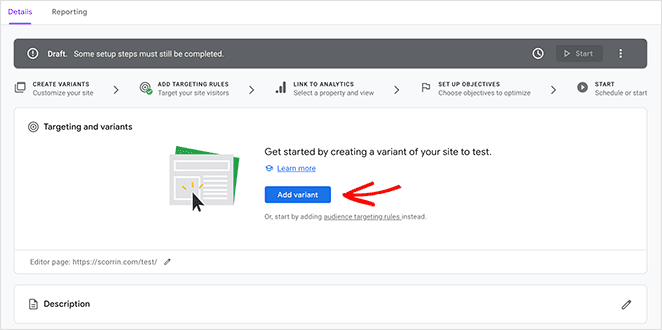 The next step is to add a variant of the page you want to test. Start by clicking the Add Variant button to open a panel on the right-hand side of your screen.
Now give your variant a name and click Done. In this example, we're testing a different version of the button copy to see which version gets more conversions.

With your variant set up, it's now time to edit it with your desired changes. Click the Edit button to get started.

You'll see a popup asking you to install a Google Chrome extension. This allows you to use a visual editor to customize your variant, such as different button copy, placement, etc.
So, click the View Extension button and follow the instructions to add it to your Google Chrome browser. After, refresh your Google Optimize page and click the Edit Page button once more.
This time, you'll see an editable version of your web page. You can click anywhere on the page to make the changes you need.
In this example, we'll select the button copy and click the Edit Element button on the right.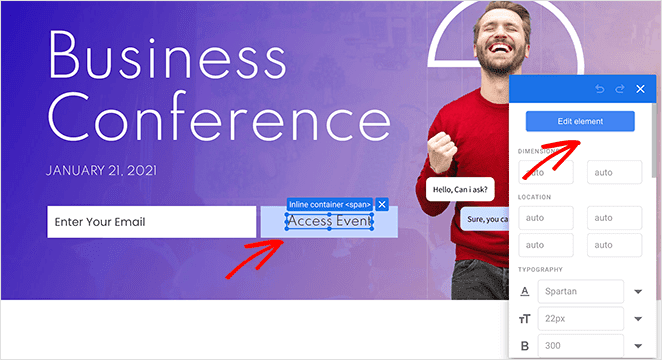 From there, you can click Edit Text and enter your new text copy.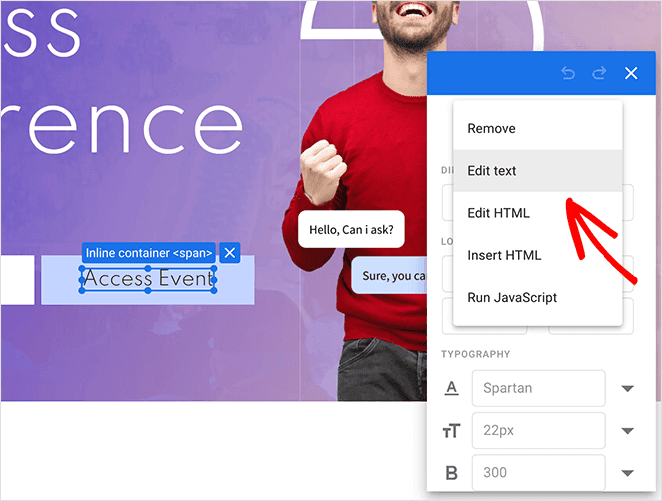 When you're happy with your changes, click the Save button in the top right corner of your screen, then click Done to head back to the Google Optimize dashboard.
3. Choose Page Targeting Rules
Under the variants section, you can choose where your experience runs on your website. By default, this is set to when the URL matches the URL you used in step 1.
However, clicking the Add URL Rule link allows you to set a rule for if a URL, Host, Path, or URL fragment:
Matches
Does not match
Equals
Contains
Starts with
…a particular value.
We'll leave this setting with the default options for now.
Below that section, you can customize the audience targeting and add a description to help team members understand your experiment.
4. Connect to Google Analytics
Google Optimize uses Google Analytics to measure your experiment results. So for this step, you need to link your Analytics account.
Click the Link to Analytics button, then choose your property from the drop-down menu on the right.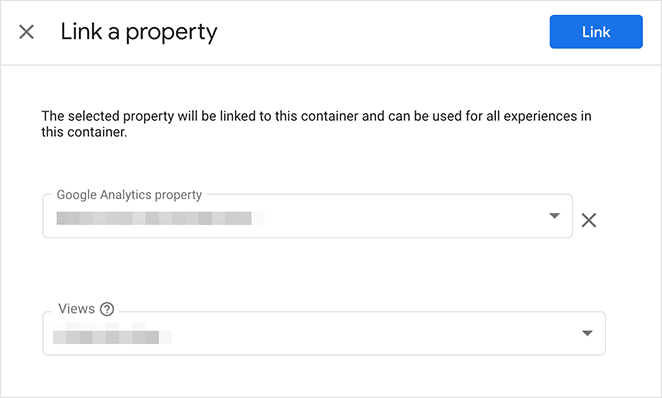 5. Set Your Test Objectives
With your Analytics account linked, you can choose from a range of different test objectives or set a custom objective of your own. Objectives are metrics that your test is measured against, which helps you learn which variant performs the best.
To set your objectives, click the Add experiment objective link and choose an option from the dropdown menu.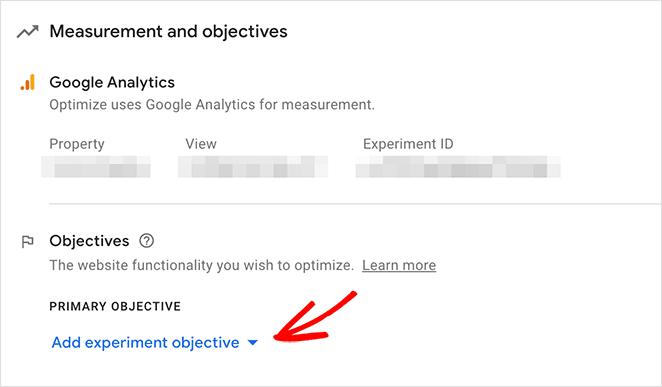 You can choose from a list of goals associated with your Analytics account or create a custom goal based on your specific needs.
6. Install the Google Optimize Snippet
Now that your experiment is set up, you need to install Google Optimize on your website. How you do this depends on how you have Google Analytics set up.
If you've added Google Analytics to your website manually, all you need to do is click the View Instructions link.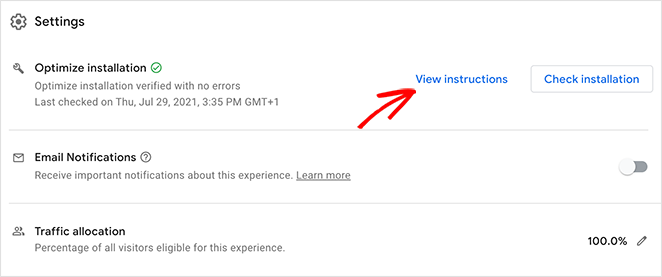 Then, on the following screen, copy and paste the Google optimize code into your header.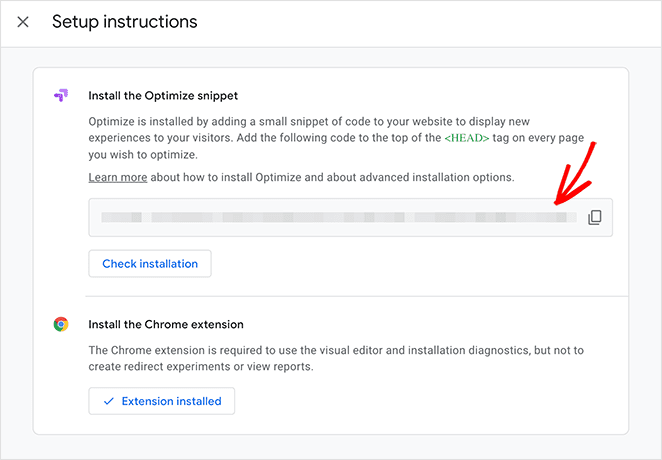 Yet, if you installed Google Analytics with a WordPress plugin like MonsterInsights, you'll need to enable Optimize in that plugin.
To do that, log into your WordPress dashboard and navigate to Insights » Settings » Conversions. Then add your Container ID into the Google Optimize Container ID field.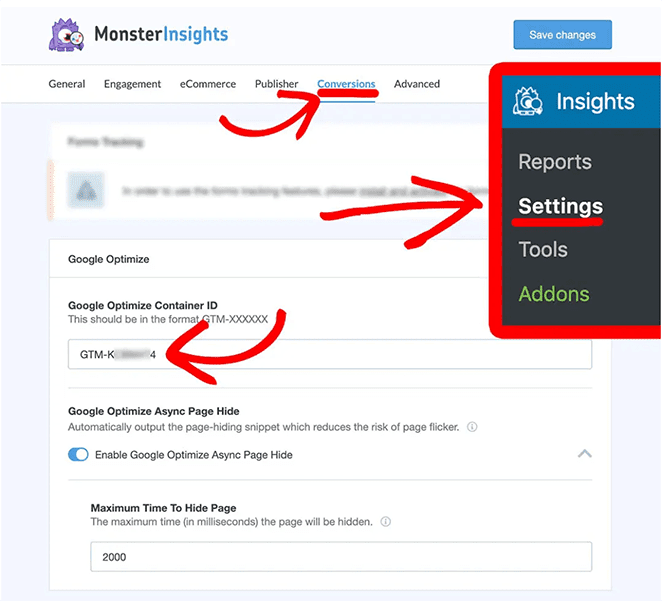 You can find your Container ID by selecting All Accounts in Google Optimize.

You can also click the checkbox near Enable Google Optimize Async Page Hide Compatibility.
This reduces the risk of page flickering (the original page appears briefly before loading the variation). It also ensures that users with slow connections have a better experience by only showing experiment variants when the Optimize container loads.
7. Run Your A/B Test
Now that you've correctly set up and installed Google Optimize, you can start running your experiment.
Head to the top of the page and click the Start Experiment button to launch your test.

Great work! Your first Google Optimize A/B test is live. Let it run for a while, and then you can stop the test using the same panel and check your results.
How to Test Landing Pages with Google Optimize Redirect Test
The next section of this article explains how to test different versions of the same landing page with the Redirect Test experience in Google Optimize.
The Redirect Test compares different web pages with different "paths" or URLs. For instance, you could create 2 completely different versions of a landing page and split the traffic between them to see which converts the best.
Follow the steps below to learn how to carry out this experiment.
1. Build Landing Page Variants with SeedProd
For this test, we'll compare 2 different landing pages to see which design performs best. To do that, you'll first need to create the pages on your website.
We use SeedProd to create high-converting landing pages in WordPress.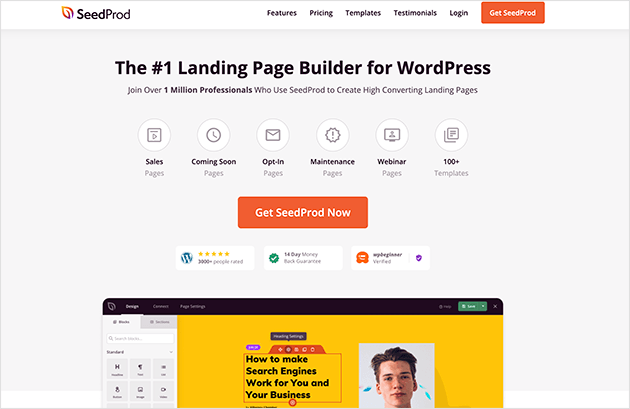 It's the best WordPress landing page builder on the market, allowing you to design, build, and publish any type of page – no coding required.
For our example, we designed 2 different webinar landing pages. For the first version, we stuck with the default landing page template: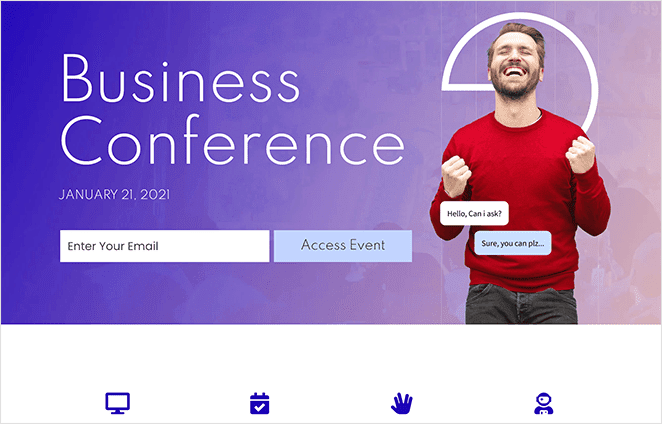 And in the second version, we customized the template using SeedProd's visual editor and powerful customization options: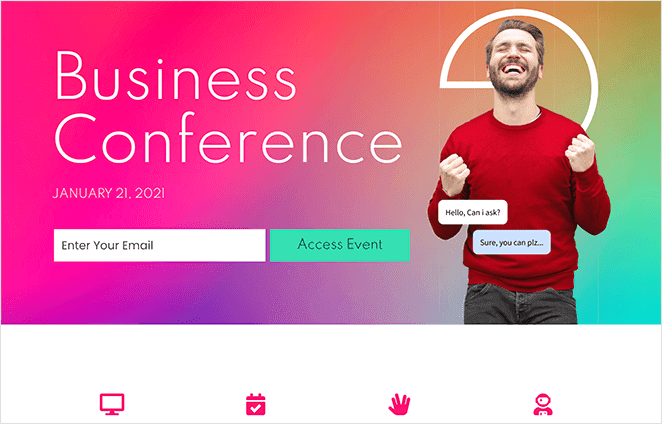 For detailed instructions on building and customizing your own page, check out this guide on creating a landing page with SeedProd.
After creating your landing page versions, copy the URL of each page. Just head to SeedProd » Pages and copy the URLs under the URL section for each page.

2. Create a New Google Optimize Redirect Test Experience
Next, log in to Google Optimize and click the Create Experience button. Then add a name for the experience and enter the URL for your first landing page version.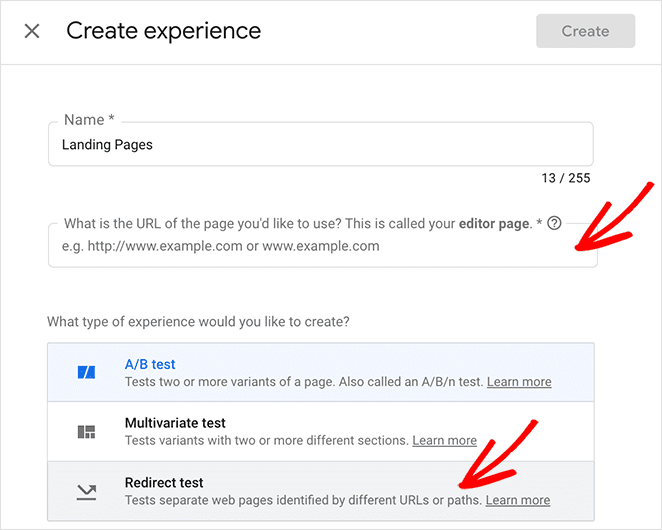 Then select the Redirect Test option and click the Create button.
3. Add Your Landing Page Variants
As you did in the previous test, click the Add Variant button to add your second landing page version.
As you can see from the preview, Google Optimize will test the second landing page version against the first version.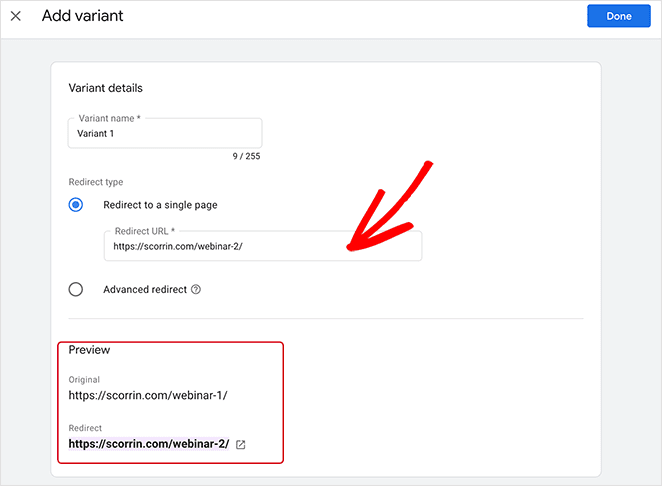 Click Done to move on to the next step.
4. Configure Your Settings
Now you can go ahead and set up your test objectives as you did in the A/B Test experience. You can add as many objectives as you like, depending on your business goals.

After, check that Google Optimize is installed properly by clicking the Check Installation button.
5. Launch Your Test
After completing the previous steps, scroll up to the top of the screen and click Start.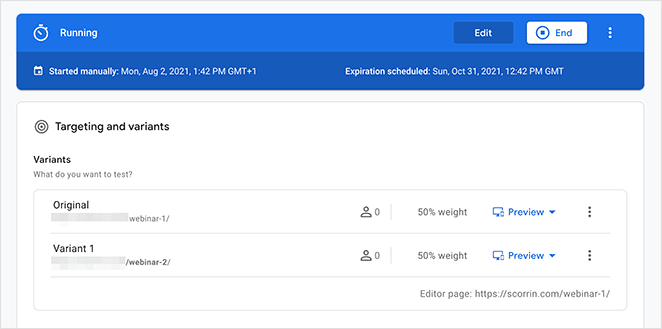 Your test will now launch on both landing page versions until you choose to stop it. In general, it's a good idea to allow your test to run for 1 to 2 weeks to collect enough data.
Analyzing Your Google Optimize A/B Testing Results
Once you've launched, ran, and assessed your Google Optimize AB tests, you can start checking your results.
There are 2 ways you can do this:
You can click the Reporting tab inside your Google Optimize dashboard and see details such as the number of experiment sessions, dates, improvement, and more.
Or you can use the Google Google Analytics reports to access all the data about your experiments. You can learn more about this type of data from Google's resource hub.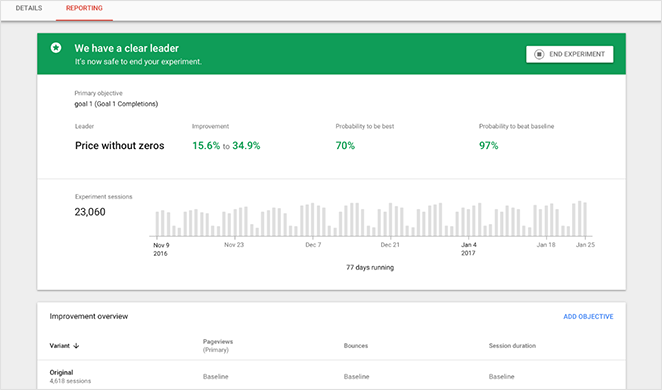 With this data, you can add the winning changes to your live website and see the improvements translate into tangible results for your business.
That's it!
We hope this article has helped you learn how to run Google Optimize A/B Testing for your website.
You might also like this post on how to set up WooCommerce conversion tracking for your online store.
If you liked this article, don't forget to like us on Facebook and follow our Twitter account for more helpful WordPress guides.