Do you want to make a quick landing page to test an idea for your business?
Landing page experiments can help you decide if a new product or business idea has the potential to work. It's also an excellent way to tweak design elements to achieve the best user experience and conversion rates.
In this article, we'll explain how to quickly make a landing page to help validate your next idea.
Why Make a Landing Page to Test Ideas?
When you create a landing page for idea validation, you can focus every part of the page on testing if you should move forward with your new idea.
Let's say you have a new product idea for your eCommerce site, or you're an entrepreneur with a new startup idea, but you don't know if it would work with your target audience. In that case, you can make a landing page test with everything from the value proposition to the call-to-action button optimized to learn what potential customers think.
Here's another example.
Imagine you've spent countless hours on a complete website with excellent functionality and design, only to find that your idea doesn't work after launching it. You'd be hesitant to pursue another idea because of all the wasted time.
However, if you gauge interest in your idea with a simple landing page before building your website, you'll save time and feel more confident in launching your idea.
Let's look at some more reasons why validating your idea with a landing page can help:
You can optimize your messaging to reach new target audiences
You'll collect valuable metrics and data to help with other projects
You can optimize specific page elements to increase landing page conversions
If you're convinced that a landing page is the best way to validate your idea, let's move on to planning your test.
Planning a Landing Page to Test Your Ideas
Before creating your validation landing page, you'll need to research a few things to keep you on track. Here's a breakdown of what to include in your plan.
Set Your Landing Page Goals
The primary goal of your landing page is to decide if you'll go ahead with your new business idea. But how will you know if your audience has enough interest?
Some business owners may want to pre-sell a new product to at least 25 people before they make and launch it, but your goal may differ.
There isn't a right or wrong way to set your goal. The most effective way is to make your goals actionable, realistic, and trackable.
Start by looking at the size of your audience, such as your total number of email subscribers, website visitors, and social media followers. Then consider what percentage of your audience needs to express interest before you have the confidence to act on your idea.
On your landing page, you can invite users to express interest with the following actions:
Entering an email address for more information
Filling in a contact form
Completing a short survey
Downloading a free lead magnet
Clicking a link in an email
Once you have your goals in place, you can start researching the ideal audience for your idea.
Understand Your Target Audience
Depending on the idea you want to validate, you may want to attract a different type of audience to your main website. In that case, creating a customer persona can help you understand their demographics and interests.
If you don't know who your message is targeting, you'll have a tough time reaching them. So think about who your audience is to ensure your landing page is tailored to their needs.
To start, you'll need to define some basic demographics like:
Gender
Age
Location
Education
Interests
Income
Life stage
You can also dig into finer psychographics, like their motivations and aspirations, to understand how your audience's minds work. Check out this guide on how to create a concrete buyer persona for more ideas.
Outline the Idea You Want to Test
After researching your audience, you're ready to start fleshing out your idea. Don't worry if you don't have all the pieces yet. At this stage, you only need to make a detailed outline.
A good place to start is to answer the following questions:
What problem are you trying to solve?
What solution are you offering?
How will your solution work?
What are the benefits of your idea?
Why is your idea or solution better than the competition?
To see how this activity works, here's an example of how these questions apply to SeedProd:
Problem: Creating a custom website or landing page in WordPress is hard for beginners without technical knowledge. These users are looking for something quick and code-free that doesn't require them to pay developers expensive fees.
Solution: A WordPress page builder that lets anyone, no matter their skill level, design, create, and customize WordPress pages and layouts.
Features: It's completely drag-and-drop with a visual interface. Users won't need to hire a developer or designer, making the process faster and easier and the pricing more affordable.
Differentiators: Many page builders are complicated and bloated with unnecessary features. SeedProd is bloat-free, lightweight, and easy to navigate.
Using this outline, go ahead and define your idea. After, we'll show you how to create a landing page to test it.
How to Create a Landing Page to Validate Ideas
Now that you've defined your goals, researched your audience, and outlined your idea, you can make your landing page. You've done all the hard work already, so this process should be super easy.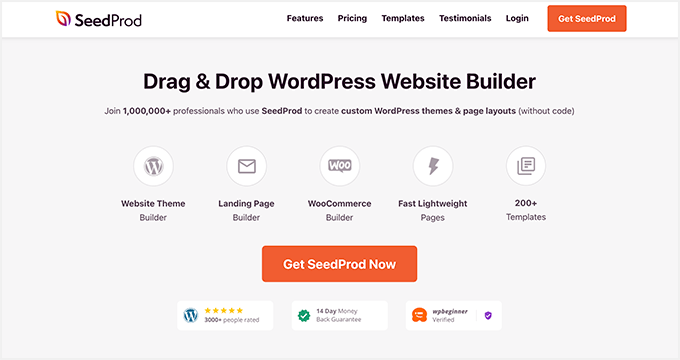 In the steps below, we'll show you how to create a landing page to test ideas with SeedProd, the best WordPress landing page builder. And the good news is you can get up and running in under 30 minutes.
Let's get to it!
Step 1. Install and Activate SeedProd
First, visit the SeedProd website and download the plugin to your computer. Then install and activate the plugin zip file on your WordPress website. 
If you're new, you can follow this guide on how to install a WordPress plugin.
After activating the plugin, navigate to the SeedProd » Settings page and enter your license key. This information is easy to find in your account on the SeedProd website.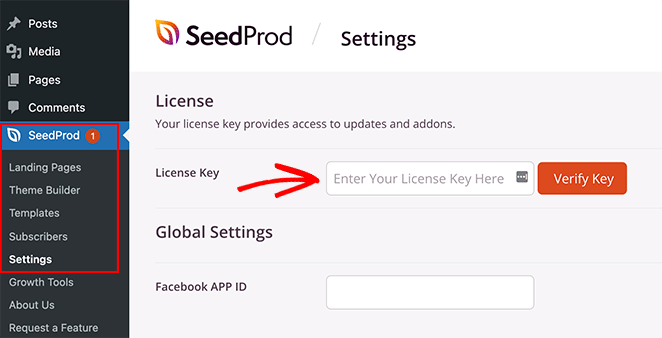 Once you've entered your license key, click the Verify Key button.
Step 2. Choose a Landing Page Template
Next, navigate to SeedProd » Landing Pages and click the Add New Landing Page button.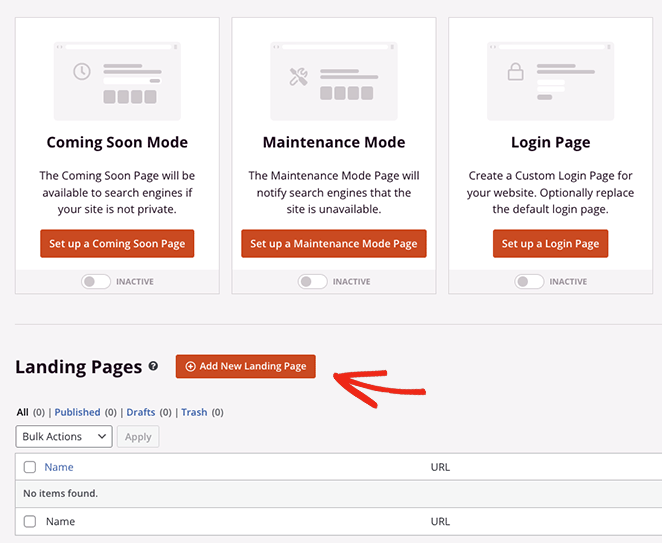 On the next screen, you can pick a landing page template to use as the starting point for your page design.
There are hundreds of templates to choose from, organized by campaign type, such as Sales, Lead Squeeze, and Coming Soon. Simply click any of the filters at the top to see templates for specific campaigns.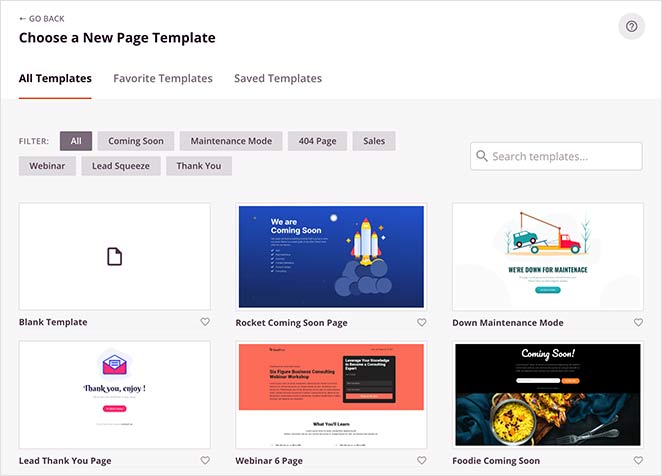 To preview a design, hover your mouse over a template thumbnail and click the magnifying glass.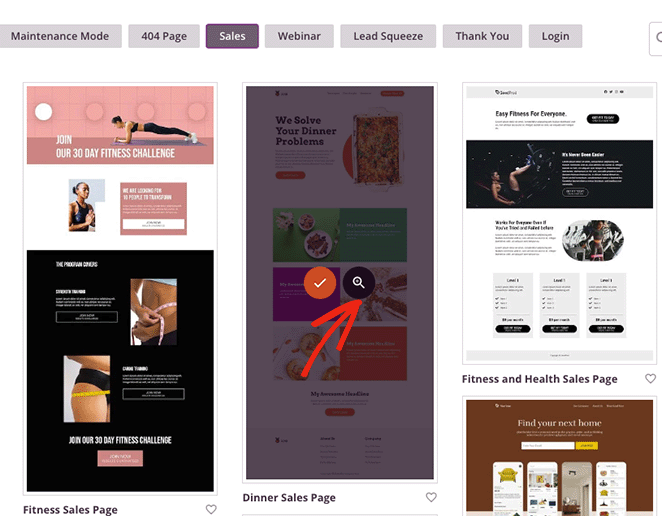 Choosing a landing page design that resembles the page you want to create will make launching your idea much faster. However, you can change every part of the template and customize it to suit your tastes.
Once you've found a template you like, click the Choose This Template button from the preview or click the checkmark icon from the thumbnail.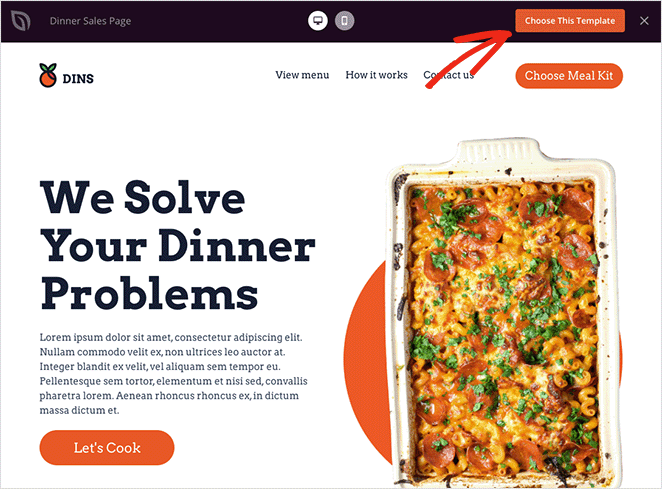 We're using the Dinner Sales Page template for this guide, but you can choose any design you like.
Step 3. Create Your Landing Page
Next, enter a name for your landing page. SeedProd will create a landing page URL based on your title, but you can change it by entering your own custom text.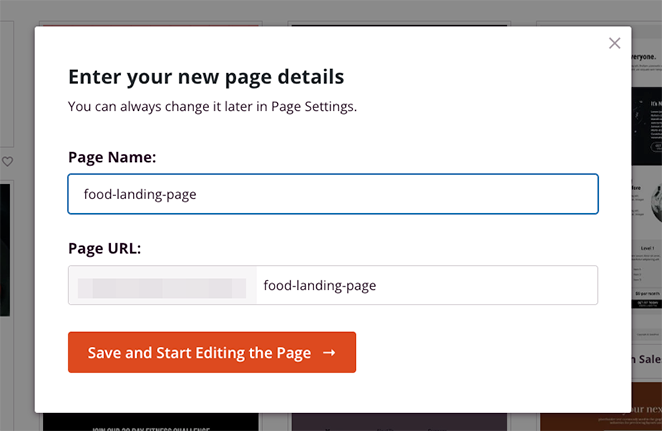 When you're happy with this information, go ahead and click the Save and Start Editing the Page button.
On the next screen, you'll see a drag-and-drop editor where you can build and customize your landing page. The live editor shows a preview of your template to the right and blocks and sections on the left.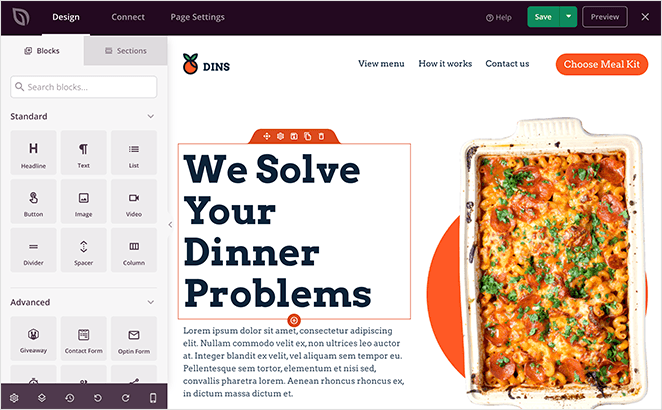 WordPress Blocks are a key part of SeedProd, allowing you to create any landing page, no matter how complicated your idea is. Most of SeedProd's templates have blocks built into the design. 
You can customize any block in your template by clicking it in the page preview and making changes in the left-hand menu. It's also easy to add new blocks to your design by dragging them from the left-hand menu and dropping them onto your preview.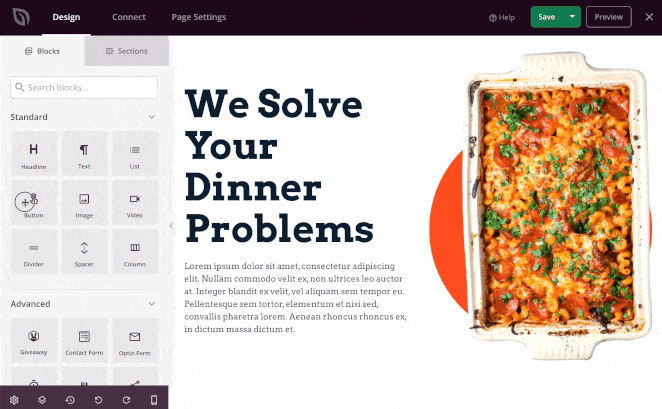 Step 4. Customize the Landing Page with Your Idea
With your template in place, you can customize it to reflect the idea you want to test. Let's look at some key landing page elements you should optimize to gauge visitor interest.
Headline
Your header and headline should be simple and speak directly to your target audience's problem. Visit your outline from earlier and brainstorm several headline ideas you can test on your template.
Ensure your headline clearly explains your value proposition and inspires visitors to take action.
To customize your headline in SeedProd, click the Headline landing page element and type your custom text in the text box on the left.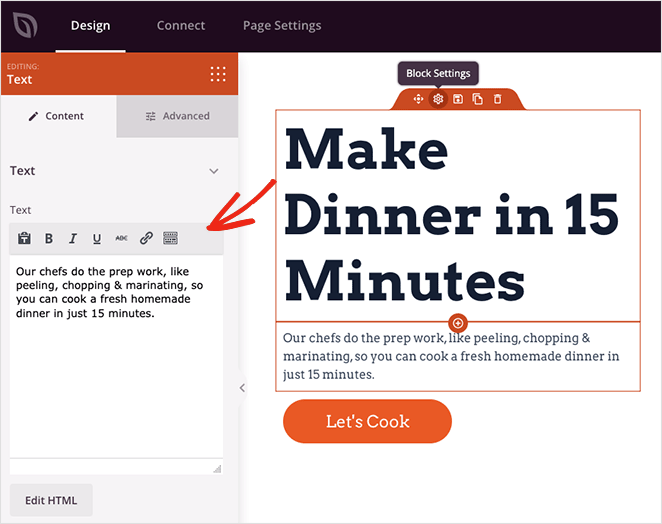 In the same panel, you can adjust the headline alignment, size, heading level, and access spacing, and font options in the Advanced tab.
Copy
Now you'll want to customize the landing page copy to explain your offering or the idea you're planning to launch. Any copywriting should explain the how and why behind your initial headline. Remember to address and answer page visitors' pain points in this step.
Customizing your copy in SeedProd works similarly to the headline. Simply click anywhere on your page that includes text and replace it in the left-hand content box.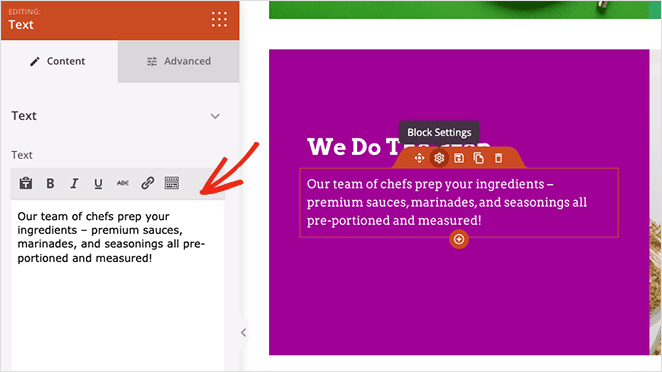 Imagery
Including eye-catching visual content on your landing page can help illustrate your idea and provide more context. You can use custom-made graphics or high-quality stock photos to bring your page to life.
Replacing visual content in SeedProd is straightforward. Just click any image and select the trashcan icon to remove it.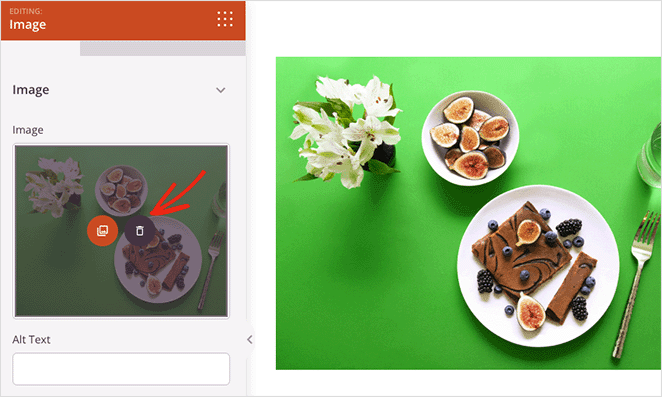 From there, you can upload a new image from your computer or media library or choose from one of SeedProd's free stock photos.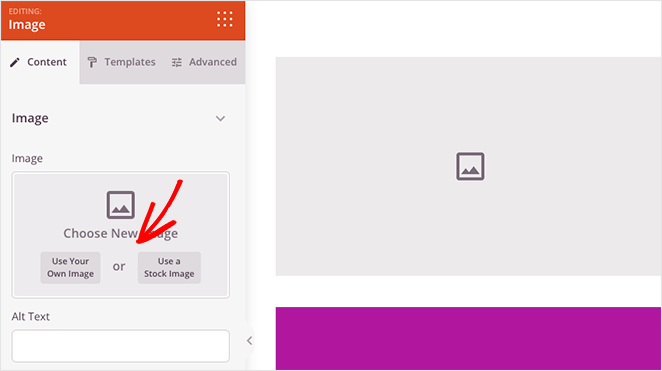 Call to Action (CTA)
Your CTA button is one of the most crucial elements of your landing page. It's the deciding factor on whether your audience will opt in for more information.
Ensure your CTA button is a color that contrasts with your page background so users can see it easily. It's also an excellent idea to use action words in the button copy to encourage conversions.
Here are some action words for your to consider:
Build
Get
Access
Discover
Start
Try
Today
Now
Immediately
Proven
SeedProd makes customizing your CTA effortless. Simply click on your button preview and change the content and destination link in the left-hand panel.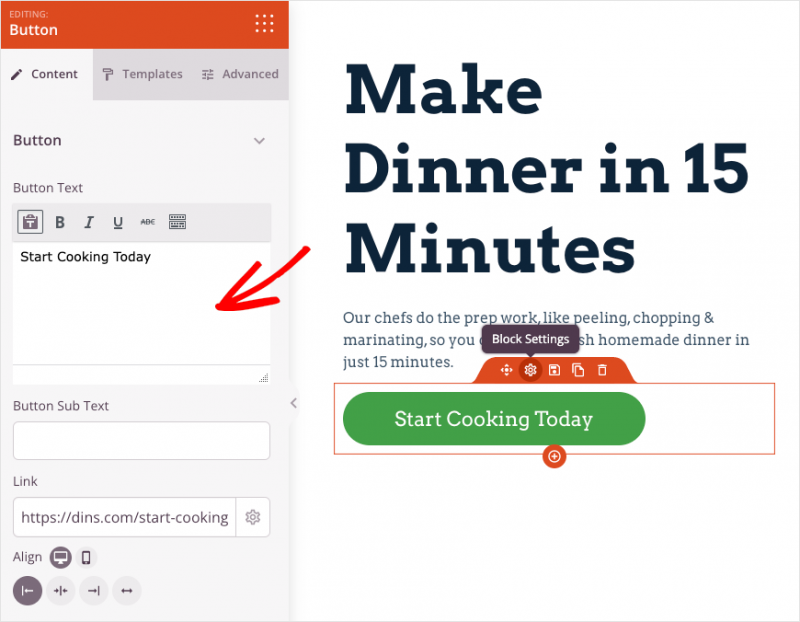 You can also click the Templates tab to change the button style quickly without manually editing the advanced options.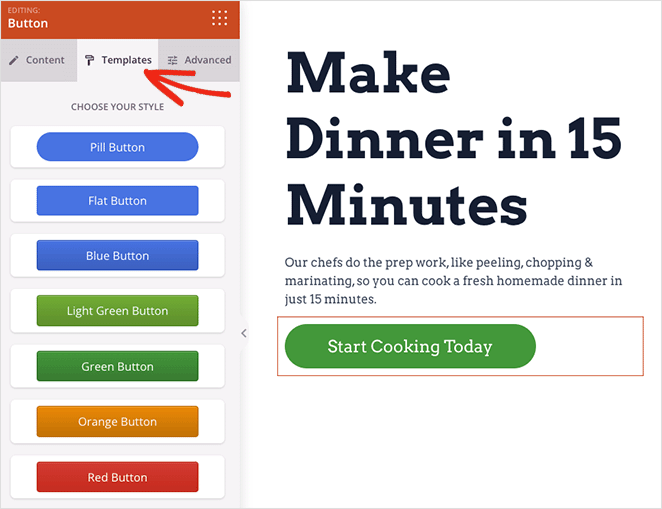 Since we're making a quick landing page to test ideas, we'll keep our page simple. But if your idea requires more customization, SeedProd has plenty of additional features.
For example, you can drag over the Countdown timer block to increase urgency and spur users to act fast, add a payment button for users to checkout instantly with Stripe, or even add testimonials to display social proof.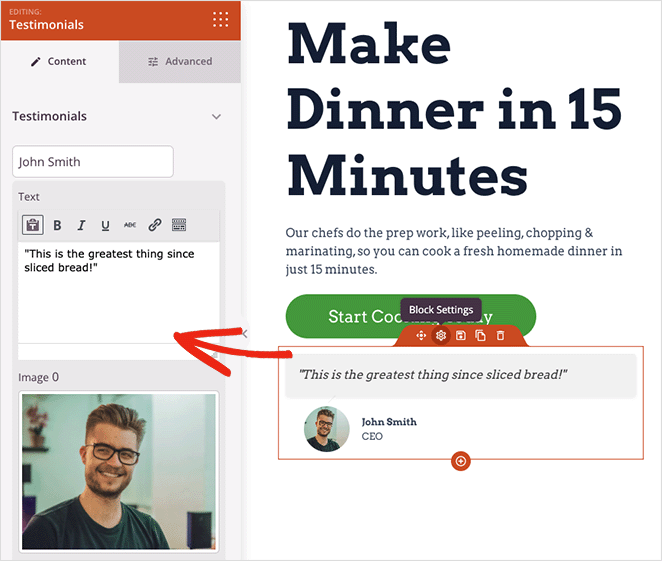 When you're happy with your landing page design, click the Save button.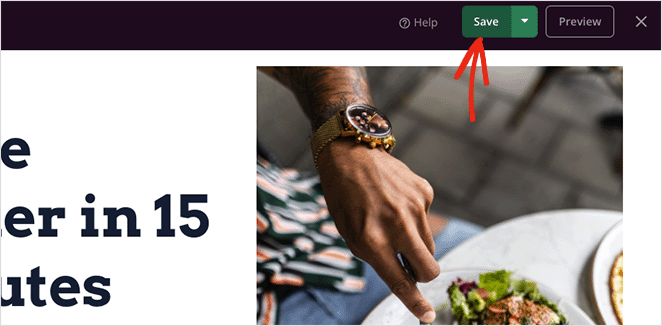 Step 5. Configure Your Landing Page Settings
Before publishing your idea validation landing page, you'll want to look at a few settings. For instance, if you're using a sign-up form with a form field to collect email addresses, you'll need a way to add new contacts to your email list.
Luckily SeedProd integrates directly with leading email marketing services to keep your list up-to-date. To find it, click the Connect tab at the top of the page builder, and find your provider in the list.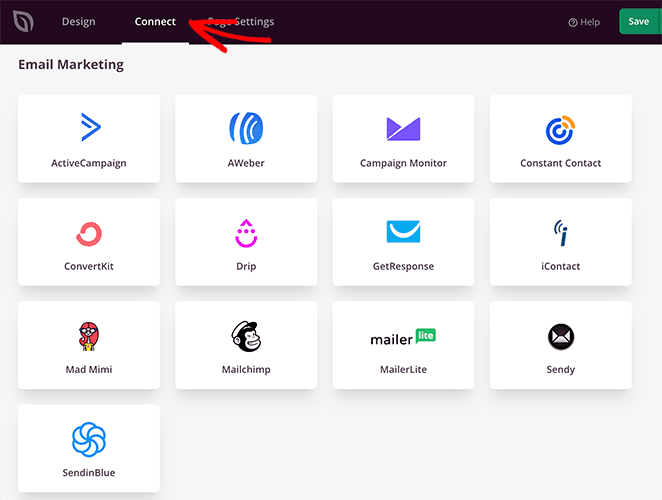 From there, follow the on-screen instructions to verify the connection and sync your email list with SeedProd.
Next, click the Page Settings tab to adjust other settings.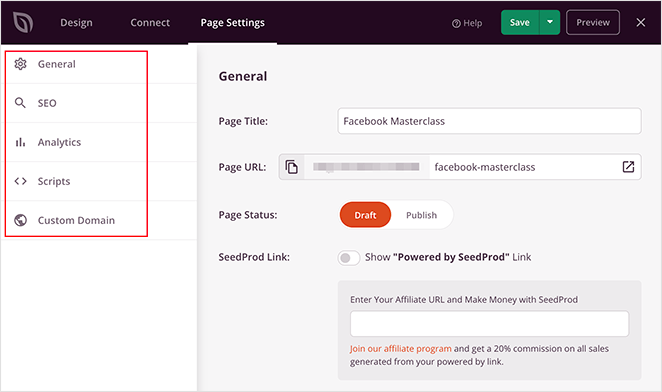 First, you'll notice the General tab, where you can change your page name and URL and add your Facebook app ID.
Now click the SEO section to optimize your landing page for search engines with an SEO plugin like All in One SEO.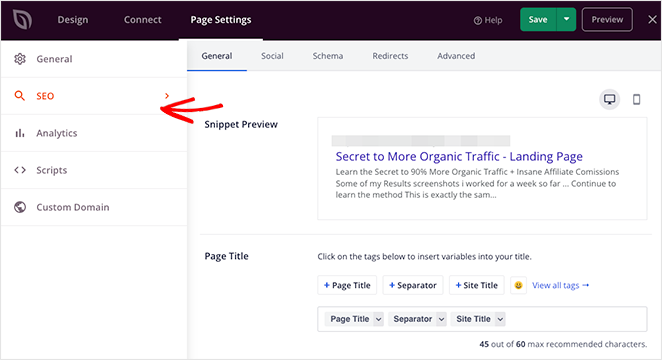 Other settings include Analytics (with a Google Analytics plugin), your header, footer, and body scripts, and your custom domain settings.
The Custom Domain feature is handy if you want to give your landing page a completely different domain name than your main website. This option allows you to do it all on one site without creating multiple WordPress installations.
Note: Domain mapping is only available with an Elite SeedProd license.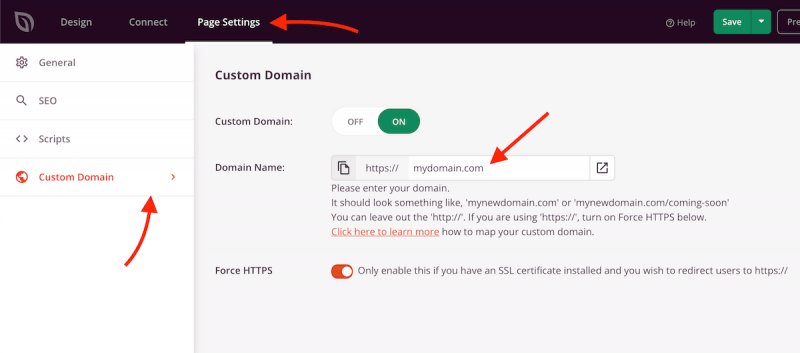 Step 6. Publish Your Landing Page to Test Your Idea
When you've configured your landing page settings, you're ready to launch it and start testing your ideas.
Simply click the dropdown arrow on the Save button and click Publish.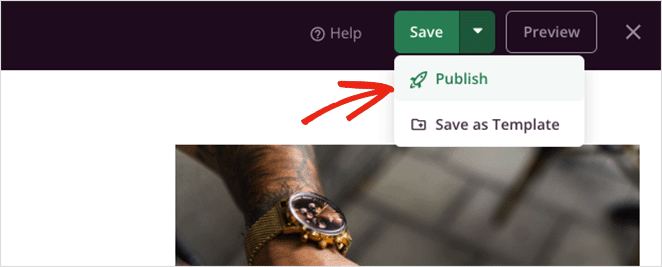 Now you can preview your idea validation landing page to see how it looks.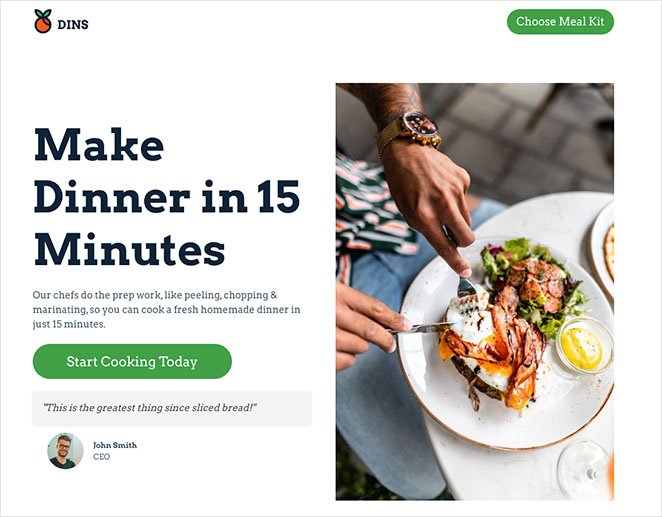 Next Steps: A/B Testing
When testing the waters with a new business idea, you'll want to experiment with different versions of your landing page to compare the test results. One of the best ways to do this is to use a testing tool like Google Optimize.
Google Optimize lets you perform A/B split testing and multivariate testing. If this sounds complicated, here's a quick overview:
A/B Split Testing: enables you to compare one landing page variant with another.
Multivariate Testing: lets you test multiple iterations at the same time.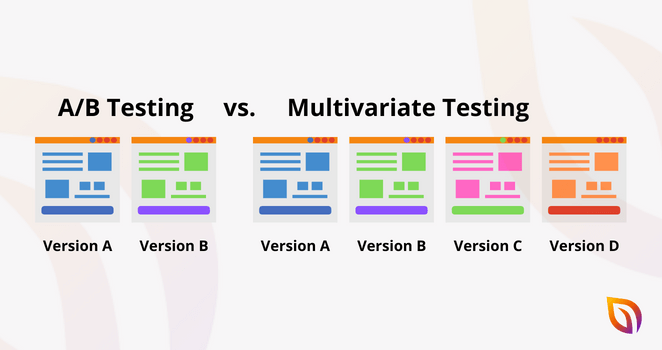 Optimizing your landing page this way will ensure your target audience sees the most effective version, giving you more accurate test results to validate your idea in the long term.
If you need help, you can check out this guide on A/B testing landing pages with Google Optimize.
There you have it!
You're now well on your way to making a landing page to test ideas for your business website, and with SeedProd, it takes less than 30 minutes to make it happen.
Ready to validate your next business idea?
You might also find this guide helpful if your landing page is not converting.
Thanks for reading. Please follow us on YouTube, Twitter, and Facebook for more helpful content to grow your business.