5 Benefits of Building an Email List (and How to Start Today)
Do you want to learn the benefits that come from building an email list? Compared to other platforms like Facebook or Instagram email is a smart option.
For starters you don't need to engage your audience first, then try to convert them with email. And, despite its popularity, engagement on social media doesn't even reach 0.6%.
Compare that to the open rate for emails which is 22.86%, you can already see a huge difference. And if used properly, email marketing can help you generate more customers, leverage sales, and keep people coming back for more.
Here's a quick look at what we'll cover today:
Shall we get started?
Benefits of Building an Email List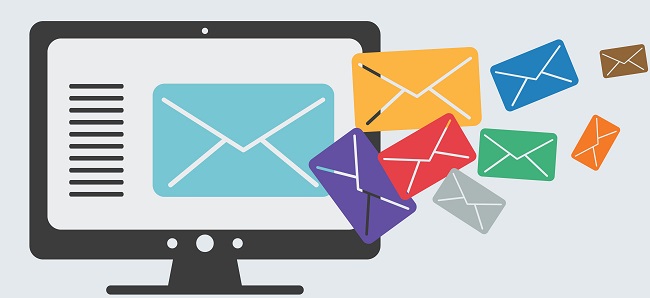 Most marketers know that a strong email list can be the most valuable asset for their business. And you'll totally agree with them after reading the following benefits of building an email list.
1. Save Money with Low-Cost Marketing
Email marketing is one of the most cost-effective ways of reaching out to your users. You can get started by spending almost nothing.
Of course, you need to pay a little on your marketing software or special software to automate, track and evaluate your emails.
But compared to what you would spend on the mainstream marketing channels, this feels like nothing at all. And because the investment is less, the returns can be really attractive.
Email marketing on average sees a 4300% return on investment (ROI) for businesses in the US.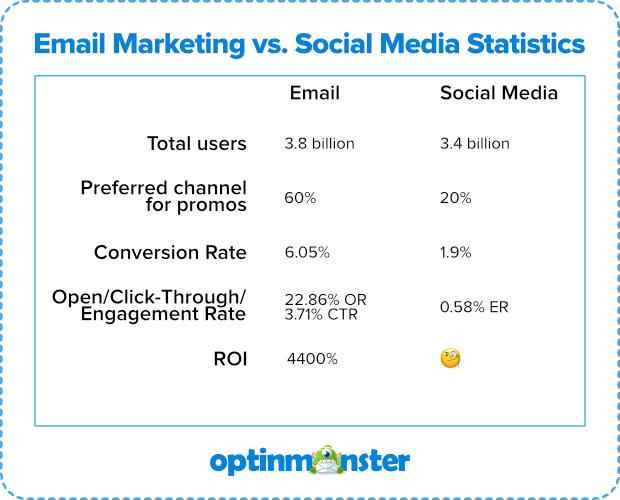 2. Reach an Already Engaged Audience
Most of the businesses that use email marketing (unless they're engaged in unsolicited marketing) reach out to people who have signed up to receive these messages.
This means that you are connecting with an audience who is already interested in your products or services. So there's a much higher possibility of conversion.
3. Send Targeted Emails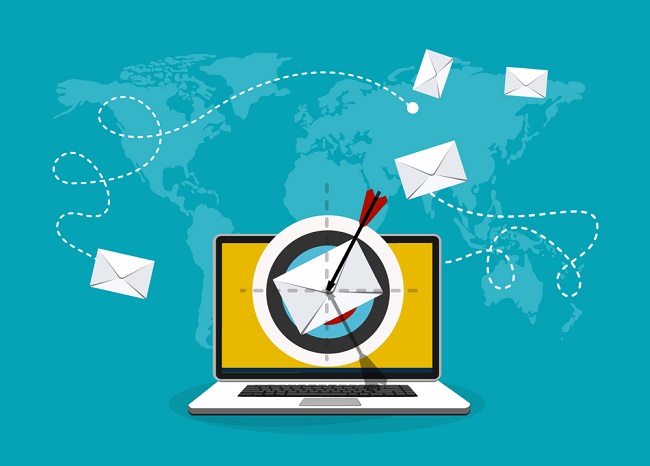 People usually subscribe to email lists because they're interested in products or services they've seen on your website.
But your email list can have users with different interests. Some may want to know about an upcoming sale while others might want you to notify them when an out of stock item gets restocked.
But you can segment your list based on your user's interest. Once that's done, it's easy to send more targeted emails that are highly relevant to your subscribers which again enhances the chance for conversion.
4. Direct Interaction with Your Users
Emails can help you interact directly with your customers. Since these communications happen privately your users can clarify their doubts (if any) by emailing you back. This is a great way to build relationships that are based on trust.
5. Your Email List Is Yours
Your email list belongs solely to you. By using social platforms for marketing your business you might have to lose all your marketing efforts the moment these platforms change their policies.
But with email marketing, you don't have to depend on other platforms to reach out to your subscribers. You can use your email list at any time you want because it belongs to you.
So now if you're convinced about the benefits of email marketing let's show you how to get started.
How to Build an Email List Before Launching your Site
Many marketers start building their email lists once their website starts gaining traction. However, we would highly recommend that you don't wait for that long.
List building is not an easy task. It takes time, effort and patience. So why not get into action right when you get hold of your domain name and hosting service.
This helps you get a head start on your marketing even before you start designing your site.
Not sure how to do that? Let's learn how.
Step 1: Install SeedProd on Your Website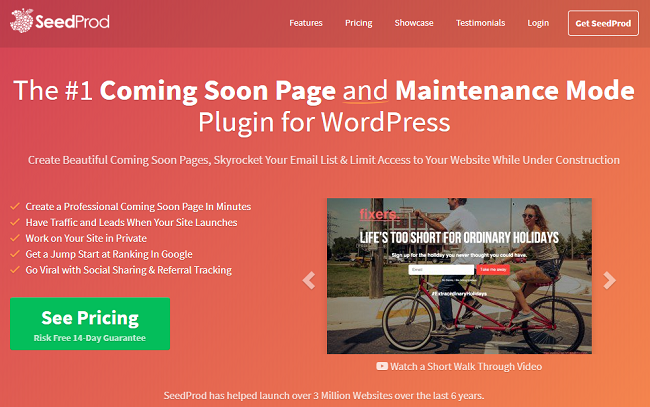 The first step to get started is to install the SeedProd Coming Soon plugin on your website.
With this plugin, you can add a beautiful coming soon page on your website and let your visitors know that it's in the making and will be live soon.
This will do two things:
It'll indicate Google to start indexing your webpage even before your site goes live.
You can start promoting your business and begin building your email list from day one of your online venture.
SeedProd lets you add a number of elements to your coming soon page like:
Email Form
Social Share Buttons
Countdown Timer
Progress Bar
Here's how you can design your coming soon page with SeedProd.
Once that's done, you need to connect it to an email marketing software, which brings us to the next step.
Step 2: Connect SeedProd with Constant Contact
The next step is to connect the SeedProd plugin with a powerful email marketing software. SeedProd offers more than 23 different email marketing service options to choose from. You can pick the one that suits you the best.
But we would recommend you opt for Constant Contact which with all its features can be a great choice for your business.
To connect Constant Contact with SeedProd, you'll first have to create an account with Constant Contact.
You can either get started with the free trial or check out the plans and select one from that.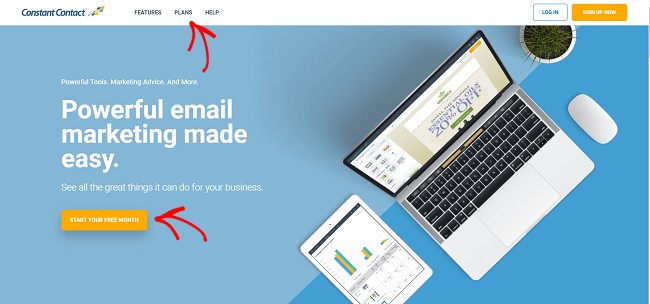 The next step is to connect Constant Contact with SeedProd. You'll find this option when you add the email form element to your coming soon page.
We have already added a link to show you how to design your coming soon page with SeedProd. Under step 3 of that tutorial, you'll find an option called Email Form Settings.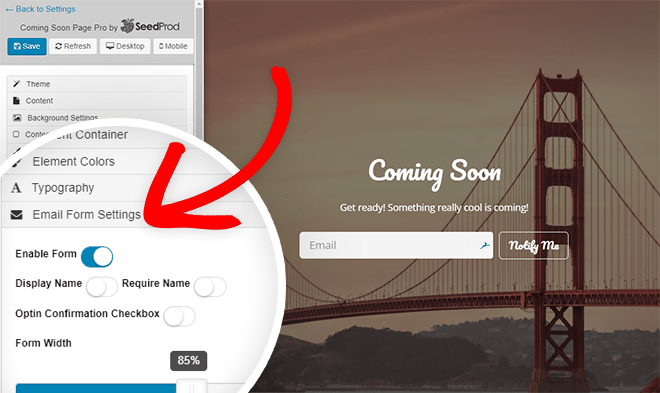 Click on this option and swap the Enable Form option right below it. Now scroll down and find the Save Subscribers To option.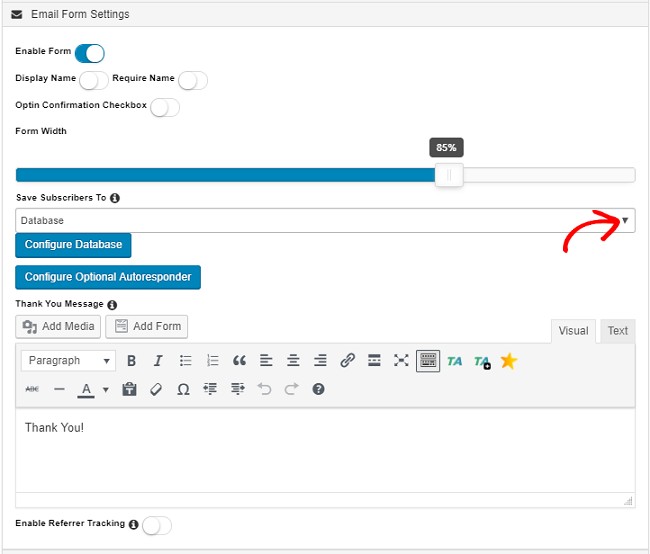 Click on the dropdown arrow and select the Constant Contact option from the list that pops up. Next hit the Configure Constant Contact option just below it.
That'll take you to a new page where you can log in to your Constant Contact account.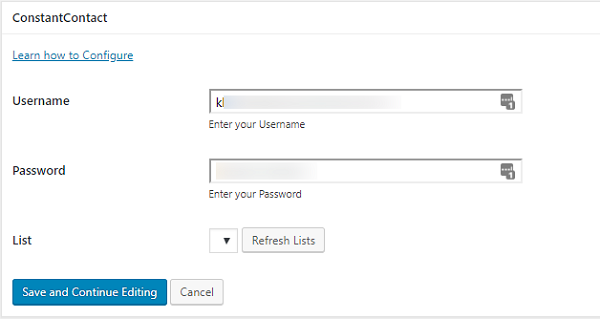 Add your username and password here and click on the Save and Continue Editing button. You can then return to the SeedProd page builder and continue designing your page.
Now that you have connected SeedProd and Constant Contact, the email addresses of anyone who signs up through your coming soon page will be stored in your Constant Contact database.
If you're not sure how to create a campaign with Constant Contact here's a guide to help you.
Step 3: Connect Constant Contact With OptinMonster
The third step is to connect your Constant Contact account with OptinMonster.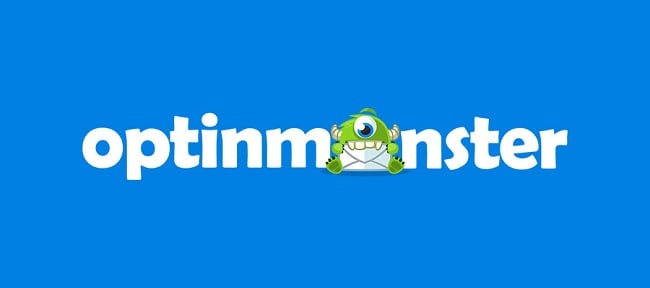 OptinMonster is one of the most powerful conversion optimization toolkits that can help you grow your email list quickly and easily.
With this software, you can easily detect your user's behavior by tracking their cursor movement. And based on that you can show a popup message just when your user is about to leave the site.
This helps retain your users and direct them towards your conversion goal, which in this case is to subscribe to your email list.
This is just one feature. OptinMonster comes with many other benefits that can help you expand your email list. Here are a few examples of what you can achieve:
As you can see OptinMonster has far more to offer than we can describe in one article. Let's look at how to set it up.
To connect OptinMonster with your Constant Contact account, you'll first have to create an OptinMonster account. Go to the official website and click on Get Started.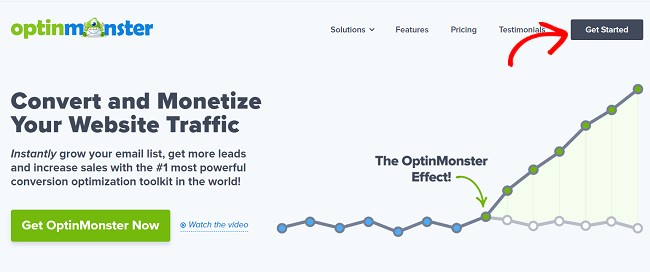 Next, select the plan that best fits you and click on Get Started.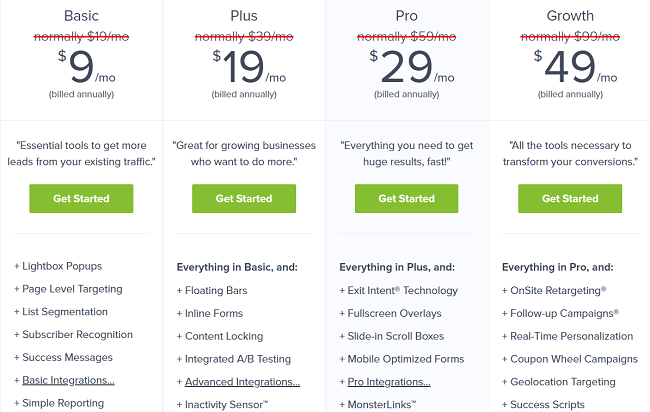 You'll now be redirected to the payment page. After completing your purchase you'll be in your OptinMonster account.
In your account, you'll have an option called the Integrations tab. Click on it.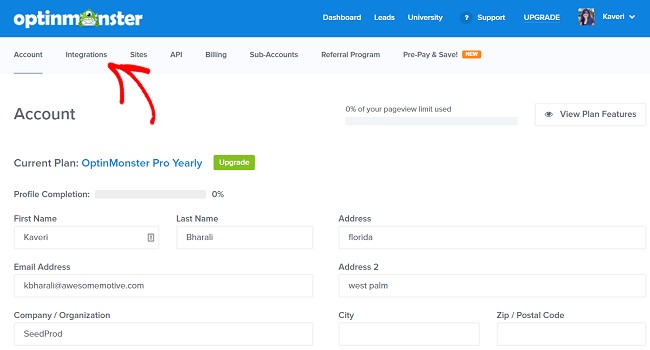 You'll see several options here. Just scroll down and click on the Add button below Constant Contact.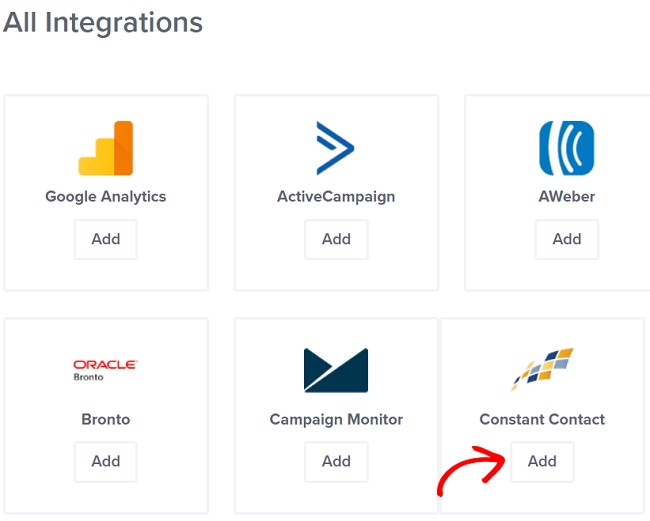 This will display the following message. Click on the Register Constant Contact option.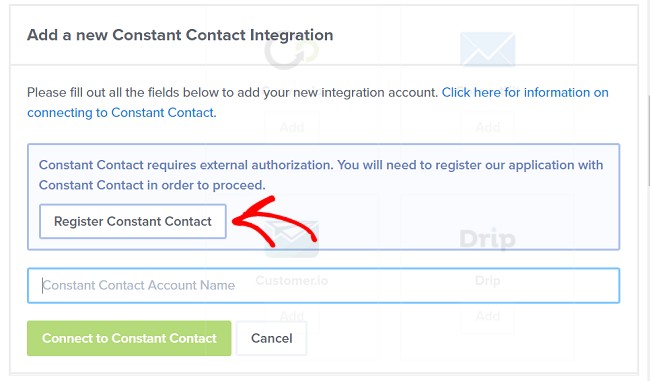 You'll now see a new window popup with the option to log in to the Constant Contact account you created earlier. Upon doing that OptinMonster will ask you to allow access to your Constant Contact account.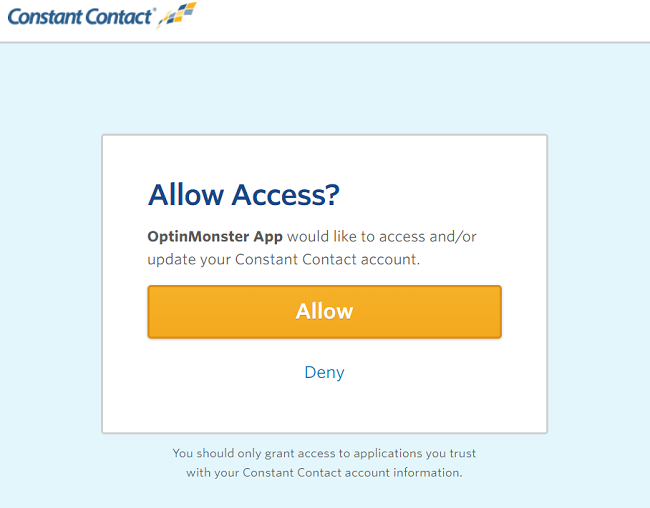 Click on the Allow button. Now add a name to your Constant Contact account and hit the Connect to Constant Contact button.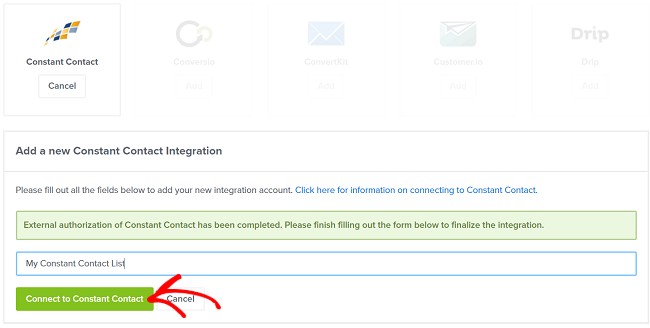 This will complete your integration process. Now you can start creating beautiful opt-in forms with OptinMonster and grow your email list really quickly.
So that's it. By using just 3 simple tools on your website, you can start building your list from day 1 of your online journey.
We hope you found this article helpful. If you did, do follow us on Twitter and Facebook for more content like this.