Do you want to start building an email list? Compared to social media platforms like Facebook or Instagram, email is a smart option.
For starters, you don't need to engage your audience first, then try to convert them with an email newsletter. And, despite its popularity, engagement on social media doesn't even reach 0.6%.
Compare that to the open rate for emails which is 22.86%; you can already see a huge difference. And if used properly, email marketing campaigns can help you generate more eCommerce customers, leverage sales, and keep your target audience coming back for more.
With all that in mind, today we'll explore the benefits of building an email list for your small business and how to get started.
Here's a summary of the top reasons and benefits of building an email list:
Shall we get started?
What Are the Benefits of Building an Email List?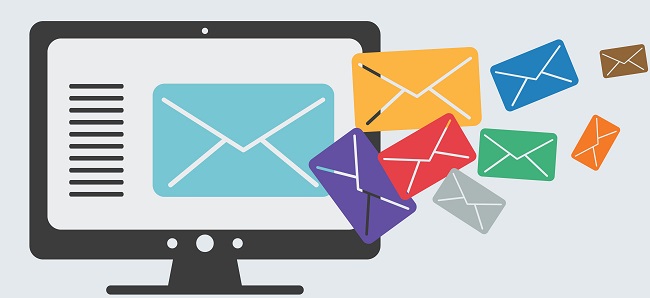 You're probably asking, "Why build an email list?". Most marketers know that a strong email list can be the most valuable asset for their digital marketing strategy. And you'll totally agree with them after reading the following benefits of building an email list.
1. Save Money with Low-Cost Marketing
Email marketing is one of the most cost-effective ways of reaching out to potential customers and getting them to visit your website. You can get started by spending almost nothing.
Of course, you need to pay a little on your marketing tools or special software to automate, track, and evaluate your emails.
But compared to what you would spend on the mainstream marketing channels, growing your email list for your business and attracting more email subscribers is super cost-effective
Email campaigns, on average, see a 4300% return on investment (ROI) for businesses in the US.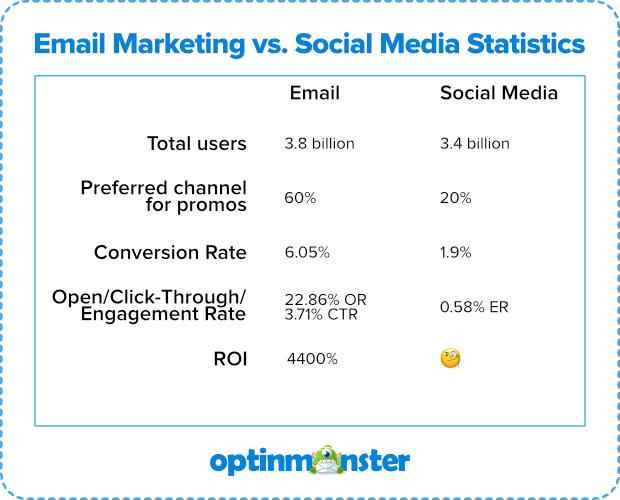 2. Reach an Already Engaged Audience
Most of the businesses that use email marketing (unless they're engaged in unsolicited marketing) reach out to people who have signed up to their mailing lists to receive these messages.
This means that you are connecting with an audience of email users who are already interested in your products or services. So there's a much higher possibility of them opening your emails, clicking your call to action, and increasing your click-through rates and conversion rates.
3. Send Targeted Emails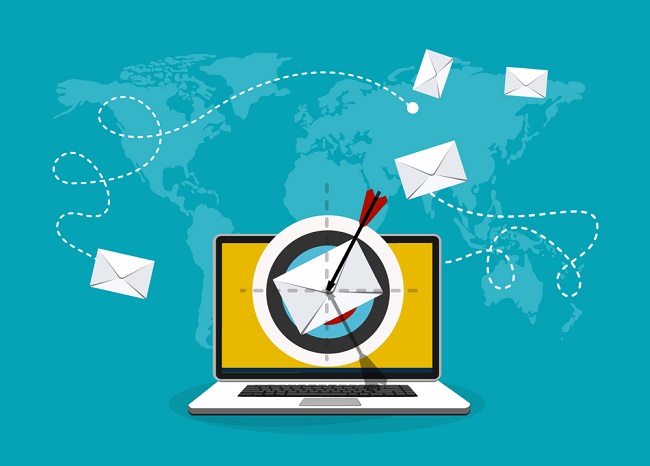 People usually subscribe to email lists because they're interested in the blog posts, new products, or services they've seen on your website.
However, with email list building, you can have users with different interests. Some may want to know about an upcoming sale, while others might want you to send an email when an out-of-stock item is back in stock.
With email marketing, you can segment your list based on your user's interests. Once that's done, it's easy to send more targeted emails that are highly relevant to your subscribers, which again enhances the chance of converting them into paying customers.
4. Direct Interaction with Your Users
Emails can help you interact directly with your customers. Since these communications happen privately your users can clarify their doubts (if any) by emailing you back. This is a great way to build trust and long-term relationships.
5. Maintain Ownership of Your Email List
Your email list belongs solely to you. If you use social media marketing platforms like LinkedIn, Twitter, and Facebook for content marketing, your business could lose its marketing efforts the moment these platforms change their policies.
Yet as a business owner with a list of emails, you don't have to depend on other platforms to reach out to your subscribers. You can use your email list at any time you want because it belongs to you.
So now, if you're convinced about the benefits of email marketing, let's show you how to get started.
12 Effective Tips for Building an Email List
Create Valuable Content: Offer valuable and relevant content on your website, blog, or social media platforms to attract visitors. This can be informative articles, e-books, tutorials, or exclusive offers.
Opt-in Forms: Place opt-in forms strategically on your website to capture email addresses. Use eye-catching and compelling call-to-action buttons to encourage visitors to subscribe.
Offer Incentives: Provide incentives such as free resources, discounts, or exclusive content to encourage visitors to sign up for your email list. People are more likely to provide their email address if they get value in return.
Use Pop-ups and Slide-ins: Consider using pop-up or slide-in forms to capture visitors' attention and prompt them to subscribe. However, be mindful of the user experience and avoid intrusive or annoying pop-ups.
Landing Pages: Create dedicated landing pages with a strong focus on a particular offer or incentive. Drive traffic to these pages through advertising or social media, and optimize them to maximize conversions.
Social Media Promotion: Leverage your social media channels to promote your email list. Encourage followers to join by highlighting the benefits they'll receive by subscribing.
Guest Blogging: Contribute guest articles to popular blogs or websites in your niche. Include a call-to-action within your author bio or within the article itself, directing readers to your email list.
Contests and Giveaways: Run contests or giveaways where participants are required to provide their email address to enter. Ensure the prize aligns with your target audience's interests to attract relevant subscribers.
Email Signature: Include a link to your email list in your email signature. This way, every time you communicate with someone via email, they have the opportunity to join your list.
Collaboration and Cross-Promotion: Partner with other businesses or influencers in your industry to cross-promote each other's email lists. This can expand your reach and attract new subscribers.
Webinars and Events: Host webinars or online events on topics of interest to your target audience. Require attendees to register with their email addresses to participate.
Optimize for Mobile: Ensure your email sign-up forms and landing pages are mobile-friendly. With the increasing use of mobile devices, it's crucial to provide a seamless experience for users on all devices.
How to Start Building an Email List Before Launching Your Site
Many marketers start to collect email addresses once their website starts gaining traction. However, we would highly recommend that you don't wait that long to start gathering email signups.
List building is not an easy task. It takes time, effort, and patience. So why not get into action right when you get hold of your domain name and hosting service?
This helps you get a head start on your marketing even before you start designing your site.
Not sure how to do that? Learn how with these step-by-step instructions.
Step 1: Install SeedProd on Your Website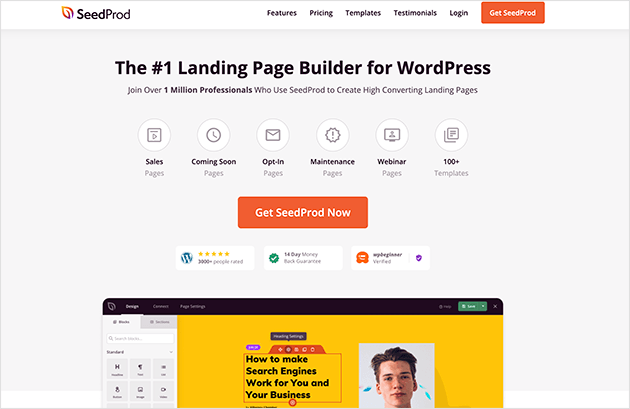 The first step to getting started is to install the SeedProd, the best website builder plugin on your website.
SeedProd makes it super-easy to add a beautiful coming soon page on your website and let your visitors know that it's in the making and will be live soon.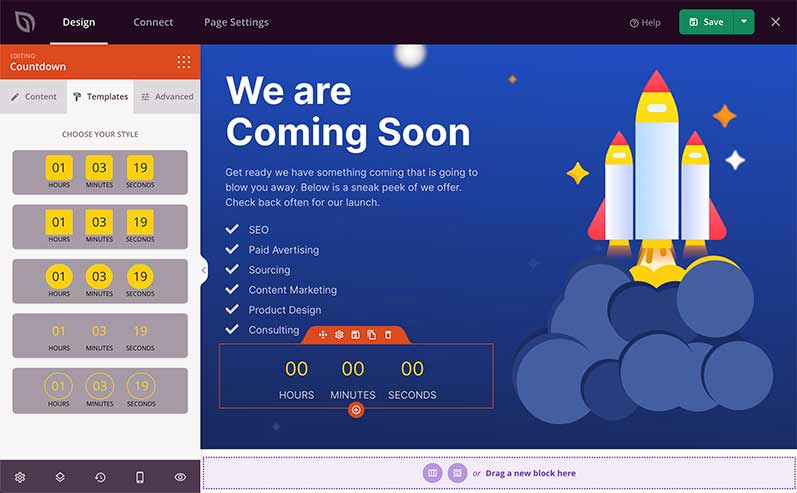 This will do two things:
It'll indicate that Google algorithms should start indexing your webpage even before your site goes live to get a kick-start in rankings.
You can start promoting your business and begin building your email list from day one of your online venture.
Aside from giving you the ability to create stunning Coming Soon pages, SeedProd makes it easy to create any type of landing page in WordPress.
With its growing library of landing page templates, you can create any of the following high-converting pages for your business:
You can then customize almost any element on the page using the visual drag and drop builder, without needing any prior design experience.
For example, you can use the Optin-form block to add sign-up forms to your page to boost lead generation.
You can also add: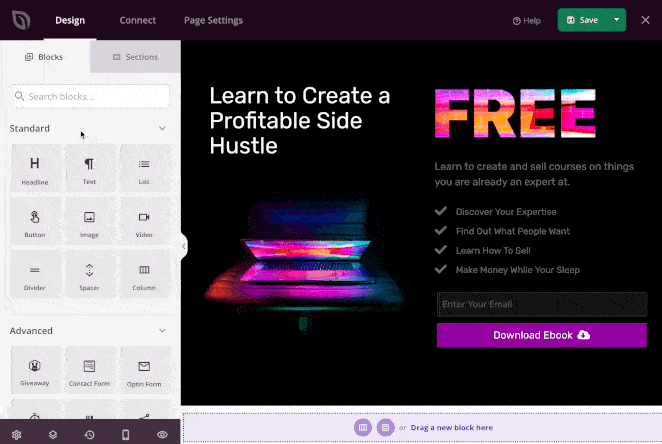 Here's how you can design your coming soon page with SeedProd.
Once that's done, you need to connect it to an email marketing software, which brings us to the next step.
Step 2: Connect SeedProd with Constant Contact
The next step is to connect the SeedProd WordPress plugin with powerful email marketing software. SeedProd offers a variety of email marketing service options to choose from. You can pick the one that suits you the best.
But we would recommend you opt for Constant Contact, which is an excellent choice for any business due to the powerful marketing features, top-notch customer service, and affordable price point.
To connect Constant Contact with SeedProd, you'll first have to create an account with Constant Contact.
You can either get started with the free trial or check out the plans and select one from that.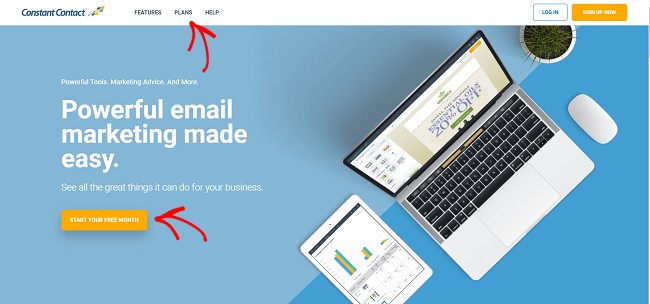 The next step is to connect Constant Contact with SeedProd. You'll find this option by editing your coming soon page and clicking the Connect tab at the top of your page.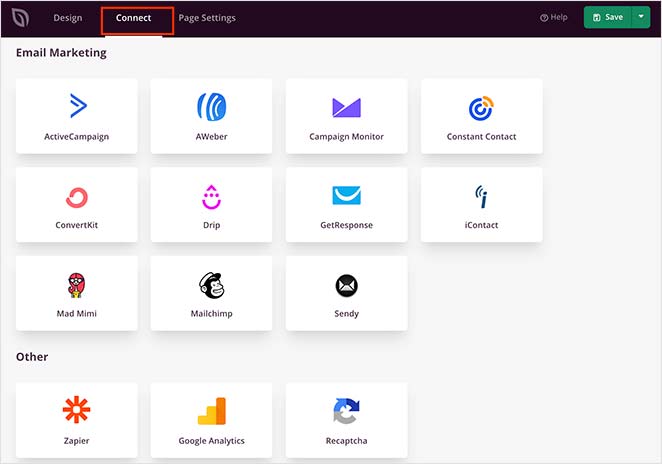 On this page, select your email marketing service from the available options and click the Connect New Account.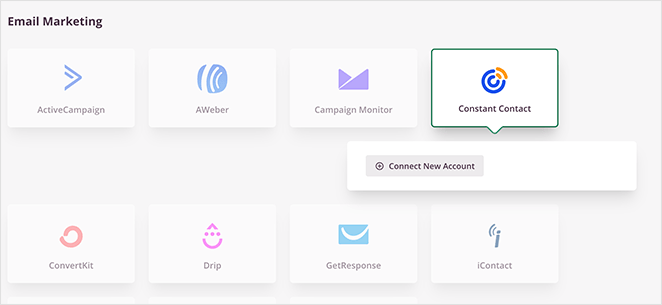 After that, click the Connect to Constant Contact option to get your API key.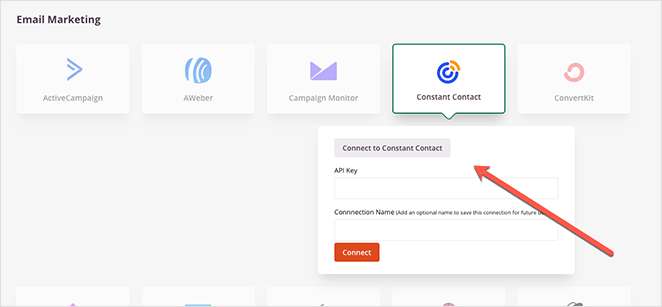 This will open a popup where you can log in to your Constant Contact account and copy your API Key.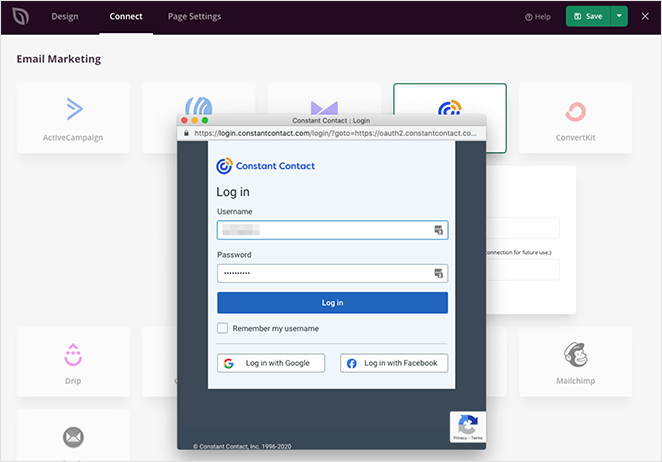 Then, go ahead and paste the key into the API Key Field, and give your connection a name to help you identify it in the future.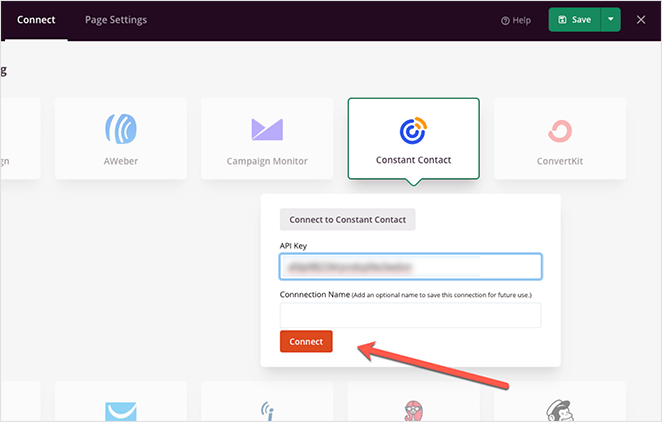 After entering your API key, click the Connect button and select the email list you'd like to store new subscribers to.
Now that you have connected SeedProd and Constant Contact, the email addresses of any website visitors who sign up through your coming soon page will be stored in your Constant Contact database.
If you're not sure how to create a campaign with Constant Contact, here's a guide to help you.
Step 3: Connect Constant Contact With OptinMonster
The third step is to connect your Constant Contact account with OptinMonster.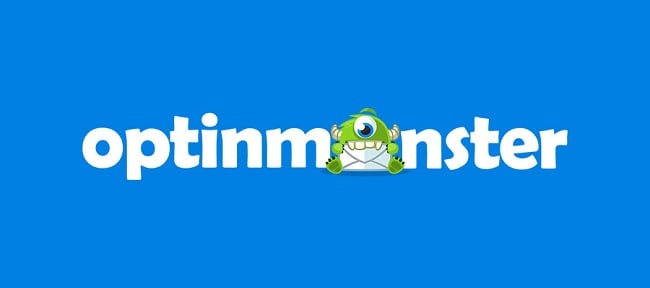 OptinMonster is one of the most powerful conversion optimization toolkits that can help you grow your email list quickly and easily.
With this software, you can easily detect your user's behavior by tracking their cursor movement. And based on that, you can show an exit-intent popup message just when your user is about to leave the site.
This helps retain your users and direct them towards your conversion goal, which in this case, is to subscribe to your email list.
This is just one feature. OptinMonster comes with many other benefits that can help you expand your email list. Here are a few examples of what you can achieve:
You can also see our in-depth OptinMonster review here.
As you can see OptinMonster has far more to offer than we can describe in one article. Let's look at how to set it up.
To connect OptinMonster with your Constant Contact account, you'll first have to create an OptinMonster account. Go to the official website and click on Get Started.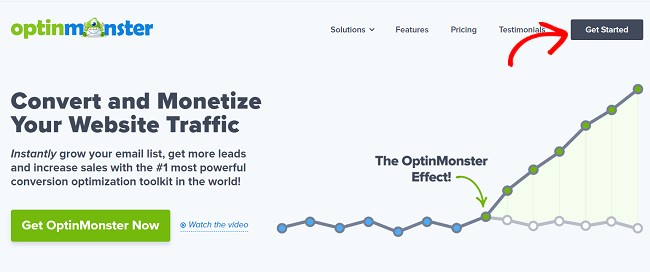 Next, select the plan that best fits you and click on Get Started.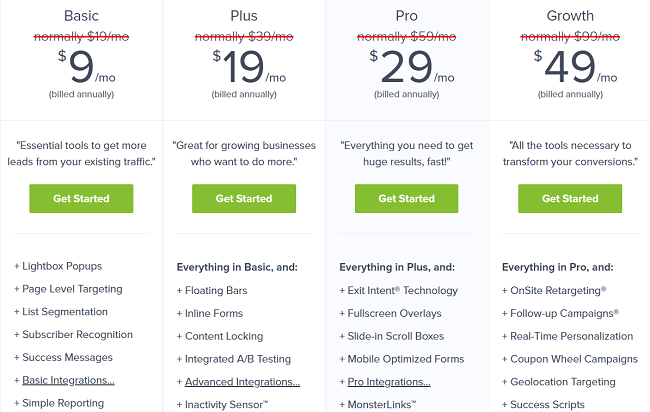 You'll now be redirected to the payment page. After completing your purchase you'll be in your OptinMonster account.
In your account, you'll have an option called the Integrations tab. Click on it.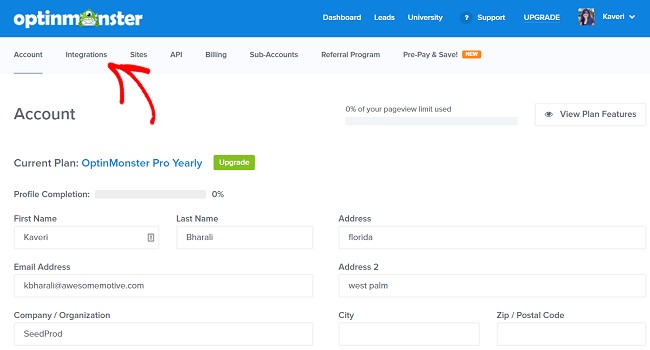 You'll see several options here. Just scroll down and click on the Add button below Constant Contact.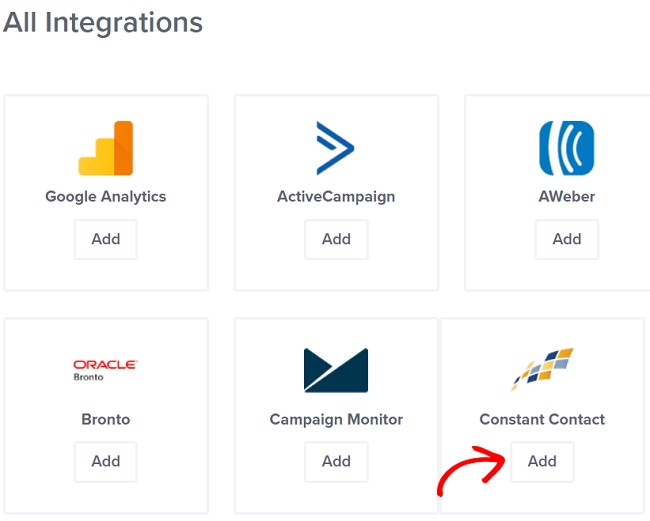 This will display the following message. Click on the Register Constant Contact option.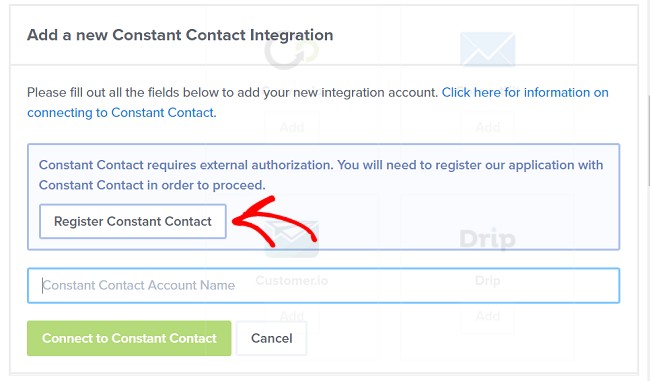 You'll now see a new window popup with the option to log in to the Constant Contact account you created earlier. Upon doing that, OptinMonster will ask you to allow access to your Constant Contact account.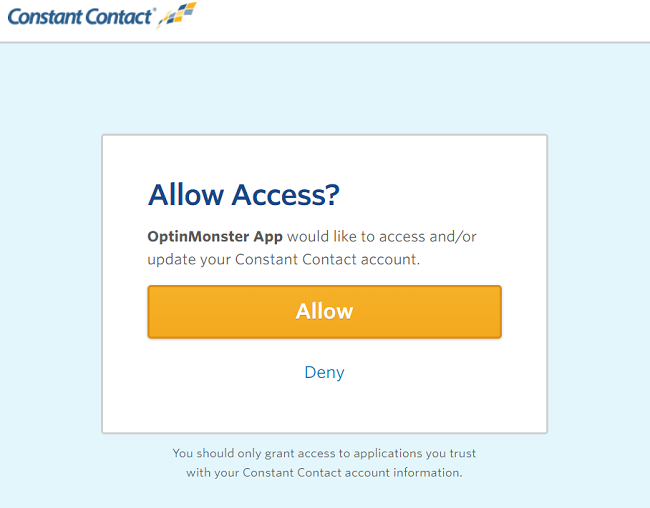 Click on the Allow button. Now add a name to your Constant Contact account and hit the Connect to Constant Contact button.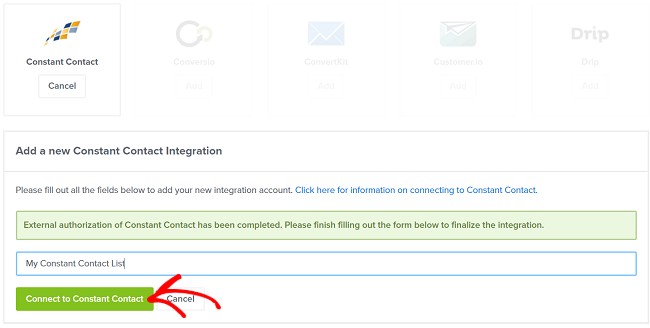 This will complete your integration process. Now you can start creating beautiful opt-in forms with OptinMonster.
For example, you could create a lead magnet popup, or a coupon lightbox popup, or if you're a blogger, you can create a sidebar opt-in form to grow your list.
So that's it. By using just 3 simple tools on your website, you can start building your list from day 1 of your online journey.
We hope you found this article helpful. You might also like these email unsubscribe page examples to help you keep your list fresh.
Thanks for reading. Please follow us on YouTube, Twitter, and Facebook for more helpful content to grow your business.