How to Create a Modern Under Construction Page in WordPress
Want to create a WordPress under construction page for your website?
Adding an under construction or coming soon page to your brand new domain name can be a great idea to indicate Google to start indexing your website, even if the site is not live yet. It can also help you to build buzz and get people excited about your website's launch, as well as get a head start on growing your email list.
In today's article, we will look at how to create a stunning WordPress under construction page without coding a single line of code.
To make the process quick and easy, we'll use the SeedProd plugin. But before we begin, let's have a quick overview of the plugin.
SeedProd – An Overview
SeedProd is a beautiful WordPress plugin that lets you add stunning coming soon, website under construction message, and maintenance mode pages to your website.
The plugin comes with a robust drag-and-drop page builder that simplifies all your designing tasks. You also get to use more than 500,000 free images, more than 750 fancy fonts, and 50+ theme that can make your designing experience super satisfying, quick and easy.
To help you collect emails from your visitors, it lets you integrate with more than 20 different email service providers right from your WordPress dashboard.
You can also protect part of your website or the entire one from any malicious elements with a strong password. Furthermore, the plugin is translation and GDPR ready, cross-browser compatible, and looks fantastic on all screen sizes.
Let's now look at how to use this plugin to create a WordPress under construction page.
Step 1: Get Started by Downloading SeedProd
To start using the plugin, you'll first have to download the plugin.
Now go to your WordPress dashboard and click on Plugins » Add New » Upload Plugin. You can then browse through your computer and upload the zipped folder that you just downloaded.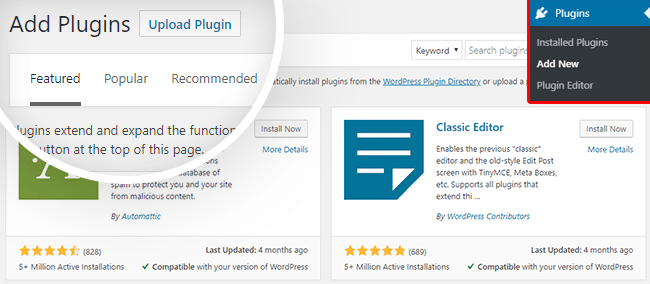 Complete the step by clicking on the Activate button for it to start working.
Upon activation, you'll be redirected to a page where you'll have to validate your SeedProd license key. This key will be sent to your registered email address upon purchasing the plugin.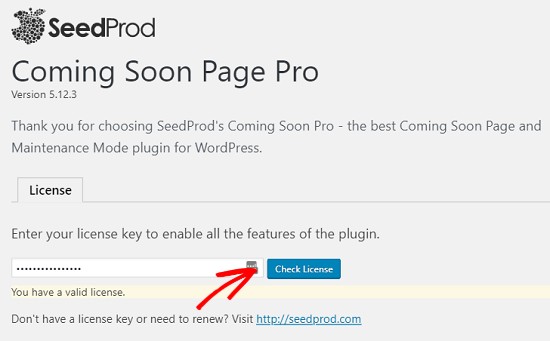 To help you have a great experience with the plugin, it also has a quick video on this page that you can check out. Then click on the Go to the Settings Page button to go to your SeedProd dashboard.
On your SeedProd dashboard, select the Enable Coming Soon Mode option and then click on the Edit Coming Soon/ Maintenance Page button.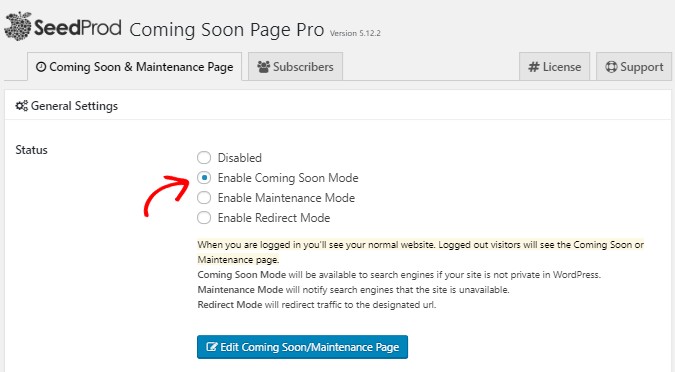 This will redirect you to a visual page builder, where you can start designing your page.
Step 2: Design Your Under Construction Page
Your visual builder will have all your customization on the left and you can see the preview on your right as and when you work on your design.
On your left, you'll have all your customization options and on the right, you can have a clear picture of your design as and when you work on it.
Let's start by choosing a beautiful theme for your page. To select your theme, click on the Theme » Select a Theme on the left panel of your screen.
SeedProd offers more than 56 stunning themes that are fully customizable. You can either use these themes right away or build one from scratch depending on your need.
You'll now see all the themes appearing on your screen. Pick the one you like the best.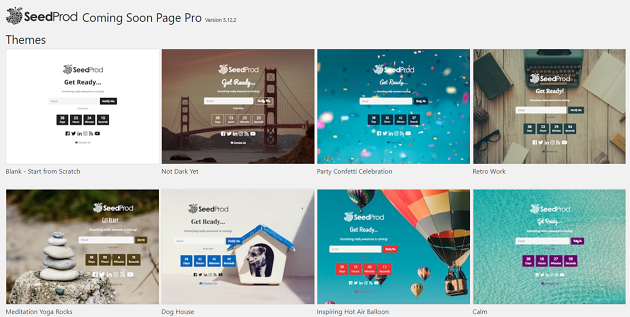 Just click on the theme you want and you'll be on the main page builder where you can further customize your theme.
Here you can work on your content, change your background, add several elements and do a lot more.
Just next to the Theme tab, you have your Content tab. This tab lets you work on your headline, description, add a logo, etc. So click on this tab and you'll see it expand to display all its options.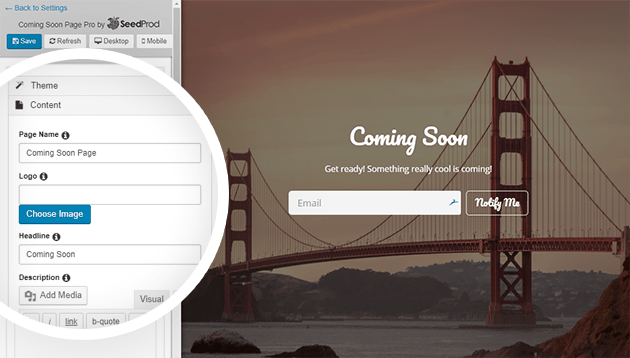 Once you are done adding your website under construction message, page name, logo, etc, click on the Save button on the top of the page.
Proceed ahead to work on your background. You can even add a new image to your background. SeedProd offers great options for that. You can browse through its stock of an infinite number of pictures or upload your own image.
You can then set a background overlay, align the position of your image and do a lot more. To select an image from the SP library click on Background Settings » Select Stock Image.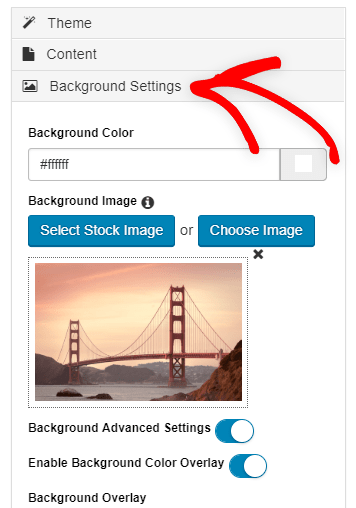 You'll now see a huge library of images on your screen. Use the search field to look up for any specific image if you want.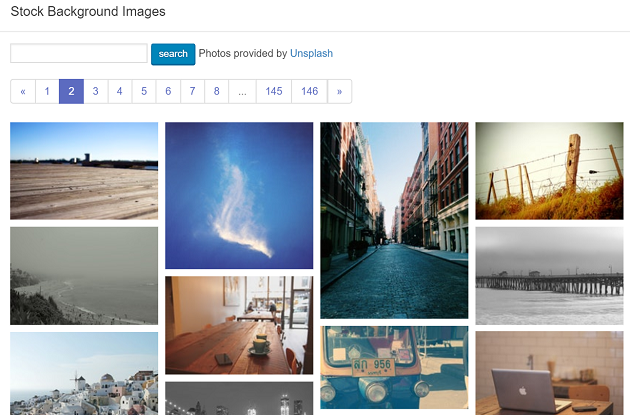 SeedProd also supports videos or a slide shows as your background if you want to make it more engaging.
The next option is the Content Container. This is where you see your text. You can make this container transparent if you like it that way. Otherwise, you have options to add color too.
Make it even more striking by choosing its position, adding a radius and an animation effect to it.
Step 3: Add Elements to Your Page
Let's now add some elements to the page. SeedProd lets you add a number of elements to your page.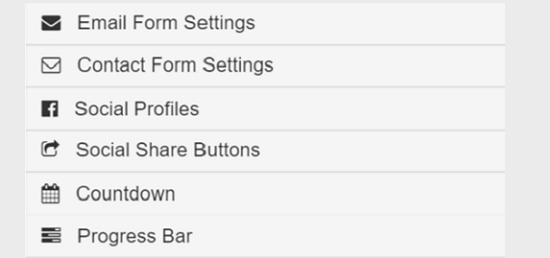 To add these elements you just need to click on the required element name and then enable the option to add it to your site.
For example, if you want to add an email form to the page, click on it and then swap the enable option.
You'll have a lot of options there. So depending on your requirement enable the fields that you want.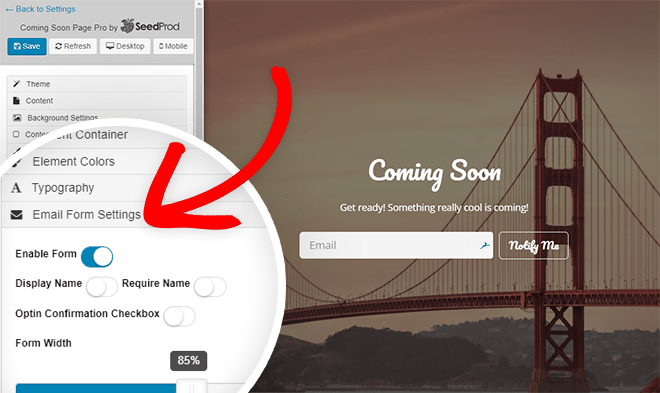 You can also adjust the form width, and select an email marketing service where you want to save the details of your subscribers. SeedProd comes with more than 15 options for you to choose from.
You can also set an autoresponder so that your subscribers get a confirmation email. as soon as they submit the form. Just add your message in the option below and you are done.
Similarly, you can add the other elements too. If you want to add the social media icons, just enable it, select the icon of your platform from the dropdown arrow and add the URL in the given field.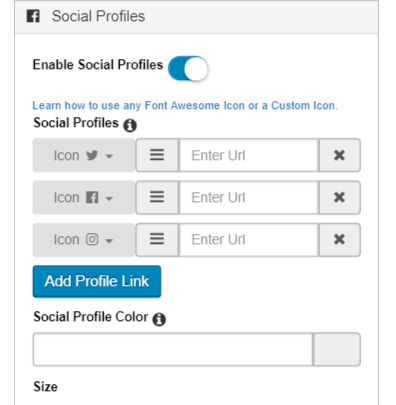 You can have about 21 different social media platforms to choose from. You can also select a color and size for your icons under this option.
In the next option, you can add your social share counts as well. The next option to add a countdown timer and a progress bar.
Step 4: Customize Your Elements and Typography
Once all your elements are added, you can work on its color. You'll have these options under Element Colors.
The next option lets you work on the typography. You can choose your font, style and weight, color, size and a lot more under this option.
Step 5: Publish Your Under Construction Page
Now that you are done designing your page, its time to publish your page. To do that first click on the Save button.
Next click on the Back to Settings option on the top left corner of your screen.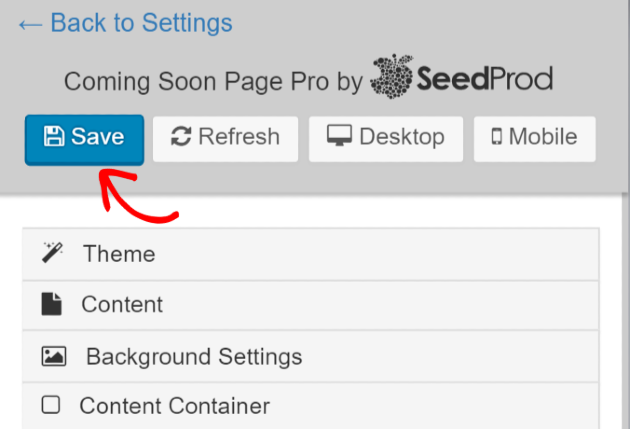 You'll now be redirected to the SeedProd dashboard. Here just hit the Save All Changes button and you are done.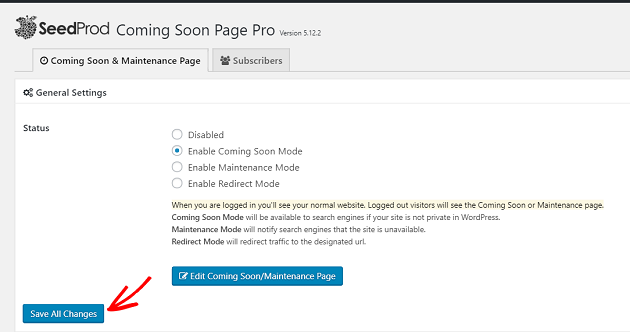 Your page is live now. anyone who visits your website will see this page. However, you can continue working in the backend unless your site is completely ready.
To disable the page just select the Disabled option and save your changes.
Here's a preview of the what my site looked like.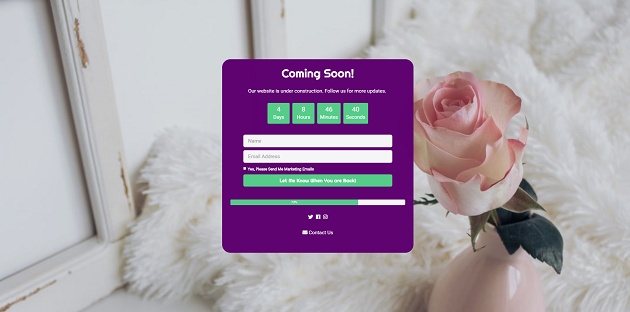 I hope this article was useful to you. If you want to know how to add a maintenance page to your website, here's a guide on how to do that. However is you want to create a coming soon page instead, check this tutorial out.
If you liked this article, follow us for more of such articles.