Launch time is always exciting. And what better way to generate a buzz than to add a great coming soon page to let people know that something exciting is on the way?
But what if you want to grant site access to a few select people while under development?
Password-protecting your WordPress site is an excellent way to keep your design clients updated on your progress or show off a new development site to clients before you officially launch. You can use it for your blog, a single post or page, an eCommerce store, or even your entire website.
In this post, we'll tell you how to password protect your WordPress site while under development so only select people can view your new site in progress.
How to Password Protect WordPress While Under Development
Currently, WordPress doesn't offer an option to password protect a WordPress site all at once.
To password protect WordPress in its entirety, you'll need to integrate your website with a 3rd party password-protected plugin.
Although WordPress offers several 3rd party plugins to choose from, the SeedProd landing page builder plugin is the best choice.
Using this WordPress plugin, let's check out how to hide your WordPress site while under development.
Step 1: Download and Install SeedProd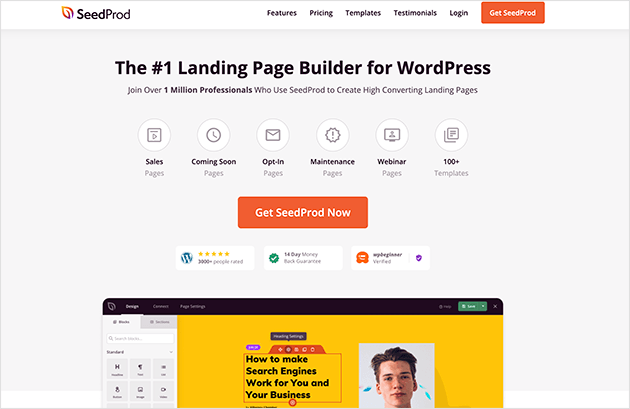 The first step in learning how to password protect WordPress while under development is to download the SeedProd plugin.
SeedProd is the best website builder for WordPress. It lets you create custom WordPress themes, WooCommerce sites, landing pages, and responsive website layouts without writing code. You can also use the built-in coming soon and maintenance mode functionality to hide your site behind a holding page while you're working on it.
The plugin comes with a library of fully customizable pre-built layouts that you can use right away, such as:
It also works with all major WordPress themes and child themes.
With its intuitive drag-and-drop page builder, you can fully control your coming soon page design. It also lets you add various elements to your page, including a countdown timer, progress bar, optin form, shortcodes, anchor links, etc.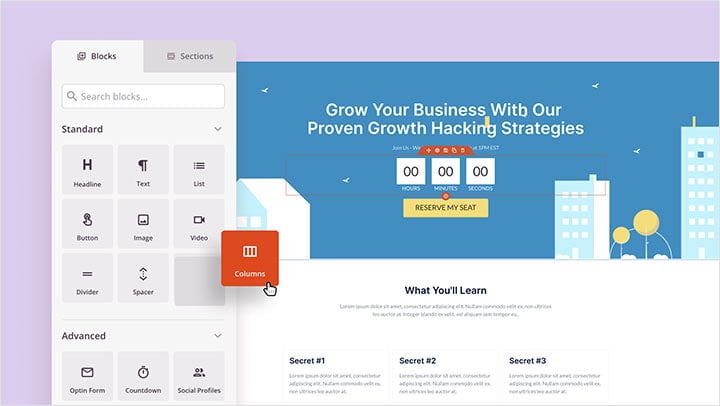 With SeedProd, you can easily password-protect a part of your website or the entire site homepage without needing technical knowledge.
Even though your WordPress site will be password-protected, search engines like Google will still be able to crawl it. That means you can continue maintaining your search rankings despite having protected content.
After downloading the SeedProd plugin, follow these instructions to install a WordPress plugin.
Once you install and activate the plugin, you'll head to the license key page to verify your key. You can find your license key in the downloads section of your SeedProd account page.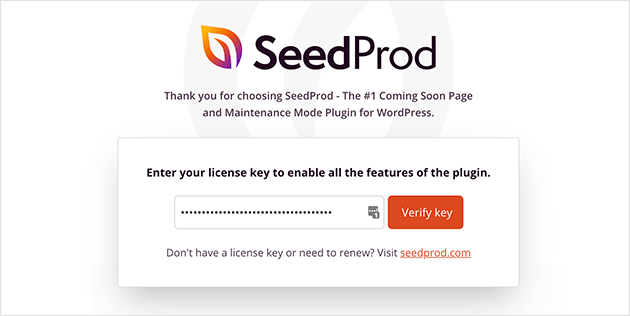 After verifying your key, you can use the plugin to password protect your website while it's still under development.
Step 2: Create a Coming Soon or Maintenance Page
SeedProd includes powerful access controls in the plugin settings that let you hide either your entire WordPress website or specific website pages.
To take advantage of these tools, you'll need to create either a coming soon page or a maintenance mode page, the only types of landing pages with these specific controls.
First, to create your coming soon page, navigate to SeedProd » Pages from your WordPress dashboard and click the Set up a Coming Soon Page button under the Coming Soon Mode section.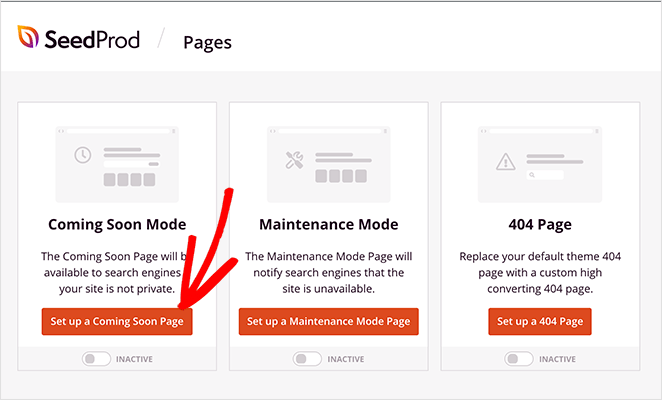 You'll see the coming soon page templates library to choose a new page template and customize your design. See this step-by-step guide to create a coming soon page in WordPress for complete instructions on setting up your page.
Step 3: Password Protect Your Whole WordPress Site
If you want to password protect your whole WordPress site while under development, it's super-easy with SeedProd.
After creating your coming soon page or maintenance mode page, navigate to SeedProd » Pages from your WordPress admin area.
Next, click the toggle under the Coming Soon Mode section to change it from the Inactive to the Active position.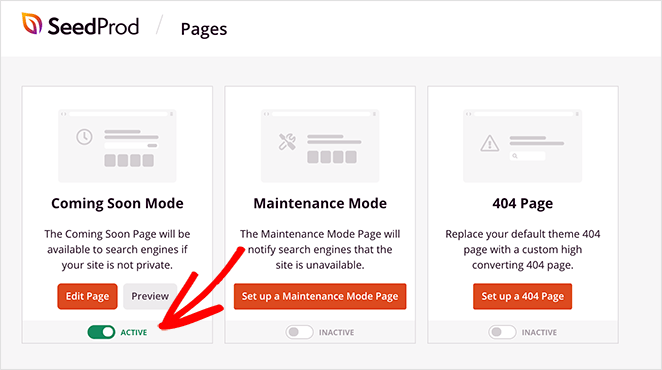 That's it! You've now password protected your whole WordPress site. Now only logged-in users can see the construction of your website.
Adding a Password Input Field to Your Coming Soon Page
If you'd like to display a box for users to enter the correct password to access your site, you can do that within the landing page editor. For this, you'll need to edit your password-protected page in WordPress.
First, click the Edit Page button from your SeedProd dashboard.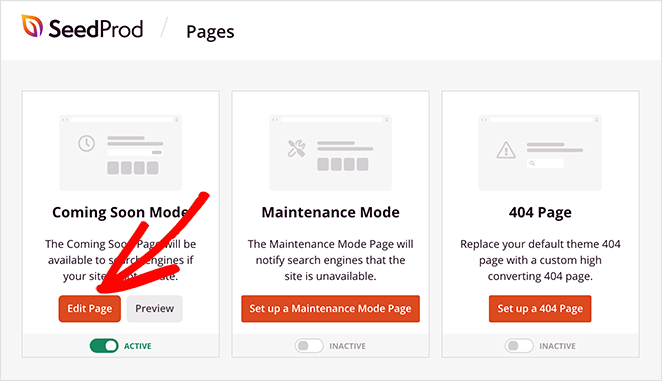 Then scroll down to the Advanced block section and drag the Custom HTML landing page block onto your page.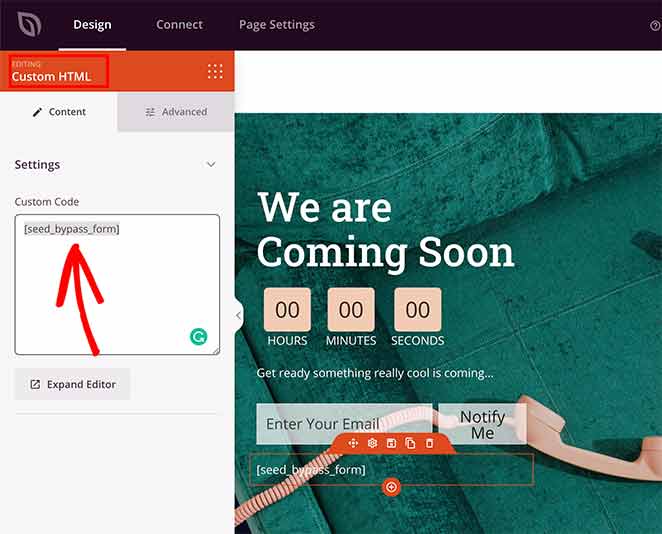 Inside the custom HTML block, type seed_bypass_form in square brackets and save your changes.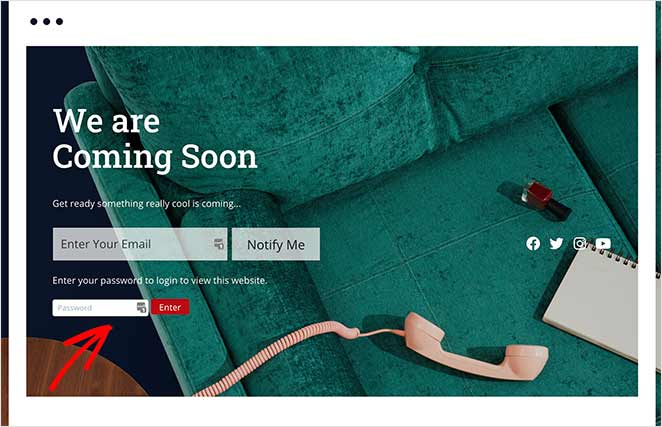 That step adds a password form so users with your password can access your protected pages. The login form won't appear in the page builder. You'll have to preview the page to see how it looks.
You can repeat the same process whenever you want to edit your password-protected page in WordPress.
Step 4: Add Password Protection for Specific Pages Under Development
What if you want to hide a page in WordPress?
If you have individual WordPress pages and even WooCommerce products on your site that you don't want your visitors to see, you can use the Include URLs option in SeedProd's Access Control settings to hide them from the public.
First, you'll need to password protect your pages and WordPress posts individually. You can do that by going to the post or page you want to hide from your visitors. Now click on the Edit option.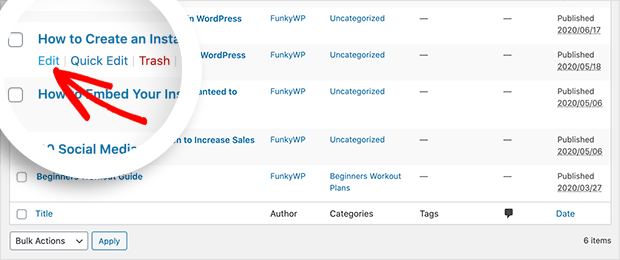 In the WordPress editor, you'll see the Publish option on your right. Under this option, click on Visibility » Password-Protected.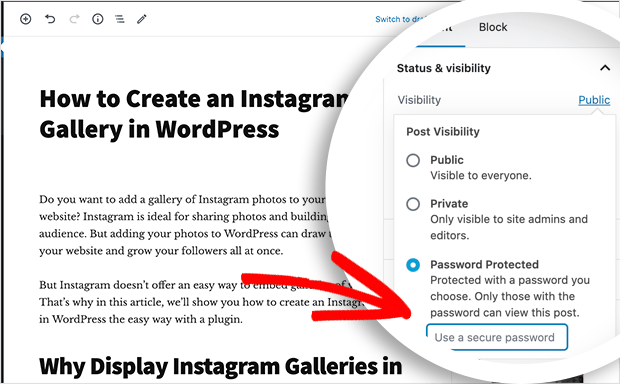 You'll now have a blank field where you can enter your password. Add your password and hit the publish button.
Now your content will have a password-protected status.
Anyone viewing this page is asked to access your WordPress site with a single password via a login page. Your visitors will need the new password you just used to protect it to unlock the page.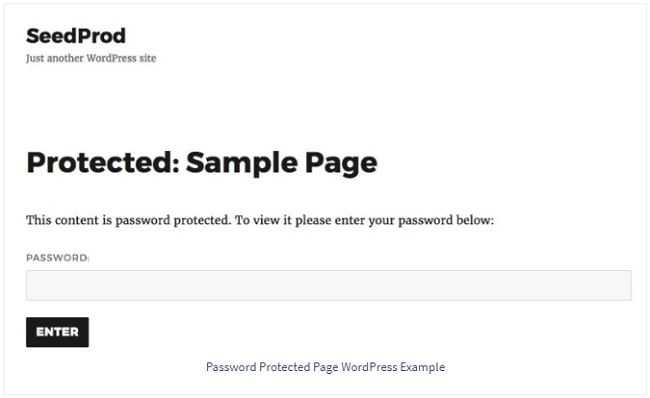 You can do this for individual WordPress posts and pages you want to keep private. Each page will be marked Password protected against its title in the dashboard.
You can see this by going to All Posts or All Pages in your WordPress dashboard.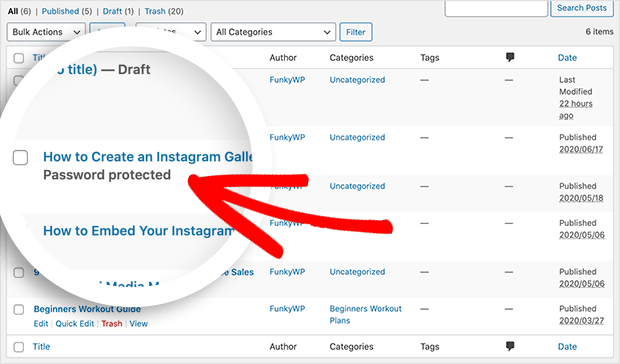 Only those logged into your website with admin user roles or the creator can access these password-protected posts and pages.
Now that you've protected your posts and pages with a password, you can add them to the restricted pages list in SeedProd, so anyone trying to view the page will see your coming soon page.
You'll first need to edit your coming soon page and view it in the drag-and-drop page builder.
Click the Page Settings tab at the top of your screen. Once you're on the settings page, click the Access Control section to view the available access settings.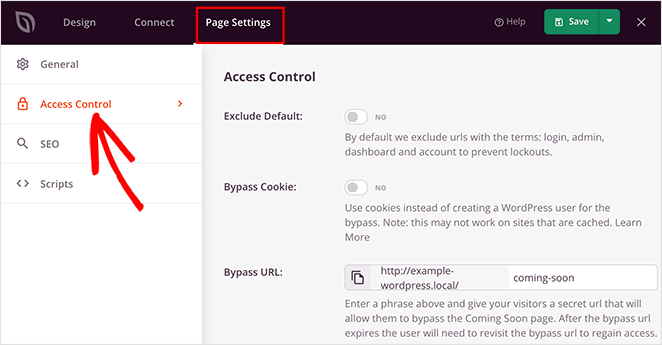 Now scroll down the page until you see the Include/Exclude URLs section. Clicking the Include URLs radio button reveals a blank field where you can enter the page URLs of your password-protected posts and pages.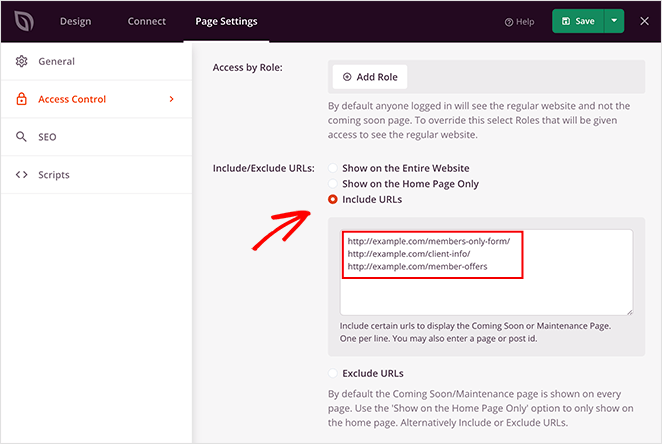 Note: You need to add new URLs on each line when using the Include URL option in the SeedProd dashboard.
Make sure you hit the enter button after every URL. Using a comma or backslash to separate your URLs may not offer the desired result.
After adding the URLs, click on the Save Changes button to enable password protection.
On the same page, you can also restrict access to your website-based IP addresses.
Check out how Mustard Seed used SeedProd to launch client websites in this case study.
FAQ
Can you password protect an entire WordPress site?
How to edit a password-protected page in WordPress?
You can edit your password-protected page in WordPress by editing your newly created page with SeedProd's page builder by clicking Edit Page in the SeedProd dashboard.
Or you can edit the page with the regular WordPress editor as you would with any other page.
That's it.
Now, anyone visiting those URLs will see you coming soon or under construction page.
There you have it!
We hope this article helped you learn how to password protect your WordPress site while under development.
With SeedProd's powerful access controls and easy drag-and-drop page builder, you can create and protect WordPress landing pages without needing a developer.
You might also like to learn how to customize the WordPress login page.
If you liked this post, do follow us on Facebook and Twitter for more helpful WordPress guides.