Are you looking for the best WordPress GDPR plugins for your WordPress website?
If your website collects data about people from the European Union, you need to ensure that it's GDPR compliant. Luckily, there are many WordPress plugins to help keep user data safe and secure.
In this guide, we'll share the best WordPress GDPR plugins to keep you on the right side of data protection regulations.
What is a GDPR and CCPA Plugin for WordPress?
GDPR stands for General Data Protection Regulation. It's a European Union law that governs how businesses in the EU collect, process, and store personal data or handle EU citizens' data.
On the other hand, CCPA is short for the California Consumer Privacy Act. It's a California-specific privacy law that grants consumers certain rights over their personal information and imposes obligations on businesses that collect and handle that data.
GDPR and CCPA plugins are software with features that help website owners comply with these privacy laws. For instance, some of the best WordPress GDPR plugins may help you manage user consent and opt-ins, while others may allow you to display cookie consent banners and privacy policies to website visitors.
While no single plugin can offer 100% compliance, many have user-friendly options that make sticking to the law much easier.
Best WordPress GDPR Plugins for Compliance
Whether you're a beginner or have years of experience, the best WordPress GDPR plugins can help simplify compliance and empower you and your visitors.
Let's dive in!
Best WordPress GDPR Plugins for Google Analytics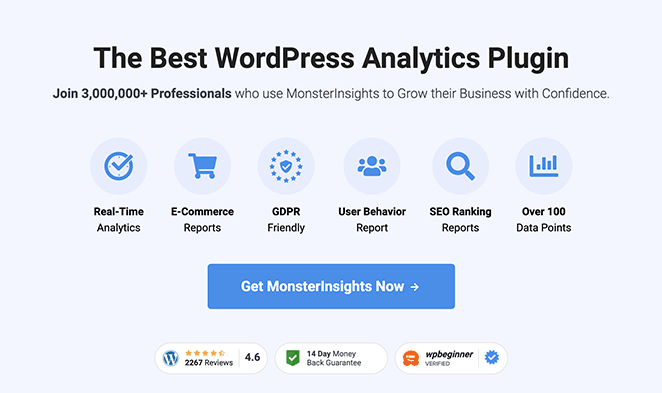 MonsterInsights is the best WordPress Google Analytics plugin. It lets you add the Google Analytics tracking code to your WordPress site without the hassle of copying and pasting code. Once installed, you can see analytics reports right inside your WordPress dashboard.
GDPR requires you to get explicit consent from EU users before you collect or process their personal identifying information. With the MonsterInsights EU Compliance Addon, you can easily anonymize or turn off personal data tracking, such as IP addresses.
Moreover, the EU Compliance Addon integrates with the Cookie Notice plugin, which we'll discuss in more detail later. With this plugin, you can ask to track personalized data via a cookie consent notice before loading any analytics scripts.
MonsterInsights even works with Google Analytics' built-in cookie opt-out system and Chrome browser opt-out extension.
Key Features:
Pricing: MonsterInsights costs $99.50 per year, which includes the EU Compliance addon.
For more details, see our MonsterInsights review.
Best WordPress GDPR Plugins for Landing Pages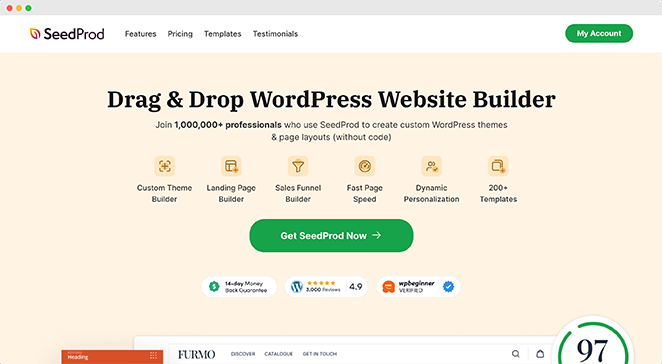 SeedProd is the best WordPress website and page builder plugin with GDPR-compliant functionality. It lets you create professional WordPress themes and landing pages without touching a single line of code.
You can use SeedProd's drag-and-drop interface to create legal pages, including a privacy policy page and a cookie consent page.
It also allows you to show a consent checkbox on its opt-in form block, allowing you to get permission to collect user data when they subscribe.
Key Features:
Drag-and-drop page builder
Hundreds of customizable templates
Unlimited fonts, colors, and customizations
GDPR-compliant signup forms
WooCommerce and EDD support
Pricing: SeedProd costs from $39.50 per year.
Best WordPress GDPR Plugins for WordPress Forms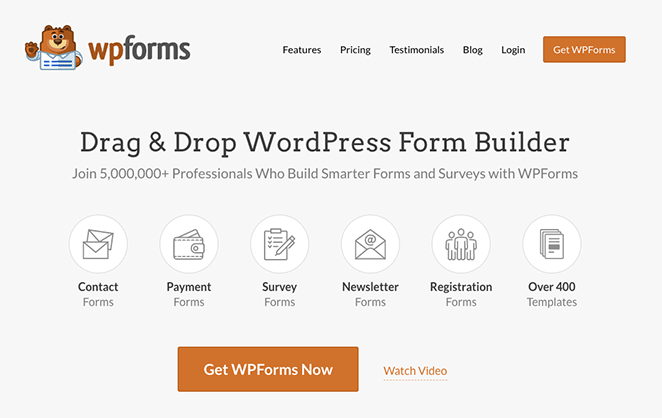 WPForms is one of the best WordPress contact form plugins with GDPR compliance built-in. It lets you create virtually any type of form, including payment forms, registration forms, contact forms, survey forms, booking forms, and more.
In the plugin settings, you can enable the GDPR enhancements option. This prevents WPForms from collecting IP addresses when users complete forms on your site. You can also disable user tracking cookies and storing the browser and operating system information of users.
Another way to comply with GDPR requirements is to turn on the GDPR Agreement checkbox for all or individual forms.
Key Features:
Drag-and-drop form builder
Pre-made form templates
Multi-page forms
Smart conditional logic
Geolocation data
GDPR consent features
Email marketing and payment gateway integrations
Pricing: WPForms costs $39.50 per year. Its free version is also GDPR compliant.
For more details, please see our WPForms review.
Best WordPress GDPR Plugins for Popups and Lead Generation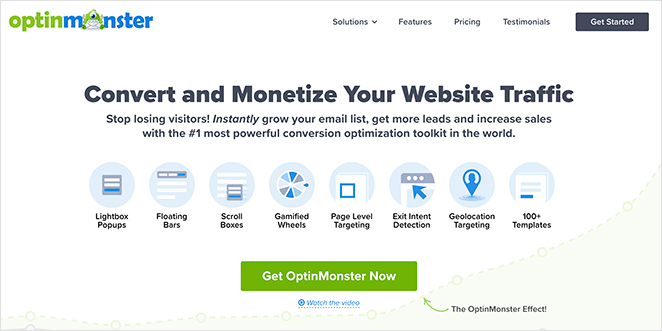 OptinMonster is a powerful lead-generation tool and the best WordPress popup plugin. It lets you create various signup forms for your website that you can display as popups, slide-ins, banners, and more.
You can make all OptinMonster signup forms GDPR compliant by adding a privacy policy field and an opt-in consent checkbox. That way, users can only sign up after checking the box and giving consent.
OptinMonster also has a GDPR Audit Concierge team who can help if your organization is subject to a GDPR compliance audit.
Moreover, you can target your forms to visitors from specific locations. As a result, you can ensure you only show GDPR-compliant opt-ins to visitors in EU countries.
Key Features:
Drag-and-drop opt-in form builder
Pre-made campaign templates
Exit-intent technology
Geolocation targeting
GDPR checkbox
Conversion analytics
Email marketing and CRM integration
Pricing: OptinMonster costs $9 per month. You'll need the Growth plan starting from $49 per month for geolocation targeting.
For more details, see our in-depth OptinMonster review.
Best WordPress GDPR Plugins for Cookie Compliance

Cookie Notice is a free WordPress GDPR and CCPA compliance plugin. It lets you display a cookie notification popup on your website for users to consent to or refuse the use of cookies.
You can add links to your privacy regulations and cookie information pages inside the cookie notice. It takes minutes to set up and is easy for beginners to use.
Cookie Notice works seamlessly with WPML for multilingual websites and MonsterInsights' EU Consent Addon.
Key Features:
Customizable cookie notice message
Consent on clicking, scrolling, or closing
Link to your privacy policy page
SEO friendly
Covers other regulations, including ePrivacy, LGPD, PIPEDA, and more.
Pricing: Cookie Notice is free and available from WordPress.org.
Best for Free GDPR and CCPA Consent Banners

CookieYes is another popular GDPR compliance plugin for WordPress. It lets you display an alert bar on your site with options for users to accept or reject third-party cookies.
The plugin is easy to customize, allowing for custom colors, fonts, positions, styles, and more. You can even display the cookie bar at the bottom or top of your website.
When configuring CookieYes, you'll need to list all the cookies the plugin restricts. It can't block all cookies automatically, as this could break your website.
Key Features:
Cookie consent banner with Accept and Reject buttons
Automatically scan and categorize cookies with 1 click
Include a 'Do Not Sell or Share My Personal Information' control on the cookie notice
Optional consent banner for GDPR EU cookie law
User consent log
Cookie policy & privacy policy generators
Pricing: CookieYes's base version is free. The premium version costs from $69 per year.
Best for Cookie Notices for Different Regions

Complianz is a WordPress GDPR plugin that lets you make notices for different locations, including the EU, UK, US, and Canada. You can use it to create various banners, such as a Cookie Wall, Accept/Dismiss, Consent per Category, or Consent per Service banner.
The plugin includes an option to scan your site for cookies, allowing you to add cookie descriptions automatically. Moreover, the setup is user-friendly, walking you through the process step-by-step.
With the premium version of Complianz, you can A/B test your banners, generate legal documents, and view statistics.
Key Features:
Cookie notice for specific regions
Various banner templates
Dismiss banners on scroll or time on page
Easy consent management features
Integrates with various WordPress plugins
Pricing: Complianz is a free WordPress cookie consent plugin with a premium version starting from $49 per year.
Best for CCPA and DSGVO Cookie Consent

GDPR Cookie Compliance from Moove is a free compliance plugin that allows users to enable or disable cookies on your WordPress site. Users have full control over cookies stored on their computers and can revoke consent anytime.
You can customize the consent banner easily with custom colors and fonts and use your own text and logo.
The premium version of this plugin has a cookie wall that stops users from seeing your site until they accept or reject cookies. It also allows you to target users by location and view stats.
Key Features:
Store data locally on your website
Position the cookie disclaimer banner at the top or bottom of your site
Sent consent expiration settings
Mobile responsive design
WordPress multisite features
Use shortcodes to manage consent
Pricing: GDPR Cookie Compliance is free. The pro version costs £59.
Best for GDPR friendly Banners and Widgets

Cookie Banner, also known as Cookiebot, is a consent management platform with an automated WordPress cookie banner. You can display the cookie banner on your site to manage consent required by GDPR and global legislation. It also allows you to show banners to users with a specific age.
The plugin scans your website regularly to delete third-party cookies. It even holds cookie and user tracking until users consent for optimal compliance.
Key Features:
Highly customizable cookie banner
Automatic cookie scanning
Integration with Google Consent mode
Automatic cookie blocking
Easy-to-use consent widget
Compliance with multiple regulations
Pricing: Cookie Banner is a free WordPress cookie plugin. The premium version costs €12.
What Is the Best GDPR Plugin for WordPress?
The right GDPR plugin for you depends on your unique needs. To help you decide, here are our top picks for the best WordPress GDPR plugins:
Best WordPress GDRP Plugins FAQs
What is the best cookie compliance for WordPress?
The best cookie compliance plugin for WordPress is Cookie Notice. It's free, easy to use, and lets you show a cookie notice at the top or bottom of your website.
Are WordPress plugins GDPR compliant?
Many WordPress plugins are GDPR compliant. However, the level of compliance can vary between plugins. It's a good practice to look for plugins that explicitly state their GDPR compliance measures.
​​Is GDPR or CCPA better?
Choosing between GDPR and CCPA depends on your location, target audience, and the data you collect. GDPR is known for its comprehensive approach to data protection, while CCPA focuses on enhancing consumer privacy rights in California. It's best to consult legal experts to ensure compliance with these regulations based on your circumstances.
What other best WordPress GDPR plugins are there?
Some other popular GDPR-compliant plugins for WordPress include but are not limited to, RafflePress, Instagram Feed Pro, Iubenda, WP AutoTerms, WP Activity Log, and Delete Me.
We hope this guide has helped you find the best WordPress GDPR plugins for your website. Before you leave, you may also find the following guides helpful:
Thanks for reading. Please follow us on YouTube, Twitter, and Facebook for more helpful content to grow your business.