Are you looking for the best WordPress multisite plugins for your business website?
WordPress multisite allows you to create and manage multiple WordPress websites from a single dashboard. However, WordPress multisite can also be complex to manage.
This is where WordPress multisite plugins come in. These plugins can help automate tasks, improve security, and extend the functionality of your multisite network.
In this article, we'll look at some of the best WordPress multisite plugins available.
What Is A WordPress Multisite Network?
A WordPress multisite network is a single WordPress installation that hosts multiple websites. This means that your network of sites shares the same core files, plugins, and themes. However, each website in the network can have its own unique domain name, directory, and settings.
As mentioned earlier, WordPress multisite networks are a fantastic way to save time and resources, especially if you're a network administrator managing a large number of websites. They're also a great way to create an entire multisite network of related websites, such as a blog network or a company intranet.
To create a WordPress multisite network, you'll need to enable the multisite feature in your WordPress installation. You can do this by adding the following line of code to your wp-config.php file:

define( 'WP_MULTISITE', true );

After enabling multisite, you can create new sites in your network by visiting the Network Admin page in your WordPress dashboard.
​​Here are some of the benefits of using WordPress multisite networks:
Save time and resources: Managing multiple WordPress installations can be time-consuming and resource-intensive. A multisite setup can save time and resources by allowing you to manage multiple websites from a single WordPress site.
Create a network of related websites: WordPress multisite networks are a great way to create an entire network of related websites, such as a blog, eCommerce network, or a company intranet. This is helpful for businesses and organizations that need to manage a large number of websites.
Improve security: Multisite networks can improve the security of your sites by making it more difficult for hackers to exploit vulnerabilities. This is because all of the websites in the network share the same core files, which are updated more frequently than plugins and themes.
Extend functionality: There are a number of WordPress plugins available to extend the functionality of your WordPress multisite network. These multisite enhancements can add new features to your network, such as a membership system, forum, and more.
Best WordPress Multisite Plugins
If you manage a network of individual sites, you'll want to use plugins that work seamlessly with multisite installations. Below you'll find our favorite WordPress multisite plugins to add powerful features to your network of WordPress sites.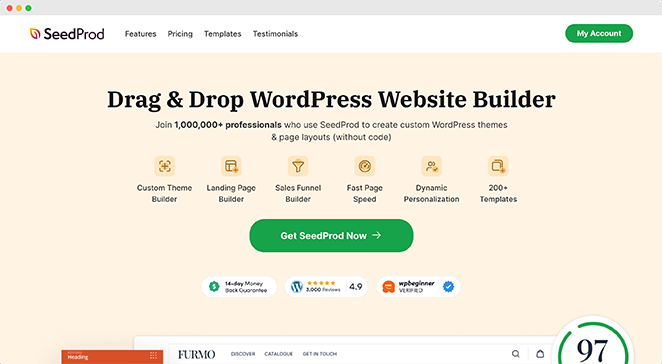 Looking for an easy way to create custom WordPress themes and landing pages for any site in your network? With over 1+ million users, SeedProd is an excellent choice.
SeedProd is a powerful WordPress page builder and website builder that lets you make any WordPress layout without writing a single line of code. Start with a premade website kit or landing page template, then customize it easily with the visual drag-and-drop builder.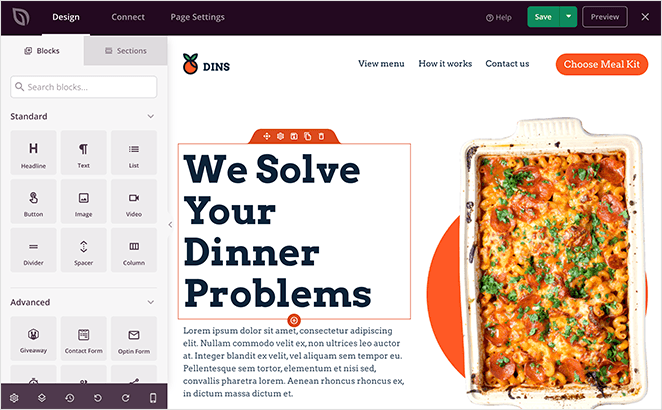 With countless WordPress blocks, including opt-in forms, pricing tables, countdown timers, and more, perfecting your custom design is a breeze. You can even reuse assets across your multisite network with easy copy and paste, duplicate, and save template features.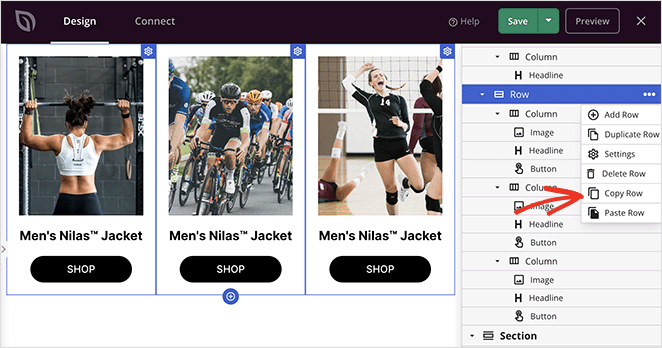 Want to use the same WordPress template across multiple sites? Easy. Simply export your SeedProd theme or landing page, and import it to another site on your network. Then you can customize it to your liking.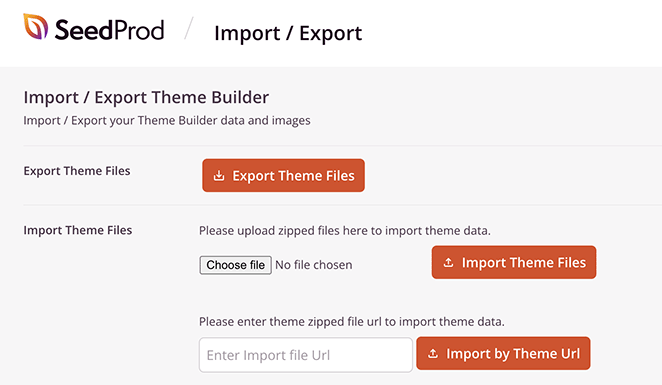 But that's not all. SeedProd can also act as its own mini multisite network.
With the Custom Domain feature, you can create multiple landing pages or microsites with custom domain names and host them from a single website. This bypasses the need to build multiple websites with individual WordPress installations.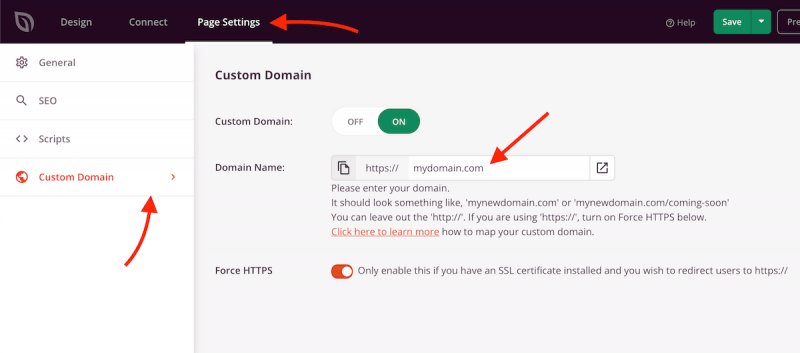 SeedProd also includes the following helpful features:
Built-in Coming Soon, Maintenance, 404, and Login page modes
Subscriber management dashboard
User access controls
WooCommerce blocks
Easy animation effects
SEO plugin and analytics support
Email marketing integrations
Price: SeedProd has a free version that lets you create a simple landing page. Premium versions start from $39.50 per year.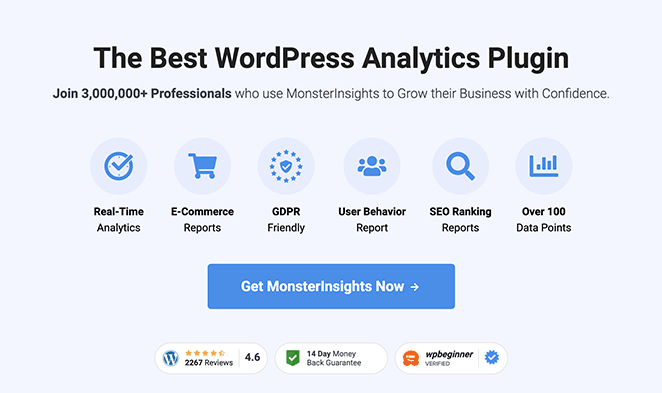 MonsterInsights is the best Google Analytics plugin for WordPress that works seamlessly with multisite networks. This popular WordPress plugin boasts over 3+ million users who use it to connect their sites to Google Analytics without code.
On a WordPress multisite, it means you can see all your subsite analytics in one place on a single site.
From a single WordPress dashboard, you can track user behavior, such as event tracking, outbound link clicks, form tracking, video tracking, custom post type tracking, and more. Plus, when you install the plugin, you can choose which multisite to enable or disable MonsterInsights.
Here are some more useful MonsterInsights features:
Customizable WordPress dashboard widget
Universal and GA4 analytics tracking
Headline Analyzer for writing irresistible headlines
Popular Posts WordPress block
Access controls for different user types
Integrations with popular plugins, CRM, and tools
Price: MonsterInsights has a free version you can use. However, the most powerful features start from $99.50 per year.
See our MonsterInsights review for more details.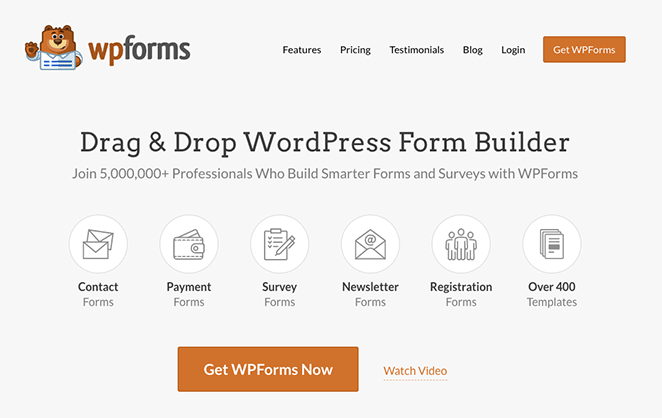 WPForms is another popular plugin that supports WordPress multisite. It's the best form builder plugin for WordPress, allowing you to add any form to your site without code.
This plugin lets you create countless forms for your multisite network, including contact forms, user registration forms, survey forms, and many more. It's also easy to use, which is ideal if your multisite users are beginners.
Creating a form is as simple as picking a premade template and dragging and dropping form fields to customize it. From there, you can publish any form in your WordPress sidebar, posts, pages, and anywhere else.
WPForms also offers the following helpful features:
Multipage forms for longer forms
Conversational Typeform-style forms
Form entry management dashboard
Spam protection
Multiple addons for enhanced functionality
Price: You can get started with WPForms with the free version. Premium plans start from $49.50 per year.
Here's a WPForms review to help you decide.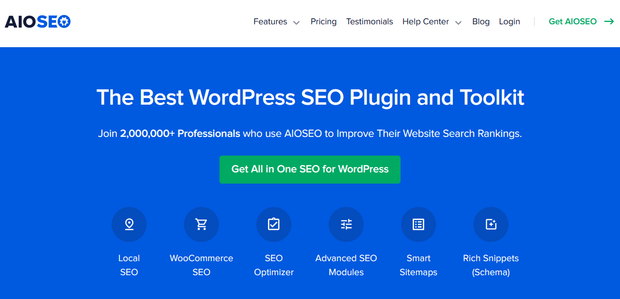 All-in-One SEO is another must-have plugin for your WordPress multisite. It's the best WordPress SEO plugin, allowing you to optimize your multisite network for search engine rankings.
With AIOSEO, you can simplify search engine optimization for each site owner. They can optimize their meta descriptions, make sitemaps, configure social media, connect to Google Search Console, and more.
Plus, the SEO Audit Checklist helps analyze your WordPress site for critical errors and offers actionable insights to improve SEO and drive more traffic.
Here are some of AIOSEO's other handy features:
Link assistant for easier internal link building
Multisite module for easier multisite SEO
Redirection manager
Custom user roles for SEO
Rich snippets schema
WooCommerce, video, and local SEO
Rrobots.txt editor
Price: There is a free version of AIOSEO available. Pro pricing starts from $49.60 per year.
For more details, see our AIOSEO review.
Alternative: You can also use Yoast SEO to manage your multisite networks' on-page optimization.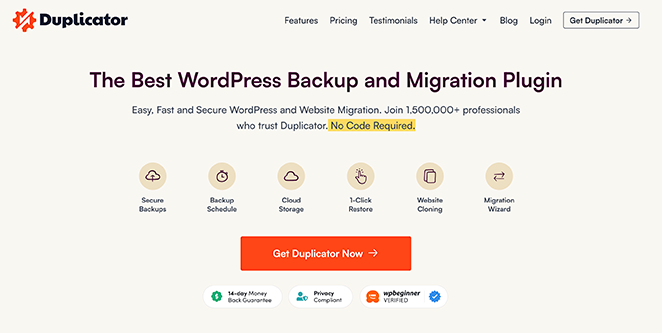 Duplicator is one of the best WordPress duplication plugins used by over 1.5+ million site owners. It makes it easy to clone and migrate WordPress sites between hosting providers, servers, domains, and subdomains.
Using the plugin is super straightforward. With a few clicks, you can download and upload your website files to your new server.
The plugin also lets you back up and restore your WordPress site easily. This means you can rest easy knowing your data is safe in the event of any security issues or downtime.
Additional Duplicator features include:
Easy migration wizard for new users
Automatic scheduled backups
File and database table filters
Advanced multisite support
Cloud backup and storage
Server-to-server imports
Custom search and replace
Price: There is a free version of Duplicator available. For the pro versions, pricing starts at $49.50 per year.
Alternative: You may also like UpdraftPlus, another popular WordPress backup plugin.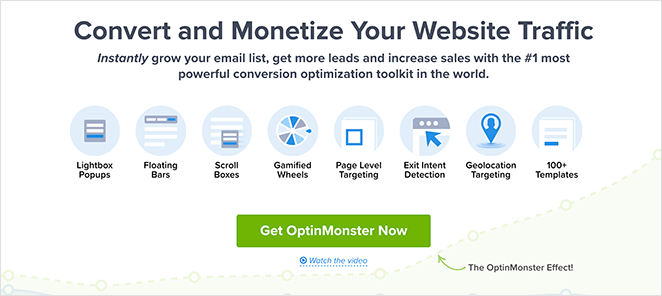 OptinMonster is one of the most popular lead generation tools boasting over 1.2+ million users. It lets you easily add popup modals and lead generation forms across your entire network of WordPress sites.
With its network activation feature, you can make different campaigns for every site on your network. This helps you tailor campaigns to each site's individual audience.
This powerful tool is easy to use, even for beginners. It offers premade templates and a drag-and-drop builder to create various campaigns, including exit-intent popups, content upgrades, slide-ins, full-screen welcome mats, and more.
Plus, your campaign data is in one place with a multisite network.
Here are OptinMonster's other features:
2-step opt-in campaigns
Geo-location targeting
Exit-intent technology
Attention-grabbing animation effects
Multiple targeting options
Success tracking
Integration with email and marketing tools
Price: The pricing for OptinMonster starts at $9 per month.
You can also check out our OptinMonster review for more details.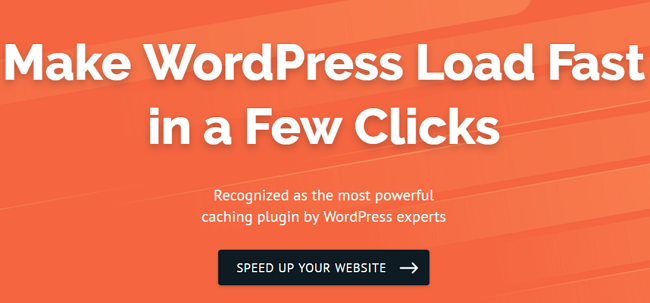 WP Rocket is one of the best and most popular WordPress caching plugins. It can improve your website speed and performance by removing some of the steps web browsers take to generate pages.
With WP Rocket's powerful caching features, you can speed up every site on your multisite network and improve performance across the board. The plugin comes with page caching and cache preloading, minification, static file compression, font loading, and more.
You can also customize WPRocket's advanced features for individual sites on your network.
Some of WP Rocket's other features include:
RocketCDN (Content Delivery Network)
Database cleanup
GZip compression
eCommerce optimization
Lazy loading
Integrations with Securi, Cloudflare, and more
Price: WP Rocket pricing starts from $59 per year.

WP Multi Network is a powerful free WordPress multisite plugin. It lets you turn your multisite installation into many multisite networks for a global set of users.
You can manage many multisite networks from the network admin post type in your WordPress admin dashboard. It also lets you assign subsites to a global multisite network.
This helpful plugin shows information about each site on your network, such as available sites, active themes and plugins, assigned sites, and more.
Other features of WP Multi Network are as follows:
Discover hidden WordPress multisite functionality
Top-level network admin menu
Move subsites between networks
Allow global administrators
Assign custom domains for each network
Price: This is a free WordPress multisite plugin.

User Switching is another free plugin that lets you switch between user roles quickly and easily. This can be helpful for switching user roles for troubleshooting or testing websites on your network.
With a few clicks, the plugin will log you out and back in as the desired user.
This plugin has high levels of security and will never reveal any sensitive information. Only users with the ability to edit other users can switch user accounts. By default, this is Super Admins on WordPress multisite.
User switching also offers the following features:
Compatible with WooCommerce, BuddyPress, bbPress, and more
Uses a cookie authentication system
User session validation support
Price: User Switching is a free WordPress plugin.

Members is another free WordPress plugin you can use with your multisite network. It's a user role editor plugin that lets you edit and change user roles across multiple sites.
Since many WordPress multisite networks have a large number of users, this plugin will make it easy to manage access and permissions. Administrators can also use this tool to create user roles with specific permissions.
Additional features are as follows:
Clone existing user roles
Manage content permissions for different users
Deny capabilities or specific user roles
Make your site private
Seamless integrations with popular plugins
Maintained by the team behind MemberPress, the best WordPress membership plugin
Price: Members is a free plugin to use on WordPress multisites.
Bonus WordPress Multisite Plugins
The plugins above are some of the best you can install on your multisite installation. However, with hundreds of plugins available, many of which work with multisite networks, you may want to consider these additional plugins:
InfiniteWP: Manage plugins, themes, and core updates from a single dashboard. The plugin includes on-demand backups, staging sites, migrations, post and page publishing, malware scanning, and more.
Multisite Language Switcher: Translate your sites into multiple languages with support for posts, pages, taxonomies, tags, and more.
WordPress Multisite Content Copier/Updater: Copy or update posts and pages between sites on your WordPress multisite network.
There you have it!
We hope this guide has helped you find the best WordPress multisite plugins for your network. You may also like this guide on the best live chat plugins for WordPress.
Thanks for reading. Please follow us on YouTube, Twitter, and Facebook for more helpful content to grow your business.