Do you want to create an affiliate program for your small business?
An affiliate marketing program is a great way to promote your products or services and generate more sales. With an affiliate program, you can incentivize people to promote your goods by offering them a commission for every sale they generate.
WordPress is an excellent platform for creating an affiliate program, and there are many plugins to help you get set up. In this article, we'll show you how to create an affiliate program on your WordPress site using AffiliateWP, the best WordPress affiliate plugin.
What Is an Affiliate Program?
An affiliate program is a type of marketing strategy where an affiliate (a person or business) promotes another company's products or services in exchange for a commission on the sales they make. They're an effective way for online businesses to reach new customers, increase sales, and help affiliates earn passive income.
You've likely heard of popular affiliate marketing programs such as Amazon Associates. It's a popular solution for influencers to monetize their personal brands.
Here's how an affiliate program works:
A business creates an affiliate program and sets up a website or page where affiliates can sign up.
Affiliates sign up for the program and create links to the business's products or services.
When a customer clicks on an affiliate's link and makes a purchase, the affiliate earns a commission.
The amount of commission that an affiliate earns can vary depending on the program. Some programs offer a flat commission rate, while others provide a percentage of the sale price.
Some programs also offer additional incentives, such as bonuses for generating a certain number of sales or for referring new affiliates to the program.
There are many different ways to promote an affiliate program. Affiliates can advertise their links on their websites, blogs, social media channels, and email lists. They can also create videos, podcasts, and other types of content that promote the business's products or services.
Here are some of the benefits of affiliate programs:
Increased sales: Affiliate programs can help you generate more sales by giving you access to a network of promoters already interested in your products or services.
Reduced marketing costs: Affiliate programs can help reduce your marketing costs by allowing you to outsource product promotion to others.
Increased brand awareness: Affiliate programs can help you increase brand awareness by getting your products or services in front of a wider audience.
If you're looking for a way to promote your products or services and generate more sales, an affiliate program is a cost-effective solution.
How to Create an Affiliate Program in WordPress
One of the easiest ways to start an affiliate program on your WordPress website is by using a WordPress affiliate plugin. In this guide, we'll use AffiliateWP, the best affiliate management plugin for WordPress.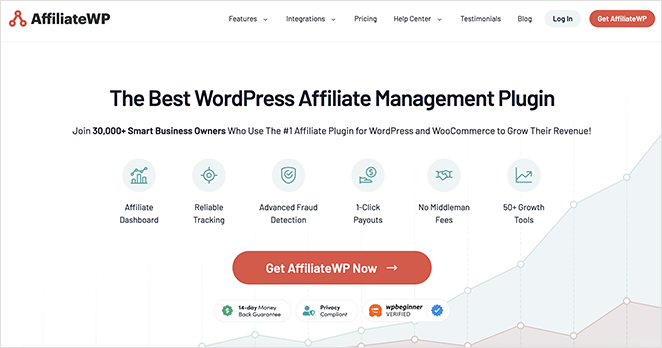 AffiliateWP makes creating a customizable affiliate program effortless. It has no-code functionality and a setup process that walks you through getting started in minutes.
When your referral program is live, affiliates can track their earnings, access referral links, request payouts, and more from a user-friendly affiliate dashboard. The plugin also offers unlimited affiliates and creatives, affiliate registration moderation, account editing, and many other affiliate management options.
On top of that, AffiliateWP seamlessly integrates with email marketing services and popular WordPress plugins, including WooCommerce, Easy Digital Downloads, MemberPress, and other eCommerce tools.
With this in mind, let's look at creating your affiliate program in WordPress step-by-step.
Step 1. Install and Activate AffiliateWP
First, you'll need to install and activate the AffiliateWP plugin on your WordPress website. If you need help getting started, you can follow these steps on how to install and activate a WordPress plugin.
Step 2. Run the AffiliateWP Setup Wizard
After activating the plugin, you'll automatically head to the AffiliateWP setup wizard. On the first step of the setup, you can paste your plugin license key to access your chosen plan's features.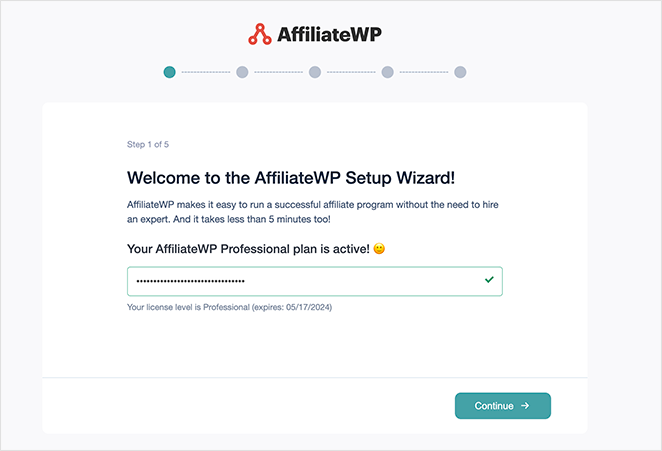 Typically, you'll find your license key in your welcome email. Alternatively, you can log into your AffiliateWP account and copy the key from the downloads area.
After pasting your key into the setup wizard, click the Continue button.
The next screen will automatically detect any plugins that AffiliateWP integrates with and will toggle them.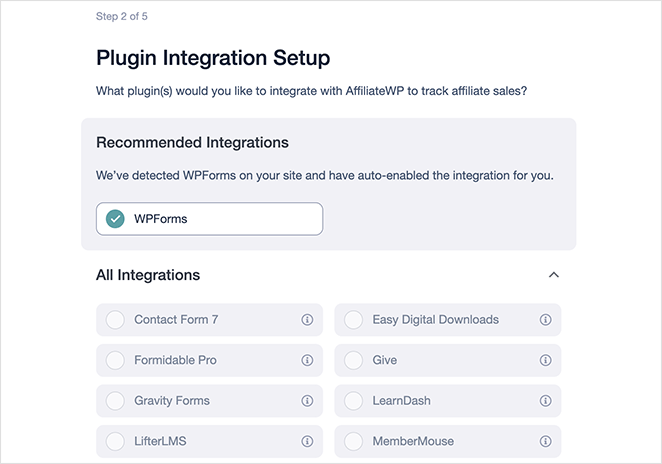 It also suggests various other plugins that integrate seamlessly, such as Easy Digital Downloads, LearnDash, Paid Member Subscriptions, and more.
If your integration isn't checked, tick it, then click Continue.
Next, choose how you'll pay affiliate partners their commissions. AffiliateWP offers several payout options, including directly from a credit card, PayPal Payouts, and manual payouts via PayPal, Skrill, or bank transfer.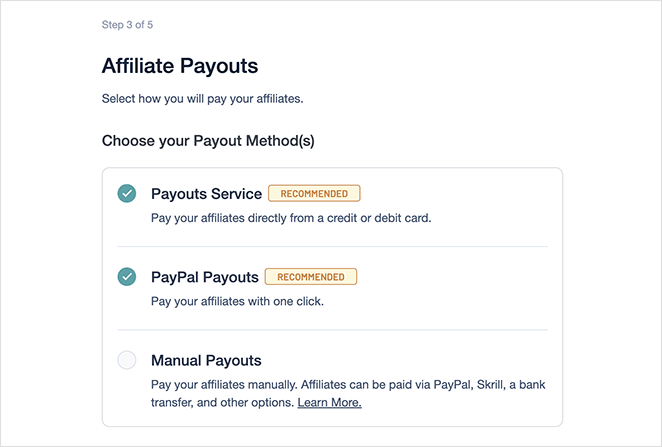 Select the options you prefer, then click the Continue button.
Step 4 of the setup wizard lets you configure your affiliate commission structure. Here you can set your default currency and commission percentage and tiered affiliate rates.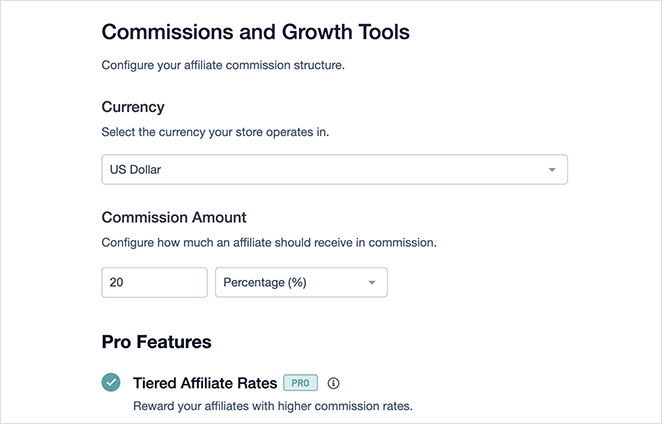 There's also the option to install various growth tools to help with your affiliate marketing efforts.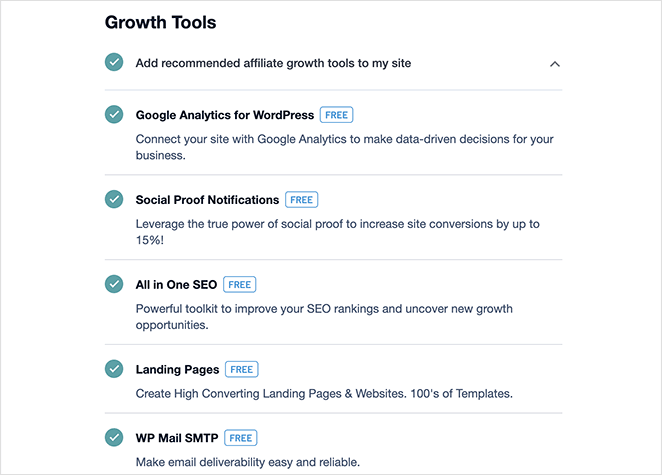 For instance, you can add:
All of these plugins are free. Simply check the tools you want to install, then click Continue.
That's it! Your affiliate program is now up and running. Click Finish Setup and Exit to head back to your WordPress dashboard.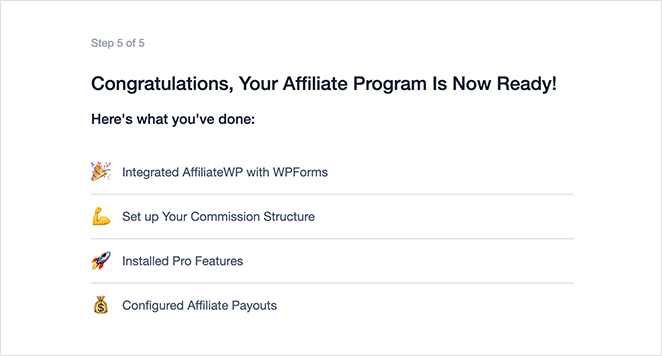 Step 3. Customize the Affiliate Area
Once the setup wizard is complete, the plugin will generate an affiliate dashboard where partners can manage their accounts. The styling of this area will automatically adapt to your WordPress theme or template, with options for further customization.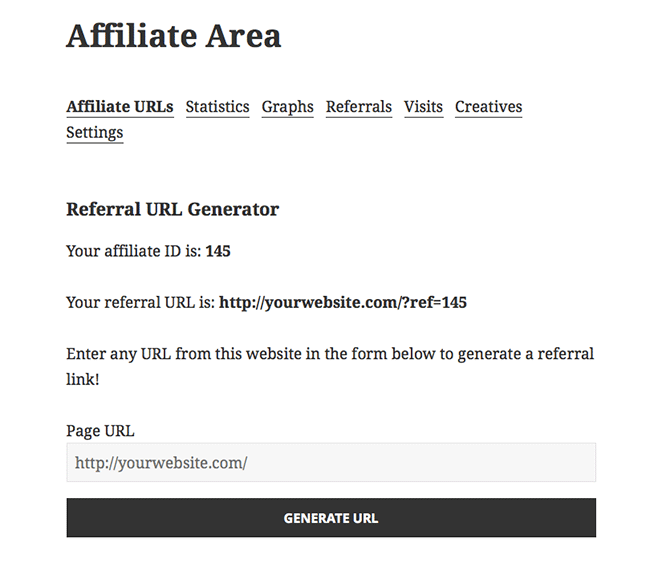 For instance, you can use the default affiliate area page or a WordPress page builder like SeedProd to create a fully custom design. 
You can find the default affiliate area page by visiting Pages » All Pages from your WordPress admin panel and looking for the Affiliate Area page.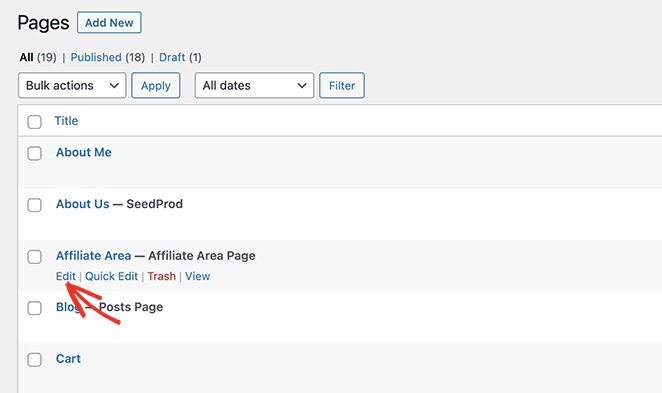 Clicking Edit on this page will show you how the default Affiliate Area looks. It typically has an affiliate registration form and a login form using the built-in AffiliateWP WordPress blocks.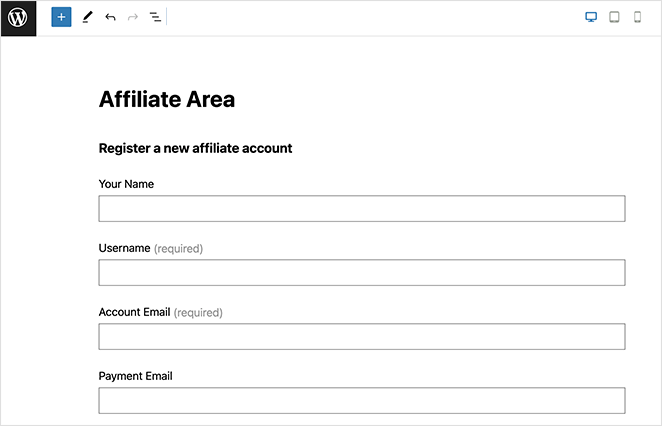 It's easy to rearrange the signup form fields by clicking, dragging, and dropping in real time. You can even remove unwanted fields by clicking the 3 dots in the block menu and selecting the remove option.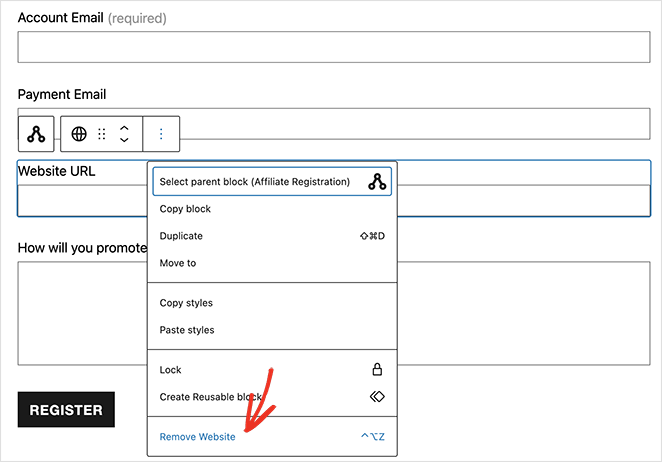 Additionally, you can configure various options in the block sidebar panel.
If you're designing a custom affiliate area page, you can set it as the default. To do this, go to AffiliateWP » Settings from your WordPress admin and choose your page from the Affiliate Area dropdown menu.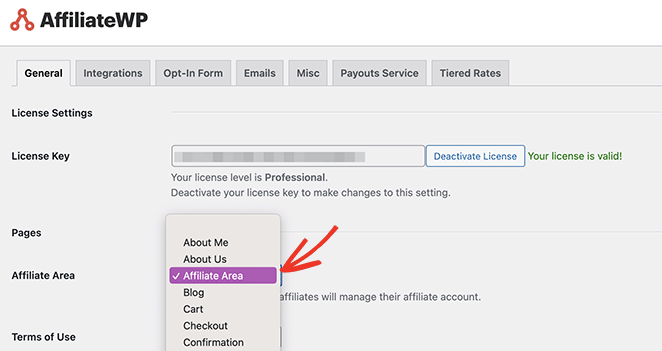 Once your affiliate area is set up, your affiliate partners can register and log into their dashboards to access referral links, creatives, payouts, and more.
Now we'll look at how to approve and reject affiliate registrations on your WordPress site.
Step 4. Approve New Affiliate Registrations
By default, the plugin requires you to approve new registrations manually. It's best to leave this setting as it is so you can vet potential affiliates first and ensure they're the right fit for your business.
To manage new affiliate registrations and either accept or reject them, head over to AffiliateWP » Affiliates and confirm or deny the applications by clicking accept or reject.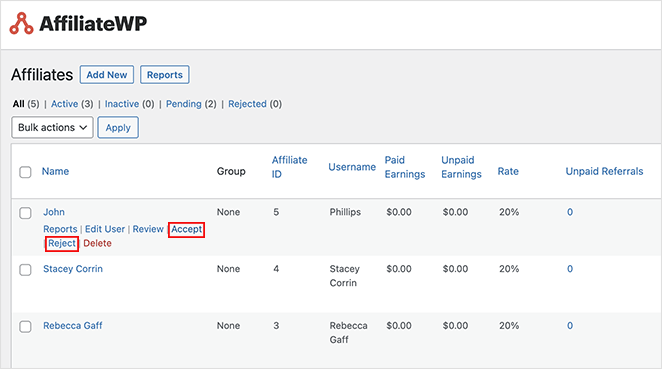 AffiliateWP will send an email notification for new user registrations. It will also notify potential affiliates of the success or failure of their application.
Step 5. Manage Your Affiliate Partners
Once you've started accepting new affiliate applications, you can manage them seamlessly on the Affiliates page. When you click on an affiliate, you'll see their personal details, registration date, referral rate type, payment method, and more.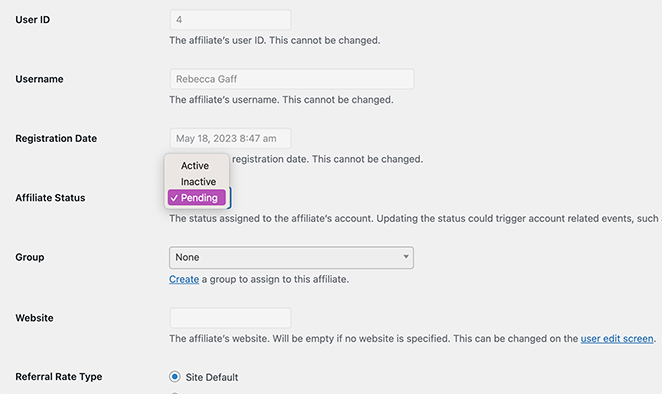 Moreover, you can easily switch a user's status by clicking the dropdown menu next to the Affiliate Status heading. Here you can change the status to Active, Inactive, or Pending.
Step 6. Set Up Affiliate Payment Methods
The last step in creating a successful affiliate program is to configure your payment settings. This is how you'll pay affiliates their commission after referrals purchase your products or services.
AffiliateWP offers a few ways to do this. First, you can use their Payouts Service, which lets you deliver payments via the plugins' parent company using Stripe. This is an effective way to send payments directly to your affiliate's bank account or debit card. 
To do this, navigate to Affiliates » Settings and choose the Payouts Service tab.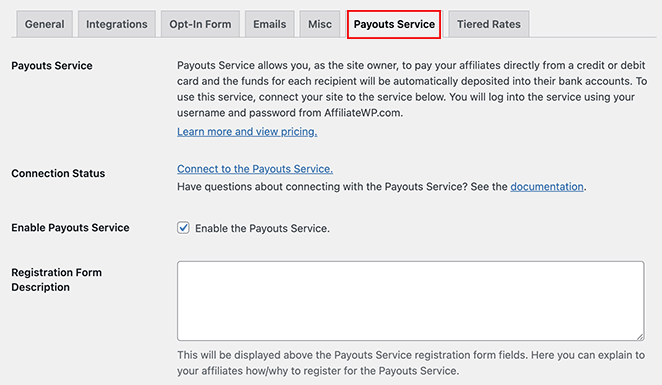 Alternatively, you can make payments via PayPal, which is available as a separate add-on in the Professional license of AffiliateWP.
If that doesn't suit your needs, you can pay affiliates manually. Simply go to AffiliateWP » Referrals and click the Pay Affiliates button.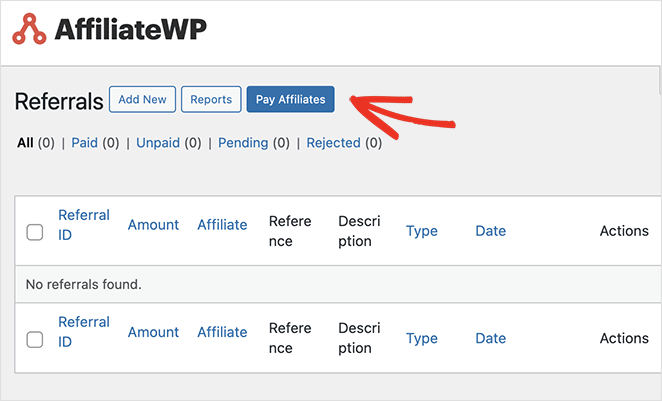 From there, you can set details, including the affiliate name, payment date, amount, and more.
How to Promote Your Affiliate Program
With your affiliate program up and running, you're ready to attract new partners to promote your business. But what are the best affiliate program promotion methods?
Here are some effective ways to promote your affiliate program:
Create a dedicated Affiliate landing page for your website. This will give potential affiliates all the information they need to learn more and sign up.
Reach out to influencers and bloggers in your niche. These individuals have a large, engaged audience likely to find your products or services interesting.
Run social media contests and giveaways. This is a great way to generate excitement and buzz around your affiliate program.
Offer exclusive discounts, coupons, and promotions to affiliates. This will give them an incentive to promote your program to their audience.
Host webinars and training sessions. This is a great way to educate affiliates about your products or services and how to promote them effectively.
By following these tips, you can promote your affiliate program and attract high-quality partners happy to help grow your business.
WordPress Affiliate Program FAQs
What are some of the most common mistakes people make when running an affiliate program?
Some of the most common mistakes people make when running an affiliate program include:
Not having a clear affiliate program policy.
Failing to offer competitive commissions.
Not providing affiliates with the tools and resources they need to succeed.
Not tracking the performance of the affiliate program.
Failing to provide affiliates with support.
How can I avoid making these mistakes?
To avoid making these mistakes, it's important to do your research and plan your affiliate program carefully. Here are a few tips:
Create a clear affiliate program policy that outlines the terms and conditions of the program.
Offer competitive commissions that are fair to both you and your affiliates.
Provide affiliates with the tools and resources they need to succeed, such as promotional materials, tracking tools, and support.
Track the performance of your affiliate program to see how it is doing and optimize it for better results.
Provide affiliates with support to help them with any problems they may encounter.
What are some of the best practices for running an affiliate program?
Some of the best practices for running an affiliate program include:
Be clear about your expectations. Ensure your affiliate network knows what you expect from them regarding promotion and performance.
Provide regular reports. Keep your affiliates updated on their performance so they can track their progress and make necessary adjustments.
Offer incentives. Reward your affiliates for their hard work with things like bonuses, prizes, and recognition.
Be responsive. Respond to affiliate inquiries and concerns promptly and professionally.
Build relationships. Get to know your affiliates and their businesses. The more you know about them, the better you can help them succeed.
What other affiliate marketing tools can I use?
There you have it!
We hope you found this tutorial on how to create an affiliate program in WordPress helpful for growing your business. You might also like this step-by-step guide on how to make a FAQ page in WordPress to answer frequent affiliate questions.
Thanks for reading. Please follow us on YouTube, Twitter, and Facebook for more helpful content to grow your business.