Want to learn how to create a FAQ page in WordPress?
Adding a frequently asked questions page to your WordPress site is an excellent way to tackle sales objections in potential customers. It's also a great way to optimize your site for search engines because Google often displays common questions and answers in featured snippets.
If that isn't enough, you can redirect visitors from your FAQ page to other web pages, such as eCommerce product pages, allowing you to improve user experience, product discovery, and sales.
In this article, we'll show you how to easily create a FAQ page in WordPress without writing code.
Before we dive in, what makes a good FAQ page? Let's find out.
Essential Features of an Effective FAQ Page
A great FAQ page helps website visitors find answers to their most common questions, like your return policy, pricing info, retailer locations, and more. The best FAQ pages display a list of questions about products or services, with the answers directly beneath.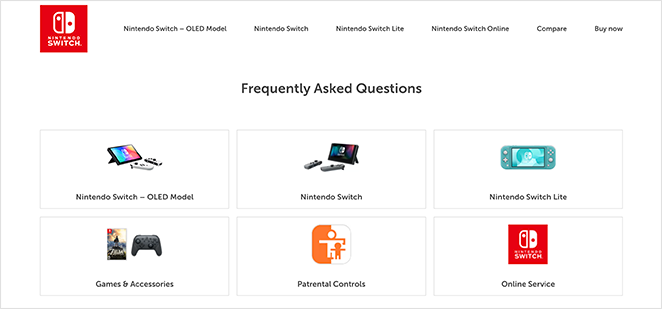 When you're creating your FAQ page design, you should pay attention to the following:
Ensure your FAQ section is easy to navigate with a clear structure
Make the answers to your questions concise and actionable
Use the correct FAQ schema markup for optimal SEO
Provide links to more detailed information, such as your knowledge base
Regularly update your page with new FAQs as your business grows
Include a search bar so users can search for answers
Add a call-to-action button to turn visitors into leads and customers
The information above is a great starting point if you're just getting started. However, if you already have your own FAQ page, keeping it up-to-date with new questions is a wise idea.
If you need inspiration, you can check out this showcase of some of the best FAQ page examples. Otherwise, you can jump right into the tutorial below.
How to Create a Custom FAQ Page in WordPress
In the following step-by-step guide, we'll show you how to create a custom FAQ page in WordPress with the right schema markup to help you secure that coveted featured snippet spot like this: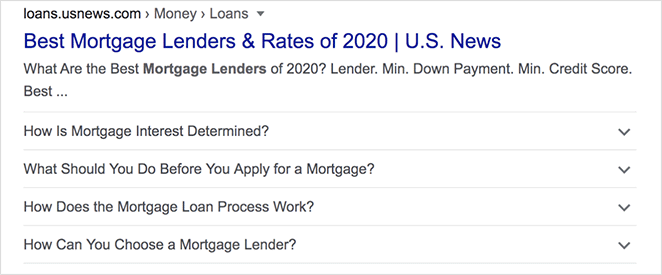 To do that, we'll use 2 powerful WordPress plugins; don't worry, none of them will require any complex coding or additional WordPress FAQ plugins.
The first plugin we'll use is SeedProd, the best website builder for WordPress. It has an easy drag-and-drop page builder, so you can create flexible WordPress layouts without expert help.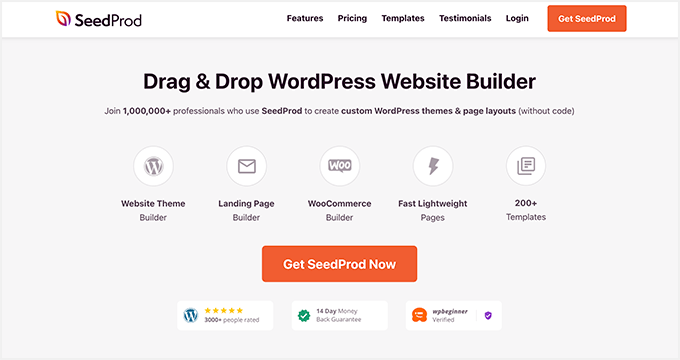 Since SeedProd uses a block-based approach, you can visually make your entire FAQ page and see the changes in real-time. It even has ready-made FAQ sections that take a few seconds to add to your page.
The other plugin we'll use is All in One SEO (AIOSEO), the best WordPress SEO plugin. It works seamlessly with SeedProd, allowing you to optimize your site for search engines.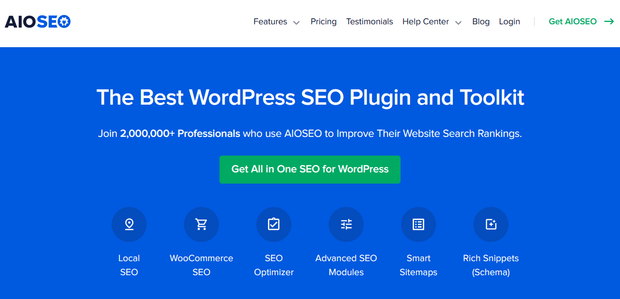 Even better, this plugin has super easy schema markup settings. Simply point, click, and answer questions, and you're ready to go.
So if you're ready to make your first FAQ page, follow the easy steps below.
Step 1. Install the SeedProd Plugin
To get started, head to the SeedProd website and download the SeedProd Pro plugin. Then upload the plugin to your WordPress website and activate it.
For help with this step, you can see this helpful guide on installing and activating a WordPress plugin.
Now navigate to the SeedProd » Settings page, enter your plugin license key, and click the Verify Key button.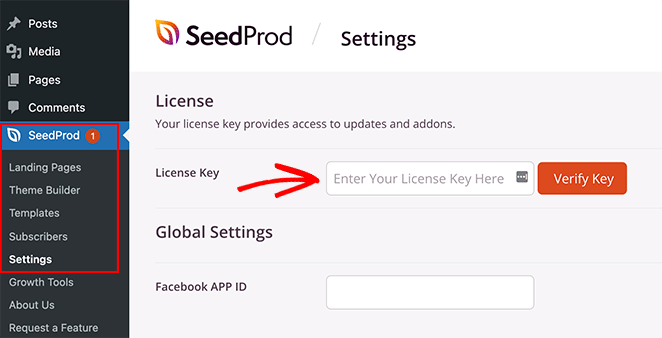 After activating your key, head to SeedProd » Landing Pages to see an overview of the available options.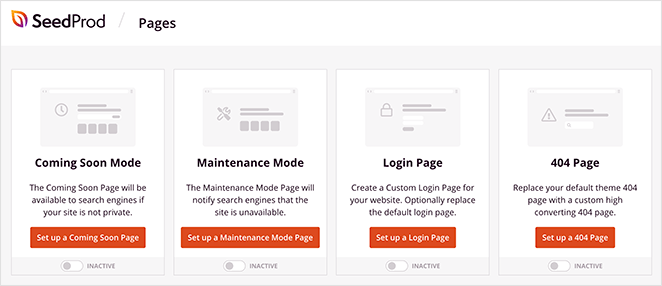 At the top of the page, you'll see several special pages that you can create and customize:
These pages come with specific templates and functionality. We won't need them to create a FAQ page, so you can skip this area of the dashboard.
Instead, find the Add New Landing Page button below and click it to make a custom landing page.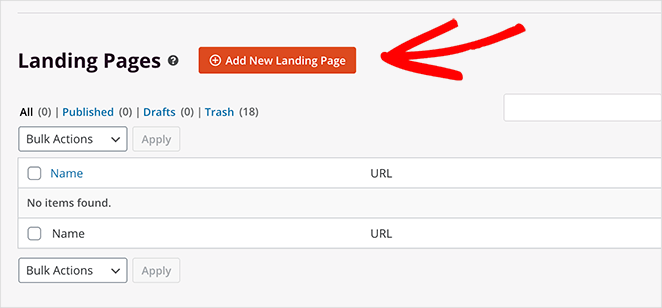 Step 2. Choose a Landing Page Template
After clicking the button to add a new landing page, you'll see a library of pre-made templates. Every landing page template is 100% mobile responsive and customizable with SeedProd's visual page builder.
The templates are a starting point for your FAQ page. In the next step, you can customize every part of your template to suit your business needs.
For now, click through the library until you find a design you like, then hover over it and click the checkmark icon.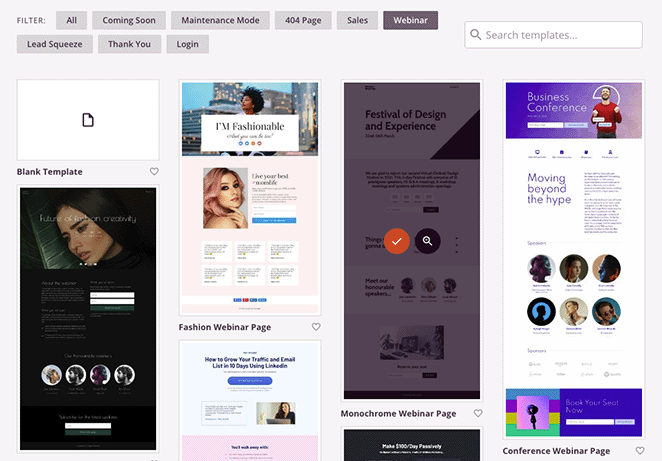 We're using the Monochrome Webinar page because it doesn't have a FAQ section. We'll show you how to add one next.
After choosing your template, you'll see a small popup window where you can enter a name for your page, such as "Frequently Asked Questions."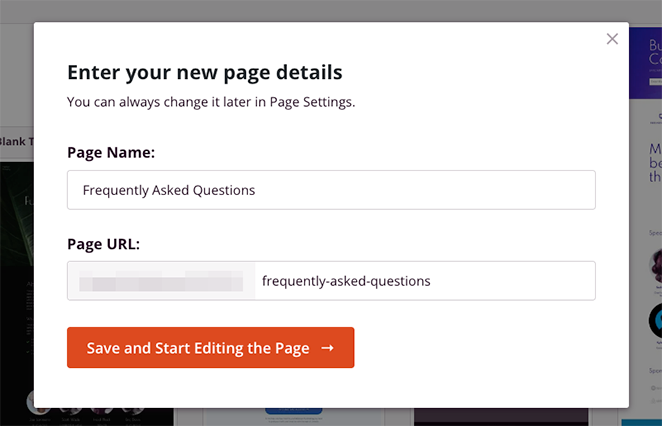 Once you've entered your page name, click the Save and Start Editing the Page button.
Step 3. Customize Your New FAQ Page
On the next screen, your template will open in SeedProd's drag-and-drop builder. This is where you can customize your page using WordPress blocks and sections.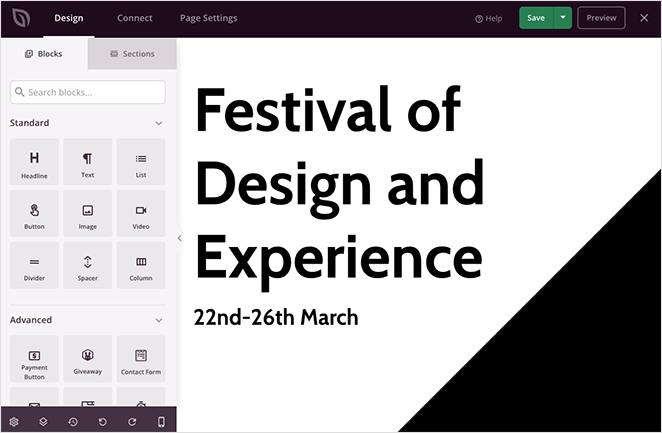 One of the first things you'll need to do is change the page headline to something more relevant. To do that, click the headline until it has an orange border, then enter your custom headline text.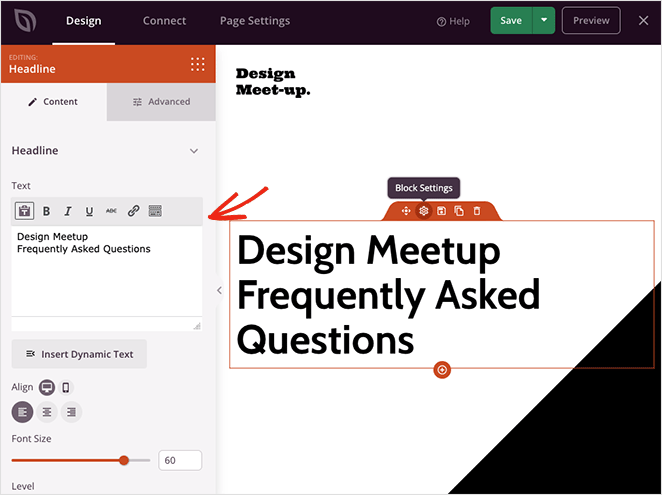 On the left side of the page are the headline block settings. You can also type your new headline in this area and change the headline size, heading level, and alignment.
Now do the same to the next headline on the page.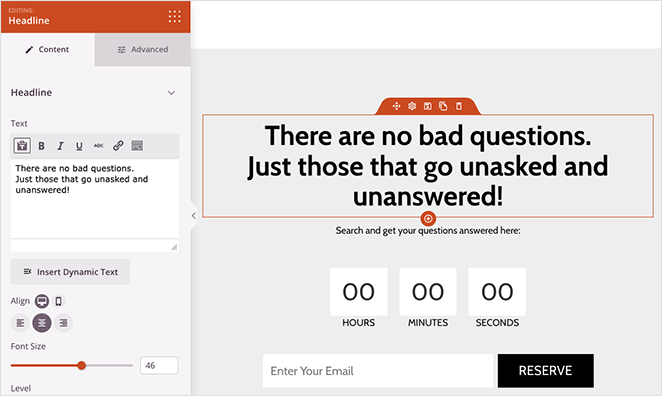 As you can see, this template has a countdown timer and opt-in form below the second headline. We won't need these features, so delete them by hovering over each block and clicking the trashcan icon.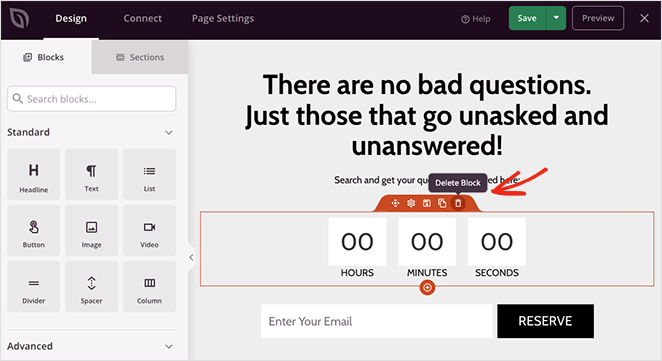 Instead of those blocks, we'll add a search box so visitors can search for specific questions and answers. To do this, find the Search Form block and drag it onto your page.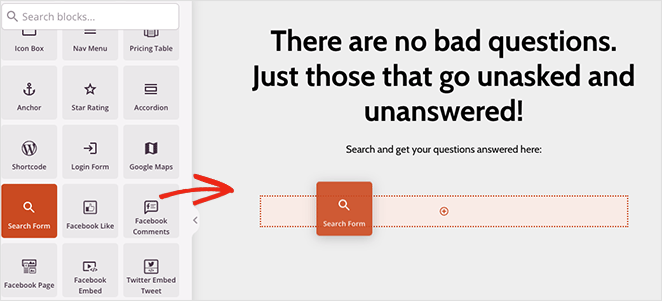 If you open the Advanced settings tab for this block, you can customize the button and icon colors, spacing, and more.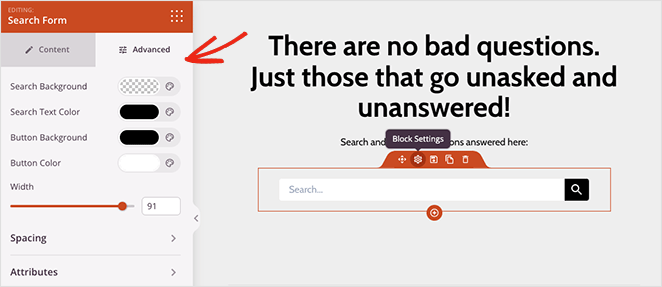 Now scroll through the rest of the template and remove any blocks and sections you don't need.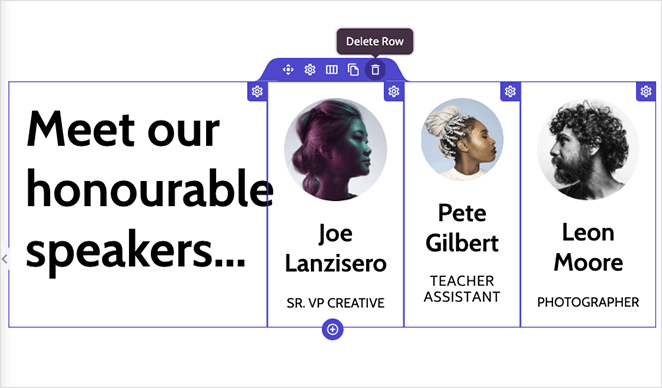 It's now time to add a FAQ section to your page. You can either build one with the SeedProd Accordion or Text blocks or use one of the pre-made FAQ sections.
To find the FAQ sections, click the Sections tab, select the FAQ heading and choose a FAQ design you like.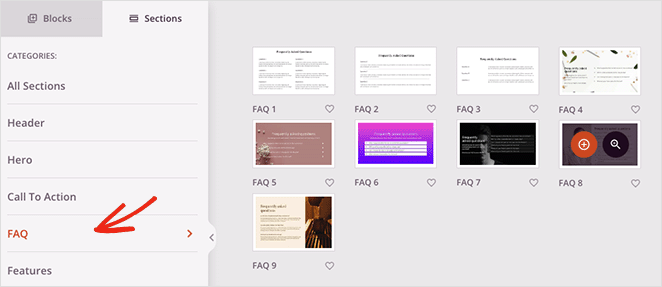 SeedProd will add the section at the bottom of your landing page. You can quickly move it to the right place by opening the layout navigation panel and dragging the section upwards.
From there, you can customize the section by replacing the image, changing the heading text, and adding your own FAQs.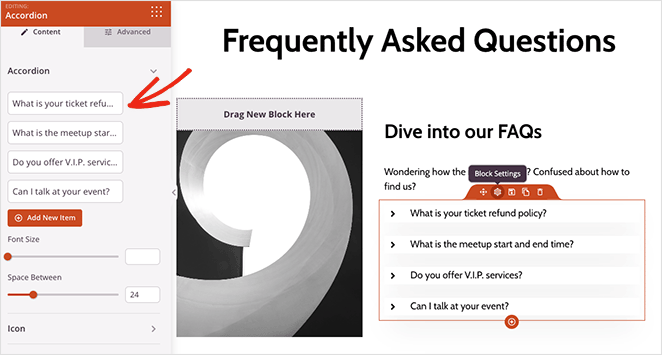 Don't worry if you have a lot of questions to answer. You can add as many FAQ answers as necessary.
And remember, you can add internal links to separate pages that may have more detailed information. For example, you can send users to your ticketing system to submit support tickets to your customer support team or your contact page for your contact information and social media links.
Your FAQ page is a self-service portal for troubleshooting and answering customer questions. So provide as much information as you can.
When you're happy with your FAQ landing page, click the Save button, then exit by clicking the X icon.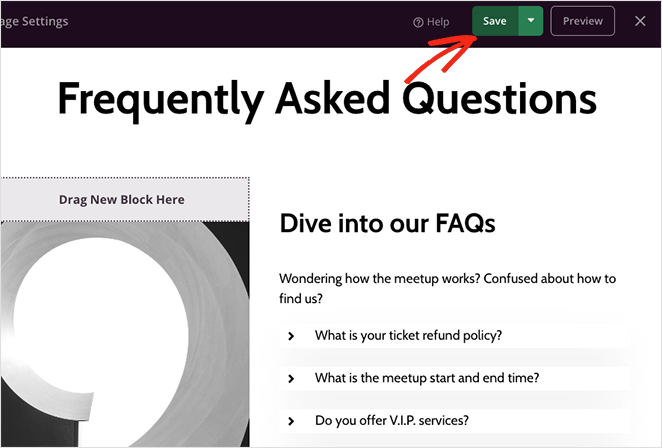 This will save your page as a draft because next, we'll prepare the SEO plugin to add FAQ schema markup to your landing page.
Step 4. Add FAQ Schema with All in One SEO
For the next step, you'll need to install and activate the All in One SEO plugin. This will let you optimize your landing page for search engines and add the correct schema markup.
Here's a helpful step-by-step guide on how to install All in One SEO Pro, which is the version we'll use for this guide. From there, you can follow the quick setup wizard, which helps you configure the plugin for your website.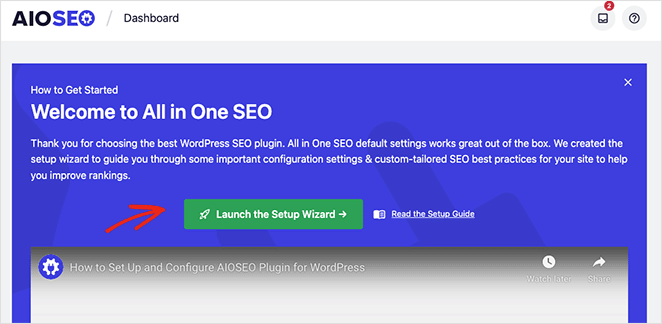 After configuring All in One SEO, go back to SeedProd » Landing Pages and click the Edit link below the page you made earlier.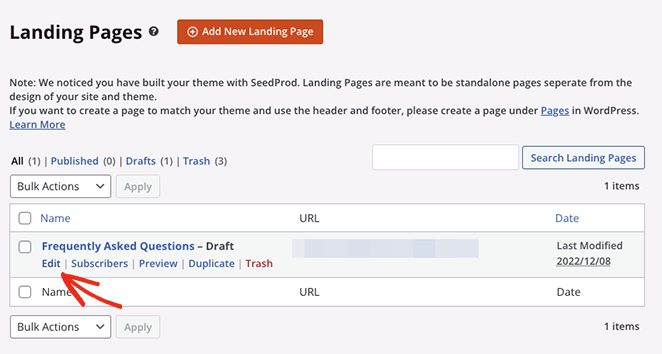 Once you've done that, click the Page Settings tab at the top of the screen, then expand the SEO heading.
On this screen, you can enter custom meta information for your FAQ page with AIOSEO, including:
Page Title
Meta Description
Focus Keyphrase
You can also click the Schema tab to see the current schema markup for your page. We'll set this up now, so click the Generate Schema button.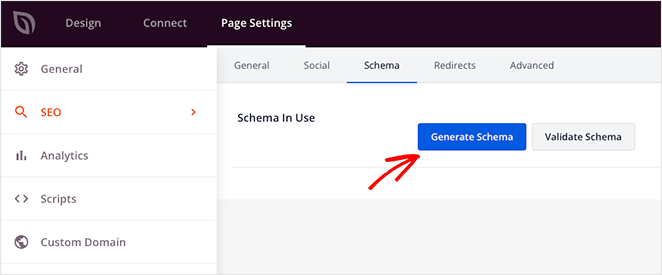 On the next screen, you can choose from several pre-made schema templates, which will add the correct markup to your web page. For this type of page, select the FAQ option.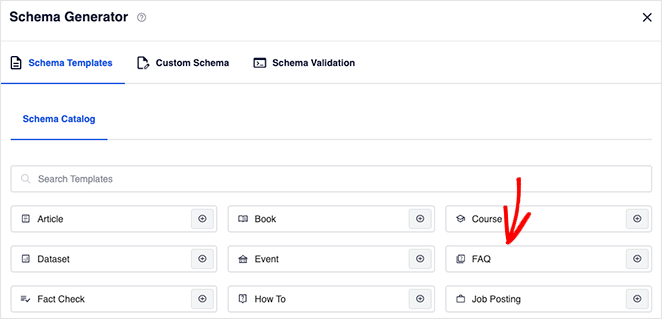 Now enter a page title and description.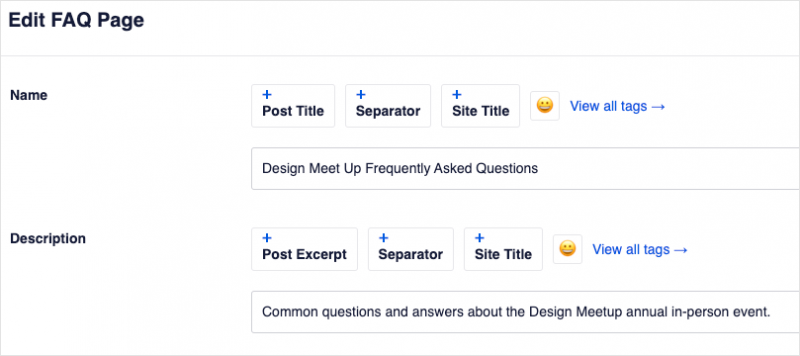 You can then scroll down and enter your page's frequently asked questions and answers. Don't worry; your website visitors won't see this as duplicate content; it simply helps search engines find and understand your content.
After adding your first question, click the Add Another Question link to add more, then click the Update Schema button when you're finished.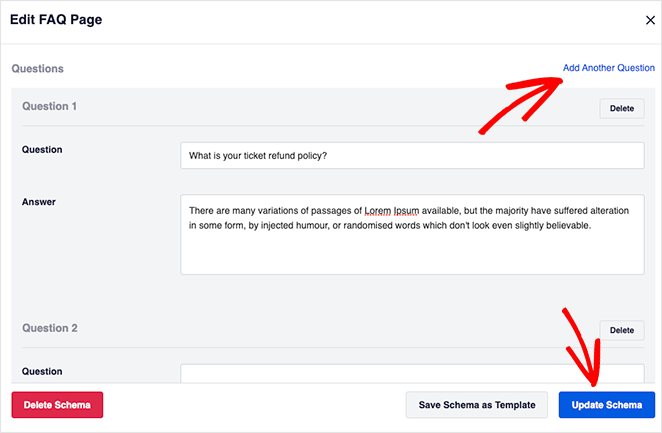 That's all there is to it. When you publish your page, it will have everything you need to feature in Google rich snippets.
There are several other ways to optimize your landing page with SeedProd's settings:
You can also click the Connect tab to integrate an email marketing service. This is a great way to grow your email list with SeedProd's opt-in form block.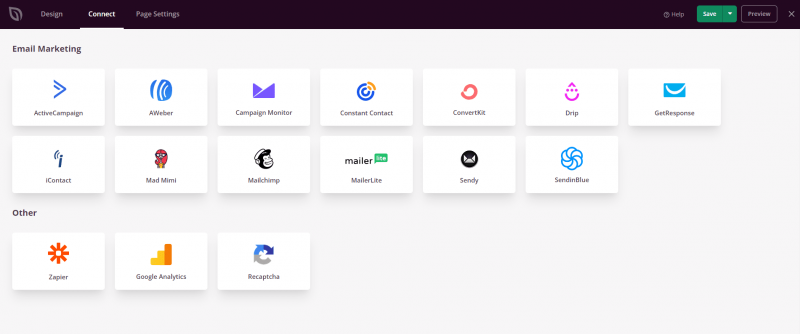 Step 5. Publish Your FAQ Landing Page
With your FAQ page settings in place, you're ready to publish and make it live for your audience. To do this, navigate to the Save button, click the dropdown arrow and click Publish.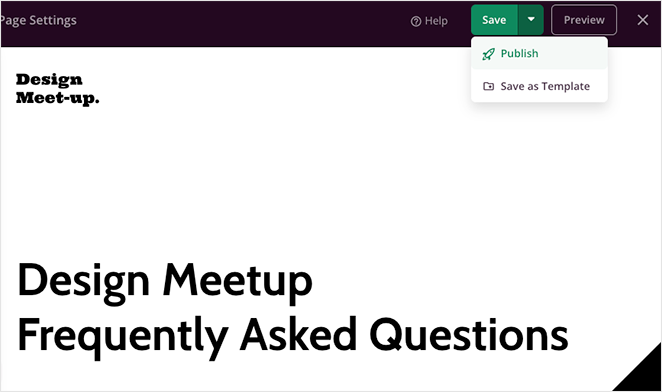 Now you can visit the page and see it in action. Below are some screenshots of the FAQ page we've made with SeedProd.
Hero area example: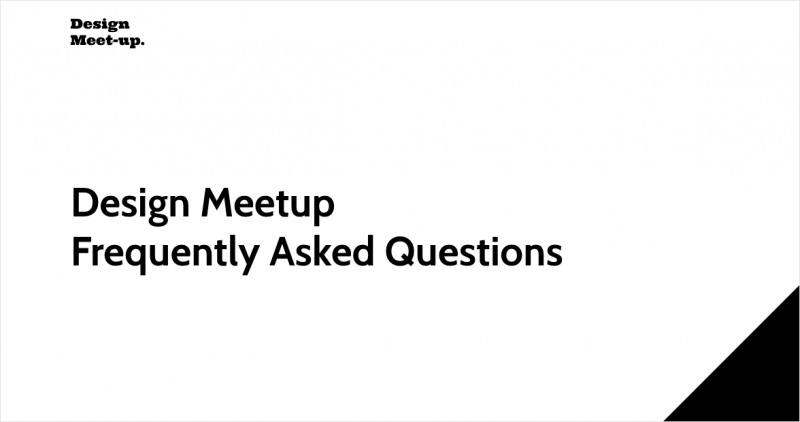 FAQ page search example:

Questions and answers accordion example: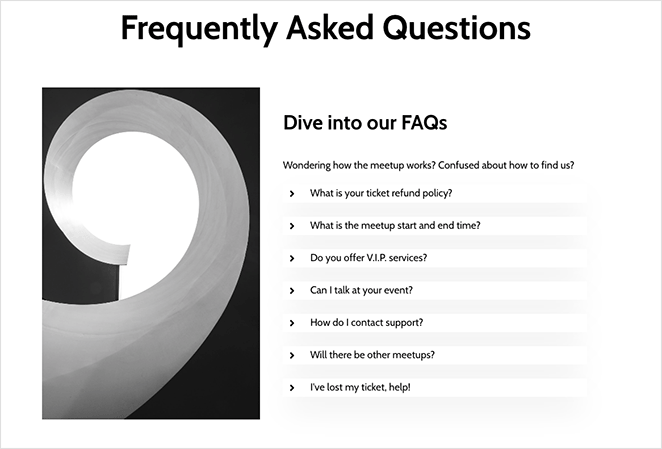 Opt-in form example:

There you have it!
We hope this step-by-step guide has helped you learn how to create a FAQ page in WordPress with the right markup feature in Google's rich snippets.
There are so many more things you can do with SeedProd, including creating a custom WordPress theme, building an online store, editing your homepage, and more.
Plus, you can optimize them all for search engines with All in One SEO. So what are you waiting for?
Thanks for reading. Please follow us on YouTube, Twitter, and Facebook for more helpful content to grow your business.