Are you starting an online store and need help deciding between using WooCommerce or Shopify?
They're 2 of the most popular eCommerce platforms, with their own strengths and weaknesses. This can make choosing the best platform for your eCommerce store challenging.
But don't worry. In this guide, we'll explore the differences and similarities between WooCommerce vs Shopify to help you choose the best eCommerce solution for your online business.
Because this is a detailed comparison of Shopify and WooCommerce, here's a table of contents to help you find the section you need:
Overview: WooCommerce vs Shopify
Before we dive in and look at the finer details of each platform, let's look at what sets them apart from alternative eCommerce solutions.
What Is WooCommerce?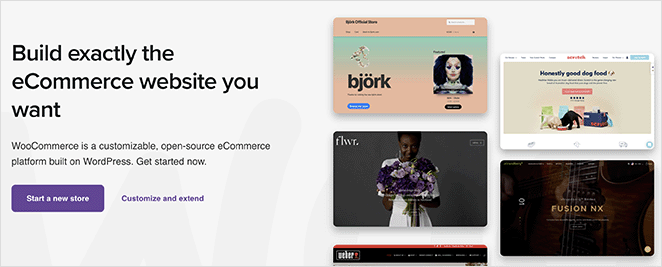 WooCommerce is an eCommerce plugin built for WordPress websites. It's an open-source WordPress plugin that lets you use the most powerful and popular content management system (CMS) to run an online store.
WordPress powers over 43% of all websites on the internet, and WooCommerce is the most widely used eCommerce platform, even more than Shopify.
Since WooCommerce is an open-source platform, you can completely customize your eCommerce website and install new features with add-ons and extensions.
What Is Shopify?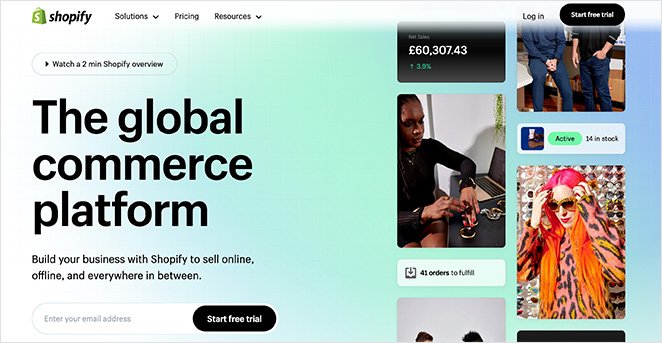 Shopify is a self-contained eCommerce platform and website builder that lets you build an online store without worrying about the technical side of managing an eCommerce site. For example, you won't need to set up web hosting, security, or caching.
With this all-in-one platform, you can manage your inventory, accept payments and run your online store in one place.
How you choose between these 2 platforms depends on your skill level and business needs.
What to Consider in an eCommerce Platform
Before starting your online store, consider a few things. The factors below will help you learn which platform best suits your eCommerce business.
Price – The cost of starting and setting up a fully functioning eCommerce store.
Ease of Use – How easy the platform is for beginners with no technical skills.
Payment Options – The number of payment methods the platform offers (Stripe, PayPal, and other payment gateways).
Integrations – If the platform integrates with many 3rd-party tools and services to help your store grow.
Scalability – How easy it is to scale your business on the platform as it grows.
These are the essential requirements store owners should consider when choosing an eCommerce platform. Depending on your unique business needs, you may also want to look for other features like dropshipping, invoicing, inventory management, and taxes.
Our goal in this article is to compare these essential features in WooCommerce and Shopify. That way, you'll better understand which solution is best for your online shop.
Let's kick this comparison off by looking at the pricing plans of each platform.
Pricing: WooCommerce vs Shopify
The price of an eCommerce platform is one of the most important considerations for site owners. Not only do you need to consider the price of getting started, but you also need to factor in variable costs for extra software and services.
The Cost of Using WooCommerce
WooCommerce is a WordPress.org eCommerce plugin. WordPress.org is the self-hosted version of WordPress, and both the WordPress.org software and the WooCommerce plugin are free to download and use.
However, to turn these 2 pieces of software into a complete eCommerce site, you'll need a domain name, WordPress hosting, and an SSL certificate.
A domain name will typically cost you around $14.99, and web hosting is about $7.99 per month. The most costly aspect is the SSL certificate, which comes in at $69.99.
These costs aren't the cheapest, especially if your budget is small. However, there are several hosting companies with tailored WooCommerce hosting plans that can dramatically reduce costs.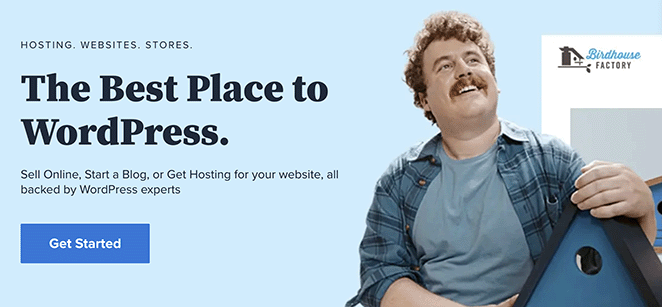 For example, Bluehost, an official WooCommerce and WordPress-recognized hosting provider, offers users a free domain name, SSL certificate, and discounted web hosting for as little as $2.75 per month.
Besides the discount on setting up your site, WooCommerce doesn't charge percentages on transaction fees. However, as your business grows, your hosting costs will increase, and the cost of buying paid extensions can add up.
The Cost of Using Shopify
Shopify, in comparison, is a hosted platform that makes it easy to start an online store. Its basic plan starts from $29 per month, while the Shopify plan is $79, and the Advanced Shopify plan is $299 per month.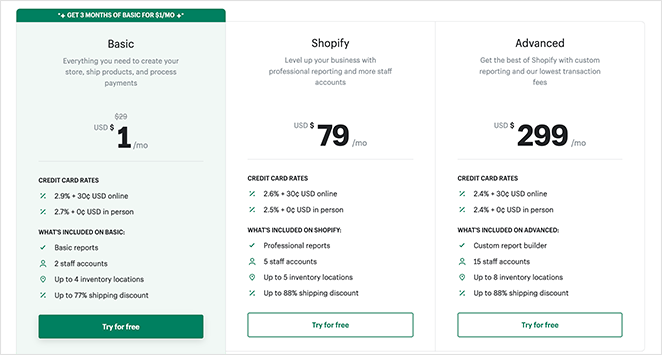 All 3 plans include web hosting and SSL certificates. They also offer a Shopify branded subdomain, which looks like this: https://example-store.myshopify.com.
That said, you can purchase your own custom .com domain name separately for around $14 per year.
Shopify offers all the features you need to set up an online store in its basic plan. You can add as many products as you like, create 2 user accounts, store unlimited files, and more.
Yet, the pricing doesn't include any add-ons or 3rd party tools you'll need to grow your Shopify store. Therefore, as your business grows, the overall price of running it will rise, and you'll be paying much more than the original basic plan price.
Another factor affecting your Shopify store's cost is the payment fees. Because Shopify offers its own payment solution, it will charge a flat 2.0% + 30 cents fee for every transaction on the basic plan.
What's more, if you're using your own merchant account or 3rd-party payment gateways, you'll face a similar 2.0% flat transaction fee. However, you can reduce the fee to 0.05% by upgrading to the Advanced Shopify plan, costing $299 per month.
If you plan to run a much smaller online store, Shopify's Lite plan only costs $9 per month. With this plan, you can add a Shopify buy now button to any site (including a WordPress site), or use Shopify to sell goods in person with the point-of-sale (POS) kit.
Winner
When you look at the costs of both platforms, WooCommerce is the clear winner. It's inexpensive to set up a WooCommerce store, and you can use countless free add-ons and themes to mitigate the cost of paid extensions.
Ease of Use: WooCommerce vs Shopify
Most people who start an online store are not designers or web developers. Even if you're familiar with eCommerce platforms, you'll need a solution that's easy to use and lets you focus on running your store.
Let's see how easy each platform is to use next.
WooCommerce Ease of Use
Since WooCommerce is a self-hosted platform, you'll need to install the WooCommerce plugin, back up your site, manage updates, and keep your store secure. However, there are numerous free and paid WordPress plugins that can help automate these tasks for you.
When it comes to customizing your store, WooCommerce is super flexible. You have complete control over everything and can enhance your site with over 59,000+ WordPress plugins.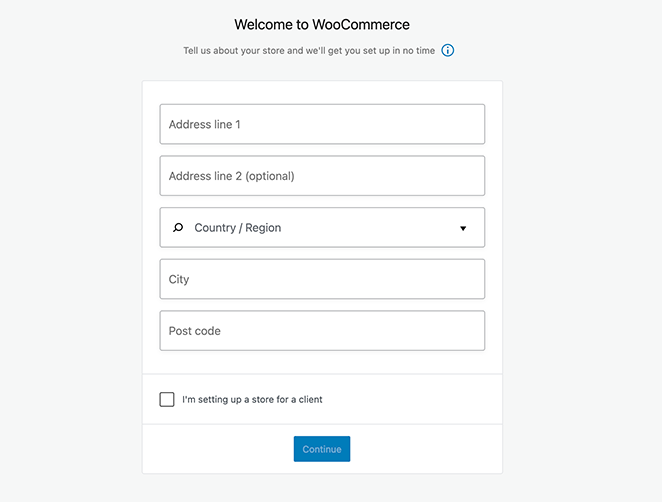 That said, WooCommerce doesn't come with a drag-and-drop page builder. For visual editing functionality, you can use a WordPress page builder like SeedProd or Beaver Builder, but they will add to your overall website costs.
A downside to the flexibility of WooCommerce is the learning curve involved. You'll need to be more hands-on with website management and will need to sign up for a merchant account or with services like PayPal or Stripe.
Shopify Ease of Use
Compared to WooCommerce, Shopify is a fully hosted platform, so you won't need to manage updates or install any extra functionality. You also won't need to worry about backups, security, performance, or compatibility with add-ons or extensions.
After signing up for Shopify, you can choose from many free Shopify themes. The free themes are sleek and versatile and include all the necessary design features. Alternatively, you can select templates from its paid theme store.
They'll then guide you through the setup process, including customizing your store and adding products.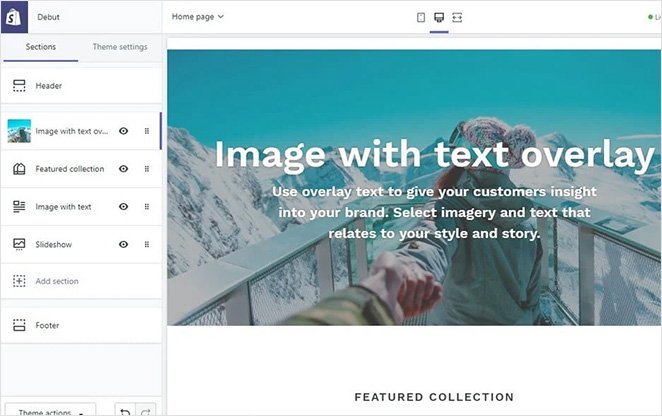 Shopify comes with a drag-and-drop visual interface. Plus, managing product pages, inventories, and sales in Shopify are just as easy.
The only downside to this easy user experience is the lack of control Shopify gives users over certain aspects of their store. For instance, you can only use Shopify themes, their own development tools, or those available in the Shopify app marketplace.
Winner
Regarding ease of use, we think Shopify is the winner. Although WooCommerce offers more flexibility and control, Shopify makes the setup process easy and hassle-free without a steep learning curve.
Payment Options: WooCommerce vs Shopify
When choosing an eCommerce platform, you must find one that offers multiple PCI-compliant payment options. This is because some may not be the best fit for your small business, and others may not be available to specific customers.
In the next section, we'll see how WooCommerce and Shopify compare on the payment options they offer.
WooCommerce Payment Methods
By default, WooCommerce offers PayPal and Stripe as payment methods. It also has its own WooCommerce Payments solution powered with Stripe.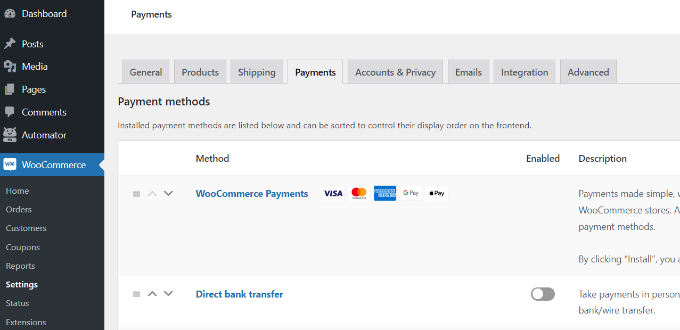 Additionally, WooCommerce supports virtually every other payment service provider imaginable. For instance, you can install Square, Amazon Pay, Authorize.net, Alipay, and more integrations.
WooCommerce also supports several less popular and regional payment gateways. With no entry barrier, any payment provider can create and support a WooCommerce payments add-on.
When it comes to payment fees, you're only charged a transaction fee by your bank or payment gateway. Unless you use the WooCommerce Payments option, WooCommerce will never charge you a percentage fee on credit card payments.
Shopify Payment Methods
Customers can checkout from your Shopify store using various payment methods. Shopify has its own "Shopify Payments" solution powered by Stripe, alongside many of the most popular 3rd-party payment gateways.

That said, Shopify charges an extra 2% transaction fee for every transaction made through 3rd-party gateways. This is on top of the fees charged by the individual payment gateways. As mentioned earlier, you can reduce those fees to 0.05% by upgrading to the Shopify Advanced plan at $299 per month.
Shopify Payments also has credit card fees but no other fees or transactions. The rates start from 2.9% + 30 cents for the basic Shopify plan and get lower for the more expensive plans.
Winner
It isn't easy to choose a winner when it comes to payment options.
You can save money in WooCommerce by choosing your own merchant account and using a 3rd-party gateway. If you're a small online store using Shopify Payments, the credit card rates are the same as PayPal and Stripe, so there's very little difference.
In this case, WooCommerce and Shopify tie on the payment methods criteria.
Add-ons and Integrations: WooCommerce vs Shopify
Even if you have a powerful eCommerce platform, you'll still need help from 3rd-party tools and integrations to grow your business. For example, analytics integrations, email marketing software, lead generation tools, and more.
WooCommerce and Shopify both have an extensions library, allowing you to integrate with countless 3rd-party services, so let's see how they compare.
WooCommerce Integrations
Since WooCommerce is open-source and built on the WordPress CMS, it has access to over 59,000+ free WordPress plugins and countless more paid plugins.
With these add-ons, you can enhance your WooCommerce site with payment gateways, search engine ranking optimization (SEO), lead generation, performance optimization, social media integrations, and any other feature you can imagine.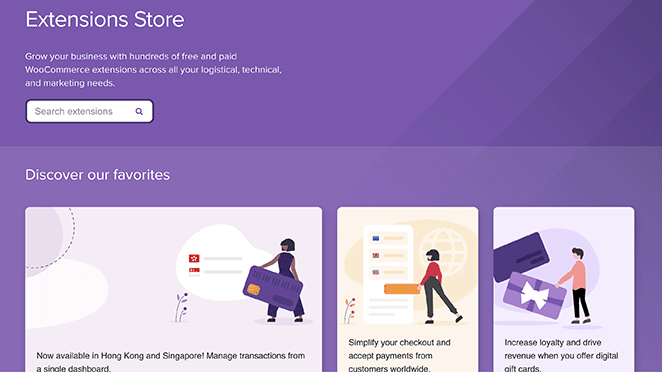 There are also many more integrations and add-ons available for WooCommerce than Shopify because of the low barrier of entry. Virtually all 3rd-party tools and services have their own plugins to integrate with your WooCommerce store.
Shopify Integrations
Shopify has a robust API and an app store with 3rd-party add-ons you can buy for your Shopify store. You'll find hundreds of different apps with essential features you'll need to grow your store.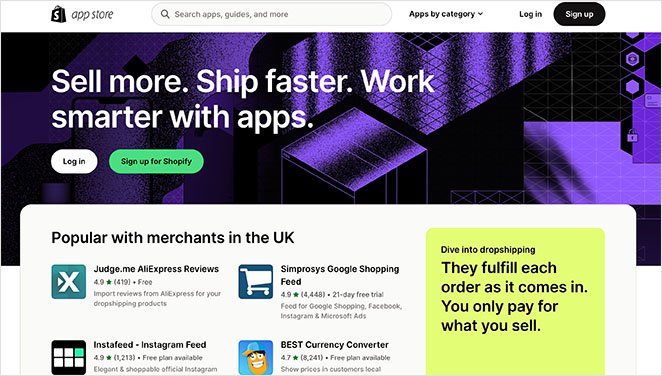 For instance, they offer OptinMonster integration for lead generation, allowing you to reduce cart abandonment and grow your email list. You'll also find apps for product reviews, search engine optimization, discounts, and more.
The Shopify app store offers free and paid apps. The free apps are typically from 3rd-party services with their own pricing and only integrate your store to their APIs. For paid add-ons, the pricing varies, with many apps offering monthly subscriptions.
Winner
In this scenario, the winner is WooCommerce. Shopify has fewer extensions than WooCommerce because it's much harder to get an app listed in its app store.
On the other hand, WooCommerce has thousands of free and paid integrations, making it much easier to customize overall. Business owners can also hire a web developer to create a custom WooCommerce plugin or integration for their website.
Dropshipping with WooCommerce vs Shopify
Dropshipping is an online business where you don't hold the product inventory in stock. Instead, you fulfill orders by buying products from other vendors and shipping them directly to the customer.
It's a popular type of eCommerce business because the overheads are low. So let's now look at how good WooCommerce and Shopify are for running a dropshipping website.
Dropshipping using WooCommerce
WooCommerce is a very popular choice for dropshipping businesses. This is mainly because it offers a variety of WooCommerce dropshipping plugins that make the process super easy.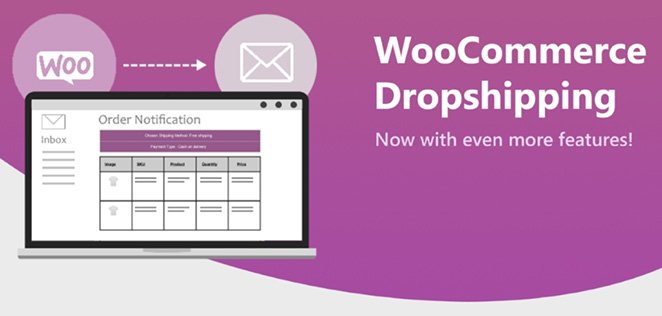 With a dropshipping plugin, you can instantly import products and fulfill customer orders from your website. You can also create a marketplace like eBay, where vendors can sell their products on your website.
Dropshipping using Shopify
When you're building a dropshipping website with Shopify, the front of your site will look similar to any other online store. For instance, users can browse your products, add them to their shopping carts, and make payments like another online shop.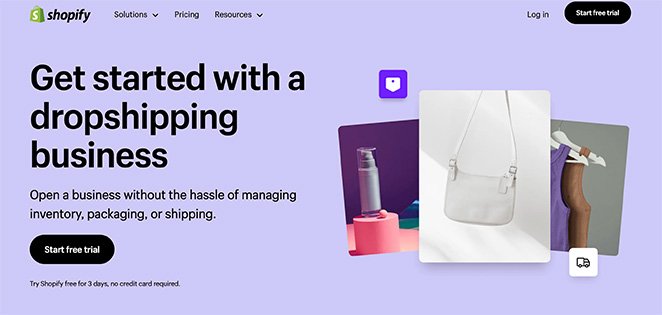 After that, you'll need to place the user's order for shipping, although that will depend on the vendors you use.
Moreover, Shopify integrates with various dropshipping marketplaces like Oberlo, Printify, and AliExpress. That said, each marketplace will have its own shipping, membership, and other fees separate from Shopify, which you'll need to pay close attention to.
Winner
When creating a dropshipping website, WooCommerce is the winner because it has many more tools and plugins to help you manage your store.
Growth and Scalability: WooCommerce vs Shopify
As your business grows, you'll need more ways to handle the challenges and additional resources to meet your goals. You can scale Shopify and WooCommerce for large amounts of traffic and orders; however, they're different in performance.
This section will see how well WooCommerce and Shopify can handle scaling your business.
WooCommerce Scalability
Since WooCommerce is self-hosted, you'll need to upgrade your hosting plan as soon as you see more website traffic. This is because your starter hosting plan will run out of resources as you grow.
Luckily there are many ways to handle your growth because you're in full control of your website. Even though the hosting costs will increase, you'll have more control over the features you upgrade without paying for resources you won't use.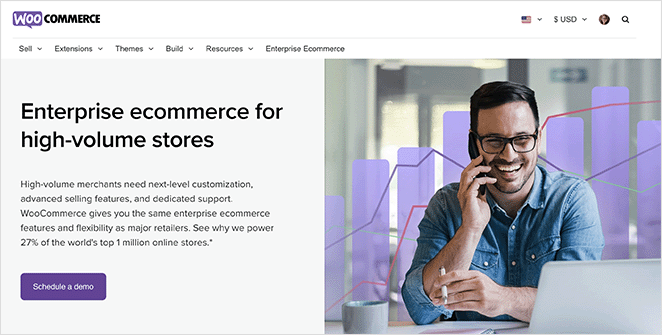 You can even use a managed WordPress hosting provider like SiteGround or WP Engine to make scaling your WooCommerce store easier.
Shopify Scalability
Given that Shopify handles all the technical aspects of your eCommerce store, you can upgrade your Shopify plan when your business starts growing. Shopify's infrastructure can efficiently run a growing business without you needing to worry about updates, downtime, backups, and more.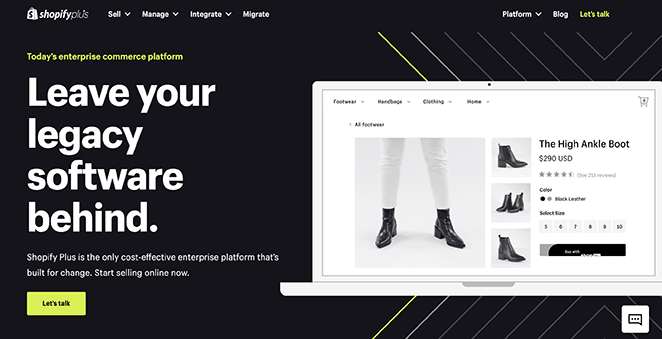 Shopify even offers the Shopify Plus plan, which includes enterprise services. While this will take the pain out of managing your online store, your expenses will grow considerably as you scale. This, however, will be offset by not having to hire an in-house technical team.
Winner
For scalability, we think Shopify is the winner. Despite having more control and flexibility with WooCommerce, many business owners prefer Shopify's hassle-free approach.
Support Services: WooCommerce vs Shopify
WooCommerce and Shopify are both relatively easy to set up and use. But there may come a time when you need help doing something new on your store. That's where a strong customer support team can feel like icing on the cake.
So let's see how WooCommerce and Shopify compare regarding their support services.
WooCommerce Support Options
WooCommerce is the most popular eCommerce platform globally, so endless support options are available when you need them.
The official WooCommerce website has detailed documentation, step-by-step guides, and tutorials that let you help yourself. There are also support forums for help from the WooCommerce support team and other users with expert know-how.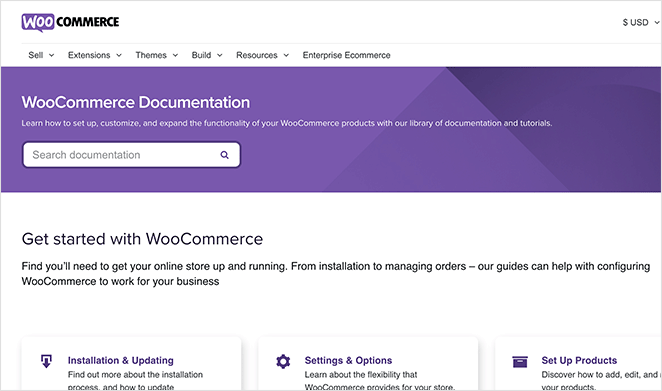 Additionally, WooCommerce now offers 24/7 chat support with any premium extension or theme purchase from WooCommerce.com.
Yet, because WooCommerce is self-hosted, your hosting provider is responsible for providing support on issues affecting your server. The same is true for 3rd-party WordPress themes, plugins, and extensions.
Shopify Support Options
Since Shopify is fully hosted, they control and know the software inside and out. As such, they provide 24/7 live chat, phone, email, and Twitter customer support.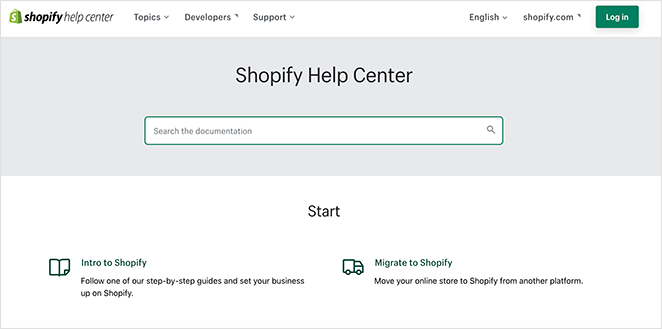 Shopify also maintains detailed documentation, a knowledge base, forums, and video tutorials for users wanting to help themselves. Additionally, you can hire a Shopify Expert for extra help and support; however, it doesn't offer support for 3rd-party tools.
Winner
Shopify is the winner in the support options category. With multiple support options and extensive knowledge of its product, store owners will always be able to find a solution to their issues.
Which is the Best eCommerce Platform, WooCommerce or Shopify?
In the end, the best eCommerce platform depends on the individual needs of your small business. WooCommerce and Shopify are both powerful platforms, but your choice will come down to your specific preferences.
WooCommerce is open-source, giving you complete control over your eCommerce site. It costs less to get up and running and has extensive customization options.
The downsides are you'll need to maintain your store yourself, and it has a slight learning curve. Millions of beginner website owners are using it, and they quickly overcome the learning phase.
By comparison, Shopify is much easier to use and doesn't require installing anything. Their pricing plans are easy to understand, and arranging payment providers is also straightforward.
That said, Shopify doesn't let you have complete control over your site. The costs can become relatively high, and the upgrade options are limited.
Overall, if you want a flexible, cost-effective eCommerce solution with complete control over your site, WooCommerce is the best option. But if you prefer a hassle-free approach to running an online store, Shopify is the best solution.
What Are Some Alternatives to WooCommerce and Shopify?
If WooCommerce doesn't fit your needs, you can try MemberPress, Easy Digital Downloads, or WPForms as good alternatives. Some popular alternatives to Shopify include Squarespace, BigCommerce, and Wix.
There you have it!
We hope you enjoyed this article and it helped you learn the pros and cons of WooCommerce vs Shopify. You can also read this guide on the best sales funnel builders.
Thanks for reading. Please follow us on YouTube, Twitter, and Facebook for more helpful content to grow your business.