Are you looking for the best WordPress eCommerce plugins for digital downloads?
Digital download plugins make selling digital goods from your eCommerce website easier. They help organize, manage, and sell digital downloads like ebooks, music, and art, without hiring a developer or writing code.
This article will compare the best eCommerce plugins for digital downloads and help you pick the right solution for your online store.
Why Use a Digital Download Plugin on Your WordPress Site
Offering digital downloads to your website visitors is an excellent way to monetize your WordPress website. Whether you repurpose and sell your blog content or make money from a hobby, a digital download plugin is an ideal solution.
You can sell almost any type of digital content online, including:
eBooks
Images
Video download files
PDFs
Digital art
Music
Yet, setting up an online store can take time and effort. For example, you'll need to set up payment gateways, create checkout pages, provide download links, etc.
Instead of doing the work alone, a digital download plugin can automatically take care of most of it. That means you can start promoting your eCommerce store and selling digital products right away.
Here are some of the many benefits of using a WordPress eCommerce plugin for digital downloads:
Sell Multiple Products: eCommerce digital download plugins can make any piece of content a digital download. After adding the WordPress plugin to your eCommerce site, you can sell multiple products with a few clicks.
Manage Products Easily: Digital download plugins organize your products, customer details, and orders. That allows you to streamline your strategy to increase sales.
Increase Digital Sales: After setting up your eCommerce platform or WooCommerce store and installing a digital downloads plugin, website visitors can buy your products at any time. As long as your content is relevant, you can generate passive income with minimal effort.
Best WordPress eCommerce Plugins for Digital Downloads
Now that you know why you need a WordPress digital downloads plugin let's look at the top solutions for selling downloads online.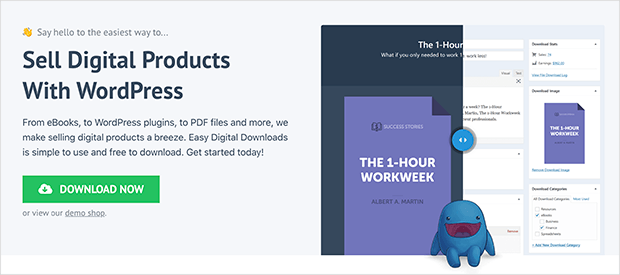 Easy Digital Downloads is a complete eCommerce plugin that lets you sell any type of digital content from your WordPress website. You can sell software, eBooks, videos, and other media on your site.
This plugin offers many powerful features to make it easy to sell online goods. It includes a front-end shopping cart where users can easily browse digital goods, add them to the cart, and check out.
Easy Digital Downloads accepts popular payment options such as Stripe, PayPal, Google Pay, and Apple Pay. It also integrates with the best marketing tools, including Mailchimp, AWeber, Amazon S3, etc.
You can manage and view several reports with this plugin, including:
Purchase history
Customer information
eCommerce reports
Sales and conversions
As a result, monitoring orders, sales, refunds, and revenue is easier.
Price: Easy Digital Downloads offers several pricing plans, starting from $99.50 per year.
Get Started with Easy Digital Downloads today.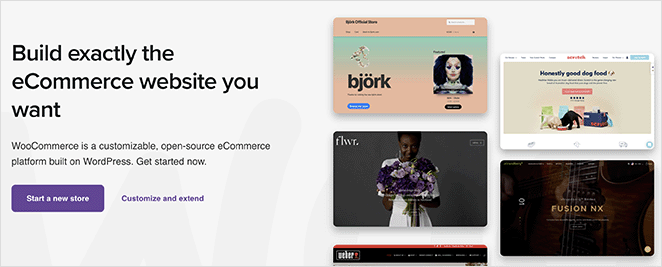 WooCommerce is a popular WordPress eCommerce plugin that allows you to sell digital and physical products. It's a free, open-source solution that lets you keep ownership of your store's content and data.
After installing WooCommerce, you can create a storefront with a product catalog to display your digital goods and services. The plugin will automatically generate a shopping cart, checkout page, and customer account area.
WooCommerce is an excellent solution if you wish to sell physical and digital products together. For example, you could sell an eBook and a physical book together and use various shipping methods, including UPS, FedEx, and ShipStation.
You can also accept payments from credit cards, bank transfers, and mobile wallets through 100+ payment gateways, including Square, PayPal, and Stripe. Additionally, there are many WooCommerce plugins and extensions to add more functionality to your store.
Price: Downloading WooCommerce is free. You start paying when you start selling products.
Get Started with WooCommerce today.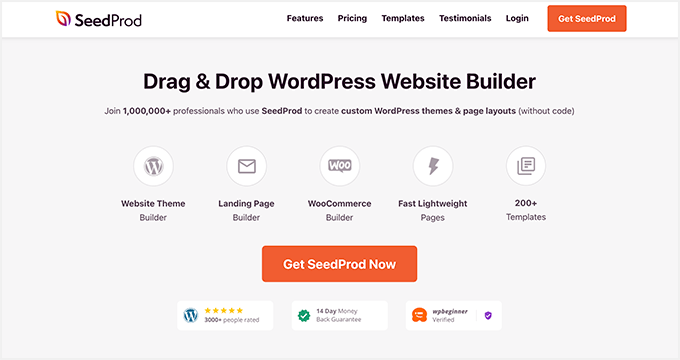 SeedProd is the best website builder for WordPress, with over 1 million users. It lets you create WordPress themes, landing pages, and entire websites without writing code.
The powerful WooCommerce integration lets you sell digital products from any page you create. For example, you can add "Buy Now" and "Add-to-Cart" buttons to an eBook landing page and allow visitors to check out right away.
Alternatively, you can build your entire WooCommerce site with SeedProd and give it a completely custom design using the drag-and-drop visual editor.
Here are some of the ways you can use SeedProd to sell your digital downloads:
You can also use SeedProd to generate leads with its subscriber management dashboard and email marketing integrations. You can even grow your list by offering free downloads to users.
Price: SeedProd pricing starts from $39.50 per year. However, for access to the WooCommerce features, you'll need a SeedProd Elite license starting from $239.60 per year.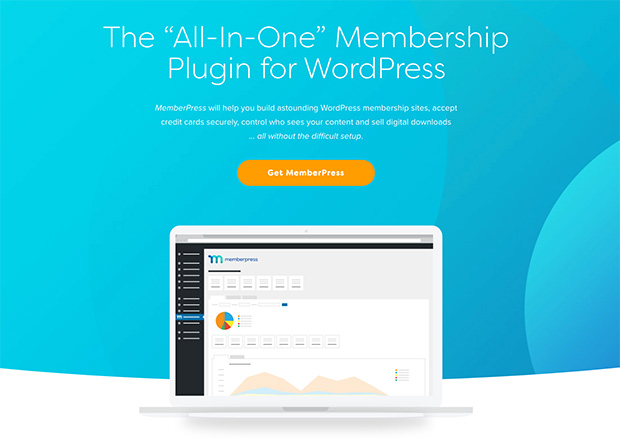 MemberPress is the best WordPress membership plugin. It lets you sell digital goods, lock content on your website, and sell subscriptions to members.
You can install the MemberPress Downloads addon for access to advanced features. That will give you more control over your online downloads, .zip files, PDFs, and other downloadable content.
This plugin allows you to provide protected downloadable files to members. Users will get a download link you can use to track the number of times they download each file.
MemberPress integrates with many email marketing services and software, including MonsterInsights, AWeber, Constant Contact, etc. By doing so, you can sync your digital downloads and email marketing campaigns for maximum conversions.
MemberPress also offers these powerful features:
Build and sell online courses
Super-fast and easy setup
Access rules to protect content
Customizable coupons
Recurring payments for membership renewals
Price: MemberPress pricing starts from $179 per year.
Get started with MemberPress today.

WordPress Download Manager is a popular file management plugin that lets you track, manage, and control digital file downloads on your WordPress site. You can use the free version of this plugin to create user roles and control access so only authorized users can download them.
WordPress Download Manager also makes file management and protection easier. As a result, you can:
Manage file downloads by speed and count limit
Block spambots with CAPTCHA
Integrate with OneDrive, Dropbox, and Google Drive
You can also upgrade to the WordPress Download Manager paid plan for more features and add-ons, including:
PayPal integration
Sales tax
One-click activation
Guest checkout
Invoice generation
Coupon management
And more.
Price: WordPress Download Manager is free to use. Paid plans start from $99 per year.

Digital Goods for WooCommerce Checkout lets you remove unnecessary checkout fields from your WooCommerce checkout page. Doing so makes the checkout process easier and faster for customers.
For example, you may not need the customer's shipping address when you sell digital products. This plugin will allow you to set quick checkouts on all downloadable or virtual products with a few clicks.
You can sell any digital content, including PDFs, eBooks, photos, videos, audio, and MP3s.
With the pro version of this plugin, you can:
Add "quick checkout" to all digital products
Add "quick checkout" to selected categories or tags
Let customers fill in additional fields after the payment
Restrict the quick checkout button by user role
Price: Digital Goods for WooCommerce Checkout is a free plugin for digital downloads. The Pro version starts from $29 for a year of support and updates.

Download Monitor is another free WordPress digital download plugin. It adds an interface to your eCommerce site for uploading and managing downloadable files.
You can also use this plugin to add download links to your website content, log downloads, and sell downloads online.
Downloads are added to your site using a familiar WordPress interface and look similar to WordPress posts. The plugin also includes a Download Monitor and Download block that works with the WordPress block editor.
You can categorize, tag, add other meta information to your downloads and even change how download links display with template files. You can also restrict access to downloadable files to members only.
Price: Download Monitor is a free plugin. You can access more features with a paid plan starting from $39 per year.
Bonus Plugins for Digital Downloads
Next are several WordPress plugins that we feel complement the solutions above perfectly. They extend the functionality of your WordPress site, making it easier for shoppers to find your digital content and buy it from your store.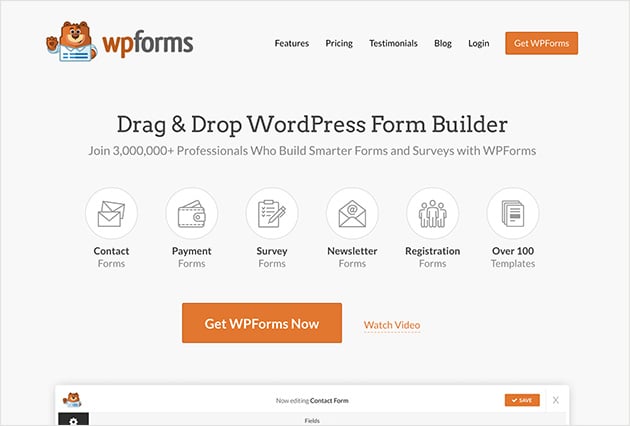 WPForms is the best form builder plugin for WordPress. It lets you create any form for your website, including digital download forms.
Instead of starting from scratch, you can use the premade download form template that includes all the form fields you'll need. Then, simply connect your payment option, add a link to your file download, and you can start selling digital downloads from your eCommerce site.
WPForms' drag-and-drop form builder makes customizing your form effortless. It also offers Stripe, PayPal, Square, and Authorize.net addons to accept payments.
Additionally, WPForms includes many ways to automate your digital download sales. For instance, you can set your form to:
Email you when someone places an order
Send a confirmation email to customers
Add contact details to your email list
Show a custom confirmation message after completing forms
Redirect users to another page after downloading your file
Price: You can get started with WPForms for free. The premium version starts from $39.50 per year.
Get started with WPForms today.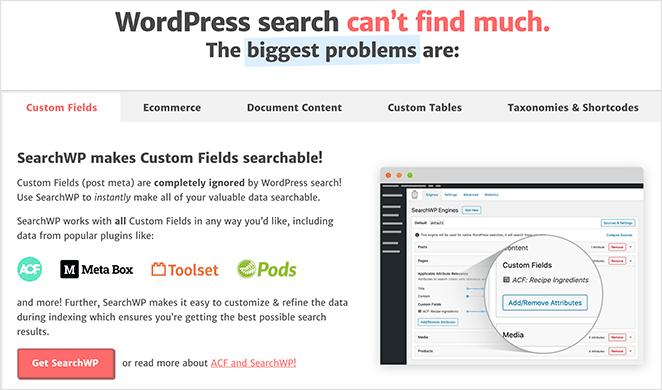 SearchWP is the best search plugin for WordPress. It's super-easy to use and lets you provide more accurate search results to your website visitors.
This plugin allows users to search almost any part of your WordPress website, including PDFs, documents, and your WordPress media library. That way, shoppers can always find the digital products they need quickly and efficiently.
SearchWP also allows searches for keywords in:
Post/page titles
Content
Slugs
Categories
Tags
Excerpts
Taxonomies
Comments
You can control the plugins' algorithm by giving each content type a weight from 1 to 10 where 10 is the highest. After activating the plugin, it automatically indexes your content and replaces the default WordPress search feature.
In a nutshell, SearchWP is a one-stop plugin for making site searches fast, accurate, and user-friendly.
Price: SearchWP plans start from $99 per year.
Get started with SearchWP today.
Which WordPress eCommerce Plugin for Digital Downloads is Best?
We believe the following 3 solutions are the best digital download plugins for WordPress:
Easy Digital Downloads is the best complete digital downloads solution.
WooCommerce is best for selling digital and physical products in WordPress.
SeedProd is ideal for customizing your WooCommerce store. It also works seamlessly with Easy Digital Downloads.
There you have it!
We hope this article helped you find the best WordPress eCommerce plugins for digital downloads.
You might also like this guide on how to customize headers in WordPress.
Thanks for reading. Please follow us on YouTube, Twitter, and Facebook for more helpful content to grow your business.