Do you want to create an online store? Want to find the best checkout plugins for WordPress to use?
With the right WordPress checkout plugin, you can turn your website into a fully functioning eCommerce store. But without the proper research, you could pick the wrong plugin for your needs and potentially lose money.
That's why in this article, we'll share the best checkout plugins to use on your WordPress website.
How to Choose the Best Checkout Plugins for WordPress
There are tons of great checkout plugins available. But many of them are tailored toward different types of business.
For instance, some checkout plugins are best for selling digital goods like ebooks, music, and photos. And others are better suited to physical goods that require shipping to customers.
Let's say you want to run a dropshipping business. For that, you'll need an eCommerce checkout plugin that offers better support for dropshipping.
So take the time to think about what you're going to sell. And consider which features you'll need to run your online store efficiently.
When choosing a checkout plugin or an eCommerce platform, keep an eye out for the following features:
Payment gateways – You'll need a solution that supports your preferred payment methods right out of the box. Or, at the very least, it allows you to use an extension.
Checkout design – Look for various templates and customization options for your WordPress checkout page and cart page. You'll need an easy way to match your design to your website's branding.
Integrations – To manage and grow your eCommerce business, you'll need to connect to third-party apps and services. So look for easy integration with email marketing services, CRM software, and more.
Customer support – Excellent support can save you tons of money (and time) in the long run. Look for a solution that offers plenty of good support options should you need help.
Before we check out the best shopping cart plugins, let's look at what you need to run a successful eCommerce website.
What Do You Need to Create an eCommerce website?
The first thing you'll need for your online store is the best WordPress hosting that you can afford. This is because eCommerce sites use many resources, making it crucial you find a reliable web host.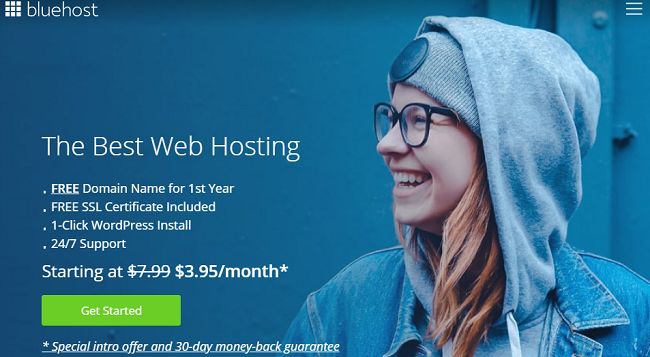 If your budget is limited, Bluehost is a solid hosting provider to choose. It offers an eCommerce hosting plan with:
SSL Certificate to accept payments securely
Dedicated IP address
Dedicated support line
Alongside that, they install WooCommerce by default, the most powerful eCommerce plugin around (more on that later).
If your budget isn't much of an issue, another excellent managed WordPress hosting provider is WPEngine.
After choosing a WordPress host, you'll need a domain name for your website. You can check out this guide on how to pick the right domain name for your online store.
And finally, you'll need to install some essential WordPress plugins to support your eCommerce marketing efforts — for instance, TrustPulse to help you show social proof and OptinMonster to reduce shopping cart abandonment.
What Are the Best Checkout Plugins for WordPress?
Now that you know what to look for in a checkout plugin and how to get started with your eCommerce site, here are the best checkout plugins for WordPress users.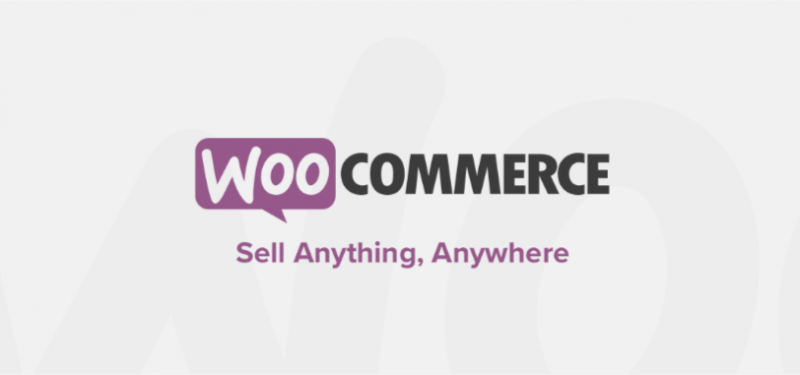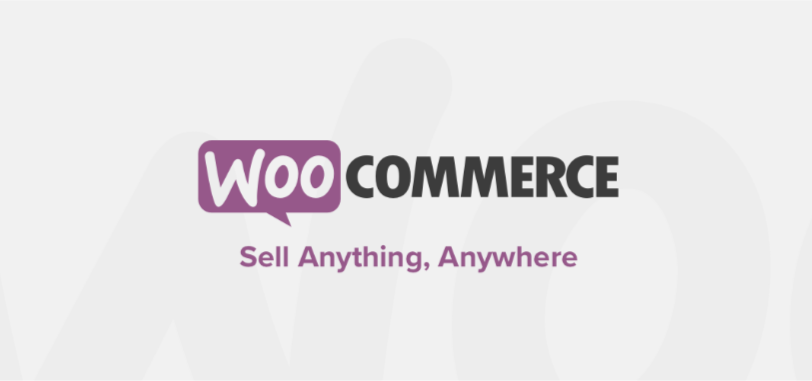 WooCommerce is the most popular checkout plugin on the market. In addition, it's the most popular eCommerce plugin in the world.
With WooCommerce, you can sell both digital and physical goods, with the option for customers to download purchases instantly. You can also use WooCommerce to sell affiliate products from online marketplaces.
There are options for flat rate and free shipping, along with the ability to create real-time payment calculations during the checkout process.
Key WooCommerce Features Include:
Free and paid extensions to enhance your WooCommerce store
The option to ship goods globally
Supports both digital and physical goods
Complete inventory management tools
Built-in support for popular payment gateways
Excellent documentation and experienced community
Price: WooCommerce is a free plugin for WordPress.
What is WooCommerce Good For?
WooCommerce is an excellent choice for any type of eCommerce website. It offers tons of themes and extensions, support for multilingual websites, and great free and paid support options.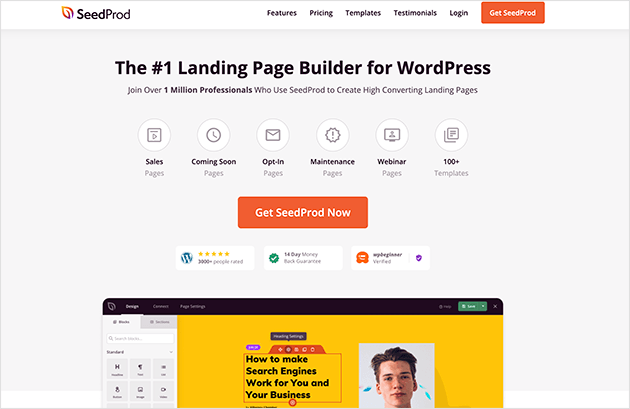 SeedProd is the best WordPress drag-and-drop landing page builder. It makes building and customizing landing pages in WordPress easy, with no coding required.
We've included SeedProd on this list because it works seamlessly with WooCommerce to create high-converting checkout pages. With its responsive landing page templates, you can create pages for your online store in minutes, including:
Shopping carts
Checkout pages
Product pages
Pricing pages
…and even custom WordPress login pages.
In addition, customizing your pages is a breeze. Just use the drag-and-drop visual editor to add powerful content blocks, like product grids, add-to-cart buttons, vertical pricing tables, and see your changes in real-time.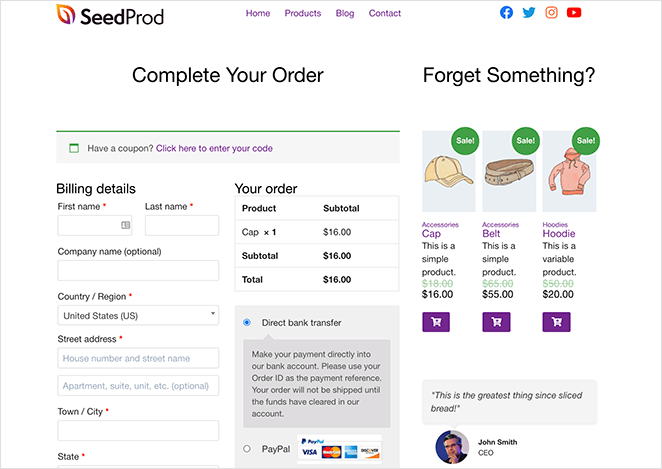 This makes it even easier to position your goods in a compelling and motivating way for potential customers while offering a seamless user experience.
Key SeedProd Features Include:
Price: SeedProd offers a free version that allows you to create simple landing pages. To create a checkout for WooCommerce, you'll need SeedProd Pro, which starts from $119.50 per year.
What is SeedProd Good For?
SeedProd is the best checkout plugin for WordPress when used with the WooCommerce plugin. It offers fully customizable landing page templates, so you can quickly build checkout pages, shopping carts, and more visually without hiring a developer.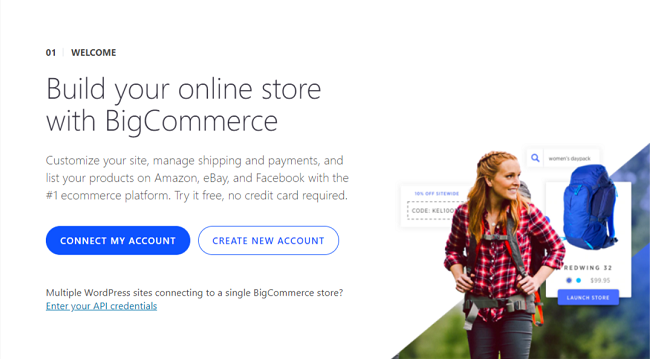 BigCommerce is another excellent checkout plugin for WordPress. This fully hosted eCommerce platform makes it easy to embed your products in WordPress.
It automatically creates important pages for your online store, such as cart pages, account pages, login pages, and more. And because it's highly scalable, it can easily support your store as you grow.
Key BigCommerce Features Include:
Enterprise-grade security, high performance, and easy scalability
Keeps your eCommerce content separate from your WordPress content for minimal maintenance
Sell across many channels, including social media, Amazon, and more
Choose from several payment gateways with no transaction charges
A few pitfalls of using BigCommerce include limited integrations with less popular apps and yearly sales thresholds for each plan.
Price: BigCommerce pricing starts from $29.95 per month for their standard plan. This plan is capped at up to $50k sales.
What is BigCommerce Good For?
BigCommerce is best for growing eCommerce sites that don't want to worry about scalability and security. It takes care of the technical side of things, so you can focus on growing your eCommerce business.
Get Started with BigCommerce or check out these BigCommerce alternatives.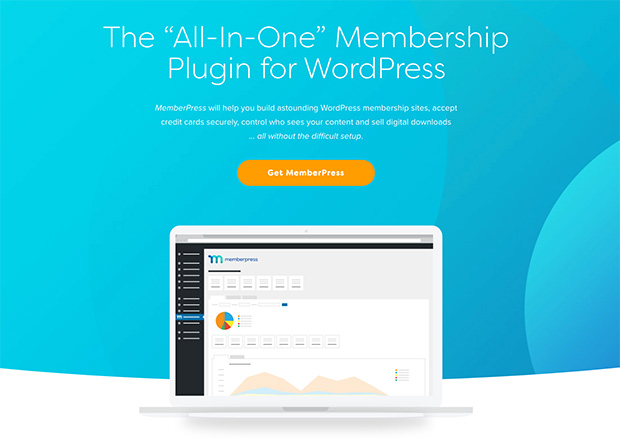 MemberPress is a plugin that allows you to sell digital products and services on a subscription basis. This makes it one of the best WordPress membership plugins on the market.
MemberPress is beginner-friendly, allowing you to start charging users to access your content instantly. And with the courses addon, you can easily build and sell courses directly from your WordPress website.
Key MemberPress Features Include:
Sell subscription products, pay-per-view content, and memberships in WordPress easily
Control who can access your content based on different user levels
Built-in course builder to create and sell courses from WordPress
Release paid content over time with content dripping
Easily integrate with WooCommerce, LearnDash LMS, and more
One thing to note is MemberPress's payment gateways are limited to PayPal, Stripe, and Authorize.net.
Price: MemberPress starts from $179 per year.
What is MemberPress Good For?
MemberPress is an excellent eCommerce plugin for businesses looking to sell memberships, courses, subscriptions, and build a membership site. It's easy to use and offers a broad range of addons to extend your site's functionality.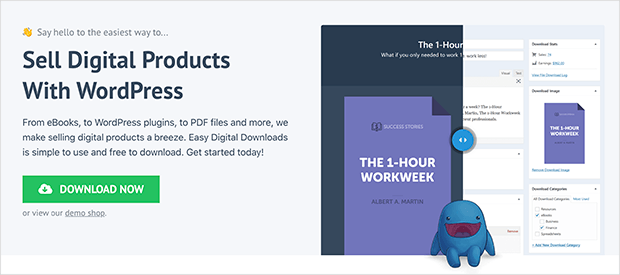 As the name suggests, Easy Digital Downloads is a powerful WordPress checkout plugin that allows you to sell digital goods online. It's a user-friendly plugin with all the features you need to create a successful digital goods store online.
With the full shopping cart system, customers can buy multiple downloads at once. You can also monitor your store's performance and download activity tracking.
Key Easy Digital Downloads Features:
The user interface is both easy to navigate and use from the start
Choose from hundreds of extensions and addons for marketing platforms, payment gateways, and more
Works with any WordPress theme and offers native Easy Digital Downloads WordPress themes
Access free support forums, videos, IRC chat rooms, and priority support for premium users
The only pitfall to note is if you want to sell external or affiliate products, you'll need to install a third-party addon.
Price: Easy Digital Downloads pricing starts from $99 per year.
What is Easy Digital Downloads Good For?
Easy Digital Downloads is one of the best plugins for selling digital goods online. It's a great choice for both smaller and larger businesses.
Get Started with Easy Digital Downloads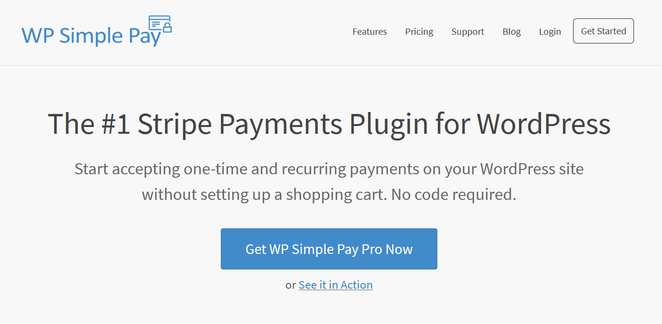 WP Simple Pay is the perfect solution if you don't want to set up a complex shopping cart system on your WordPress site. With this plugin, you can start accepting Stripe payments right away, without adding any code.
You can collect one-time payments for products and services, accept donations, create custom amount payments, and even set up recurring payments for subscriptions and installments.
Key WP Simple Pay Features Include:
Easily accept payments without setting up a shopping cart
Accept one-time payments or recurring payments
User-friendly drag and drop payment form builder
Ability to give your customers coupon codes
Multi-language and currency support
Price: There is a free version available. To get more powerful features, you can upgrade your plan starting at $99.50 per year.
What is WP Simple Pay Good For?
WP Simple Pay is best for non-techies that want to sell products or services online, without having to set up a full shopping cart system. It works perfectly for smaller and larger businesses.
Get Started with WP Simple Pay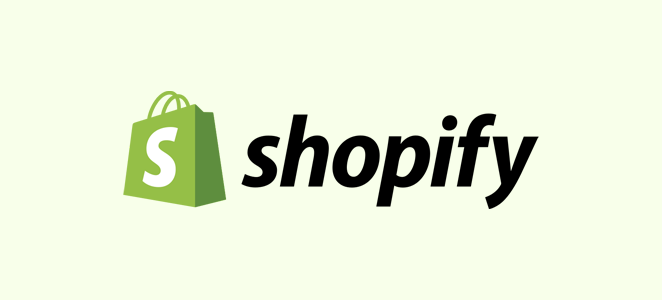 Shopify is a popular eCommerce platform that handles your online store for you. Even though it isn't a WordPress plugin, it's still an excellent, hassle-free platform for business owners to consider.
With Shopify, you don't need to worry about the technical side of running your store. Everything is taken care of, allowing you to focus more on your business.
Key Shopify Features Include:
Easy for beginners to use right out of the box
Supports both physical and digital goods
Inventory management with inventory editor, bulk importer, and order tracker
Accept payments via credit card both online and in-person
Integrates easily with Facebook and Pinterest
Price: Shopify starts from $29 per month.
What is Shopify Good For?
Shopify doesn't offer WordPress integration, so it's best used by businesses who don't use WordPress to run their eCommerce site. If you'd like a similar solution for WordPress, we suggest using BigCommerce. It offers everything that you get with Shopify, along with seamless WordPress integration.
Which Is the Best Checkout Plugin for WordPress?
After comparing the top contenders above, we can conclude that WooCommerce and SeedProd are the best checkout plugins for WordPress when used together.
WooCommerce has the most control, flexibility, and features of all the plugins on this list. And when combined with SeedProd, you can create fully customized pages for your eCommerce store without coding or hiring a developer.
How Do I Add a Checkout to My WordPress Site?
Checkout Plugin Frequently Asked Questions
How can I improve the security of my WordPress checkout process?
To improve the security of your WordPress checkout, consider implementing the following measures:
Use a secure and reputable checkout plugin that offers encryption and complies with industry security standards.
Keep your WordPress installation, themes, and plugins up to date.
Install an SSL certificate on your website to encrypt data transfer between your site and your users.
Use a reliable web hosting provider that prioritizes security.
Do I need a separate plugin for taxes and shipping calculations in my checkout process?
Some checkout plugins for WordPress include features for tax and shipping calculations, while others may require additional plugins or add-ons. Before choosing a checkout plugin, check its feature list first.
How do I ensure that my checkout plugin complies with data privacy regulations like GDPR?
To ensure that your chosen checkout plugin complies with GDPR, follow these steps:
Check the plugin's documentation and feature list for GDPR compliance, such as opt-in consent checkboxes, data deletion, and export tools, or privacy policy templates.
Keep your plugin updated, as developers may release updates to address regulatory changes or improve compliance features.
Consult with a legal expert or data protection officer to ensure your site and checkout process align with current data privacy regulations in your region.
That's all, folks!
We hope this article helped you find the best checkout plugin for your WordPress site. You might also like this post on the best WordPress pricing table plugins.
If you liked this article, then please follow us on YouTube, Twitter, and Facebook for more helpful content to help grow your business.