Are you looking for the best WordPress PayPal plugins to accept payments?
PayPal is a popular solution for website owners to accept online payments. It integrates with WordPress and works seamlessly with popular eCommerce platforms, including the WooCommerce plugin, to help you offer flexible payment options on your online store.
In this guide, we'll share the best WordPress PayPal plugins for your WordPress website.
Why Do I Need a WordPress PayPal Plugin?
PayPal is one of the most popular payment methods, trusted by millions of online customers. Whatever website you have, such as a WooCommerce store, membership site, or personal blog, PayPal lets you accept payments quickly and easily.
PayPal handles everything for you, including security, credit card processing, and PCI compliance. All you need to do is add it to your WordPress site to enable its functionality.
Moreover, WordPress PayPal plugins make connecting your site to PayPal effortless. They can also help create payment forms, buttons, shopping carts, and express checkout processes.
What Are the Best WordPress PayPal Plugins?
The best WordPress PayPal plugins are easy to configure, offer helpful features, and allow you to take payments with minimal fuss. We consider the following solutions, the best PayPal plugins for WordPress:
Let's dive in to learn about the features and pricing for each solution.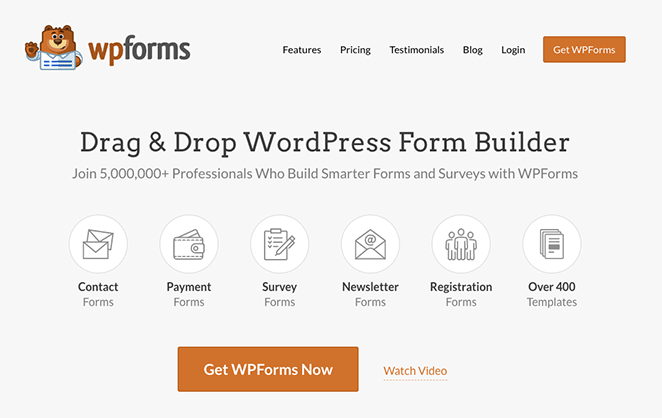 WPForms is one of the best WordPress contact forms plugins. With over 6 million users, it offers the easiest way to build any form on your WordPress site.
The plugin has a beginner-friendly drag-and-drop form builder and hundreds of pre-made form templates that only take a few clicks to set up. In a flash, you can create contact forms, fundraising forms, donation forms, payment forms, and virtually any other type of form.
The form builder is easy to use, allowing you to add custom form fields and rearrange them any way you like. With the PayPal addon for WPForms, you can take payments, donations, and orders for physical and digital products from your WordPress site.
All you need to do is install the PayPal Standard or PayPal eCommerce addon and fill in your PayPal account information. When users submit a form on your website, the plugin will automatically direct them to PayPal checkout.
Key features:
Conditional logic
Form notifications
Form pages
Form locker
Offline forms
Email marketing integrations
Stripe and Square payment gateways
Pricing: You'll need WPForms Pro starting at $199.50 per year for the PayPal addon.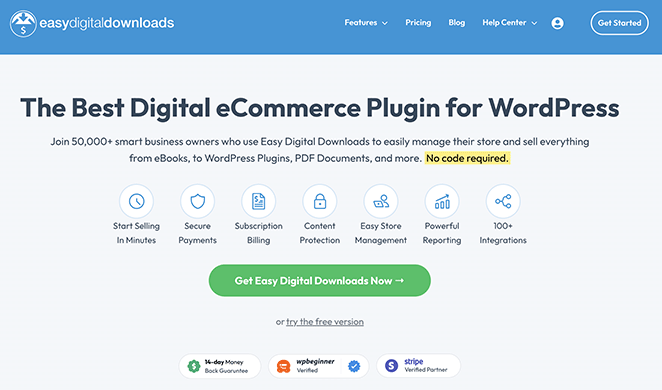 Easy Digital Downloads is one of the best WordPress plugins for digital downloads. It lets you sell digital products from your eCommerce store, including digital art, ebooks, software, music files, and more.
The plugin offers several PayPal integrations, including PayPal Standard, PayPal Express, PayPal Pro, and the PayPal commerce platform.
Additionally, you can connect to other payment processing services, such as Apple Pay, Stripe, Google Pay, and more.
Besides selling digital downloads, this plugin allows you to sell subscriptions, take recurring payments, set up a shopping cart, and add discount codes without help from a developer.
Key features:
Customizable shopping cart
Easy order management
Payment history
File access control
Customer account page
Affiliate integration
Detailed reporting
Pricing: Starting from $199 per year.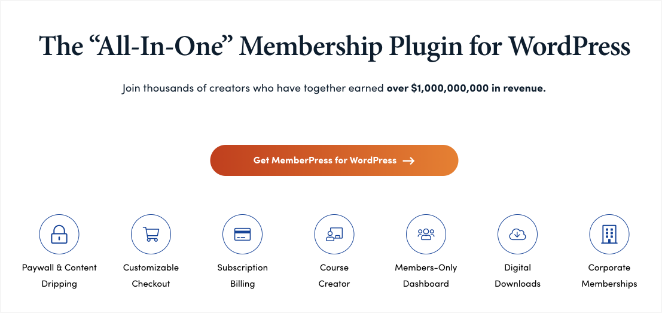 MemberPress is one of the best WordPress membership plugins and the easiest way to create a membership website. It lets you sell online courses, digital downloads and restrict content to paying members, including posts, videos, and more.
With MemberPress, you can set up different membership levels and use its drag-and-drop course builder to make online courses without code.
The plugin has built-in PayPal integration and allows you to accept payments with PayPal Standard and PayPal Digital Goods.
Moreover, you won't need to manually add PayPal API keys to your site, as MemberPress comes with them built-in. All you need to do is choose PayPal as your payment solution, and MemberPress will add the API keys automatically.
Key features:
Paywall and content dripping
Customizable checkout option
Course creator
Subscription billing
Members-only dashboard
Corporate memberships
Digital downloads
Pricing: Starting from $179.50 per year.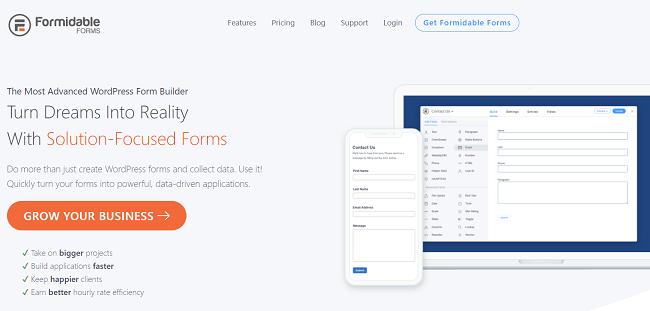 Formidable Forms is an advanced form builder plugin for WordPress. It lets you build complex WordPress forms without hiring a developer.
The plugin comes with a drag-and-drop form builder, allowing you to easily build many different form types. You can create online quizzes, survey forms, payment forms, and more.
One of the main factors that make Formidable Forms so valuable is the ability to make advanced online forms like job board listings, directories, and mortgage calculators.
Formidable Forms has a PayPal addon with customization options to select different currencies and one-time or recurring payments. All you need to do is create a form and add PayPal as a new action to it.
Key features:
Drag-and-drop form builder
Online calculator forms
Conditional form confirmations
Quizzes, polls, and surveys
Pre-made form templates
Import and export
Pricing: To collect payments with Formidable Forms, you'll need the Business plan starting at $199.50 per year.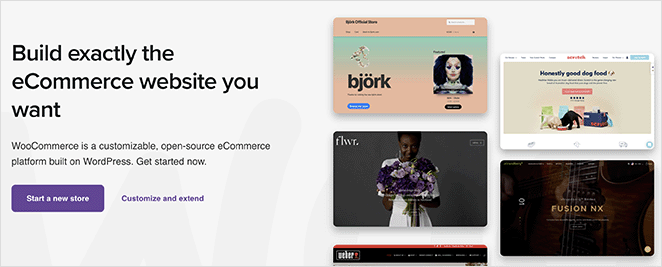 WooCommerce is one of the most popular eCommerce plugins for WordPress. You can also use the WooCommerce PayPal feature to accept payments, and it only takes a few clicks to set up.
Besides PayPal, you can integrate other WooCommerce payment options, including credit card payments, debit cards, pay on invoice, and more.
With WooCommerce, you can sell both physical and digital products in WordPress. It also integrates with shipping providers and allows you to handle inventories, collect taxes, and more.
Key features:
Sell any products
WooCommerce extensions library
Email and payment integrations
Accept PayPal payments for free
Automatically creates a checkout page and product page
Offers 3 free WordPress themes for WooCommerce
Pricing: WooCommerce is free with various paid extensions and addons.

Quick PayPal Payments is a simple WordPress PayPal plugin that allows you to take payments for your online store. It's easy to use and only requires you to create a payment form and add it to your site with a shortcode.
The plugin allows you to customize the styling and appearance of your payment form. It also offers fixed and variable payment options, multi-language support, GDPR compliance, and more.
If you enable the Quick PayPal Payments autoresponder, you can automatically send customers a confirmation message about their payment.
Key features:
Allows all PayPal-approved currencies
Add forms anywhere, including in sidebar widgets
Various shortcode options
Downloadable payment records
Editable autoresponder
Payment notifications
Pricing: Quick PayPal Payments is a free plugin with a Pro version available for $14.99 per year.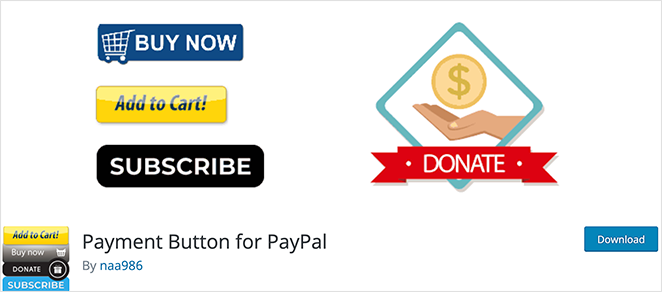 Payment Button for PayPal is another free WordPress PayPal plugin. It lets you add a buy now button to your site, as well as add-to-cart buttons, subscription, and donation buttons.
You can add PayPal checkout buttons anywhere using the easy WordPress shortcode.
This PayPal button plugin also lets you test purchases using PayPal Sandbox. That way, you can ensure the checkout process works correctly before going live.
Key features:
Create PayPal buy now buttons using shortcodes
Accept one-off and recurring payments
Charge shipping and tax costs
Accept PayPal donations
Manage orders in your WordPress dashboard
Pricing: Free.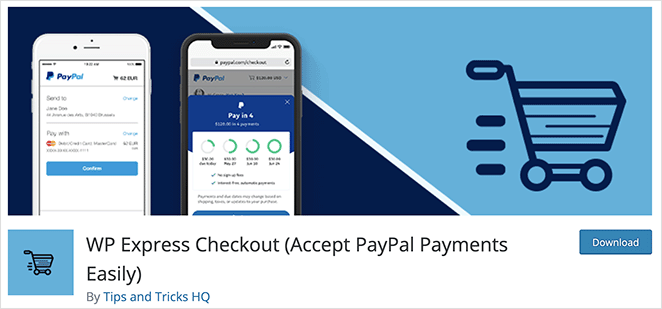 WP Express Checkout is another PayPal payments plugin for WordPress that lets you add a PayPal payment button to your website.
Unlike the other WordPress plugins on this list, this plugin shows the checkout process in a popup window. The great thing about this is users won't need to leave your website, allowing for a faster checkout process.
WP Express Checkout is an excellent solution for selling products and services. It also works seamlessly with WooCommerce, allowing you to add the new PayPal Express Checkout gateway to WooCommerce.
For example, you can collect payments for downloadable content like music, ebooks, and PDFs. Customers can download their files immediately after paying.
Key features:
Deliver downloads with an encrypted download link
WooCommerce support
Accept PayPal donations
Buy now and pay later options
Configure discount coupon codes
Test with PayPal Sandbox
Pricing: Free.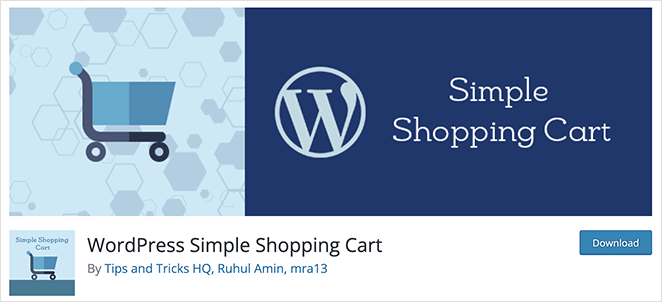 WordPress Simple PayPal Shopping Cart offers a seamless way to sell products on your WordPress site and accept payments with PayPal.
The plugin lets you embed add-to-cart buttons for products and services on your site. When shoppers check out from your cart page, they can pay with PayPal quickly and easily.
You can add a PayPal shopping cart to any WordPress post or page with a shortcode, turning your site into an online store.
Key features:
Create PayPal add-to-cart buttons
Lightweight plugin
Sell any product
Allow customers to check out in a popup window
Test with PayPal sandbox
Alternative Stripe payments option
Pricing: Free.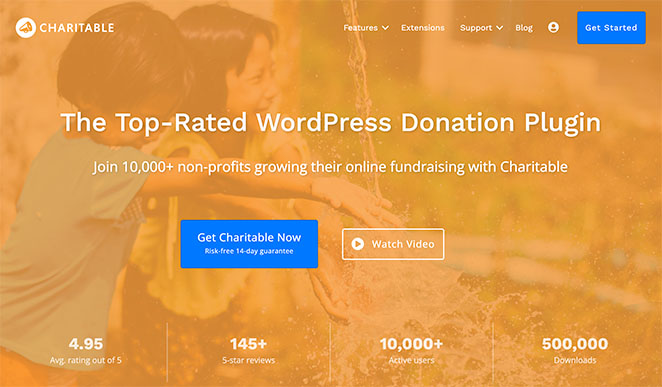 Another plugin to consider for accepting PayPal payments is WP Charitable. It's one of the best WordPress donation plugins allowing you to raise money online easily.
With this plugin, you can build a fundraising campaign in under 5 minutes and take donations via PayPal. The plugin also lets you create GDPR-friendly donation forms and as many donation campaigns as you like.
WP Charitable integrates with popular email marketing providers and allows for peer-to-peer fundraising, recurring donations, donor management, and more.
Key features:
PayPal donation buttons and forms
Unlimited campaigns
Donation management
Secure donation forms
Easy customization options
Works with your WordPress theme
Easy Digital Downloads gateways
Pricing: Starting from $99 per year.
Which WordPress PayPal Plugin is Best?
In our expert option, WPForms is the best WordPress PayPal plugin. It lets you create any payment form for your store and accept PayPal payments easily without coding. The plugin is lightweight, beginner-friendly, and trusted by over 6 million WordPress users.
Best WordPress PayPal Plugins FAQs
What is better, PayPal or Stripe?
Both PayPal and Stripe are popular payment processing platforms but have different features and strengths.
On the one hand, PayPal is older than Stripe, with many integrations, seller protection, and various payment options. However, Stripe is developer-friendly, with customizable checkouts and transparent pricing.
The best solution for you depends on your unique needs.
Can you collect payments on WordPress for free?
You can collect free WordPress payments using WooCommerce and only pay for any payment charges.
What percentage does PayPal charge for payments?
PayPal fees depend on the payment type and currency. For merchants, the processing fee per transaction for PayPal checkout is 3.49% + a fixed price depending on the currency. For standard debit cards and credit card payments, the cost is 2.99% + the fixed fee. The fixed fee in dollars is 0.49 USD.
We hope this guide has helped you find the best WordPress PayPal plugins for your website. You might also like to read the following tips and tutorials:
Thanks for reading. Please follow us on YouTube, Twitter, and Facebook for more helpful content to grow your business.