Are you looking for the best WordPress membership plugins? Creating a paid membership website is a great way to monetize your site and reward loyal readers with exclusive content.
This article will share the best membership software for building a membership site in WordPress.
What Is a Membership Plugin?
A membership plugin lets you restrict parts of your WordPress site from non-members, so only members have access. They're used to create a WordPress members area to reward subscribers with exclusive content.
You can also offer restricted content to members who pay a subscription for the privilege.
The top membership plugins for WordPress have a broad set of features, such as:
Access rules to protect new content as it's published.
The ability to drip content access over a set period of time.
A range of different membership plans and levels to allow upsells.
The ability to add membership subscriptions and user roles to WordPress.
Support for special discount codes.
Multiple payment integrations.
Automation of important tasks like forgotten passwords, subscription pausing, and more.
Options to help you sell digital products from your website.
As you can see, membership plugins have the power to transform any WordPress site into a functional membership site.
How Do I Choose the Best Membership Plugin for WordPress?
Ideally, you should look at the following 3 key areas to decide on the best membership plugin for your WordPress site:
Ease of Use
Compatibility
Design and Features
Let's take a look at each of these in more detail.
Ease of Use
When choosing a membership plugin for WordPress, you can either buy a lightweight plugin or a feature-rich one.
Lightweight membership plugins give you all the essential features you need. Many lightweight plugins offer add-ons to extend their functionality and features.
With feature-rich membership plugins, you get everything you need. You may even end up with some features you won't use. That can result in a crowded interface that's hard to use.
Compatibility
You can test the compatibility of a membership plugin by installing it on a local WordPress install. If it works with your WordPress theme and plugins, you can install it on your live website.
Design and Features
To decide which features you need, think about what you want to offer in your member's area. Will members need to check out using PayPal, or should you provide many payment options for more variety, like credit cards?
Do you want to drip content to members over time?
Think of how you want your WordPress membership site to look. What will your pricing page look like? The top membership plugins will offer templates to simplify the design process and SEO support to rank in search engines.
Once you know what you need, you'll know which features to look for in WordPress membership software.
Best Membership Plugins for WordPress
There are several excellent WordPress membership plugins to choose from. Each offers different features for different areas of your business.
However in this guide, we'll focus on the very best solutions. With that in mind, here are our favorite top membership plugins for WordPress: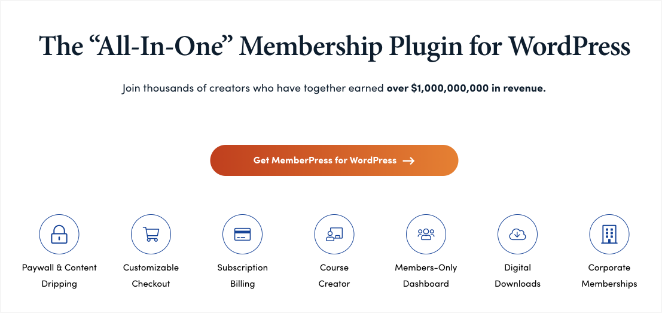 MemberPress is the most popular WordPress membership plugin and the easiest to use. It's a full-featured membership management plugin with tools that work with the WordPress platform.
As a result, you can turn any website into a user-friendly membership platform.
Pros
Easy to Use – MemberPress makes it easy to set up a membership site using WordPress. It's as simple as installing the plugin, entering your payment gateway details, and adding some products, and you're good to go. It also includes useful optimization features.
Control Access to Content – You can restrict access to posts, pages, categories, tags, files, login form builder, custom post types, assigning permissions to individual users, etc.
Drip Content – With MemberPress, you can drip restricted content and offer coupon codes to members over time. This is ideal for offering courses and educational material like downloadable PDFs.
Course Builder – The built-in courses addon lets you easily create, manage, and sell online courses on your membership website.
Software Integration – Connect to popular email marketing services to grow your email list, like AWeber and MailChimp. You can even connect it with MonsterInsights to track site activity and Amazon Web Services.
Payment Gateways – It has built-in support for popular payment gateways like PayPal, Stripe, and Authorize.net with its API. You can also add login widgets to your sidebar and create custom checkout screens.
Cons
Payment Options Limited – Only 3 payment gateways are available in MemberPress. So site owners from unsupported countries might face difficulties.
Lacking Integrations – This plugin supports the most popular services for running a member site. But it misses other popular integrations to form a complete package. That said, you can pay someone to integrate the service you need.
How Much Does MemberPress Cost?
The pricing for MemberPress begins at $179.50 per year for the Basic plan. The Plus plan is $299.50 per year.
MemberPress is the perfect all-in-one solution for beginners. It's easy to set up and has powerful features for building membership websites.
If you need help creating WordPress registration forms with custom fields, this article should help.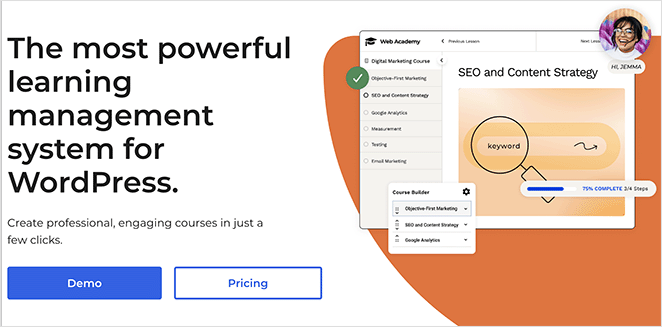 LearnDash is the most trusted WordPress LMS plugin, as well as a popular WordPress membership plugin. It's packed with a large variety of features for creating member websites and advanced admin capabilities.
Pros
Easy to Use – Setting up LearnDash is pretty simple while using it is even easier. Many tools help you organize member content, add it to varying member levels, and even offer free courses.
Content Restriction – With LearnDash hiding any content is easy. You can also restrict access to specific member groups and individual posts.
Advanced Course Selling – LearnDash is useful for selling online courses because of its intuitive drag-and-drop course builder. Using this, you can build multi-level courses with assignments, categories, and topics.
Community Features – This membership plugin has tools to keep online community members engaged. You can offer course forums, user badges, quizzes, user profiles, email notifications, etc.
Cons
Lacking Membership Features – If you don't want to sell courses, LearnDash's features might not be what you're looking for.
Lots to Learn – LearnDash has a lot to get to grips with due to its many features. This might be too much to handle if you only need a simple membership site.
How Much Does LearnDash Cost?
The pricing for LearnDash starts at $199 for use on a single site with the WordPress plugin, with 1 year of support and updates.
LearnDash is the perfect WordPress members-only plugin if you're interested in creating an online course to sell on your website. The wealth of add-ons and integrations will help you build an exciting platform.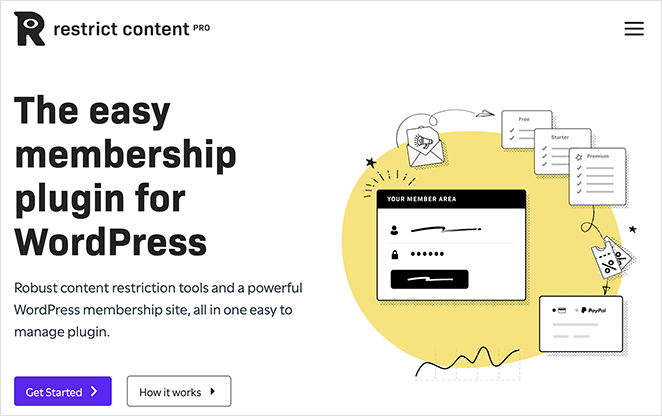 Restrict Content Pro is a fully-featured and robust membership solution for WordPress. It comes from the same team behind the popular Easy Digital Downloads. Plus, it's a lightweight plugin that aids you in gating exclusive content so only valued members can get access.
Pros
Ease of Use – This plugin easily integrates with the WordPress interface, so it's easy to learn how to use it.
Built-in Integrations – The built-in integrations with Restrict Content Pro are a game-changer. With other membership plugins, you have to buy them as add-ons. The integrations include Stripe, Braintree, 2Checkout, Authorize.net, and PayPal, to name a few.
Unlimited Subscription Packages – Create many subscription levels, like free, trial, and premium.
Discounts and Promotions – You can offer your members an unlimited number of discount codes, percentages, and flat rate-based discounts.
Cons
Limited Integrations – Integrations with third-party services are limited, especially compared to other content restriction plugins.
How Much Does Restrict Content Pro Cost?
The pricing for this plugin starts at $99 per year for a single site license, including 12 free add-ons.
Restrict Content Pro is suitable for website owners who need a solution to lock content that doesn't interfere with their existing site.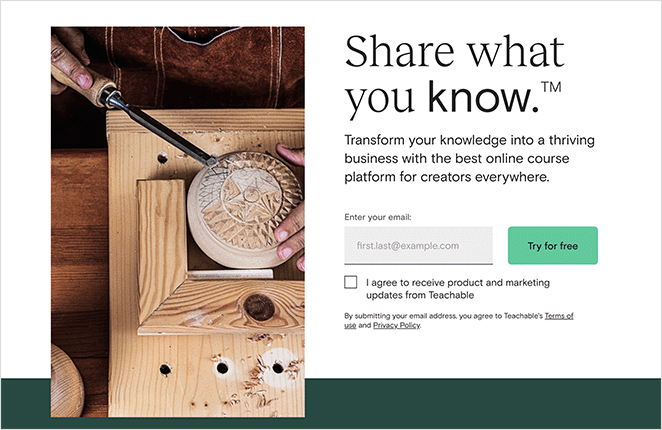 Teachable is an all-around inclusive online course builder. It offers a membership website, a learning management system (LMS), email marketing, and more under a single dashboard.
Pros
Easy to Use – You won't need technical skills to use Teachable. Creating new member content is simple, and the built-in tools help you upload all manner of materials quickly and view them in the front end.
Membership Site Customization – You can personalize content and turn it into a stunning online course. Work on your existing WordPress site, or build course landing pages on teachable using the drag and drop page builder. Plus, everything is mobile responsive. You can even create a customizable affiliate program.
Engagement Tools – Offer discussion forums, quizzes, and other tools for member engagement.
Cons
No WordPress Membership Plugin – Teachable doesn't currently have a WordPress plugin. To use it on WordPress to create member areas, you'll need to add links or use a sub-domain.
Expensive – Everything is included with Teachable. This makes it a more expensive membership solution than the other membership software on this list.
How Much Does Teachable Cost?
The pricing for Teachable starts at $29 per month, billed every year.
If you need to create stunning online courses with a heap of personalization options and don't mind the price tag, Teachable is a great choice.

s2Member is a free WordPress membership plugin with a paid version for site owners who want more features. Plus, it's a well-known subscription solution with a loyal user base.
Pros
Free Plugin – The base plugin for s2Member is free to use. While the free version has limited functionality, it's an excellent place to start with building your subscription site.
Drip Content – Pre-schedule premium content to paid members of your site and put it in place using WordPress shortcodes. This is only available with the paid version.
Payment Gateway Options – With the free version of s2Member, you can use the PayPal payment gateway. Yet you'll need the paid version to use Stripe and Authorize.net.
Third-Party Integration – s2Member is pre-integrated with MailChimp, AWeber, and GetResponse. It also integrates with bbPress and BuddyPress for forum and social network functionality.
Documentation – This plugin has extensive documentation to help you build your premium member site. You also get access to email-based support.
Cons
Difficult to Use – This WordPress plugin isn't as easy to use as many others on this list.
Limited Base Version – The free version of s2Memeber is pretty limited. It only supports PayPal payments, has only 4 membership levels, and omits content dripping.
How Much Does s2Member Cost?
The free version of s2Member doesn't cost anything to use. For a single site license of the premium version, you'll need to pay an $89 one-time fee, which gives you access to extra features and premium add-ons.
This plugin is ideal if you're looking for something more robust. It has been around for a while and has lots of documentation to expand your knowledge.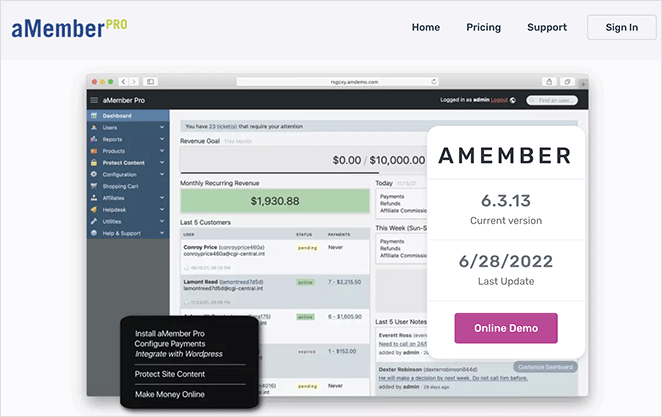 Another great piece of membership software is aMember Pro. And while it's not a native WordPress plugin, it does integrate with WordPress to create a functioning membership site.
Pros
Automation – With aMemember Pro, you can automate the customer signup process. Just choose the fields, products, and payment gateways, and the rest is automatic.
Content Dripping – Drip feed content day-by-day to keep customers engaged, subscribed, and billed.
Multi-Level Memberships – Set any number of subscription levels and products. And offer different prices and subscription terms for your members.
Integrated Modules – This membership software has several modules. You can use an opt-in email newsletter, helpdesk, affiliate management, and a shopping cart.
Cons
Dated Interface – The interface for aMember Pro is relatively basic and doesn't compare with the many modern alternatives.
Lacks Advanced Features – aMember Pro lacks features like event management. It's not suitable for typical associations and clubs. There's also no donation functionality included.
How Much Does aMember Pro Cost?
You only need to pay a single one-off fee to take advantage of aMember Pro. It costs $149, and you can use it on as many websites as you'd like.
The one-time payment and included member features make the simple membership software suitable. Member-based blogs, retail websites, and membership forums will enjoy it. But site owners with more complex member needs will need to look elsewhere.

Paid Memberships Pro is a simple and popular WordPress membership plugin. It has over 80,000 active WordPress installations.
Pros
Free Version – If you're wondering if Paid Membership Pro is free, you're in luck. There's a free version that comes bundled with 19 free add-ons.
Unlimited Membership Levels – Control access to content for any number of member levels. Members are added as WordPress users at the subscriber level, and you can structure the hierarchy in any way you see fit.
Payment Gateways – It offers 6 payment gateways, including Stripe, Authorize.net, PayPal, and Braintree. You can access all of them in the free version.
Cons
Limited Free Version – The free version of this WordPress plugin is limited to use on only 1 website and doesn't include unlimited support tickets.
Expensive Paid Version – While the paid versions are only one-off payments, they're still pricey. More so, considering you get most of the features with the free option.
How Much Does Paid Memberships Pro Cost?
There is a free version of Paid Memberships Pro, so it won't cost you anything. But, to use it on more sites and for more support, pricing starts at $247.
So if paying for a membership plugin isn't on the cards for you, Paid Memberships Pro is a feature-packed choice that doesn't have to cost a penny.
Alternative: Ultimate Member

Paid Member Subscriptions is one of the best subscription plugins for WordPress. It lets you restrict product viewing and purchasing to paying members.
Pros
Subscription Management – You can manage your member's subscriptions. It's also possible to revoke and grant access to pages, categories, etc., all based on the user subscription level.
Easy Integration – This plugin won't disrupt your WordPress website. It seamlessly integrates into your content and site.
Easy to Set Up – This plugin is also easy to set up. Add your PayPal email address and subscriptions and set restrictions individually on each page or post's meta box.
Cons
Limited Integration – This plugin includes all the features needed for a membership website. But it lacks integration into third-party services like Authorize.net and Zapier.
Refund Policy Clarity – It offers a 15-day refund policy. But, they first tell you to contact their support team to see if they can fix your issues. In our opinion, this could be clearer.
How Much Does Paid Member Subscriptions Cost
A free version of this must-have membership plugin is available with limited options. But to get all the features you'll need for a fully functioning WordPress membership website; you'll need to upgrade. Pro versions begin at $69 for a single site with 9 basic addons.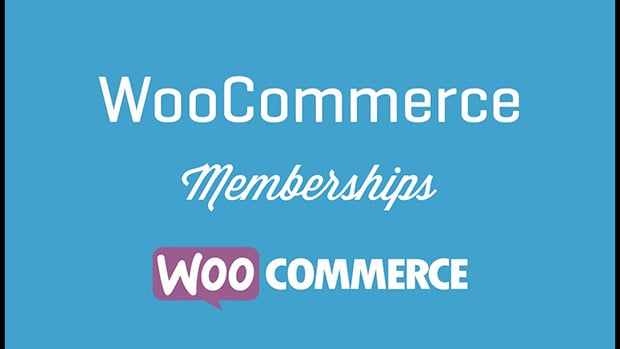 WooCommerce Memberships is a WooCommerce Plugin for WordPress. It lets you restrict the sale of products and services to registered members of your eCommerce website.
Pros
Flexible Member Levels – Create different types of membership options. You can make stand-alone product purchases, monthly subscriptions, and yearly subscriptions.
Drip Content – Choose when members get to see your content and control how those users access the content on your site. You can run a free trial that locks after the trial period, prompting users to subscribe to regain access.
Membership Rewards – WooCommerce Memberships lets you offer free shipping, coupons, and discounts. If you're already selling digital downloads, you can also sell memberships on your site. This is a great way to reward loyal members.
Easily Manage Members – Managing memberships is easy for you and your members. Users can view all the content they have access to, see future releases, and see their membership details.
Cons
Requires WooCommerce Subscriptions – This plugin isn't a complete membership solution. You'll need to use the WooCommerce Subscriptions plugin to accept recurring payments. You'll need this plugin to upgrade and downgrade subscriptions too.
How Much Does WooCommerce Memberships Cost?
The cost of this WordPress Membership plugin starts at $199 per year for a single site license.
Alternatives: WP-Members and Membermouse are also good solutions to build a membership site.
Which Is the Best WordPress Membership Plugin?
After looking at the solutions on this list, we conclude that the best membership plugin for WordPress is MemberPress. This plugin is super easy to use, offers powerful membership solutions, and works seamlessly with any WordPress site.
And there you have it! You've found the best WordPress membership plugins to turn any WordPress site into a robust membership platform. If you want to promote your membership program, check out this guide on how to create a membership landing page step-by-step.
If you enjoyed reading this and would like to discover even more of the best WordPress plugins, take a look at our ultimate guide.
And don't forget to check us out on Twitter and Facebook for even more great WordPress tutorials and tips.