10 Best Email Newsletter Services in 2021 (Compared)
Are you looking to start a newsletter for your business? Email marketing is the best way to connect with your audience, build strong relationships, and turn them into paying customers.
Finding the best email newsletter software with all the features you need is essential for your business's success. And while each email marketing platform has a ton of features, choosing one might feel overwhelming.
But don't worry. In this article, we compare the best email newsletter services for you, so you can engage with your visitors and grow your business.
What Is Email Marketing and Why Does It Matter?
Email marketing is an ideal way to get your message straight to the people that matter most to your business. You could be an eCommerce business trying to generate more leads by emailing your customers, or a blogger sending your latest content to your readers.
Regardless of your industry, email marketing gets your message right into the inboxes of the people you want to see it. Furthermore, email marketing lets you connect with your audience after they've left your website.
Here are a few more reasons to give email marketing a try:
Returning site visitors: The majority of people visiting and abandoning your website will never come back. When you build an email list and create emails, you can contact those people and send relevant content that draws them back to your site.
Loyal followers: People who return to your website are more likely to become customers than first-time visitors.
Increased revenue: Visitors who make a purchase resulting from email marketing outperform those who do so through search and social traffic. So email marketing is crucial for increasing sales.
Choosing the Best Email Newsletter Software
Finding the right email newsletter service is crucial to working out what works best for your business. That said, just because one email marketing solution is popular, doesn't mean its the right fit for you.
Comparing one service to another is sure to be an overwhelming task, so we've done the hard work and detailed the critical aspects of an email marketing service to look out for.
When choosing the best email service look for the following essential things:
Easy to use: If an email marketing service isn't easy enough for you to use, you won't be able to achieve the results you need for your business.
Automation features: All the best software on the market offer solutions to automate your email marketing campaigns. Look at the automation offered from each provider and work out, which suits your needs best.
Different Industries: Some email services are geared towards specific industries. For example, Keap is aimed at marketing and sales, while ConvertKit is best for publishers. If a service isn't aimed at your particular industry, you'll need to find a solution that's a better fit for your business.
Overall price: Naturally, you'll have a budget you need to stick to, so check the pricing for each service carefully before making a decision.
Now that you know what to look for let's compare the best email newsletter services for your business.
10 Best Email Newsletter Service Providers
1. Constant Contact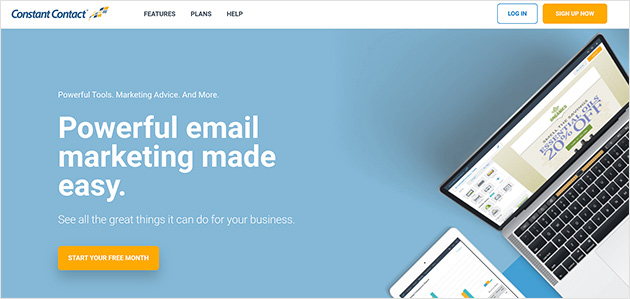 Constant Contact is an excellent email newsletter service for small businesses. It's super-easy to use and suitable for all industries. So even if you're a freelancer looking to secure new clients or a fashion retailer want to sell more products, it's got everything you need to grow and improve your business.
You could even be a blogger looking to get your first 1,000 subscribers. Even so, this platform has everything you need.
With over 100 professionally designed email templates and sign-up forms, it's easy to get started quickly. And the intuitive drag and drop email builder helps you build your newsletter in a matter of minutes.
You can also take advantage of the following excellent features:
Automatically send personalized emails to your email list
Upload your list from several places including Outlook, Gmail, and Excel for easy list management
Keep track of unsubscribers, inactive email addresses, and bounced emails
Discover where people are clicking on your emails with the heat-tracking feature
Segment your email lists to improve open rates and clicks
Make data-driven decisions based on campaign statistics which you can view in your dashboard
Use excellent customer service in the form of live chat, email, phone support, and forums
Learn from helpful articles published on the Constant Contact blog
You won't need a credit card to give Constant Contact's 60-day free trial a go. And if you're happy with the service, the plans start at $20 per month.
Try Constant Contact today
2. Sendinblue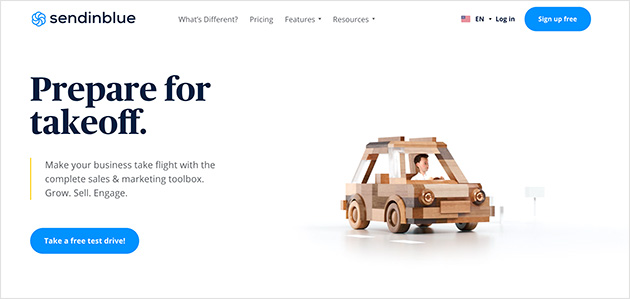 Sendinblue is both an email marketing survive and SMS software, created with simplicity and ease of use in mind. It offers everything you need to develop actionable email newsletters, without getting weighed down with complicated settings.
Use any of the free responsive newsletter templates to build your emails and customize them with the drag and drop email builder. You can also access the HTML editor to tweak your custom design as well as create custom fields for your email.
Here are a few more of Sendinblue's more advanced features:
Help people receive their emails at the right time with 8 automation workflows
Pick the best times to send your emails to specific subscribers and automate the campaigns.
Use real-time statistics, heat mapping, A/B testing, and detailed reports to optimize your campaigns
Customize your transactional emails and send personalized emails to customers
Send your emails via text message with a few easy clicks
Use the lead scoring features to rank your leads and email potential customers
Utilize live chat software integrated into your account
Sendinblue has a free plan that provides unlimited storage for your contacts and 300 emails per day. This is ideal for giving the service a try to see if it's the best solution for your business.
Then, to give it a go, the plans start at $23 per month.
Try Sendinblue today
3. Drip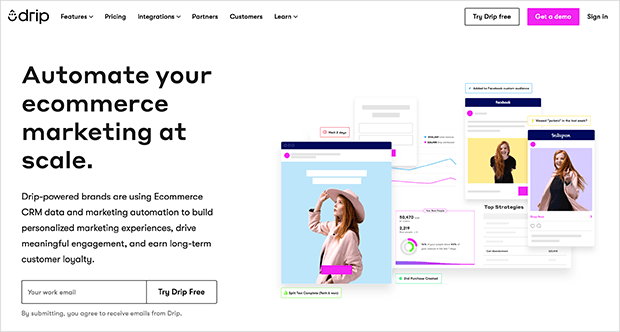 Drip is the best email automation service for a variety of industries and business types. Bloggers, solopreneurs, eCommerce site owners, and marketers can use the platform to spark conversations with their audience.
More than a simple email newsletter service, Drip lets you have more in-depth conversations with your customers at the right time, by understanding the intent behind their purchases and their behavior.
Plus, you can use the automated customer workflow to send SMS messages, show Facebook ads, and much more.
Here are a few more stellar features that Drip offers:
Use customer behavior to segment your email lists
Design emails easily with the drag and drop editor
Increase email opens and click-through rates by sending customized email messages
Get measurable data by tracking downloads, signups, requests for quotes, and more
Keep track of your conversion rates to ensure you're earning enough revenue
View detailed reports right in your WordPress dashboard and export them when needed
Drip is available to try for free if your list has 100 or fewer subscribers.
If your list is larger than that, or you require unlimited emails, plans start at $49 per month.
Try Drip today
4. ConvertKit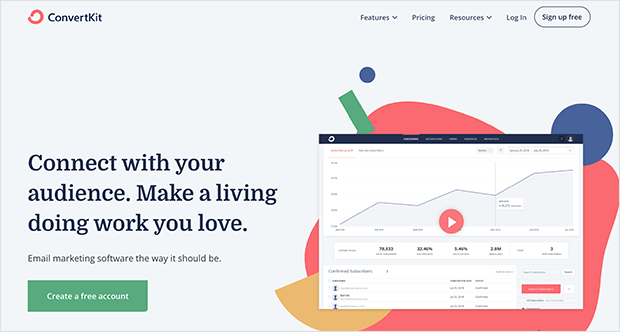 ConvertKit is the ultimate email newsletter software for bloggers and publishers, and it was designed specifically for creators like podcasters, YouTubers, bloggers, and so on. Regardless of your goals, ConvertKit aims to make email marketing as easy as possible, so you can achieve the success you desire for your brand.
With ConvertKit, you can choose from a variety of customizable templates to create newsletters, signup forms, landing pages, and more. The visual automation builder guides you through creating automated email funnels to help move customers through the value journey.
Here's what else you can enjoy when using ConvertKit:
GDPR compliant forms with built-in lead magnet delivery and custom fields
Increase conversions by segmenting your list and sending targeted, personalized emails
Send your latest blog posts via email to your list as soon as you publish
Prevent your emails from landing in spam folders by sending plain text emails
Create personalized automated emails with the drag-and-drop sequence builder
Use signup forms to encourage subscribers
Enjoy an easy-to-use interface and a clean homepage dashboard
ConvertKit has a 14-day free trial, so you can try it before committing to any of their plans.
After that, plans start from $29 per month.
Try ConvertKit today
5. AWeber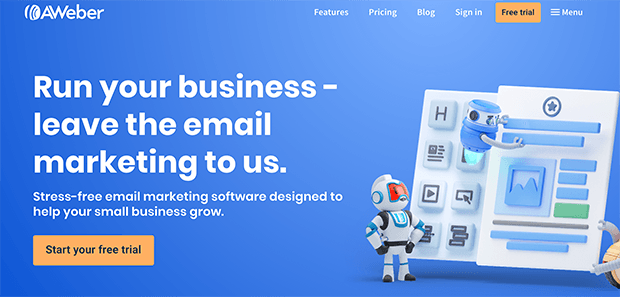 AWeber is among the most popular email newsletter services around, and it comes with all the tools you need to send newsletters from your business and connect with your audience. It comes with plenty of pre-built email newsletter templates, and its drag-and-drop email builder makes it easy to create successful campaigns.
You can even integrate AWeber with WordPress, your landing page builder, and email opt-in forms with a few clicks. Then you can set up automated email sequences to secure more sales.
Here's what else you can achieve with AWeber's robust features:
Organize your emails based on opens or clicks with tags
Make use of the vast storage space available
Split test your emails and subject lines to discover what works best
Deliver targeted emails based on subscriber activity and interests
Send new blog posts automatically to your list subscribers
Deliver an unlimited amount of emails with no send restrictions
Choose from thousands of royalty-free stock photos to make your emails more engaging
AWeber has a 30-day free trial, so you can test out its features without spending a dime.
Then if it's the right solution for you, plans start at $19 per month.
Try AWeber today
6. MailChimp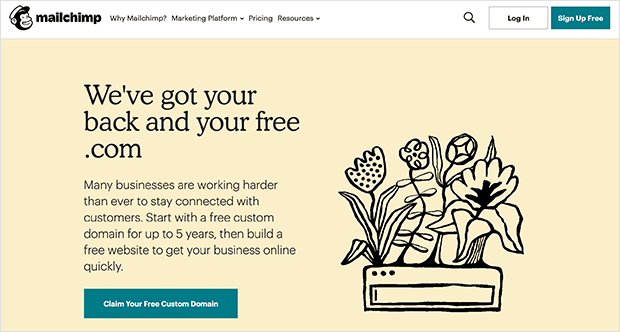 MailChimp is another popular email newsletter software used by thousands of businesses from bloggers to marketers and retailers. But MailChimp isn't merely an email newsletter service provider; it also comes with everything you need to convert website visitors into subscribers and paying customers.
Connecting your website to MailChimp is super-simple, and you can also integrate with hundreds of apps you already use for your business. You can easily use their beautiful landing pages, signup forms, and Facebook ad templates to convert your visitors.
View all your data in one place in the MailChimp dashboard, so you can get real-time statistics and monitor your email return on investment with in-depth revenue reports.
Here are even more excellent features included in MailChimp:
Use in conjunction with popular eCommerce platforms like Magento, WooCommerce, and Shopify
Send targeted emails by segmenting contacts on your list
Personalize your emails by making use of merge tags
Schedule emails based on the location of users to improve click-throughs
Use the autoresponder to build automatic emails based on user behavior
Make use of pre-built templates for building your email newsletters
MailChimp offers a free service for users with lists of up to 2,000 contacts so you can get to grips with the platform.
After that, plans begin at $10 per month based on the number of subscribers.
Try MailChimp today
Related: How to Create a Mailchimp Landing Page in WordPress
7. GetResponse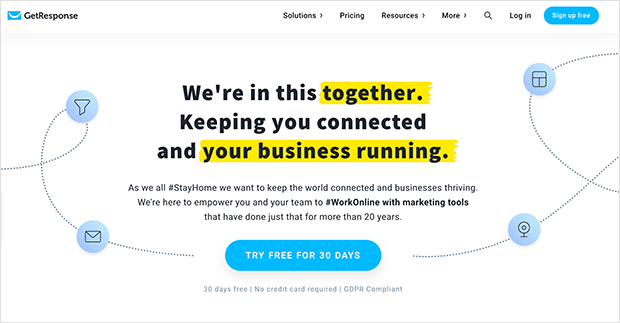 GetResponse is an email marketing tool that is super-popular with many businesses and easy to get to grips with. Its user interface is modern and streamlined, simplifying the email marketing process for beginners with no previous experience.
The drag and drop email builder makes crafting your email campaigns effortless. Plus, you can segment contacts to send emails to the right people at the correct times. That improves the chances of those people converting to paying customers.
GetResponse also includes the following powerful features:
Use the behavior of contacts to automate your marketing efforts
Make use of pre-designed templates to send customized email messages
Use the platform to build and host webinars on your website
Organize email campaigns by user habits and preferences with tags
A/B test your emails to improve your results and increase conversions
Create distraction-free landing pages to increase sales
Integrate with top lead generation software such as Salesforce and OptinMonter
GetResponse has a 30-day free trial to help you get used to using the platform.
After your trial, plans begin at $15 per month.
Try GetResponse today
8. MailerLite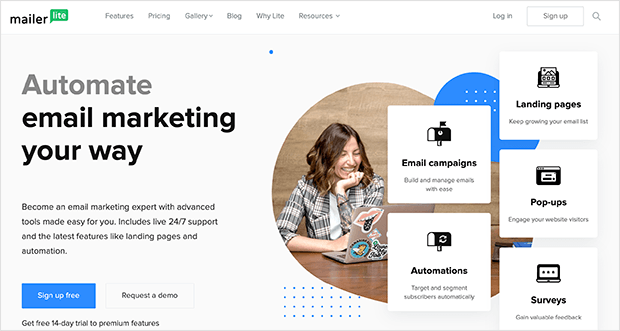 MailerLite is the ideal email newsletter service for businesses on a strict budget. And its user-friendly platform is simple to use for marketers of all abilities, regardless of prior experience. With the drag and drop email builder, you can also create popup forms and landing pages, all while connecting easily with your WordPress website.
Getting started with MailerLite requires zero coding experience. Just choose from one of the free newsletter templates and customize your email from there. The double opt-in feature helps you secure subscriber consent and reduces the number of spam contacts on your list.
MailerLite also comes with the following great features:
Display emails on any screen size with mobile-responsive designs
Send personalized emails by segmenting your list with tags
Use split-testing to optimize your emails and figure out what isn't working for you
Track email clicks and access detailed reports to analyze your results
The management interface makes it easy to organize and filter your contacts
Send automatic emails for newly published blog content
MailerLite is free for businesses with lists of 1,000 contacts and less than 1200 email sends per month.
Then paid plans begin at $10 per month, increasing as your contacts increase.
Try MailerLite today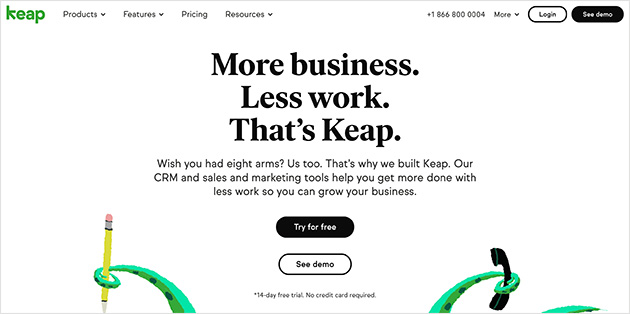 Keap is a customer relationship management (CRM) service with powerful email marketing, sales, and automation tools. Created by the team behind Infusionsoft, it's a simpler version accessible to businesses from all industries.
With Keap, you can organize your client details in one place and sync them with Gmail and Outlook to manage them in a centralized dashboard. Plus, the marketing campaign builder lets you easily automate the sales and marketing process you create.
Here's what else you can do with the features offered by Keap:
Set up automatic processes for sending texts and emails to new leads
Create repeatable sales processes to send emails when leads move through the buying process automatically
Make use of powerful templates for emails, quotes, proposals, invoices, and more
Integrates with popular apps you use in your business such as Zapier, OptinMonster, and WordPress
Star essential messages to follow up with them at a later time
Visualize data, traffic, and conversions in a central analytics dashboard
Keap has a 14-day free trial, so you can give the platform a go before committing to payments.
After your trial, plans start at $79 per month.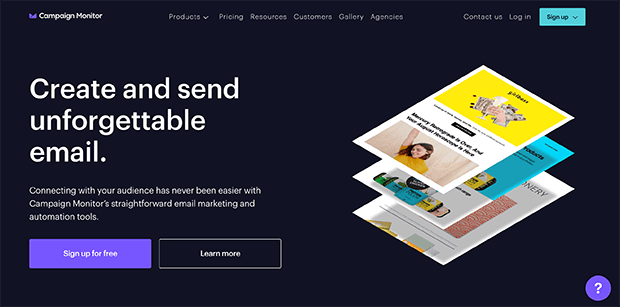 Campaign Monitor is a straightforward email newsletter service with automation tools to make your email campaigns a success. The drag and drop campaign builder is easy to use and offers everything you need to build professional email marketing campaigns to grow your business.
With hundreds of professionally designed templates, creating your newsletters is a breeze. You can easily customize designs to match your branding and add useful design elements like countdown timers to create a sense of urgency.
Here are a few other fantastic features offered by Campaign Monitor:
Organize and segment your contacts based on their interests and behavior
Track subscribers based on whether they're active, inactive, or unsubscribed
Keep an eye on clicks, shares, check-out opens, and bounces so you know which areas to improve
Split test your email subject lines and images to determine which works best
Integrate with tons of apps you already use in your business such as eCommerce and CRM platforms
You can create a free account on Campaign Monitor to test out their features, but that's only for lists with 5 subscribers or less.
Otherwise, plans start at $9 per month.
Which Is the Best Email Newsletter Service?
The best email newsletter software depends on the needs of your business. That said, here are our conclusions when comparing the email marketing services above.
Constant Contact is the best newsletter software out of all the solutions in this article. It's easy for complete beginners to use, has a lengthy free trial, and powerful automation features that all business types can use.
However, if you're looking for the most affordable email newsletter service, MailerLite is a reliable option that includes all the tools you need to send intelligent emails, without the more significant price tag.
And that's it!
In this article, we've compared the best email newsletter services available today to connect with your audience and grow your business.
But if you'd like a refresher on the benefits of building an email list, take a look at this article and learn how to create one today.
We hope you found this article helpful. If you did, do follow us on Twitter and Facebook for more content like this.