Looking for reliable Constant Contact integrations for your WordPress site?
Constant Contact is a solid choice for email marketing. It's a marketing automation and email marketing tool that helps manage your email list, automate your campaigns, create landing pages, and send SMS notifications. If you're using Constant Contact, it's worth knowing which tools integrate well.
In this guide, we'll review some of the most useful Constant Contact integrations for WordPress. These tools can help your small business grow more efficiently.
Why Do You Need a Constant Contact Integration?
You might wonder why you need to integrate other tools with Constant Contact.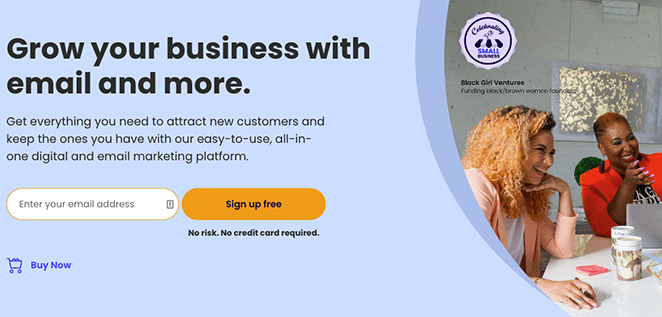 It's a fair question. Constant Contact is already quite capable on its own. But when you combine it with other digital marketing and website tools, it becomes even more versatile.
Think of it like a toolbox. A hammer is useful, but sometimes you need more than that. You might need nails, a tape measure, or a screwdriver. Each tool serves a different purpose, and when used together, they can help you build something more substantial.
Similarly, Constant Contact is a valuable tool, but integrations can help you achieve more. They can assist in collecting more emails, streamlining workflows, boosting sales, or enhancing customer engagement.
Best Constant Contact Integrations for Your WordPress Site
Ready to make your Constant Contact email marketing stronger? Let's look at the best tools that work well with this email marketing platform. These tools will help your WordPress site do more and are easy to set up.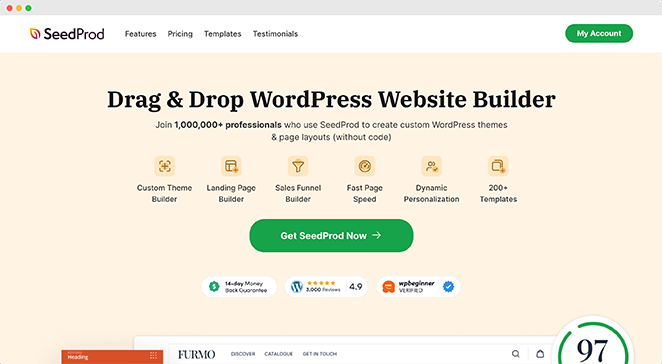 SeedProd is one of the best WordPress website builders and a top choice for over 1 million websites. It works seamlessly with Constant Contact, allowing you to collect emails and send them straight to your list.
With SeedProd, you don't need to know any code to make a professional website. You can drag and drop design elements like buttons, forms, and timers right where you want them. It even has blocks to help you sell products and services if you use WooCommerce or Easy Digital Downloads.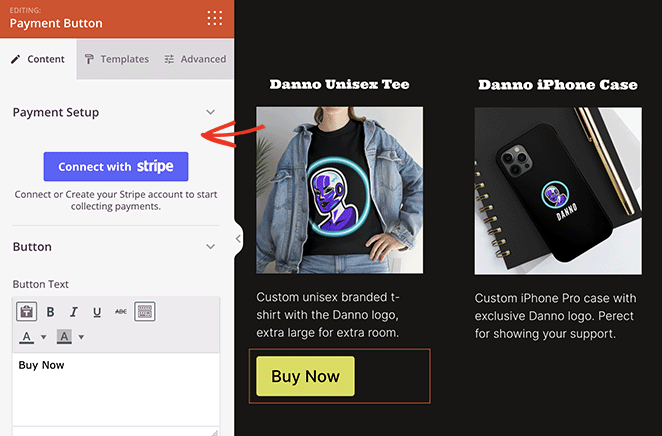 Want to make a 'Coming Soon' page or a 'Thank You' page? SeedProd has over 150 ready-to-use designs for that. Using its Theme Builder and site kits, you can also make your own WordPress theme from scratch.
Moreover, SeedProd is fast. A fast website is essential for showing up in Google searches. It also has smart design tools, so you don't have to do the same work over and over. You can save your favorite colors, fonts, and blocks to use again later.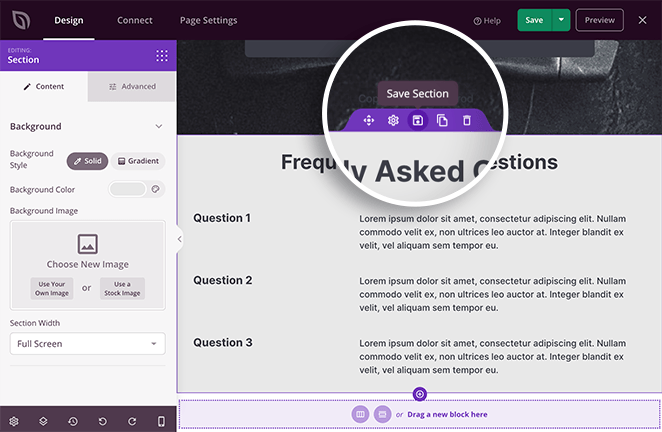 And if you're worried about connecting it to Constant Contact, don't be. SeedProd makes it easy to link up with popular email services and sync new contacts. All it takes is a few clicks.
Pricing: You can start using SeedProd for $39.50 for one website. There's also a free version of SeedProd available.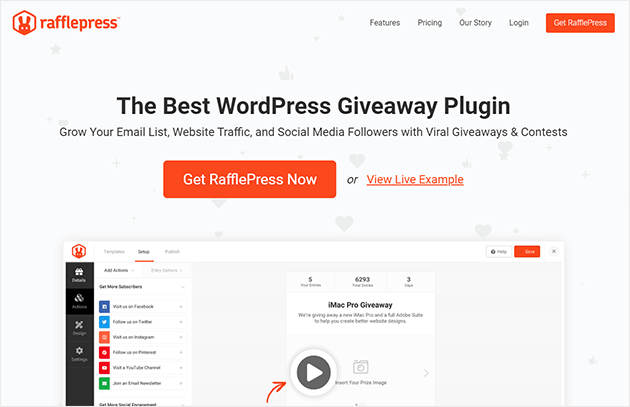 Next on our list is RafflePress, the best WordPress giveaway plugin. If you're looking to grow your email list fast, running a giveaway is a smart move. And RafflePress makes it super easy.
With RafflePress, you can set up a giveaway in minutes. You pick the prize, set the rules, and you're good to go. People enter the giveaway by completing tasks like signing up for your email list, sharing your site, or following you on social media.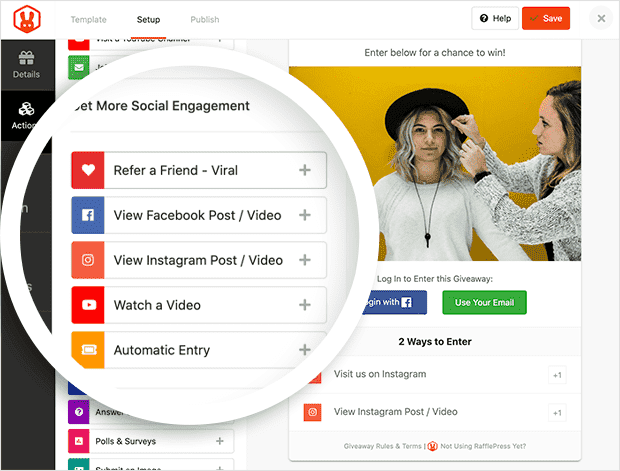 The plugin covers all major social media networks, including LinkedIn, Instagram, Facebook, X (formerly Twitter), Pinterest, YouTube, TikTok, and even Twitch.
The best part is all these new emails can go straight into your Constant Contact list, ready for you to send email campaigns. No need to copy and paste or move things around. It's all automatic!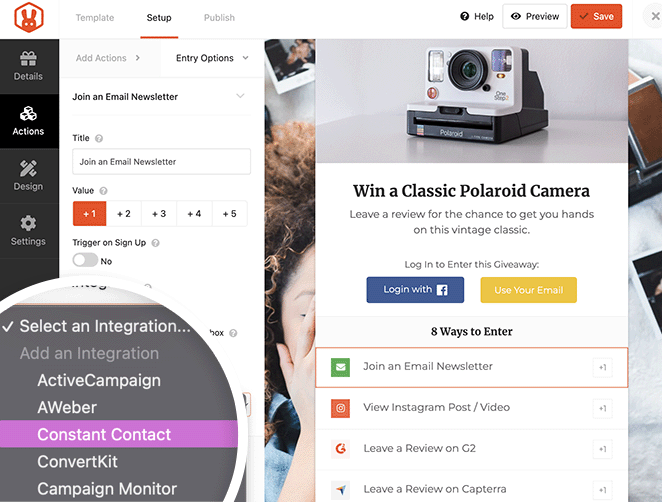 RafflePress is not just about giveaways, though. You can use it to show off social proof, like how many people have signed up or won prizes. This makes your site look popular and trustworthy.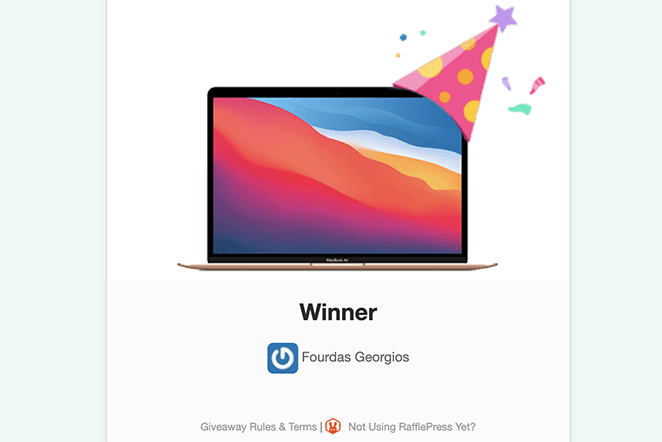 And don't worry, it's easy to use. You can pick from ready-made giveaway templates, tweak them to fit your brand, and publish your campaign with a landing page or WordPress blocks.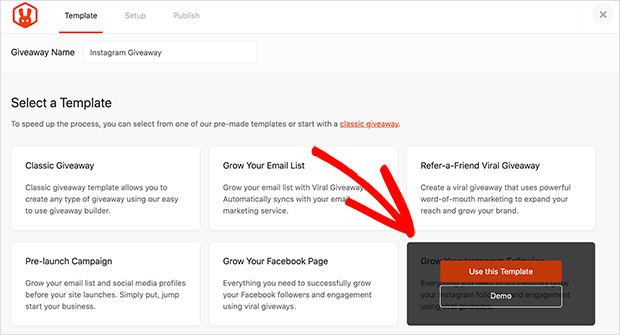 Plus, RafflePress works well with all the popular WordPress themes.
Pricing: RafflePress starts at $39.50 for a single site. For email integrations like Constant Contact and Mailchimp, you'll need the Pro plan starting at $99.50. They also offer a free version with basic features.
Get Started with RafflePress Today.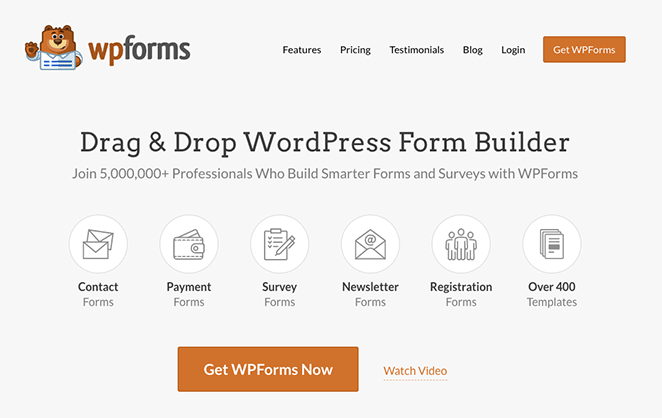 Another great tool that works like a charm with Constant Contact is WPForms, the best WordPress form builder plugin. If you need to make forms for your WordPress site to accept form submissions, this is the tool for you.
WPForms lets you make all kinds of forms. You can make a simple contact form, a survey, or even a payment form if you sell products or services. Every time someone fills out a form, their info can go right into your Constant Contact list.
Setting it up is a breeze. You drag and drop the fields you want, like name, email, or phone number. Then, you link it to Constant Contact with just a few clicks. No need to be a tech wizard.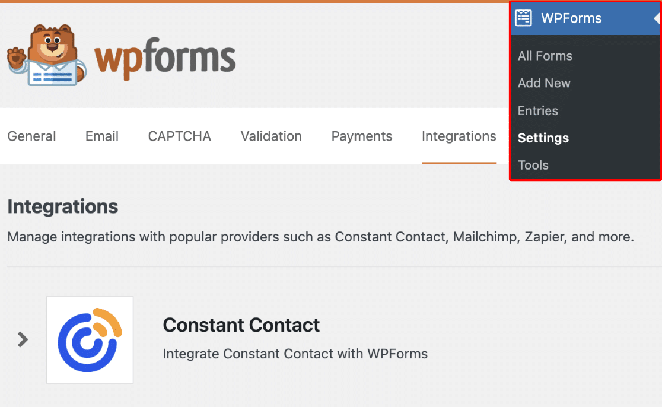 WPForms also has smart features to fight spam and keep your site safe. Plus, it's mobile-friendly, looks good, and works well on phones and tablets.
And if you're worried about how it will look, don't be. WPForms lets you change colors, fonts, and even the layout to match your site perfectly.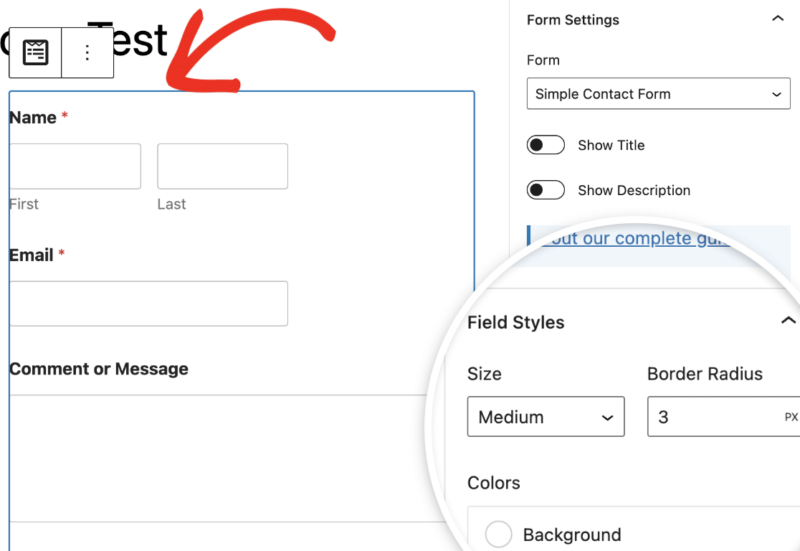 Pricing: WPForms has a free version with basic features. If you want more, prices start at $39.50 for one site.
Get Started with WPForms Today.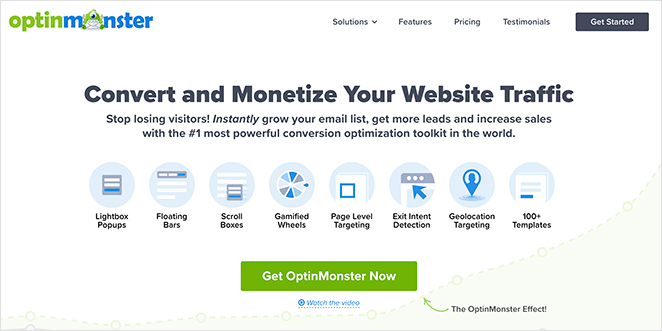 Next up is OptinMonster, one of the best lead generation toolkits and popup plugins. It's a fantastic tool for anyone wanting to grow their email list, and it pairs well with Constant Contact.
OptinMonster is all about getting your site's visitors to take action. Whether it's to sign up for a newsletter or grab a special offer, this tool makes it happen.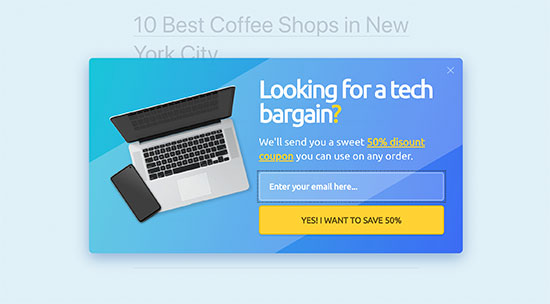 And all those new email addresses can go directly into your Constant Contact list.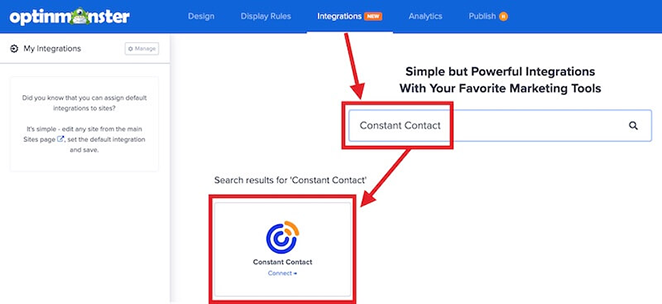 Setting it up is simple. Choose a design, add your text and images, and decide where you want it to appear on your site. You can even set it to show at specific times, like when someone is about to leave your page.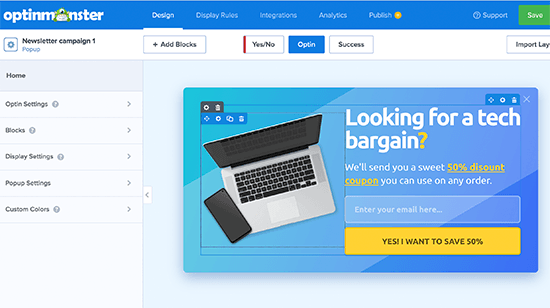 Moreover, OptinMonster can figure out what people are interested in while they're on your site. So, you can show them offers or messages that they'll really care about.
Plus, it's fast and won't slow down your website.
Pricing: OptinMonster starts at $9 a month.
Get Started with OptinMonster Today.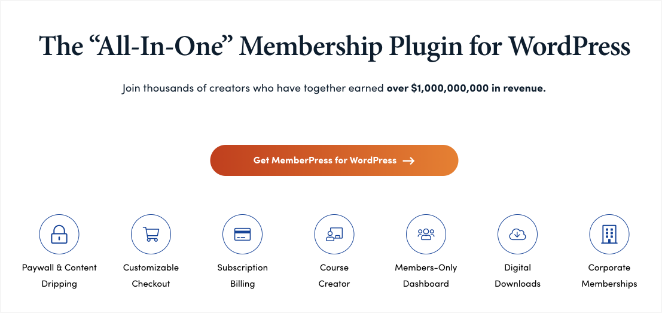 Continuing our list, we have MemberPress, one of the best WordPress membership plugins. It's a top choice for anyone who wants to make a membership site, and it integrates easily with Constant Contact.
MemberPress lets you set up a membership site in a snap. You can offer special content, courses, or digital products only to members. And when someone becomes a member, you can update contacts in Constant Contact automatically.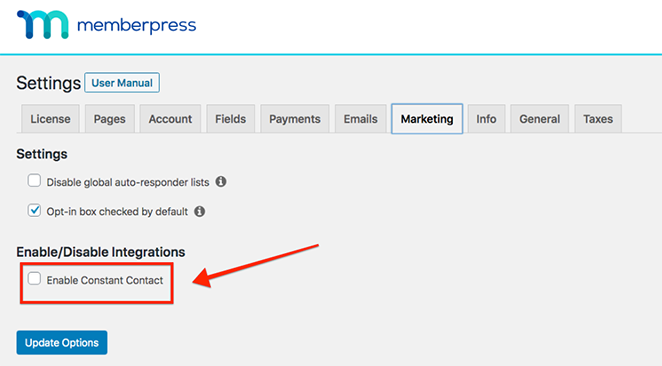 Setting up MemberPress is easy. You choose what to offer and how much to charge. Then, you set up rules for who can see what on your site. You can do all of this without touching a single line of code.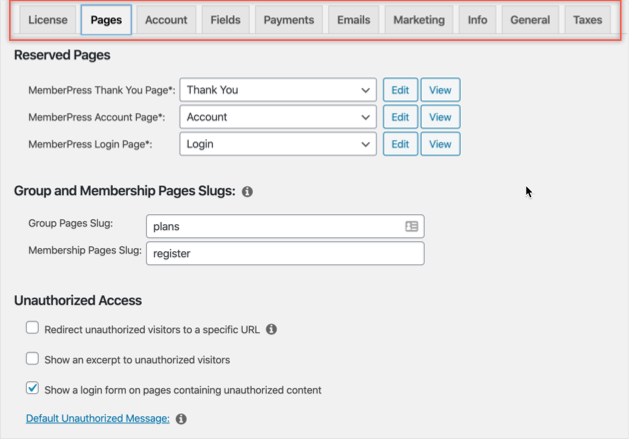 What's great about MemberPress is that it also works with other tools you might be using, like online forums or e-learning platforms. So you can offer even more to your members.
And if you're worried about payments, MemberPress has built-in features to handle them safely and easily.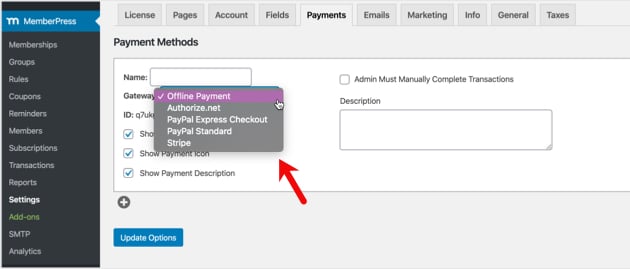 Pricing: MemberPress starts at $179.50 per year for one site. They don't offer a free version but have a 14-day money-back guarantee.
Get Started with MemberPress today.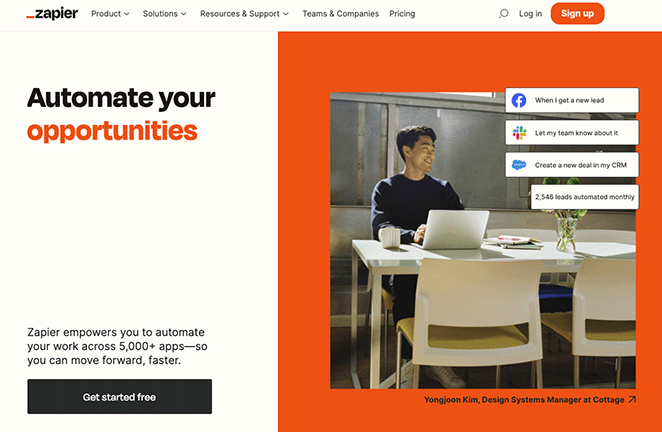 Next in line is Zapier, a tool that's like a magic wand for your website. It can connect Constant Contact to almost any other app you use via its API, so you can do much more without extra work.
With Zapier, you set up 'Zaps,' which are like mini-tasks. For example, you can make a Zap that sends new emails from a contact form straight to your Constant Contact list. Or, if someone buys something from your online store, you can add them to a special customer list in Constant Contact.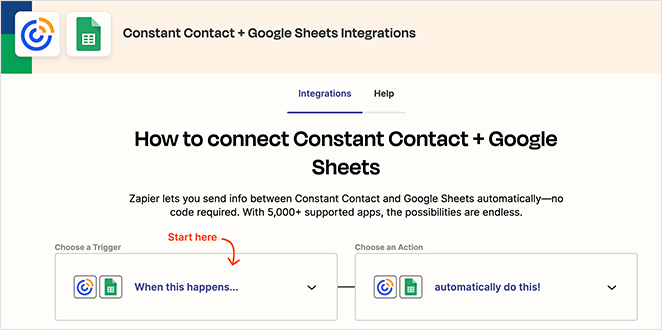 Setting up a Zap is super simple. You pick the apps you want to connect, choose what should happen, and Zapier does the rest without coding.
Zapier can connect to over 2,000 apps, so the sky's the limit. You can link Constant Contact to things like Google Sheets, Slack, Klaviyo, Google Contacts, Microsoft Outlook, Gmail, HubSpot CRM, or even your calendar.
Pricing: Zapier offers a free plan with limited Zaps. If you need more, paid plans start at $19.99 per month.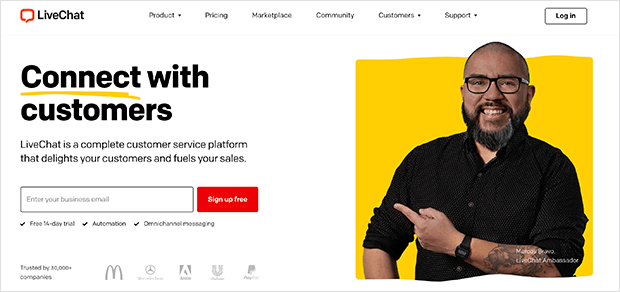 Last on our list, but definitely not least, is Live Chat, the best live chat plugin for WordPresss. If you want to talk to your website visitors in real time and sync their details with Constant Contact, this is the tool for you.
Live Chat lets you chat with people while they're on your site. You can answer questions, help them find what they're looking for, or even help them make a purchase. And the best part? You can add their email to your Constant Contact list right from the chat window.
Setting up Live Chat is a walk in the park. You add a small piece of code to your WordPress site, and the chat box appears. You can even pick how it looks to match your site's style.
Additionally, Live Chat keeps track of the chats you've had. So, you can look back and see what questions people often ask or what problems they run into. This can help you make your site even better.
Pricing: Live Chat pricing starts at $20 per month. They also offer a 14-day free trial to test it out.
How to Integrate Constant Contact with WordPress
So, you're sold on the idea of adding more tools to your Constant Contact toolbox. But how do you actually make them work together with your WordPress site? Don't worry, it's not hard.
Step 1. Sign In
First, ensure you're signed in to your Constant Contact account and WordPress dashboard.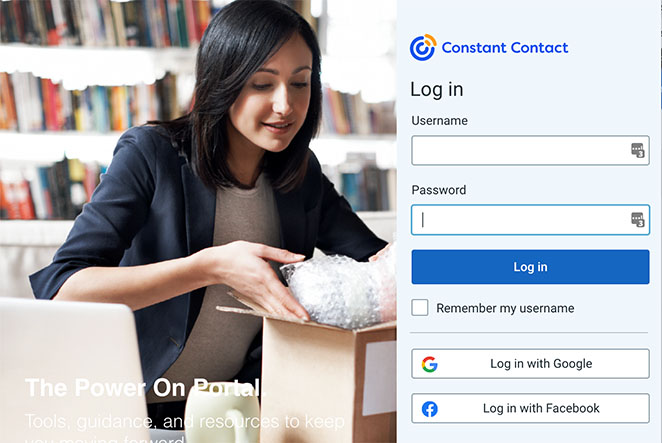 Step 2. Pick Your Tool
Next, choose the integration tool you want to use. This could be a plugin or another service from this list that works well with Constant Contact. For this demonstration, we'll use SeedProd.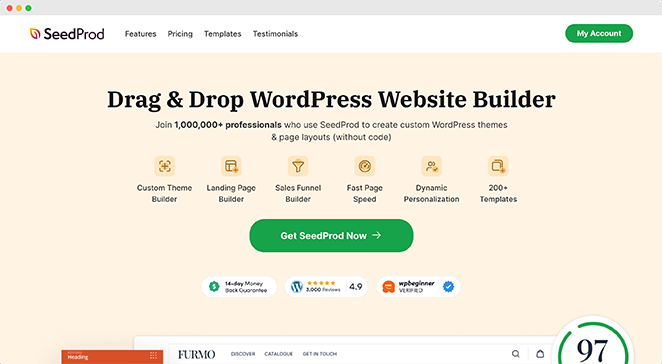 Step 3. Install and Activate
If it's a plugin, go to your WordPress dashboard. Click on 'Plugins,' then 'Add New.' Search for the plugin and click 'Install,' then 'Activate.'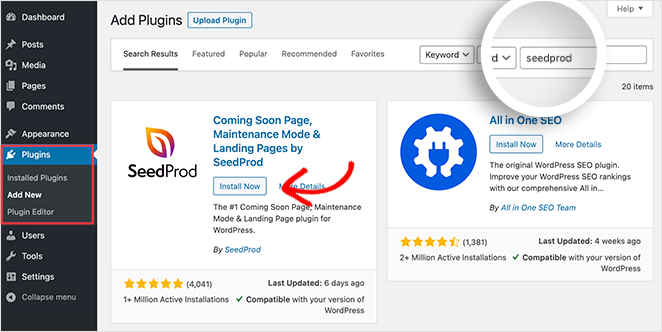 Alternatively, you can upload the plugin from your computer.
Step 4. Link Accounts
Now, you'll usually see a new menu in your WordPress dashboard for the plugin.
Go there and find the option to connect it to Constant Contact. You might need to enter some info or click a few buttons.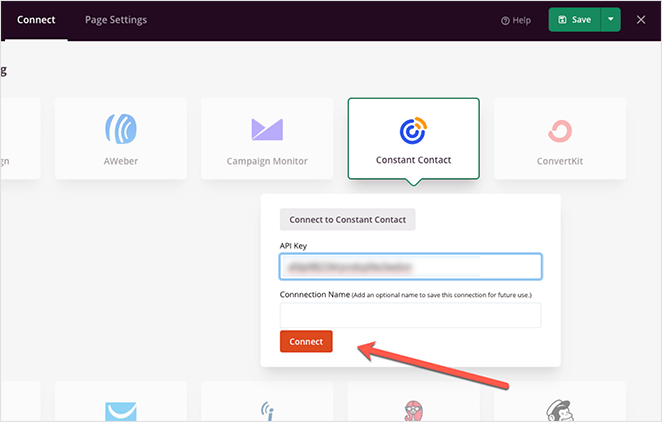 Step 5. Test It Out
Last step. Send a test email or try out the new feature to ensure it works correctly.
And that's it. You've just set up your Constant Contact and WordPress integration. Now, you can do even more with your emails.
Ready to Supercharge Your Email Marketing?
These are the top tools that make Constant Contact and WordPress best friends. From building pages with SeedProd to running giveaways with RafflePress, you have many choices.
And don't forget about making forms with WPForms, catching eyes with OptinMonster, offering memberships with MemberPress, automating tasks with Zapier, and chatting live with Live Chat.
Remember, the right tools can make your email marketing super strong. They save you time and help you do more with less work.
So, why wait? Pick the ones that fit your needs and start growing your business today!
Constant Contact Integrations FAQs
Is Constant Contact Worth It?
Yes, Constant Contact is a robust email marketing platform offering many features, including automation, list segmentation, and analytics. Its integrations further enhance its capabilities.
How Do I Integrate Constant Contact with WordPress?
The easiest way to integrate Constant Contact with WordPress is through a plugin like SeedProd, which allows you to create opt-in forms that sync directly with your Constant Contact lists.
Can I Use Constant Contact for Webinars?
While Constant Contact doesn't offer webinar features, you can easily integrate it with other platforms, such as Eventbrite, using tools like Zapier.
What Are the Best Constant Contact Integrations for eCommerce?
For eCommerce, plugins like MemberPress offer seamless integration with Constant Contact, helping you manage your membership sites. You can also use a combination of WooCommerce and SeedProd to create a custom online store.
Are There Any Free Constant Contact Integrations?
Zapier offers a limited free version that allows you to connect Constant Contact with hundreds of other apps and services. Constant Contact also integrates with Shopify, Salesforce, Vimeo, and Google and Facebook ads.
We hope this guide has helped you find the best Constant Contact integrations for WordPress. Here are some other helpful guides on integrating you email list with WordPress:
Thanks for reading. Please follow us on YouTube, Twitter, and Facebook for more helpful content to grow your business.