Are you investigating the best website builders for your business? When it comes to choosing one, having the best website builders compared for you makes things a lot easier. We're here to help!
Choosing a top website builder isn't as simple as looking at pricing and deciding which looks best. As a business owner, you need to consider many factors. For instance, what are the features, web design capabilities, integrations, and customer support like?
With this in mind, we've hand-picked the best website builders and will show you how to choose the one for your needs.
Before we start, how do you choose a good website builder?
How to Choose Between the Best Website Builders
Website building platforms make it easy to build your own website with minimal effort and no manual coding skills. As a result, you can create a professional website design without hiring a professional.
Before picking the best website builder, think about your business plan. What site builder features will help you meet your long-term small business website and marketing needs?
Your marketing needs might include having:
Blogs
An eCommerce store
Photos of products or services
Appointment booking
Contact forms for specific departments
Social media buttons
Live chat customer support
You can always look at what your competitors are doing and jot down some ideas for inspiration.
Many top website builders include drag-and-drop functionality to help you build your business website. To get a feel for how they work, you can use their free trials or money-back guarantees before deciding.
After, you need to think about the growth of your website. Will you add extra features as your audience grows or add more products to your store in the future?
Any good website builder you choose must be able to handle your needs as a growing business.
Most Important Factors of the Best Website Builders
There are a few things to definitely consider when comparing the best website builders:
Ease of use: Your site builder must be easy for beginners. It should come with a drag-and-drop website builder, flexible customization options, and intuitive editing tools.
Essential features: Your website builder should have plenty of website templates and the ability to add 3rd-party marketing tools, email integration, and Google Analytics, among other add-ons and apps.
Customer support: Besides an easy-to-use builder, you should get access to 24/7 customer support if you face issues.
Data ownership: Pay particular attention to your terms of service to ensure you own your data, and if you need to switch platforms, it's easy to migrate.
Value for money: Look at the features each website builder offers and see if they're worth the price. Ask questions like:

Do they provide a free domain, SSL certificate, and business email?
Do they have the subdomain and email marketing tools you need?
Can you connect with apps, widgets, add-ons, and plugins you want?
If not, how much would you need to spend to add those functionalities?
After considering the criteria above, you can decide on the best website builder for your brand.
Best Website Builders for Small Businesses
Now that you know how to choose one, let's look at the top website builders for your small business site.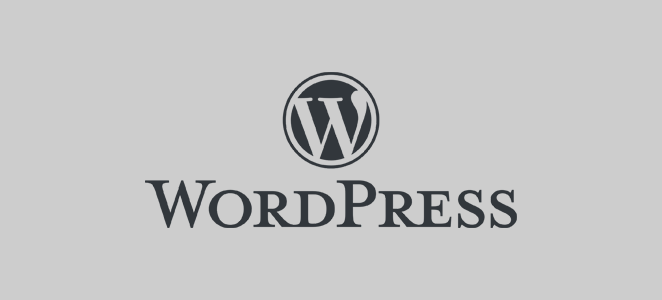 WordPress.org, or self-hosted WordPress, is the most popular website building platform and content management system globally. It powers over 39% of all websites and offers tons of flexibility. Since WordPress is so universal, it belongs on every list of best website builders.
Not only is WordPress free and open-source, but it's also powerful, easy to use, and offers plenty of bandwidth to scale your website. Plus, you have complete control and ownership of your content.
Since the company Automattic runs both WooCommerce and WordPress, this is one of the top website builders for online stores by design for users who want to use WooCommerce.
Unlike other popular website builders, unless you're very tech-savvy, you will need WordPress hosting for your website. Our personal favorite is Bluehost.
WordPress.org Website Builder Pros
As mentioned above, WordPress gives you complete control over every part of your website. It easily slides onto this list of the best website builders because you can oversee:
eCommerce stores
Online forums
Social media networks
Personal blogs
Subdomains
Widgets
There are thousands of free and premium WordPress website design themes. It also has various versatile drag-and-drop page builders like SeedProd, Divi, and Beaver Builder. This allows you to create stunning landing pages and see them in real-time, rarely having to leave the backend.
Besides a massive library of themes, thousands of free WordPress plugins are available. You can enhance your site's functionality and make it more feature-rich with plugins.
For instance, you can use plugins to add shopping carts, Google Analytics, photo galleries, contact forms, and more.
Another great thing about WordPress is that it comes with various search engine optimization (SEO) tools to help your website rank better. Plus, you can easily translate your website into multiple languages and use it to create multilingual websites.
Because of these powerful features, WordPress.org's open-source setup makes it the best website builder and content management system for bloggers, small businesses, and any other website.
WordPress.org Website Builder Cons
One drawback of WordPress.org is you need to manage the website on your own. Making yourself familiar with a new website system has a learning curve, yet this is easy to overcome with time and practice.
Another pitfall is you need to create backups and update your website yourself.
WordPress.org Website Builder Pricing Plans
WordPress.org is a free website builder. However, you need paid plans for hosting and domain names. Again, we highly recommend checking out Bluehost as a great all-around hosting service.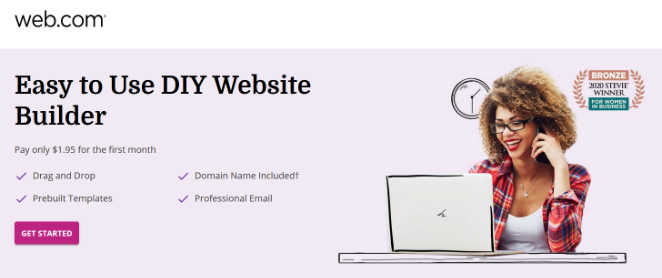 Web.com is one of the original and most popular website building systems. It lets you quickly and easily build a website at a very affordable price.
Web.com Website Builder Pros
Web.com's drag-and-drop website builder makes it easy for beginners and pros to build a website. The builder comes with powerful features you can add to your sites like photo galleries, videos, contact forms, testimonial sliders, social media buttons, and more.
Plus, Web.com offers various professional website design templates. All templates are mobile-friendly, so your site will look great on any desktop or mobile device. You can also customize your images, fonts, and colors by pointing and clicking. This makes it easy to create a professional website in no time.
All Web.com plans include a free domain name, business email address, website security, autosave and backup features, website analytics, and other essential tools.
If you ever need help with your website, Web.com also offers unlimited chat and phone support.
Web.com Website Builder Cons
While Web.com includes all you need to create a website, it doesn't offer as many powerful blogging features as other builders like WordPress.org.
If you want to start an online store, Web.com limits you to only 50 products. But, if you want to create a larger eCommerce site, you might want to look at other best website builders for eCommerce on this list.
Web.com Website Builder Pricing Plans
Starter: Starts at $1.95 per month
Marketing: Starts at $2.95 per month
eCommerce: Starts at $3.95 per month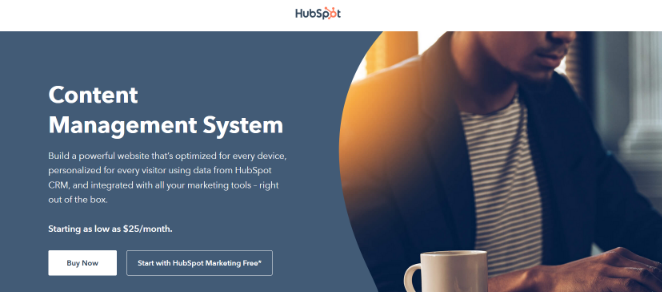 HubSpot Website Builder is a powerful all-in-one site builder using HubSpot's well-known customer relationship management (CRM) platform and marketing automation tools.
You can create an optimized website for every desktop and mobile device with these tools. Plus, your site can be personalized to each visitor, helping you rank better on search engines.
You walk away looking like a website-building guru, thanks to how professional your website is!
HubSpot Website Builder Pros
The HubSpot website builder offers pre-built website themes and a user-friendly drag-and-drop editor to help you create a successful website in minutes.
It also comes with unique features like adaptive testing, earning it a spot on this list of the best website builders. This lets you choose up to 5 different web page variations, and HubSpot monitors and serves the best performing option to visitors.
Plus, you can personalize your website content based on location, desktop or mobile device, source, language, or other details stored in your HubSpot CRM.
In addition, the HubSpot website builder comes with extra tools for your small business, such as email marketing, live chat customer support software, and detailed analytics.
HubSpot Website Builder Cons
HubSpot's bandwidth is best suited for creating landing pages and simple small business websites. If you want to create an online store, an advanced business website, or have a lot of add-ons, WordPress.org may be a better choice.
The marketing automation features might have too much of a learning curve for beginners.
HubSpot Website Builder Pricing Plans
Basic CRM Tools: Free
CMS Plan: Starts at $23 per month
Marketing, Sales, Customer Service, and Operations Plans: Start at $45 per month
Bundles: Start at $45 per month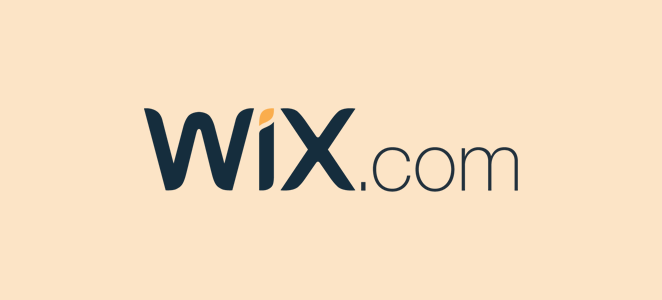 Wix.com is a popular website builder using the cloud. It lets you create a website easily with its beginner-friendly interface and plenty of powerful features.
Wix Website Builder Pros
Wix's website creator is a fully hosted solution, so everything is handled for you. There is a minimal learning curve.
There's a wide variety of website templates for your website design. Every Wix template is easy to edit with its drag-and-drop website builder.
This website solution comes with various free and paid apps to extend your site's functionality. Some are made by Wix, while 3rd-party developers create others.
The intuitive features make Wix easily one of the best website builders out there.
Wix comes with a free plan with limited storage and bandwidth. Use it to test drive Wix's features before making a huge commitment since no credit card is required. Should you decide to keep your website, upgrade to the premium paid plan for a domain name and SSL certificate.
Wix Website Builder Cons
The Free and Connect Wix plans show branded advertisements on your website. To remove them, upgrade to the Combo or Unlimited plan.
Should you ever wish to move your website away from Wix, the process is complicated. They offer very little support and don't like to work with plugins that help automatically move to new domains. Instead, you need to go through several steps and go back and forth between Wix and your new host until the process is complete.
Wix Website Builder Pricing Plans
Wix's free plan comes with a Wix branded subdomain. Connecting a custom domain name costs $9.16 per month.
Website Paid Plans: $16 to $45 per month
Business and eCommerce Paid Plans: $27 to $59 per month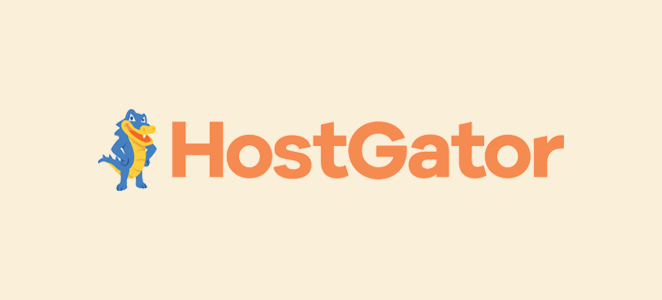 Gator Builder is a website builder by a popular web host, HostGator. It's an all-in-one website solution, which is helpful for small businesses.
Gator Builder Pros
Gator Builder sites are fully hosted by HostGator, so you won't need to worry about backups and updates.
The easy-to-use website builder includes over 200+ web design templates. Each layout has intuitive customization options you can access inside the builder, making your professional site genuinely unique to your small business.
Gator Builder's point-and-click interface lets you edit items on your website. You can also drag and drop page elements, such as images, contact forms, videos, font, and columns.
All Gator Builder's paid plans come with a free custom domain name and the option to set up an online store. What's more, they won't show ads or sell your data.
Customization is the name of the game with Gator Builder, which is how it ended up on this list of top website builders.
Gator Builder Cons
Gator Builder doesn't currently offer a paid plan or a free trial. You also can't hire a developer to modify your web design or build new features.
Gator Builder Pricing Plans
Start: Starts at $3.84 per month
Site: Starts at $5.99 per month
Store: Starts at $9.22 per month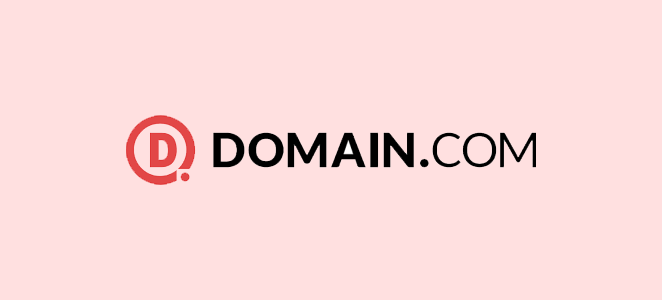 Domain.com is an intuitive website builder that allows you to create any type of website. You can be a professional blogger, small business website owner, or online entrepreneur with just a few clicks.
Domain.com Website Builder Pros
Domain.com has an intuitive drag-and-drop website builder, which makes starting super-quick. It includes hundreds of professional website templates, all of which you can customize using on the backend while viewing your web design in real-time.
The templates are mobile responsive, so they look great on mobile phones, tablets, desktops, and laptops. Further, Domain.com provides powerful website features like website analytics, blogging, eCommerce functionality, and a free SSL certificate.
With Domain.com's eCommerce plan, you manage your store's inventory, tax, coupons, and much more. They also offer phone and live chat customer support should you need help.
Domain.com Website Builder Cons
Domain.com doesn't offer a free website builder option or a free trial. That said, they do have a money-back guarantee.
Their starter plan is currently limited to only 6 pages. For more web pages, upgrade to their business plan.
But, if you only need a simple site at a low cost, this could be the best website builder for you.
Domain.com Website Builder Pricing Plans
Starter: Starts at $1.99 per month
Business: Starts at $6.99 per month
eCommerce: Starts at $12.99 per month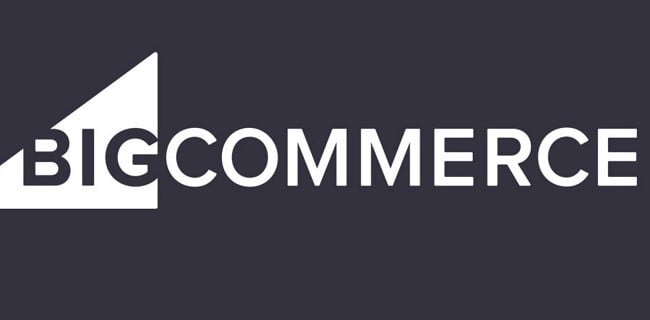 BigCommerce is the best website builder for eCommerce. It comes with everything you need to create a successful eCommerce store in its robust platform.
BigCommerce Website Builder Pros
Since BigCommerce is fully hosted, you won't have to worry about security, website backups, and updates. All technical stuff is handled for you, so you can focus on growing your online store and keeping your customers happy from the moment they arrive until they empty their shopping carts.
BigCommerce includes native WordPress integration, so you can take advantage of the powerful features both platforms have to offer. No matter how much traffic your website gets, it will remain fast and secure.
You can integrate your BigCommerce website with various payment gateways, including:
PayPal
Apple Pay
Square
Amazon Pay
Visa Checkout
Unlike Shopify, BigCommerce won't charge a transaction fee.
It's easy to start your website with pre-made templates, which you can customize in the drag-and-drop builder. There are tons of features to optimize your store, such as cart abandonment, product search, and product reviews.
You can connect with 3rd-party apps via their app store if you need extra features.
BigCommerce Website Builder Cons
If this is your first-ever website, BigCommerce's pricing may be higher than you were expecting. Migrating away from BigCommerce is also tricky since its code is made specifically for their site and no one else's.
BigCommerce Website Builder Pricing Plans
Standard: $29.95 per month
Plus: $79.95 per month
Pro: $299.95 per month
Enterprise: Contact BigCommerce
You might also like these BigCommerce alternatives.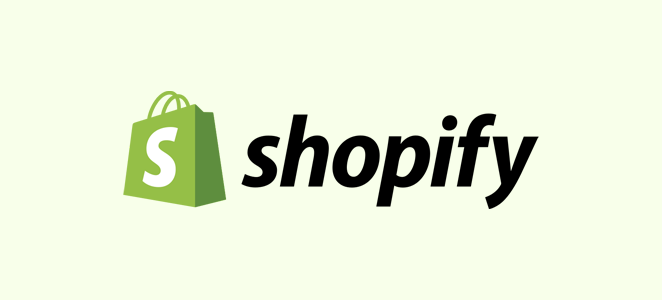 Shopify is another eCommerce website builder for online stores. More than half a million businesses are powered by Shopify, selling over 40 billion dollars worth of products.
Shopify Website Builder Pros
Shopify is fully hosted, so you won't need to manage any software, keeping backups or updates. Instead, Shopify handles everything for you.
To accept credit card payments, you can use Shopify's integrated payments system, Shopify Payments. Plus, it's possible to add 3rd-party payment gateways.
Since Shopify is an eCommerce website builder, it offers inventory management, unlimited products, store statistics, a clean shopping cart function, and marketing tools in 1 package. They also have hundreds of online store templates requiring no coding.
Shopify's drag-and-drop interface makes it intuitive to build a fully-fledged online store using your chosen template. You can also integrate it with WordPress to use both platforms simultaneously. It's one of the best website builders because it's so ubiquitous that its developers know to stay on top of things.
They also offer a 14-day free trial with no credit card–meaning no accidental payments. You can fully set up your store during this trial period to ensure this is the perfect website builder for you.
Shopify Website Builder Cons
Pricing plans for Shopify may be costly. If you decide to move away from Shopify, the process could also be tricky.
Shopify Website Builder Pricing Plans
Shopify Lite: $9 per month (only adds purchase buttons; is not a site builder)
Basic: $29 per month
Shopify: $79 per month
Advanced: $299 per month
Shopify Plus: Starts at $2,000 per month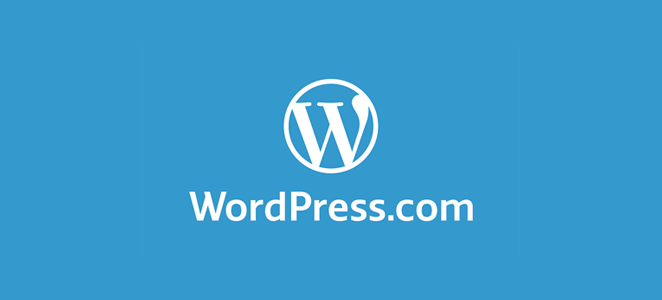 WordPress.com is a blogging and website hosting service created by Matt Mullenweg, co-founder of WordPress.org.
That being said, WordPress.com isn't the same as WordPress.org. For more details, check out this comparison of WordPress.com vs. WordPress.org.
Despite their many similarities, they both deserve separate spots on this best website builder list.
WordPress.com Website Builder Pros
WordPress.com is built on WordPress software but offers a different user experience. Since WordPress.com takes care of everything, you won't need to worry about updates or backups.
While the free and paid plans have different features, they allow you to choose from thousands of free WordPress themes. Then you can use the live customizer to edit your site, add widgets, navigation menus, and connect other add-ons.
Although it doesn't include the drag-and-drop functionality as other site builders, it allows you to easily customize your website's main elements. It also has powerful editing tools that are super-helpful for bloggers and works with WooCommerce for online small business owners.
WordPress.com Website Builder Cons
With WordPress.com, you can't install custom plugins or themes without upgrading. Plus, premium plans and below don't have access to eCommerce features.
Another pitfall of WordPress.com is you don't own your content, so it can be taken down if you breach terms and conditions.
WordPress.com Website Builder Pricing Plans
WordPress Free: $0
WordPress Pro: $15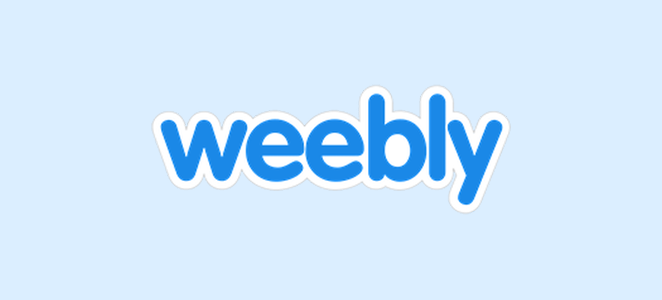 Weebly is a user-friendly site builder with a variety of excellent website designs and plenty of functionality. Plus, it includes a user-friendly page builder to edit your website without coding.
Weebly Website Builder Pros
Weebly is a hosted website solution. As such, you don't need to worry about backups and updates. Instead, Weebly takes care of hosting your website and backend software.
You can choose from dozens of beautiful templates as a starting point for your Weebly site design. Then, you can customize them in the live page editor.
As well as an intuitive interface, Weebly has built-in eCommerce support. As such, you can create an online store quickly and easily.
Every Weebly website lets you add contact forms, sliders, photo galleries, and more.
Weebly Website Builder Cons
Since Weebly.com is a hosted website solution, you're locked into their features. It also charges a 3% transaction fee on any purchases on your eCommerce store. To avoid these fees, upgrade to a paid plan.
Weebly Website Builder Pricing Plans
Free Basic Use: $0
Personal: Starts at $6 per month
Professional: Starts at $12 per month
Performance: Starts at $26 per month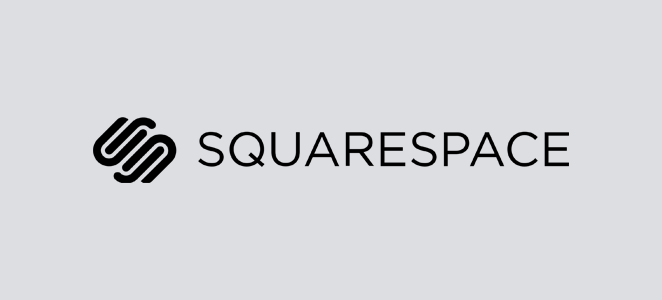 Squarespace is a popular website builder known for its stunning designs and ease of use.
Squarespace Website Builder Pros
Squarespace comes with enterprise-level infrastructure to host your website. As such, you can grow your website without worrying about hosting.
Squarespace's visual editor makes each design fully customizable and won't need manual coding. You can choose from various professionally designed website layouts to get started quickly. You can even use more than one template for the same site.
Adding content is as easy as clicking anywhere on your page and typing. You can also drag and drop various elements onto your page to create layouts.
With Squarespace's eCommerce plan, you can also turn your website into an online store. You can then use their interface to manage your products, inventory, orders, and more.
Squarespace Website Builder Cons
Squarespace doesn't offer many integrations with 3rd-party services. Their eCommerce plans are also limited to Stripe, Apple Pay, and PayPal for payments.
Squarespace Website Builder Pricing Plans
Personal: $14 per month
Business: $23 per month
Basic Commerce: $27 per month
Advanced Commerce: $49 per month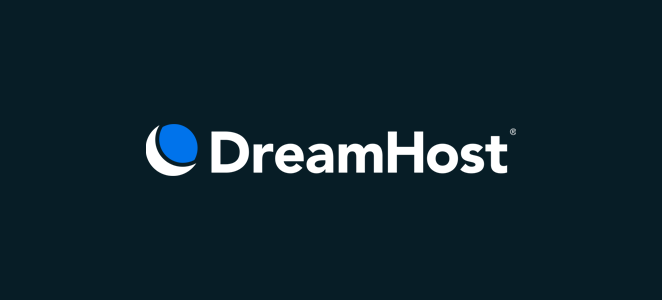 DreamHost's site builder is built on top of the WordPress platform, allowing you to intuitively create websites for your small business. You can use it with all their hosting plans, and it includes a free custom domain name.
DreamHost Website Builder Pros
As mentioned above, DreamHost's WP builder is built right on top of WordPress. This allows you to take advantage of WordPress's powerful features and a custom user interface.
You can choose from a range of professional web designs and customize them in the drag-and-drop feature. It's also easy to change colors, layouts, fonts, and menus by pointing and clicking.
If you want to test your website before making it live, you can use DreamHost's staging site. You can also use the "what you see is what you get" (WYSIWYG) page editor to remove the guesswork from content editing.
Since DreamHosts's WP builder is built with WordPress, you can create any type of website for your business. It's also easy to add extra functionality, SEO and social media features, WooCommerce, and many other essential add-ons.
DreamHost Website Builder Cons
DreamHost's website builder uses self-hosted WordPress.org, so you need WordPress hosting. Unfortunately, DreamHost doesn't have a free website builder plan, but they have a 97-day money-back guarantee.
DreamHost Website Builder Pricing Plans
Shared Starter: Starts at $2.59 per month
Shared Unlimited: Starts at $3.59 per month
Dreampress Starter: Starts at $16.95 per month
Dreampress Plus: Starts at $24.95 per month
Dreampress Pro: Starts at $71.95 per month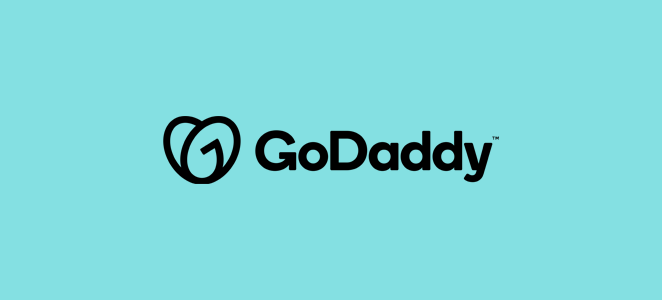 GoDaddy is one of the biggest website hosting companies and domain name providers. They also offer a simple website builder complete with website hosting focused on ease of use.
GoDaddy Website Builder Pros
GoDaddy's intuitive website builder lets you create professional websites in no time. The site builder's interface comes with blocks you can drag and drop onto your page to create various layouts.
You can also use the built-in photo library to add photos to your website. Or, if you like, you can upload images. They also work well with WooCommerce, so GoDaddy can function as an online store website builder.
GoDaddy website builder works seamlessly across devices, so your website looks stunning on mobile.
No credit card is required to get started. You can try out this website builder for free!
GoDaddy Website Builder Cons
GoDaddy's website builder isn't as feature-rich as other solutions on this list. It's also not as flexible as other website builders. Additionally, the process isn't entirely straightforward if you wish to migrate from GoDaddy to another website solution.
GoDaddy Website Builder Pricing Plans
You can get started with a free plan.
Basic: Starts at $6.99 per month
Premium: Starts at $13.99 per month
Commerce: Starts at $14.99 per month
Commerce Plus: Starts at $29.99 per month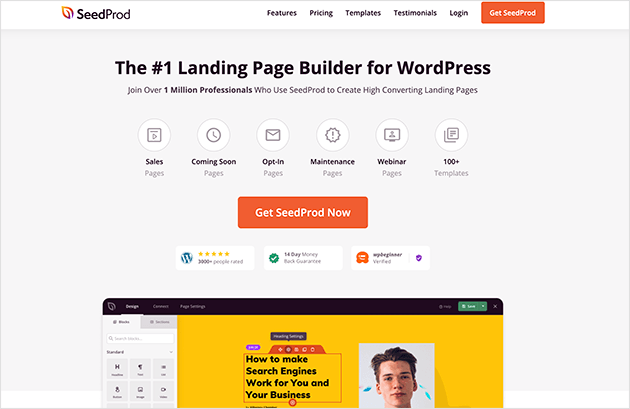 If you need an easy way to create a custom layout for your WordPress website, SeedProd is the best plugin for the job. This plugin works seamlessly with WordPress, allowing you to create entire WordPress sites from scratch without writing code or paying for a developer.
SeedProd Theme Builder Plugin Pros
You can create a WordPress website and use SeedProd's theme builder functionality to build all the crucial parts that make up your site.
You can choose from several premade theme templates to get started.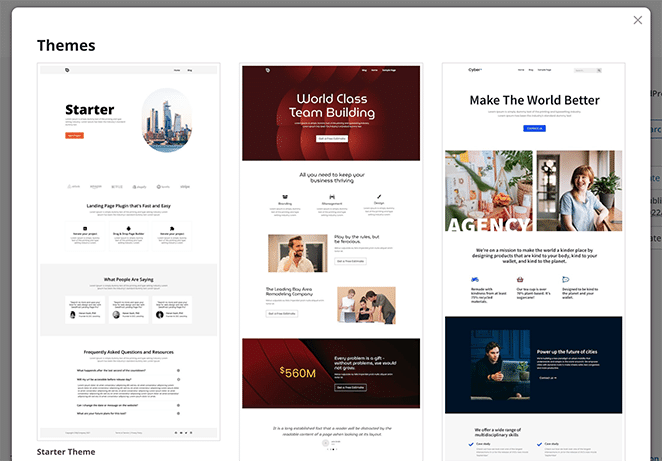 Or you can build each section of your theme one part at a time.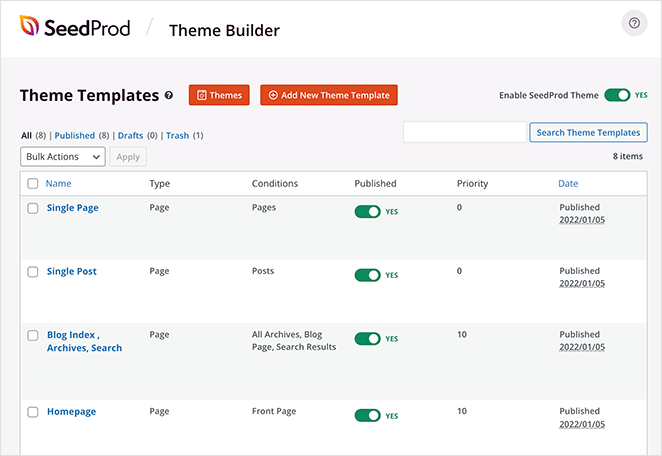 From there, you can customize each section of your website in the visual, drag-and-drop editor. All you need to do is point-and-click to create stunning layouts and see changes in real-time.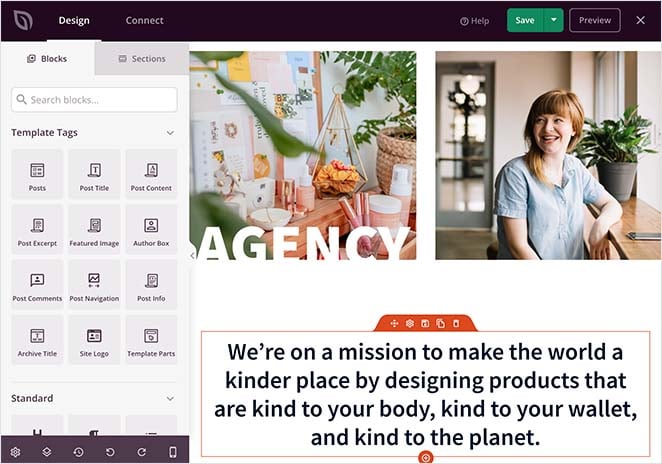 SeedProd lets you make all manner of layouts for your site, including:
Sidebars
Blog pages
Search pages
Headers
Footers
Single posts
Archives
Plus, you can spin up high-converting landing pages in just a few minutes with the Landing Page feature. You can choose from hundreds of responsive landing page templates and then easily customize them in the visual editor.
For instance, you can create sales, squeeze, thank you, and video landing pages to convert visitors into leads. And with built-in coming soon and maintenance modes, you can hide your site before it's ready.
SeedProd Theme Builder Plugin Cons
SeedProd's theme builder plugin only works with WordPress websites. If you don't use WordPress, you miss out on SeedProd's theme and landing page building functionalities.
SeedProd Theme Builder Plugin Pricing Plans
You can use a simple version of SeedProd as a free plan.
Basic: Starts at $39.50 per year
Plus: Starts at $99.50 per year
Pro: Starts at $199.50 per year
Elite: Starts at $239.60 per year
Get Started with SeedProd Today
What Is the Best Website Builder?
We believe WordPress.org is the best website builder for small businesses. It outperforms other website building solutions, has a high ease of use, and has the most flexibility.
WordPress.org is a fantastic choice for beginners and experienced users to create websites without writing code. The learning curve is relatively small, particularly for a site builder that can result in truly professional websites!
Best Website Builders FAQs
You may still have a few questions about website building–or you just want a bit of a tl;dr response! Here are answers to a few FAQs about website builders.
Which of the best website builders is easiest to use?
Wix likely has the greatest ease of use on our best website builder list. They are a full-service hosting and website building service, leaving very little work for its users. Even total beginners should be able to handle the minimal learning curve. If they struggle, reaching out to customer support is a breeze.
Are any of the best website builders free?
Several good free website builders and paid builders with free plans or trials are on the market. However, even if you stick with a free option, you may need to pay for add-ons, content management systems, plugins, custom domain names, email automation, or any other tools to help grow your business.
However, if you're looking for a very simple one-page website, check out our Best FREE One Page Website Builders list.
Are the best website builders still cheaper than hiring website designers?
Even the best website builders are usually cheaper than hiring a website designer. To pay a designer and maintain your website, expect to pay between $100 and $30,000+. This is before the salaries of any in-house website professionals.
The cost is so broad because some people only want a simple, small page that redirects to somewhere else (like an Etsy shop), while others want extensive professional websites with lots of pages and features.
What are responsive website builders?
Responsive website builders let you create sites that look great on desktop and mobile devices. The websites you make automatically change their appearances based on the device they're being viewed on.
Most of the best website builders let you preview your site as if they're on desktop or mobile directly from your computer. Some even have apps from which you can edit your site.
Beyond the Best Website Builders
We hope this article helped you find the best website builder for your business. But, successful small businesses and websites don't stop when the building is over. That's the time to dive deeply into your website builder's features.
Here are a few other resources you may find helpful as you move forward:
SeedProd is here to help you with web development, too. Not only do we have our blog full of articles like the ones above, but we are a complete drag and drop WordPress website builder ready to help you customize your site and grow your business!
If you found this article useful, follow us on Facebook and Twitter for more tips and tutorials.