Are you looking for the best CRM for your small business?
CRM software makes managing customer relationships, nurturing leads, increasing sales, and growing your small business easier. Because CRM solutions play an essential role in your business success, you must research and compare the top CRM platforms available.
In this article, we'll conduct an expert comparison of the best CRM to help you choose the right platform for your business.
What Is CRM Software?
CRM stands for customer relationship management. As the name suggests, they help manage customer data while offering customer support services.
Most companies hire a contact manager to oversee prospect and customer contact details. And in the early stages, they may even manage leads through spreadsheets or simple contact management tools.
However, those processes can become unsuitable as your business grows. For instance, lead management will take longer, and your contact database will become so large that it's near impossible to manage it manually, and you could lose sales opportunities.
CRM platforms will help you solve that by storing every aspect of your customer relationships in a database for easy access. As a result, your project management, customer service, and sales teams will have the information they need to grow your business with a few clicks.
Moreover, CRM software is excellent for nurturing customer relationships, increasing sales, and providing top-notch customer service. That means your customers will have a more efficient and personalized experience with your business.
Choosing the Best CRM for Your Business
There are many different CRM services on the market, servicing different business industries. That means, it can be overwhelming to find one that suits your small business.
Here are several tips for choosing the best CRM for startups and small businesses:
Beginner-friendly: In a recent study, 67% of businesses claimed that ease of use is one of the most important features of their CRM software. Because you'll be using it for hours daily, your CRM should be easy to use. If it's not, it won't help you achieve your business goals.
Mobile and cloud: CRM software running in the cloud is vital for ensuring you can access contacts whenever necessary. It's also faster, more secure, and easier to integrate with other tools and apps. Nucleus Research also found that 65% of companies using a mobile CRM surpassed their sales targets.
CRM features: Create a wishlist of features you need from a CRM. You can do more than store contact details with a powerful CRM platform. For example, you can connect your marketing, lead generation, and sales tools to help you manage every part of the customer journey.
Integrations: Even though the best CRMs have many features, you need them to work with the other apps and tools you use daily, such as your WordPress website, marketing automation, and lead generation tools. Ensure your chosen solution integrates easily with those platforms so your sales pipeline runs smoothly.
This is just a simple list of what to look for in CRM software. You might also want to explore the different pricing options, GDPR compliance, security, and more.
Best CRM Software for Small Businesses
Now that you know what to look for, here are our top picks for the best CRM software and how they meet the criteria above.
1. HubSpot – Best CRM for Business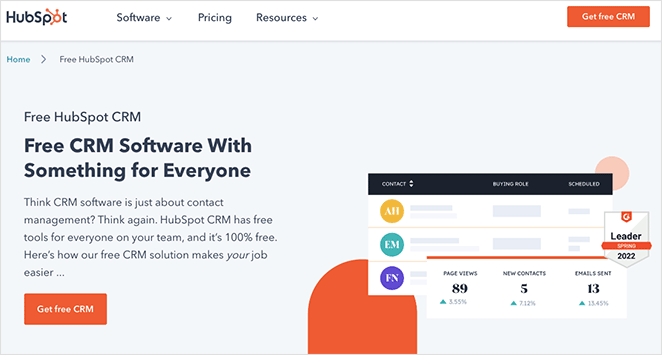 HubSpot is the best CRM for small business websites. It's a cost-effective solution offering free plans for its CRM, Sales, Marketing, Content Management, and Operations hubs.
The free version of HubSpot CRM offers unlimited contacts and users and is free to use forever. However, many of its advanced features are only available by upgrading to a paid plan.
HubSpot is easy to use, allowing you to connect the marketing, sales, and service hubs with a few clicks. Because of that, you have access to various tools to manage the customer journey effectively. You can also integrate with third-party tools, like Zoho CRM, GoToWebinar, and more.
Moreover, the user interface is clean and provides an overview of your complete sales pipeline. From there, you can see detailed reports, contact and sales activities, and user or team performance details.
HubSpot offers extensive features, including mobile apps for Android and iPhone, email templates and tracking, real-time notifications, and more.
Key Features:
Contact management and website activity
Company insights
Custom support form fields
Gmail, Outlook, and Microsoft Exchange integrations
Reporting dashboard
Email tracking and notifications
Meeting scheduling
Facebook Messenger integration
Pricing: HubSpot's core CRM features are free. You can upgrade to individual paid plans for Marketing, Sales, Customer Service, CMS, and Operations for more features. Or you can upgrade to the CRM suite bundle starting from $50 per month.
Get started with HubSpot today.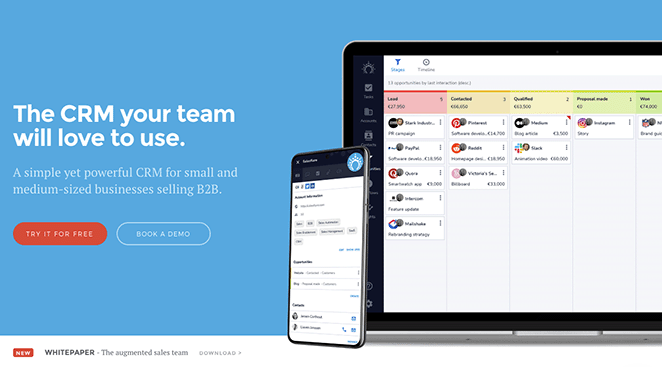 Salesflare is another powerful CRM software for small and medium-sized businesses selling business to business (B2B). It allows you to organize your contacts, making it easier to communicate and nurture leads to improve sales.
This platform gives you complete control, showing everything in a visual pipeline format in one place. From there, you can collaborate with your team, assign tasks, set up custom form fields, view real-time notifications, and see crucial insights.
Salesflare offers contact and company information autofill features. That means it will automatically fill your address book instead of requiring you to search LinkedIn and other social media channels.
Additionally, it integrates with thousands of popular email marketing services and other important business tools.
Key Features:
Smart follow-up automation tools
Automate CRM data and input
Track emails, links, and website visits
Mobile app and LinkedIn sidebar
Launch personalized email campaigns
Create custom dashboards
Set user permissions
Multiple integrations
Pricing: Salesflare has a free trial available. Their paid plans start from $29 per month, per user, billed annually.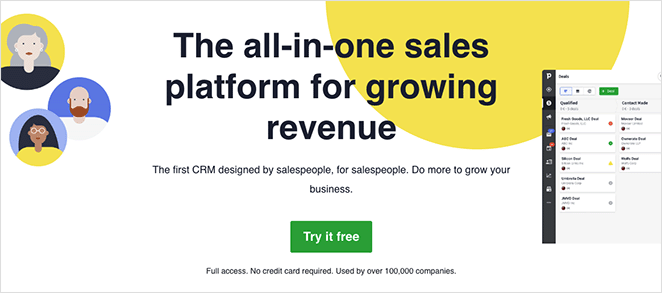 PipeDrive is an all-in-one sales CRM and pipeline management software. It includes an easy user interface with quick access to the vital customer information your small business needs.
This CRM software is designed for sales times, including sales forecast and reporting, activity logs, advanced contact details, customizable pipelines, and email integration.
PipeDrive also offers a broad range of app integrations that help you connect your CRM to other services you use currently. Additionally, you can use the mobile app for iOS and Android to stay connected at all times.
Key Features:
Management for leads, deals, calendars, and pipelines
Email sync with templates and scheduling
Group email with open and click tracking
One-click call tracking
Triggered workflow automation
Revenue projections with enhanced custom reporting
Pricing: PipeDrive plans start from $14.90 per user per month, billed annually.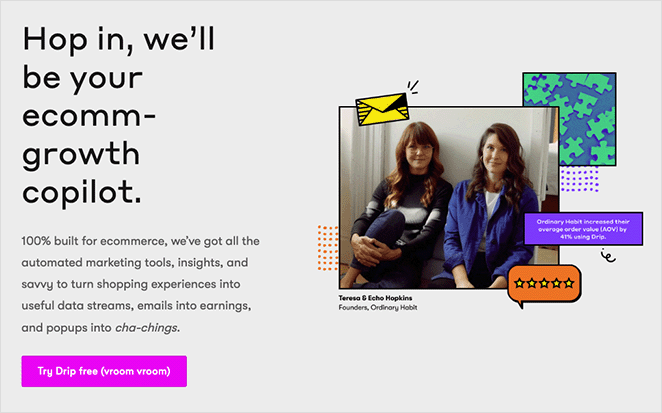 Drip is the best CRM for eCommerce businesses, designed to boost sales for your online store. Its interface is intuitive, streamlined, and powerful enough to meet your business goals.
This software has many robust features, including advanced contact management, marketing automation, eCommerce user tracking, email campaigns, and detailed reporting.
You can also use native Drip integrations for leading third-party services. Plus, you can connect to email and SMS services, lead generation software, Shopify, WooCommerce, and so on.
Want to generate leads from social media? Drip offers workflows for Facebook and Instagram, helping you tap into the massive user base of both social networks.
Key Features:
Easy audience segmentation
Automate your marketing with pre-built workflows
Grow your audience with forms and popups
Detailed analytics with revenue attribution
Built-in email templates
Integration with popular 3rd party tools
Pricing: Drip's pricing starts from $39 per month for up to 2,500 email contacts. It also offers a 14-day free trial.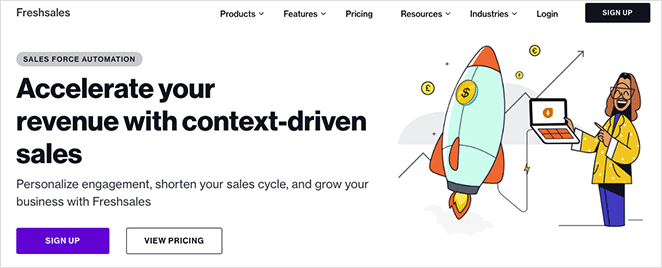 Freshsales is a popular CRM software for businesses of any size. It has a sales-based approach with tools and features to improve your conversions.
This software provides an intuitive user dashboard with instant access to phone calls, contacts, activities, emails, and reports. Plus, the interface is easy to use and offers mobile apps allowing you to make sales from anywhere, anytime.
Freshsales scores leads with its powerful AI, helping you focus on leads more likely to convert. Also, it includes conversation insights, visual sales pipelines, custom workflows, event tracking, and much more.
You can integrate Freshsales with popular third-party tools and apps; however, the number is limited for the time being.
Key Features:
Contact and account management
AI-powered contact scoring
Built-in email, chat, and phone
Multiple sales pipelines
Time-based workflows
Mobile app and WhatsApp business
Pricing: Freshsales plans start from $15 per month, per user, billed annually. It also offers a free version with basic features.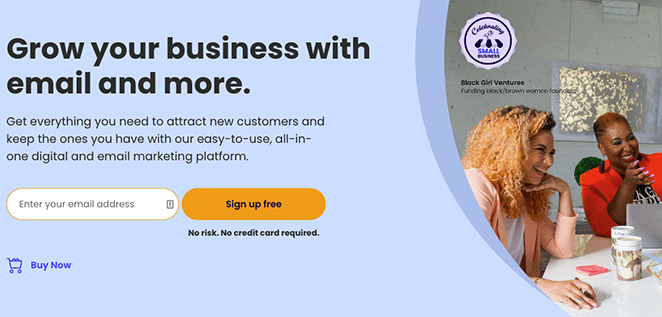 Constant Contact is a powerful email marketing and CRM software. It lets you store contacts easily, manage customer details, track customer activity, and send email marketing messages.
The platform is easy to use, providing simple reports with activity logs for every contact. With a few clicks, you can use its drag-and-drop tools to build and schedule emails and create sales funnels.
Additionally, Constant Contact offers integrations with many third-party services. For example, WordPress plugins like SeedProd can connect to Constant Contact automatically.
eCommerce stores can integrate their Constant Contact accounts with top eCommerce platforms. It also helps you capture, engage, and convert leads to paying customers.
Key Features:
Choose from hundreds of email templates
Use marketing automation to send timely emails
Boost open rates with A/B split testing
Prioritize engaged leads
Segment and track sales
Advanced workflows and reporting
Pricing: Constant Contact's pricing goes by the number of contacts, starting from $9.99 per month. To access more tools, including automated emails and sales reporting, Plus plans begin at $45 per month.
You might also like Constant Contact's Sales Accelerator all-in-one CRM platform starting at $499 monthly.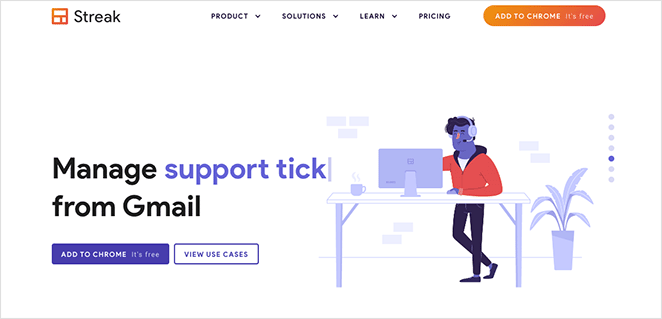 Streak is a CRM tool for free Gmail and G Suite accounts. It lets you monitor and track customer emails inside Gmail, organize and manage contacts, track leads, and manage your sales pipelines.
This software is easy to use and captures leads from your contacts automatically. For instance, you can add tasks, tags, and notes, set reminders, create custom sales pipelines, schedule email messages, and much more.
Streak offers a browser add-on, mobile apps for Android and iOS, and supports third-party integrations through Zapier and Gmail. Plus, you can share data across multiple services and tools.
Key Features:
Contact and lead tracking
Project management
Prioritize and manage support tickets
Import and export data
Mobile apps
3rd-party integrations
Pricing: Streak offers a free plan with limited features. The paid plans start from $15 per user per month, billed yearly.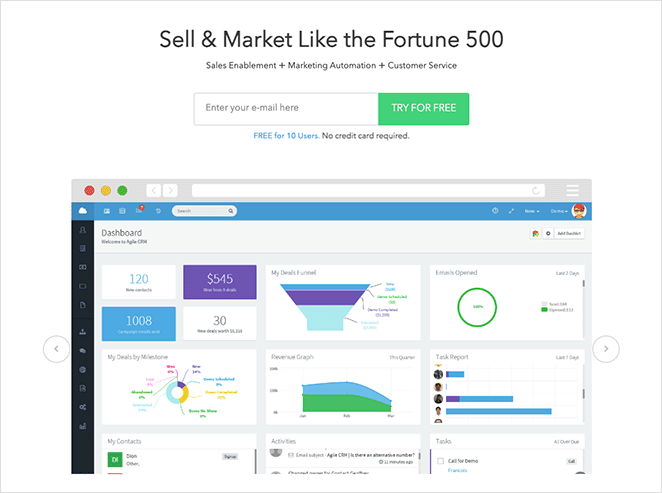 AgileCRM is a popular CRM for businesses of all sizes. It includes contact management, customer service, and sales marketing in a single, easy-to-use dashboard.
This platform offers sales tools, detailed reports, 360-degree contact views, calendars, events, timelines, project management, and more. Because it includes gamification, it helps your sales team boost sales and morale.
Accessing reports is quick and easy. For example, you can drill down to the most critical data and track everything happening across your business.
AgileCRM includes many marketing tools for capturing and generating leads. For instance, you can build landing pages and sign-up forms, send email newsletters and market your business on social media.
Key Features:
Contact management
One-click calling and voicemail automation
Schedule appointments
Marketing automation with mobile marketing
Social media integrations and other 3rd-party integrations
Pricing: AgileCRM has a free plan for up to 1,000 contacts. Paid plans start from $9.99 per user per month, billed annually.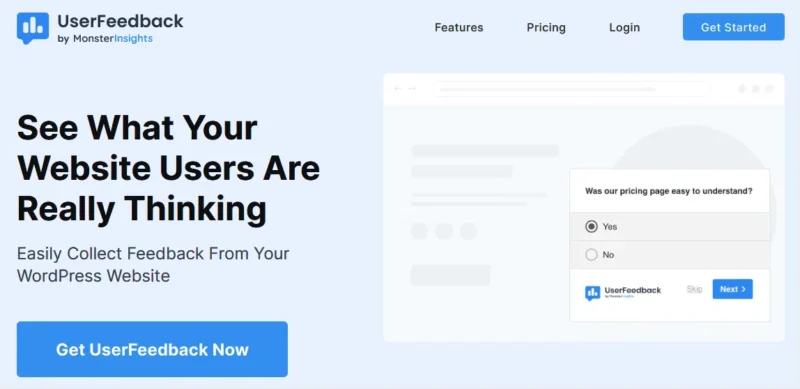 If you're looking for a must-have solution to go along with any CRM, then UserFeedback is our favorite plugin. From the team behind MonsterInsights, it lets you easily add feedback popups to any page of your WordPress site.
With this handy tool, you can ask visitors virtually anything you like, from how well your site performs, to what they think about your latest product release. Plus, its beginner-friendly interface means you won't have the hassle of coding.
Key Features:
Display forms anywhere with widgets or shortcodes
Ask unlimited questions
Integrate with Google Analytics
Super easy to customize
Smart targeting options
Easily export responses
Pricing: The price of UserFeedback starts from $49.50 per year.
Which Is the Best CRM for Small Businesses?
We believe the best CRM software for small businesses is HubSpot. Because it's sales-driven with easy and powerful features, even the smallest businesses can use it to improve their sales.
However, if you're an eCommerce business, you might like Drip CRM's eCommerce-focused marketing automation tools.
We hope this article helped you with finding the best CRM for your business. While you're here, you might also appreciate our guides on the best WordPress plugins, best VoIP providers, and best live chat plugins.
Thanks for reading. Please follow us on YouTube, Twitter, and Facebook for more helpful content to grow your business.