7 Best Business VoIP Providers for 2022 (Pros and Cons)
Are you looking for the best VoIP provider but don't know which one is best suited for your business?
Many companies use VoIP for their business phone service to manage calls on both computers and mobile devices. Instead of the old-school bulky setup, VoIP is an ideal solution for small businesses. It keeps costs low and provides powerful features to help grow your business.
This article will explore what business VoIP is and the best VoIP solutions for your business needs.
What Is VoIP and Why Do You Need it?
VoIP is short for Voice over IP or Voice Over Internet Protocol, and the term is used to describe internet-based phone services. Instead of using a traditional phone, like landlines and desk phones, VoIP uses the internet to make and receive phone calls (also known as softphones).
With a business VoIP phone system, you can enjoy some of the following benefits:
Answer incoming calls using your computer, VoIP phones, and cell phones.
Share a single phone number with multiple team members and use it anywhere you want.
Easily track phone usage, including VoIP call duration, wait times, time on hold, etc.
Use powerful features such as call routing, caller ID, call forwarding, video meetings, and more.
Access cheaper international and local phone calls.
Use a business phone number for calls instead of your personal number.
VoIP technology is an excellent solution for businesses of all sizes. Whether you're a 1 person company or a larger business with multiple employees, VoIP makes it easy for you to have a business phone number and maintain excellent call quality.
But the question remains, why do you need VoIP for your business?
The truth is, giving potential customers a way to contact you is essential for building trust and boosting sales.
Most websites start with a simple contact form to let visitors get in touch via email. Yet, instant communication might be a better solution for people depending on your industry. For this reason, many businesses offer a live chat service or show a phone number on their websites to get in touch with their contact center.
Whether you sell services from your business website or run an online store, having a business VoIP phone system is a cost-effective way to grow your business. That way, website visitors can call you with any questions, which helps build stronger relationships.
How to Choose a Top VoIP Service Provider
The VoIP service industry is highly competitive, making it difficult for business owners to choose the best VoIP service provider.
It can be tempting to go for the cheapest solution when you're just starting. Yet, if you do this, you risk missing out on features that you may find are essential for your business later on.
It's also possible to choose a provider that is hard to set up or too expensive.
When putting this list together, we looked for providers with a good balance of features, a reasonable price point, and functionality, such as:
The cost of local phone calls versus international calling. This can vary depending on the provider you choose, so it's best to pick one based on your location.
What features are included in the VoIP plan. Some providers sell features as add-ons to their main plans, which could dramatically increase your costs.
If they include apps and features that you can share with multiple users.
The ability to integrate your VoIP service with third-party tools such as your email marketing service, CRM, and more. Just make sure you have enough bandwidth if yours is a larger network or call center.
7 Best VoIP Provider Compared
Now that you know what a VoIP phone service is and what to look for when choosing one let's look at the best VoIP services for your business.
1. Nextiva – Top VoIP Provider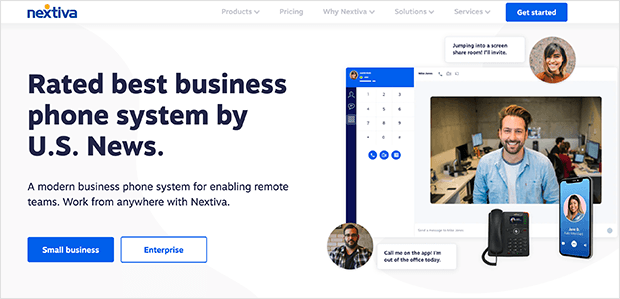 Nextiva is the best VoIP provider on the market. They provide a simple and powerful unified communications phone system for businesses of any size.
This business call management system has all the features you need for a growing business. It includes unlimited calling and texting, instant conference calls, call queuing, free domestic calling, and much more.
Nextiva also offers a complete communication system with voice and video calls, text messaging, a mobile and desktop app, and web collaboration. Plus, the auto-attendant feature automatically greets callers and helps them choose an appropriate department.
As mentioned earlier, Nextiva suits businesses of any size, and top brands like Taco Bell, Ashley's Furniture, and Conan trust them.
Pros:
The Nextiva business phone service is easy to use with all the features needed to manage business calls.
This VoIP provider is an affordable solution for most businesses.
A dedicated customer service team helps you with each step from presales and onboarding to setup and daily use.
Cons:
If you're not technically minded, it might take some time to get used to Nextiva's interface.
Pricing: The pricing for Nextiva starts at $20 per user, per month, with no annual contracts. Prices get lower as you add more users to your plan.
2. RingCentral – Leading VoIP Provider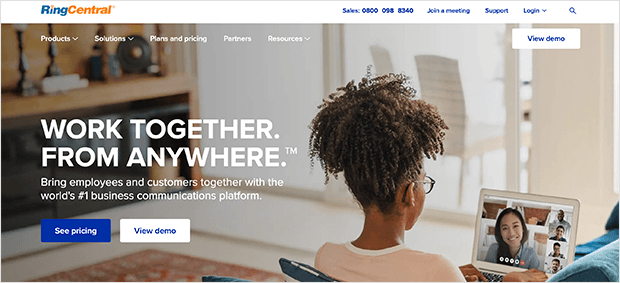 RingCentral is another popular business VoIP provider. They offer a fully-featured business phone system for both small and enterprise-level companies.
With RingCentral, you can enjoy all the standard features you'd expect from a VoIP provider, such as advanced routing, call forwarding, caller ID, hold music, and more.
You can use this provider to conduct online meetings, video conferencing, screen sharing, unlimited internet faxing, and video calls. Plus, it comes with a toll-free or local number, a minimum of 100 toll-free minutes per month, and a voicemail-to-text service (voicemail transcription).
It's also easy to integrate your RingCentral phone system with third-party services such as G Suite, Dropbox, Salesforce, Zendesk, and more. Plus, RingCentral includes handy apps for iOS and Android.
Pros:
RingCentral is easy to use, so you can get set up and start using your phone service in minutes.
The service is highly-scalable, meaning you can add extra features to your plan as your business grows.
Cons:
Some users have noted that it can be time-consuming to manage several users.
Pricing: RingCentral pricing starts at $19.99 per month per user.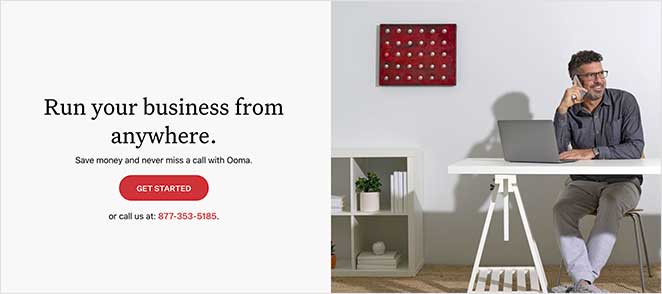 Ooma is one of the many top VoIP providers for small businesses. With an Ooma Office phone account, you can get a 1-800 toll-free number, which helps you stay connected with your customers, wherever you are. For more toll-free numbers, you'll need to purchase them separately.
The Ooma Office platform comes with all the calling features you need from a business phone service. It includes a virtual receptionist, music on hold, call blocking, extension dialing, mobile phone apps, and more. The setup is also super-easy, allowing you to get up and running in minutes.
Pros:
Ooma Office provides a lot of features at an affordable price point.
It allows you to convert your standard telephone and fax machines to digital signals.
Cons:
To avoid delays, you'll need a high-speed internet connection.
Pricing: Ooma's low-cost pricing starts at $19.95 per month with a free toll-free number and 500 free minutes. You can purchase extra minutes at a discounted rate.
4. GrassHopper – Best Mobile VoIP Service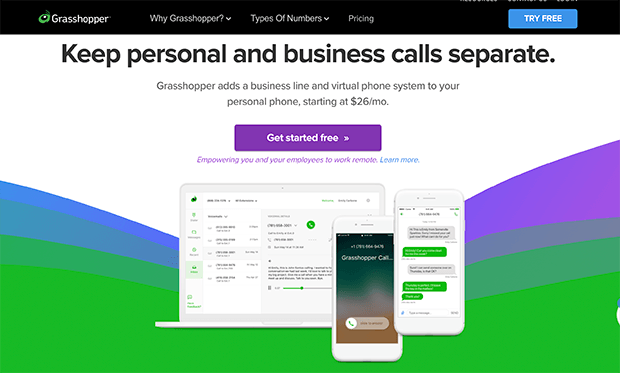 GrassHopper is another must-have business VoIP provider well-suited to startups and growing businesses. They let you choose from local, toll-free, and vanity toll-free numbers for your business phone number.
GrassHopper has all the features you'd expect, like call forwarding, call waiting, advanced routing, voicemail to email, and more. It also features a desktop and mobile app, custom greeting, and virtual fax.
With its virtual phone system, you can forward phone calls to any mobile device or phone number. Although, you'd need a regular phone line to make outgoing calls.
Pros:
Easily set up a business phone system in minutes.
You can forward calls to anywhere in the world, no matter which device you use.
Cons:
You will need a regular landline or mobile phone to make outgoing calls.
Pricing: GrassHopper pricing starts at $26 per month for 1 number and 3 extensions, paid annually.
5. Phone.com – Best VoIP Phone Plans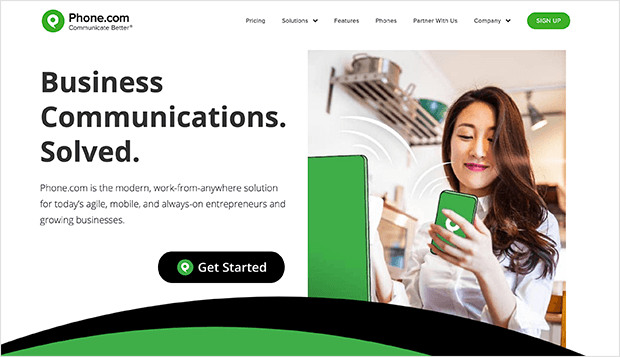 Phone.com is another excellent choice of small business VoIP provider. As part of their local call minutes, they include many European countries and Canada. That makes it an affordable solution if your business operates in those geographic locations.
This modern phone solution lets you connect a business phone number to any device, whether a desktop computer or a mobile phone. You can access powerful features such as voice, video, text, call management, and collaboration.
Integrating your VoIP plan into CRM software such as Zoho or Salesforce is also possible.
Pros:
It makes it easy to provision phones throughout your organization.
Phone.com is available and functional from anywhere you have access to an internet connection.
Cons:
Phone.com may take some time to figure out if you're not technically minded.
Pricing: The pricing for Phone.com starts at $12.99 per month with 300 monthly minutes.
6. Vonage – Top VoIP Provider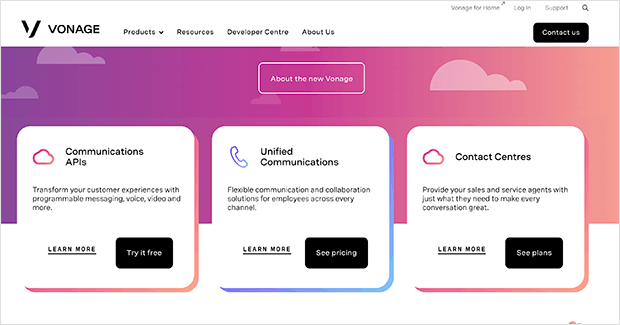 Vonage is a popular solution that's known for offering residential VoIP. However, they also provide VoIP services for small, medium-sized, and enterprise businesses. They have a wide range of communication tools for businesses, including VoIP voice, video, and text messaging.
Vonage includes all the usual features you'd need, like call routing and forwarding, caller waiting, caller ID, and more. They also provide team messaging, conference calling, CRM integration, call recording, and much more.
Each plan on offer has different features with different limitations.
Pros:
Vonage Business claims 99.999% uptime reliability, keeping your business phone system up and running 24/7.
International call rates are lower than other VoIP providers.
Cons:
You may need some technical skills to get Vonage set up for your business. Non-techy users may struggle at the beginning.
Pricing: The pricing for Vonage starts at $19.99 per month per user.
7. 8×8 – Top VoIP Solution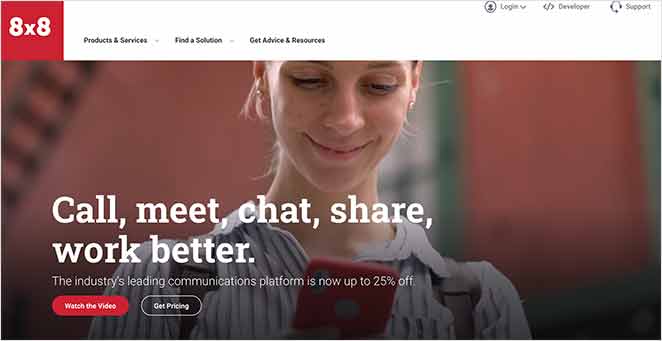 8×8 is another top business VoIP service, best suited for small businesses. They have a reliable cloud-based VoIP system (sometimes called a "cloud PBX") with advanced phone features used by over 1 million companies.
The VoIP phone plans include the essential features of an internet business phone service. For example, you can enjoy high-definition audio and video conferencing, SMS messages (text messages), virtual meetings, real-time communication analytics, conversation history, and more.
8×8 also integrates with popular third-party services such as Salesforce, Microsoft Teams and Outlook, G Suite, and more.
Pros:
This easy to use phone system is suitable for both beginners and experts.
Integrates with over 40 third-party services.
Cons:
8×8 lacks some of the more advanced features. For instance, there are limited call queue options.
Pricing: The pricing for 8×8 stats at $12 per month, per user.
Which Is The Best VoIP Solution for Your Business?
After looking at the top VoIP providers, we've decided that Nextiva is the best VoIP service provider for small and large businesses.
Nextiva has extensive features, affordable pricing plans, and a user-friendly and easy-to-use interface. Best of all, the customer support is fantastic.
If Nextiva doesn't suit your needs, RingCentral is the next best alternative, with all the features you'll need to grow your business.
There you have it!
We hope this article helped you find the best VoIP service provider for your business.
You might also like to see our comparison of the best email marketing services.
While you're here, don't forget to follow us on Facebook and Twitter for more helpful business tips and tutorials.