Are you looking for the top VoIP providers?
Traditional small business phones aren't equipped for modern needs. That's why many small businesses are turning to business VoIP providers to keep up. But which is the best VoIP service for your needs?
This article explores small business VoIP (Voice Over Internet Protocol) in general and the best VoIP solutions available. We'll also answer some frequently asked questions about the top VoIP providers and offer additional resources to help your small business grow.
What Are VoIP Providers?
Business VoIP providers are phone and communication services that use the Internet rather than landlines. They let you take incoming calls, make outbound voice calls, use video conferencing, and more via computer or a mobile device with an internet connection.
Essentially, they offer unified communications as a service, and many providers even work with landlines.
Why Use VoIP Providers Instead of Business Phones?
A business VoIP system is a cost-effective and efficient way to grow your startup or SMB. Most SMB owners consider it superior to traditional phone systems.
"Traditional phone systems" refer to desk phones or POTs (plain old telephone services). Here are several more reasons for using VoIP instead of POTs for your business needs:
Business Phone System Hardware Needs are Higher
Landline services need hardware and individual phone lines. They don't offer extra functions like video conferencing or faxing as many VoIPs do.
To get those functions, you need a lot more hardware. This could mean landline phones and actual fax machines, for instance. These all have upfront costs.
All supplies wear out. Would you rather replace the computers, modems, and routers you need? Or do you want to replace those PLUS landlines, fax machines, and more?
Business VoIP Training Costs May Be Lower
Using a VoIP phone system can save you time and money in training costs.
Generational expert Lindsey Pollak says many young people haven't used a landline. They grew up in homes where their parents only used mobile phones.
The lack of landline understanding has caused training challenges and frustration. Pollak states, "Everybody doesn't have the same common knowledge. It's important to think about the experiences that people have or don't have before you judge them…."
So, using internet-based systems can save time and money. You already train employees on your VoIP. Teaching them about landlines can also take extra time away from earning revenue.
This may seem like favoring younger generations. But many workplaces already use VoIP or similar systems. Most people own cell phones and have used VoIP systems without realizing it. The learning curve for VoIP should be smaller than the curve for using a landline for the first time.
Better User Experience with a VoIP Provider
The top VoIP providers generally offer several ways for customers to contact you.
You may have noticed some websites let you tap a link to call them. That's part of a VoIP system.
Many websites start with a simple contact form to let visitors get in touch via email. Your employees can then immediately access phone numbers via computers. This reduces the risk of dialing the wrong number.
TechJury reports that most people prefer live chat over email or speaking on the phone. For this reason, many businesses offer a live chat service. This can also be part of VoIP.
Finally, you may still need faxes. But who has a fax machine anymore? Almost no one! The best VoIP services generally have fax features.
VoIP Services Can Increase Revenue
VoIP options can help improve revenue in several ways.
TechJury's statistics roundup shows those who use live chat spend more than those who don't. Without live chat and only a phone option, they may spend less. VoIP typically has chat functions.
Additionally, customers value quality support and companies who respect their time. Having many ways of contacting customers is essential and easier to do with VoIP.
What Are the Top VoIP Providers?
Below, we share some of the best voice-over-internet protocol (VoIP) providers your small business can use to manage its communication needs.
Nextiva is the best business VoIP service on the market. They provide a simple, powerful, streamlined, and unified communications system for startups through enterprises.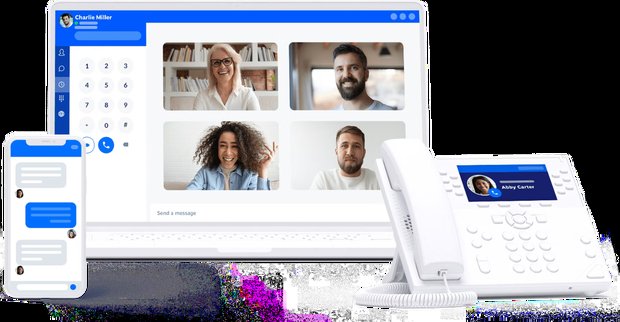 This call management system has all the features you need for a growing business, such as:
Softphone software (connects desktop or laptop computers to headphones)
Call logging
Automatic call routing
Free domestic calls
Documented APIs
Unlimited texting
Voicemail transcription to email and text
Extension dialing
Video meetings
VoIP call queues
Internet faxing
Mobile and desktop apps
Multi-level auto-attendant
Free local or toll-free number
Live chat
Additionally, the Nextiva VoIP platform allows CRM integration, online surveys, and call analytics.
You can also integrate with platforms like Outlook, Google Workspace, Zendesk, Slack, and more.
Do you already have a landline system and are hesitant to throw it out entirely? Then, Nextiva may be the best option for you, as it can work with many existing desk phone systems.
In fact, many call centers and enterprise businesses use Nextiva. It can help transition from private branch exchange (PBX) to cloud phone systems.
The call quality is top-notch, with a 99.99% uptime for their VoIP phone service. Plus, their customer service team is always available to help.
Nextiva suits businesses of any size. Even top brands like Taco Bell, Ashley's Furniture, and Conan trust them.
| | | |
| --- | --- | --- |
| Pros | Cons | Pricing |
| Offers phones for sale or lease | Learning curve for less tech-savvy users | Essential: $17.95+ per user per month |
| 24/7 support | No free trial | Professional: $21.95+ per user per month |
| Can handle a call center's volume | | Enterprise: $31.95+  per user per month |
RingCentral is another of the top VoIP providers for small businesses (SMBs). They offer a fully-featured business phone system for both small and enterprise-level companies.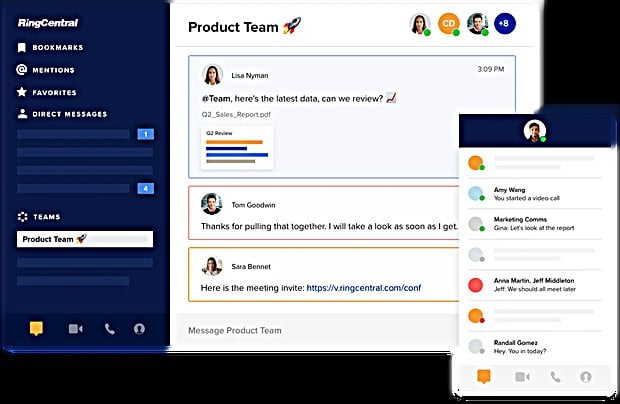 With RingCentral, you can enjoy all the standard VoIP phone service features. Its Android and IOS mobile apps allow you to turn your cell phone into a business phone in a snap.
It also offers:
Unlimited calls
Caller ID
Call forwarding
Real-time phone call waiting and transfer (queues)
SMS text messages
Team messaging (instant messaging)
Video calling
Hold music
Screen sharing
Unlimited faxing
Voicemail transcription to text
Setting business hours
Cloud-based administration with real-time analytics
Can work with many existing phone systems
It's also easy to integrate your RingCentral phone system with over 250 apps! Some biggies include G Suite, Dropbox, Salesforce, Zendesk, and more.
| | | |
| --- | --- | --- |
| Pros | Cons | Pricing |
| Works in 110+ countries | Time-consuming to manage several users | Essentials: $19.99 per user per month |
| Very scalable | Limited options on the basic plan | Standard: $27.99 per user per month |
| Setup takes minutes | | Premium: $34.99 per user per month |
| | | Ultimate: $49.99 per user per month |
Ooma Office, often shortened to Ooma, is one of the more popular VoIP providers for SMBs.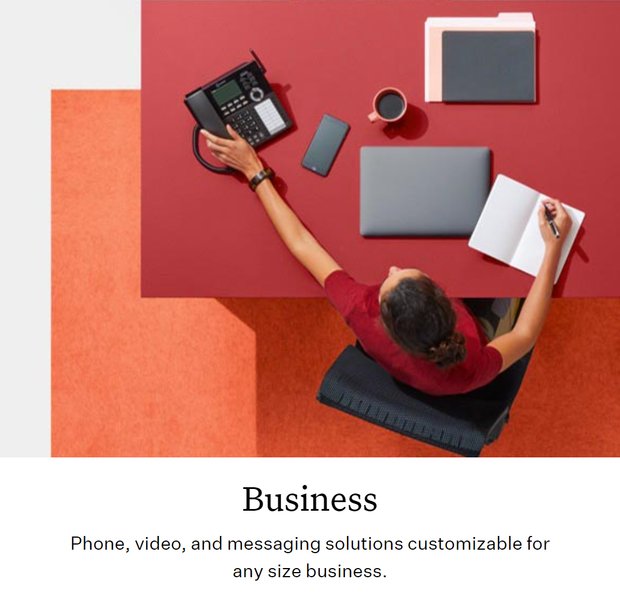 The Ooma Office platform comes with all the features you need from a business VoIP service. It includes a virtual receptionist, extension dialing, and more, including:
35+ standard business features
Keeping your phone number
Usable by remote workers in different states
Unlimited calls to the US, Canada, Mexico, and Puerto Rico
Free app to turn your mobile phone into a business phone
Team messaging and other collaboration features built-in
SMS messaging
Mobile apps
Phone call blocking
Faxing
Call recording
They've made the setup as intuitive as possible, and you should be able to install the system yourself. But, Ooma has 24/7 customer support if you get stuck.
| | | |
| --- | --- | --- |
| Pros | Cons | Pricing |
| Offers internet service (may have an extra cost) | May need to buy extra hardware like wifi adapters | Ooma Office: $19.95 per user per month |
| Has call center software for large businesses | Fewer features than Ooma Office Pro | Ooma Office Pro: $24.95 per user per month |
| Multi-ring option lets several employees receive 1 call simultaneously | | Enterprise/Call Center Options: Contact Ooma |
Grasshopper focuses on small businesses and startups. This includes those who have zero employees!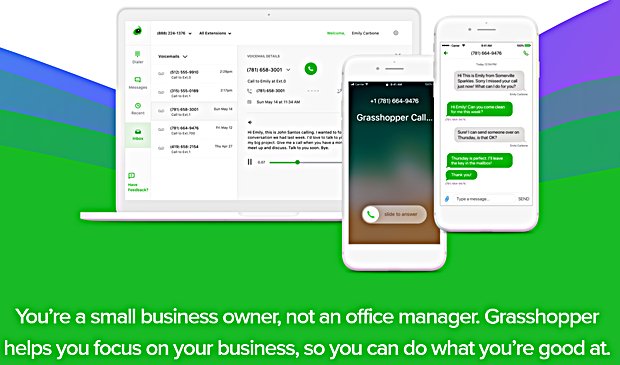 The VoIP phone service offers all the features you'd expect, plus some unique options like:
Free trial
Free local number, toll-free number, and vanity toll-free numbers
Desktop and laptop apps
Mobile apps for Android and IOS
Simultaneous voice calls
Business texting
Analytics
Instant response
Grasshopper understands the need for using personal phones, especially at startups. They let you use your personal cell phone for business without sharing your phone number.
Many business phone systems use auto-attendants (sometimes called virtual receptionists) for automatic call routing and call forwarding. But, Grasshopper can cut the virtual "middleman" if you want. Or, you can have that auto-attendant to greet callers and make you seem like a bigger company.
Grasshopper also has add-ons like live receptionists and voice actors to record greetings.
| | | |
| --- | --- | --- |
| Pros | Cons | Pricing |
| Works with existing mobile phone equipment | Landlines require special features for outgoing phone calls | Solo: $26+ per month |
| Phone numbers activated once checkout is complete | Can stop outgoing calls if they believe you're spamming or committing fraud | Partner: $44+ per month |
| All plans include essential features | | Small Business: $80+ per month |
Phone.com lets your existing devices access 50+ features.

This modern VoIP provider lets you connect a business phone number to any device. This includes laptops, desktop computers, and mobile devices. But it can work with many desk phones as well.
Phone.com offers SMS messaging, app store access, and voicemail transcription. Some other features, either available at the basic or pricier levels, include:
HIPAA compliance
HiFi video call transcription
Web-based admin panel
Access to bilingual customer support
Ability to mix and match types of users
Follow Me function lets you choose call forwarding numbers in order of importance if you're out of the office
| | | |
| --- | --- | --- |
| Pros | Cons | Pricing |
| Easy and fast setup | Some usually standard features are add-ons | Basic User: $11.99+ per month billed annually |
| Customizable user setup | No free trial | Plus User: $15.99 per month billed annually |
| No contract required | Video conferencing participant cap is lower than some other options | Pro User: $23.99+ per month billed annually |
| Available anywhere with an internet connection | | |
Many major companies use Vonage. One example is doxy.me, a doctor-to-patient video service. That alone tells you how seriously they take security!

Vonage has a wide range of standard tools, including VoIP voice, video, and text messaging. You can also find:
Contact center capabilities
Extensive international calling
Mobile and desktop apps
Large-scale conference calling ability
On-demand call recording
Visual voicemail
Integrations with major software at all levels
Voice API lets you pay only for what you use
Each plan on offer has different features with different limitations.
| | | |
| --- | --- | --- |
| Pros | Cons | Pricing |
| Tons of internal collaboration options for on-premise and remote employees | Some say customer service is hard to reach | Mobile: $19.99 per line per month |
| Unlimited calls and SMS | Challenges with viewing phone call history | Premium: $29.99 per line per month |
| App center access at all levels | Limited basic level | Advanced: $39.99 per line per month |
Vonage pricing goes down as the number of phone lines increases.
8×8 has a reliable cloud-based VoIP system with advanced phone features. It's used by over 2 million companies.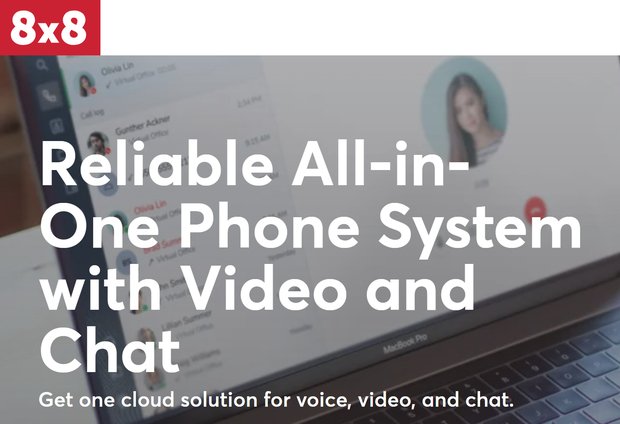 This program offers calling features to help with internal and external communications. Some functions include:
Collaboration across different messaging systems
Fast file uploads
Conversation storage
Unlimited calling to almost 50 countries
Join video meetings from anywhere
Call logs for each individual interaction
Customer interactions via voice, video, SMS messaging, and chat apps
Works with Microsoft Teams and other business and CRM integrations
Complies with global standards
And that's just the beginning.
| | | |
| --- | --- | --- |
| Pros | Cons | Pricing |
| Made to improve communication between agents and users plus customers | Few accessible countries at less expensive levels | 8×8 Express: $15 per user per month |
| 30-day free trial | 8×8 express doesn't boast the high uptime other levels do | X2: $24 per user per month billed annually |
| Works globally | You must allow popups to chat with their 24/7 customer support team | X4: $44 per user per month billed annually |
| | | Contact Centers: Add-on starting at $85 per user per month |
GoToConnect boasts of being a simple and flexible business phone option and VoIP provider.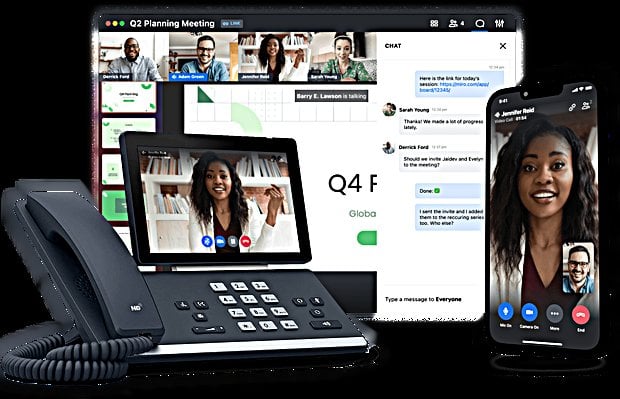 Its cloud system helps with external and internal communication. It doesn't matter if your workers are on-premise or remote! Of course, it's also great for customer communication.
You can configure the system using a visual editor, like the best WordPress site builders. You don't have to read through a lot of technical information and try to figure things out.
Other features included are as follows:
HD video conferencing with every license
Customizable call routing and dial plans
Videos work on desktops, mobile devices, and compatible landlines
Follow Me call feature forwards calls to wherever you are
CRM and marketing integrations
Cloud PBX
Works with healthcare, law, finance, and auto companies, so security is key
GoToConnect has over 100+ cloud VoIP features. As part of the GoTo software family, it works with GoToMeeting, GoToWebinar, and GoToTraining.
| | | |
| --- | --- | --- |
| Pros | Cons | Pricing |
| Doesn't need mobile devices or traditional phones at all | Free international calls unavailable at the basic level | Basic: $26+ per user per month billed annually |
| If desired, specialized landlines are available | Analytics and other built-in features are only available at a premium level | Standard: $35+ per user per month billed annually |
| 14-day free trial | More expensive than some other options with similar features | Premium: $49+ per user per month billed annually |
| Unlimited extensions at every level | | |
Which Is the Best VoIP for Small Business?
We've decided Nextiva is the best VoIP service provider for large and small business needs.

Nextiva has extensive features, affordable pricing plans, and a user-friendly interface. Best of all, the customer support is fantastic.
If Nextiva doesn't suit your business needs, RingCentral is the best business VoIP alternative.

After looking through this list, you may not feel any of these are right for your small business needs. That's okay! There are many other VoIP options available, such as Dialpad and CallHippo.
FAQs About the Top VoIP Providers
What are other business phone services?
Besides VoIP solutions, there are 2 types of phone systems: analog and SIP trunking.
Analog phones, also known as POTS, are landlines or desk phones. SIP trunking allows you to add advanced features to your PBX (private branch exchange). But you need to be very tech-minded for it to be helpful.
Do I need a landline business phone service?
You need a landline if your internet connection is unreliable or doesn't have enough bandwidth.
What products do I need to set up business VoIP?
To set up a business VoIP, you need everything associated with wifi service. You may also need softphone headsets, desk phones, or mobile devices. If you plan to use video calling features, cameras are necessary.
Is VoIP the same as telephony or IP phone services?
VoIP is a type of IP telephony and IP phone service. In the grandest sense, "telephony" means "phones." VoIP systems use the internet. 
IP services are all communication functions using the internet. This includes voice calls, fax, and video meetings. VoIP is technically only the voice part. But VoIP services now usually offer unified communications, not just outgoing and incoming calls.
In short, all VoIPs are telephony and IP. Not all telephony and IP systems are VoIP.
What is VoIP and UCaaS?
VoIP is a voice service provider that handles inbound and outbound voice calls. Unified Communications as a Service (UCaaS) routes all business communications over Internet protocol (IP). It typically incorporates text messaging, chats, video conferencing, screen sharing, video meetings, and more.
Are even the best VoIP providers cheaper landlines?
Is there a reason to have a traditional business phone instead of a business VoIP?
The primary reason to have a traditional business phone is that your VoIP may go down often. This is usually due to frequent wifi service outages or low bandwidth.
Are calls free with business VoIP services?
VoIP plans and their prices vary by company.
Can I use my cell phone as my small business phone?
Yes, a cell phone can be a business phone. But you may not want to share your personal phone number. Additionally, having a second cell phone for business communication isn't always practical.
VoIP services can often call cell phones without sharing personal information with inbound callers.
How to Choose the Best VoIP Provider
When putting this list of the best VoIP for small businesses together, we looked for:
Ease of use for users without technical expertise
Standard business phone functions like caller ID and hold music
Call management functions, including call logs
Automatic call forwarding, call monitoring, and other automation features
Internal messaging and video meeting capabilities
Use of many hardware systems (mobile devices, desktops and laptops, cell phones, and so forth)
Included vs. add-on features
Advanced features offered at lower costs
Number of integrations
High-quality customer support
Call quality
SeedProd and Your Small Business
We hope this article helped you find the best VoIP service provider for your business.
SeedProd is here to help you grow your business in all ways! For more small business tips, check out our blog. Here are a few of our favorite relevant posts:
While you're here, don't forget to follow us on Facebook and Twitter. You can find more helpful business tips and tutorials there!