Are you looking for the best push notification software for your business website?
Push notifications allow you to engage with visitors after they leave your site. For example, you can send personalized messages, encouraging them to return, ultimately leading to more traffic, conversions, and sales.
But what is the best way to send push notifications? In this article, we'll share the best push notification tools for your website.
Why Use Web Push Notifications for Your Business?
Push notifications are a powerful marketing tool you can use to engage and retain visitors after they leave your website. They allow you to send personalized messages to push notification subscribers and as a result, bring them back to your business site.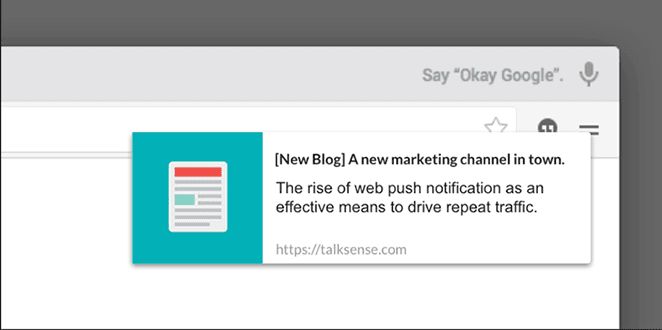 There are many different types of push notifications you can send, including:
Blog posts
Product announcements
Abandoned cart reminders
Flash sales
Subscriber discounts
Exclusive content
And since push notifications go straight to the user's web browser or mobile device, they have an engagement rate similar to SMS messages, which is much higher than traditional marketing methods.
Many popular social media websites and large business sites use push notifications. But many smaller businesses haven't yet realized just how powerful they are.
For example, Wicked Weasel, an Australian women's brand, generated up to $4k per week in sales using push notifications.
So if you're not using them for your business yet, now is the best time to start.
Best Push Notification Services You Should Use
If you want to know which is the best platform to personalize push notifications and send them to your visitors, you're in luck.
Below we share the top push notification platforms and software you can try. They also work seamlessly with the best WordPress plugins.
1. PushEngage – Best Push Notification Software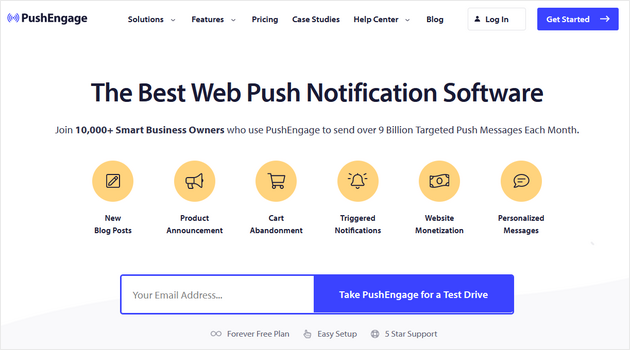 PushEngage is the best push notification software on the market. Many businesses use this tool to send over 9 billion targeted push messages every month. And as a result, they consistently engage with their visitors after they leave their site.
You can use PushEngage to send automatic notifications or send custom messages manually. It's also easy to set up, with user-friendly settings for beginners and advanced users with support for HTTP, HTTPS, and all browsers and devices.
This push notification tool comes with a variety of powerful features, including:
Automatic drip campaigns
Customizable opt-in reminders
Triggered campaigns
Interactive message options
Plus, the marketing automation feature, Triggered Notifications, detects your visitor's behavior to send automated push notifications to the right person at the right time. For example, you can automatically send abandoned cart notifications, price drop alerts, and more.
Another exciting feature is Dynamic Segmentation, which allows you to send messages based on your user's actions. For instance, you can segment visitors if they:
Add products to their cart
Make a purchase
View a specific web page
And use that segment to target those users with future offers.
In addition, PushEngage offers popup notifications that allow you to get more subscribers fast. And with goal tracking and analytics, you can get all the actionable data you need to grow your traffic, sales, and revenue with confidence.
As mentioned earlier, PushEngage works on all devices, including tablets, desktops, and smartphones. So you won't need to create a separate mobile app for iOS and Android to send app messages to those users.
PushEngage is an ideal push notification service for bloggers, startups, and eCommerce websites to increase user engagement and boost conversion rates. And for larger businesses, it offers an API you can use in your omnichannel customer marketing campaigns.
PushEngage Pricing:
The pricing for PushEngage starts from $9 per month for up to 1,000 subscribers and unlimited notifications.
You can also use the limited free plan, with up to 500 subscribers and 30 campaigns per month.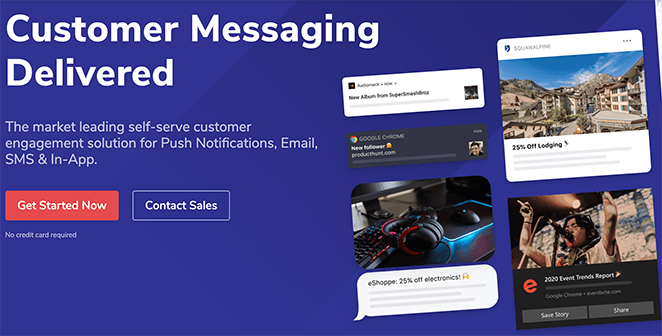 OneSignal is a popular push notification plugin with features similar to PushEngage. It makes it easy to send targeted web push notifications that encourage users to return to your website.
You can set push messages to show after a specific number of page views or seconds. As such, you don't need to show it straight away, giving users time to engage with your site.
You can also use OneSignal to create in-app messages and emails, which is excellent news for app developers. And like PushEngage, it provides A/B testing, analytics, and segmentation options.
While OneSignal is a powerful service, it has several pitfalls. For instance, it gets more expensive if you need more features and offers fewer customization, automation, and personalization options.
OneSignal Pricing:
The cost of OneSignal's Growth plan starts from $12 per month for 1,000 subscribers, with critical features and standard personalization options.
Plans with advanced functionality start from $114 per month.
The limited free plan allows up to 10,000 subscribers but has limited personalization and optimization features.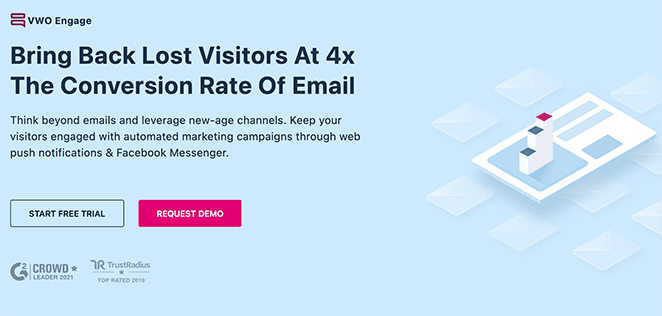 Formally called PushCrew, VWO Engage is a web push notifications tool for both desktop and mobile websites.
You can send triggered push notifications with this tool, such as entry and exit triggers. This means you can automatically start a campaign based on a specific action, like clicking a link.
Additionally, you can automatically opt-out users when they take specific actions. For example, when they fill in a form or click a call-to-action button.
VWO Engage offers several valuable features, including:
User segmentation
Click-through analytics
A/B testing
Personalized notifications
That said, their segmentation tools are relatively limited.
VWO Engage Pricing:
The cost of VWO Engage starts at $99 per month with up to 10,000 subscribers and unlimited notifications.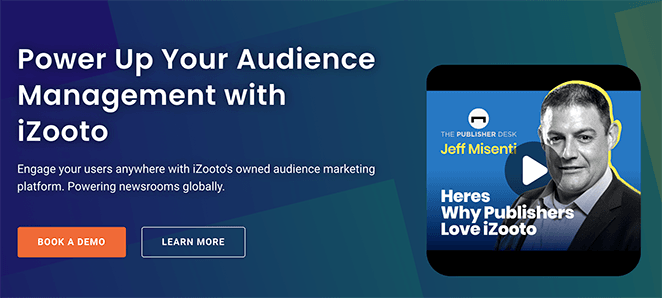 iZooto is another popular push notification service that offers recurring, real-time, and scheduled web push notifications.
This service allows you to set up segmentation for more targeted messages and create personalized push notifications.
In addition, it offers:
A/B testing
Timezone notifications
User interest and attribute capturing
WordPress integration
You can set notifications to show after users scroll down the page, after a certain amount of time, or after clicking a button. Plus, if you use a different push notification tool, you can transfer your subscribers quickly.
One pitfall is iZooto only works on HTTPS websites. This means your website needs an SSL certificate to use this platform.
iZooto Pricing:
The pricing for iZooto starts at $85 per month, with 30,000 subscribers and unlimited notifications.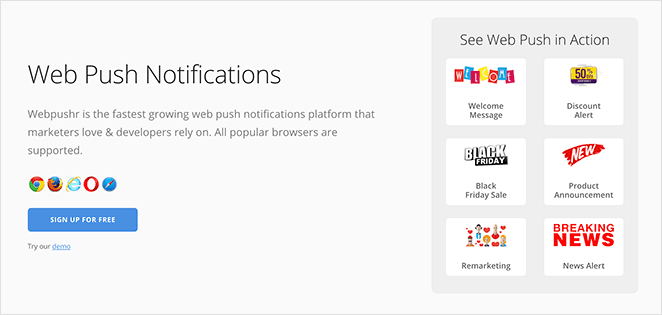 Webpushr is a free WordPress web notification plugin with support for all popular web browsers. It also offers a variety of push message templates you can customize to suit your brand.
Like iZooto, Webpushr makes it easy to transfer subscribers from another push notification platform. It also includes useful features, like:
User segmentation
Automatic web push
HTTP support
WordPress and WooCommerce integration
This straightforward tool provides unlimited teams and segments for notification subscribers. You can also use large message images, action buttons, emoji, and your custom branding.
Unlike other WordPress push notification plugins, Webpushr offers all features on every plan. The only difference between plans is the number of subscribers.
Webpushr Pricing:
The cost for Webpushr starts from $29/month for up to 50,000 subscribers and unlimited notifications.
The free plan offers 10,000 subscribers and unlimited notifications.

PushAssist is an easy-to-use and set-up push notification tool supporting Firefox, Chrome, and Safari web browsers.
You can use this tool to send push notifications easily and get insights into your customer data with segmentation, personalization, and scheduling tools.
With PushAssist, you can also monetize your push notification traffic. You can do this by letting advertisers send notifications to your audience, which can help you make money.
Businesses can use PushAssist with both HTTP and HTTPS websites. Yet, you're stuck with the PushAssist branding unless you use the Business plan or higher.
PushAssist Pricing:
The cost of PushAssist starts from $9/month for up to 3,500 subscribers.
With the free plan, you can have up to 3,000 subscribers and unlimited notifications.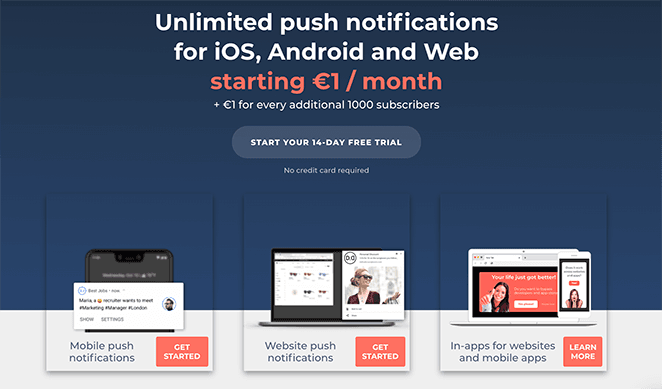 WonderPush is a popular push notification software that works just like other tools on this list. It allows you to create many different types of notifications, such as eCommerce notifications, abandoned cart messages, and more.
Moreover, you can segment users, automate notifications based on user behavior or time, and use real-time analytics to get valuable insights.
On top of that, you get every single feature, no matter which plan you use, including:
Unlimited team members
A/B testing
Unlimited notifications
Personalization
And more
WonderPush Pricing:
This tool has a different pricing structure to other services on this list. As such, the pricing starts from €1 per month for up to 1,000 subscribers. After that, it costs €1 extra for every 1,000 subscribers.
Which Is the Best Push Notification Software?
After looking at the top push notification services, it's our opinion that PushEngage is the best push notification software. This tool is easy to use, beginner-friendly, and offers tons of powerful features.
While PushEngage's free plan is best suited for blogs and small businesses, their pricing is super competitive. This means it scales easily with your business growth, which is why many large businesses use this tool for their web and mobile marketing.
That's it!
We hope this article helped you find the best push notification software for your website. You might also like our article on the best WordPress accordion plugins and the best WordPress shopping cart plugins.
Thanks for reading. If you liked this article, please follow us on YouTube, Twitter, and Facebook for more helpful content to grow your business.