Are you wondering what is the best page builder for WordPress?
Page builders make designing and editing your site effortless. They also have easy-to-use features, so you won't need any technical knowledge.
This article will show you the best WordPress page builders for creating your site quickly and with no coding required.
What Is a WordPress Page Builder?
WordPress page builders are tools that allow users to create and customize the layout and design of their WordPress website without having to write any code. They typically provide a drag-and-drop interface that makes it easy to add, rearrange, and style page elements such as text, images, and buttons.
Some page builders also offer pre-designed templates and widgets, which can be used to create complex layouts and add features like forms, maps, and social media feeds to a website.
Many page builders are available as plugins that can be installed on a WordPress website, while others are built into the WordPress theme itself.
Why Use a WordPress Page Builder
There are several reasons why website owners might consider using a drag-and-drop page builder:
Ease of use: Page builders are designed to be user-friendly, even for those who have little or no coding experience. This makes it easy for website owners to create and customize their own layouts and designs rather than having to hire a developer to do it for them.
Customization: Page builders offer a wide range of customization options, allowing website owners to create a unique look and feel for their site. This can be especially important for businesses that want to stand out from the competition.
Time-saving: Page builders can save website owners a lot of time, as they allow users to quickly create and edit pages without having to write code. This can be especially useful for those who need to make frequent updates to their sites.
Responsive design: Most page builders are designed to create responsive websites, which means that they will look and function properly on a wide range of devices, including desktop computers, tablets, and smartphones. This is important in today's world, where more and more people are using mobile devices to access the web.
Cost-effective: Page builders can be a cost-effective solution for small businesses and other organizations that need to create a professional-looking website but don't have the budget to hire a developer. Many page builders offer a variety of pricing plans, including free and paid options.
So how about we dive in and discover what to look for in a great drag-and-drop WordPress page builder?
Choosing the Best WordPress Page Builder Plugin
It gets tricky to figure out which WordPress site builder is best for you. There are so many page builder plugins available for WordPress; it's hard to know which one to choose.
Here are some steps to follow when choosing a drag-and-drop WordPress page builder:
Determine your needs: Think about what you want to accomplish with your website and what features you need in a page builder. Do you need a lot of design customization options? If so, look for the best WordPress page builders for developers. Or, if you're looking for something more basic, a simple page builder may suit you better. Having a clear idea of your needs will help you narrow down your options.
Research different options: There are many page builders available for WordPress, so it's important to do your research and compare a few different options. Look for page builders that have good ratings and reviews, and consider the features they offer. Some page builders may be better suited to certain types of websites or users, so be sure to consider which one will work best for you.
Consider the cost: Page builders can range in price from free to several hundred dollars. Decide on a budget and look for a page builder that fits within it. Keep in mind that free page builders may have fewer features and may not be as reliable as paid options.
Look for user-friendly features: Choose a page builder that is easy to use and has a good interface. Look for page builders that offer tutorials, support forums, and other resources to help you get started.
Test them out first: Many page builders offer demos or free trials, which can be a great way to try out the software and see how it works. This will give you an idea of how easy it is to use and whether it meets your needs.
Make your decision: After considering all of these factors, you should be able to make an informed decision about which page builder is the best fit for your website. Don't be afraid to try out a few different options before committing to one – the right page builder can make a big difference in the success of your website.
Best WordPress Page Builders with Drag and Drop Editing
After looking at many of the page builders available for WordPress, we've handpicked the best solutions and reviewed them for you below.
Overall Best WordPress Page Builder
SeedProd is the best website builder and best landing page builder for WordPress with drag-and-drop functionality. The real-time visual editor makes creating any WordPress theme or landing page a breeze.
If you want to create high-converting landing pages without hiring a developer, or a completely custom WordPress theme, this is the best choice for your WordPress website.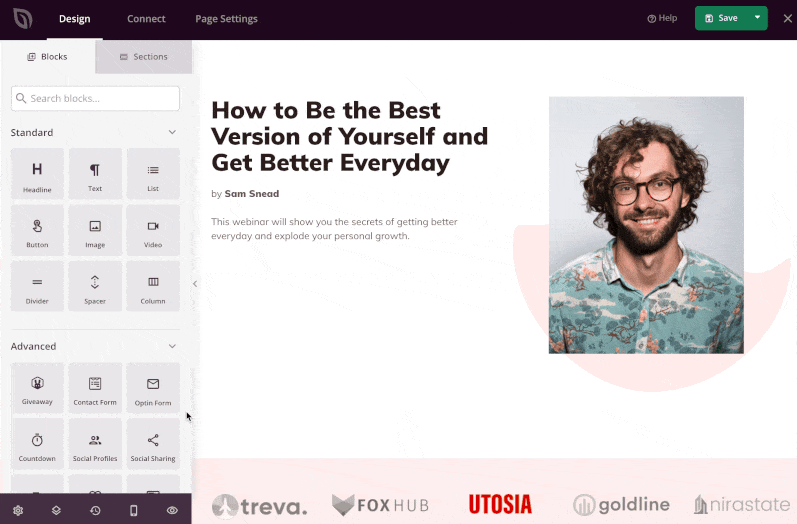 SeedProd's visual editor comes with hundreds of landing page templates and starter themes to help you get started quickly. This makes it easy to create a professionally designed:
Homepage
Webinar pages
Newsletter sign-up page
Thank you page
Custom sidebars
Headers and footers
and more.
Plus, they'll look stunning right out of the box.
SeedProd also includes pre-made page modes, including maintenance mode, a coming soon page mode, login page, and 404 web pages. Turning them on and off takes just a single click, and you can customize the design however you like.
Growing leads and conversions for your small business is just as easy. SeedProd integrates with the most popular email marketing services. It also connects to Google Analytics and Zapier to keep your marketing efforts on track.
Best of all, SeedProd's landing page builder plugin won't slow down your website. It's bloat-free with minimal code and lightning-fast to work with, unlike other builders that lag and are unresponsive.
Features:
Powerful drag-and-drop WordPress page builder with live mobile and desktop previews.
Create a custom WordPress theme with website kits without hiring a developer (Pro version)
Customizable landing page templates you can edit with no coding needed in the backend of your site.
Create complete eCommerce websites with WooCommerce template tags
Content blocks and sections with pre-made templates like opt-in forms, countdown timers, giveaways, login forms, accordions, and custom HTML.
Built-in coming soon, maintenance, login, and 404 modes.
Easy layout navigation, color schemes, and font combinations with custom CSS.
Undo, redo, save, and reuse templates and landing page blocks
Access controls to decide who can and can't see specific pages.
Track page subscribers with or without an email marketing service.
Premium integrations with popular email providers, Google Analytics, and Zapier.
100% mobile responsive WordPress plugin.
Pricing: Starts from $39.50 per year. You can also get SeedProd Lite at no cost, making it one of the best free WordPress page builders.
Best WordPress Page Builder Alternative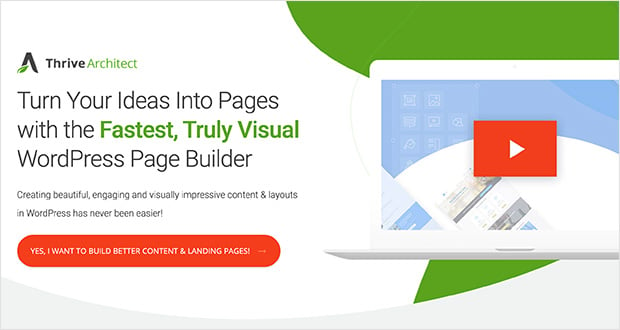 Thrive Architect is another popular visual page builder for WordPress websites. It allows users to create custom pages and posts using a drag-and-drop interface without the need for coding skills.
It includes a variety of pre-designed elements, such as buttons, forms, and pricing tables, as well as the ability to customize the layout and design of pages.
Thrive also offers a Theme Builder where you can build WordPress sites with drag-and-drop.
Features:
Drag-and-drop visual editor
Pre-designed elements (e.g. buttons, forms, pricing tables)
Customizable layout and design options
Responsive design (optimized for mobile devices)
A/B testing capabilities
Lead generation and conversion optimization tools
Built-in analytics
Ability to import and export pages
Integration with popular email marketing services
Ability to add custom CSS and JavaScript
Multi-language support
Access to a library of landing page templates
Built-in SEO options
Pricing: Starts at $99 per year.
Best Minimalist WordPress Page Builder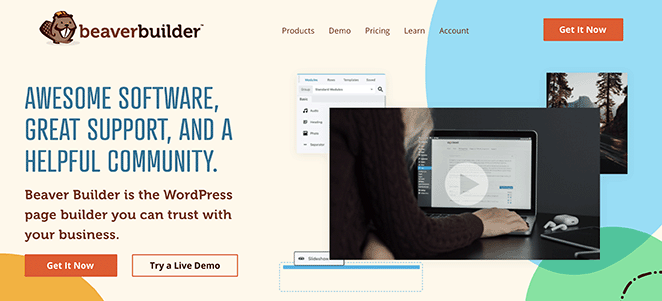 Beaver Builder is another must-have WordPress page builder for beginners, bloggers, and marketers. Its user-friendly interface is easy to navigate, and there's a wide range of professionally designed templates to get you started. This is pretty handy since a well-designed landing page is vital for increasing conversions.
Beaver Builder also now works alongside the WordPress block editor (Gutenberg).
Features:
Drag and drop frontend editor for designing your pages in real-time
Over 30 landing page templates to tweak and make your own
Tons of content templates to help create your about page, contact page, blog, and more
Many modules you can drag to your pages, such as galleries, sliders, testimonials, buttons, etc
Lets you add contact forms to your site via WordPress widgets and shortcodes
Beaver Builder lite and its live demo let you try all the features before you commit to buying
Pricing: Starts at $99 per year.
You can learn even more in this detailed review of Beaver Builder. The advanced plans include white labeling for larger businesses.
Best WordPress Theme with Page Builder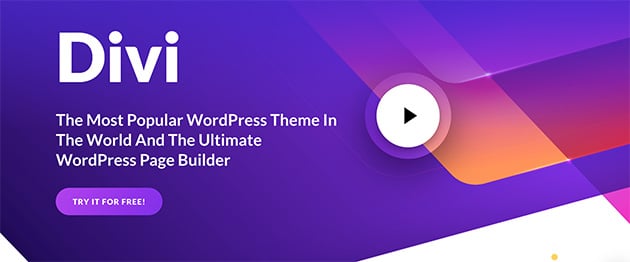 The Divi WordPress page builder plugin by Elegant Themes lets you create stunning page layouts for your site in true visual style. And because the builder's at the core of the Divi WordPress theme, you'll have access to Elegant Theme's premium products.
Features:
Many content modules for unlimited design possibilities
The drag-and-drop interface is easy to use, even for beginners
Includes tons of professionally built templates for different site types
You can customize everything from fonts and colors to sizing and spacing
Import and export layouts for future use
Content elements such as pricing tables, audio players, and calls to action add diversity to your design
As we mentioned above, the Divi builder plugin is part of a yearly Elegant Themes membership. So you'll need to buy a subscription to use it.
Pricing: Starts at $89 per year.
Best WordPress Page Builder with Popups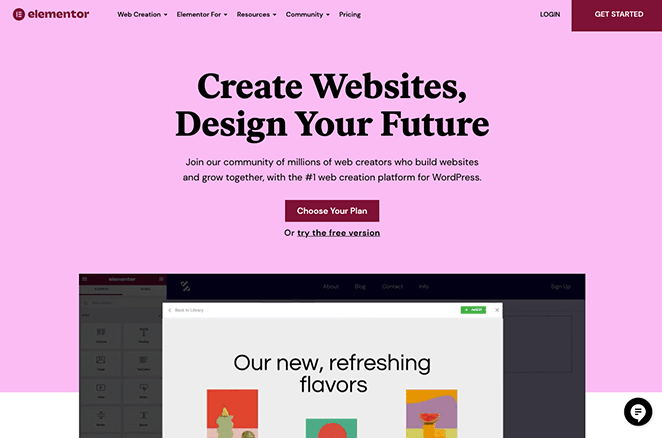 Elementor is a free, open-source drag-and-drop page builder for WordPress. And with over 2 million active installs, it's one of the best WordPress editors for sprucing up your WordPress website. With the drag-and-drop interface, you can rearrange any element in real-time and make easy edits with minimal fuss.
Features:
Over 300 different elements for building amazing website pages, including carousels, testimonials, forms, and more.
Hide or show elements in the mobile view to ensure your design is mobile-friendly
Built-in popup builder for Elementor Pro
Maintenance mode is built-in, so you can show a coming soon page or even under construction pages to visitors while making changes
100+ beautifully designed landing page templates to suit a variety of website types
Theme builder to design your own theme with Elementor's website editor
The revision history feature makes it easy to go back and undo changes if you make a mistake
Pricing: Starts at $49 per year.
You can check out our detailed Elementor review and tutorial for more information.
Best WordPress Page Builder for Front and Backend Editing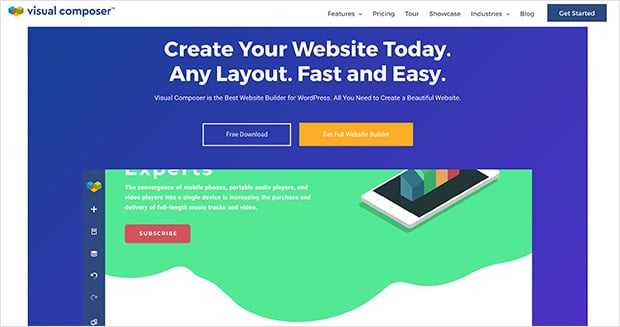 Visual Composer has to be one of the most popular WordPress page builder plugins with drag-and-drop functionality. As a complete website builder, it's an excellent tool for beginners and developers to customize their sites.
Features:
Works with almost all WordPress themes, as well as the new block editor
Intuitive design options let you take control of your site design with no coding needed. Change backgrounds and colors, add smart parallax effects, and more
Compatible with custom post types so you can add variety to your site
Includes professionally designed templates and content elements
Use flexible rows and grid templates to position your content
Works alongside WooCommerce so you can build beautiful online stores
Pricing: Starts at $49 per year.
Best Free WordPress Page Builder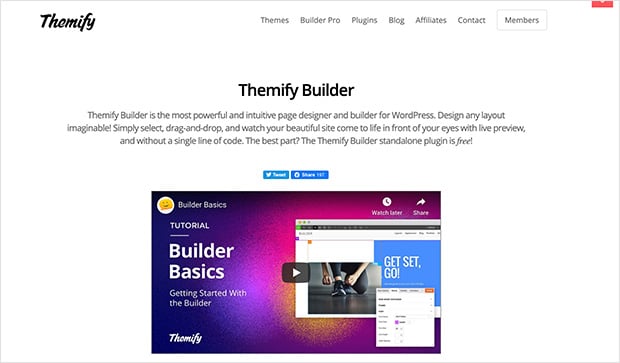 Themify Builder is another free WordPress page builder plugin. Created by Themify, you can use it to build simple website pages quickly. Even better, there's an addon bundle available at a decent price point should you need extra features.
Features:
60+ pre-built animation effects and layouts for easy page design
Undo and redo changes if you're not completely satisfied with your layout
Copy modules to other pages for reusing elsewhere on your website
Add a variety of map styles to WordPress with the Maps Pro addon
Take advantage of over 25 other addons like Slider Pro, Bar Chart, Contact, and more
Pricing: Starts at $59 per year.
What Is the Best WordPress Page Builder?
After looking at all the excellent page builders on offer, which is the best WordPress editor?
Our verdict is that SeedProd is the best WordPress page builder for its features and ease of use. It works with most WordPress themes and requires no coding skills at all. It has everything you need, with tons of design elements, a broad range of pre-built templates, and a powerful visual editor.
SeedProd is also bloat-free, making it the best lightweight page builder for WordPress.
SeedProd also has a free version you can try to get a feel for how it works. What more could you ask for?
WordPress Page Builder FAQs
What other WordPress page builders are available?
Other popular page builders that didn't make it onto our list include WP Page Builder, SiteOrigin Page Builder, and Brizy website builder. Many of these tools also include front-end editing for creating a website design without coding.
Do I need a WordPress page builder if I'm using the WordPress block editor?
The WordPress block editor, also known as Gutenberg, has blocks that look similar to the page builders in this post. However, it isn't a complete page builder quite yet because it lacks essential features that the most powerful page builders offer.
So yes, you will need a page builder if you want to create custom designs easily without coding.
Can I use a WordPress page builder with any WordPress theme?
Most WordPress page builders can be used with any WordPress theme, although some may work better with certain themes than others. It's always a good idea to check the compatibility of a page builder with your theme before installing it.
What is the difference between a WordPress page builder and a WordPress theme?
A WordPress page builder is a plugin that allows you to create custom pages on your website, while a WordPress theme controls the overall look and feel of your site. Some themes come with built-in page builders, while others may be designed to work well with certain page builders. It's important to choose a theme that is compatible with your chosen page builder and that has the features and design elements you want for your website.
Can I use a WordPress page builder for my blog posts?
While WordPress page builders are typically designed for creating custom pages, some may also have features that allow you to customize your blog posts. However, it's important to note that most page builders are not specifically designed for this purpose, and you may be better off using the built-in WordPress editor for your blog posts.
Can I use a WordPress page builder to create a custom homepage?
Yes, many WordPress page builders allow you to create custom homepages that are optimized for your business goals. You can use features like drag-and-drop functionality, pre-designed templates, and custom widgets to create a homepage that showcases your products or services.
Which free page builder is best for WordPress?
We think that SeedProd offers the best free page builder for WordPress when it comes to free page builders. It comes with everything you need to create top-performing landing pages and doesn't cost a penny, however, we recommend upgrading to the premium version.
Which WordPress Page Builder is the fastest?
And that's it!
We hope this article helped you discover the best WordPress page builder so you can create and manage your site with ease.
And if you're looking for more best WordPress plugins to extend the functionality of your site, check this showcase out.
Don't forget to follow us on Facebook and Twitter for more WordPress comparisons.