Are you considering using Divi on your WordPress website?
Divi is one of the most popular WordPress themes on the market. Created by Elegant Themes, it's a popular choice for many WordPress site owners to control the look and feel of their website.
But is Divi the best solution for creating high-converting landing pages in WordPress? In this Divi review, we'll dive into Divi's best features to see if it's the best fit for your website.
Is Divi a Theme or a Plugin?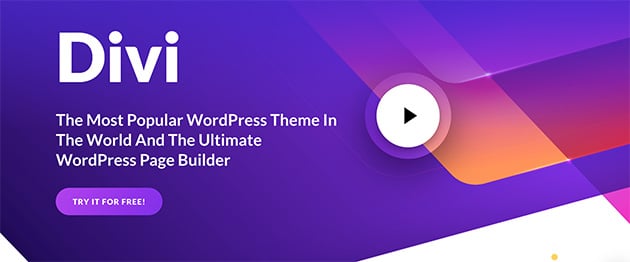 First, some people ask if Divi is a WordPress theme or a WordPress plugin. The answer is, Divi is both!
You can use Divi as a regular WordPress theme and use its customization options to change its looks. Or, you can use Divi's built-in drag-and-drop page builder and theme builder to design your entire website.
Simply put, Divi is both a theme AND plugin with tons of customization options to create almost any kind of website.
Divi Review: Best Divi Theme Features
Since Divi has so many powerful features, we'll look at the best it has to offer WordPress users for this Divi theme review.
Drag and Drop Divi Builder
Divi comes with its very own drag-and-drop builder built right into the theme. Similar to other WordPress page builders, like Beaver Builder and Elementor, you can build pages visually.
The only real difference with Divi is that the visual builder is built into the theme. That said, you can also get the Divi builder as a standalone WordPress plugin if you wish.
If you're not familiar with page builders, they allow you to create customized WordPress pages without needing to code or hire a developer. This means you can customize everything in the visual interface.
Here's an example of how this looks in Divi: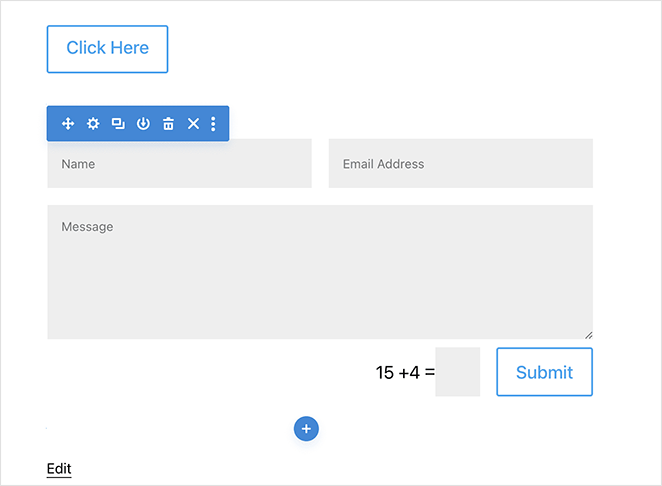 With the drag-and-drop editor, you can control your page's layout with rows, columns, spacing, and more. You can also add new content by adding different modules to your page.
For instance, Divi includes modules for buttons, images, contact forms, pricing tables, and more.
Every module, row, and column has dedicated settings to control its content, design, and style. For example, editing the contact form module allows you to control the form fields, notifications, labels, etc.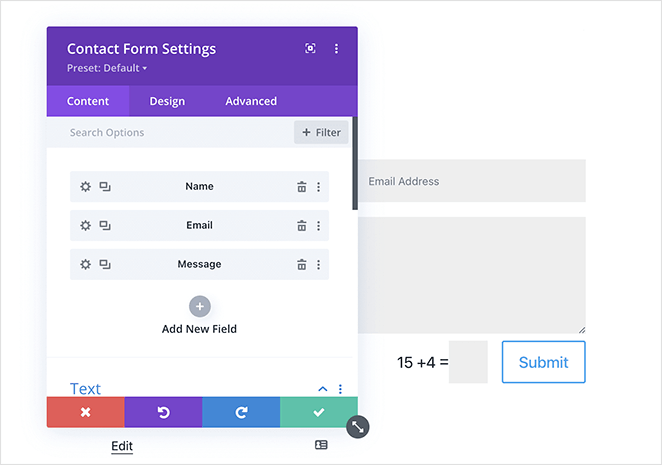 That said, Divi has a way of making its builder over-reliant on modules. While that is a great option for agencies, it's not so great for small business owners because the customization options make it difficult to use.
Visual Divi Theme Builder
Divi's theme builder works in the same way as the drag-and-drop builder. Where it differs is it allows you to use the Divi builder with your existing WordPress theme templates.
You can use it to completely redesign your theme's header or footer. Or you can use the theme builder to create a new template for your blog posts page.

It doesn't stop there. You can create individual templates for virtually any page and content type right down to your eCommerce product pages.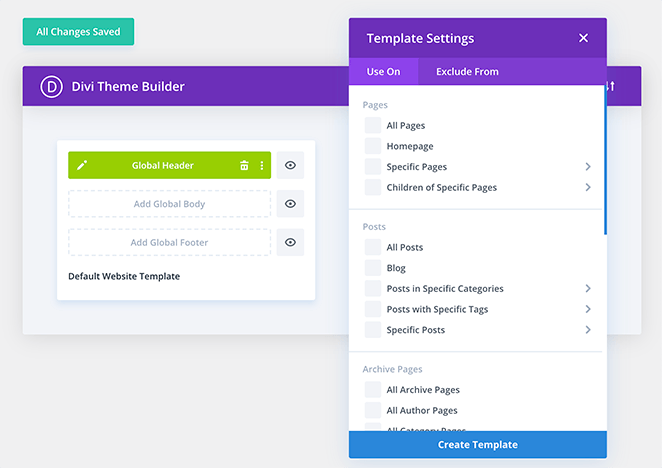 The great thing about this is you have control over 100% of your website's design, regardless of which theme you use. This makes Divi an excellent choice for anyone wanting to overhaul their website's design code-free.
However, if you don't plan to customize your theme and only want to make simple landing pages, you may not even use this feature.
Professional Divi Templates Library
While the theme and Divi builder allows you to create custom designs from scratch, you're not limited to starting with a blank page. That's because Divi has a massive library of professionally designed templates that you can import and customize.
At the time of writing this Divi Review, it has over 1,554 premade layouts included in 211 Divi layout packs. Layout Packs are a collection of templates you can use to create entire websites with a consistent look.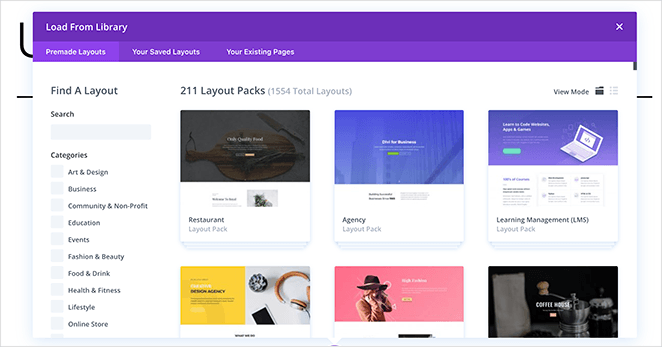 For example, the Coffee Shop layout pack has 8 templates that help you create a coffee shop website.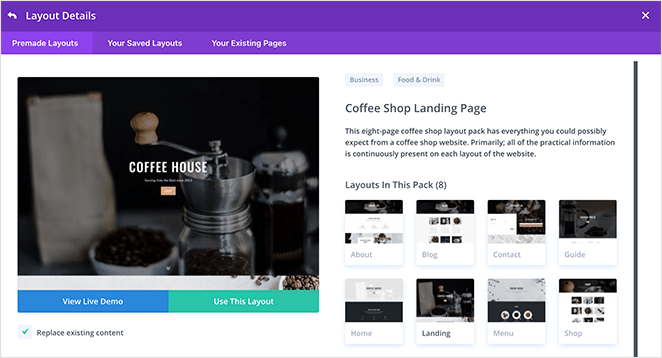 Beyond that, you can save your designs as templates or individual modules to use again later. This saves you a bunch of time, having to re-create the same design more than once.
Divi Theme Customizer Settings
When customizing the Divi theme, it uses the built-in WordPress Customizer. Just like any other WordPress theme, you can change a setting or style and see the changes in real time on the right-hand side of your screen.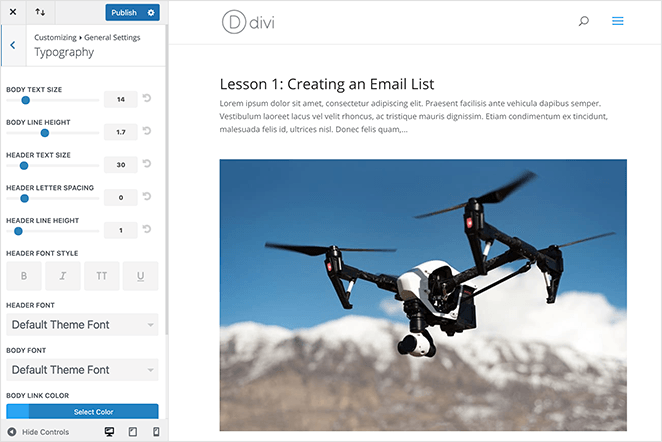 For example, if you want to customize your font settings, click the Typography heading and select your changes.
This is great if you only want to use the Divi theme. If you plan on using the builder, you can control all of these settings in the theme page builder, so you may never need to access this panel.
Divi Theme Settings
Lastly, Divi has a theme options area that you can access from the backend of your website. You can control your integration settings, SEO settings, advertising options, and more on this page.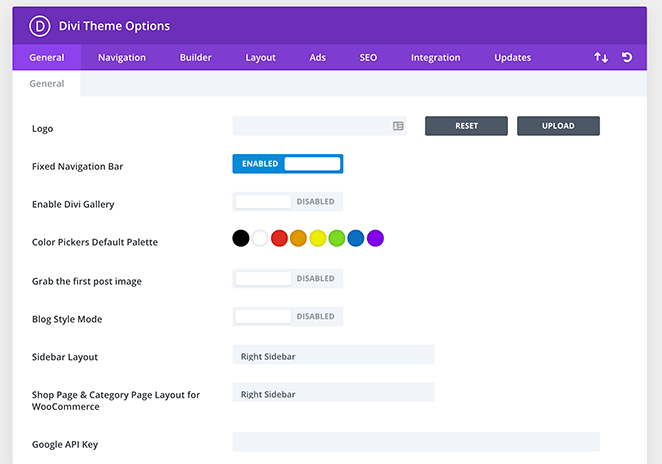 For example, you can use this area to add code snippets to your theme, like your Google Analytics tracking code.
Divi Review FAQ
Now that we've gone over the main Divi features, let's look at some common questions many WordPress users ask about Divi.
Is Divi Good for Beginners?
As mentioned earlier, Divi has a lot of features. If we were to explore them in-depth, this review would be insanely long.
But with so many moving parts, it begs the question, is Divi good for beginners? In our opinion, Divi has a learning curve that makes it tricky for beginners to get to grips with.
While Divi doesn't require coding to make your site look great, the sheer volume of settings and options can make diving in overwhelming for first-time users. Plus, if you don't plan to use Divi to create website designs regularly, many of its features will go unused.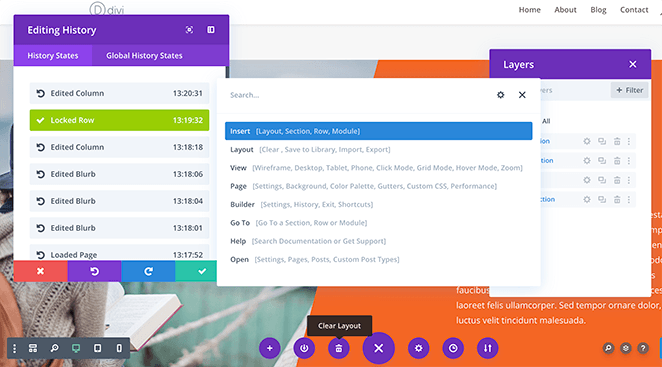 That said, if you're looking for an entry into web design, Divi is helpful as it introduces you to many customizable styling elements you might not have known about without the Divi interface. It also allows a beginning designer the freedom to experiment with creating different designs without needing a developer to build the sites for them.
Bottom line:
Divi is an excellent choice for beginner web designers and people looking for plenty of choices. But if you want to make straightforward, custom pages in WordPress, there are easier solutions around.
Does Divi Builder Work with Other Themes?
The Divi Builder plugin works fine with other WordPress themes. For instance, if you prefer a different theme to the default Divi theme, you can go ahead and install it and customize it with the Divi builder.
Will Divi Slow Down Your Website?
The answer to this question largely depends on your WordPress website setup.
Several website owners report that parts of Divi do slow down their website from the extra CSS and JavaScript it adds.
That said, if you're not following WordPress performance best practices, chances are you'll see performance issues from many plugins and themes.
How Much Does the Divi Builder Cost?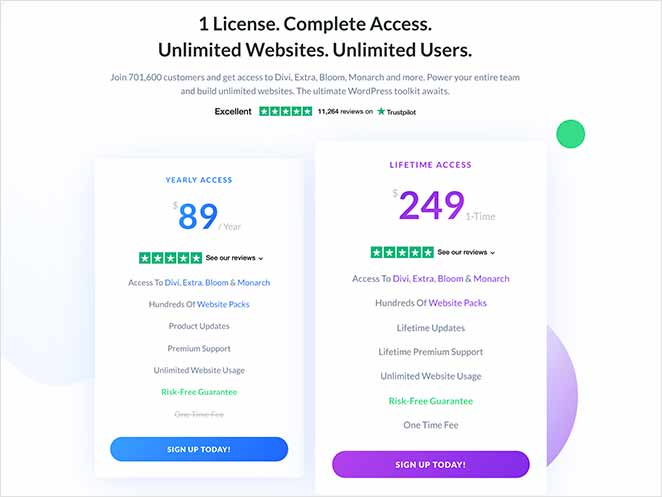 Divi is part of the Elegant Themes Membership. Yearly access to the membership costs $89 per year.
As part of your plan, you get:
Divi WordPress theme (and builder)
Extra WordPress Theme
Bloom Email Optin Plugin
Monarch Social Media Plugin
Use on unlimited websites
Product updates
If you prefer, you can pay a one-time fee of $249 and get everything with lifetime access.
After reading our Divi review above, you may have decided to give Divi a try or would like to explore some alternatives. Keep reading to learn about an excellent Divi alternative for creating easy custom WordPress pages.
A Faster and Cheaper Alternative to Divi: SeedProd
As we hinted at above, SeedProd is a great Divi alternative. It's a powerful WordPress landing page builder with a focus on keeping things easy for beginners. It also includes a powerful WordPress theme builder, allowing you to create custom WordPress themes without writing code.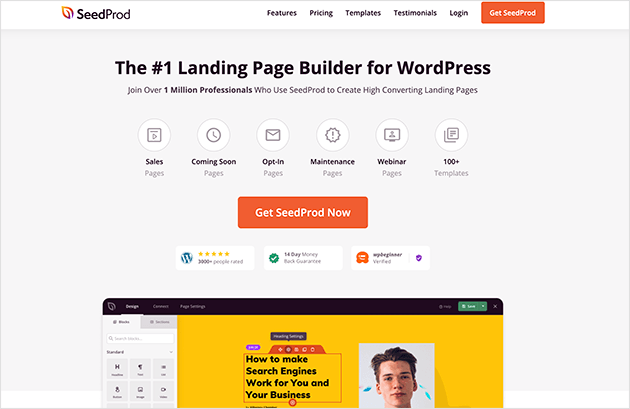 Instead of offering tons of complicated features, SeedProd specializes in making it easy to create landing pages that convert. This means you can spend less time worrying about your WordPress page design and more time generating leads for your business.
Let's take a look at how SeedProd works in comparison to Divi.
Truly Visual Drag-and-Drop Builder
Unlike the Divi builder interface, which has a single column with different windows to control your settings, SeedProd has a simple 2 column layout.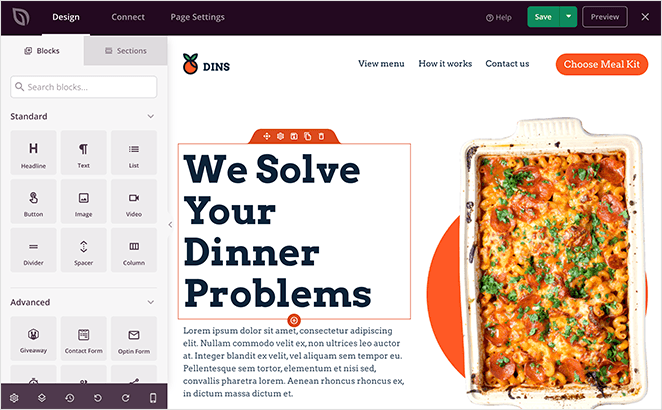 On the left are the different types of blocks and sections you can add to your page, while on the right, you can see a live preview. This layout makes it easier to make changes in real-time without windows covering parts of your design.
Adding content to your page is as simple as dragging a block from left to right and seeing the changes instantly.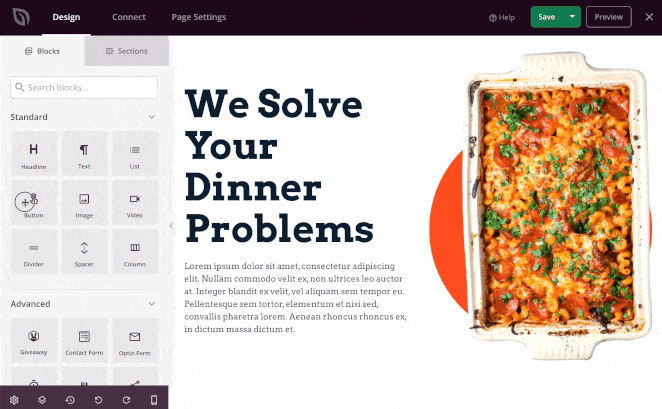 Clicking any block opens its settings on the left (instead of an overlay in Divi). From there, you can change the content, adjust the styles, and even choose a new template for that specific block.
This is something unique to SeedProd that saves you from tweaking each individual setting. Almost all of its landing page blocks have pre-made designs you can add with a single click.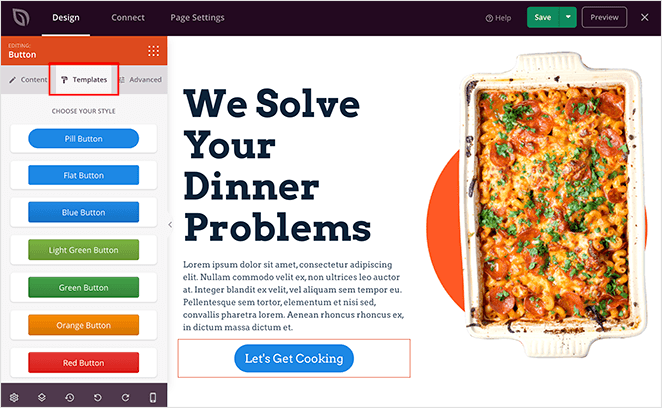 And when it comes to blocks, every block is designed with lead generation in mind. This includes blocks for:
Optin, contact, and login forms
Social sharing and profiles
Call to action buttons
Facebook pages, embeds, and likes
WooCommerce checkouts, carts, buttons, and products.
Animated page headlines
Custom pricing tables
Dynamic Google Maps
Countdown timers and progress bars
And more
SeedProd also offers entire premade sections like headers, footers, FAQ, hero, and call-to-action areas. And just like Divi, you can save any block, section, or template to reuse again on your website.
Not to mention, you can preview your entire page on mobile with SeedProd's live mobile and desktop preview option. This ensures everything looks great for all your website visitors, no matter which device they use.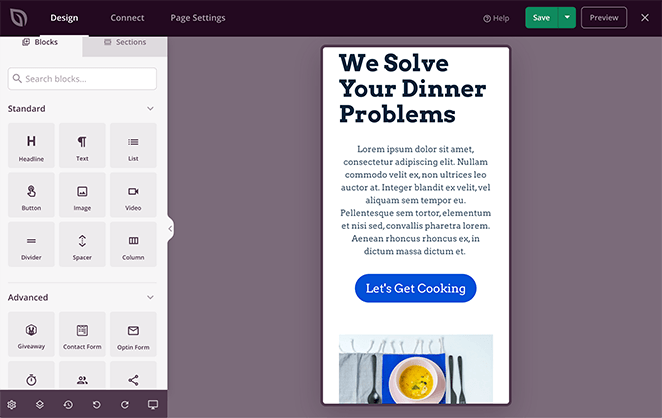 Customizable Landing Page Templates
While SeedProd's template library isn't as extensive as Divi's, it's a lot more focused. Every template is created with landing page conversions in mind to get the best possible results for your business.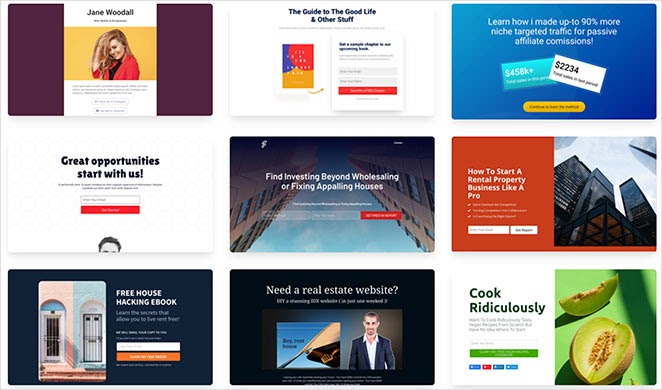 There are landing page templates for almost every industry and marketing goal, including:
And every template is super easy to customize in the visual page builder. Or, if you'd like to flex your creativity, you can start with a blank template and create a design from scratch.
Built-in Page Modes
An area where SeedProd differs from Divi is with its built-in landing page modes. You can enable custom landing pages in WordPress for your:
Coming soon page
Maintenance page
404 page
WordPress login page
Just customize any template and activate the mode with a single click from your WordPress dashboard.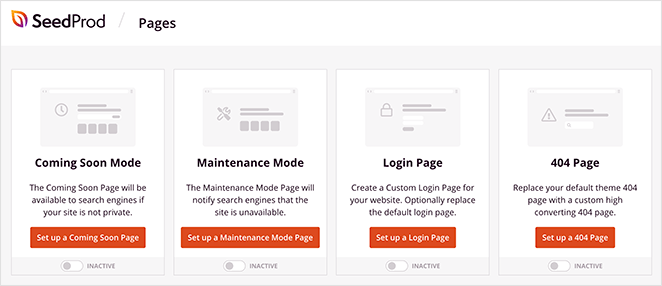 Even better, with SeedProd's coming soon and maintenance mode, you can use powerful access controls to limit access to your website.
For example, if you're creating a website for a client, you can hide your entire site from the public with a coming soon or maintenance page. You can then give your client a custom link to access your site and see your work, while the public only sees your coming soon page.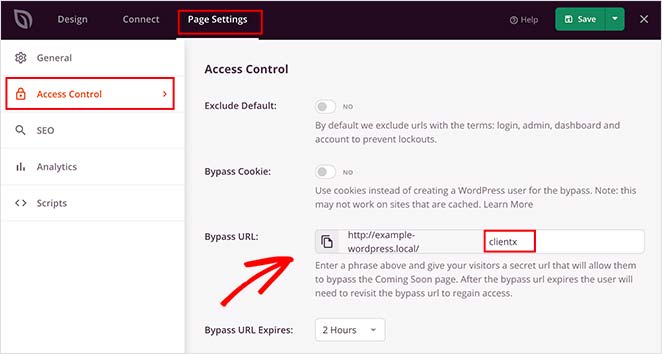 Seamless Integrations
Integrating your landing pages with third-party plugins and services is just as easy. SeedProd integrates easily with popular email marketing services with just a few clicks.
In Divi, you can integrate your email list inside the optin form module like this: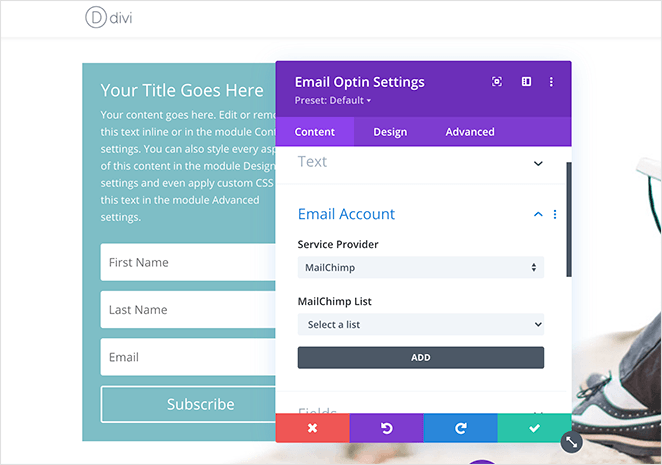 Yet with SeedProd, your integrations have a dedicated screen where you can clearly see the available options and connect to a service with a few simple clicks.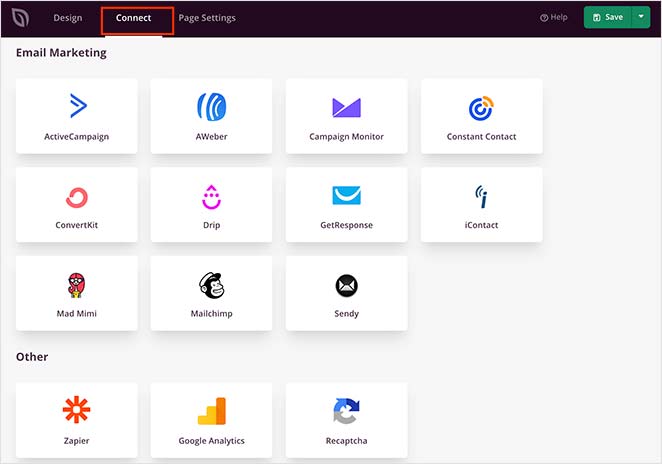 As well as email marketing, you can connect your Google Analytics account, set up Recaptcha spam protection, and connect with thousands of other marketing services with Zapier.
Plus, SeedProd works seamlessly with other WordPress plugins and themes for an optimized experience. For instance, you can use:
Speed Optimized Page Builder
We couldn't leave this Divi review without talking about page speeds. As mentioned earlier, Divi has a reputation for adding bloat that slows down your site.
In comparison, SeedProd was made to be as lightweight and fast as possible for optimized performance. We were curious about how both plugins compared in terms of speed, so we ran a simple test to find out which is the fastest.
We made a page with each builder using the following elements:
And the results were:
SeedProd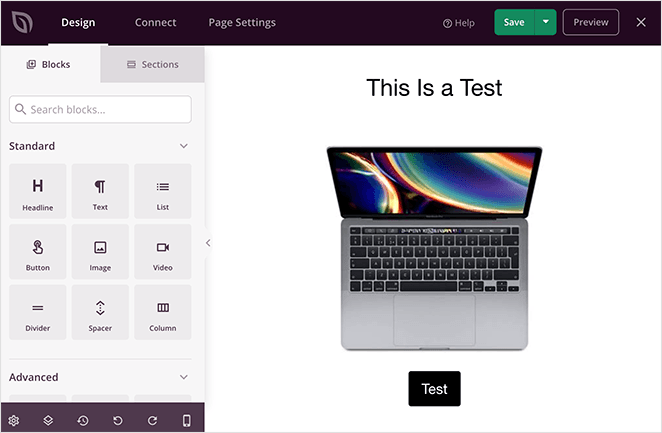 Page Size: 185.3 KB
Load Time: 1.18s
Requests: 12
Divi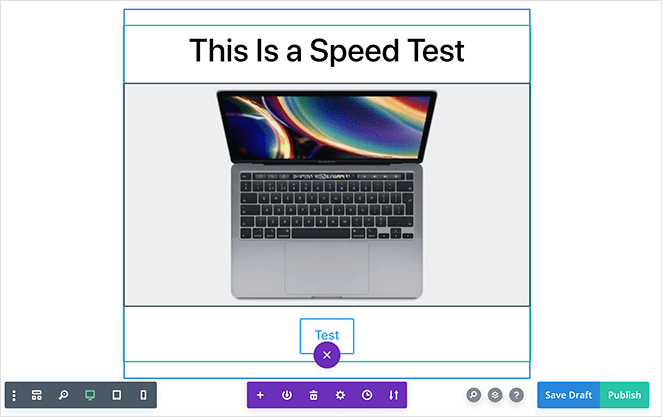 Page Size: 606.4 KB
Load Time: 2.10s
Requests: 17
As you can see, SeedProd is the clear winner when it comes to page size, load time, and the number of requests. Your results will likely differ, depending on your setup, but this is a great benchmark.
How Much Does SeedProd Cost?
SeedProd's pricing offers more flexibility than Divi.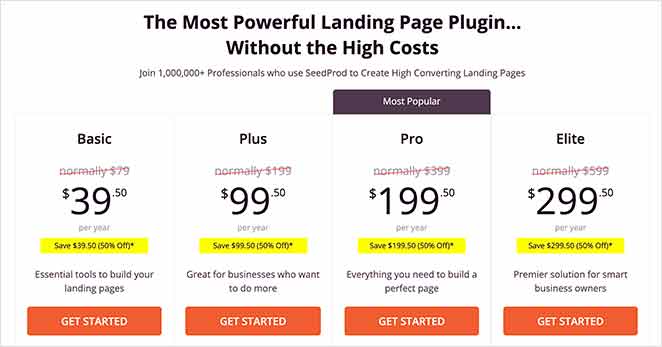 The base plan costs only $30.50 per month and with that, you can access all the essential features needed to create a landing page code-free.
If you'd like access to all of SeedProd's features on unlimited websites, SeedProd's Elite plan starts at $299.50 per year AND you'll get RafflePress's growth plan ($199 value), as part of the bundle.
For users on a budget, SeedProd also offers a free version that you can use to create simple landing pages without spending a dime. This gives it an advantage over Divi, which doesn't offer a free version at all.
Plus, SeedProd offers regular discounts throughout the year, allowing you to save on every plan.
SeedProd vs Divi Comparison Chart
Here's a quick overview of the important features in both of these page builders.
| Features | SeedProd | Divi |
| --- | --- | --- |
| Free Version | ✔️ | Ⅹ |
| Template Library | ✔️ | ✔️ |
| Visual Builder | ✔️ | ✔️ |
| Smart Landing Page Sections | ✔️ | Ⅹ |
| Responsive Editing | ✔️ | ✔️ |
| Animated Headline Block | ✔️ | Ⅹ |
| Giveaway Block | ✔️ | Ⅹ |
| Dedicated Facebook Blocks | ✔️ | Ⅹ |
| Checkout Block | ✔️ | Ⅹ |
| Coming Soon & Maintenance Mode | ✔️ | Only with an extra plugin |
| 404 & Login Page Mode | ✔️ | Only with an extra plugin |
| Domain Mapping | ✔️ | Ⅹ |
| Subscriber Management | ✔️ | Ⅹ |
| WooCommerce Integration | ✔️ | ✔️ |
Is Divi the Best Page Builder?
After writing this Divi review, looking at its best features, and comparing them to one of the top page builder alternatives, is Divi the best page builder?
In our opinion, SeedProd is the best WordPress page builder.
SeedProd is the best solution for non-techy WordPress users who want to create top-performing landing pages easily without hiring a developer and writing tons of code.
Are you one of those people?
What are you waiting for?
We hope you found this Divi review useful. If you did, do follow us on Twitter and Facebook for more reviews, tutorials, and helpful WordPress tips.