Are you looking for a detailed Instapage review?
Instapage is a landing page builder that lets you create effective landing pages to boost your leads, sales, and digital marketing efforts. But is Instapage the best landing page software on the market? And is the high price tag worth it?
In this review, we'll cover every aspect of Instapage to help you decide if it's the best choice for your business.
What Is Instapage?
Instapage is a hosted page builder that lets you create professional-looking landing pages for your website. The entire platform is hosted in the cloud and includes everything you need for effective landing page creation.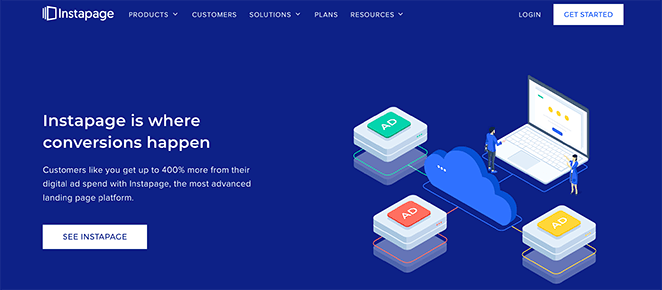 Even if you don't have a website or online presence, you can still create Instapage landing pages for lead generation and PPC campaigns. And if you lack design and coding skills, you can use the drag-and-drop builder functionality to create your landing page design visually.
Then, after creating your landing page, you can use heat mapping, analytics, and split-testing tools to track and improve your landing page performance and SEO.
What Are Instapage's Features?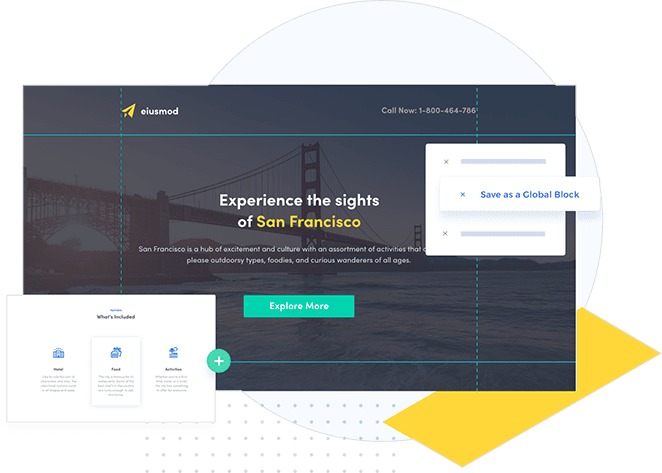 Before we dive in and look at how Instapage works hands-on, here's an overview of Instapage's most important features:
Landing page templates – Instapage offers hundreds of customizable templates, so you won't need to start from scratch with your design.
Drag-and-drop editor – Even if you start with a blank template, the live visual editor is easy to use to tweak your design.
Form builder – The built-in form builder allows you to collect leads, subscribers, and customer information easily.
Landing page widgets – You can add extra landing page content, such as videos, images, social media, buttons, and more, to highlight your selling points and convince visitors to sign up.
Tracking and testing – Due to the built-in analytics attribution, heat maps, and A/B split testing, you can test different versions of a page, track the results, and make adjustments to improve your conversion rate.
The above is by no means an exhaustive list of Instapage's features, but it gives you a good idea of what you can do with this page builder.
Instapage Review: A Hands-on Look
Now that you know what Instapage is and the features this landing page platform offers, let's take this Instapage review hands-on. Keep reading to see how creating a landing page with Instapage works.
Creating a Landing Page with Instapage
After logging in to the Instapage dashboard, click the 'Landing Page' navigation item and select the 'Create New Page' button to get started.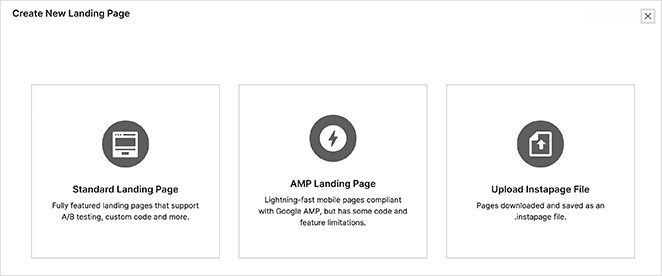 From there, you can browse landing page templates by use case, such as:
Product launch
Case study
Product sales
And more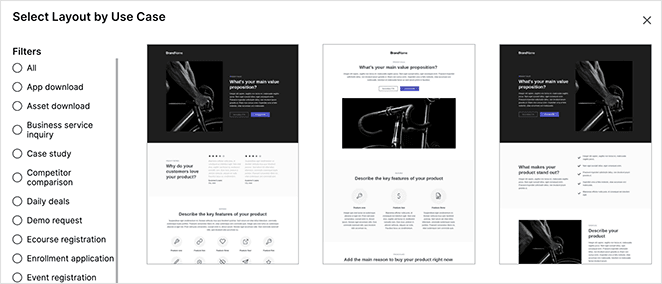 After selecting a template, you can give your page a name, and you'll head back to the landing page dashboard.
When you click on your new page, you'll see several options, such as:
Conversion goals
Integrations
Scripts & GDPR
Search & Social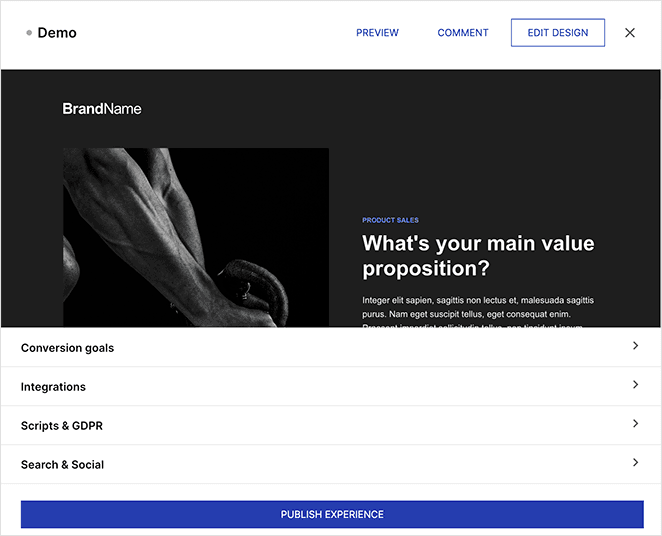 There are also options to publish, preview, comment, and edit your design. We'll look closer at integrations and other settings later, but for now, we'll edit the design to show you how the drag-and-drop builder works and demonstrate the ease of use.
Instapage Drag and Drop Builder
The visual editor for Instapage has 3-columns with blocks on the left, a preview, and settings on the right.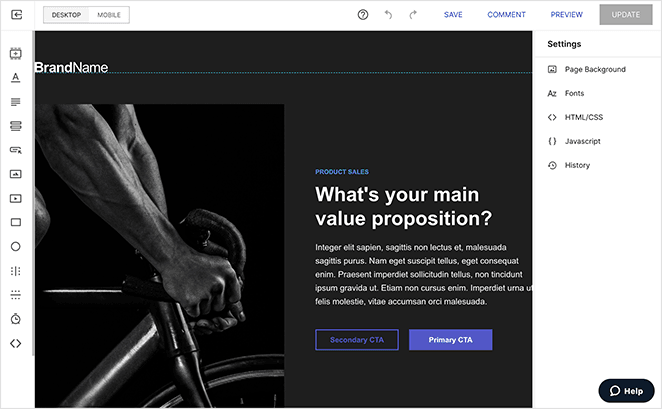 In the left column, you can access simple landing page blocks like:
Headlines
Paragraphs
Forms
Buttons
Images
Videos
Timers
Shapes
And adding blocks to your page takes a single click. From there, you can move the block anywhere on your design and click the 'Edit' button to open the block settings on the left.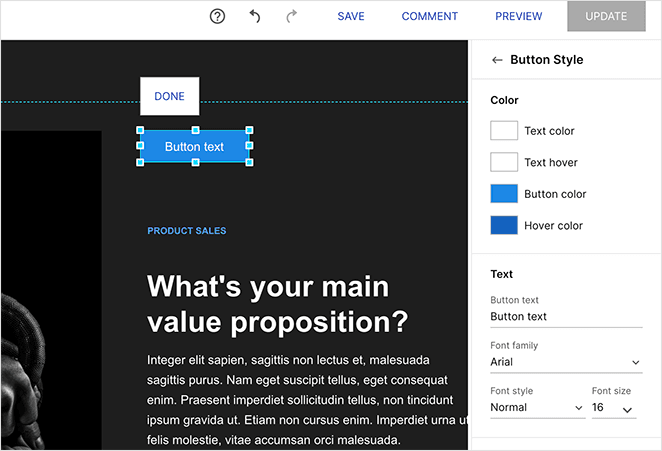 Additionally, you can click the 'Instablocks' button to add premade block templates like app downloads, checklists, CTA bars, FAQs, and more.
In the right column, you can customize your landing page background, change your fonts, add Custom HTML/CSS, and paste custom Javascript code.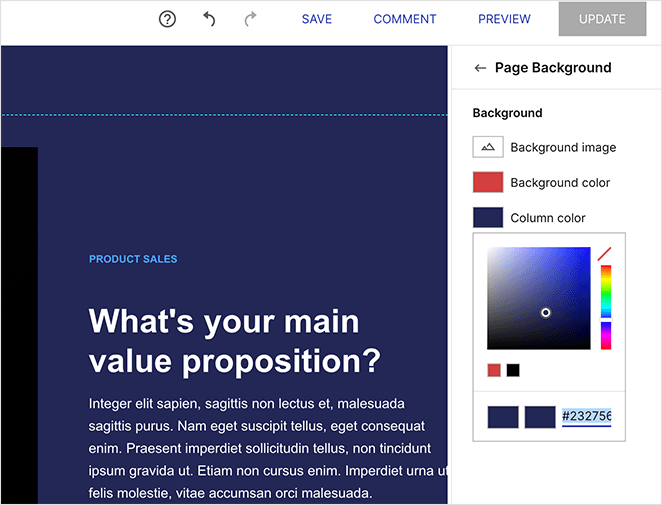 And if you're worried about how your page looks on different devices, you can use the mobile view to ensure your design is mobile-friendly.
Instapage Integration Options
With your landing page ready to publish, let's look at the different integration options for other marketing tools that Instapage offers.
Clicking the 'Integrations' tab on any design offers 3 integration choices:
Marketing Tags & Pixels
Form Integrations
Leads Notifications

First, let's look at 'Marketing Tags & Pixels'. Instapage includes 1-click integrations for Facebook Pixel and Google Tag Manager by default. So if you or your marketing team want to run retargeting ads, it's easy to set up.

To connect to a form integration, you have to visit the 'Integration' page inside your Instapage settings and choose a service from the list. On that page, you can connect to a variety of email marketing services like Mailchimp and ConvertKit. You can also set up Webhooks for other services.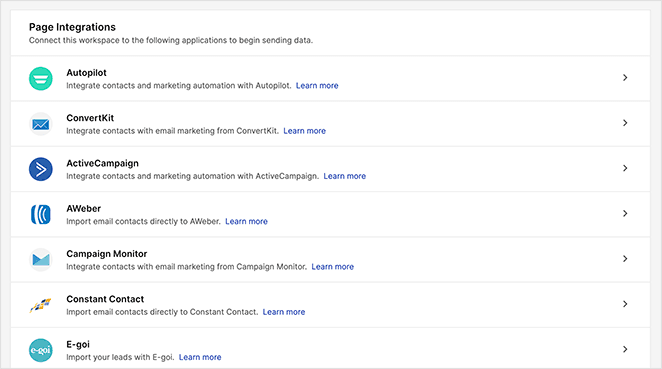 Additionally, you can integrate with CRM, marketing automation services, and collaboration tools like Marketo, HubSpot, and Salesforce.
Lastly, in the 'Leads Notifications' panel, you can tell Instapage to email you whenever your page generates a new lead. This is a great way for your customer support team to follow up with new leads.
Publishing Your Landing Page with Instapage
When you're ready to publish your landing page, click the 'Publish Experience' button. From there, you have 4 options to choose from:
Custom Domain – Publish your landing page on a custom domain name.
WordPress – Install the Instapage WordPress plugin and publish your page on WordPress.
Drupal – Add the Instapage Drupal plugin to your site and publish on Drupal.
Demo Page – Use the page.demo subdomain to test your landing page.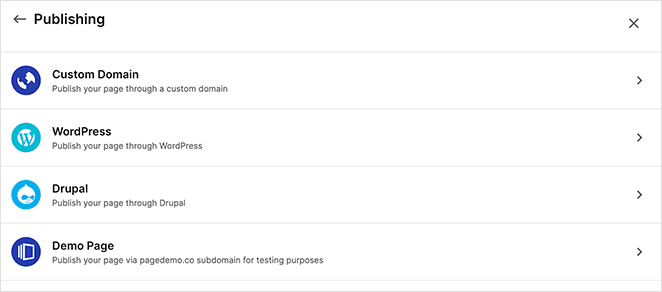 Instapage Testing and Analytics
After publishing your landing page, you can start setting up experiments to improve conversions. In the 'Experiments' panel, you can set up different page variations and test them against the original.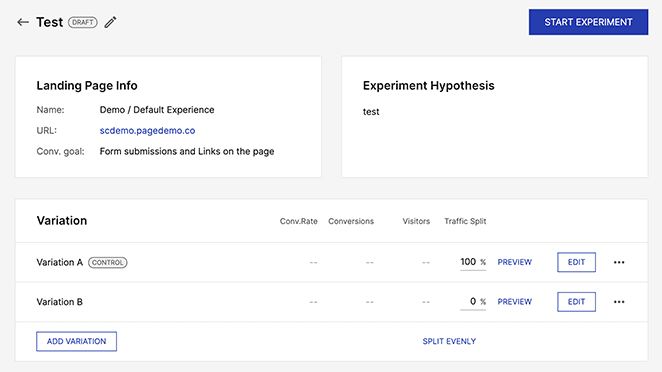 Beyond split testing, Instapage also makes it easy to track visitor's actions on your page.
For instance, you can set conversion goals right from the builder and track them through the analytics panel. And if you're running split tests, you can also see the data for each variation in that page's analytics.
Instapage Review: Pricing
After looking at how Instapage works, your next question is likely, "how much does Instapage cost?" So here's a rundown of Instapage's pricing.
Instapage offers 2 pricing models: Building and Converting.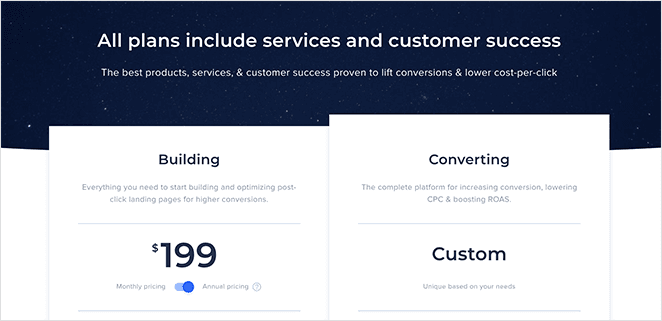 The Building plan costs $199 per month, billed annually, or $299 per month, billed monthly. And with that plan, you get the following features:
Customer Success Manager
Design Reviews
Landing Page Builder
Server-Side A/B Testing
Real-Time Visual Collaboration
Instablocks
Google AMP Pages
Postclick Score
AdMap for Google Adwords
Conversion Analytics
Dynamic Text Replacement
SSL Encryption
GDPR Compliance
Zapier Integration
HubSpot Integration
In comparison, the Converting plan has custom pricing based on your individual needs. In other words, it's Instapage's enterprise plan.
With the Converting plan, you get everything from the standard plan, along with:
Salesforce Integration
Marketo Integration
Editable Global Blocks
1:1 Ad-to-Page Personalization
Heatmaps
Custom Fonts
SSO (Single Sign-On)
Direct Lead-Bypass
Audit Logs
Guaranteed Uptime-Converting SLA
Page Migration Services
Dedicated Launch Specialist
Custom Feature Implementation
Custom Integrations
Conversion Consulting
Design Services
Pros and Cons of Instapage
Now that you know how Instapage works and the price tag involved in using this page builder, is it worth it? To figure that out, we've put together some pros and cons of Instapage.
Pros
There's no denying that Instapage is a powerful landing page builder. The drag-and-drop interface is easy to use, even if you're a beginner.
In addition, it has a wide range of mobile-responsive templates, so you won't have to worry about starting from scratch. Plus, the design reviews feature is a great way to collaborate with other team members.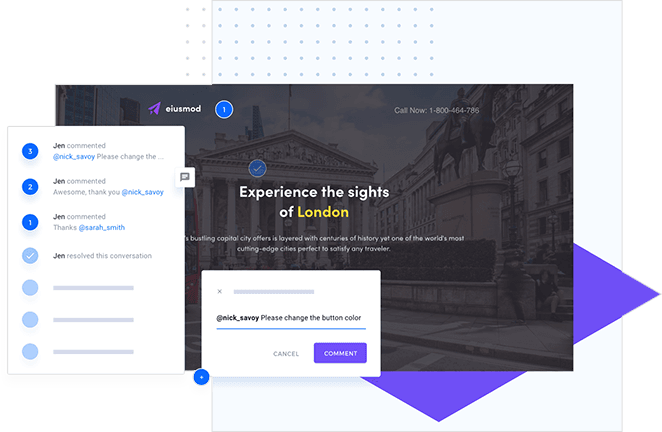 We also like the built-in analytics and split-testing feature. However, these settings aren't as easy to understand for beginners.
Cons
The key downside of Instapage is the price. We were expecting more customization options for such a large price tag. Especially when you look at competitors like LeadPages, Unbounce, and ClickFunnels.
For example, the page blocks lack advanced widgets for eCommerce websites. And there's no option to hide the page from specific audiences.
Furthermore, there are many simpler and often free alternatives to features like Analytics tracking and split testing. For instance, you can easily optimize and split test landing pages with Google Optimize for free.
Instapage Review: What Is Instapage Good For?
Given the information in this Instapage review, is it worth the cost?
If you're an enterprise-grade business that runs many Google Ads, then Instapage is a solid landing page solution and may be the best landing page builder for you. With its Ad Map feature and 1:1 Ad-to-Page personalization, you can easily optimize your post-click landing pages, lower your cost-per-click and increase conversions.
Yet, if you're a small business owner, Instapage is likely far too complex, with features you'll probably never use. Not to mention, the learning curve is steep, and the pricing isn't exactly cheap.
So, if you fall into that second category, and have a WordPress website, here's an Instapage alternative that may be just what you need.
Best Instapage Alternative for WordPress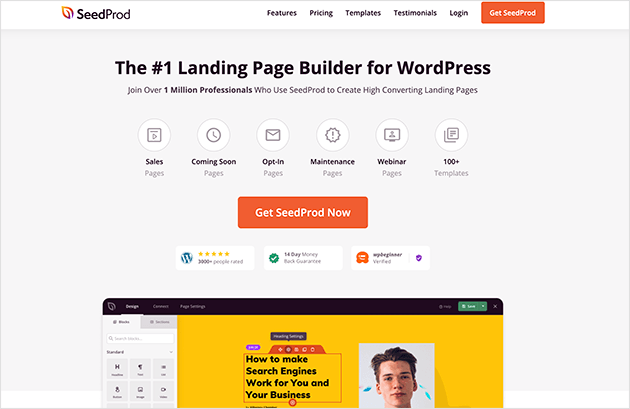 SeedProd is the best Instapage alternative for WordPress website owners. Like Instapage, it offers hundreds of mobile-responsive landing page templates and a lightning-fast drag-and-drop editor right out of the box.
But unlike Instapage, SeedProd is a WordPress theme builder plugin. That means you can design, create, and publish entire WordPress themes AND pages.
Because it's a WordPress plugin, you won't need to rely on separate cloud hosting to manage your landing page.
Additionally, SeedProd offers tons of customizable blocks and sections to make your design perfect. It has all the standard blocks like images, videos, buttons, and lists. Plus, it offers advanced landing page and theme elements for online stores, including:
WooCommerce checkouts, shopping carts, and product grids
Separate optin forms, contact forms, and login forms
Twitter and Facebook page and post embeds
Giveaway widgets for RafflePress
Testimonials and reviews
Countdown timers and progress bars
Google Maps and dynamic text
WordPress template tags for dynamic WordPress content
And many more features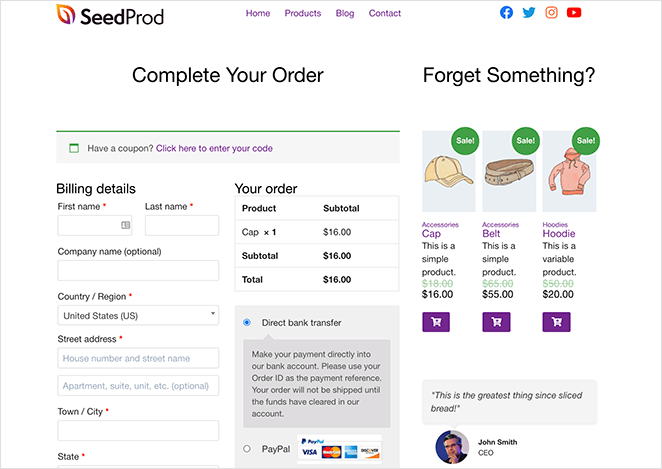 Moreover, SeedProd includes multiple page modes you can turn on and off with 1 click.
For instance, Coming Soon Mode lets you hide your site behind a coming soon page while it's under development. Or, with Maintenance Mode, you can show a friendly maintenance message while you're making small changes.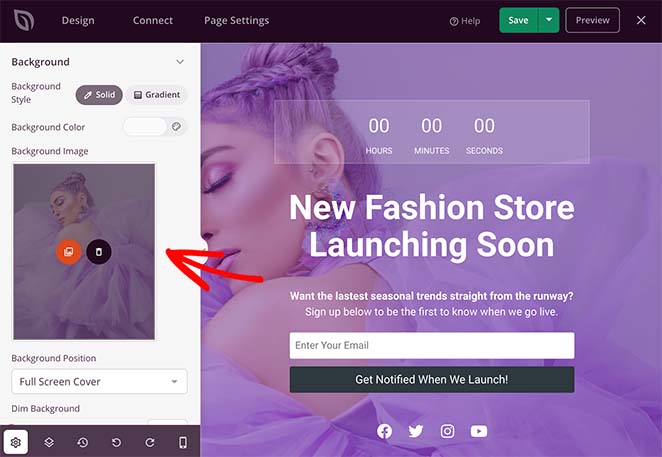 SeedProd also includes integration with Google Analytics, popular email service providers, and Zapier. So it's easy to track your landing page performance and grow your email list.
And if you need a custom domain for your page, SeedProd offers that, too, with its domain mapping feature. The added benefit is that you can create multiple pages on your main WordPress website without installing WordPress on each custom domain.
Then there's the fact that SeedProd is bloat-free and is optimized for speed.
So how much does SeedProd cost?
The good news is SeedProd costs from as little as $79 per year. The difference is enormous when you compare that to the cheapest Instapage plan of $199 per month, totaling $2,388 per year.
And the best part is you get many of the same features at a fraction of the cost.
So if you want all the best features without breaking the bank,
Thanks for reading. Please follow us on YouTube, Twitter, and Facebook for more helpful content to grow your business.