Are you struggling to choose between Instapage vs ClickFunnels vs SeedProd?
These landing page builders are the top solutions for many business websites. But how can you tell which builder is the best for your business?
In this article, we compare Instapage, ClickFunnels, and SeedProd to help you decide between them.
Instapage vs ClickFunnels vs SeedProd: Detailed Comparison
Before we start, let's look at what you should look for in a landing page builder.
The best landing page plugins and tools allow you to:
Build landing pages without hiring a developer or writing code
Collect email addresses with forms and calls-to-action
Connect with third-party tools like email marketing automation services
Sell products by integrating with eCommerce platforms like WooCommerce
Optimize your page to improve conversion rates
All 3 page builders, Instapage, ClickFunnels, and SeedProd, include these features in various forms. But as with any tool, they're each suited to a different type of user.
So keep reading to find out which solution is the best fit for your business website.
Features
First, let's look at each landing page tool and see what they're most known for and the features they offer.
Instapage Features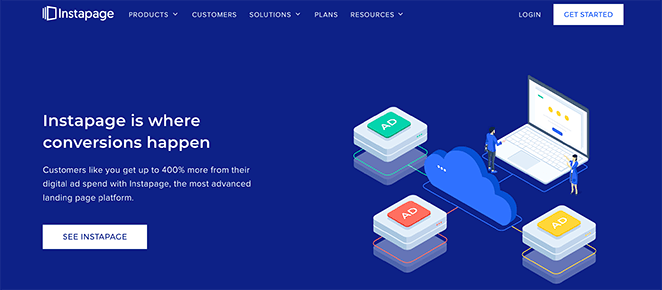 Instapage is landing page software that allows you to make landing pages for ad campaigns like Google Ads. It includes a suite of useful features to boost conversion rates and makes creating landing pages easy with its visual editor.
Some of Instapage's key features include:
Customizable landing page templates
Heatmaps and A/B split testing
Built-in landing page analytics
Automatically import your ad account with AdMap
Integration with Mailchimp, Salesforce, etc.
Mobile-responsive design
ClickFunnels Features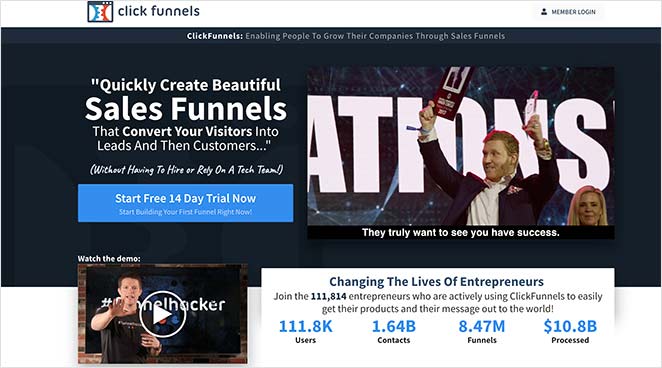 ClickFunnels is a sales funnel builder that allows you to create a variety of funnels, including sales pages, order pages, thank you pages, and more. It's essentially a website and marketing flow all-in-one that helps you nurture users through your sales funnel.
Some of the essential features that ClickFunnels offers include:
Drag and drop web page builder
Offer 1-click upsells with smart shopping carts
Facebook and email marketing automation
Customizable funnel templates
Earn commission with its affiliate marketing program
Related: Best affiliate marketing plugins for WordPress
SeedProd Features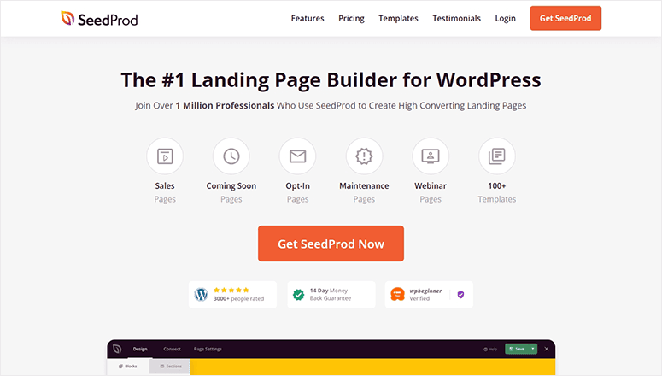 SeedProd is a powerful WordPress theme builder and page builder plugin. It allows you to create entire WordPress themes and high-converting landing pages without writing code.
With hundreds of mobile-friendly templates and a user-friendly drag and drop editor, you can create any type of page in less than 30 minutes.
Some of SeedProd's best features include:
Quickly sell products from your WordPress theme with WooCommerce integration
Give landing pages a custom domain with domain mapping
Built-in coming soon, maintenance mode, 404, and login pages
Access controls to hide unfinished pages from the public
Integrate with popular email marketing services and WordPress plugins
Manage subscribers in a single WordPress dashboard
Hide page elements on mobile or desktop devices
Instapage vs ClickFunnels vs SeedProd: Page Builder Comparison
Now that you know what each page builder software does let's look at how to create a landing page with these tools.
Instapage Page Builder
Creating a landing page with Instapage is relatively straightforward. First, there are 3 options to choose from:
Standard Landing Page – Create a typical landing page.
AMP Landing Page – Make a mobile landing page with Google AMP
Upload Instapage File – Use an existing Instapage file

After choosing the 'Standard Landing Page' option, the next step is to choose a template.
Instapage offers a variety of landing page templates for many different industries. However, they're highly specific, which is excellent news for marketers that know what they're doing but may be too complex for beginners.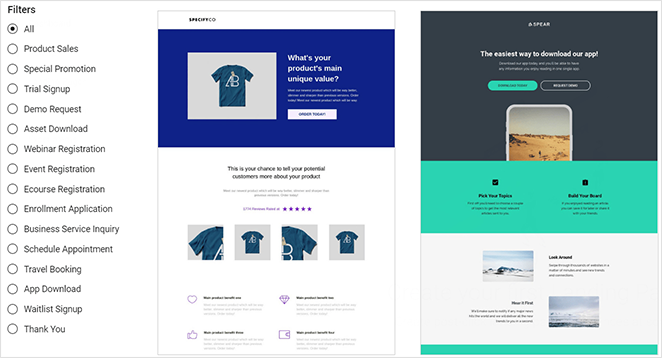 Once you choose a template, name it, and create your page, it opens in Instapage's drag-and-drop builder. From there, click the 'Edit Design' button to customize the template.
The visual editor is simple and easy to use; just click any design element on the left to add it to your page. You can then drag the element to where you want it and click it to edit the content.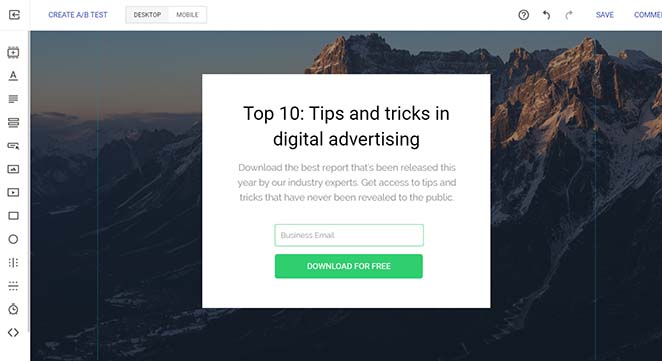 Additionally, you can edit your landing page on either mobile or desktop, integrate your page with social media platforms and Google Analytics tools, and A/B split test your design for maximum conversions.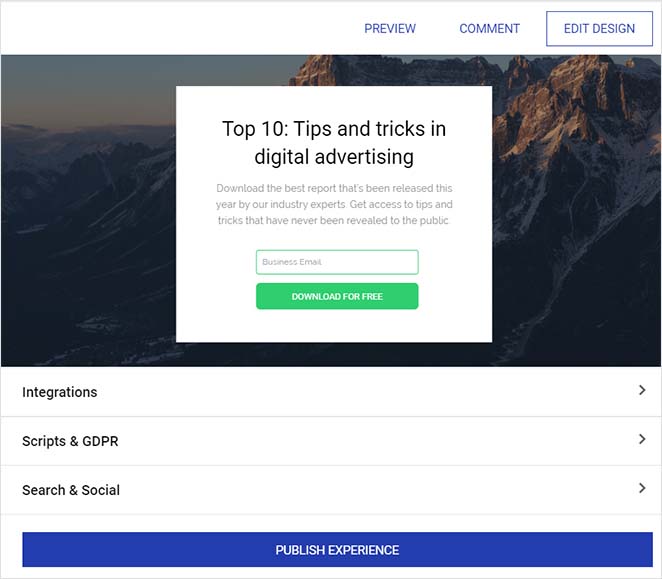 While Instapage seems easy to use at first glance, it isn't immediately clear to beginners what each feature does or which steps come first.
Now let's see how ClickFunnels compares.
ClickFunnels Page Builder
Creating a landing page with ClickFunnels is a different process. First, you need to create a new Funnel, but unlike Instapage, the 3 options you can choose are goal-based:
Collect Emails
Sell Your Product
Host Webinar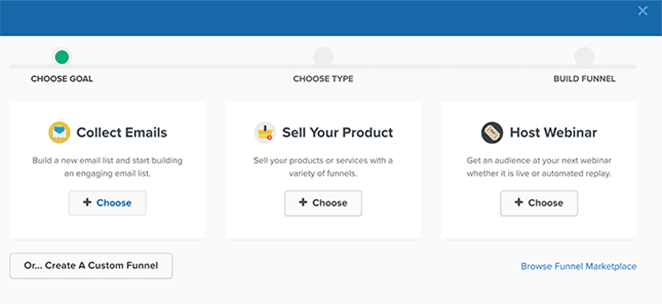 For example, if your goal is to get more leads and grow your email list, you can choose the 'Collect Emails' option. From there, you'll head to the funnels dashboard, where you can choose your templates and build your pages.
Unlike Instapage, ClickFunnels has 2 steps in the funnel building process. The first step is to create a landing page, and then the second is to create a thank you page for when users complete your form.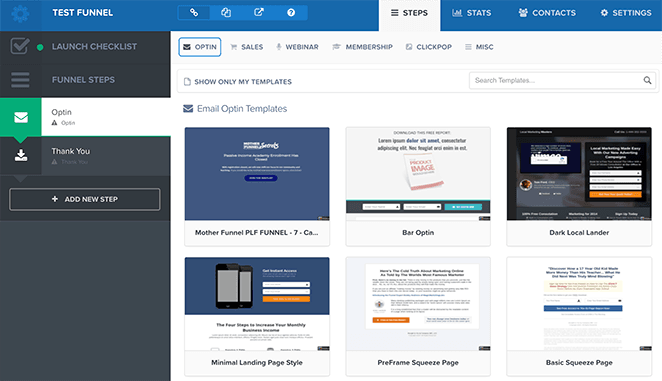 You can choose from several multipurpose landing page templates for both steps and customize them in the visual editor.
ClickFunnels page builder isn't as minimal and streamlined as Instapage, but it works the same. Just choose an element from the right-hand sidebar, click it to add it to your page, and drag and drop it into place.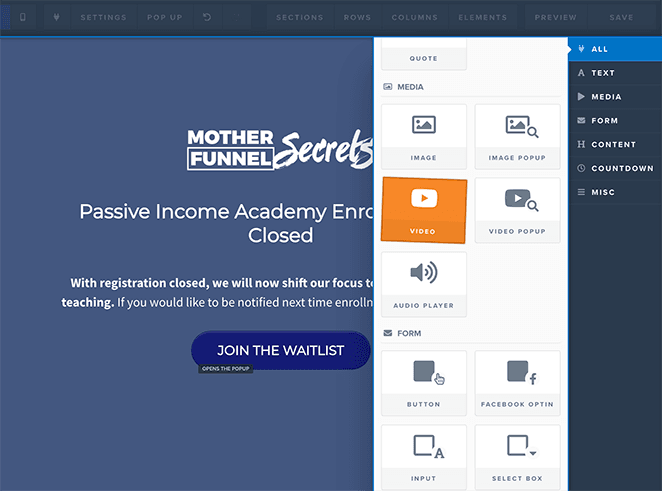 In addition, ClickFunnels allows you to build checkout pages for your online store, which is something Instapage doesn't offer. The only downside is they're not as customizable as the other types of pages you can create with this software.
In the end, ClickFunnels is a simpler alternative to Instapage, with the added benefit of creating integrated checkout pages to sell your products or services.
Now let's compare SeedProd to Instapage and ClickFunnels.
SeedProd Page Builder
SeedProd is super-easy to use straight out of the box. As soon as you install and activate the WordPress plugin on your website, you can create either a WordPress theme or landing page right away.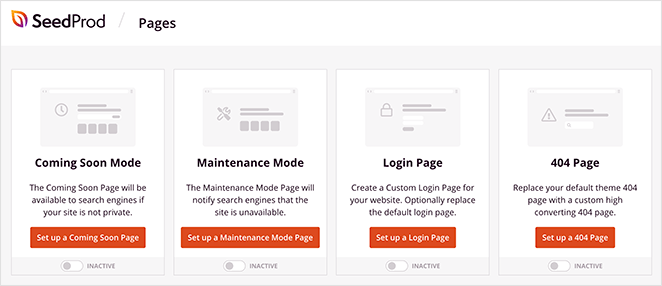 On the landing page dashboard, there are 4 different modes:
Coming Soon Page – Display a coming soon page while your website is under development
Maintenance Mode – Show a maintenance message when you're making minor changes to your site
Login Page – Create a custom WordPress login page without hiring a developer
404 Page – Make customized 404 pages that keep users on your site for longer
You can turn on each mode with a single click and edit them in SeedProd's drag-and-drop builder.
Alternatively, you can create a standalone landing page for a variety of goals. Just create a new page and choose from hundreds of landing page templates, including:
Sales Pages
Lead Squeeze Pages
Thank You Pages
Login Pages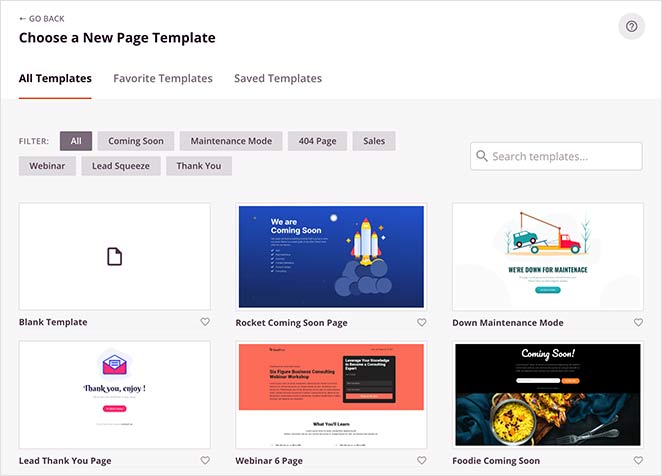 You can also start from scratch with a blank template and build your page with SeedProd's beginner-friendly content blocks.
After choosing a template, it opens in SeedProd's visual page editor. Like Instapage, it has a 2-column layout with blocks and sections on the left. And you can see a live preview of your page on the right.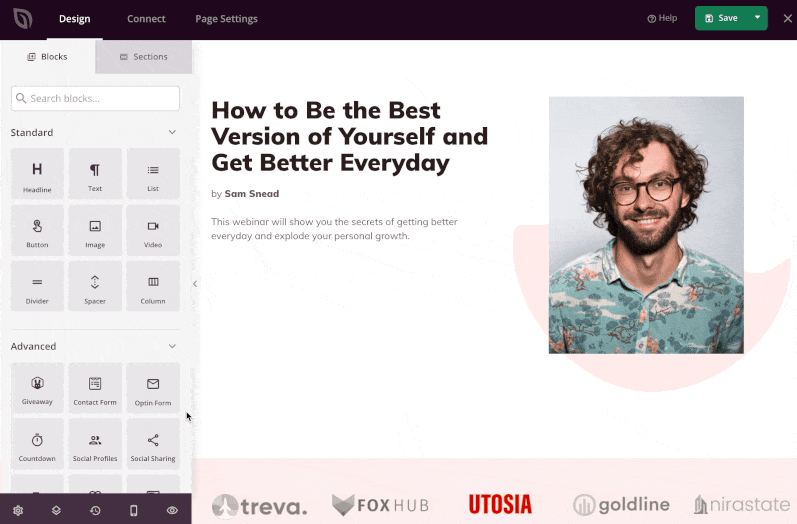 Unlike Instapage, SeedProd's blocks have clear labels so you can see what they do at a glance.
For example, the Standard blocks include all the standard building blocks, like images, buttons, videos, etc. The Advanced blocks offer lead generation tools for your business, with features like:
Contact Forms
Countdown Timers
Giveaways
Social Media Buttons
Twitter and Facebook Embeds
Testimonials
Image Carousels
Pricing Tables
Google Maps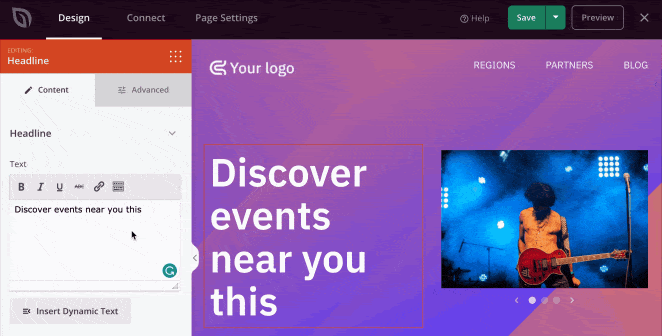 And the WooCommerce blocks make it easy to sell products and services right from your landing page with add-to-cart buttons, checkout pages, product pages, etc.
If you use SeedProd to build your WordPress theme, it has several WordPress template tag blocks for adding dynamic WordPress content to your design, including:
Blog posts
Archive title
Post title
Post content
Post info
and more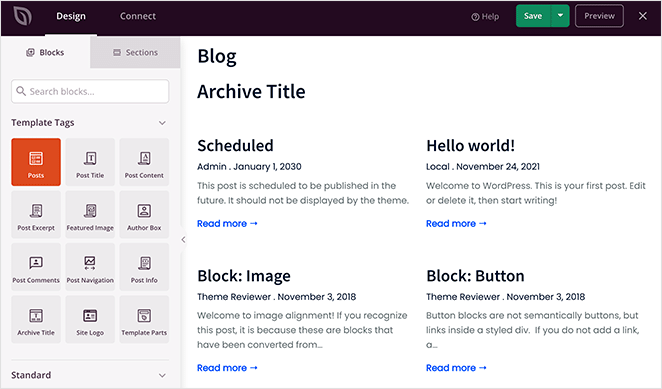 In addition, SeedProd comes with pre-made sections to add more content to your template. For instance, you can create custom footers, hero sections, add product features, and more.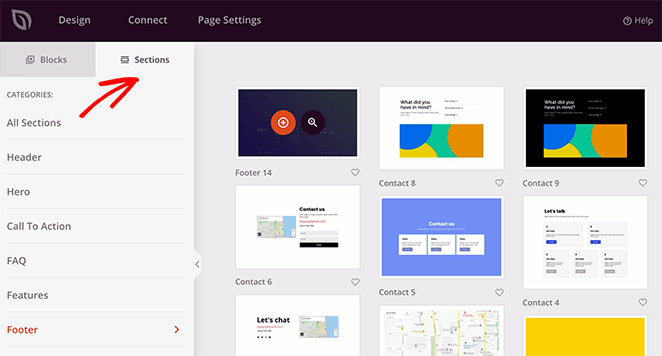 Using the builder is fast and easy. Just drag any block from the left panel and drop it into place on the right. You can then click the block to edit the content, assign a template, and edit the styles, padding, and margins.
Connecting your landing page to an email marketing service is just as easy. Simply click the Connect tab at the top of your screen, and follow the prompts to authorize your email provider.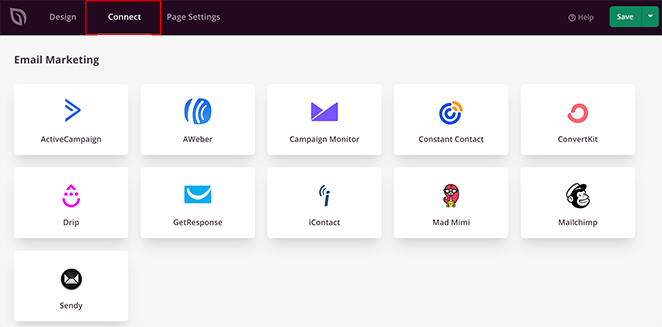 Then in the Page Settings tab, you can configure your on-page SEO settings, give your page a custom domain, add tracking codes, and much more.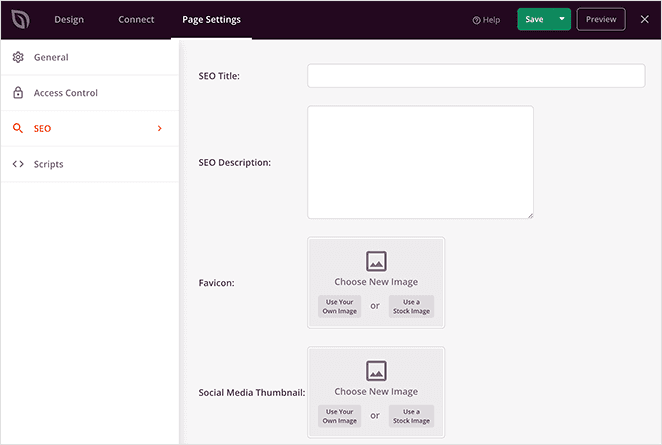 In comparison to Instapage and ClickFunnels, SeedProd is the easiest to use for beginners. It doesn't include any extra features you'll likely never use but still lets you create powerful WordPress themes and landing pages for your sales funnel that convert.
Website Hosting Comparison
Choosing a hosting service for your landing page can be just as hard as choosing landing page software. Even a 1-second delay in page loading times can reduce your conversions significantly.
Both Instapage and ClickFunnels host your landing pages on Amazon Cloud Servers. This is great for reducing downtime, but it takes control over your website host out of your hands.
That said, they both offer a WordPress plugin, you can use to connect your pages directly to WordPress.
Since SeedProd is a native WordPress plugin, you have complete control over the type of hosting provider you choose. That means you can browse the best WordPress hosting providers and get the top deals for your business.
From there, using SeedProd is as simple as installing and activating the plugin. That means no messing around with API keys and no compatibility issues with 3rd party services.
Instapage vs ClickFunnels vs SeedProd: Pricing
After creating a landing page with each solution, let's see how Instapage, ClickFunnels, and SeedProd compare on pricing.
Instapage Pricing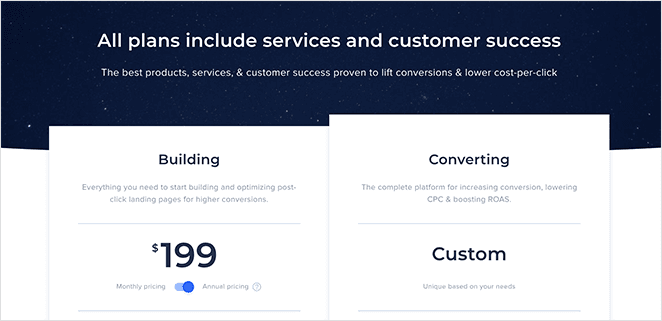 Instapage offers 2 pricing plans, 'Building' and 'Converting':
Building: $199 per month billed annually
Converting: Custom quote-based enterprise plan
While it does offer a 14-day free trial, there isn't a free version.
ClickFunnels Pricing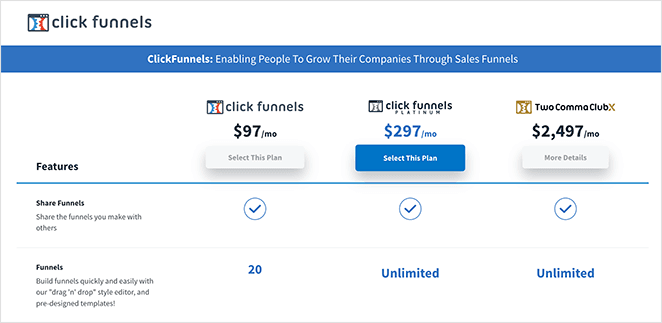 ClickFunnels has 3 pricing plans that are also quite costly, 'Standard,' 'Platinum,' and 'Collective':
Standard: $97 per month
Platinum: $297 per month
Collective: $2,497 per month
You can also try ClickFunnels over a 14-day free trial, but again, it doesn't offer a free version.
SeedProd Pricing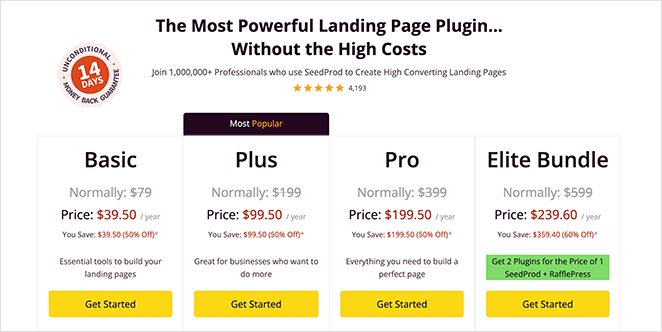 SeedProd offers 4 pricing tiers for a range of budgets, including 'Basic,' 'Plus,' 'Pro,' and 'Elite':
Basic: $79 per year
Plus: $199 per year
Pro: $399 per year
Elite Bundle: $599 per year
While SeedProd is the cheapest solution on this list, it's just as powerful as Instapage and ClickFunnels. It also comes with a 100% no-risk 14-day money-back guarantee, so if you try and find it isn't for you, you contact customer support and get your money back, no questions asked.
What's more, there's an entirely free version of the plugin, which is essentially an unlimited free trial of SeedProd. With SeedProd Lite, you can create high-converting landing pages without spending a single dime!
Which Is Better: Instapage vs ClickFunnels vs SeedProd?
In comparison to Instapage vs ClickFunnels vs SeedProd, it's clear to see that SeedProd is the best WordPress theme and landing page builder.
This popular page builder plugin offers all of the features needed to create landing pages in WordPress without code. It has hundreds of professionally designed templates you can customize for any sales funnel, and with WooCommerce support, you can increase revenue for your online store.
Not to mention, SeedProd is lightning fast, won't slow down your website, and offers the most value for money.
So if you want to skyrocket your leads, sales and grow your business on WordPress…
Thanks for reading. Please follow us on Twitter, Facebook, and YouTube for more helpful content to grow your business.