Do you want to create a Google Ads landing page for your website?
A Google Ads landing page is a web page people visit after clicking your ad campaigns. From there, they can learn more about your products or services and become leads and potential customers.
In this article, we'll show you how to set up a landing page for Google Ads in WordPress step-by-step.
Why Use Landing Pages for Google Ads?
The key benefit of using landing pages for Google ad campaigns (PPC) is it makes it easier to convert visitors into leads and customers.
Many advertisers send paid traffic to generic web pages like their brand's home page. But that approach often leads to poor conversions and high cost-per-click.
The reason for that is because visitors can't find what they initially searched for and leave your website. And that tells Google that your landing page experience isn't a good one.
However, if visitors click through from an ad to a relevant landing page, they'll find the information they need right away. And since that information reinforces your ad's promise and offers a simple path to the next step, it's a smoother way to increase your conversion rates.
In addition, a standalone PPC landing page (pay-per-click) can:
Help you get a higher ad quality score, boosting your ad rank.
Lower your cost-per-click and cost-per-acquisition.
Increase conversions on the offers you run with paid ad groups.
Does Google Ads Allow Landing Pages?
For now, Google doesn't have the option to build landing pages in Google Adwords. That said, they do allow you to create a landing page experience outside of the platform.
For example, you can set up a landing page for your ad in WordPress and link it to your Adwords campaign.
Here's a Google Ads landing page example to give you an idea of what to aim for: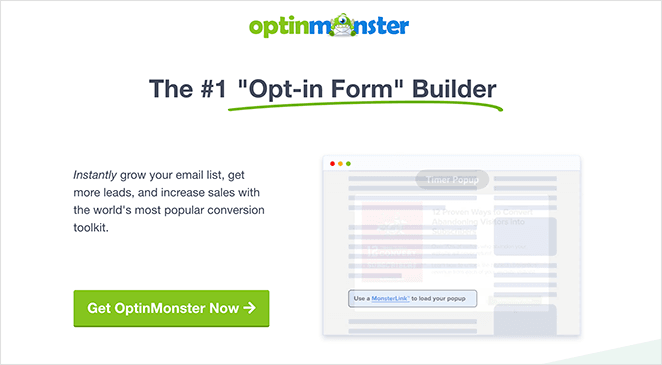 How to Optimize Your Landing Page for Google Ads?
Before creating a high-converting landing page, it's essential to know how to optimize your landing page for Google Ads. That way, you can ensure your page includes the essential elements needed to achieve the best results.
So when you build your page, focus on these Google Ads landing page best practices:

Page load times – If your page loads slowly, users are more likely to bounce away.
Mobile-friendly – Your page should adapt to all screen sizes for the best user experience.
Message matching – Match your landing page message and design to your advertisement to ensure it's relevant.
Personalization – Personalize your page for different audience segments. You can do this with dynamic text replacement, so different users see a different message based on their search query (more on this later).
Navigation – Make your page easy to navigate, and in many cases, you can remove the main navigation menu to keep users on the page.
Credibility – Use social proof and trust badges to boost your credibility, such as testimonials, reviews, and star ratings.
CTA button – Try to use a single call-to-action, but add the CTA button more than once throughout your page. That way, users have multiple opportunities to convert.
How to Create a Landing Page for Google Ads
Now that you know how landing pages for Google Ads work, let's look at how to make one in WordPress.
For this tutorial, we'll use SeedProd to build a high-converting WordPress landing page.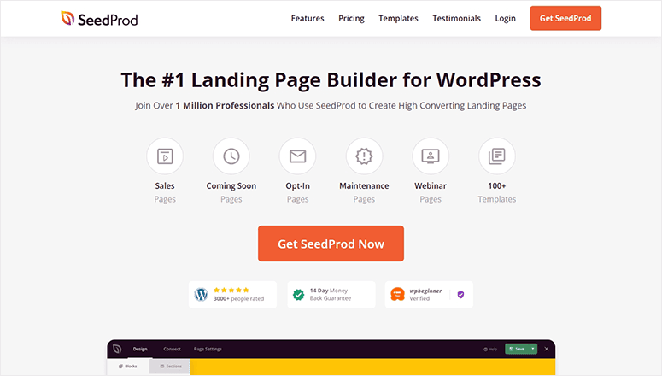 SeedProd is the best WordPress page builder with drag-and-drop functionality. With 150+ responsive landing page templates, you can make any type of landing page – no coding needed.
SeedProd also offers tons of elements to build your page visually. And with bloat-free coding, the plugin is lightning fast to ensure the top page speeds.
Follow the steps below to create the best landing page for Google Ads with SeedProd.
Step 1: Install and Activate SeedProd
The first step is to download SeedProd and upload the plugin to your WordPress website.
Then, you need to install and activate the plugin. If you're unsure how to do that, you can follow this guide for installing a WordPress plugin.
After installing SeedProd, you'll see a welcome message asking for your license key. You can find your key in your SeedProd account area under the 'Downloads' section.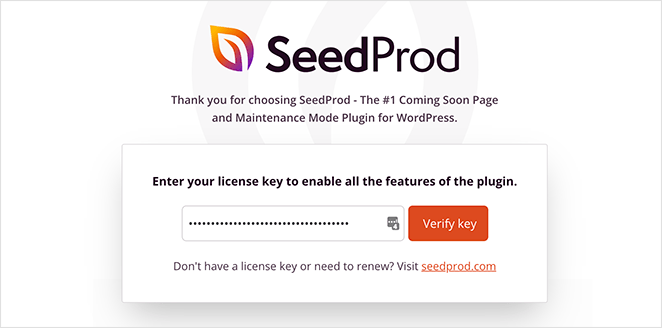 So copy your license key, paste it into the field, and click Verify Key.
Now scroll down the page and click the Create Your First Page button.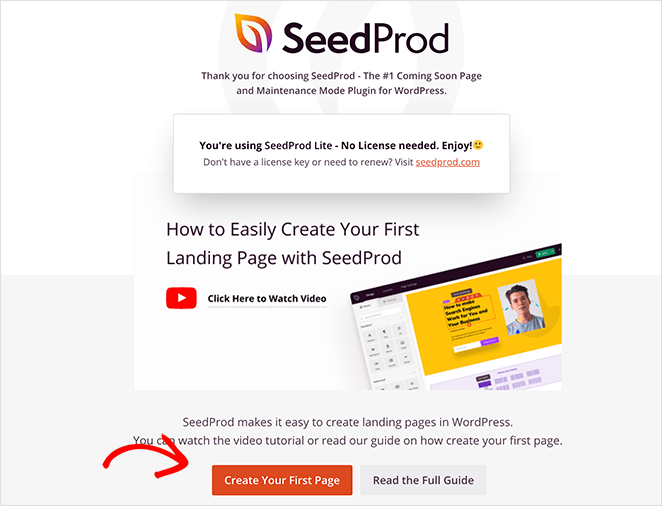 Step 2: Create a New Landing Page for Google Ads
On the next screen is SeedProd's landing page dashboard, where you can start creating your page. Along the top are several modes that allow you to create a coming soon page, activate maintenance mode, build a custom login page, or make a 404 page.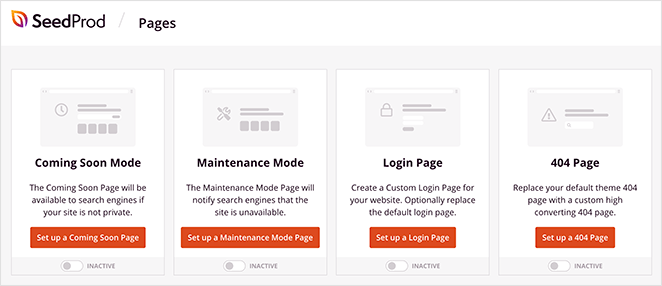 But the section we need is below that, where you can create a standalone landing page. So click the Add New Landing Page button to get started.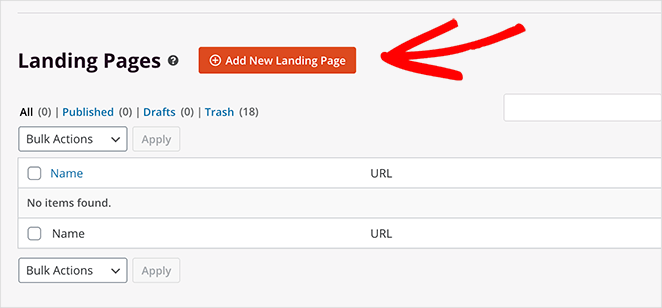 From there, you'll see a library of mobile-friendly templates.
Don't worry if you can't see any Google Adwords landing page templates. SeedProd's designs are multipurpose, so you can customize any template to fit your campaign.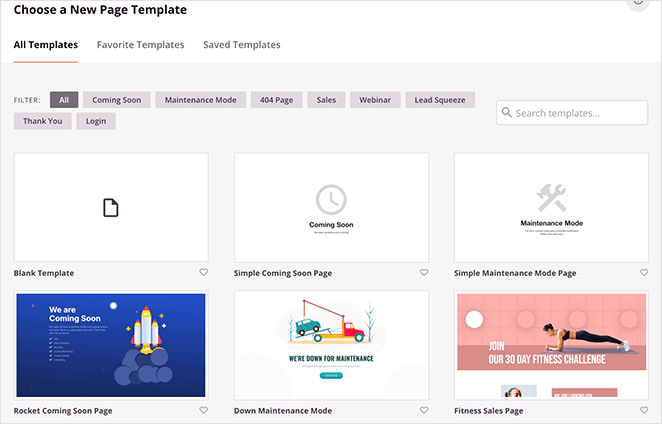 Click any of the tabs along the top to filter the templates by page type. Then, when you find a design you like, hover over the thumbnail and click the checkmark icon.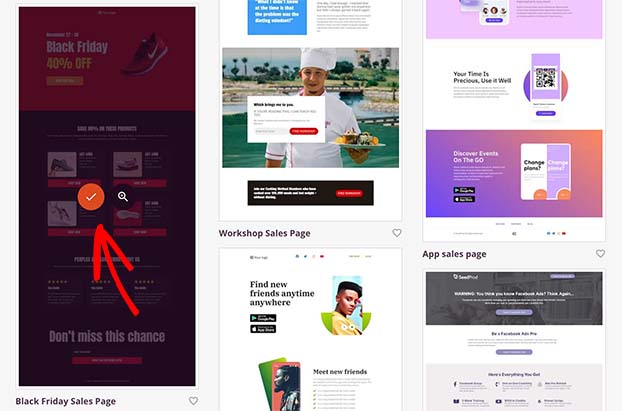 Next, you'll see a popup where you can add your landing page name and URL. From there, click the Save and Start Editing the Page button to open your design in the visual editor.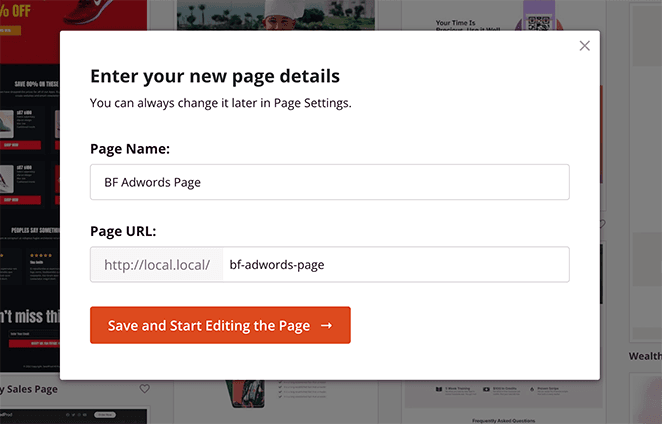 Step 3: Customize Your Landing Page
SeedProd's visual editor has a 2-column layout that's super easy to use.
On the left are blocks and sections for building your ad page. And on the right is a preview of how your design looks.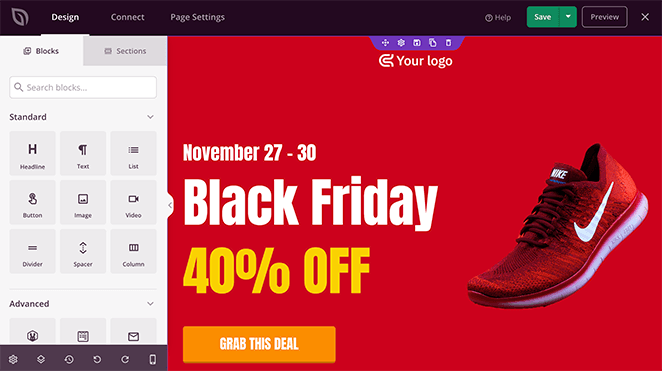 You can click anywhere on your preview to edit the existing content. And adding new content blocks is as simple as dragging one from the left and dropping it into place on your page.
For example, you can click a heading to change the text, alignment, heading level, and more.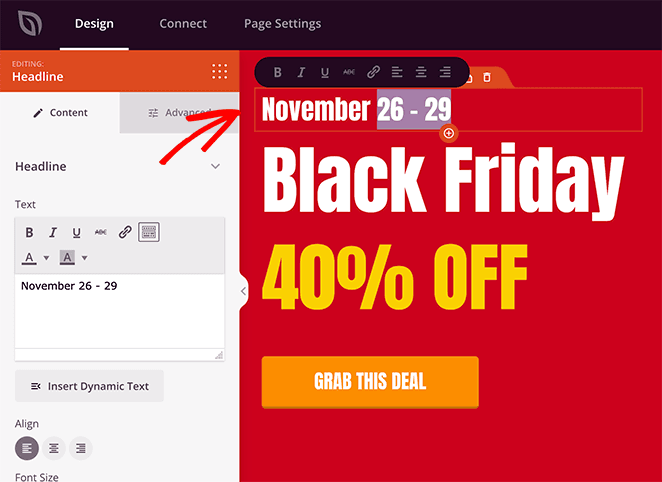 Or, you can click the call-to-action button to edit the button label and click the Templates tab to choose a completely different button design.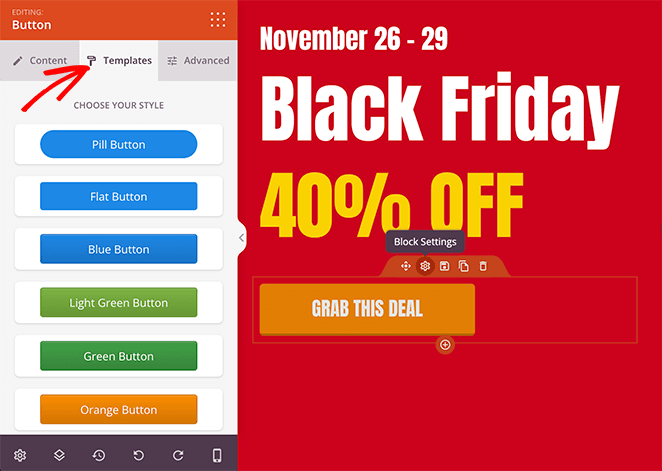 Want to change the templates' default image? Just click the image, and choose the trashcan icon on the left to remove it.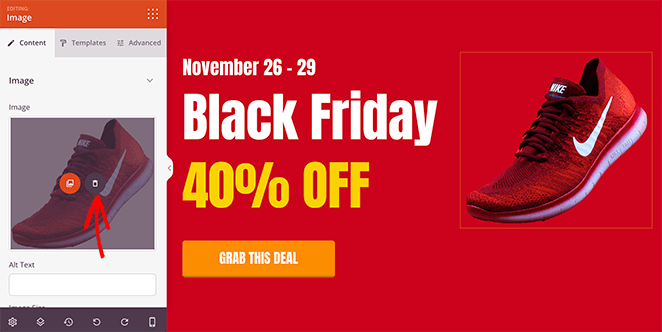 From there, you can upload a new image from your WordPress media library or computer.
You can also change the background color of any section by clicking the cog icon. For example, you can select a color to match your branding or hero image with the color picker tool.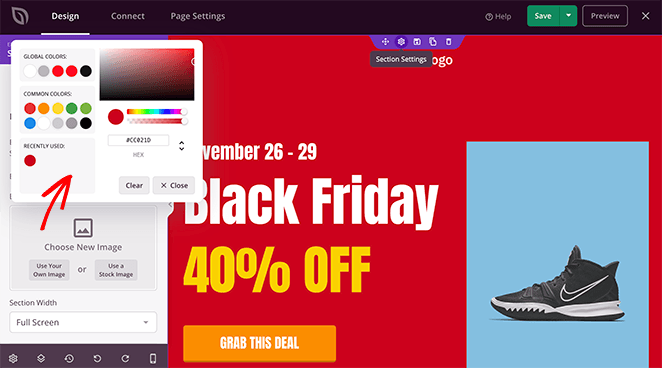 Earlier, we mentioned dynamic text replacement to personalize your landing page based on different search queries. You can do this for any heading or line of text in SeedProd with the Dynamic Text feature.
For example, if you target the keywords 'cyber monday' and 'black friday' for your ad campaign, you can change the heading to reflect those terms on your landing page. To do that, you'd click the heading, select the Dynamic Text button and add the keywords from your ad campaign.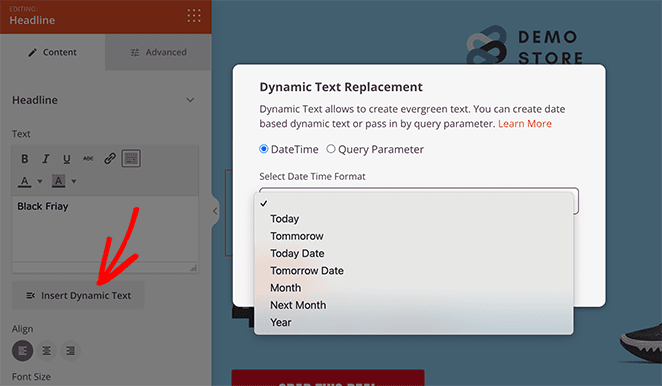 Then when people click through to your site, the text would change based on the term they found your ad with.
You can learn more about this feature in our dynamic text documentation.
Moving on, let's say you want all of your landing page buttons to be the same color. In that case, you can use SeedProd's global settings to change them all in one go.
To do that, click the cog icon in the bottom right corner, and you'll see global settings for your fonts, colors, backgrounds, and custom CSS.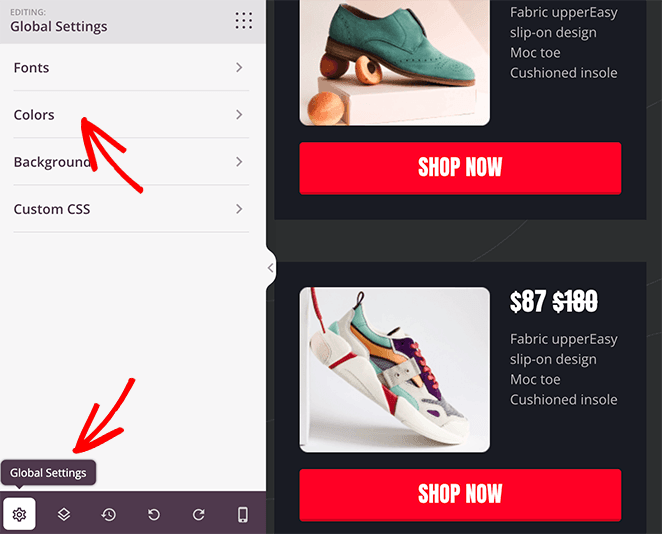 From there, you can click the Colors tab and add a custom color for all the buttons on your page.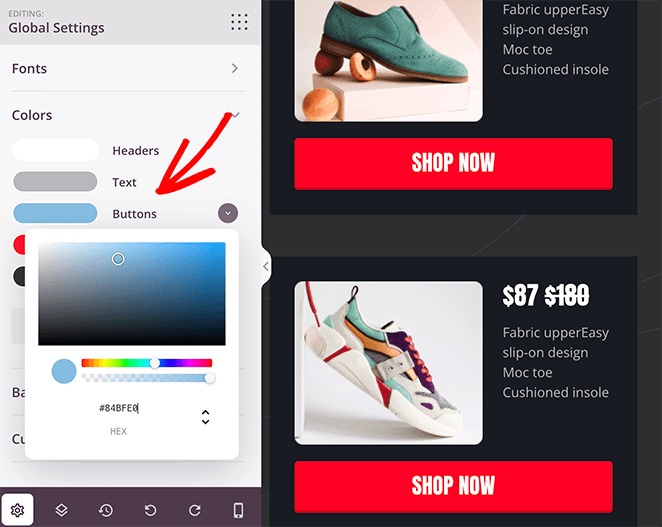 Continue customizing your landing page until you're happy with how it looks.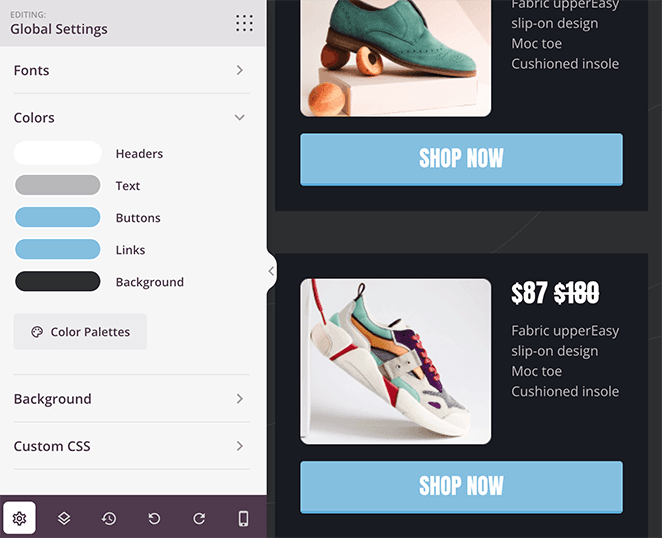 Remember: your page should match the message and design of your Google Ads campaign for a consistent user experience.
Step 4: Configure Your Landing Page Settings
After designing your Google Ads page, let's look at a few settings to help you boost conversions.
For example, if your page has an optin form to collect email addresses, you'll want to link it to your email marketing service. So click the Connect tab at the top of your screen to see all the email providers you can integrate directly in SeedProd.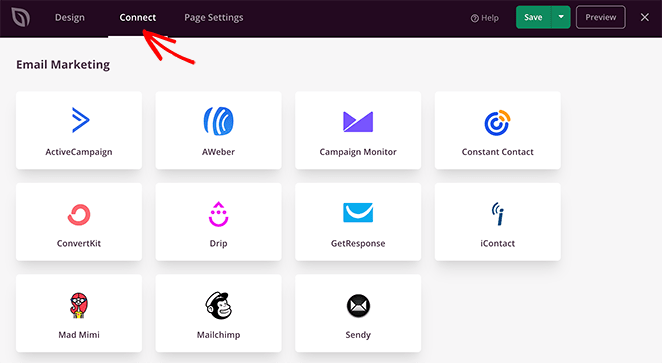 After finding your email service, click it and follow the instructions to connect your account. You can learn how to connect to individual providers in our email integration documentation.
Now let's look at some other settings by clicking the Page Settings tab.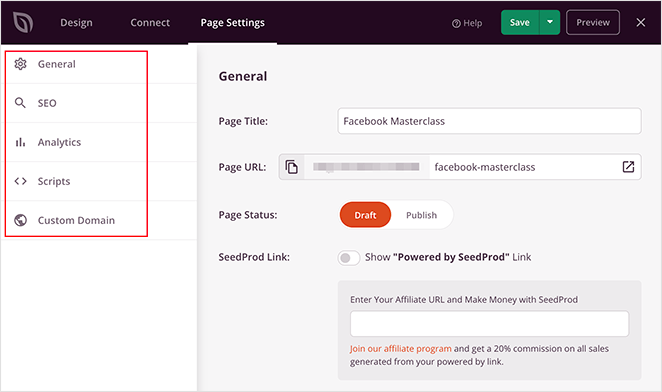 You can edit your page's name and URL, enter your on-page SEO information, monitor your landing page analytics, and enter custom scripts on this screen.
And if you have SeedProd Elite, you can use the Custom Domain feature to give your landing page a unique URL separate from your website. This is a super-easy way to set up multiple microsites without installing WordPress on each domain.
Don't forget to click the Save button in the top right corner to store your changes.
Step 5: Publish Your Landing Page for Google Ads
Now that your landing page is complete, you can go ahead and publish it on your WordPress site. So in the top right corner, click the dropdown menu next to the Save button and select Publish.

From there, you can click See Live Page to see a preview of your new Google Ads landing page.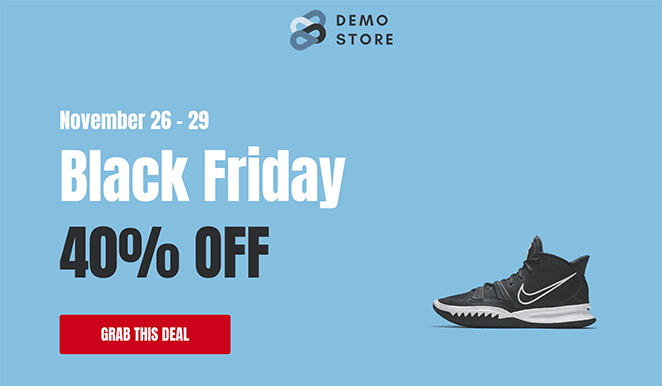 Now all that's left is to link your page to your ad campaign inside Google Adwords.
There you have it!
We hope this article helped you learn how to create a Google Ads landing page with SeedProd.
With SeedProd, it's easy to design, build, and launch any page in WordPress without writing code or hiring an expensive developer.
So what are you waiting for?
Thanks for reading. Please follow us on Twitter, Facebook, and YouTube for more helpful content to grow your business.