Are you looking for the best free trial landing pages?
A free trial page is an excellent way to convince website visitors to try your products or services. And when you offer a free trial as an incentive, you're more likely to increase conversions.
In this post, we'll share some of the best free trial marketing examples you can use to inspire your next landing page.
Why Create a Free Trial Landing Page?
The primary purpose of a free trial page is to encourage your target audience to sign up and try your products or services. But what you might not know is this type of landing page is just as good at getting people excited about using your product.
Before experiencing the value of your product, your customers may need to jump through several hoops, like:
Entering their email address in your sign-up form
Providing additional information
Clicking your call to action button
So your job is to ensure people stay motivated and remind them it's worth sticking around to click through and give your product a go. And with a landing page, you can do that easily with compelling copy, customer reviews, and more.
Now that you know the benefits of creating a landing page for your free trial, let's look at the essential elements you should include in a high-converting free trial page.
What to Include on a Free Trial Landing Page?
Here are some of the essential elements to add to your free trial page to boost conversion rates:
Signup Form – You should only include the minimal number of form fields needed to set up an account, such as an email address and password.
CTA Buttons – Include call-to-action buttons throughout your page to convince users at different points in the decision-making process.
Value Proposition – Explain why people should try your product and what they'll get out of the experience.
Social Proof – Include logos of existing clients, customer testimonials, and reviews to show your credibility and trustworthiness.
Demo Video – Videos are a more effective way of explaining complicated concepts. They're also much more engaging than written copy.
Handle Objections – Address objections people may have to hand over their information. For example, you can explain there is no credit card required to sign up.
FAQ – Include a FAQ section to answer common questions, saving both you and potential leads time.
Naturally, there are many more elements you can include on your free trial page. Try to include only those that move people closer to your goal.
10 Top Free Trial Landing Page Examples
Now that you know what to include on your page, let's look at some free trial landing page examples from genuine brands.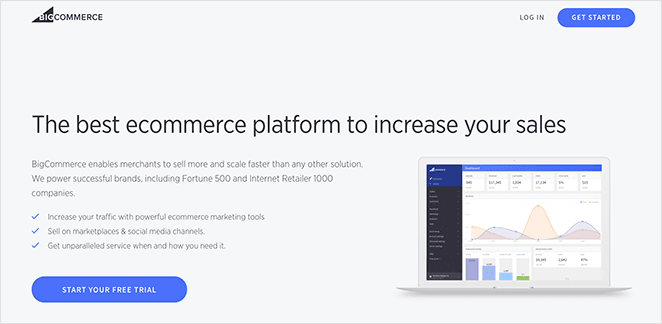 First is a free trial landing page from BigCommerce, a scalable eCommerce platform for online stores and retailers. The landing page has a minimalist design with the most important information above the page fold, including:
Value Proposition – The best eCommerce platform to increase your sales.
Description – An explanation of how the product can help users.
Bullet Points – Statements that focus on the benefits of using BigCommerce.
Media – A screenshot of how the platform looks.
CTA Button – Start your free trial.
As you move down the page, BigCommerce includes 2 types of social proof to convince potential users. First are statistics that back up their claims, and second are testimonials from existing customers.
And at the bottom of the page is a 2nd CTA button asking users, once again, to sign up for the free trial.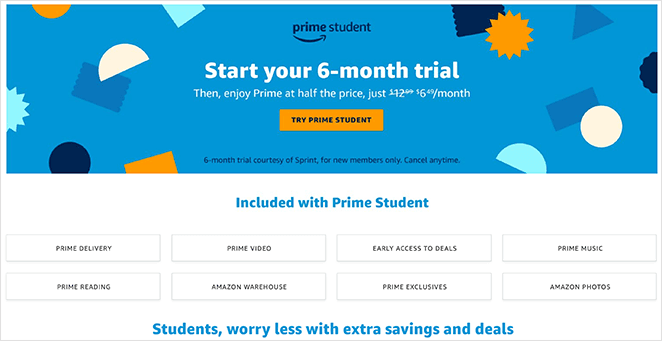 Amazon Prime Student is another excellent example of a free trial landing page. Immediately, users see an eye-catching graphic explaining they can secure a 6-month trial without spending a dime.
This page taps into students' pain points by explaining that they'll "worry less with extra savings and deals." And the custom graphics do an excellent job of highlighting all the perks of signing up.
Amazon has clearly done its research and tailored its page specifically for students. Plus, it eases any objections by stating you can "cancel anytime" above the 2nd CTA button.
The result is a highly targeted free trial landing page that's hard for any student to resist.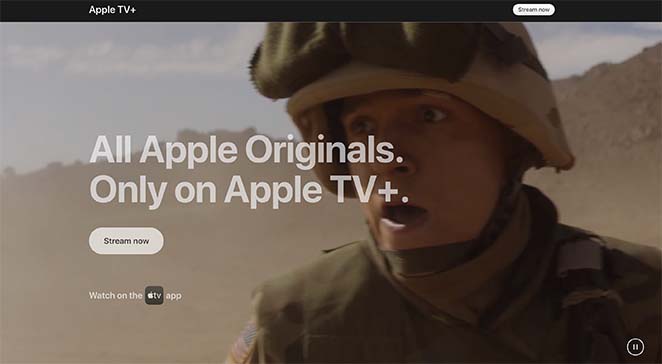 Apple is well-known for its compelling marketing examples, and the Apple TV+ free trial landing page is no different. As soon as you land on the page, you see a full-screen video background showcasing its popular shows and movies.
It also includes a clear heading and a CTA button to stream now.
As you move below the page fold, you learn more details about the service and have another opportunity to sign up for the free trial. From there, you can continue scrolling to see more popular TV shows and which devices you can stream from.
We particularly love how Apple offers a FAQ section to ease any fears and answer popular questions.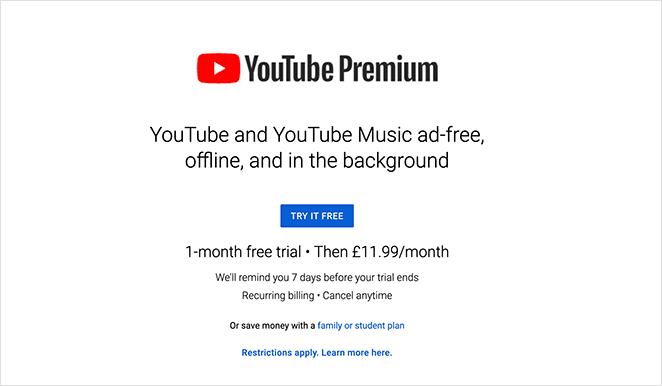 YouTube Premium's free trial landing page is an excellent example of how keeping your design simple can still have the desired effect.
Above the fold is a simple message that includes:
Value Proposition – YouTube and YouTube Music ad-free, offline, and in the background.
CTA Button – Try Free.
Pricing – How much the service costs after the trial.
YouTube also reassures potential subscribers that they'll remind you when your free trial expires, and you can cancel at any time.
Below the fold, you'll see the benefits of subscribing, supported by eye-catching graphics. And at the bottom of the page is a FAQ section to answer any questions you might have before signing up.
Related: How to create a YouTube channel landing page.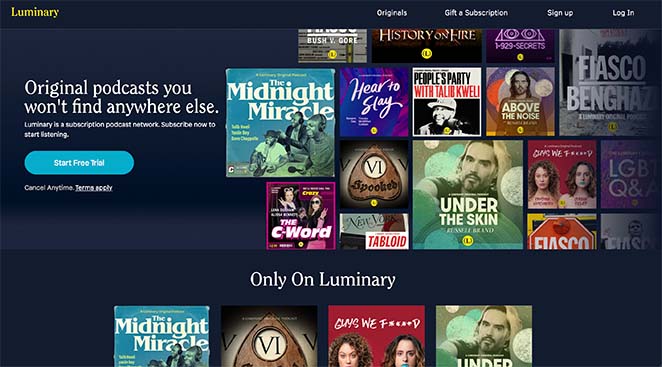 Luminary is a subscription podcast network with a free trial landing page that's both simple and eye-catching. Above the page fold is a snapshot of its most popular shows, a clear value proposition, and a call-to-action button to start your free trial.
As you move down the page, you can browse original shows only available on Luminary's platform. And with badges showing their various awards, users are reassured that the platform is trustworthy.
The app store section is an excellent reminder of where people can download the Luminary app. And once more, the FAQ section is an ideal way to ease potential objections to signing up.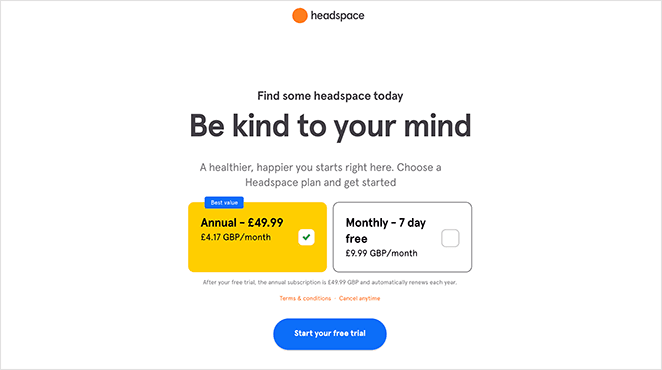 Headspace has a more minimalist approach to its free trial page. That said, it still includes all the essential elements needed to capture leads and increase conversions.
For example, above the fold, the page includes:
Value Proposition – A healthier, happier you starts right here.
Pricing Options – Annual or monthly with a free trial.
CTA Button – Start your free trial.
Then, as you move down the page, you can learn what the whole Headspace experience includes.
Headspace also uses social proof to demonstrate its credibility. For instance, it shows the app's average star rating, the total number of downloads, and a scrolling carousel of customer testimonials.
In addition, Headspace includes not 1 but 4 CTA buttons, giving users multiple opportunities to convert.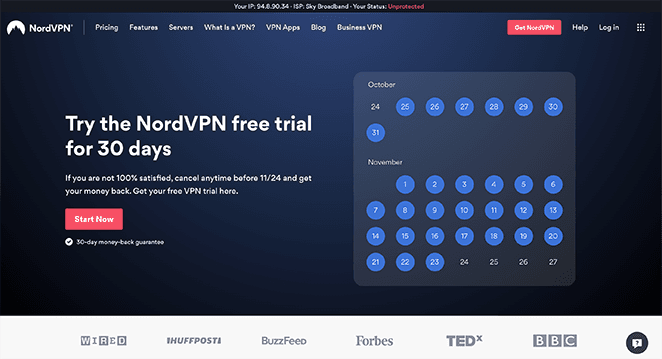 Nord VPN offers an excellent free trial landing page example. Above the fold, it immediately presents the free trial with a handy calendar showing the exact dates you'll have access.
We particularly like the language Nord VPN uses to convince their audience. They address people's security pain points by showing they can "avoid risks" by using their product.
Even better, Nord VPN's statements are supported by testimonials from popular influencers like PewDiePie and Philip DeFranco, giving their claims more weight and credibility.
And if that wasn't enough, they include testimonials and logos from experts and real users. Some other vital elements Nord VPN has on its page include:
FAQ section
Money-back guarantee
App download links
Multiple CTA buttons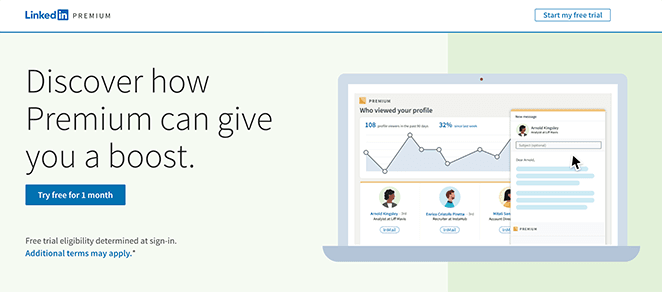 LinkedIn is a popular social media network for business professionals and job seekers. So it's no surprise that the LinkedIn Premium free trial page offers a compelling message for that particular audience.
Upon visiting the page, it explains precisely how it can help job seekers and business leaders with its various tools. And it supports each claim with statistics to make them seem more convincing.
By using custom graphics, LinkedIn provides a helpful snapshot of what using the platform is like. And with multiple CTA buttons, they can target users at different points in their decision-making process.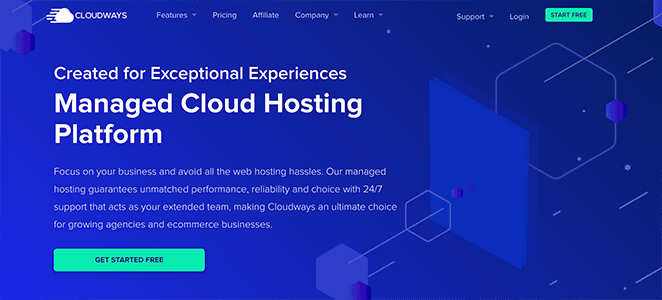 This free trial landing page example from Cloudways is both simple and eye-catching. Its bold blue hero area perfectly matches its branding while drawing the eye to its value proposition.
From there, it explains the benefits of choosing Cloudways over its competitors. It also uses bullet lists to make that information easy to skim and remember.
Further down the page, you can learn more about its features, with useful graphics to keep users engaged. Then, near the end of the page are logos from existing clients and customer reviews to convince you to sign up.
Plus, with CTA buttons throughout the page, users have more than one chance to convert.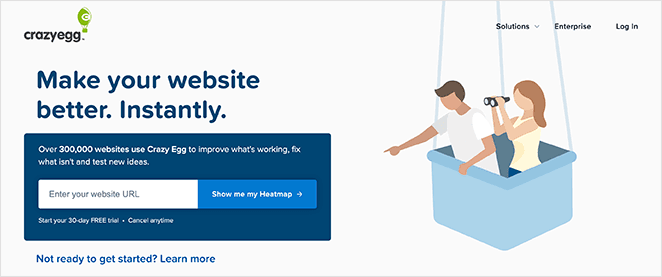 Crazy Egg's free trial page example uses clever navigation tricks to direct visitors' attention. As soon as you visit the page, the only things you can do are:
Sign up for the free trial
View its various solutions
To learn more, you need to click the heading below the signup form. Only then will the rest of the page load with the full benefits of using the platform.
Each benefit includes a short description, an image to illustrate the point, and a call-to-action link to get started. Then, at the end of the page, you have a final chance to enter your email address for the trial.
How to Create a Free Trial Landing Page
After looking at some of the best trial landing pages the internet has to offer, you're probably thinking, how do I make one?
Well, if you're a WordPress website owner, SeedProd is the easiest way to create a landing page for your free trial.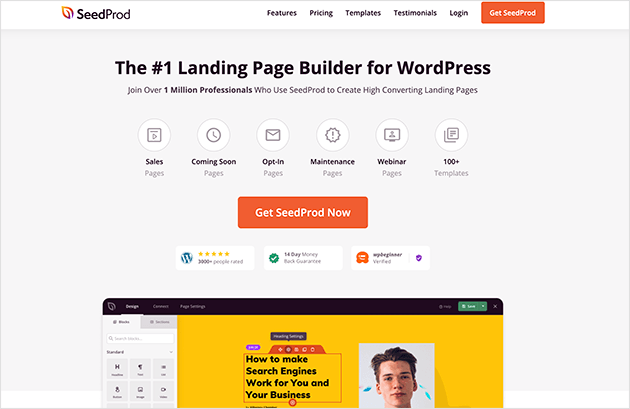 It comes with 150+ landing page templates you can customize to suit your small business goals. And with its drag-and-drop builder, you can spin up landing pages in less than 30 minutes without writing code.
Check out this guide to learn how to create a landing page in WordPress step-by-step with SeedProd.
And there you have it!
We hope this post helped you find the best free trial landing pages for your business. After creating your free trial design, take a look at this post on how to split test and optimize landing pages. You can also create a landing page to test ideas.
Want to address common user questions? Check out this guide on the best WordPress FAQ plugins.
Thanks for reading. Please follow us on Twitter, Facebook, and YouTube for more helpful content to grow your business.