Want to know how to create a video landing page in WordPress?
Landing pages that use video content are an excellent way to engage short attention spans and persuade users to take the action you want.
This article will show you how to create a video landing page to convert visitors into customers.
Before we start, let's look at what video landing pages are and how they can help your small business.
What Is a Video Landing Page?
A video landing page is a web page that features a video as the main element or centerpiece of the page. The purpose of this type of landing page is to capture the viewer's attention and engage them with the video content.
You can create video pages as a part of a marketing campaign to promote a product, service, or event. The video on your landing page may include a call to action or a message encouraging viewers to take specific actions, such as signing up for a newsletter or purchasing a product.
The best video landing pages are designed to be highly focused and to keep peoples attention. They typically have minimal distractions, such as navigation menus or other links that might take viewers away from the page. This helps to increase the likelihood that they'll watch the entire video and take the desired action.
Here are the different types of videos you can use in your digital marketing strategy:
Animated video walkthrough
Q & A supporting video
Explainer videos
Webinar welcome video
Event preview video
Quick tutorial video
Testimonial videos
360° Video
Giveaway promo video
Why Create a Video Landing Page?
Landing pages with video content are a powerful tool for businesses and organizations. Here's why:
People are more likely to watch a video than read a block of text, so using a video on your landing page can help engage your audience and hold their attention. This means they're more likely to take the action you want them to, like signing up for a newsletter or purchasing a product.
A video landing page can help improve conversion rates. By including a clear call to action and persuasive messaging, you can encourage viewers to take action and achieve a higher conversion rate.
Video pages can also help build brand awareness and recognition. By creating a high-quality video that showcases your brand's personality, values, and unique selling proposition, you can create a memorable impression on your audience and build a stronger relationship with them.
Video content is favored by search engines like Google, which means creating a video landing page can help improve your website's search engine rankings. This can lead to more organic traffic and more potential customers.
Lastly, a video page provides a better user experience for your audience. People prefer visual and interactive content that is easy to understand and engage with. By providing a video on your landing page, you can build trust and credibility with your audience, leading to long-term loyalty and repeat business.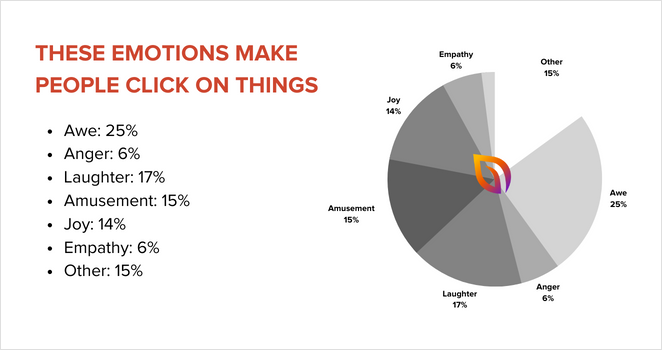 Here are some landing page examples to show you what we mean.
Whatever your goal as a content marketer, great videos should persuade anyone watching the video that your solution is the best fit and convert them into leads.
Now that you know what a video landing page is and the reasons for using one, let's explore how to make one in WordPress.
How to Create a Video Landing Page WordPress
You might think that making video landing pages in WordPress is tricky. But with the right tools, you'll find it's pretty easy.
There are many excellent landing page builders on the market, such as Unbounce, but often, these solutions are expensive and are harder to use in WordPress.
We'll use SeedProd to show you how to create a video landing page design in this tutorial.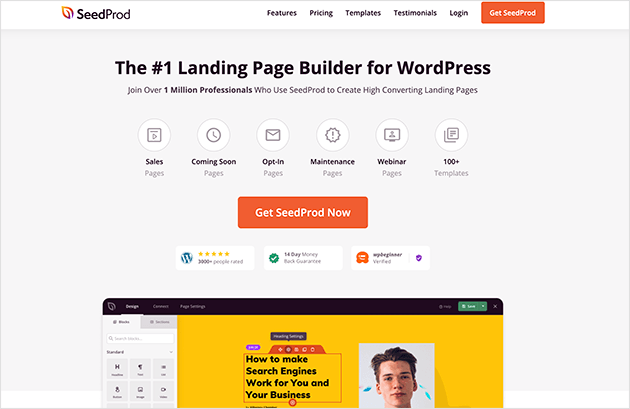 SeedProd is the best website builder, with over 1 million users. It lets you create custom WordPress themes, landing pages, and mobile responsive layouts without writing code.
This powerful WordPress landing page builder also includes coming soon and maintenance mode functionality. You can create stunning WordPress landing pages to hide your site under development.
SeedProd is also a powerful WordPress theme builder. As a result, you can create custom WordPress themes without writing code.
The drag-and-drop visual editor helps you build custom pages by pointing and clicking with your mouse.
You can build your page code-free with pre-built landing page blocks and sections. Plus, it comes with a library of customizable landing page templates designed to make getting started easy.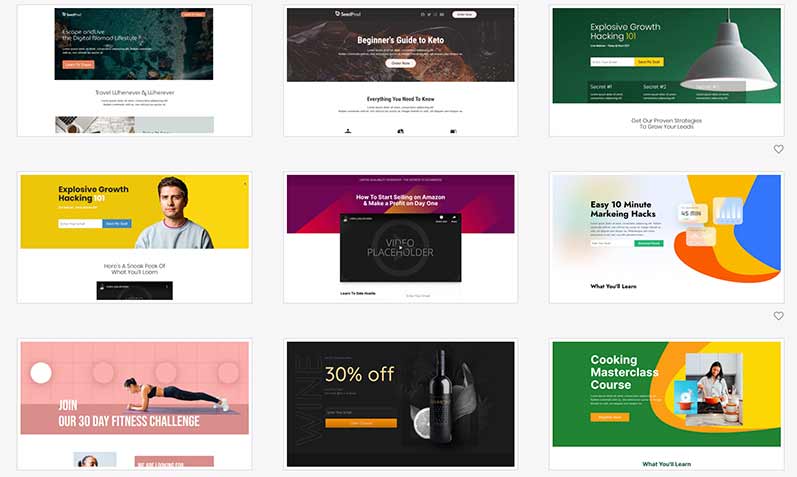 SeedProd also has built-in coming soon, maintenance, and 404 pages that you can enable with a single click. That allows you to hide your site while under construction and show visitors a stunning mobile responsive landing page instead.
If you need to grant access to clients to see a preview of your design, you can. The robust access controls for coming soon and maintenance pages allow you to create links they can use to bypass your landing page.
SeedProd integrates with popular email marketing services and marketing automation platforms to help grow your email list. It also works seamlessly with any WordPress theme and WooCommerce for top-performing eCommerce stores.
Best of all, this landing page builder is bloat-free, with minimal code. It means your page loads lightning fast, helping to boost your page rankings and conversion rates.
Here's how to create a video landing page with SeedProd step-by-step.
Video Tutorial
Step 1. Install SeedProd WordPress Landing Page Builder
Click here to get started with SeedProd and download the plugin to your computer. After downloading SeedProd, you'll need to install and activate it on your WordPress website.
Note: There is a free version of SeedProd; however, we're using the pro pricing plan for the advanced features.
If you need help, you can follow these instructions to install a WordPress plugin.
After activating the plugin, you'll see the SeedProd welcome page. This page will ask you to enter your SeedProd license key, which you'll find in your registered email address's inbox.
Paste the license key into the field provided and click Verify Key.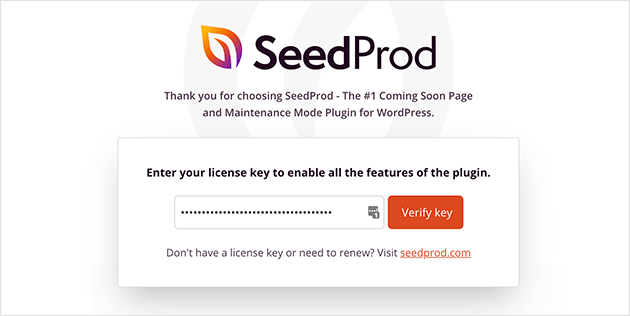 Next, scroll down the page and click the Create Your First Page button.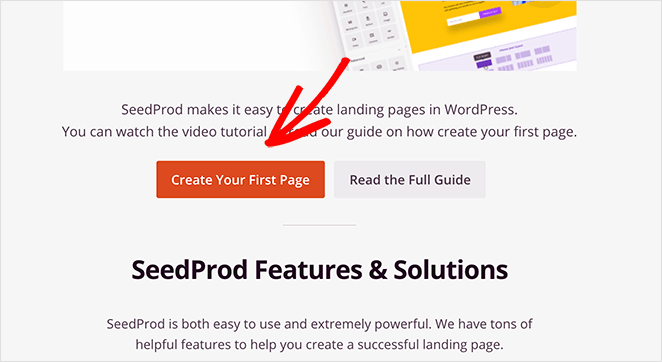 Step 2. Create a New Landing Page
On the next screen, you'll see the SeedProd landing page dashboard.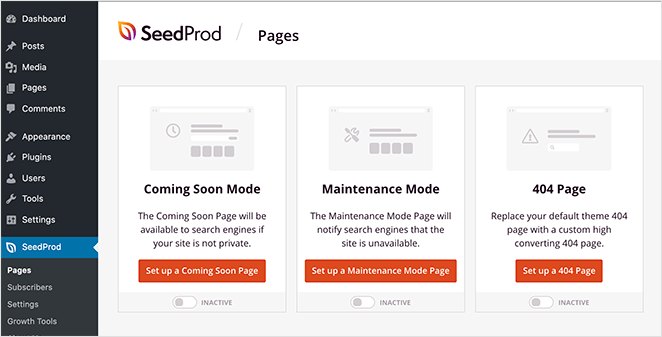 Along the top are 3 different modes you can enable with a single click, including:
Under that section is a list of the landing pages you've created with SeedProd. You won't see any just yet because you're just getting started.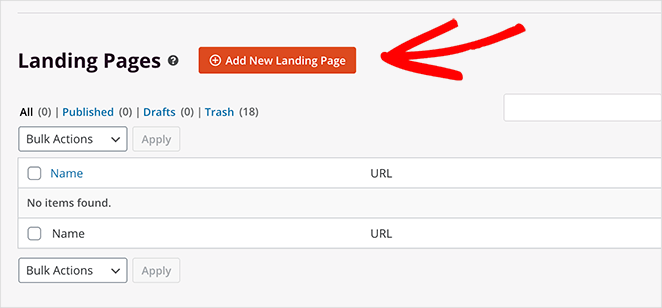 To create your first landing page, click the Add New Landing Page button.
Step 3. Choose a Video Landing Page Template
The next screen shows SeedProd's responsive landing page templates library, which you can customize in the drag-and-drop builder.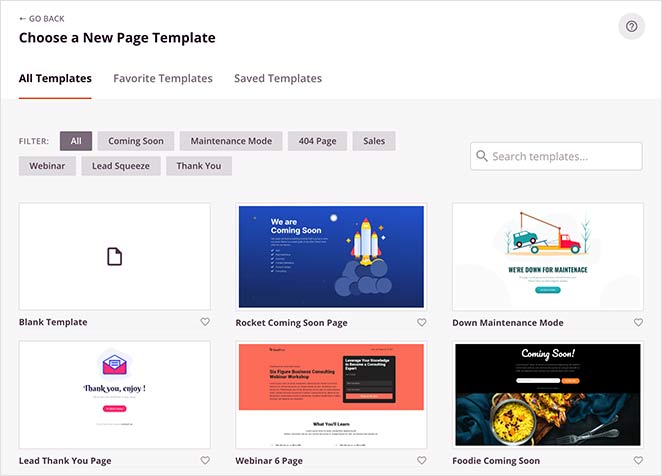 You can filter the templates by clicking one of the following options at the top:
Or you can use the search box to filter your results to show only video landing page templates.
Many of SeedProd's pre-built landing page templates feature a hero video embed as part of the design. Here are the best video landing page examples from the template library:
Video Squeeze Page Template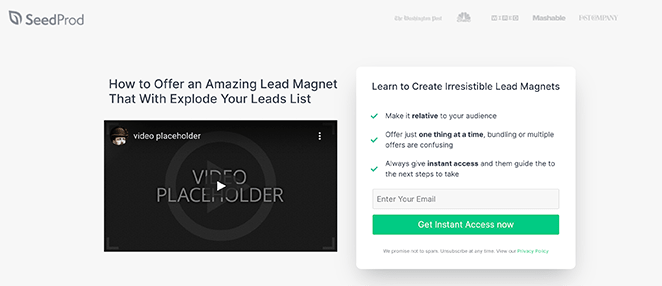 Webinar 2 Video Landing Page Template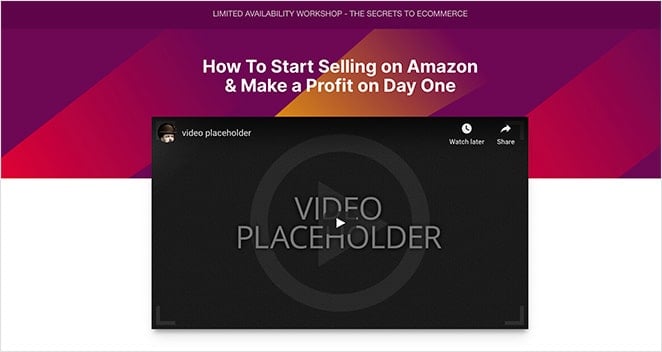 Webinar 3 Video Page Template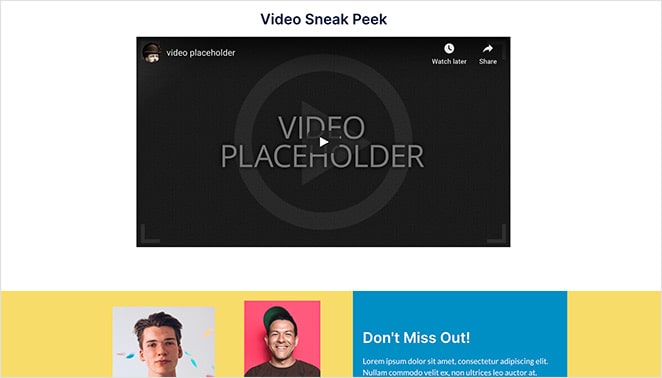 Webinar 4 Video Landing Page Template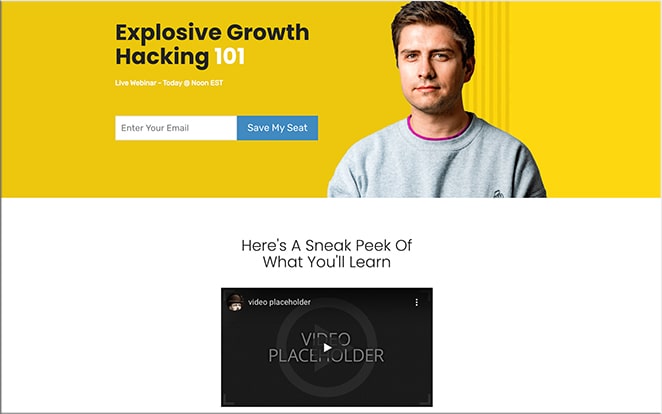 Real Estate Squeeze Page Template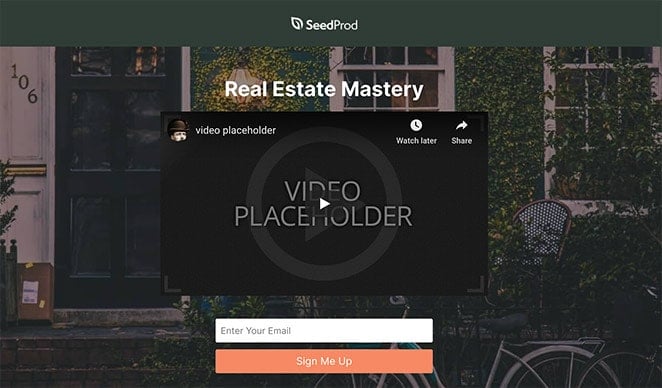 Or you can customize any template to include video embeds by adding a video block anywhere on the page (more on that coming up). You can even use the blank template to create a free video landing page with SeedProd Lite.
We'll use the Real Estate Squeeze page to show you how to make a video landing page.
So, hover your mouse over the template thumbnail and click the tick icon to launch the template.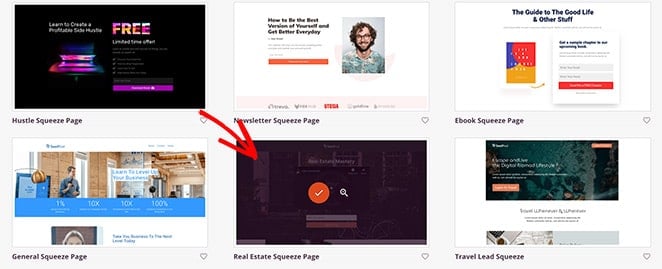 You'll then see a popup asking you to enter your landing page name and URL. You can change these details later if you like.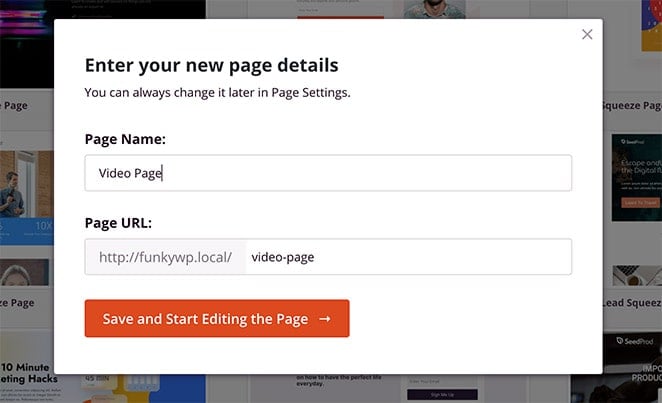 Now click the Save and Start Editing the Page button to open your template in SeedProd's drag-and-drop visual editor.
Step 4. Add Your Landing Page Video Content
The visual editor has 2 sections. On the left-hand side of the screen are the landing page blocks you can drag and drop onto your page preview on the right.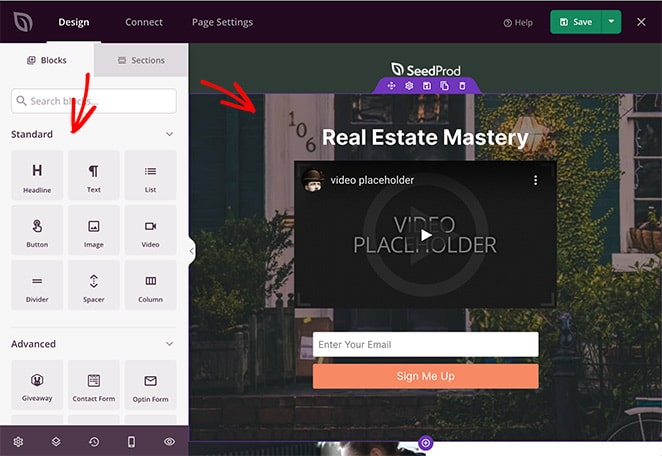 The page preview gives you a real-time overview of how your landing page will look. You can also click any page element to view its settings in the left-hand panel.
SeedProd's page elements are called landing page blocks and have 2 categories: Standard and Advanced.
Standard blocks are the basic building blocks of your page and include design elements like images, videos, buttons, columns, heading, text, and more.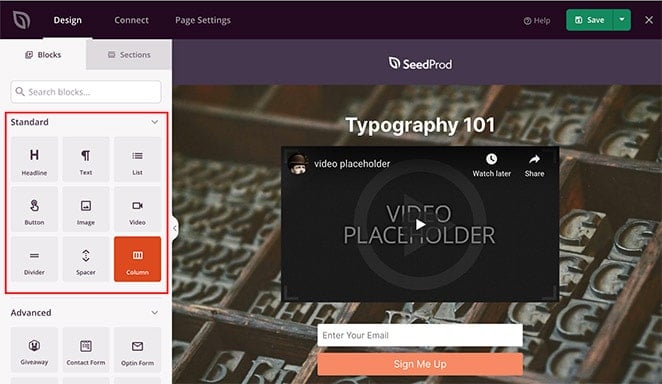 The Advanced blocks make lead generation easier. With a few clicks, you can add:
Subscription forms to collect email addresses
Giveaway widgets to increase brand awareness
Call-top-action buttons (CTA)
Contact forms for feedback and questions
Countdown timers to generate urgency
Social media profiles to grow your social media followers (like LinkedIn, Facebook, etc)
Customer testimonials for social proof and to build trust
And more.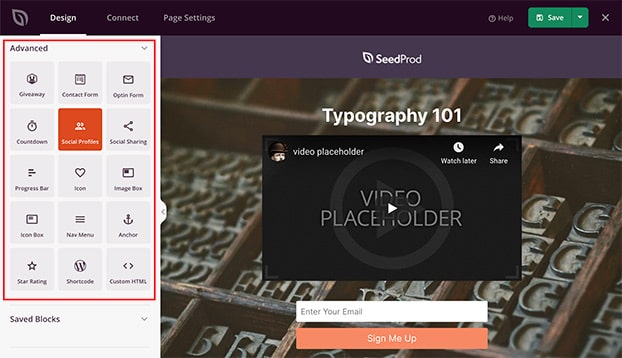 Start adding content to your page by dragging different blocks over to where you'd like to place them. You can also edit the existing template content and replace it with your own.
For instance, you can edit the existing video content by clicking it. That will open the settings panel on the left, where you can select your video type (YouTube or Custom like Vimeo) and paste your video URL.
Related: How to create a super-effective YouTube channel landing page.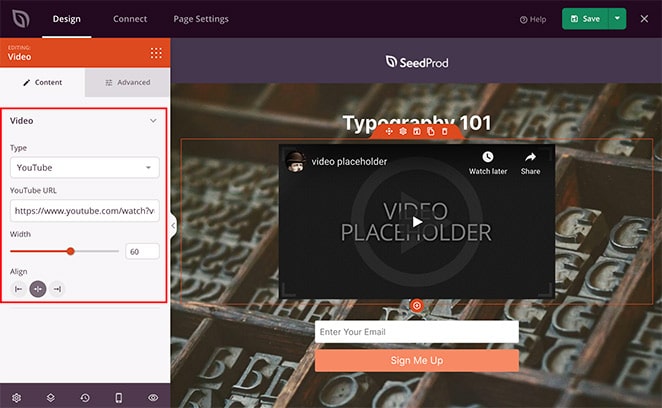 You can also adjust the video width and alignment with the handy slider.
Clicking the Advanced tab allows you to control the video styles and spacing settings to get it looking just right. You can even add animations to your video to make pop.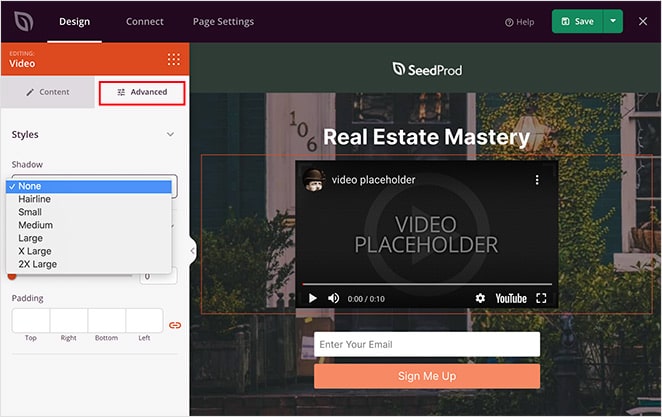 Adding a clear call to action is another great way to improve conversions on your landing page.
Many of SeedProd's landing page blocks also let you choose from several pre-made block templates. This allows you to change a block's style and design with a single click.
For instance, if you click the Optin Form block and navigate to the Templates tab, you'll see 7 different form field styles. Just click one you like to add it to your form.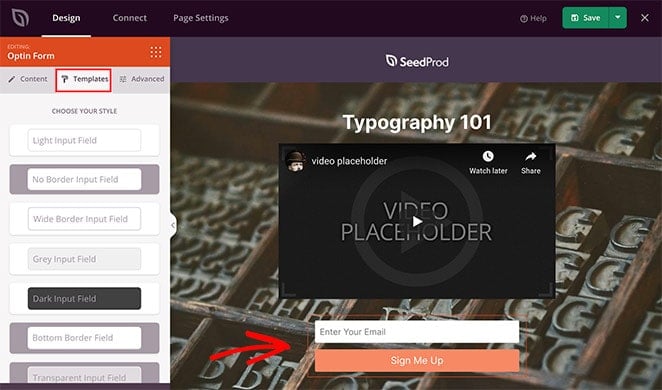 As well as blocks and templates, SeedProd offers ready-made page sections. These are individual page areas that are already designed for you. This means you won't need to build them block by block.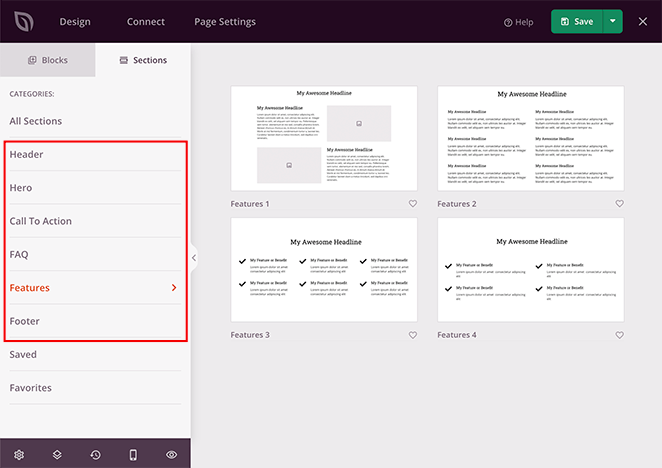 You can add page sections for:
For example, you could add a FAQ section, as we did below, to give potential customers the information they need to make a purchase decision.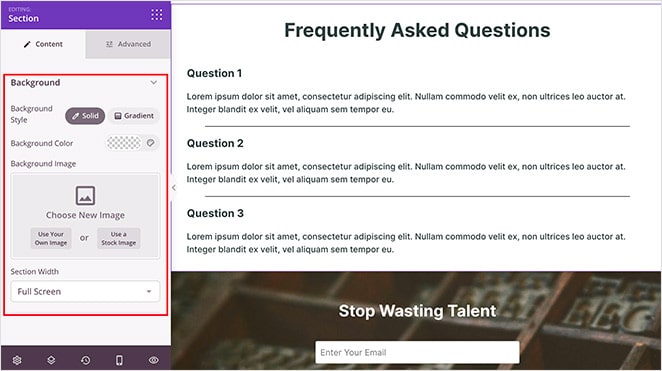 As with the landing page blocks, clicking a section shows the different settings available, like background, color, spacing, and more.
Keep adding content to your page until you're happy with how it looks.
Step 5. Customize Your Video Page Design
With your video landing page content in place, you can move on to customizing your page to suit your website's branding.
SeedProd makes this easy with the global settings page. To find this page, click the gear icon in the bottom-left corner of your screen.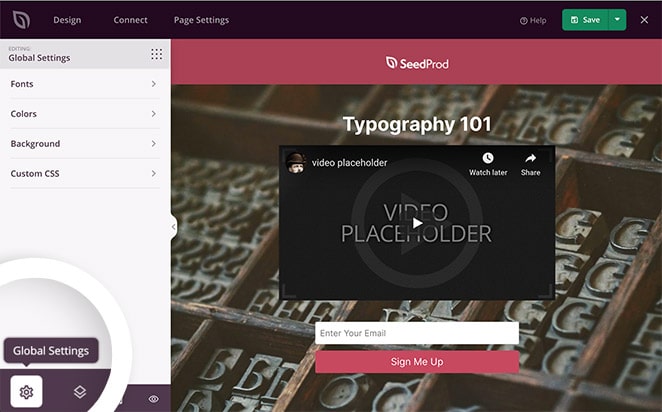 You customize your landing page colors, fonts, background, and custom CSS on the Global Settings page.
You can edit your header and body fonts and weights in the Fonts section.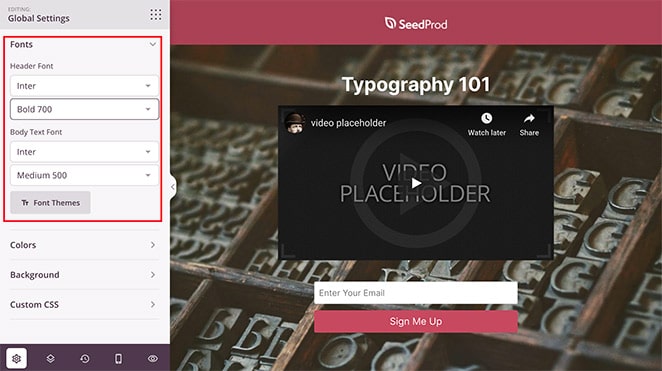 You can also click the Font Themes button to view unlimited Google Font combinations and a curated list of which fonts work well together.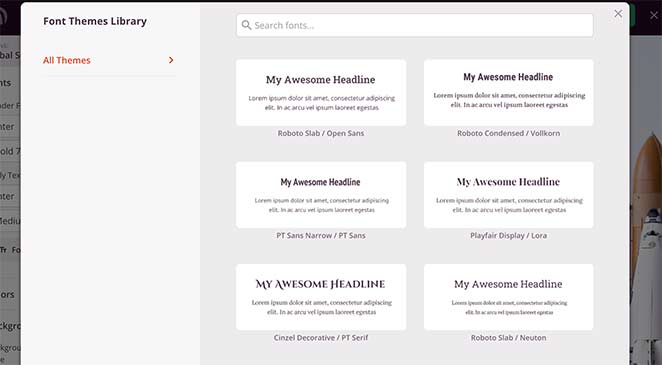 The Colors section is similar in that you can select global colors for your page headers, text, buttons, links, and backgrounds.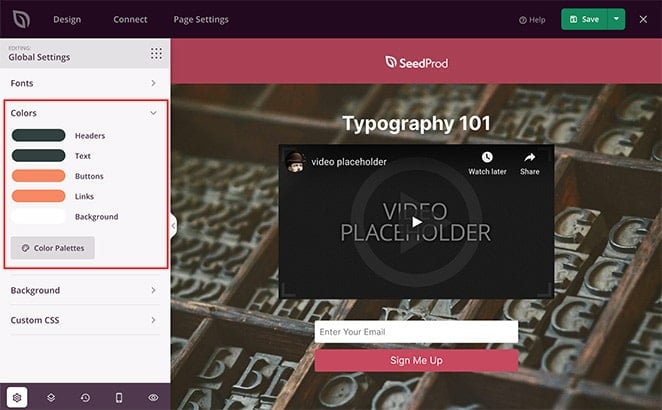 Alternatively, you can click the Color Palettes button to see 20+ professionally designed color palettes and instantly add them to your page.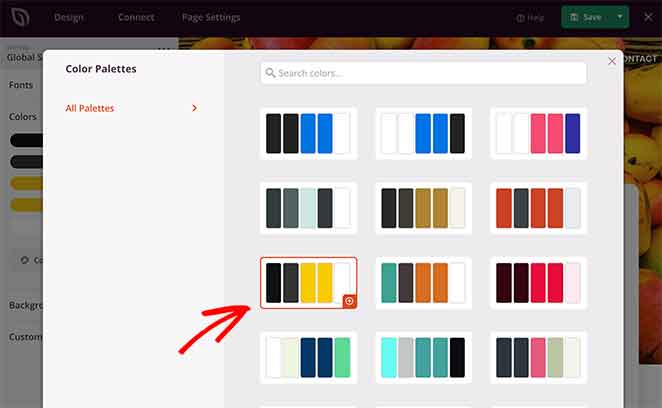 In the Background section, you can set a global background video style, color, and gradient. It's also possible to upload a full-screen background image, video background, or slideshow.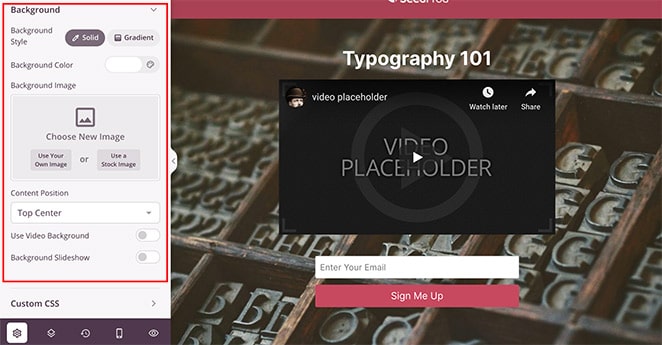 The last section is the Custom CSS area, where you can enter your CSS styles to customize your page further.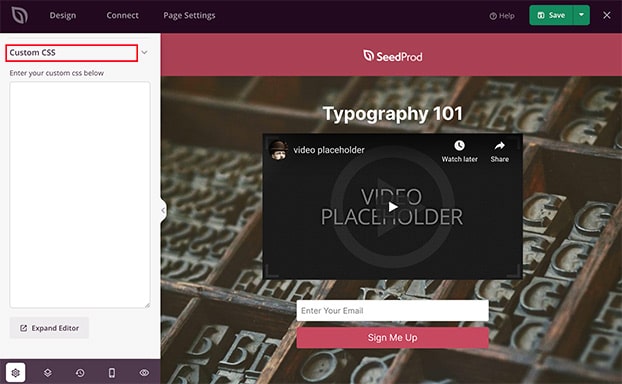 When you're happy with how your landing page looks, click the green Save button in the top-right corner of your screen.
Step 6. Integrate Your Email Marketing Service
If one of your video landing page's main goals is to grow your email list, you'll want to be able to connect your email marketing service, which is easy with SeedProd's email integrations.
Just click the Connect tab at the top of your screen and select your preferred email provider from the list. You can then follow the on-screen instructions to verify and link your account.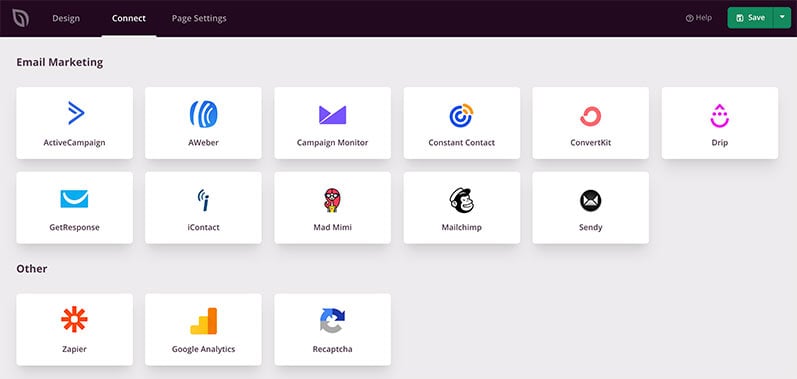 It's also possible to set up Google Analytics Recaptcha and connect to Zapier on this page. That means you can connect instantly to thousands of marketing tools and CRM services, like HubSpot, Salesforce, and more.
Don't have an email provider? No problem!
SeedProd's subscriber management allows you to collect email addresses even if you don't already have a list. SeedProd will store their details in the Subscribers Overview whenever anyone signs up via your landing page.
You can view your subscribers by clicking SeedProd » Subscribers from your WordPress dashboard.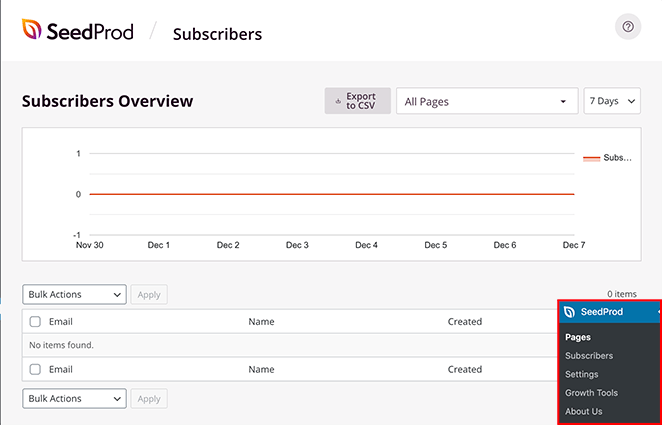 Step 7. Configure Your Page Settings
Next, you'll need to configure your landing page settings. From the visual editor, click the Page Settings tab to view them.
The General settings allow you to change your landing page name and URL and set your page status as in Draft or Published.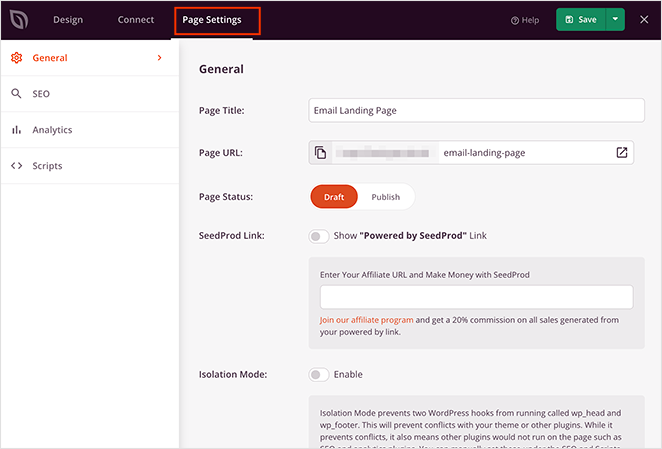 You can also enable Isolation Mode, which launches your page with only the scripts needed to render it to users. This is useful for detecting any WordPress theme or plugin conflicts and improving page performance.
Under the SEO and Analytics sections, you can configure your page's search details and track its performance with plugins like All in One SEO and MonsterInsights.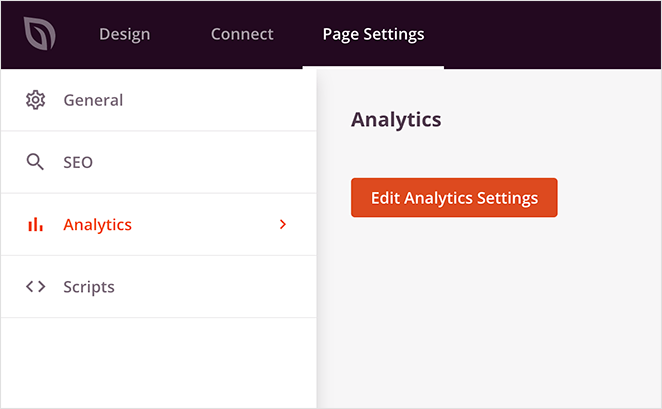 You can add custom header, body, and footer scripts to your landing page in the Scripts section, such as your Facebook tracking pixel.
Don't forget to click Save before moving on.
Step 8. Check Your Page is Mobile Responsive
Your video landing page should look good and function well, no matter the device you view it on. Checking that your page is mobile-friendly is crucial in the development process.
To view your page on mobile with SeedProd, click the mobile phone icon in the bottom-right section of your screen.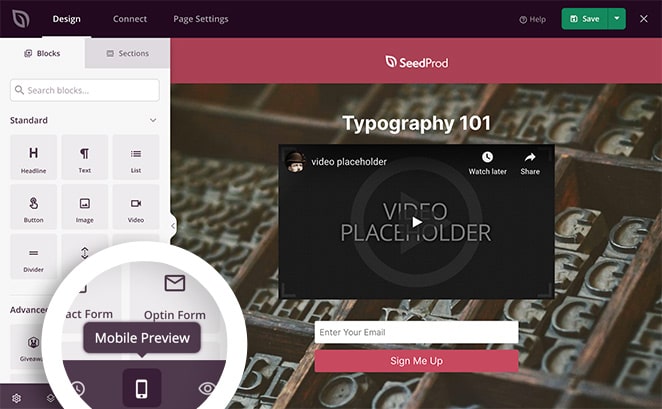 You can now see what your page looks like on mobile devices.
If anything doesn't look the way it should, you can adjust your design in the mobile view, as you would in the desktop view. Any changes you make apply to both versions of your page.
Remember: If your video is above the fold before users have to scroll, they're more likely to watch it and engage with your content.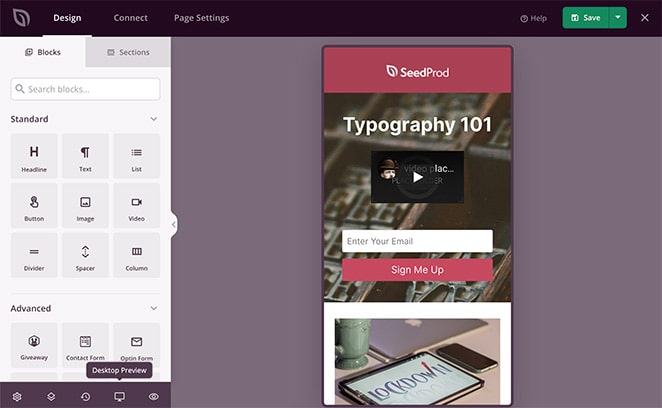 To switch back to the desktop view, click the desktop icon.
Step 9. Publish Your Video Landing Page in WordPress
After checking that your landing page is responsive, you're ready to make it live on your WordPress site.
Click the down arrow next to the green Save button and click Publish to do that.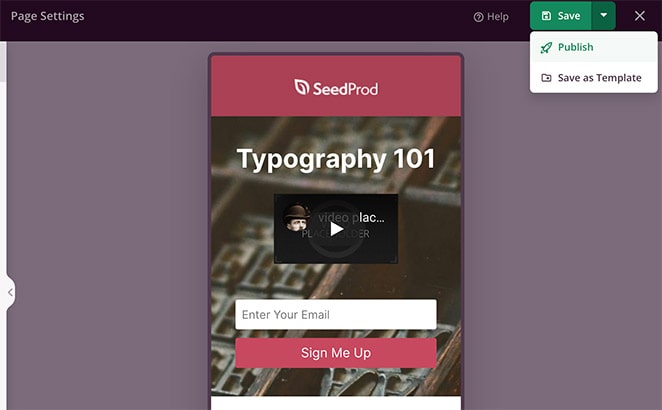 An overlay will appear, telling you that your page is live.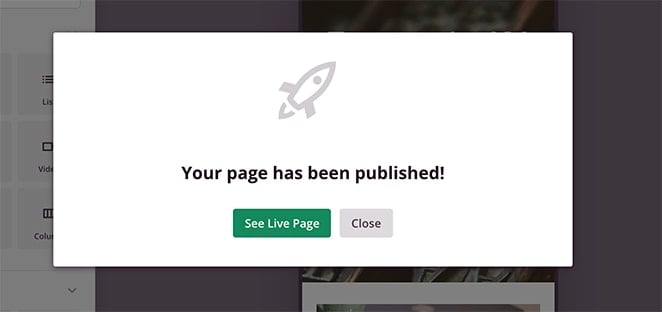 Click the See Live Page button to see how it looks.
Here is a video landing page example that we made following the steps above: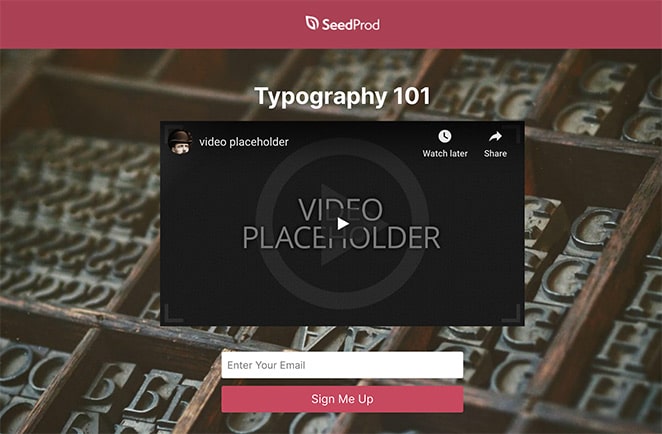 What Are Some Video Landing Page Best Practices?
After creating your page, you may want to know how to optimize it for conversions. Here are some best landing page practices to ensure your video marketing campaign succeeds:
Keep it short: Your video should be short enough to engage visitors but not so long that they won't move to the next step.
Choose a great thumbnail: Make your thumbnail irresistible to ensure users press play. Consider adding a human face and personalizing it with the visitor's name.
Avoid autoplay: Automatic playback turns people off and can result in them closing your page. Ensure you have the autoplay function turned off to avoid that.
Don't JUST use video: Your landing page should include more than a standalone video. Include supporting copy, testimonials, and CTA buttons to convince and convert.
Check load times: Your landing page needs to load quickly to keep visitors' attention. A 100-millisecond delay in website page speed can decrease conversion rates by 7%.
Optimize for SEO: Use keyword-rich captions, metadata, and copy to 4nsure your page ranks in Google search results.
Test it all: A/B split test your landing page elements to see what works best, including your CTA, video length, placement, thumbnails, etc.
Promoting Your Landing Page
Simply having a landing page with video content isn't enough to drive engagement and sales. What matters most is how you promote it to your target audience.
Let's dive into some strategies to elevate the visibility of your landing page:
Social media: Share your video landing page on your social media channels, such as Facebook, Twitter, and LinkedIn. You can also use social media ads to promote your landing page to a wider audience.
Email marketing: Send your email subscribers an email with a link to your landing page. You can also use email marketing to promote your landing page to people who have already visited your website.
Pay-per-click advertising: Use pay-per-click (PPC) advertising to drive traffic to your video landing page. PPC ads are displayed at the top of search engine results pages (SERPs) when someone searches for a keyword that is relevant to your page.
Content marketing: Create blog posts, infographics, and other content that links to your video page. This will help you attract visitors to your landing page who are interested in your video topic.
Attend events: If you're attending a trade show or other event, be sure to promote your video page to attendees. You can do this by handing out business cards with a link to your landing page or by displaying a banner or sign with a link.
Word-of-mouth: Encourage your customers and other contacts to share your video page with their friends and colleagues. You can do this by offering them a discount or other incentive for referring new customers to your business.
How to Create a Video Landing Page: FAQ
How long should a video be on a landing page?
Your video should be no longer than 90 seconds. It should be short enough to convey essential information but not so long that visitors lose interest.
How big should my video be on a landing page?
Your video should fit the content width of your landing page and be in the correct aspect ratio to avoid distortion. You should also ensure your video is mobile responsive, so it displays correctly on different devices.
Do shorter videos get more views?
Shorter videos get more views because 5% of visitors will stop watching after 1 minute and 60% after 2 minutes.
Should videos autoplay?
Videos that play automatically can be frustrating for visitors if there isn't an easy way to pause it. However, some visitors may not realize they need to click to play your video. With that in mind, it's best to A/B test the autoplay feature to see what your visitors prefer.
Where do you put a video on a landing page?
You should put your landing page video above the fold on your page. This will ensure people see it immediately and you get the maximum engagement.
How can I track the performance of my video landing page?
You can use analytics tools, such as Google Analytics, to monitor your landing page's performance. Track metrics like conversion rate, bounce rate, and average time on page to gauge how effectively your video page is engaging and converting visitors.
How can I optimize my video landing page for search engines (SEO)?
Ensure that your video has a descriptive title, use relevant keywords in your page content and meta tags, and include a video transcript if possible. Additionally, make sure your page loads quickly and is mobile-friendly.
That's it!
We hope this article helped you learn how to create a video landing page in WordPress.
Making any WordPress landing page is easy with SeedProd. With the drag-and-drop page builder, landing page templates, and pre-built designs, you can create high-converting pages in just a few minutes no coding required!
You might also like these landing page best practices and this guide on A/B testing to optimize your page.
Thanks for reading. Please follow us on YouTube, Twitter, and Facebook for more helpful content to grow your business.