Are you looking for the best mobile landing pages for your WordPress website?
Mobile landing pages adapt your content to fit different screen sizes, so visitors using mobile devices like smartphones and tablets can browse your content easier. If your landing page isn't mobile-friendly, you could miss out on potential revenue from your mobile audience.
In this article, we'll share the best mobile landing pages and how to make a mobile landing page to boost the sales of your products or services and grow your small business.
Before we start, let's see why mobile-friendly pages are crucial for your business's success.
What Is a Mobile Landing Page?
Mobile landing pages are standalone web pages that adapt to small screens and handheld devices. Their page elements are typically larger and more user-friendly than a desktop website, allowing visitors to tap and swipe to find the information they need.
A mobile app landing page, for example, also differs from a homepage.
While a homepage may have contact information, blog posts, and links to other pages on your site, a landing page focuses on conversions. That means its elements will include a value proposition, social proof, calls to action, and compelling copy to encourage users to act.
Moreover, landing pages can help target specific audience segmentation, making it easier to reach users more likely to purchase your products or services.
What Size Is a Mobile Landing Page?
Because mobile devices have smaller screens, mobile landing pages that are a minimum of 320 pixels wide should display well.
Why Mobile Landing Pages Are Important for Your Business
A mobile version of your landing page is important because it's the top way users browse the internet. Instead of waiting to shop on their laptops or desktop computers, potential customers can now pull out their phones or tablets to get what they need.
From researching the best products to checking out, browsing a web page is on mobile devices most of the time. For instance, 2x more tech purchases from eCommerce sites were made on mobile in 2019 compared to 2015.
For example, many brands with landing pages cater to mobile users with:
Mobile-first landing pages
Pages that load fast
Clear calls to action
Fewer steps to convert
As a result, those businesses are in the best position for success because they put their target audience's browsing preferences first.
With that in mind, it makes sense to optimize your digital marketing activities for mobile users, including your landing pages. Yet, how do you design great mobile landing pages?
Let's find out.
Best Practices for Creating a Mobile Landing Page
Creating landing pages for mobile visitors takes more than making them mobile responsive. To maximize lead generation and conversions for your marketing campaign, you need to consider people's goals and why they choose mobile over desktop devices.
Imagine you're looking for a new property online. Would you browse a real estate site with information that's hard to see, or would you choose the page that loads quickly and makes the browsing experience easier? Plus, typing with phone keyboards on a small screen isn't easy.
To better serve mobile customers, you need to keep things short and to the point.
So what should you keep in mind when putting your mobile landing page together? Here are some areas to focus on to improve the mobile experience:
Simplicity: People want to find what they're looking for fast. Instead of cluttering your page with unnecessary features, include only what needs to be on your mobile landing page and do away with the rest. For instance, hamburger menus, login buttons, etc.
Headlines: Avoid clickbait headlines and instead make headings short, specific, and impactful. Try to focus on that one thing users will get from taking action on your pages, such as pricing, offers, and discounts.
Copy: The length of your landing page copy depends on your audience. Keep in mind the context of what people are searching for. Bullet points are a great way to keep the information short and scannable.
Forms: If your landing page goal is to get users to subscribe, you need to keep things minimal. Since people are typing with their thumbs, they won't want to fill out a form with tons of form fields. Keep the form short and simple, and ask only for the details you need.
CTA: You should design your mobile page to focus on 1 call to action (CTA). More than 1 makes your message confusing. The CTA button should also be big enough to see and tap easily on mobile screens, especially when designing a click-to-call button, so having plenty of white space around your button will help users focus.
Speed: Slow landing page speeds kill conversions. Even a 1-second delay in page loading times can wear down users' patience and lead to a high bounce rate. Build your page with speed-optimized WordPress plugins and use speed test tools to find areas to improve.
You might also like these landing page best practices for tips on getting started.
Best Mobile Landing Pages
Check out these best mobile landing page examples if you need some inspiration before designing your page.
1. Bugaboo Mobile Landing Page Example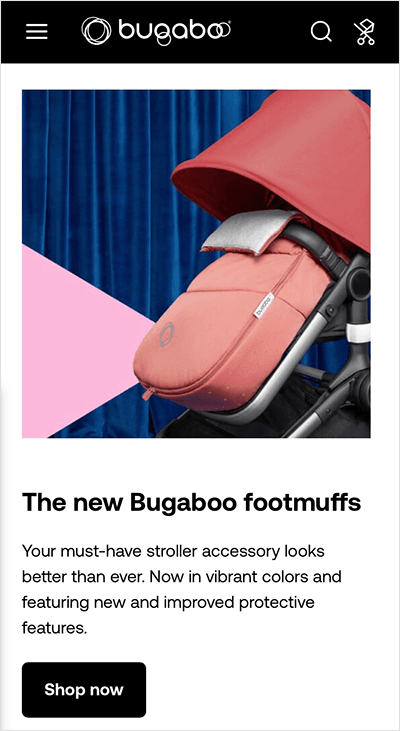 First is a mobile landing page example from Bugaboo, an online retailer of products for babies and children. Their landing page design has a single-column layout, is clean, modern, and easy to navigate from any device.
2. Etsy Mobile Landing Page Inspiration
As you can see, Etsy hides the page's navigation menu from the main page with a mobile menu. The images are crystal clear, and the buttons are large enough for shoppers to tap.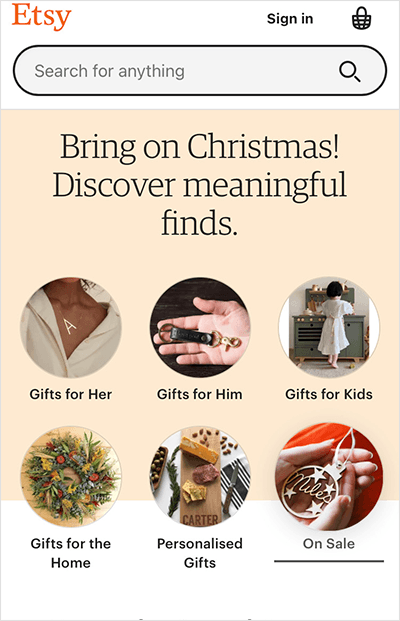 Etsy's mobile landing page example offers an excellent experience for mobile users. As you can see, the images act as buttons, so tapping them leads you directly to that page.
In addition, the search box spans the entire width of the mobile page, making it much easier to tap on smaller screens.
3. Slack Mobile Landing Page Example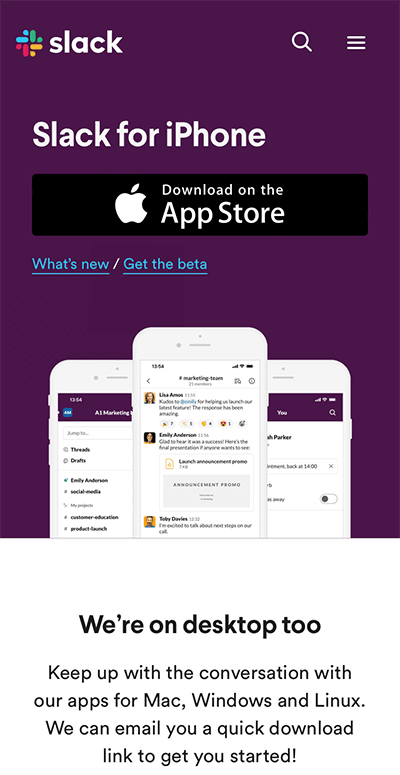 We particularly love Slack's mobile landing page because they have tailored it to the user's device. So, since we used an iPhone, they personalized the page for the Apple store.
That approach is an excellent way to target specific target audiences. And since the page suits that audience's needs, it's more likely they'll convert.
4. Maped Helix Mobile Landing Page Design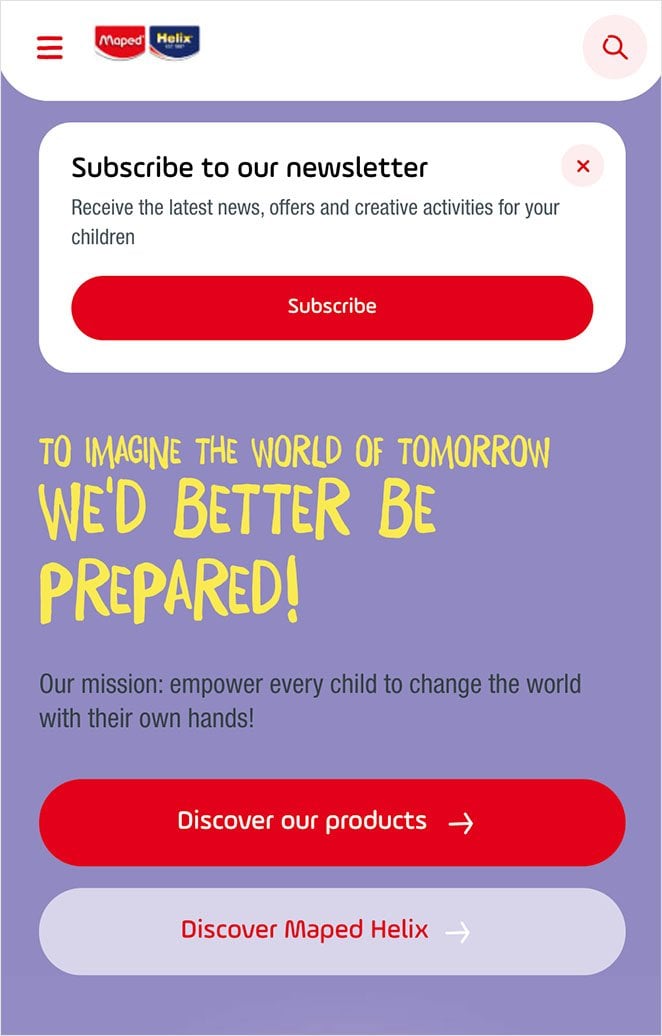 Maped Helix has a crisp, mobile landing page design that leaves nothing to chance. It features a sticky bar at the top of the page to encourage users to subscribe and clearly labeled CTA buttons directing users to popular sections of their site.
Even better, the CTA button colors vary by importance, with the bolder color indicating which button users should click first.
How to Make the Best Mobile Landing Pages in WordPress
Now that you know the best practices for designing a mobile-friendly page, let's look at how to make a phone landing page in WordPress.
We'll use a powerful WordPress plugin to build your landing page effortlessly for this tutorial.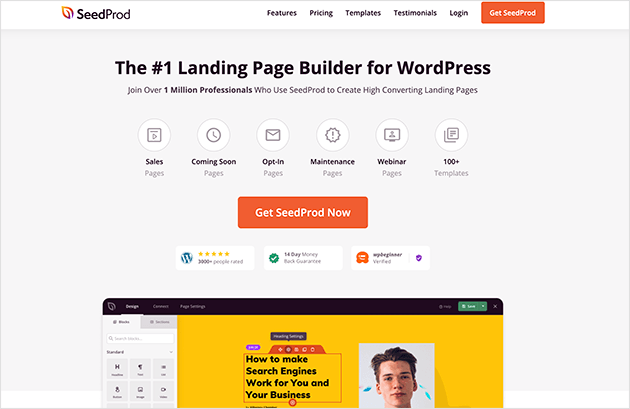 SeedProd is the #1 WordPress landing page builder with coming soon and maintenance mode functionality. It's also a theme builder plugin, allowing you to create custom WordPress themes without code. It's 100% mobile responsive and works with any WordPress theme to build stunning landing pages without hiring a developer.
The drag-and-drop page builder allows you to design your page in real time, with zero coding required. Plus, you can choose from a growing library of responsive landing page templates to get started quickly.
In addition, SeedProd comes with a built-in coming soon page, 404 page, and maintenance modes. That means you can show a custom landing page to website visitors while working on your site in private.
Even better, the robust access controls let you give access to specific users (like clients). They can bypass your landing page and see your website under construction.
SeedProd integrates seamlessly with top email marketing services to grow your email list. You can also set up Google Analytics and connect to thousands of third-party applications via Zapier.
Best of all, SeedProd is lightning fast. Unlike other WordPress page builders that are slow to load and full of bloat, SeedProd is optimized for speed and won't slow down your page load times.
Step 1. Install SeedProd Landing Page Builder Plugin
To start building your mobile landing page, click here to get started with SeedProd and download the plugin. Then follow these step-by-step instructions to install a WordPress plugin.
After installing and activating SeedProd, a screen will appear asking you to enter your license key details. You can find your license key in the email address you used to purchase the plugin.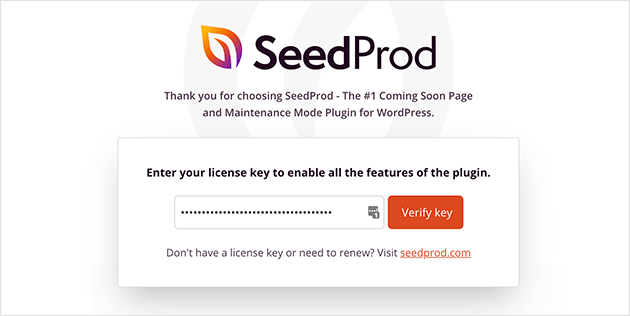 Paste your license key into the field provided, and click the Verify Key button.
Step 2. Create a New Mobile Landing Page
Once you've entered your SeedProd license key, scroll down to the page until you see the Create Your First Page button.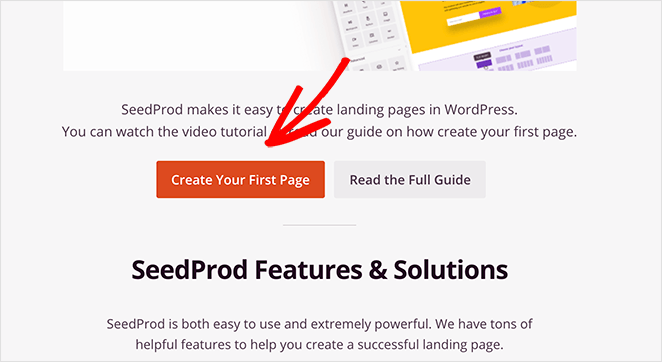 Clicking the button takes you to the SeedProd landing page dashboard.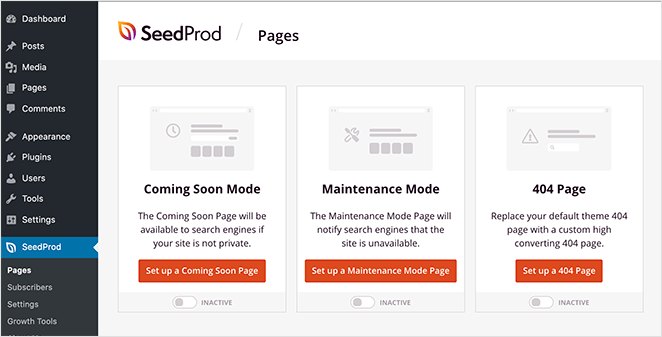 Here, you'll see 3 different landing page modes along the top of the page, which include:
Under that section, you'll see a list of all the landing pages you create with SeedProd.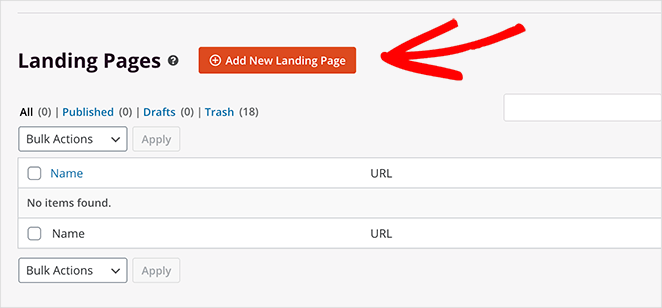 Click the + Add New Landing Page Button to create your first page.
Step 3. Choose a Responsive Landing Page Template
After clicking the button to create a new landing page, you'll see SeedProd's library of landing page templates. SeedProd's templates work seamlessly with your existing WordPress theme and adapt to mobile devices.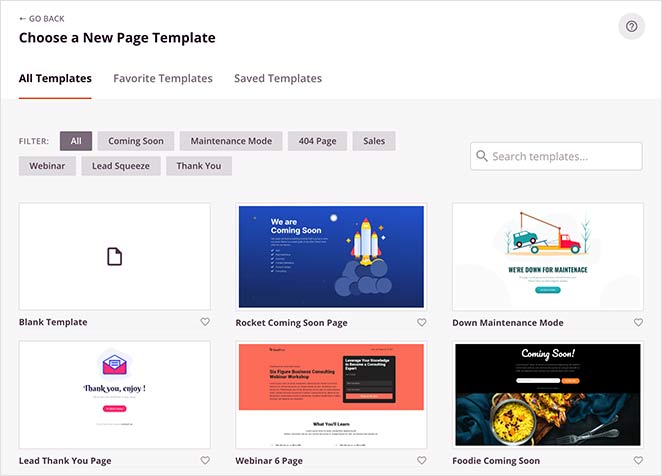 You can filter the templates by type by clicking any option along the top of the page, which includes:
It's also possible to edit any template to suit your business needs, so choose any template that fits what you're looking for.
For our example, we chose the Maintenance Rain template.
Just hover your mouse over the template thumbnail and click the tick icon.
A popup lightbox will then appear, asking you to enter your page name and URL. Don't worry; you can change this later in the page settings.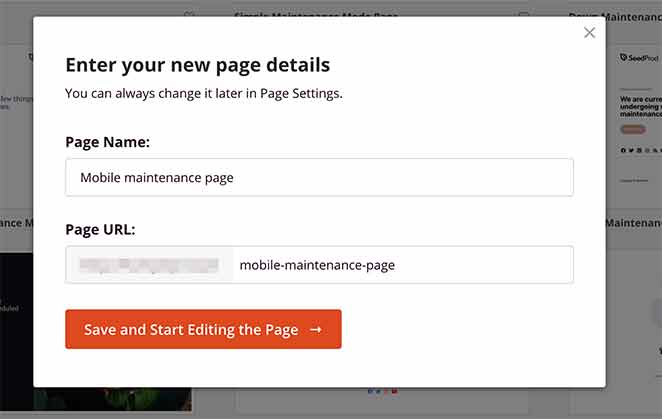 Now click the Save and Start Editing the Page button to launch the drag-and-drop builder.
Related: How to Build an App Landing Page (with 5 Examples)
Step 4. Add Your Mobile Landing Page Content
Upon launching your page, it will load in SeedProd's visual user interface. And that is where you can edit your landing page template's content and add extra content to suit your business needs.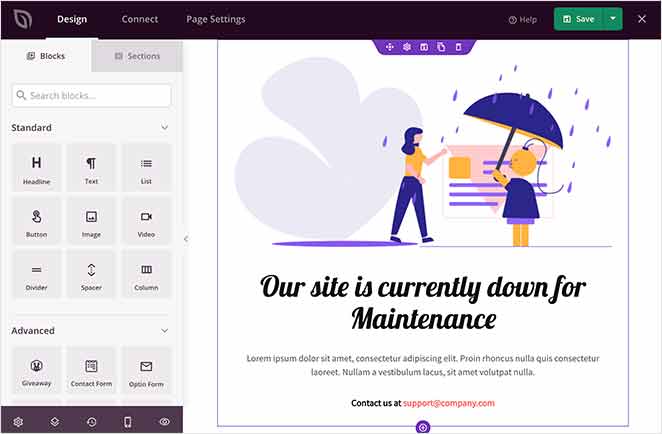 On the left-hand side of the screen are landing page blocks, while on the right is a preview of how your page will look.
The landing page blocks have 2 sections; Standard and Advanced.
Standard Landing Page Blocks
SeedProd's Standard blocks control your landing page's general design and layout with blocks like Images, Videos, Columns, etc.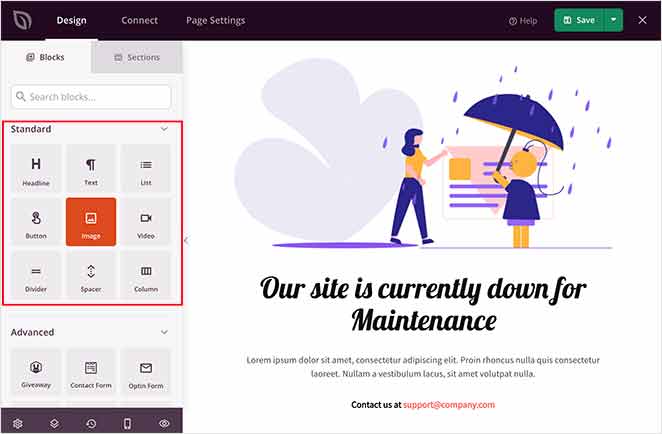 Advanced Landing Page Blocks
In addition, Advanced blocks are more specialized and focus on lead-generating page elements like optin forms, giveaways, contact forms, star ratings, anchor links, and more.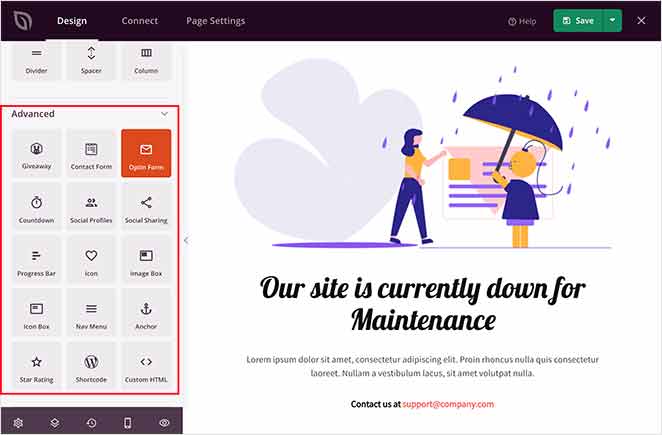 Adding Landing Page Content
Embedding content on your page is as simple as dragging a block from the left side onto the right side to see the real-time changes.
For example, many maintenance pages use countdown timers to let users know how long is left until maintenance is over. To add a countdown timer to your mobile landing page, drag the countdown timer block from the left panel to your page preview on the right.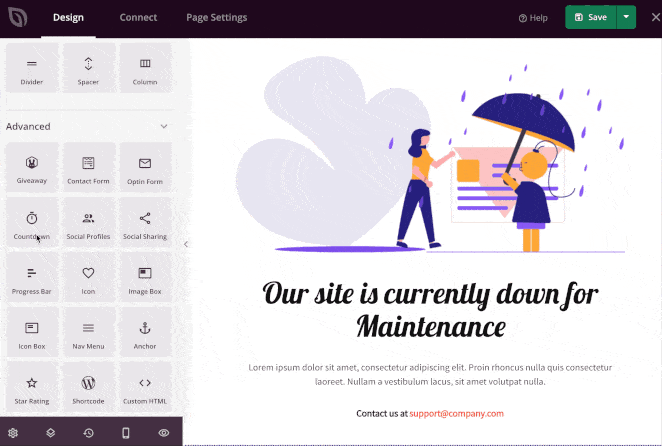 You can then click the block to show various content settings where you can:
Change the countdown type from DateTime Countdown to Visitor Timer (Evergreen).
Choose the countdown end date and time.
Select your time zone.
Change the countdown block alignment.
Show a message or redirect users when the timer expires.
Customize the countdown labels.
Many of SeedProd's landing page blocks also come with block templates. That allows you to switch the block design with a single click.
To see the block templates for the countdown timer, click the block and select the Templates tab. Then choose the style you like best.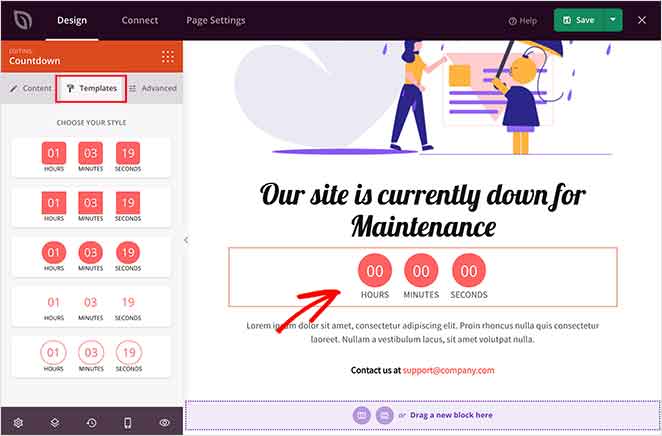 You can customize each block further by clicking the Advanced tab. Plus, you can edit the colors, typography, spacing, etc., block-by-block in that area.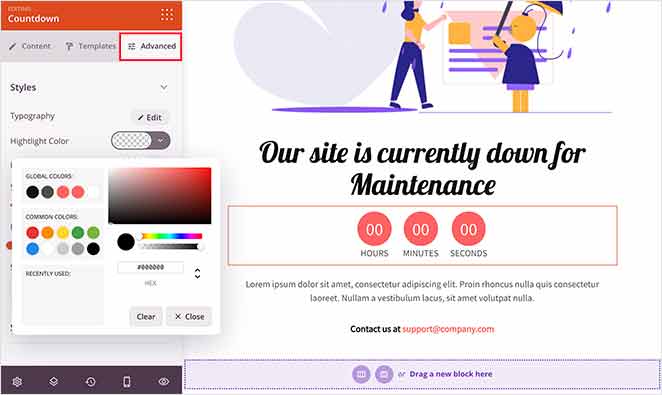 Why not add a click-to-call button to your landing page so that mobile visitors can call you straight away?
Page Sections
It's also possible to add whole pre-made sections to your page with SeedProd.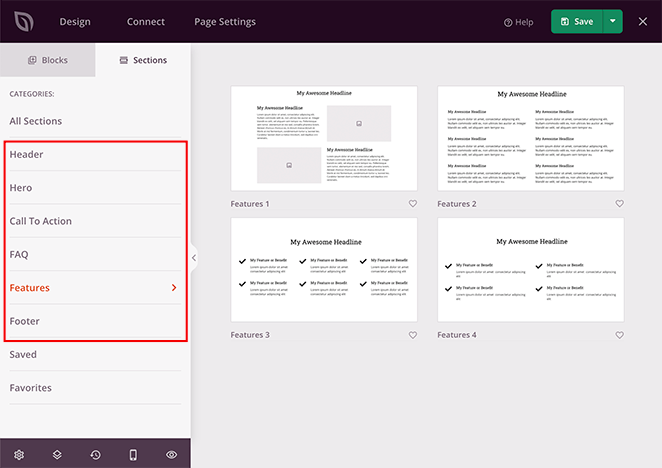 Just click the Sections tab to see ready-made layouts for landing page areas like:
Header
Hero
Call to Action
Features
Footer
For instance, adding a FAQ section is an excellent way to provide users with answers to common questions. The answer dropdowns expand and collapse with a single click, saving space on the page.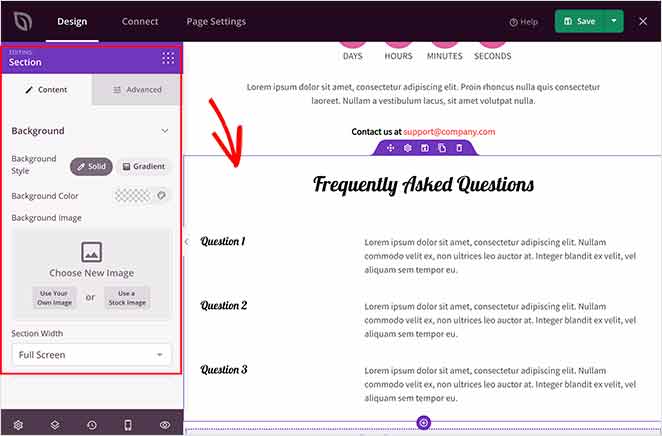 Besides, FAQ sections can help reduce cart abandonment and increase your conversion rates.
Continue adding content to your page until you're happy with how everything looks. For instance, you can add your company phone number, social media buttons, etc. Then click the green Save button in the top-right corner to store your settings.
Step 5. Customize Your Page
Customizing your mobile landing page is also easy with SeedProd. Instead of customizing each page block, you might prefer to set colors and fonts and apply them globally.
To do this, click the gear icon in the bottom left corner of the page editor. Doing so takes you to the Global Settings panel, where you can set your page's global colors, fonts, backgrounds, and CSS.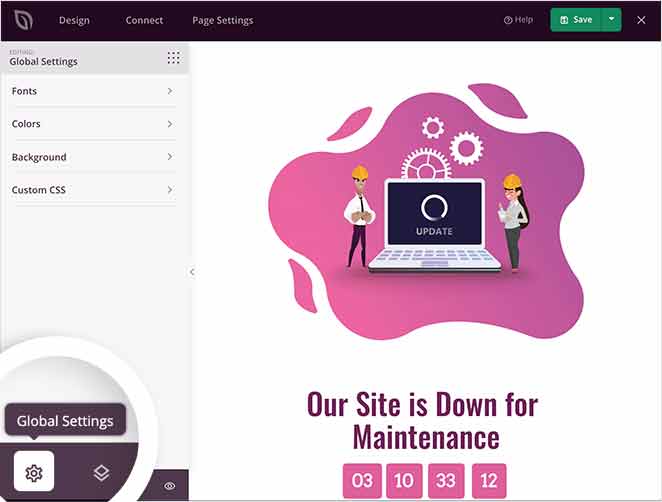 Font Themes
Clicking the Fonts tab allows you to change your landing page fonts and apply them to every page element. You can do this by editing the header and body fonts individually.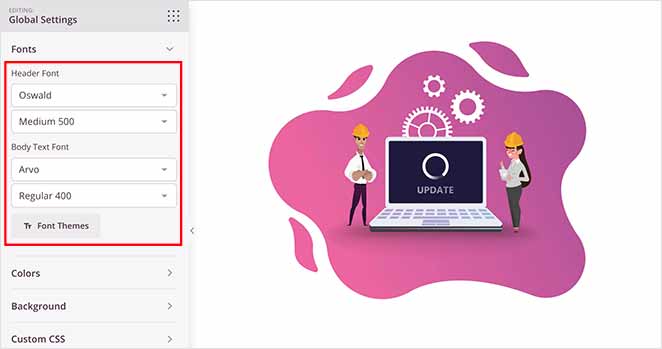 Or you can click the Font Themes button and select a pre-made font combination.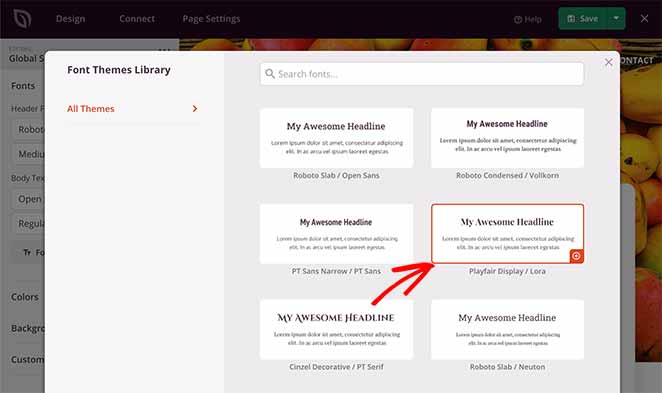 Color Schemes
You can take a similar approach to your landing page colors. Click the Color tab and choose unique colors for your headers, text, buttons, and links.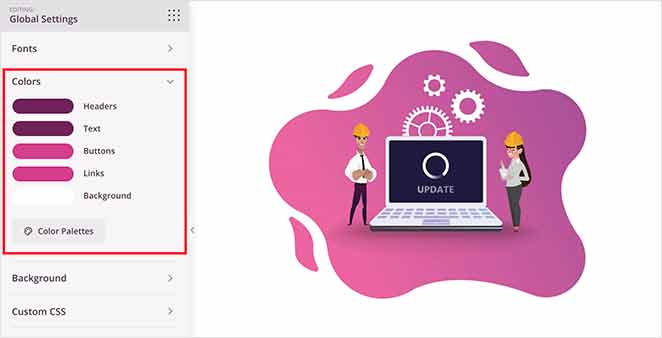 Alternatively, you can choose from over 20+ color palettes by clicking the Color Palettes button.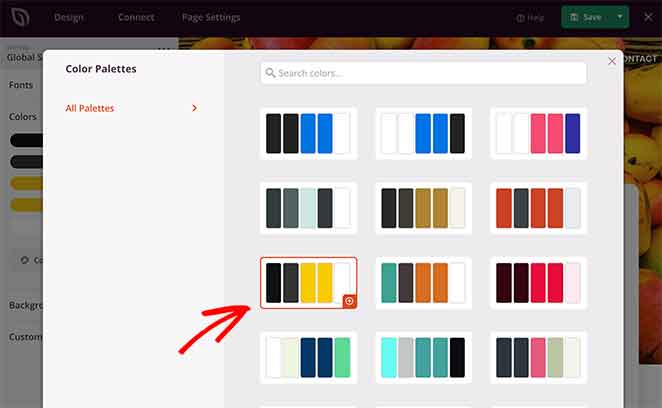 Custom Page Backgrounds
You can upload a custom background image in the Background tab or choose a solid color or gradient. You can also add a full-width video background or image slideshow.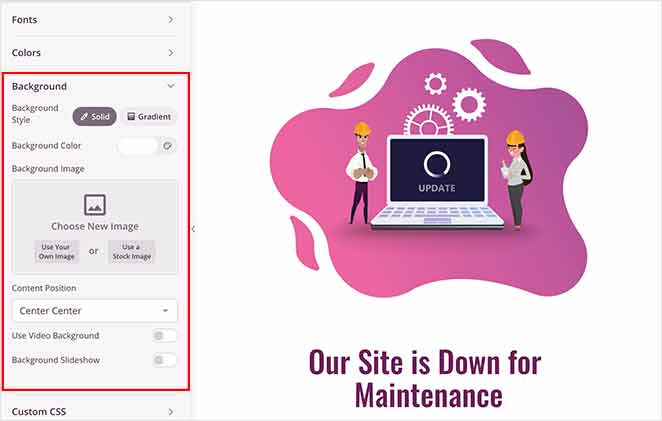 Remember to click the Save button to preserve your settings.
Step 6. Connect Your Email Marketing Service
Another great thing about SeedProd is its ability to integrate with various third-party automation tools and applications. You can connect your landing page to Google Analytics to monitor your performance and even link to your email marketing service to grow your email list.
To connect to an app or service, click the Connect tab at the top of your page. From there, you'll see the services you can integrate with.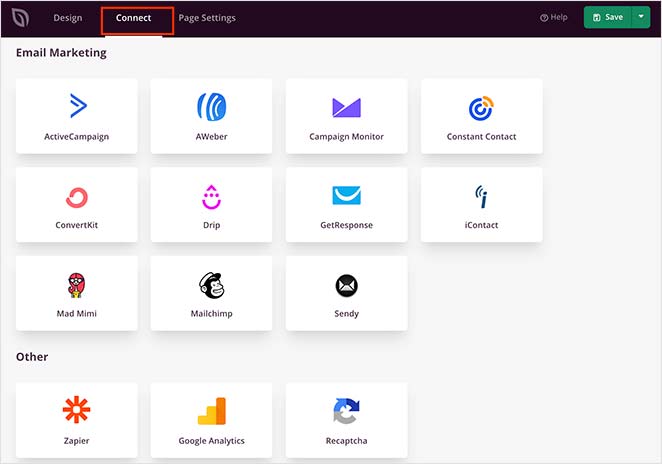 For instance, to link to your Constant Contact email list, it's as simple as clicking the Constant Contact image and following the instructions.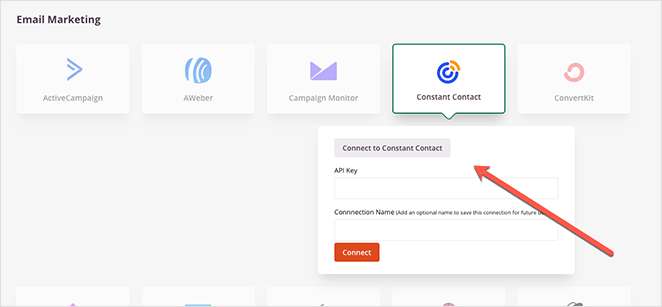 When anyone signs up via your landing page, you can see them in your SeedProd dashboard by navigating to SeedProd » Subscribers, regardless of whether you integrate an email marketing service.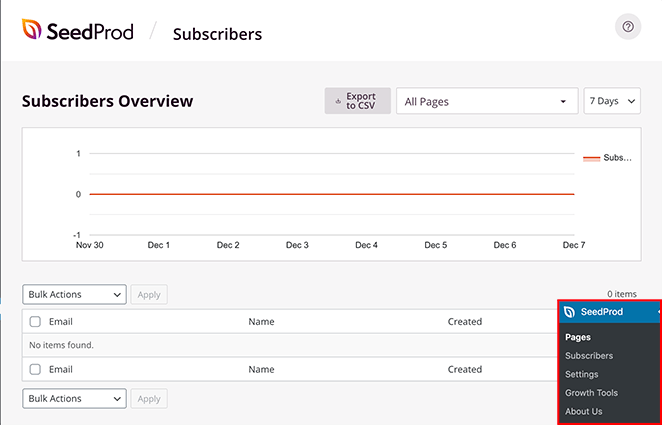 This is an excellent solution if you're just starting and don't want to commit to a specific provider just yet, as it lets you get precise visual data on page subscriber counts and new subscribers over time.
Step 7. Configure Your Page Settings
Now let's look at your landing page settings by clicking the Page Settings tab. In the General settings, you can change your page's name and URL, published status, and activate Isolation Mode.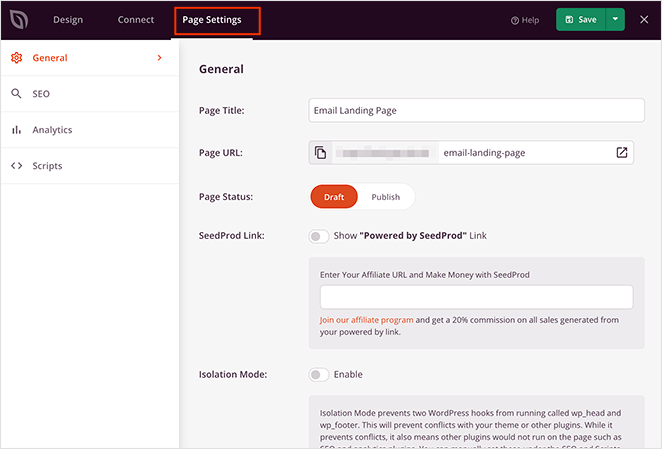 Isolation Mode removes any unnecessary code from loading on your page to make it faster. It only loads the information needed to render your page to users. Enabling this mode should help to remove any WordPress theme or plugin conflicts.
The following tabs allow you to edit your landing page's SEO and Analytics settings with plugins like All in One SEO and MonsterInsights.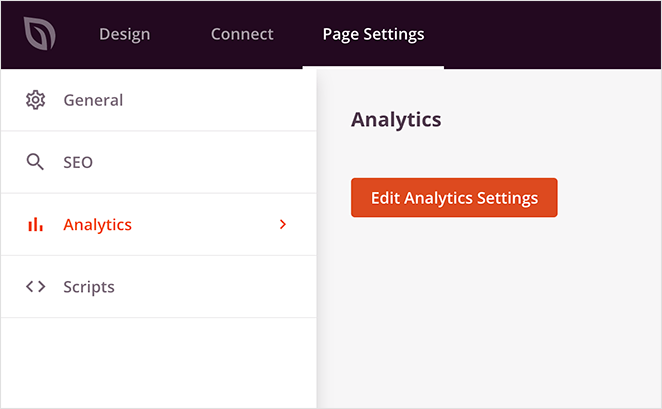 Then the Scripts tab lets you paste custom header, body, and footer scripts. This is useful for retargeting page visitors with your Facebook Tracking pixel etc.
Step 8. Preview Your Landing Page in Mobile
Before publishing your landing page, you'll want to make sure it's mobile-friendly. People will bounce away from your page if your page elements aren't mobile responsive and don't offer an excellent mobile user experience.
You can check how your landing page looks on mobile devices with SeedProd's Mobile Preview option.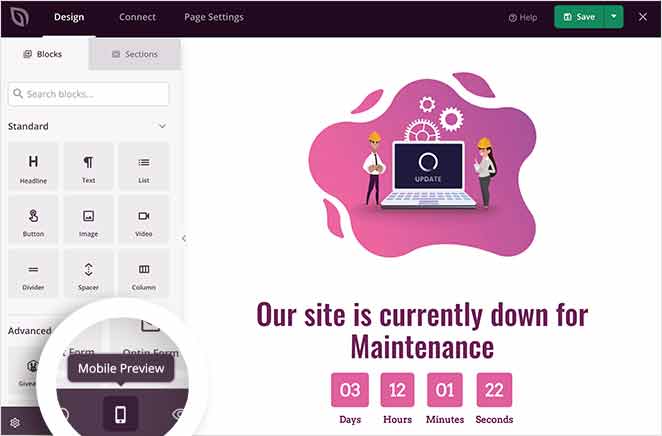 To begin with, find the mobile phone icon at the bottom of your page and click it to see the mobile version of your page.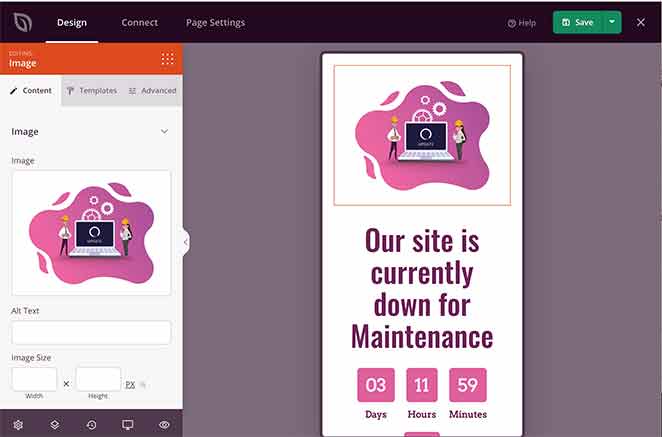 As you can see, your design now displays in a single column for mobile screens. However, there are some improvements we can make to make it more mobile-friendly.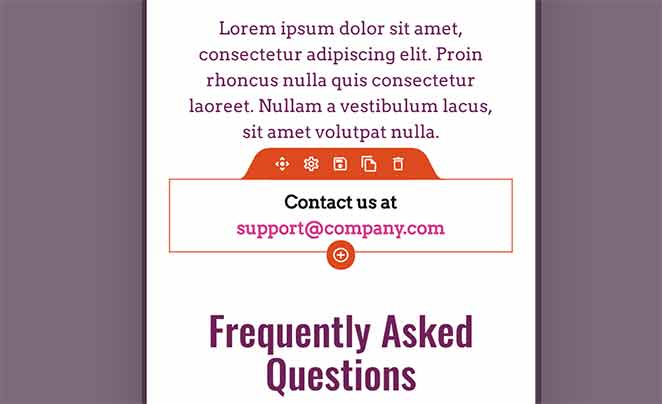 For example, instead of having a text-based "contact us" link that is small and hard to tap, we can add a simple button linked to the contact form we created with WPForms.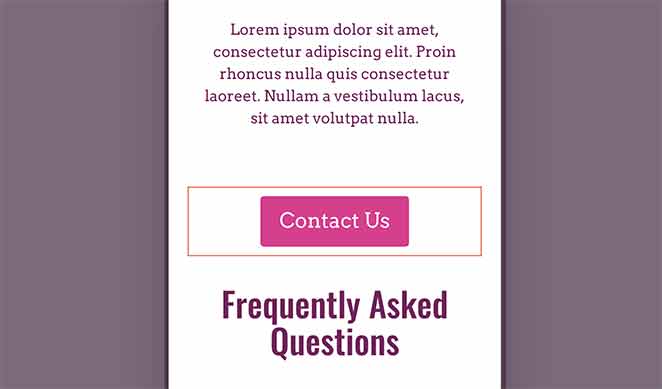 Incidentally, WPForms works seamlessly with the contact form page block. So if you prefer, you can display your form right on your page.
Also, we can adjust the spacing between our countdown timer icons to all fit on a single line.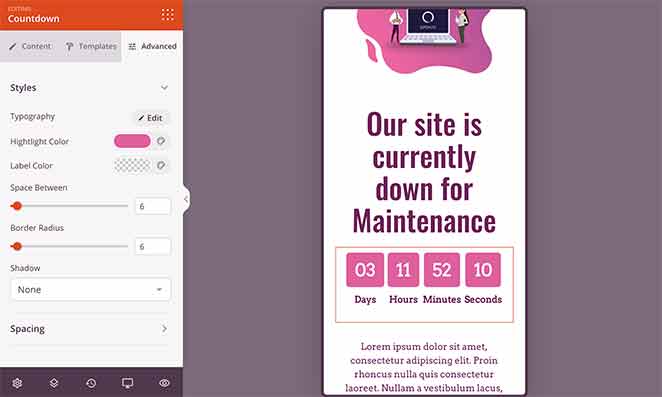 Generally, you can make all of these edits right inside the mobile landing page preview without switching back to the desktop version. Plus, any changes you make are applied automatically.
Later, switching back to your desktop landing page version is as simple as clicking the desktop icon.
Step 9. Publish Your Mobile Landing Page
Finally, after checking that your landing page looks great on mobile devices, it's time to make it live.
Next to the green Save button, you'll see an arrow. Here, you can click the arrow to save your page as a template to use later or click Publish.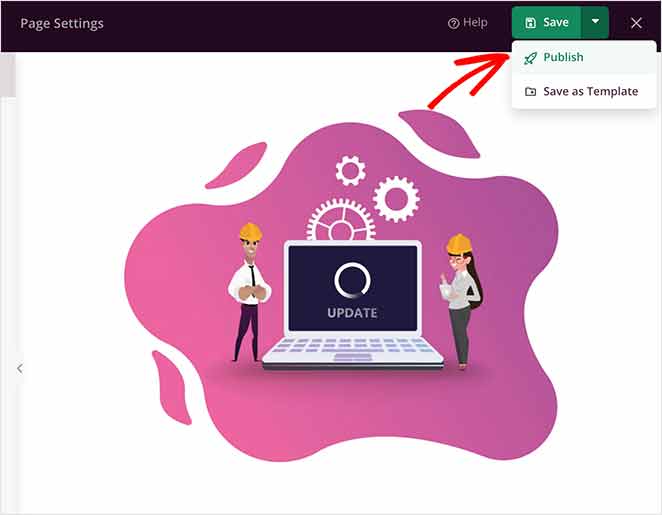 After clicking Publish, you'll see a window telling you your landing page is now published.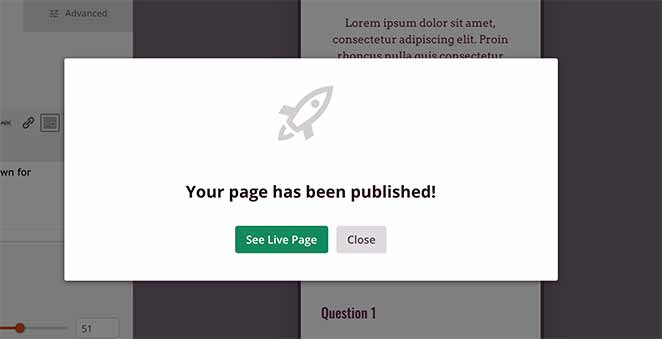 Now, click the See Live Page button to see how it looks.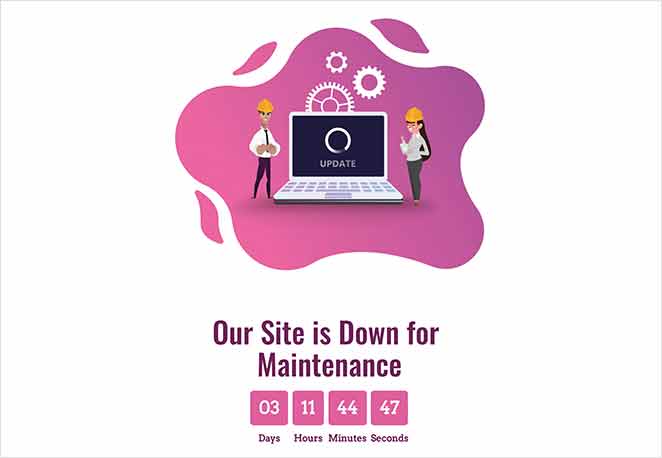 Congratulations!
In this article, you've discovered the best mobile landing pages and how to make a mobile landing page in WordPress. You're also aware of the best practices to drive more leads, conversions, and sales to your mobile landing page design.
In summary, building any page is easy with SeedProd. With the drag-and-drop builder, lead-focused blocks, and customizable templates, you can make stunning pages fast. And with mobile previews, you can make your landing page mobile-first every time.
If you liked this article, you may enjoy this guide on A/B testing landing pages with Google Optimize.
Thanks for reading. Please follow us on YouTube, Twitter, and Facebook for more helpful content to grow your business.