Are you looking for an easy way to make your WordPress website mobile-friendly? Then WordPress mobile plugins are the way to go.
With a responsive website, you can offer a better user experience to mobile users. This makes it easier to promote your products and services, increasing your leads and sales.
In this article, we share the best WordPress mobile plugins to make your website mobile responsive.
What Are WordPress Mobile Plugins?
A WordPress mobile plugin is a WordPress plugin that makes elements of your website display correctly on mobile devices. Some solutions allow you to create an entire mobile website, while others adapt your site features so they're easier for mobile users to see.
Why Make Your WordPress Site Mobile-Friendly?
Making your WordPress site mobile-friendly has several benefits, including:
Improved Browsing Experience. Showing a mobile version of your website makes it easier for mobile users to browse your site. Instead of seeing a typical desktop site, mobile users see a design that adapts to suit their screen size.
Boost Leads and Sales. Since responsive websites are more user-friendly, potential customers will spend more time browsing. Plus, crucial elements like your call to action buttons are easier to see, increasing conversions.
Better Search Engine Rankings. Search engines like Google now take into account how mobile-friendly your site is when ranking it. Responsive websites have a much better chance of ranking higher than desktop websites.
As you can see, making your WordPress site mobile-friendly is an effective way to serve your audience better, boost Google rankings, and grow your business.
Best WordPress Mobile Plugins
Below, you'll find a variety of the best mobile plugins for WordPress. They include plugins for creating responsive pages, forms, popups, and even social media feeds.
You'll also find a plugin that turns your desktop website into a mobile responsive design.
Let's dive in!
1. SeedProd – Responsive WordPress Landing Pages and Themes
Landing pages are some of the easiest ways to convert website visitors into qualified leads. But if they're not mobile-friendly, you can just as easily frustrate those visitors, resulting in lost potential customers.
To avoid this, we suggest using SeedProd, the best drag-and-drop WordPress landing page builder. SeedProd allows you to create landing pages without writing any code, and any page you create is 100% mobile-friendly.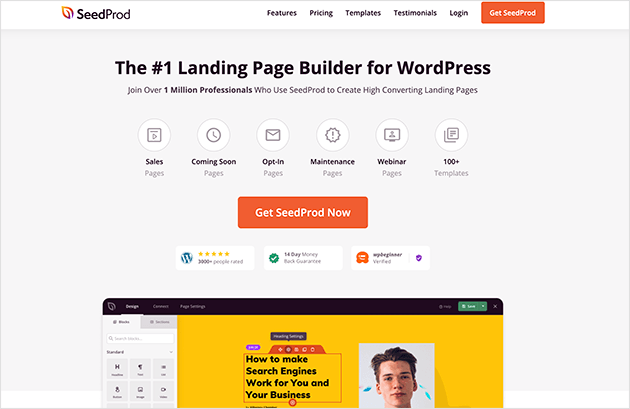 The visual editor includes drag-and-drop functionality so you can build pages instantly and see the changes in real-time. Plus, mobile and desktop editing means you can perfect your landing page design for any screen size.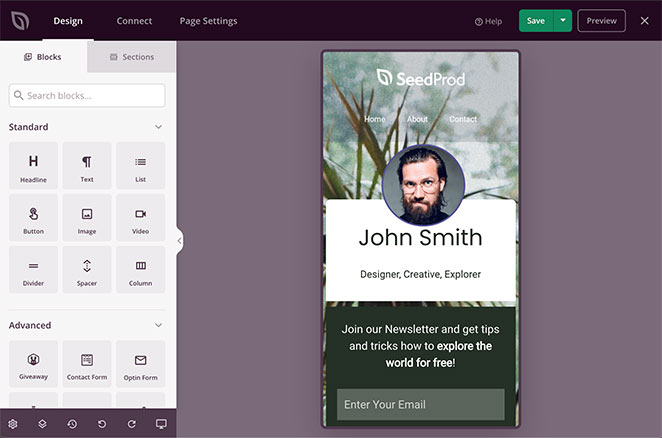 Other SeedProd features include:
Effortless landing page customization options
100+ responsive landing page templates
Mobile responsive form blocks, including login forms, contact forms, and optin forms
Mobile-friendly WooCommerce checkout, cart, and product gallery blocks
Advanced blocks, including Google maps, social profiles, pricing tables, testimonials, etc
Built-in coming soon page, maintenance mode, 404 page, and login page
Premium email marketing integrations
And more
2. WPForms – Mobile-Friendly WordPress Forms
Like landing pages, website forms are hard for users to use if they're not designed with mobile devices in mind. For instance, if your form has more than 1 column, people may have to scroll horizontally to see the whole form.
Obstacles like that offer people a poor user experience that can lead to form abandonment. And as a result, it can hurt your form conversion rates.
But the good news is many WordPress plugins make creating mobile-friendly forms super easy. Take WPForms, for example.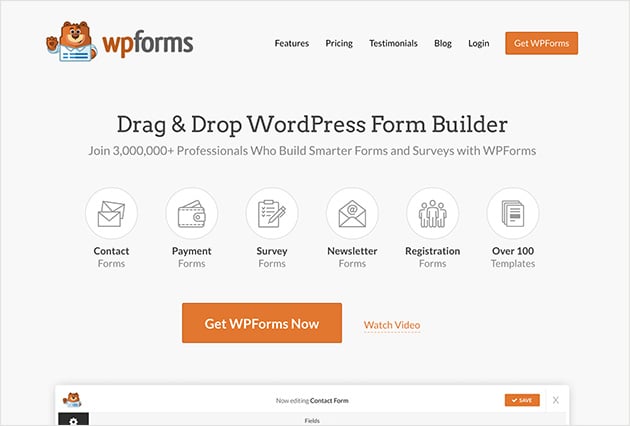 WPForms is the best WordPress form builder plugin on the market, and any form you create with this plugin is completely responsive and mobile-friendly. It comes with a wide variety of form templates that are built for cross-browser compatibility. This means your site will work on all modern browsers.
WPForms is also incredibly beginner-friendly. The form creation process is entirely drag-and-drop and is smart enough to adapt to the settings you select and dynamically create mobile-friendly form layouts.
Other WPForms features include:
Conditional logic to create high-performance forms
Instant notifications of form submissions
File upload form submissions
Addons for surveys, form abandonment, form locker, etc
Popular email marketing integrations
Spam protection
And more
3. OptinMonster – Responsive WordPress Popups
Popups are incredibly useful for driving new leads and sales, even on mobile. Especially since more online consumers access their favorite websites from mobile devices.
But creating popups in WordPress for mobile users requires more consideration. You'll need to alter your messaging and design to suit a mobile browsing experience. Otherwise, you could annoy visitors and lose customers.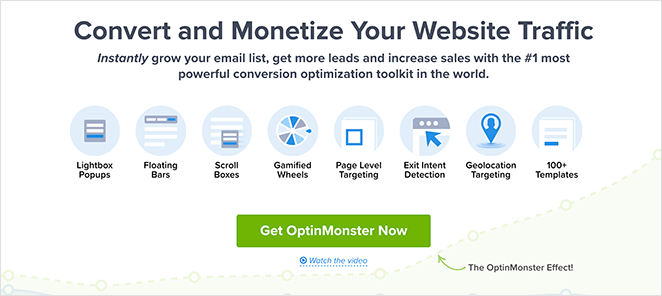 To do this, we recommend using OptinMonster, the best lead generation tool in the world. With its drag-and-drop popup builder, you can create responsive popups in WordPress easily.
OptinMonster comes with 50+ beautiful pre-built templates and lets you choose from 6 different campaign types, like lightbox popup, floating bar, full-screen welcome mat, and more. Best of all, each design is 100% mobile-friendly, adapting to any screen size.
Other OptinMonster features include:
Advanced targeting rules to show popups based on user behavior
Use precision targeting to create campaigns that generate more leads
Integrate with popular email marketing services
See powerful analytics to optimize your campaigns
Free WordPress plugin for easy integration
A/B test your ideas to keep increasing conversions
And more
4. RafflePress – Mobile Responsive Giveaways
Giveaways are another super effective way to raise brand awareness and drive targeted traffic to your WordPress site. And while they're a fantastic way to go viral online, you won't see the results you want if your giveaway isn't mobile responsive.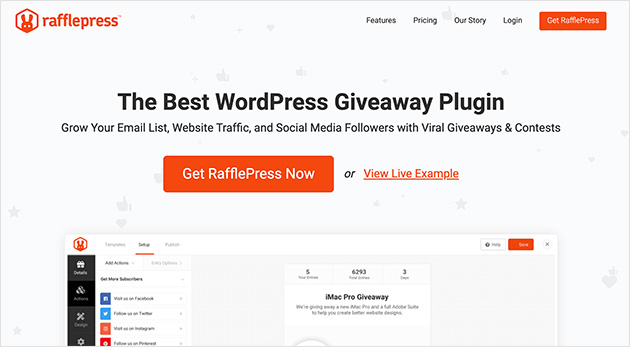 That's why we use RafflePress, the best WordPress giveaway plugin, to create mobile-friendly giveaways. Like the other plugins on this list, RafflePress offers drag-and-drop functionality to build giveaways easily without writing code.
And, since the plugin is 100% responsive, all giveaways look fantastic on mobile screens. So, whether people enter your giveaway from a desktop computer, tablet, or smartphone, they'll see all the right information and can enter quickly and easily.
Other RafflePress features include:
Premade giveaway templates for easy contest creation
Enter giveaways via social media, including Twitter, Facebook, LinkedIn, Pinterest, and Instagram
Refer a friend action to go viral online
Bonus entries to like and share on Facebook, leave a comment, etc
1-click giveaway entries to enter quickly
Entry verification to confirm giveaway entries
Recaptcha to combat spam entries
Popular email integrations to grow your email list
Giveaway entry report to see the most popular actions
5. Smash Balloon – Mobile-Friendly WordPress Social Feeds
Cross-promoting your social media content on your website is an excellent way to get more social followers and highlight your content. But making a social media feed mobile-friendly for WordPress isn't always straightforward if you're not tech-savvy.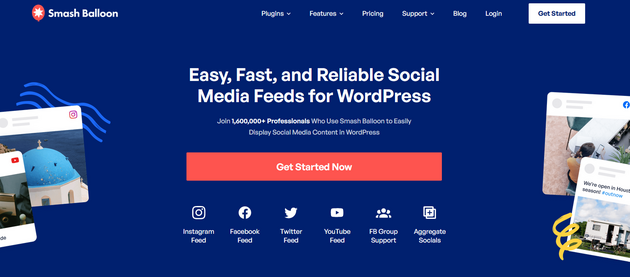 The easiest way to add responsive social media feeds to your WordPress site is with Smash Balloon's suite of social media feed plugins. Smash Balloon allows you to add user-friendly feeds for:
YouTube
Instagram
Twitter
Facebook
You can also combine all feeds and create a mobile-friendly social media wall right on your WordPress site. And the great thing is every feed is entirely responsive, adapting to any screen your website visitors use.
Other features include:
No technical knowledge required to get set up
Show multiple social feeds without limitations
Improves SEO with relevant dynamic content
Multiple layout options
Moderate feeds easily
Tag and filter social feeds
Share posts directly from feeds
WordPress health alerts
And more
For more details, see our Smash Balloon review.
6. WP Call Button – Mobile-Friendly Call Buttons
The problem with call-to-action (CTA) buttons is they're often hard to see or tap if they're not big enough on mobile devices. This often leads to missed clicks and people abandoning your site out of sheer frustration.

If you need to add CTA buttons to your site so users can call you, WP Call Button is one of the best solutions. It's an easy and powerful way to add a click-to-call button to WordPress without hiring a developer.
WP Call button is 100% mobile-responsive, meaning it always looks great on all devices. You also have the option to only show the call button on mobile devices for an improved user experience.
Other WP Call Button features include:
Avoid phone number typos with the smartphone field
Smart floating call buttons that scroll with the user
Static phone call button generator (shortcode and WordPress block)
Call now button sidebar widget
Customize color, text, and styles
Highly optimized call button placement options
Show or hide phone icon
Click tracking with Google Analytics event tracking
More importantly, WP Call Button is entirely free to use!
7. WPtouch – Responsive WordPress Mobile Sites

If you want to add a responsive mobile theme to your website, WPtouch is one of the most popular solutions. This plugin replaces your WordPress site with a mobile-centric theme making it easier to read and access.
While this plugin adds a simple mobile theme to your site, it doesn't change your site's overall WordPress theme, and your content stays the same. It just converts your content into optimized versions for each screen.
Plus, WPtouch is recommended by Google, making it easier to pass the Google mobile test and ensure your SEO rankings perform well.
Other WPtouch features include:
Customization options with the native WordPress customizer
Include and exclude pages from showing mobile-friendly versions
Control and change pages and menus easily
You can get all the above with the free version of WPTouch. But for enhanced mobile themes, extensions, and advanced customization options, it's best to use WPtouch Pro. The premium version starts from $79 per year.
Alternative: A similar free WordPress mobile plugin is WordPress Mobile Pack.
8. AMP for WP – Accelerated Mobile Pages for WordPress

Another way to ensure your website is fast and optimized for mobile users is by using the AMP for WP plugin. It allows you to add Accelerated Mobile Pages to your WordPress site, making the pages load faster.
AMP for WP also includes an infinite scroll feature to keep users engaged with your content. And it offers support for Google Analytics, AdSense and even offers GDPR compliance.
Other AMP for WP features include:
9. Jetpack – Mobile Website Optimization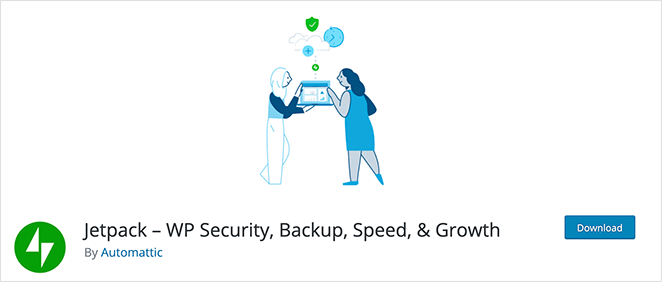 Another WordPress mobile plugin that helps optimize your website for mobile is Jetpack. Jetpack is an all-in-one plugin that includes features to improve your site's security and performance.
One of the key features is the ability to enable the Jetpack mobile theme. This shows a user-friendly version of your site to mobile users.
You can customize the content that shows on your mobile home page, the colors, and the header. Plus, viewers can switch to the desktop version of your site by tapping the "View Full Site" link at the bottom of each page. That way, they can still choose to have the full site experience.
Other Jetpack features include:
Real-time WordPress backups
Block spam comments with Akismet
Google AMP partner to deliver lightning-fast pages
Image CDN and lazy image loading
Ad-free video hosting
Manage jetpack features with the WordPress mobile app
Website traffic statistics
And more.
Jetpack recommends using its plugin with the WP Super Cache caching plugin for the best performance.

If you're looking for a free WordPress mobile plugin to optimize your website menus for mobile devices, WP Mobile Menu is an excellent choice. You can use this plugin to show fully responsive menus on mobile screens easily without code.
This plugin is super-easy to use and works with any responsive WordPress theme for an excellent user experience.
Some of the top features include:
3 depth menu level
Hide elements when the mobile menu is visible
Multiple display types (slide out, slide over)
Google fonts support
Logo and text branding
You can unlock more features such as disabling mobile menus on certain pages, more menu levels, animations, and more with the premium version.
While this isn't a WordPress plugin, you can see if your WordPress site is mobile-friendly with this free tool. Google's mobile-friendly test shows you how your site looks on mobile screens and offers mobile usability reports.
For example, here are the results for SeedProd: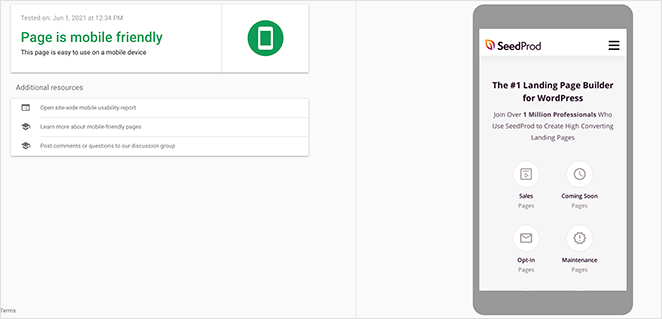 And here are the results for a site that isn't mobile-optimized: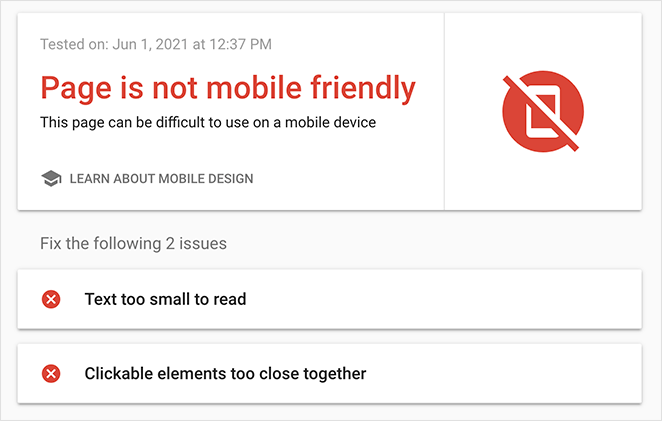 If your site isn't mobile-friendly, the tool offers resources on how to fix those issues. With this information, you can improve your website to make it more accessible for mobile users and, as a result, grow your business.
Which WordPress Mobile Plugins Are Best?
If you can't decide which WordPress mobile plugins to choose for your website, here are our top picks:
SeedProd is the best WordPress mobile plugin for creating responsive WordPress themes and landing pages without code.
WPForms is best for building mobile-friendly WordPress forms.
OptinMonster is the top tool for creating responsive lead-generation and popup campaigns.
There you have it!
We hope this post helped you find the best WordPress mobile plugins for your site. All of the suggestions above can dramatically improve the user experience of your site for mobile visitors.
You might also like this article on how to preview your WordPress site before going live to ensure everything looks great on all devices.
If you liked this post, then please follow us on YouTube, Twitter, and Facebook for more helpful content to help grow your business.