Do you want to set up a WordPress coming soon page for free?

Creating a coming soon page in WordPress helps you tell people your site is launching soon. It can also help you get a head start in search engine rankings before you go live.

But how do you add a coming soon page to WordPress? This step-by-step guide will show you how to create a WordPress coming soon page for free.
Before we start, here's an explanation of what coming soon mode is.
What Is a WordPress Coming Soon Page?
A "coming soon" page is a web page you can display to visitors before officially launching your site.
You can create a "coming soon" page to show visitors that your website is currently under construction or not yet launched. This page allows you to offer visitors the option to sign up for notifications when your website is officially launched.
In WordPress, you can create a coming soon page using a plugin or by editing the theme's code to display a custom page before launching your website.
For example, you can create a coming soon page to promote your new WooCommerce store and build hype before it goes live. Or you can add a placeholder form to collect email addresses to grow your blogging list before launching.
Moreover, a WordPress coming soon page can help improve search engine rankings. By creating a page that includes keywords relevant to your business or the content you'll feature on the site, search engines can better understand the site's content and index it accordingly.
Additionally, having a coming soon page can also help establish your site as an active and credible presence in the eyes of search engines before the rest of your site is live.
As a result, you can attract organic traffic to your site and promote new features immediately.
What Is a Good Plugin for a WordPress Coming Soon Page?
There are many WordPress coming soon plugins available. The plugin you choose will depend on your specific business needs.
For example, you may need a simple plugin without frills. Or you may want a feature-rich plugin that allows you to customize your coming soon page completely.
We believe the best coming soon page plugin for WordPress beginners is SeedProd.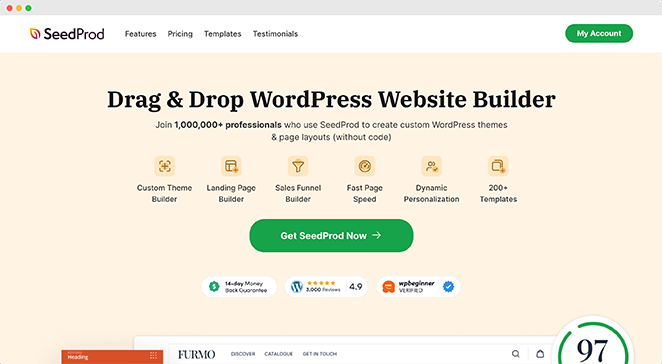 SeedProd is the best WordPress landing page builder and website builder. You can also use this plugin to create custom themes in WordPress.
It comes with an easy WordPress maintenance mode page and coming soon page functionality. It also allows you to grow your email list and limit access to your site while it's under construction.
That means you won't need to install a separate coming soon plugin, a maintenance mode plugin, and other WordPress plugins to make a coming soon page for your WordPress site.
SeedProd has several options to improve lead generation efforts for your new website. It also integrates with 3rd-party apps and services for extra functionality. In addition, SeedProd has both free and paid versions, making it accessible to various budgets.
For this tutorial, we'll use the free version of SeedProd.
How to Create a Free WordPress Coming Soon Page
If you're still asking yourself, "How do I set up an under-construction page in WordPress?" you're in luck! Follow the steps below to learn how to create a free WordPress coming soon landing page.
Video Tutorial
Step 1. Install and Activate the SeedProd Plugin
We'll use the free version of SeedProd to create a coming soon page for your small business.
The first step is to install SeedProd's free coming soon page plugin. You can do this by navigating to Plugins » Add New from your WordPress dashboard.
Then type "SeedProd" into the search box on the right. This will show you the following results: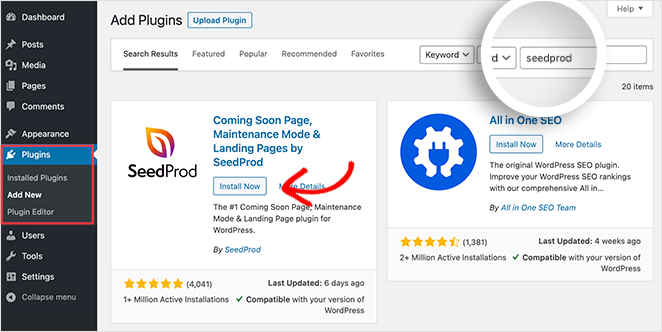 Click Install next to the Coming Soon Page, Maintenance Mode & Landing Pages by SeedProd heading, and click Activate.

After activating SeedProd, you'll see the following welcome screen.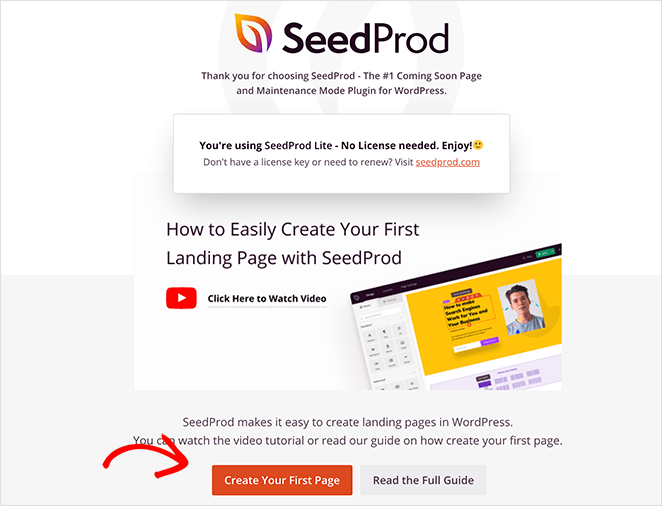 Click the Create Your First Page button next, which takes you to SeedProd's landing page overview, where you can start building a coming soon page.
Step 2. Create a Coming Soon Page in WordPress
You'll first see the different page modes you can activate on your website on the following page.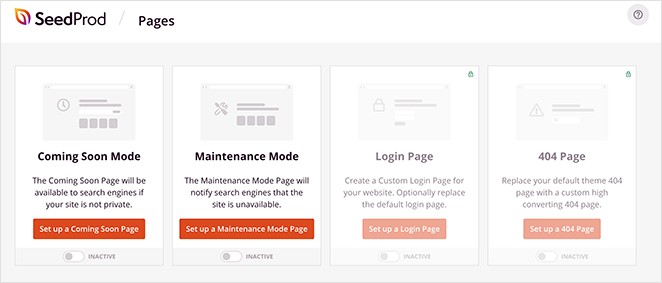 At the top of this page are 4 different sections:
With the free version of SeedProd, you can activate Coming Soon Mode and Maintenance Mode. This lets you add a user-friendly notice to your site while it's under construction or down for maintenance.
To use the 2 other page modes – Login Page and 404 Page – you'll need to upgrade to the paid version of SeedProd.
You can also create standalone landing pages in the area below the page mode sections.
To create a free WordPress coming soon page, click the Set up a Coming Soon Page button.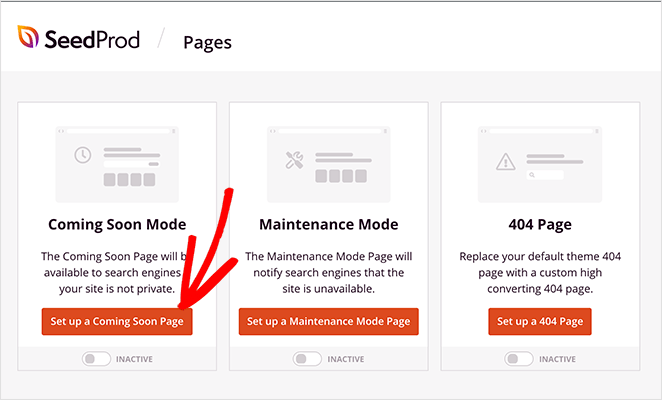 You'll then be asked to choose a coming soon page theme.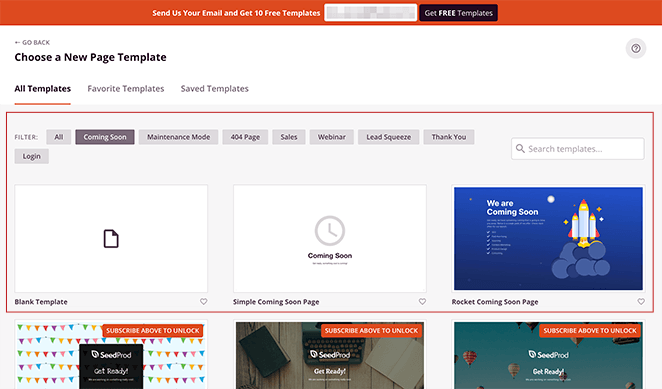 The free version of SeedProd comes with 3 free coming soon page templates you can use to get started:
Blank Template – This template lets you create a custom coming soon page from scratch in the drag-and-drop builder.
Simple Coming Soon Page – This template is a simple page with a brief message that your page is coming soon. You can customize this theme and put your own spin on it easily in the visual editor.
Rocket Coming Soon Page – This template is ready to go right away. Just customize it with your content and make it live.
To choose your template, hover your mouse over its thumbnail and click the tick icon.

Step 3. Change Your Coming Soon Page Content
On the next screen is SeedProd's visual editor, where you can add new content and customize different elements of your pre-launch page.
You can click the blocks or sections tab down the left-hand side to add new content. While on the right is a live preview of your website coming soon page.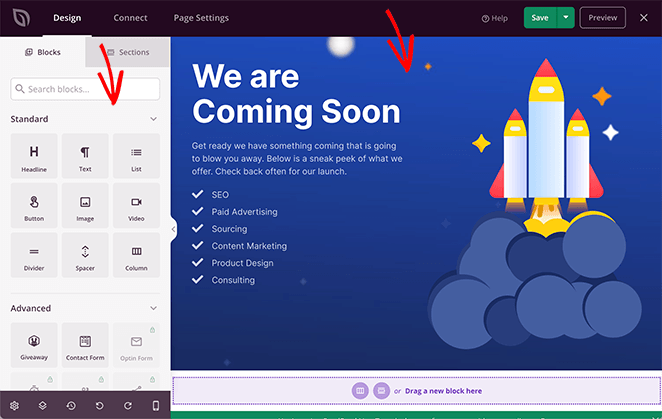 The page blocks are divided between Standard blocks and Advanced blocks.
With the Standard landing page blocks, you can add popular elements to your page. This includes headlines, bullet lists, images, videos, buttons, and more.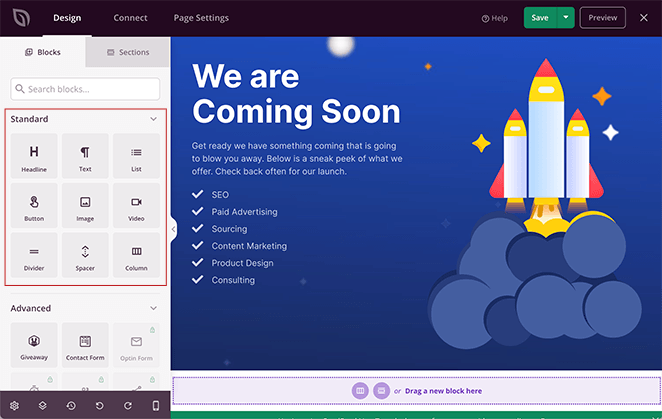 In contrast, the Advanced blocks are more focused on lead generation with blocks that allow you to insert:
Optin forms
Contact forms
Star ratings
Social media buttons
Progress bars
Navigation menus
Testimonials
Checkouts
Product Grids
and lots more
However, you'll need to upgrade to SeedProd's Pro plan to unlock these features.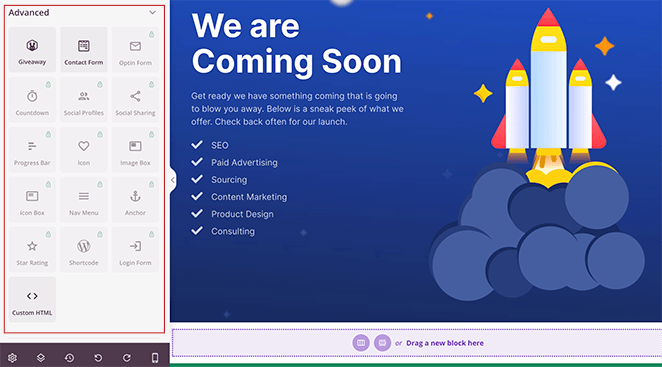 Many of SeedProd's blocks also include custom block templates. This allows you to choose from various pre-set designs and styles and implement them without code.
For example, you can click the Button block and select the Templates tab to see several styles.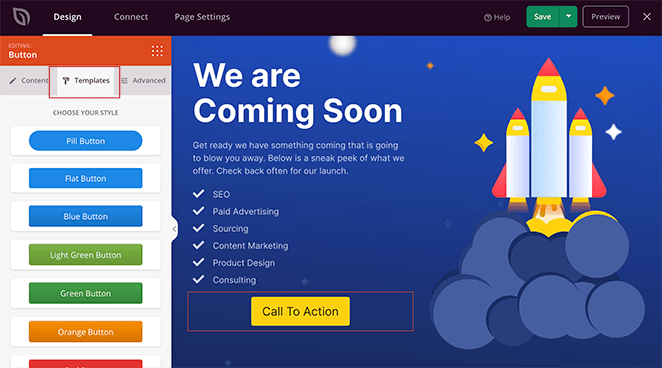 You can customize the colors, padding, spacing, and more in the Advanced tab.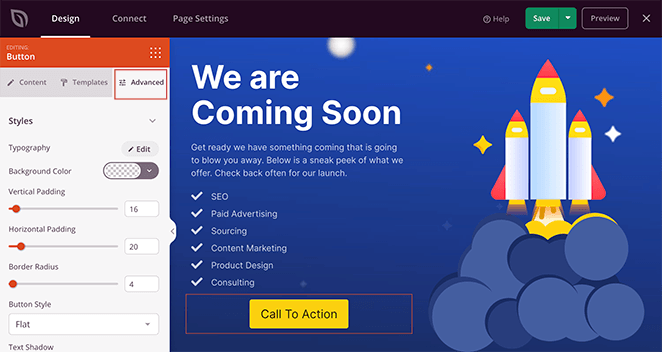 Rearranging any block on your page is as simple as dragging it to the desired position.
Making a WordPress Coming Soon Page with Contact Form
Another way to help site visitors get in touch from your coming soon landing page is to add a contact form to WordPress.
SeedProd integrates with 3rd-party form builders like WPForms. So creating a free coming soon page with a contact form is super-easy.
To do this, drag the Contact Form block from the Advanced blocks section, and drop it onto your page.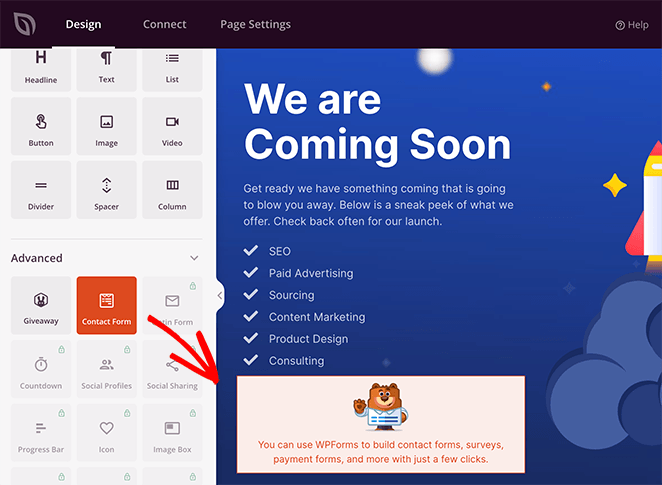 Then select your chosen form from the dropdown menu to automatically display it on your page.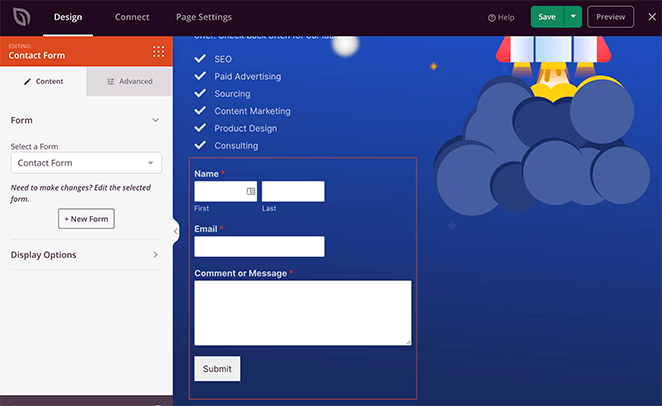 There are plenty of ways to use your coming soon page to capture more leads, even if your website isn't ready to go live.
For example, you can add:
Newsletter signup forms
And more.
You can even add a login form to your coming soon page, which we'll show you how to do next.
Making a WordPress Coming Soon Page with Login
SeedProd's login form block is a handy way to let registered users sign in to your website. That way, you can let other team members work behind the scenes even if your site isn't live.
Again, you'll need a premium SeedProd license to use this block, but adding a login form to your coming soon page is just as easy as any other block.
Simply find the Login Form block in the Advanced blocks panel, then drag it onto your page.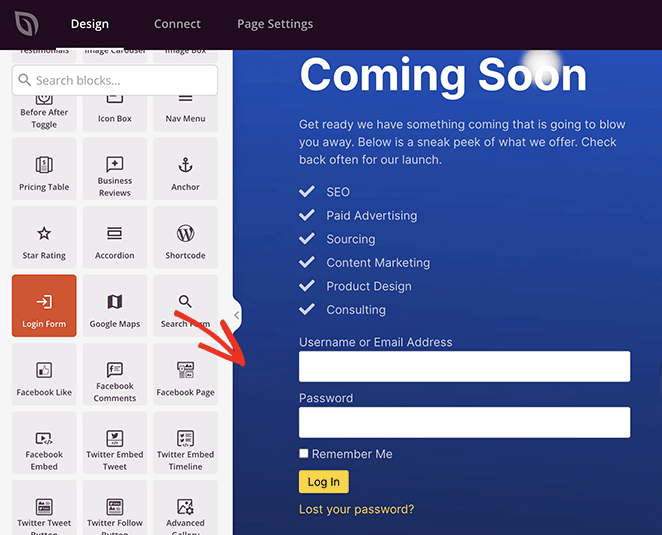 You can then open the block settings to customize the login form fields, buttons, templates, and more.
Don't forget to hit the green Save button at the top to save your progress.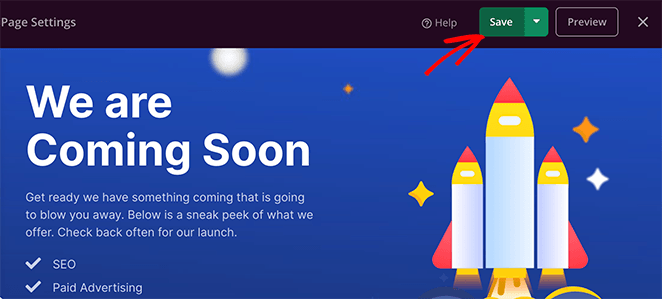 Step 4. Customize Your WordPress Coming Soon Page Template
Customizing the fonts, elements, and colors of your custom coming soon page is pretty simple too.
You can individually change the colors in the block settings with its popup color picker.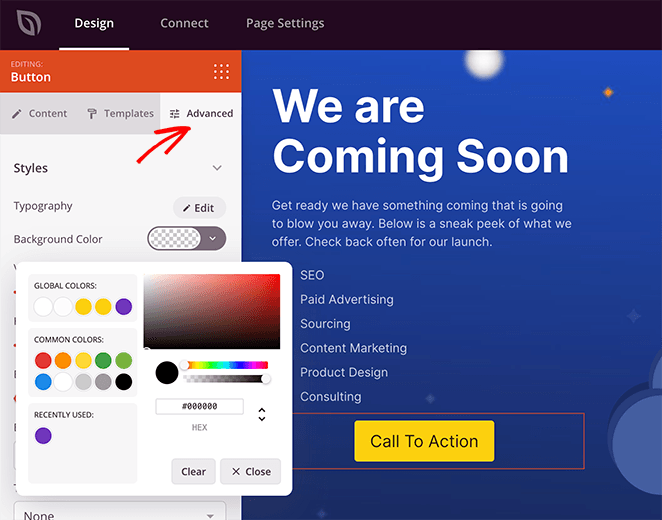 Or, you can set global color and font settings in the global page settings area.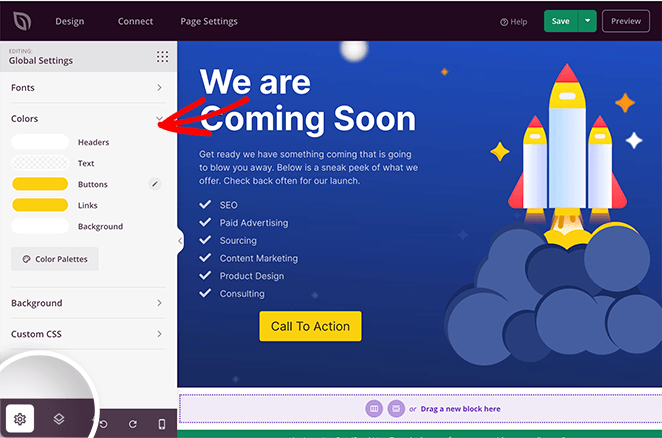 Under the Typography tab, you can choose hundreds of Google fonts for your coming soon page.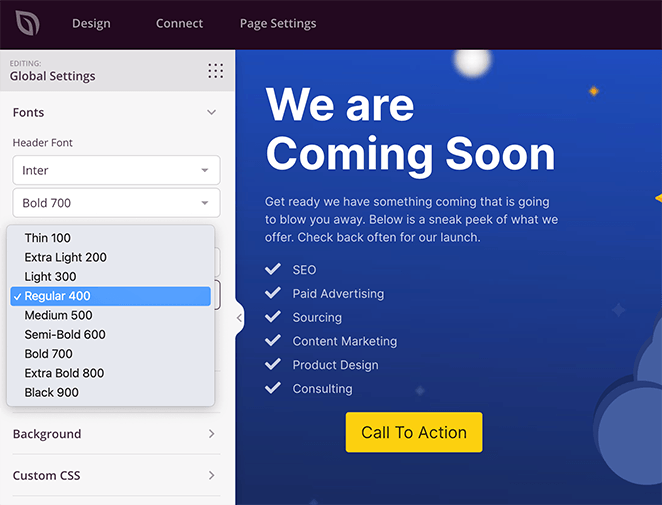 Just click the dropdown menus and choose any font from the list.
Next up is customizing the background of your landing page. You can do this by clicking the Background tab on the Global Settings page.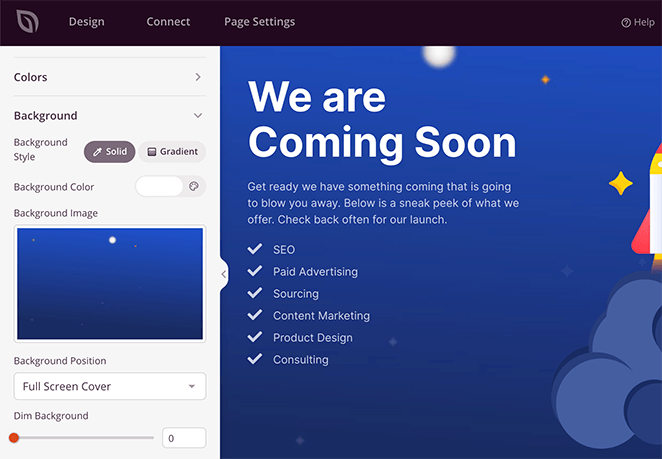 Here you can change the background color, upload a new background image, or add a color gradient.
And if you click the Background Position dropdown menu, you can configure your background image in the following ways:
Full-screen cover
100% width top
100% width bottom
Repeat
Repeat horizontal top
Repeat horizontal bottom
Repeat vertical center
SeedProd Pro users can also add a background slideshow or video.
Need to add some Custom CSS to your page? No problem. Just expand the CSS tab and paste in your custom code.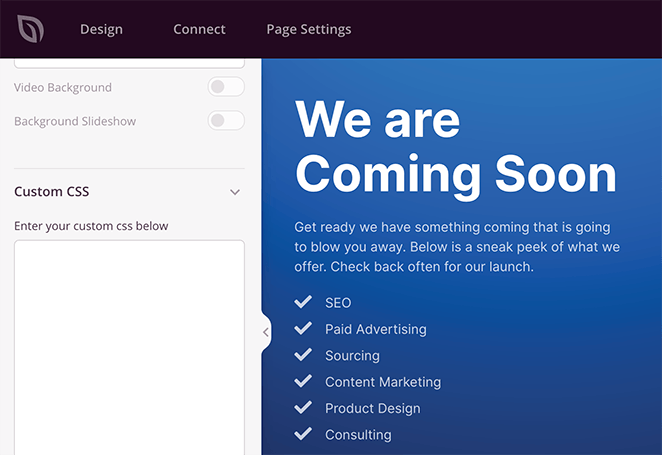 Step 5. Configure Your Page Settings
Clicking the Page Settings tab at the top of your screen reveals several settings you can use to configure your coming soon page.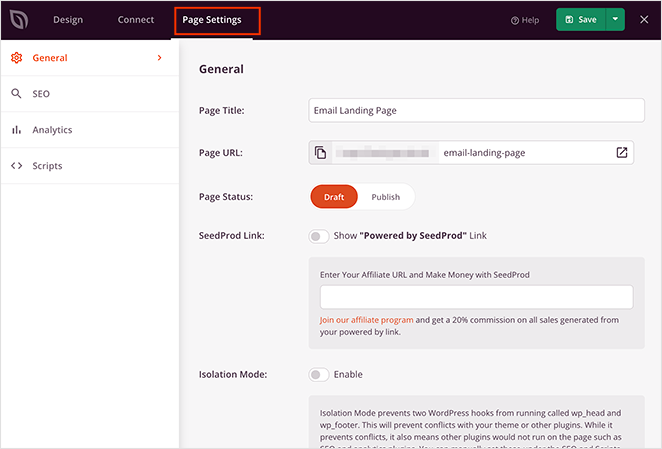 Here you can edit your page's general settings, such as adding a new name or changing the page URL.
Pro Users can click the Access Controls tab to restrict who sees your coming soon page and who can see your website under construction.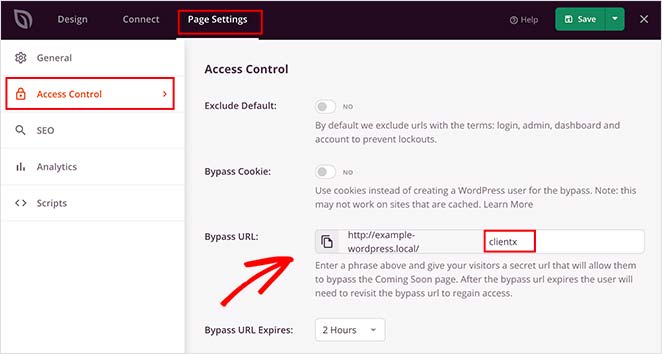 This is an excellent way to grant access to clients to show them what you're working on without revealing that work to the public.
All you need to do is create a secret password. Then you can copy the bypass URL and give it to anyone you wish to grant access to.
You can also click an option to hide the landing page from logged-in users, such as website admins.
You can also configure your landing page SEO and Analytics in the Page Settings area if you use a plugin like MonsterInsights for your website analytics.
Or you can use All in One SEO for your search engine optimization to edit your SEO title, meta descriptions, etc.
Step 6. Publish Your WordPress Coming Soon Page
When you've configured all your settings in the SeedProd page editor, click the Save button. Then click the downwards arrow and select Publish to make your coming soon page live.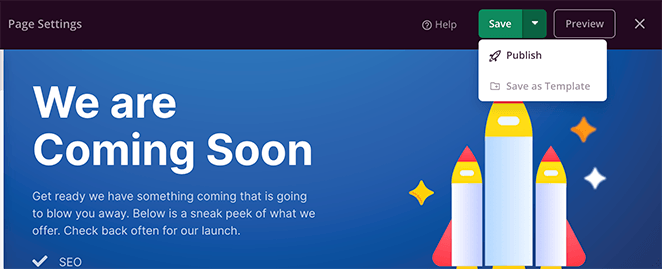 When you've published your coming soon page, you'll need to enable coming soon mode so your visitors will see that page across your website.
To do this, click the "X" button to close the page editor and head back to the SeedProd dashboard.
To activate your coming soon page in WordPress, navigate to the Coming Soon Mode section and turn the toggle from Inactive to Active.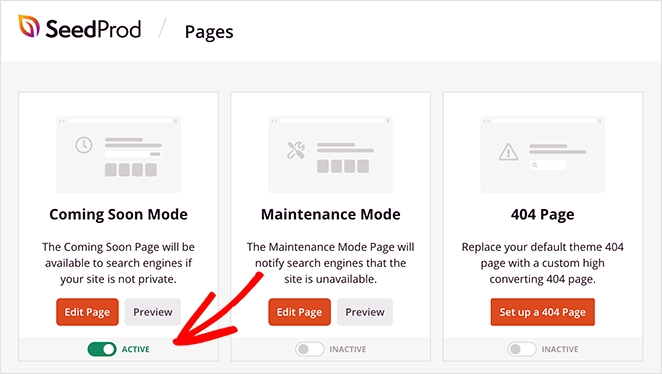 Now coming soon mode is enabled across your whole website. So visitors will see the page you just created.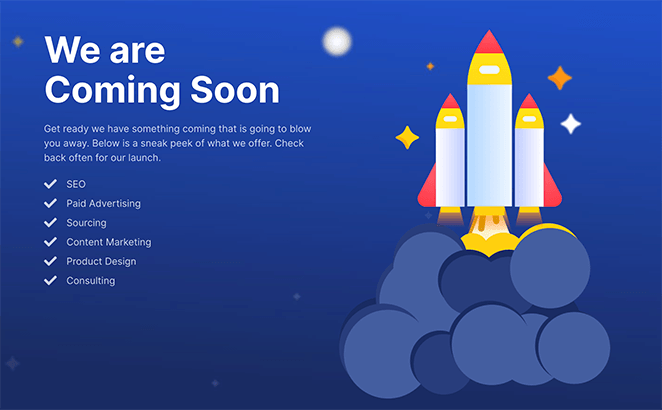 How Do I Remove the Coming Soon Page Once My Website is Live?
When you're ready to publish your WordPress website, you'll need to turn off the coming soon page. That will allow website visitors to see your entire site instead of your coming soon landing page.
To turn off your coming soon page, go to SeedProd » Pages and click the 'Active' toggle under the Coming Soon Mode box to the 'Inactive' position.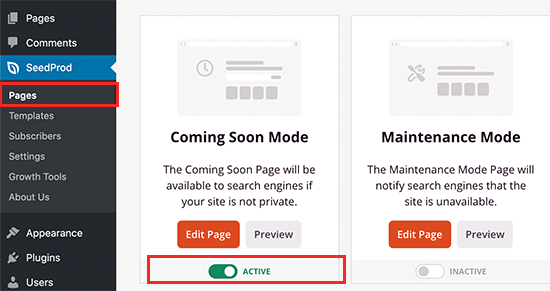 Frequently Asked Questions
What is a Coming Soon Page vs. Maintenance Mode?
Some people confuse coming soon pages with maintenance pages. Yet, both page modes are slightly different.
It's best to set up a coming soon page when you're in your website's design and planning stages so users don't see an unfinished site. Maintenance mode is better when you're making minor updates to your site. It prevents website visitors from seeing a broken site while making small changes.
Check out this guide to learn more about coming soon vs. maintenance mode.
How can I custom code a coming soon page in WordPress?
Custom coding a coming soon page requires knowledge of HTML, CSS, and possibly PHP. You would need to create a new page template in your theme's directory and then write the code for your coming soon page. This could include a message about your upcoming website, a countdown timer, and a form for visitors to sign up for updates.
What are some SEO strategies for coming soon pages?
SEO strategies for coming soon pages can include using relevant keywords in your page title and content, adding meta tags for description and keywords, and including a sitemap.xml file for search engines. You can also use a WordPress SEO plugin to help optimize your page.
Is a coming soon page a landing page?
Yes, a coming soon page is a type of landing page because users "land" on it after clicking a link in search results, social media, or elsewhere.
How can I measure the effectiveness of a coming soon page?
You can measure the effectiveness of a coming soon page by tracking metrics such as the number of page views, the number of sign-ups for updates, and the bounce rate. You can use analytics tools like Google Analytics to track these metrics.
And that's it!
Congratulations! You've just learned how to set up a WordPress coming soon page using the best free WordPress coming soon plugin. Pretty simple, right?
Creating a coming soon page with SeedProd is so easy; you can design and activate your page in just a few minutes, with no coding required. Check out how Mustard Seed used SeedProd to launch client websites in this case study.
Ready to create one yourself?
If you want to learn how to market your website before launch, check out this detailed guide for tips. You can also follow this guide to learn how to create a squeeze page.
And while you're here, why not give us a like on Facebook and follow us on Twitter to keep up with our latest WordPress guides?