How to Create a Coming Soon Page in WordPress (the Easy Way)
Looking for an easy way to set up a coming soon page in WordPress?

A coming soon page is a great way to tell people your site is launching soon. It can also help you get a head start in search engine rankings before you go live!

But how do you make a coming soon page? In this step-by-step guide, we'll show you how to create a coming soon page in WordPress.
But before we get started, let's get to grips with what coming soon mode is.
What Is a Coming Soon Page?
A coming soon page is also called WordPress coming soon mode. It's where you can hide your website behind a single landing page so visitors only see that page. This means they can't access any other area of your site, which might still be under construction.
Why Create Coming Soon Pages in WordPress?
Let's face it; you don't want potential customers seeing a half-finished website. Locking it behind a coming soon page keeps the messy stuff hidden away. That way, you can control exactly what people see and when they see it.
You can use the coming soon mode for many situations, including:
Giving your site a place where visitors can get information during pre-launch. People would normally see your default WordPress hosting page. This isn't good for the user experience.
To grow your email list before launching your website with a signup form.
You can hide a new design behind an under-construction page and give clients a password to access a preview of what you're working on.
Needless to say, there are tons of ways to make a launching soon page work for you and your business.
How Do I Make a Coming Soon Page in WordPress?
If you're still asking yourself, "How do I set up an under-construction page in WordPress?" you're in luck! Follow the steps below to learn how to create a coming soon page with a WordPress coming soon plugin.
Video Tutorial
If you'd prefer written instructions, just keep reading.
1. Install SeedProd the Landing Page Builder
First, you need to pick a WordPress plugin to build and activate coming soon mode. For this tutorial, we'll use SeedProd, the best landing page builder for WordPress.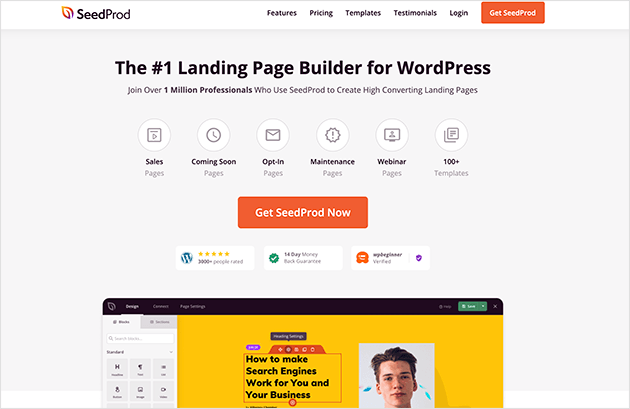 SeedProd is the #1 drag & drop landing page builder for WordPress. It comes with an easy WordPress maintenance mode page and coming soon page functionality. It also allows you to grow your email list and limit access to your site while it's under construction.

SeedProd has several options designed to improve your lead generation efforts. It also integrates with 3-party services. SeedProd has both a free and paid version, making it accessible to various budgets.
For this tutorial we'll be using the Pro Version of SeedProd which gives you access to:
Advanced design controls
Access to 100+ professionally designed landing page templates to build sales pages, thank you pages, squeeze pages, and more
750+ Google Fonts and Typekit integration
Powerful access controls to help you work on your site behind the scenes
Block specific templates to make customizations code-free and easy
Custom social icons support for better social proof
Integration with email marketing services like ActiveCampaign, Aweber, Constant Contact, MailChimp, and more
Fraud detection and Recaptcha support
And a whole lot more.
Click here to get started with SeedProd. Then go ahead and log in to your SeedProd dashboard.
You'll then see a screen like the one below. From here, click the View License Key, Details, and Downloads link to go to your downloads page.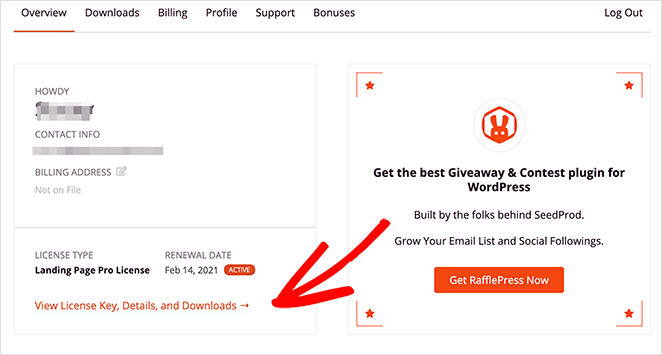 Then click the Download Landing Page Pro button to download your plugin.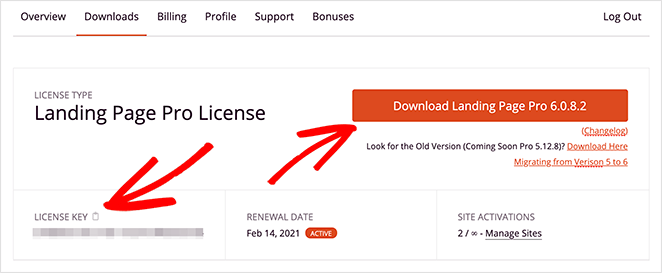 Next, log in to your WordPress website dashboard and upload the SeedProd landing page plugin. If you're unfamiliar with how to do this, you can learn how to install and activate WordPress plugins here.
2. Create a New WordPress Coming Soon Page
This step starts the process of adding a new coming soon page to your site. To do this, head to SeedProd » Pages from your WordPress dashboard, where you'll see a screen like the one below.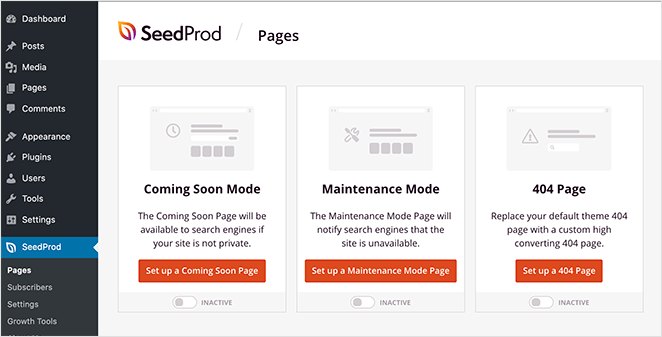 Now click the Set up a Coming Soon Page button to set up your page.
You'll then be asked to choose a coming soon page theme.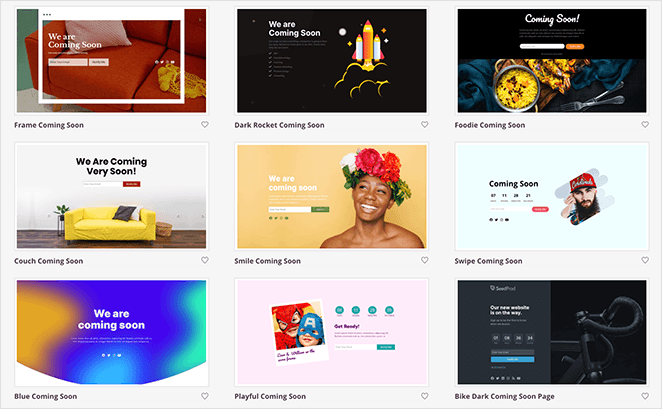 The pro version of SeedProd comes with a library of professionally designed landing page templates. You can filter the templates to find several coming soon landing page templates to suit your needs. This makes creating a custom coming soon page easier.
So click any design that works for you, or choose the blank template to start from scratch. Then you'll automatically head to the SeedProd drag and drop page builder to customize your design.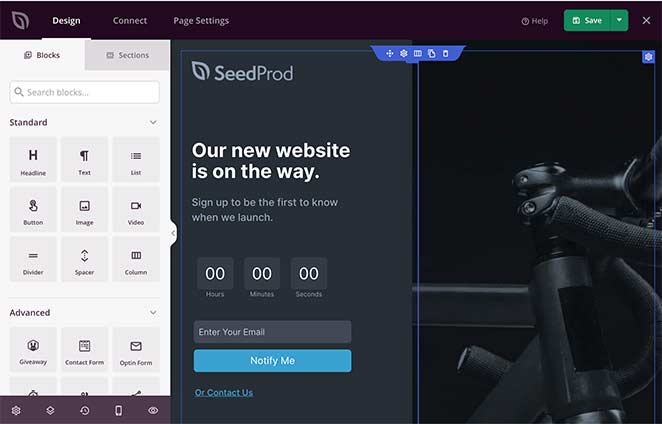 3. Add Your Coming Soon Page Content
SeedProds' visual editor lets you add new content and remove and customize different elements of your pre-launch page.
Down the left-hand side, you'll see a list of all available content blocks you can click and drag onto the live preview of your page on the right.
The page blocks are divided between Standard blocks and Advanced blocks.
With the Standard landing page blocks, you can add popular elements to your page. This includes headlines, bullet lists, images, videos, buttons, and more.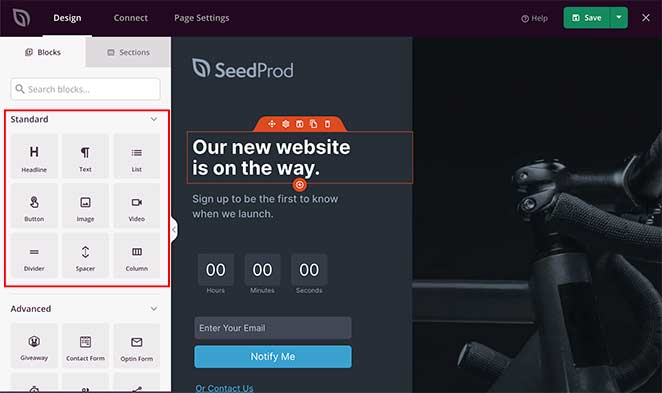 In contrast, the Advanced blocks are more focused on lead generation with blocks that allow you to insert:
Optin forms
Contact forms
Countdown timers
Star ratings
Progress bars
Navigation menus
and lots more.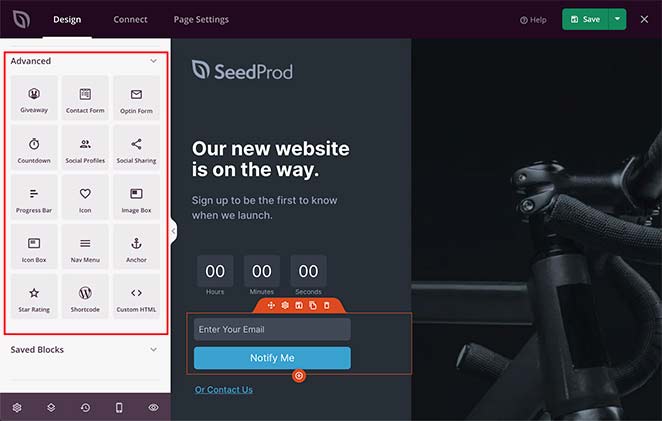 You may also notice that many page blocks include custom block templates. This allows you to choose from a range of pre-set designs and styles and implement them without code.
For example, you can click the countdown timer block and select the Templates tab. This shows several different styles you can put in place with a single click.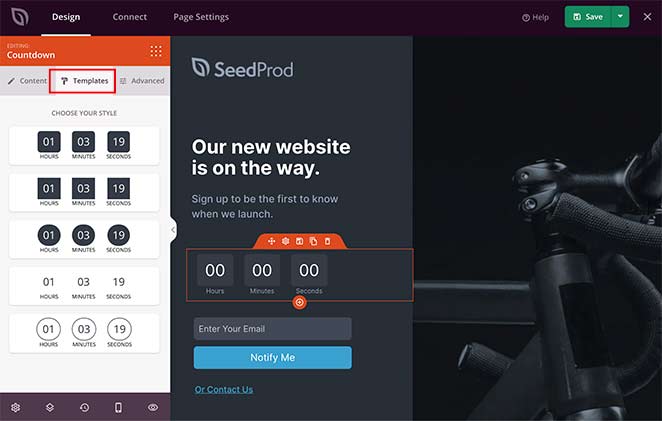 In the Advanced tab, you can customize the colors, padding, spacing, and more.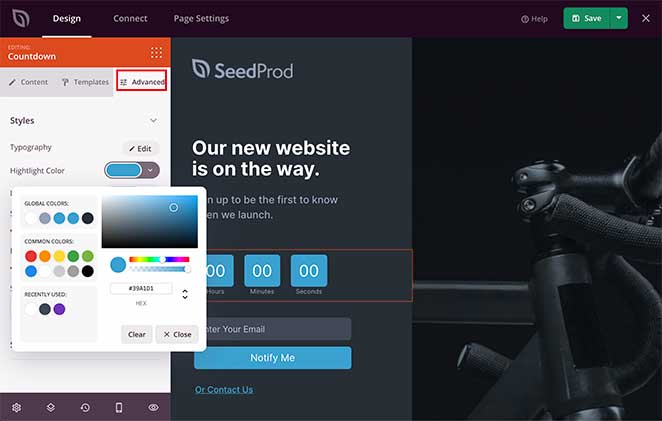 Rearranging any block on your page is as simple as dragging it to the desired position.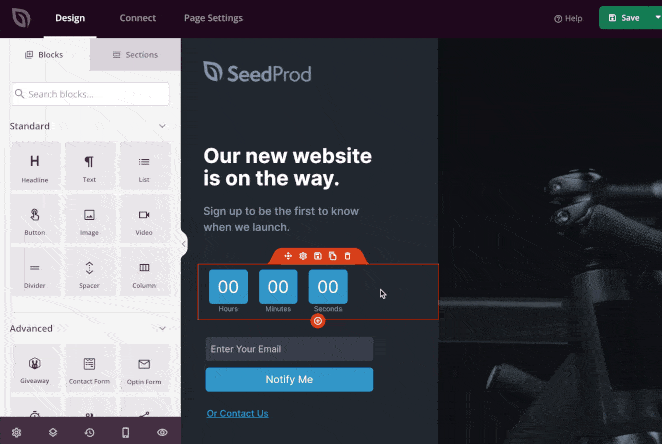 So far, we've covered some of the essential features most people use when building their launch pages. But we understand that many businesses need to enhance their pages further.
With this in mind, here's a brief run-down of some of the other things you can do with SeedProd's page builder.
Add a Contact Form to Your Coming Soon Page
Another way to help site visitors get in touch from your coming soon landing page is to add a contact form to WordPress.
SeedProd integrates with 3rd-party form builders like WPForms. So adding a contact form to your coming soon page is super-easy.
To do this, drag the Contact Form block from the Advanced blocks section, and drop it onto your page.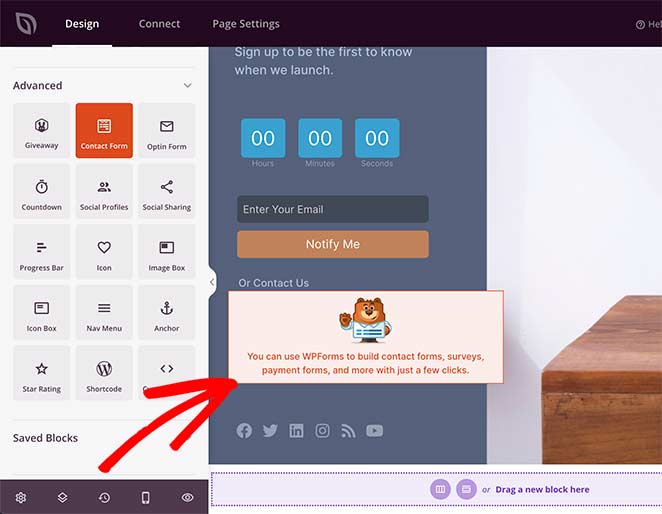 Then select your chosen form from the dropdown menu to automatically display it on your page.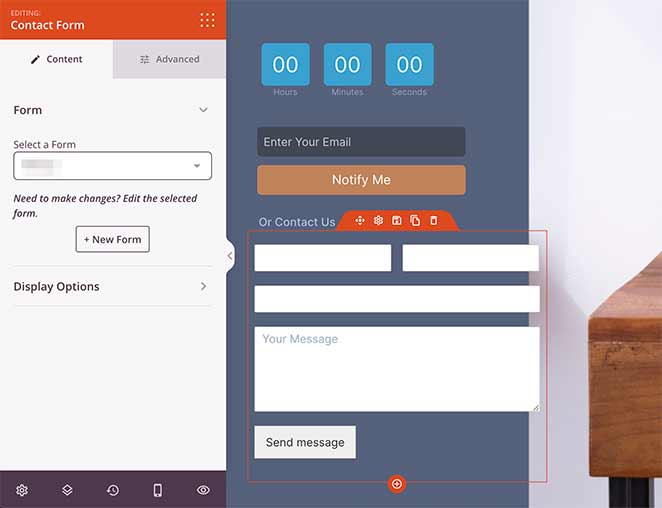 Include Social Profile Buttons
To help even more people stay in touch with your site's development, it's worth including social profile buttons on your page. Whenever a visitor clicks one, they're taken to the relevant social platform to see your updates.
Adding social profiles is as simple as dragging the Social Profiles block onto your page.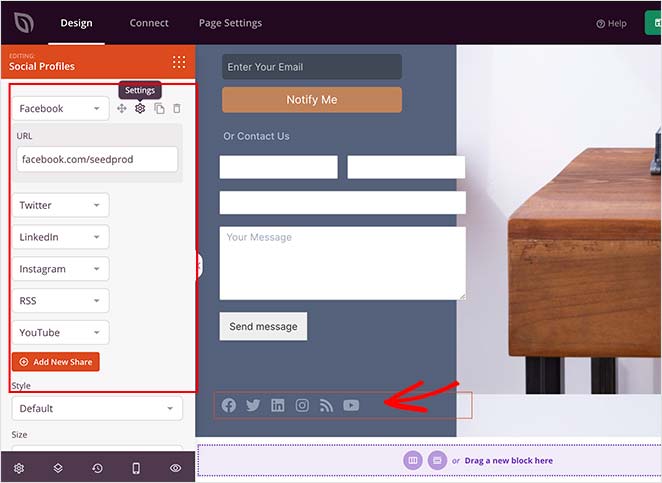 Then you can select icons to represent each social media network and paste your profile link.
Changing the icon color is pretty easy too. Just click the Template tab to choose from a range of pre-made block templates,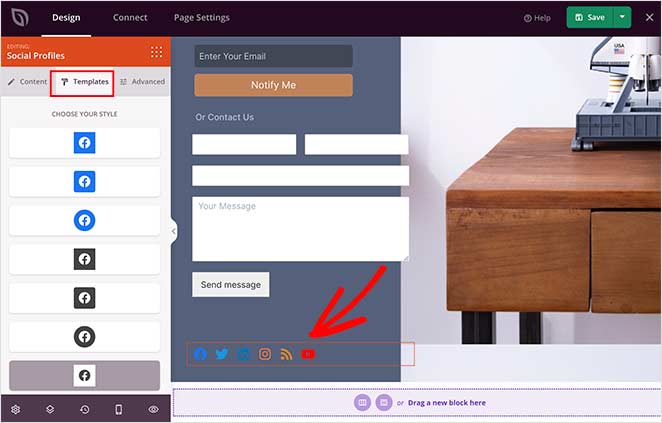 Add a Countdown Timer
If you'd like to add a sense of urgency to your coming soon pages, drag the Countdown Timer block onto your page preview.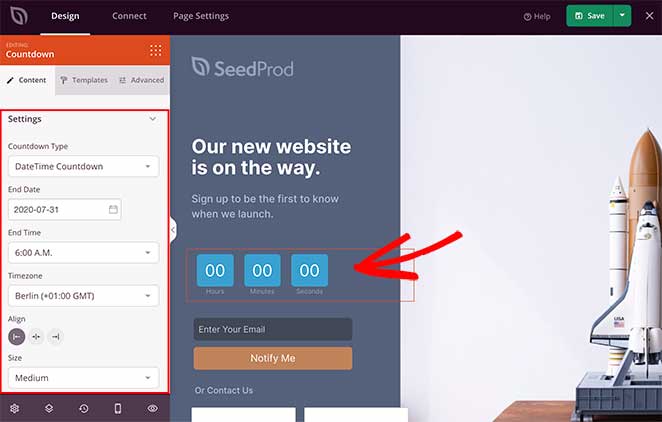 Not only does this setting encourage people to learn more about your site before it launches. But it also gives people a time-frame for when they can expect your site to be accessible.
In this option, you can set your timezone, the timer end date, and even launch redirect users once the timer ends.
Include Social Share Buttons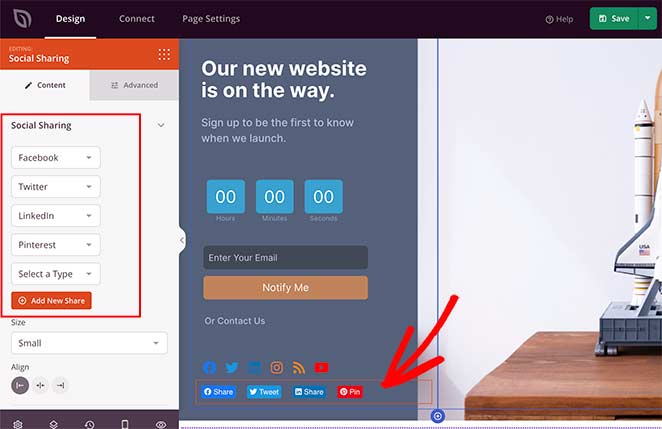 With the Social Share Buttons landing page block, you can add sharing options for:
Twitter
Facebook
LinkedIn
Pinterest
You can also change the button size and alignment to suit your design needs.
Add Coming Soon Page Progress Bar
The Progress Bar block displays a simple progress bar showing how close your site is to launch.

You can choose a custom progress bar color, bar text and set the percentage using the handy slider.
Run a Giveaway on Your Coming Soon Page
The Giveawy block makes it easy to integrate RafflePress giveaways directly into your coming soon page.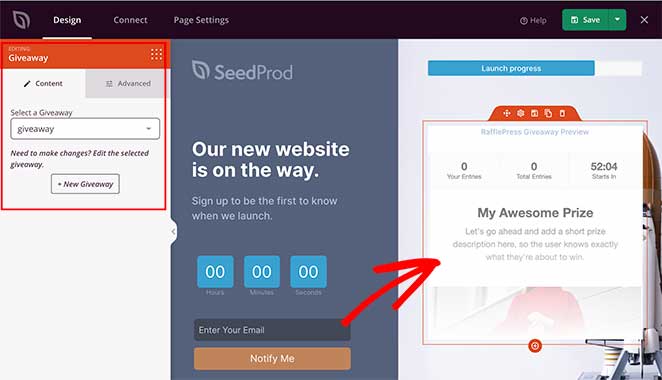 Using this setting is an excellent way to drive more leads to your page long before you launch.
4. Customize Your Coming Soon Page
Customizing the fonts, elements, and colors of your custom coming soon page is pretty simple too.
You can either individually change the colors for your buttons, countdown timer, and progress bar in the block settings.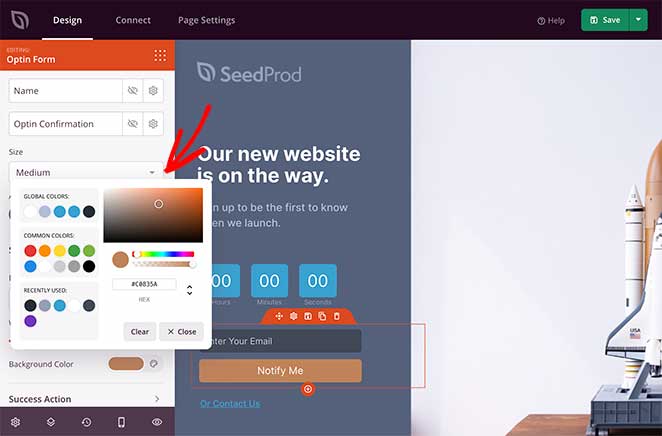 Or, you can set global color and font settings in the global page settings area.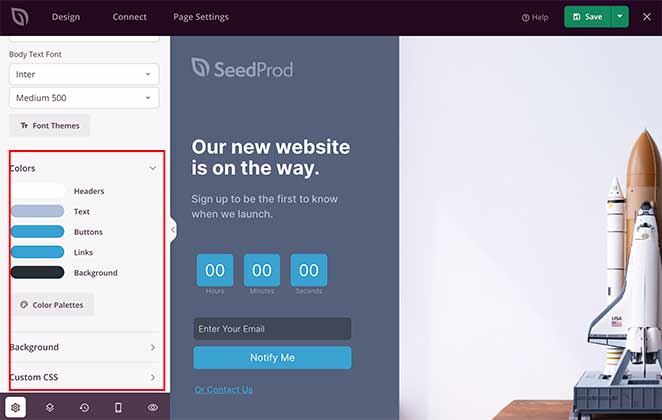 Alongside this, you can select either a flat button design or a more rounded gradient design.
Under the Typography tab, you can choose from hundreds of Google fonts for your coming soon page.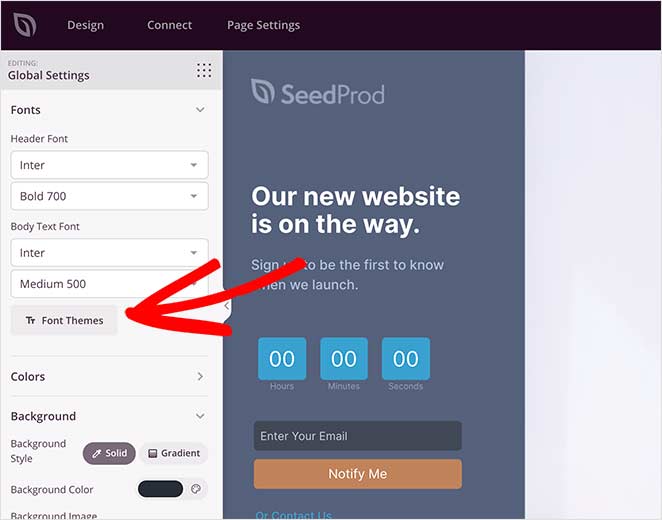 Just click the Font Themes button to view a library of font combinations with a preview of how they'll look.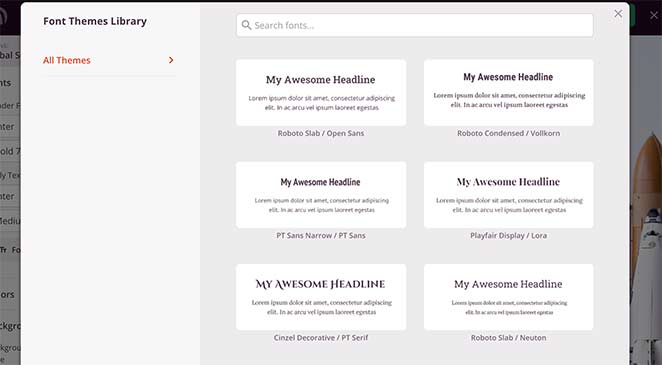 Next up is customizing the background of your landing page. You can do this by clicking the Background tab on the Global Settings page.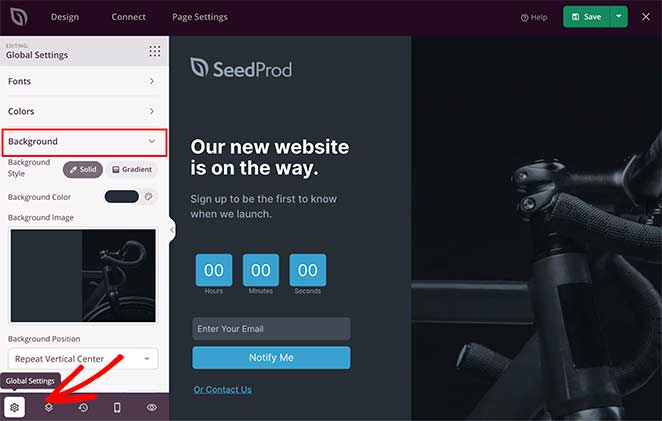 Here you can change the background color, upload a new background image, or even add a color gradient to your background.
And if you click the Background Position dropdown menu you can configure your background image in the following ways:
Full-screen cover
100% width top
100% width bottom
Repeat
Repeat horizontal top
Repeat horizontal bottom
Repeat vertical center
It's also possible to add your background as a slideshow or video. All you have to do is toggle either option in the settings.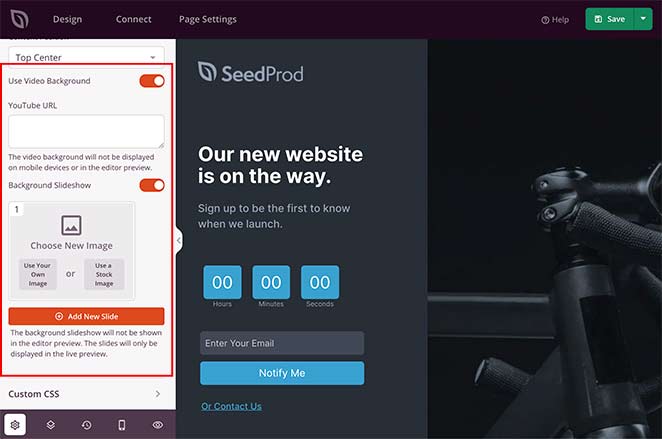 For the slideshow, you can choose images from your WordPress Media Library, as well as setting the slide speed and randomizing slides.
On the other hand, to add a video background, paste in the video URL and choose if you want to play video audio, and set the video on a loop.
5. Connect Your Email Marketing Service
All successful coming soon pages need some way for visitors to learn when your site launches. You can do this by connecting your email marketing service and letting visitors enter their email address. Then you can notify them of your successful launch.
To add a signup form in SeedProd, drag the optin form block from the Advanced blocks section and drop it onto your page.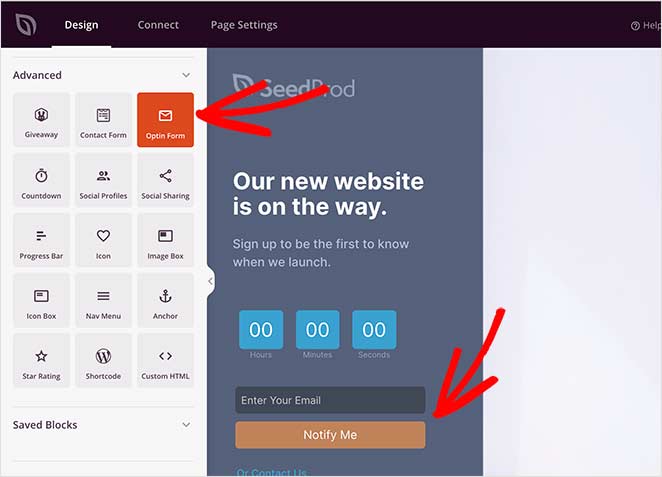 From here, you can also choose which form fields to display and control the form width by clicking the block in the editor.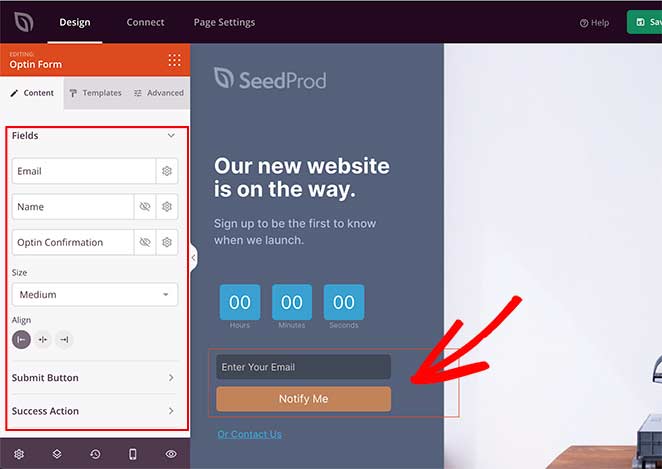 Then it's time to connect your email service.
At the top of your page, click the Connect button to view a complete list of available SeedProd integrations.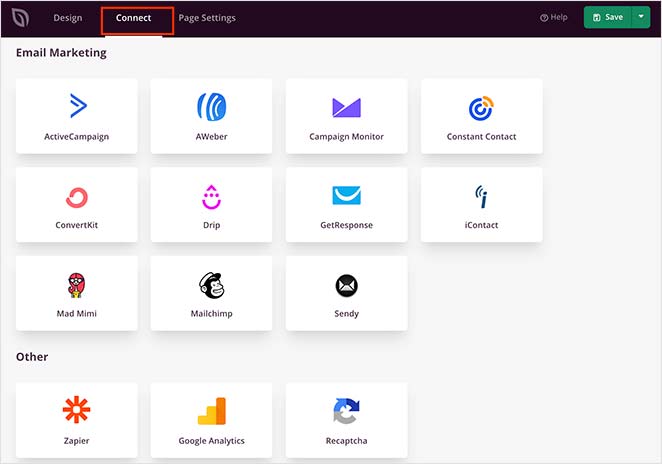 SeedProd integrates with several popular email marketing services, Google Analytics, Recaptcha, and Zapier.
Go ahead and click your preferred provider, click the Connect New Account, and follow the instructions to link the service to SeedProd.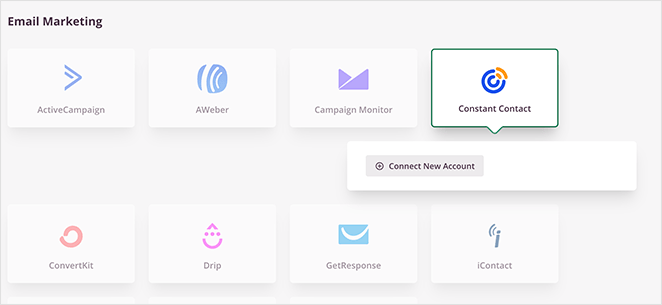 When that's set up, anyone who signs up using your optin form will be automatically added to your email list.
For full instructions on integrating specific email providers, see the SeedProd integration documentation.
6. Configure Your Page Settings
Clicking the Page Settings tab at the top of your screen reveals several settings you can use to configure your coming soon page.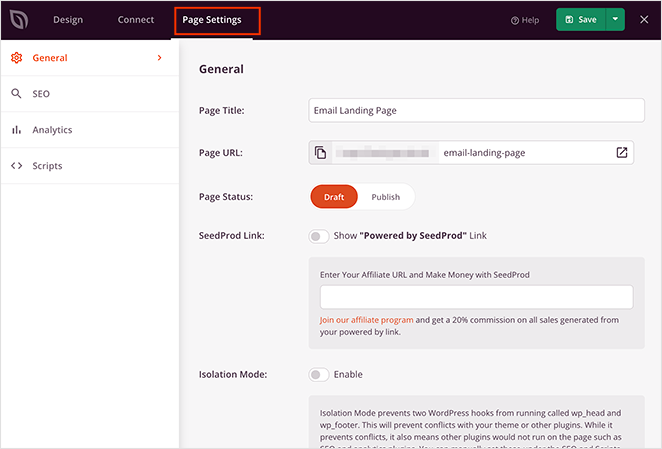 Here you can edit your page's general settings, such as adding a new name or changing the page URL.
Clicking the Access Controls tab allows you to restrict who sees your coming soon page and who can see your website under construction.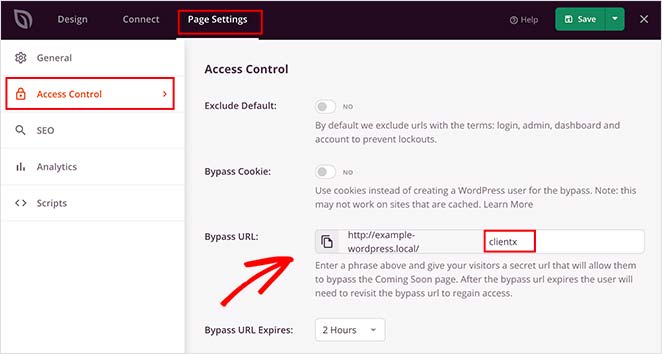 This is an excellent way to grant access to clients to show them what you're working on, without revealing that work to the public.
All you need to do is create a secret password. Then you can copy the bypass URL and give it to anyone you wish to grant access to.
You can also configure your landing page SEO and Analytics in the Page Settings area. If you're using a plugin like MonsterInsights for your website analytics, or All in One SEO for your search engine optimization, you can use this page as a shortcut to their settings.
7. Publish Your Coming Soon Page in WordPress
When you've configured all your settings in the SeedProd page editor, click the Save button. Then click the downwards arrow and select Publish to make your coming soon page live.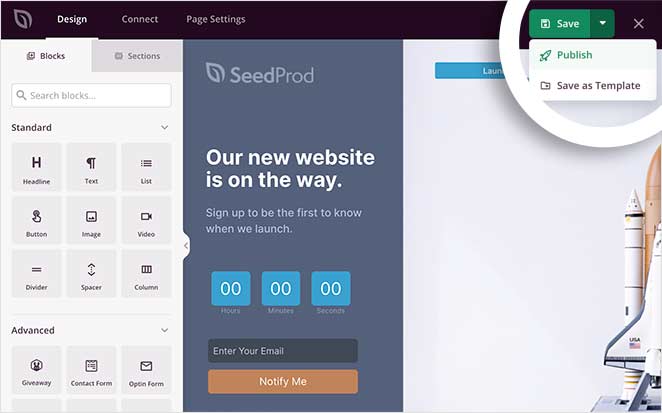 But how do you activate a coming soon page in WordPress? Read on to find out.
8. Activate Your Coming Soon Page in WordPress
When you've published your coming soon page, you'll need to activate coming soon mode so your visitors will see that page across your website.
First, head back to the SeedProd dashboard by clicking SeedProd » Pages from the WordPress admin area.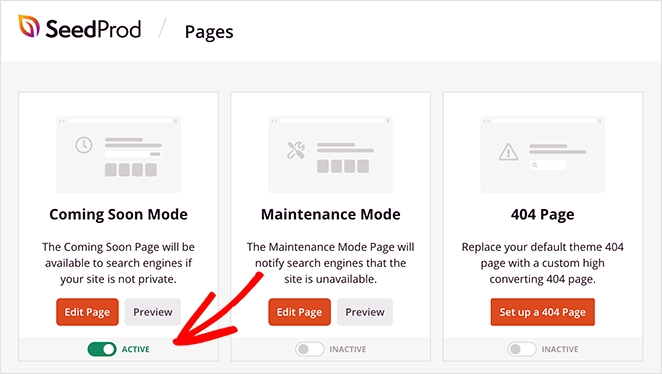 To activate your coming soon page in WordPress, navigate to the Coming Soon Mode section and turn the toggle from Inactive to Active.
Now coming soon mode is enabled across your whole website. So visitors will see the page you just created.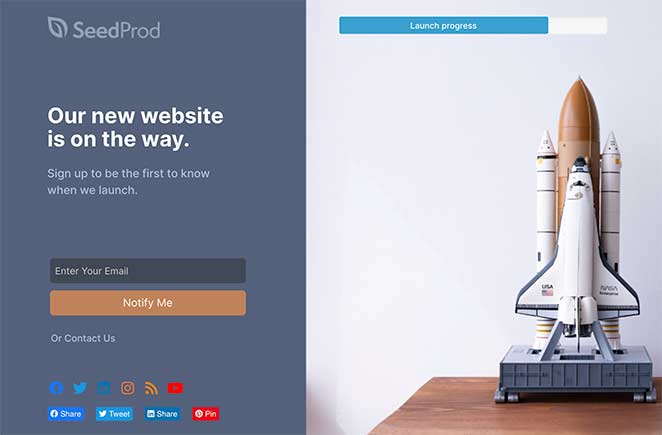 And that's it!
Congratulations! You've just learned how to create a coming soon page in WordPress. Pretty simple right?
Creating a coming soon page with SeedProd is so easy, you can design and activate your page in just a few minutes, with no coding required.
Ready to create one yourself?
If you want to learn how to market your website before launch, check out this detailed guide for tips. You can also follow this guide to learn how to create a squeeze page.
And while you're here, why not give us a like on Facebook and follow us on Twitter to keep up with our latest WordPress guides.