Last updated on: August 29, 2019
Let's get straight to it. You're going to feel that your new website's launch was a success if you attract a lot of visitors who are engaged enough to:
read your content,
give you their email address,
share your content on social media,
follow your social media channels, and/or
come back to your site another day
These are valuable goals, and you can accomplish them all before your all-singing-and-dancing website is even visible to the Internet-surfing public by using a 'Coming Soon' page.
A Coming Soon page is a placeholder for what your site will soon be that can offer enticements for visitors to engage in all of the ways listed above. It can also encourage them to show up at your launch, so that you're not left only with the sound of crickets and a sinking heart.
With all that in mind, in this article I'm going to focus on how you can market your WordPress website before it is even ready to reveal the public by revealing six different strategies you can employ ahead of the big launch day.
How a Coming Soon Page Moves Your Site's Marketing Forward
If you know enough Internet history to be familiar with the 'Under Construction' pages of yore, you may feel some discomfort when considering placing a page on your domain name stating that your website isn't quite ready yet. Back in the '90s, it was a real drag to load a site and see some hard-hatted cartoon character with a sawhorse and an open manhole telling you you'd completely wasted your time by coming to this location.
But today's Coming Soon page is so far evolved from its Stone Age placeholder ancestor that it hardly seems like the same species. At some point, some genius had the idea: "Hey! Instead of just telling visitors we're not here, we could tell them stuff about us!", and the rest is history.
With complete professionalism and credibility, you can use a Coming Soon page to establish your brand, create anticipation, grow your email list, jump-start your social media presence, nurture customer engagement, and catalyze your launch's potential, all while you're busy building your website behind the scenes.
And you can do it with ease by using a user-friendly plugin such as SeedProd for WordPress, which can put you in direct control of some massive capabilities.
1. Jumpstart Your Search Engine Optimization (SEO)
It takes time to get your website indexed by search engines. Google is not exactly forthcoming about how they do things, but the scuttlebutt is that after it indexes a new website for the first time – which can take a few days or a few weeks – it pretty much sets the site aside for a few months to see whether it seems to be worth further investigation. It's common for a brand new domain to take six to eight months to rank well in Google search results.
However, when you use a Coming Soon page, the countdown to search engine ranking starts sooner. Google will likely find your site before you've truly launched it (probably well before, the way launch schedules invariably tend to go). They don't care that your website says 'Coming Soon' – they will treat it like a real (new) site.
Google – via their head of webspam and SEO celebrity, Matt Cutts – have actually stated that a Coming Soon page is a good idea:
[youtube https://www.youtube.com/watch?v=R9JvBLjLrUI]
Don't worry about search engines checking out your site before it's got much in the way of content. In the pre-launch phase, the point is to earn the search engines' trust – to have them know that you exist and that you're a well-behaved site. You can dazzle them later with your multitudinous pages of content.
For SEO purposes, your Coming Soon page should include a brief description of what your site is up to and generally utilize best practices. Its very existence provides a means for people to (a) discover you, and (b) link to you, giving you a key start in terms of SEO.
2. Create a Simple Media Kit
A media kit is like your company's résumé. You're going to have to create one by the time your site launches anyway, so you might as well do it now – thereby adding descriptive content to your site (giving both search engines and human beings something to dig their teeth into) – and elevating your site with enough useful information in place so you can schmooze the press.
With your Coming Soon page, you should have a link for media sources who may be interested in talking to you, including bloggers you may want to network with.
By linking from your Coming Soon page to your media kit – or to its individual elements – you keep your main page clean and focused, while branding your site as professional enough to provide the press what they need in order to publicize you. It was good – and smart – of you not to force them to track down this information about your enterprise themselves if they want to feature your business.
Your website page design may still be nowhere near final, but no worries; your media kit can be as simple as creating a PDF and uploading it. Here are some great examples. Keep in mind, though, that it's the text search engines look at, not so much the graphics. With that in mind, here are some great tips for optimizing PDFs for SEO.
What should be in your media kit? A thousand websites have a million ideas. Some media kits provide nothing but a version or two of their logo for download. But to really do yourself and the press a favor, your media kit should include at least:
contact info,
a company overview,
biographies of key players,
a FAQ, and
any media coverage you've already received.
3. Create a Blog
Just because you don't have a website (yet) doesn't mean you have nothing to say. You can write about your industry, service or product. You can write about problems and how you solve them. In fact, you can write about anything that will move your brand forward.
If you can create shareable or viral blog posts, and create posts that other sites want to link to, your content will be worth its virtual weight in gold. And remember, unique content that other people link to will make search engines love you.
WordPress makes it easy to create a blog, and with the SeedProd plugin for WordPress it's easy to link visitors from your Coming Soon page to your blog – even though your actual website does not yet exist.
4. Build Your Email List
Experts say that your email list is one of your greatest assets. It's remarkably cost-effective, plus it has a high conversion rate, and is useful for letting people know when your site has new content.
During the pre-launch phase, your email list enables you to notify interested people of your progress toward launch, to find beta testers, to ask for feedback, to make pre-sales and to build buzz in multiple ways.
Using a WordPress plugin like SeedProd, you can easily set your Coming Soon page up to collect email addresses from visitors. You can entice them to subscribe to your email list by promising them updates, a prize giveaway, a chance to beta test, first crack at usernames, or by giving something away for free such as a PDF or video series.
SeedProd (and some other plugins) also make it easy to connect your email subscription sign-up form to an email marketing service provider such as MailChimp in order to make sending bulk emails simple, and to manage your mailing list.
5. Get a Head Start on Social Media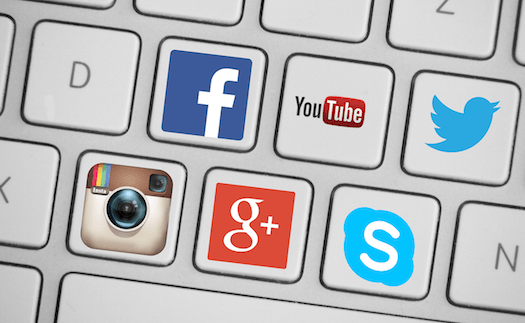 Before you launch your website is the perfect time to begin building up your Facebook, Twitter, Google+, Instagram, LinkedIn, Pinterest, Youtube and other social media channels. Create accounts, make a profile, and post content.
On your Coming Soon page, you can show icons that link to your website's various social media accounts so that visitors can follow what you're posting.
Furthermore, you can also show icons that let your visitors click to share your site on their social media accounts.
Conclusion
There's no need to wait until your website is live before you take the internet by storm.
By using a Coming Soon page, you can engage visitors in ways that are extremely useful in advancing your marketing goals, and start building a community of loyal fans even though, behind the scenes, you may still be figuring out whether your product is animal, vegetable or mineral.
Best of all, all of the above can be achieved in relatively little time. Take just one day (or less) to execute all of the above with the help of a time-saving plugin like SeedProd. And if you have any questions, just get in touch with us and we'll be happy to help!