How to Market Your Website Before Launch (Step by Step)
Do you want to announce a new website launch? If you're close to finishing your shiny new site design, chances are you want to start getting the word out.
Marketing your website before you launch is a great way to generate interest in your business. What's more, it can help drive traffic to your site when the big launch day arrives.
Today we'll explore some essential steps to market your website before launch so that announcing your new site doesn't go unnoticed.
Before we start, here's a quick summary of the steps we'll share in this article:
Now, shall we get stuck into some website launch marketing?
Step 1: Set Up A Coming Soon Page
Every good soft launch of a site should start with creating a coming soon page. But what is a soft launch?
A soft launch of a website is a preview of what your site will look like.
Instead of releasing your full site to the public, you're giving them a teaser of what they can expect in the days or weeks to come. This helps you fine-tune your site behind the scenes, while still offering something for visitors to engage with.
As we mentioned above, a coming soon page is a great place to start. Instead of showing a half-built site to the world, you display a single page letting your visitors know your site will launch soon.
Here's a few benefits of building a coming soon page:
Visitors won't see a site that's under construction.
You can encourage visitors to join your email list (we'll cover that in the next step).
You can include information like welcome videos, special offers, and discounts to create a buzz.
Adding your social links will help visitors connect with you on social media.
You can add social sharing buttons to encourage visitors to share your site.
A coming soon page allows Google to index your site, helping you appear in search results.
Not convinced yet, here are some of the great themes you can use with SeedProd.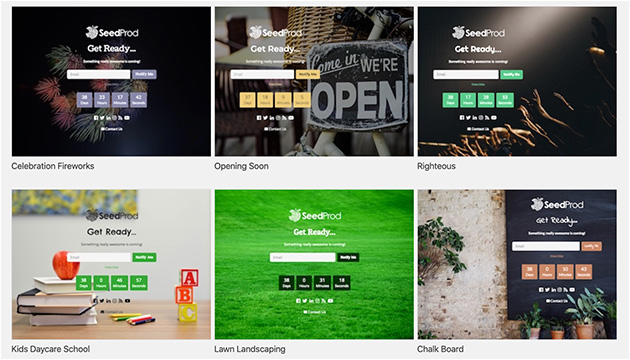 And, here you can see what a full coming soon page with many of the features we discussed above.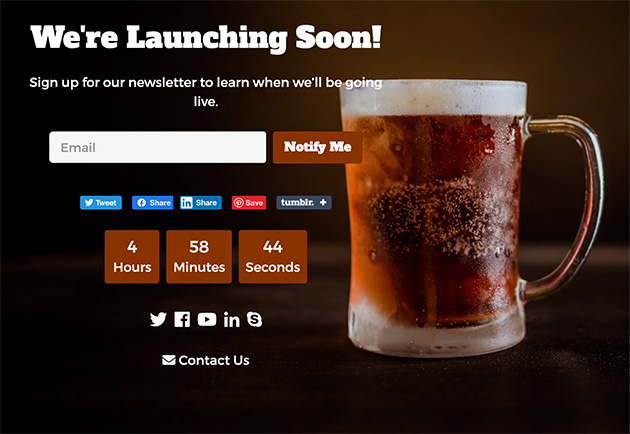 With your coming soon page ready, how else can you market your website launch? Building an email list is the next logical step.
Step 2: Build an Email List
Building an email list is a smart way to market your new website before launch because it opens a channel of communication between you and your site visitors.
Having this way of communicating lets you send important information about your website directly into the inbox of people interested in what you have to say.
But, let's not get ahead of ourselves. Before sending any emails, you need to build your email list, which we'll show you how to do now.
The great thing about using SeedProd to build a coming soon page is it lets you collect email signups from the same page. Let's take a look at how you can do this yourself.
From the coming soon page editor, scroll down to the Email Form Settings section. Then click the heading to expand the options for adding an email form to your page.
Click the Enable Form option to add an email field for visitors to enter their email address.

Clicking Display Name adds a field for your visitors' name, and toggling the Require Name option, ensures this information is entered before they can sign up.

When people sign up for your email list, you can add them to a list created with an email marketing service of your choice.
To do this, click the dropdown box under the Save Subscribers To heading and select your preferred option.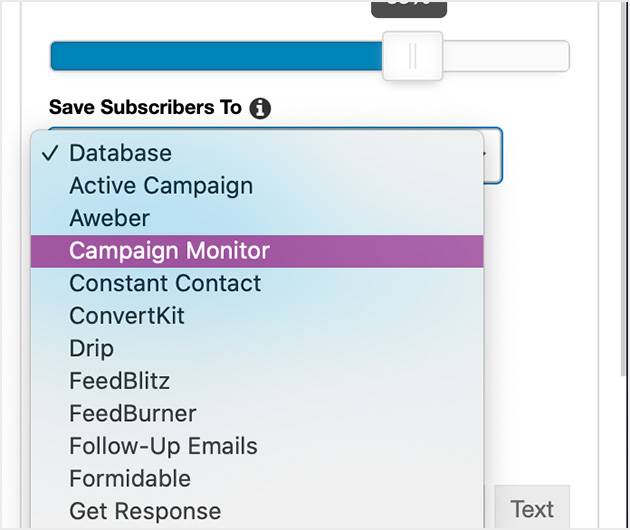 Don't worry if you're not signed up to an email newsletter service yet. Instead, you can save subscribers to a database.
There's also an option for including a checkbox to confirm that people would like to receive emails from you. This a good way to ensure you comply with GDPR if it applies to your site.
Simply click the Optin Confirmation Checkbox to enable this option, and customize the message text.

When you're happy with your page, click Save.
Excellent! Now you're ready to announce your website launch via email to your list.
But don't stop there. Displaying your social profiles is an important step we'll cover next.
Step 3: Link to Your Social Profiles
Social Media is the ideal place to market your website before launch and your social profiles are like mini hubs for your community to gather when your website is out of action.
Linking to your social profiles on your coming soon page points visitors to those hubs so they can stay up-to-date with the latest developments.
Adding your social profile links to your coming soon page with SeedProd is pretty easy.
From the SeedProd page editor, locate the Social Profiles heading and click to expand. Now click on Enable Social Profiles to add social links to your page.

You'll see a number of empty fields for you to enter the URLs of your social media profiles. You can also change the icon used for each platform by clicking the icon beside each field.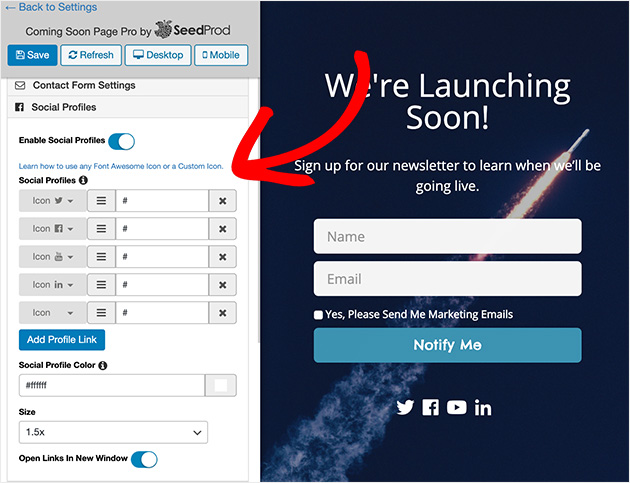 You can change the color of your icons by clicking the color picker under the Social Profile Color heading, or entering a hex value of your choice.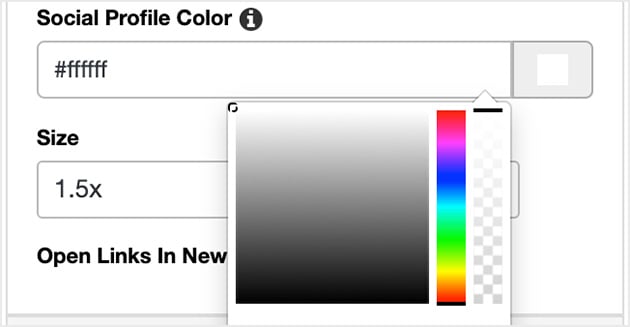 Remember to click Save when you're finished.
With that done, let's move on to the next step.
Step 4: Launch a Preview Video
You might have already noticed that videos are the new favorite way to market anything online. So why should it be any different for you?
Using video to market your website before launch offers a highly shareable way to tell your audience more about what they can expect.
Here's a few things you can do with video content:
Record a preview of new site features.
Give people a sneak peek at future content.
Answer frequently asked questions from your audience.
The options are pretty much endless!
And, to make things even easier, you can add a video right onto your coming soon page for people to watch and share with others.
Inserting a video onto your coming soon page is really easy. From the SeedProd page editor, head to the Content section, then in the content area, simply past the URL of your video.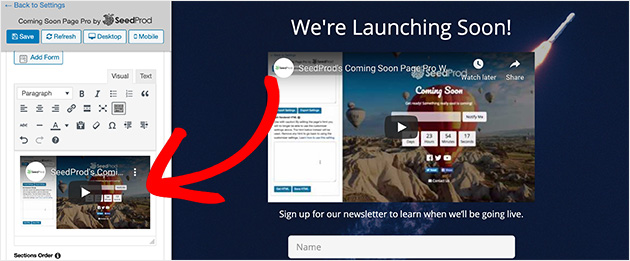 The URL automatically converts into an embedded video your visitors can watch right from your coming soon page.
Now, do you want to know our favorite step in this guide? Keep reading to find out.
Step 5: Network with Influencers
No website launch marketing plan is complete without taking advantage of influencers in your field of interest.
Influencers are people with authority and the power to influence the decisions of their followers. Networking with influencers in your target audience and developing relationships with them, can play a crucial role in getting word of your website launch out to the wider community.
One super effective way of networking with influencers is through hosting contests and giveaways. What's more, successful giveaways have the potential of going viral, directing even more traffic to your website before you've launched it.
You can easily add a giveaway or contest to your coming soon page using the RafflePress plugin for WordPress.
To insert your giveaway into your coming soon page, head to the page editor and scroll down to the Content section. Now click the Add Giveaway button.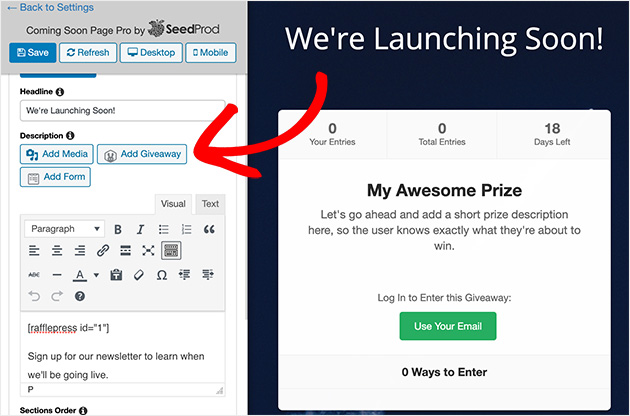 An overlay will appear, asking you to choose your giveaway from a dropdown list. Select the right contest and click Add Giveaway.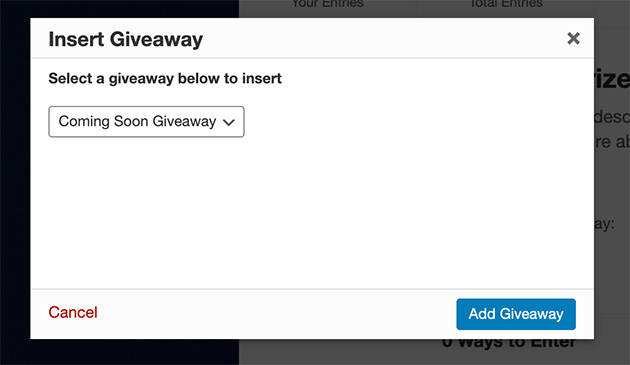 Now the RafflePress giveaway widget will appear on your coming soon page, ready for people to enter and share with their network.
How's that for taking your website launch to the next level?
Congratulations! Today, you've learned how to effectively market your website before launch in 5 easy steps. Now all that's left is to launch that new site.
We hope you found this article helpful. And, if you're still in the planning stages, this checklist for a successful website launch will help things go smoothly.
While you're here, why not give us a like on Facebook and follow us on Twitter to keep up with our latest WordPress guides.