Do you want to create a free one page website design?
Single-page websites are an excellent way to convey your small business's message quickly without forcing users to click on another page. If you think your users are put off by navigating to other pages, a one-page website may be the best choice for your business website.
But the question remains, how do you create a free one page website if you don't have any coding knowledge?
This article will share the best one-page website builders for your business. Plus, the good news is that they all have a free trial or a free version you can use.
Let's jump in!
Best Free One Page Website Builders for WordPress
We'll talk about the top one-page website builders for WordPress to kick things off. WordPress is one of the easiest and most powerful ways to create an online presence, and the software is entirely free to use.
If you haven't already done so, we suggest following this step-by-step guide to creating a free WordPress website. Afterward, you can use one of these free WordPress page builders to build your one-page website design.
1. SeedProd – Best Free One Page Website Builder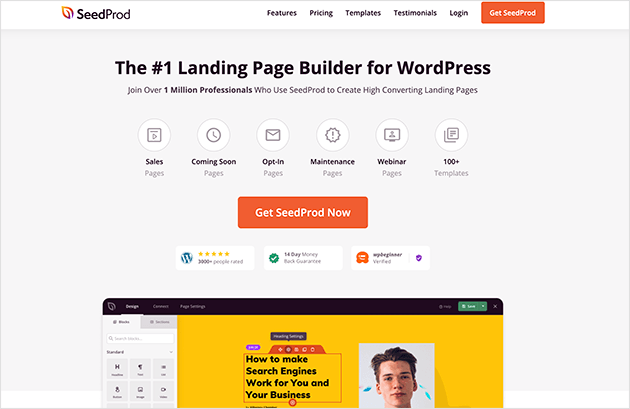 SeedProd is the best drag-and-drop WordPress page builder and theme builder. With its visual front-end editor, you can create any type of WordPress theme or page design for your website.
Creating a free one page website is easy, and you won't need to hire a developer. Instead, you can choose from hundreds of landing page templates and website kits, customize them in the visual editor, and see the changes in real time – no coding needed.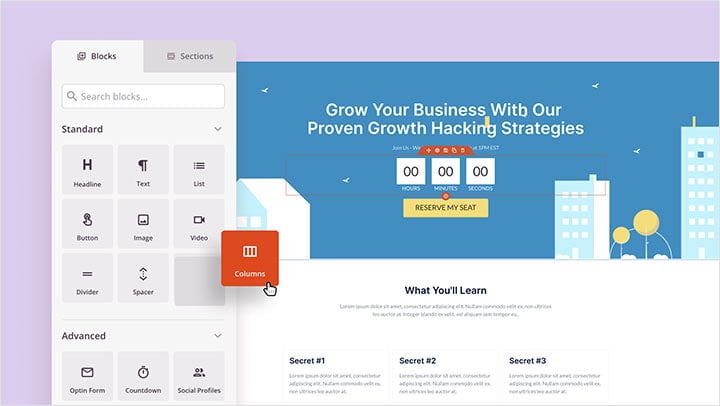 SeedProd offers tons of powerful WordPress blocks and sections for customizing your one-page website template.
For example, you can drag and drop:
Call to action buttons to encourage users to click
Hero header areas for grabbing people's attention
Feature sections for showcasing your products or services
Optin forms to collect email addresses and grow your list
WooCommerce add-to-cart buttons
Social Media to grow your followers
Contact forms to gather feedback
Animations to stand out from the crowd
Pricing tables for easy price comparisons
And so much more
In SeedProd's settings, you integrate your page with popular email marketing services and Google Analytics in just a few clicks.
You can also use the built-in coming soon and maintenance mode to take your site offline temporarily when you're making essential changes. And in the process, show a user-friendly message to notify your audience.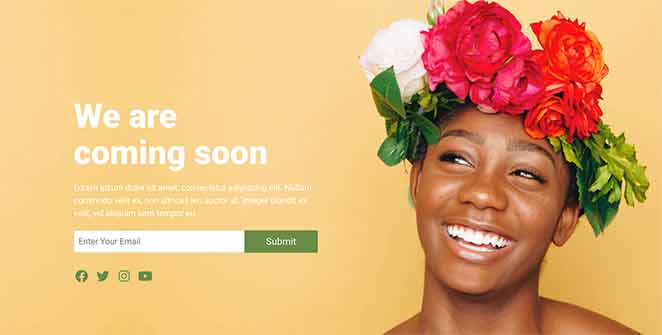 And if you like, you can build multiple one-page websites on the same WordPress installation with SeedProd's custom domain mapping feature.
On top of all that, SeedProd is bloat-free and lightning-fast. You can use it with most WordPress plugins, but it also won't slow down your website.
You can follow this step-by-step guide to create a one-page website with SeedProd.
Pricing:
You can get started with SeedProd for free with SeedProd Lite. Paid plans start from $39.50 per year.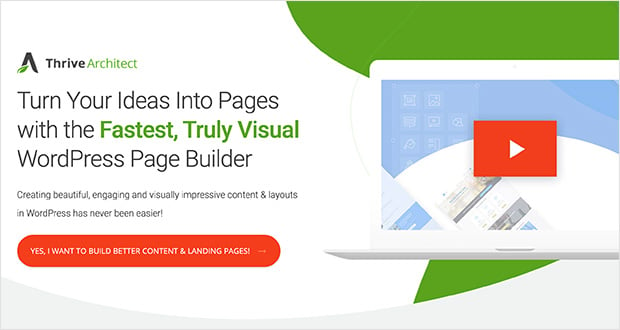 Thrive Architect is a WordPress visual page builder designed specifically for businesses. It comes equipped with pre-made conversion elements like testimonials, countdown timers, and lead generation forms that work with various email marketing platforms.
Thrive Architect can help you make a high-performing homepage with features like horizontal opt-in forms, social media icons, and a blog post gallery.
When building a page, users can choose from four layout options, including normal, header, and footer, completely blank, and landing page. A normal page follows the theme template for a consistent look throughout the site, perfect for standard pages like Services, Pricing, and About Us. The header and footer option is best for customizing landing pages with blocks, ideal for marketing pages such as sales or webinar registrations.
With over 270 pre-designed landing page templates, users can easily tailor the design to fit their business needs. They're also fully responsive for mobile devices.
The builder also offers conversion-driven blocks like call-to-action buttons, client testimonials, styled lists for selling points, and content boxes for emphasizing website copy.
Pricing:
Thrive Architect can cost between $99 and $299 per year.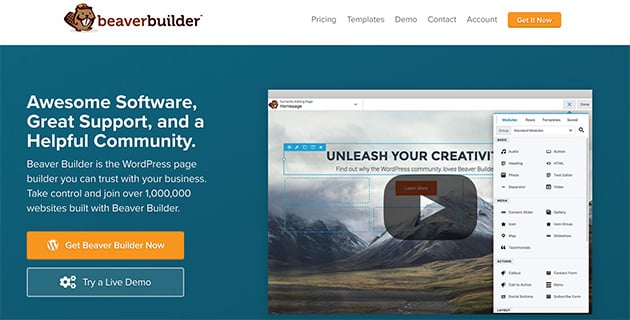 Beaver Builder is another popular WordPress landing page plugin that allows you to create a free one-page website in WordPress. Instead of showing multiple pages on your website, you can use this plugin to create a single web page with all the information your users need.
This plugin comes with several free templates you can use to build your web design. You can use the visual editor to build your page with Beaver Builder's modules, rows, and columns.
Beaver Builder has all the essential modules to build a functional website, including CTA buttons, images, testimonials, and more. You can also use some native WordPress widgets on your one-page website design.
Pricing:
Beaver Builder Lite is free to use with limited features. The pricing for Beaver Builder Pro starts from $99 per year.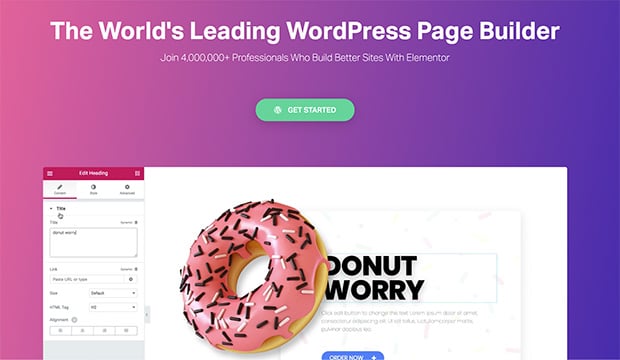 Elementor is a powerful one-page website builder for WordPress. Like SeedProd and Beaver Builder, it includes various website elements you can use to create and customize your single-page website.
You can choose from hundreds of responsive one-page design templates and customize them in the drag-and-drop builder. Its library of modules and content elements allows you to add essential website features to your own website without coding.
With parallax effects, a mobile responsive design, and search engine-friendly settings, it's easy to get your site looking the way you want with Elementor. You can even add custom CSS, fonts, and eCommerce features for your online store.
Pricing:
Elementor Lite is free to use and includes limited features. Elementor Pro starts from $49 per year.
Alternative Free One Page Website Builders
If you're looking for an alternative to WordPress for creating a free one-page website, you're in the right place. Check out the solutions below for the best non-WordPress free single-page website builders.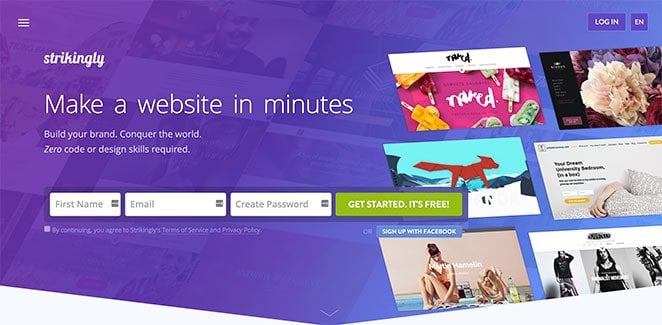 Strikingly is a top free one-page website builder you can use to make a professional website in minutes. It requires no design or coding experience to get started, allowing you to click anything, customize your one page templates, and publish quickly.
You can connect your website to PayPal, Stripe, or their Simple Store feature to sell products or services. And you can manage your audience signup forms, live chat, and even newsletters in the same place.
Strikingly is an excellent free solution for building a single-page website with dozens of responsive website templates for your business.
Pricing:
Strikingly's free forever plan includes unlimited sites, a Strikingly.com domain, 500 MB of storage, and 5 GB Monthly Bandwidth. Paid plans start from $8 per month.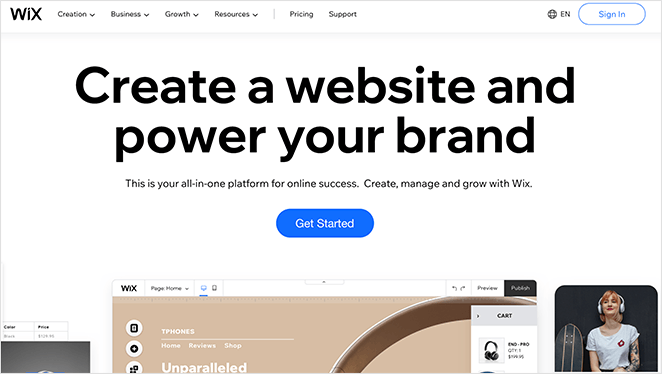 Wix is an easy-to-use single-page website builder for beginners that doesn't cost a thing to get started. It offers free website hosting and up to 500MB of free website storage and bandwidth.
With its drag-and-drop builder, you can build a high-quality website homepage without hiring a developer. You can access various web apps to improve your site's functionality, create stunning galleries, and even add cool scroll effects to your site with a few clicks.
There's no doubt that Wix is an excellent free one-page website builder. However, your website domain name will look something like this: accountname.wixsite.com/siteaddress.
Moreover, you'll see Wix ads on your site and favicon, which doesn't provide the most professional look for your business if you're a startup or freelancer.
Pricing:
Creating a simple single-page website with Wix is free. But to remove ads and attach a custom domain, the pricing starts from $14 per month.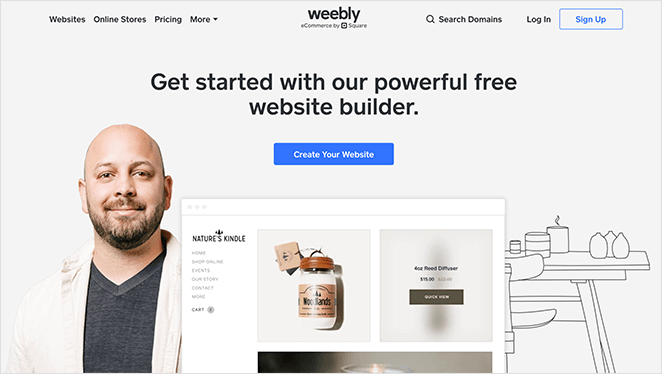 Weebly is similar to Wix in that it's an easy free website builder. It includes a large selection of customizable website designs and tools to build your one-page website and grow your business.
In addition, you can use Weebly's Square integration to sell your online products. That way, Square can take care of your online payments, leaving you free to focus on other business areas.
It's easy to get going with a free Weebly single-page website with tons of design elements, including video backgrounds and integrated analytics.
Pricing:
Getting started with Weebly is free. You'll get a Weebly-branded domain name, free SSL security, and 500 MB of storage. Premium plans start from $8 per month.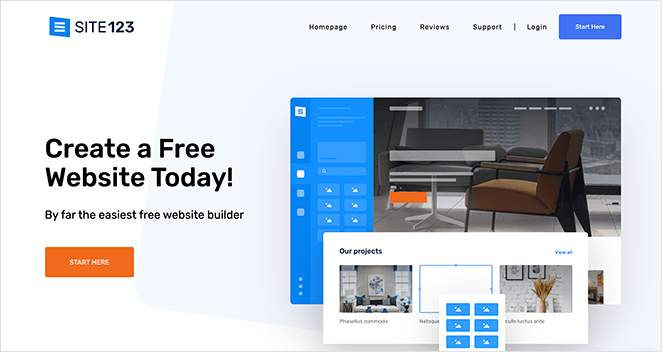 Site123 is a free single-page website builder with various features to bring your website to life. It offers various responsive website templates and a visual page builder to design your site effortlessly.
This website builder has an easy 3-step setup process:
Choose a template

Upload your content

Publish your site
Every website design is mobile responsive and fits on any screen size or device. Plus, it includes vital settings to optimize your website for search engines and improve your rankings.
Like Wix, your default website URL will be on a Site123 domain name. Upgrading to a custom domain will, of course, include a fee.
However, the storage and bandwidth for Site123 are limited to only 250MB. Site123 is an excellent solution for smaller one-page websites.
Pricing:
With Site123, you can get started for free. Premium plans start from $12.80 per month.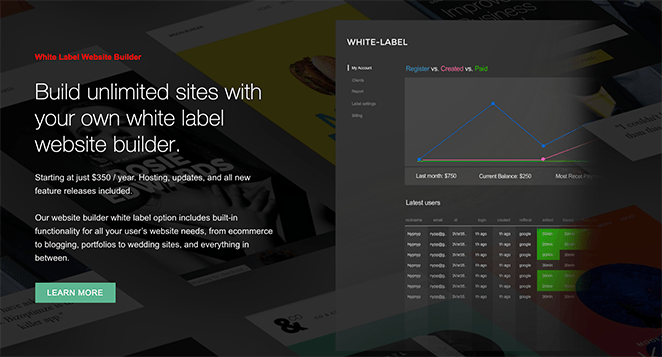 IM Creator is a free one-page website builder made by creators for creators. Therefore, you can design, build, and publish your site for free and access unlimited hosting and bandwidth.
Moreover, creating your website is easy with the intuitive visual editor. Choose from a range of responsive HTML templates and customize your design to suit your business needs. You can also use SEO-friendly tools right out of the box to help your site rank in search engines.
In addition, IM Creator is perfectly scalable. For instance, you can start with a one-pager, and then, as your business grows, you can add more pages and features.
Pricing:
IM Creator is entirely free for students, creators, and nonprofits. Premium accounts start from $8 per month.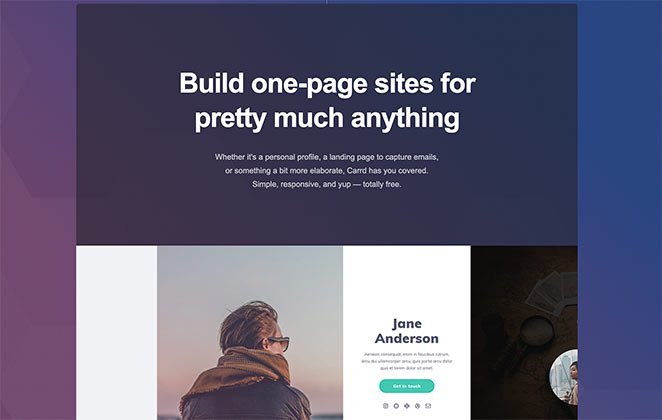 Carrd is a simple, fully responsive free one-page website builder. Whether you want to build a personal profile, create a landing page to capture emails, or something a bit more elaborate, with this solution, you can.
For instance, you can start with one of the dozens of free templates or from scratch with a blank canvas. Then, you can use the visual interface to build and customize your website quickly.
Given that you can create up to 3 free websites for each Carrd account, that's 3 different free one-page websites. However, like the other alternatives on this list, your website is branded with the Carrd domain.
Pricing:
Carrd is free to use. But for custom domains and advanced features like analytics, forms, and email integrations, the pricing starts from $19 per year.
Tips for Designing an Effective One-Page Website
To create an engaging and user-friendly one-page website, follow these design tips:
Keep your content concise and focused.
Use clear headings and subheadings to break up text and improve readability.
Opt for a mobile-responsive design to ensure your site looks great on all devices.
Incorporate eye-catching visuals and multimedia elements to enhance user engagement.
Use a clear call-to-action (CTA) to direct visitors towards specific actions.
Frequently Asked Questions
What are the benefits of using a one-page website builder for my business?
One-page website builders offer several advantages for small businesses and entrepreneurs. These benefits include lower costs, faster loading times, and a more focused user experience.
With a single page layout, you can efficiently communicate your message and direct visitors to take specific actions, such as signing up for a newsletter or making a purchase.
According to a study by Google, a one-second delay in page load time can lead to a 20% drop in conversions. By using a one-page website builder, you can ensure your site loads quickly and retains visitors' attention.
Are there any drawbacks to using free one-page website builders?
While free one-page website builders provide an easy and affordable way to create a website, there may be some limitations. These can include limited customization options, the presence of ads on your site, or restrictions on the number of pages and features available.
It's essential to carefully consider these limitations before choosing a free website builder to ensure it meets your specific needs.
How do one-page websites affect SEO and search engine rankings?
One-page websites can still rank well in search engines if they're optimized correctly. To improve your site's SEO, focus on creating high-quality, unique content with relevant keywords, optimizing your site's meta tags and descriptions, and ensuring a mobile-friendly design.
Additionally, be sure to establish a strong backlink profile and submit your site to search engine indexes. According to Moz, 99.2% of top-ranking websites have at least one external link pointing to them, so building a robust backlink profile is crucial.
Can I integrate e-commerce features with a free one-page website builder?
Yes, many free one-page website builders offer e-commerce integration options, allowing you to create an online store and accept payments directly through your website. However, keep in mind that some builders may charge transaction fees or require you to upgrade to a paid plan to access advanced e-commerce features.
Can I use a custom domain with a free one-page website builder?
Many free one-page website builders allow you to connect a custom domain to your site. However, in some cases, you might need to upgrade to a paid plan or purchase the domain separately through a domain registrar.
Which Free One Page Website Builder Is The Best?
In our opinion, the best free one-page website builder is SeedProd. It's compatible with all popular WordPress themes, and the live drag-and-drop editor is highly user-friendly and flexible.
SeedProd includes powerful features, such as coming soon, maintenance mode, access controls, and domain mapping, all in a single plugin. This saves you from adding multiple bloated plugins to your WordPress website.
So are you ready to create your free one-page website?
While you're here, you might also like this guide on embedding Google Maps in WordPress.
Thanks for reading. Please follow us on YouTube, Twitter, and Facebook for more helpful content to grow your business.