Do you want to learn how to rank a new website in search engines? Not sure which strategies work the best?
Optimizing your website for search results can be a long and difficult process, but there are plenty of things you can do to help out along the way.
In this article, we'll share proven tips designed to help you rank your new website, increase organic traffic, and grow your business.
Before we start, you might be wondering why you should rank your site in search engines.
Why You Should Rank Your Website in Search Engines
One of the main benefits of ranking your website in Google and other search engines is it's the easiest way to attract organic traffic. Organic traffic is people clicking through to your website from search engines after searching for specific keywords.
People are much more likely to click-through If your new website appears near the top of search engine results, resulting in more organic traffic.
Improving your website's visibility in search engines is also an excellent way to:
Generate more leads and sales from your target audience
Increase your website's visibility online
Make your business look more trustworthy
Reduce the cost of advertising
Ranking a new website can be scary if you're new to search engine optimization (SEO). But there's no need to worry.
By following the proven tips below, you can rank your new website fast and start generating sales for your business.
How to Rank a New Website Before You Launch
Before you launch your brand-new website, you need to make sure people can find it when searching for keywords related to your business, products, or services.
To do this, you need to optimize your website so that Google sees it as high-quality content and worth ranking near the top of search results. Essentially, this is what SEO is all about.
So before you launch your website, follow these tips to optimize your website for search engines.
1. Perform Keyword Research
Keyword research is one of the key aspects of SEO. To begin, you need to research which keywords you want your website to rank for. We call these your target keywords.
Think about which words and phrases represent your business the best. What do you do? What products and services do you offer?
For example, you might come up with "cat food" if you sell pet food or "web designer in Florida" if you're running a local web design business.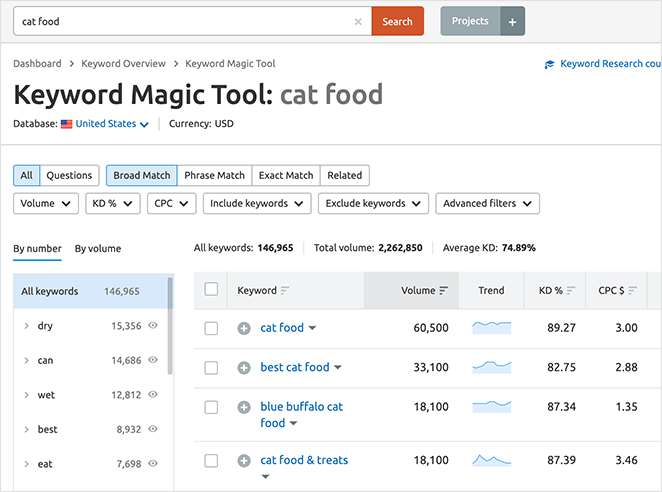 Guessing the best keywords for your website is an excellent way to generate ideas, but to pinpoint what people are searching for, you'll need to analyze their popularity and search volume. That way, you can see how many people are searching for that particular search query and how easy or difficult it is to rank for it.
Luckily there are several tools available to help you get accurate data on any keyword. You can use a free tool like Google Keyword Planner or paid services like SEMRush and Ahrefs, which have extra tools to monitor your search performance.
You can check out this guide for help in performing keyword research for your new website.
2. Optimize Your Website for Your Target Keywords
After finding the best keywords to represent your business, the next step is to optimize your website around those search terms.
You should optimize your website's homepage around your general business keyword, product pages around product or service keywords, and so on. This will help Google understand what each page is about and which keywords to rank them for.
Let's look at a few methods for optimizing your website with your chosen keywords.
Optimizing Your Headings
Headings help to organize your web copy. They give it a structure that makes it easier for users and Google to understand.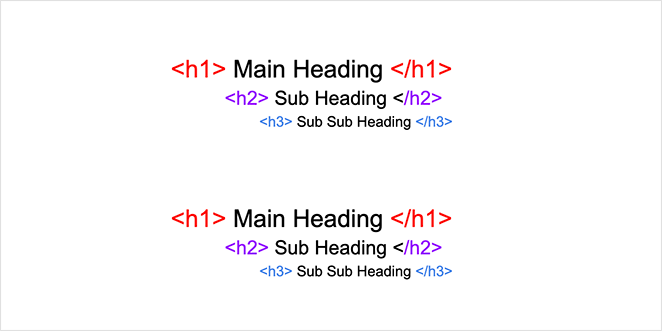 You should have only a single H1 heading on your page, with the rest of your content organized under H2 and H3 headings. Add your main keyword in the H1 heading and use relevant and related keywords in your other headings.
Optimize Your URLs
You should also optimize the URLs on every page of your new website. Add your target keyword into your page URL to describe what the page is about.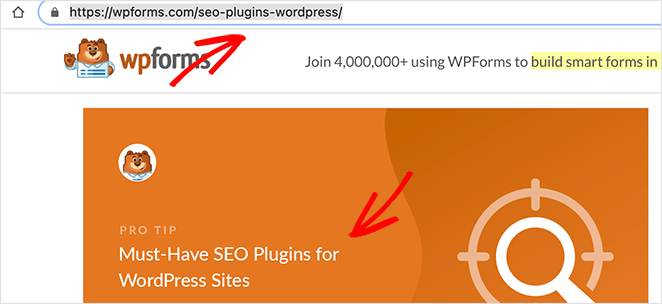 Your URLs should be easy to read and communicate what's on the page to help both users and Google.
Optimize Your Content
The content on each web page should also be easy to read and understand. Include your primary keyword a few times in your copy, but avoid overusing it.
Using your main keyphrase too often is called keyword stuffing and can harm your SEO efforts. To avoid this, use synonyms and other variations of your main keyword to make your copy more natural and readable.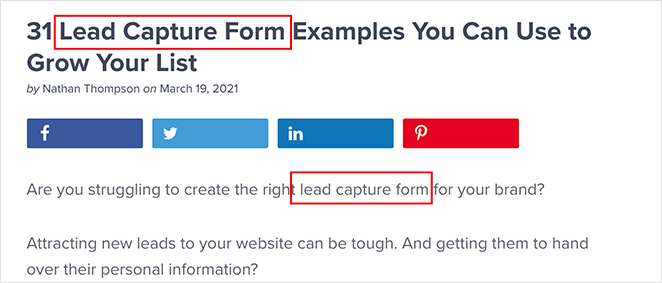 Many people mention their target keyword within the first paragraph of their content so search engines see what the page is about immediately. You can also experiment with writing longer content (more than 1,000 words) to create in-depth content that Google particularly loves.
Optimize Your Title Tags and Meta Descriptions
The SEO title and meta descriptions of your web pages appear in search results. They're designed to encourage users to click-through and visit your website. And the more that people click on your site in search results, the higher you're likely to rank.

So it's important that you write engaging and click-worthy title tags and meta descriptions.
A good strategy is to put your main keyword near the beginning of the title to look more relevant, and people are more likely to click it. Try to keep your SEO title to around 50-60 characters so it isn't cut off in search results.
Your meta description can help your title get more clicks by describing what your page is about. Include your target keyword at least once, and give people a good reason to click.
It's super-easy to edit your SEO titles and meta descriptions using the All in One SEO plugin for WordPress websites.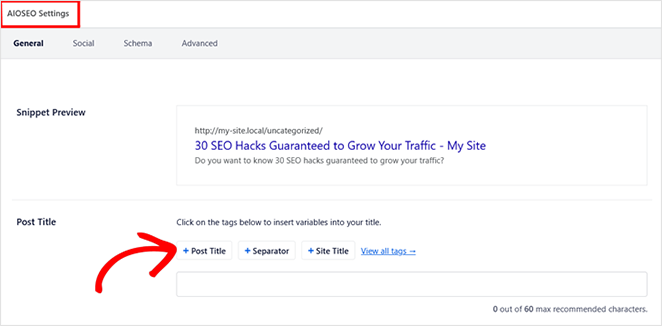 You can also use All In One SEO to find and add related keywords or additional keyphrases right within the WordPress editor with its SEMRush Integration.
You can see the search volume and trends right in the same window, eliminating the need for additional tools to research and decide what keywords to use.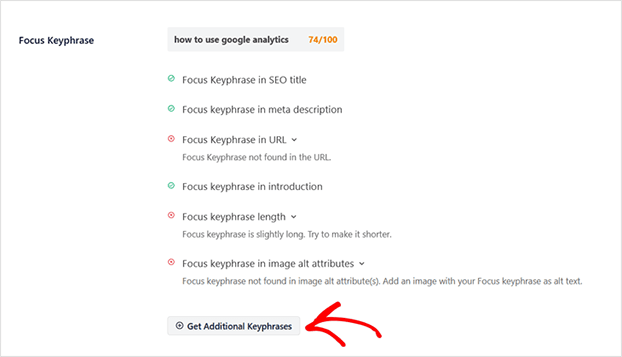 For step-by-step instructions, see this guide on how to find related keywords in WordPress.
Optimize Your Image Alt Descriptions
Adding high-quality images to your website is excellent for user experience. But Google and other search engines can't read or understand images. You need to give them a hand by describing your image in the image alt tag so Google knows what it's about.
You can easily add your alt text in the WordPress block editor.
Just scroll down in the post or page you're editing and click on your image so that it gets marked with the blue frame.
Then, go to the Image Settings in the right column of your editor, and type in your alt text in the Alt Text (alternative text) field.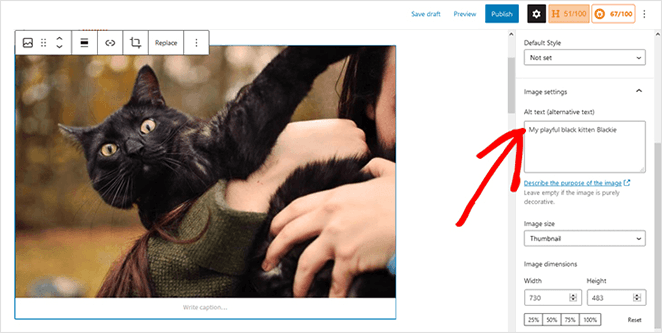 Add your primary keyword to image file names and alt tags. If search engines find them relevant to your target keyword, it can help you rank higher in search results faster.
3. Increase Your Website Loading Speed
Search engines prefer high page speeds and a great user experience, so it's important to optimize your new website to make it fast, responsive, and secure.
Check Your Page Speed
You can use a free website speed test tool like this one from IsItWP to check your page loading times.

You'll see an overall performance grade, along with suggestions for improving your website.
Optimize Your Images
A website that's large in file size gets heavy and will take longer to load. Fortunately, you can speed up your website by compressing your images.
You'll also decrease your bounce rate from users who don't have the patience to wait for your site to finish loading.

To compress your images, you can use free services, such as:
This can reduce your image file size by 70% and more, which will have a huge impact on your site speed.
You can even use WordPress plugins like Imagify and WP Smush to optimize images right inside your WordPress website.
Use Speed Optimized Plugins and Themes
If you have a WordPress website, it's tempting to load it with tons of useful plugins and themes with all the bells and whistles. But, often, featured-packed themes and plugins are bloated, heavy on your page load times, and can slow down your website.
When choosing the best WordPress plugins for your new website, look for lightweight solutions with only the features you need, with none of the extras.
Alternatively, you can choose self-hosted solutions like OptinMonster.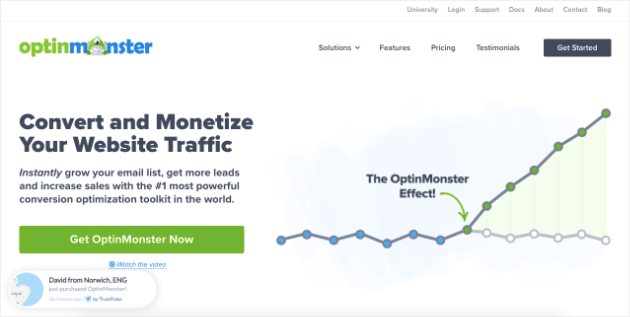 They're still super powerful but won't use your site's bandwidth or hosting resources. As a result, they won't slow your site down if your traffic spikes.
The same is true for your WordPress theme. Look for a design with minimal code, easy customization options, and fast loading times. Often, the best WordPress themes will state that they're lightweight and optimized for speed and SEO.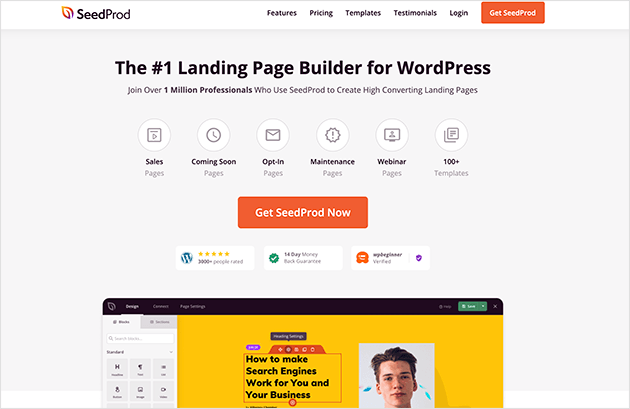 SeedProd, for example, is a powerful WordPress theme builder plugin that lets you create responsive website layouts without writing code or hiring a developer. You can use this plugin to create fast, engaging WordPress themes and high-converting landing pages in its visual drag-and-drop editor.
Because SeedProd centers on speed and functionality, it won't slow down your website. Its code is fully optimized using the best WordPress practices, and the visual editor only includes the features you need to create a successful website.
Install a Cache Plugin
To optimize your new site for speed and give your rankings a boost, you can install a cache plugin. Browser caching can help speed up your website by storing some of the larger files on your site locally in the user's web browser.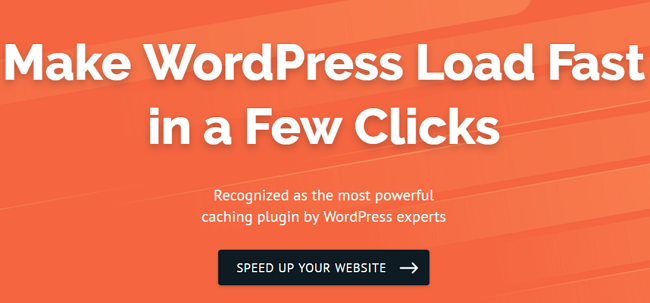 For example, WP Rocket offers a comprehensive set of tools to help speed up your website, such as page caching and preloading. You can also use other cache plugins, such as WP Optimize or WP Fastest Cache.
Use a Content Delivery Network (CDN)
If you want to improve your website speed even more, you can use a CDN to serve a cached version of your site from the server closest to your geographical location.
This will help speed up your website because it limits the number of internet hops it takes to display your content from your original server (your web hosting provider).
To learn more about CDN and how to connect your site, you can check out this guide on how to install and set up WordPress CDN.
4. Make Your Website Mobile-Friendly
Back in July 2019, Google announced mobile-first indexing. This means it will use the mobile version of your site for ranking and indexing.
So if you want to rank your new website, you need to ensure it's mobile-friendly and responsive. This means it needs to be optimized for small screens and touchscreen devices like smartphones and tablets.
You can check out Google's Mobile-Friendly Test to see how your site performs on mobile devices.

And if your new website isn't mobile-friendly, it's relatively easy to fix it.
First off, you can install a mobile-friendly WordPress theme. Most modern WordPress themes are mobile responsive right out of the box, so there isn't much work involved.
You can make both your WordPress theme and landing pages mobile responsive by using a WordPress landing page builder like SeedProd. SeedProd's drag-and-drop landing page feature makes it super-easy to create mobile-friendly landing pages in WordPress. 
It comes with responsive them and landing page templates and allows you to preview your website on mobile devices before you publish.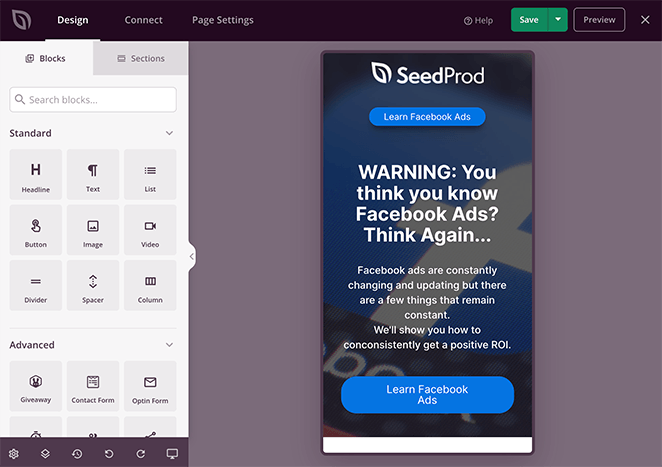 5. Add HTTPS Security
The security of your new website is another factor Google takes into account when ranking your site. It's also a major concern for people browsing and shopping online.
This is why it's crucial to ensure your new website has an HTTPS connection. HTTPS means that your website uses SSL encryption to make the connection between your website and the user's browser secure.
The information that passes through is private and encrypted, so hackers can't steal sensitive information like credit card details and passwords.
If you haven't already done so, you can learn how to add SSL to your WordPress site here.
6. Make it Easy for Search Engines to Find Your Website
After optimizing your website for your target keywords, speed, and security, you need to make it easy for Google to find and rank your new website.
One of the easiest ways to do this is to submit your website to individual search engines like Google, Bing, Yahoo, etc. Each search engine is different, so for now, let's focus on the most popular one: Google.
Set Up Google Search Console
To submit your new website to Google, you need to sign up for Google Search Console. It's a free tool offered by Google to help website owners see how their website performs in search results.
Signing up is free and easy. Go to the Google Search Console website and click the Start now button.
You can use your existing Google account to sign in or create a new account.
Next, Google asks you to enter your website domain name. We recommend using the URL prefix option here as it's easier to verify.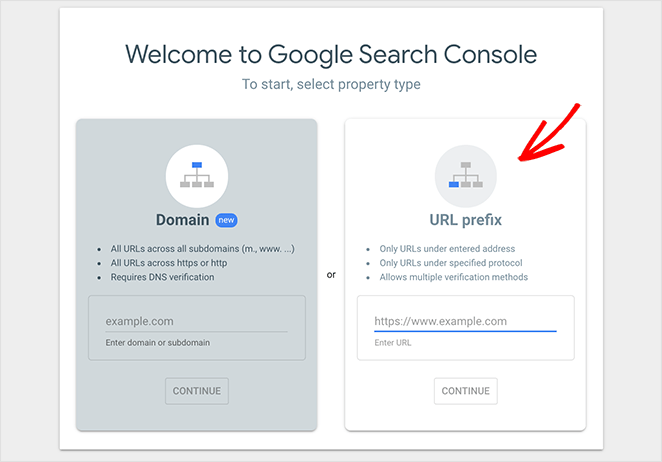 After choosing this option, use the HTML tag method to verify your website and submit it to Google. Just click on the HTML tag option to expand it, and copy the code by clicking the Copy button.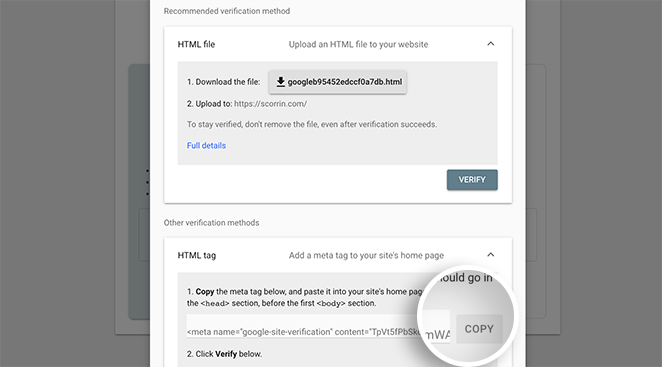 There are many ways to add this code to your website, but today we'll show you how to do it with a tool we've already mentioned in this article – the All In One SEO WordPress plugin.
First, install and activate the All in One SEO plugin. To learn how to do this, see this step-by-step guide on how to install a WordPress plugin.
Next, visit the All in One SEO » General Settings » Webmaster Tools and click on the Google Search Console option.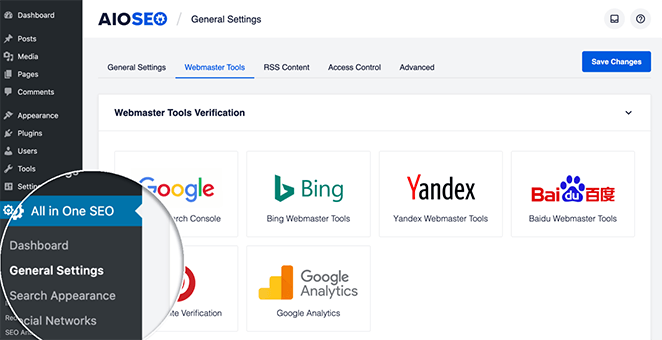 After that, paste the content value from your HTML meta tag into the Google Verification Code box. The part you want is the long string of numbers and letters.

Don't forget to click the Save Changes button at the top of the screen.
Optimize Your New Website Architecture
Your website's architecture represents the way your site is organized into pages and categories. A well-organized site structure helps search engines to crawl and index your new website.
If the pages on your website aren't properly linked together or buried too deep, Google may not see them as important enough to index.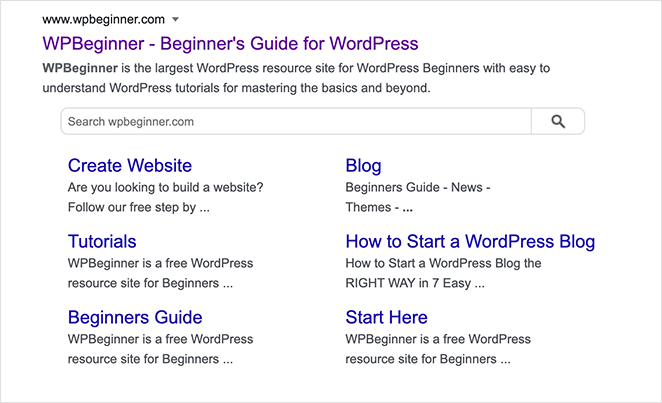 To avoid this, keep your site structure simple and ensure every page is no more than 3 clicks away from your homepage. You should also make sure there is a link pointing internally to and from each page.
Create an XML Sitemap
An XML sitemap is a list of every URL on your site that helps Google find and crawl your new website.
You can easily create an XML sitemap and send it to all popular search engines with All In One SEO. In fact, once you've installed and activated All In One SEO, it automatically generates a sitemap for you.
All you need to do is check if it's enabled by navigating to All in One SEO menu » Sitemaps and clicking the General Sitemap tab.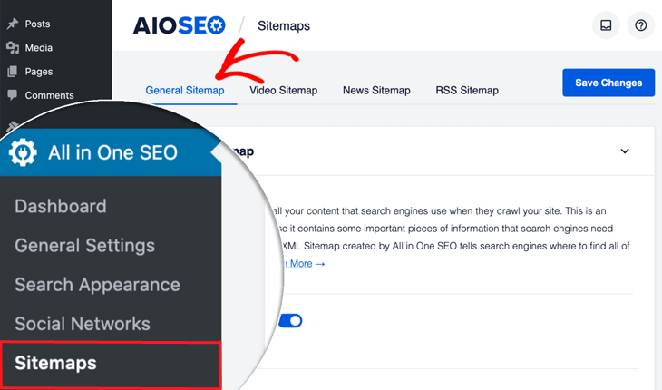 This opens the General Sitemap window, where you can see that the Enable Sitemap option is set to on.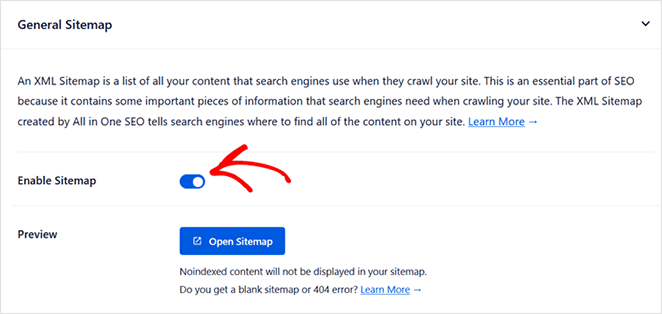 If you use videos on your website, you can create a video sitemap, so Google finds your video content. And if you have a news website, you can create a news sitemap to submit content to Google News automatically.
7. Set Up a Coming Soon Page
Another way to give your website a head start in Google rankings is to set up a coming soon page.
A coming soon page is a type of landing page you can add to your website to tell users your new site is on the way. It allows you to hide your site's design process from the public while still helping you spread the news and generate excitement.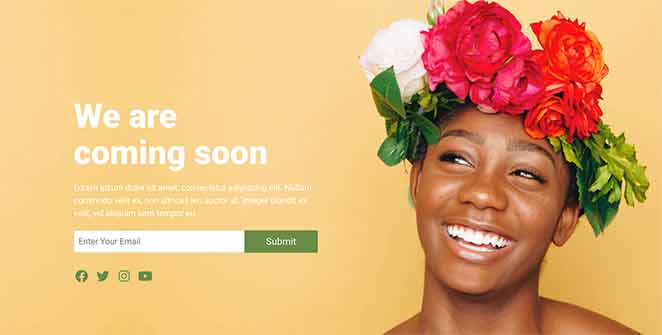 One of the best things about a coming soon page is it allows you to rank your new website in search engines before you launch. Since Google bots can crawl your coming soon page, they can index it in search results.
This means you can drive traffic to your new site from day 1!
The easiest way to set up a coming soon page in WordPress is with SeedProd. It has coming soon, and maintenance mode page modes built right into the plugin.
With a variety of mobile-responsive coming soon page templates, you can get started quickly. Plus, every template is fully customizable in the drag-and-drop builder so you won't need a developer.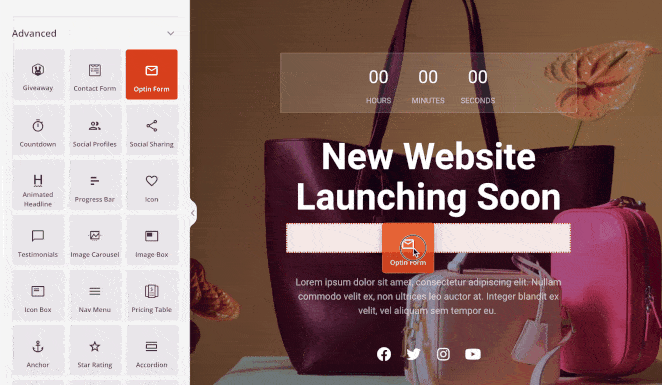 SeedProd comes with easy-to-use landing page blocks designed to generate leads for your business, including:
Optin forms to collect email addresses
Countdown timers to create urgency and excitement
Social media sharing and profile buttons to increase your followers
Testimonial and star rating blocks for social proof
Add-to-cart buttons for your WooCommerce store
And much more.
As we mentioned earlier, SeedProd is lightning-fast and bloat-free, so it won't impact your website's performance.
You can follow this step-by-step guide to learn how to create a coming soon page in WordPress with SeedProd.
How to Rank a New Website After You Launch
So far, we've looked at several ways to rank a new website before your launch. But there's still plenty you can do to increase your rankings after launch day.
Follow the tips below to learn how to rank a new website after you launch.
8. Create Optimized Content for More Organic Traffic
After launching your new website, one of the easiest ways to improve your search rankings is to create regular, optimized content. You can do this by writing blog posts around keywords you know your target audience is searching for.
You can use the tools we suggested earlier to research popular keywords related to your niche. Long-tail keywords tend to have lower competition, enabling your site to rank faster.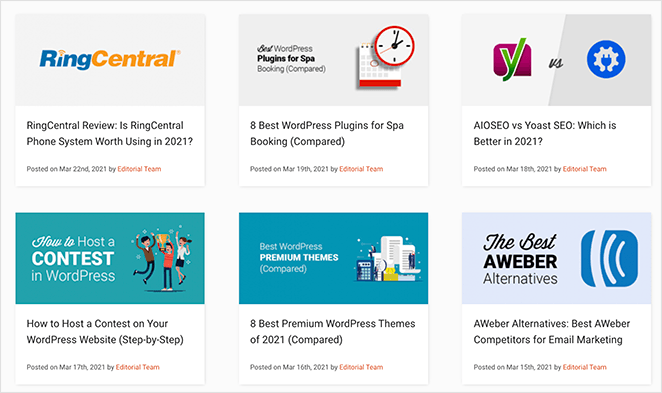 After finding some great topics with good search volume, follow these suggestions to write the best content for your new website:
Create long, in-depth content. Long-form content generally performs better in search results.
Use your target keywords, synonyms, and variations throughout your content.
Optimize your meta tags (title, description, image alt).
Use subheadings, bullet points, and short paragraphs.
Always ensure you offer valuable information.
Creating high-quality content is a great way to link to other places on your website, which brings us to the topic of internal linking.
9. Link Internally to Relevant Content
We mentioned earlier that linking internally to relevant content on your website is an easy way for search engines to crawl and index your site. It can also help Google discover new content after it's published.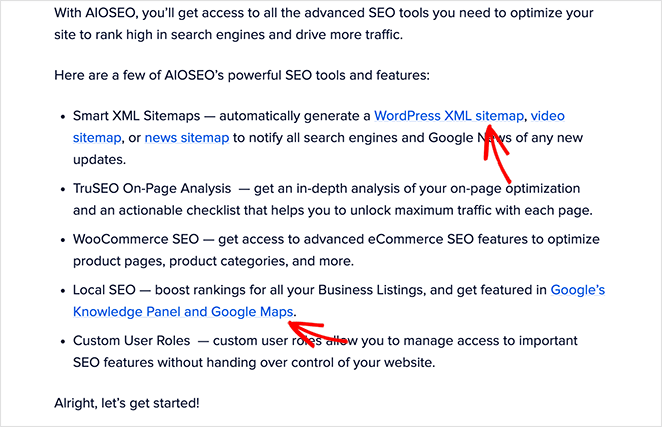 There are 2 main methods for building good internal links on your new website, including:
Always add relevant internal links to your content when you publish something new.
Update your older content to add links to newer content regularly.
This will help your readers and Google discover how all your content is related.
Instead of manually searching for relevant posts to link to, you can use All in One SEO's Link Assistant to easily find new linking opportunities.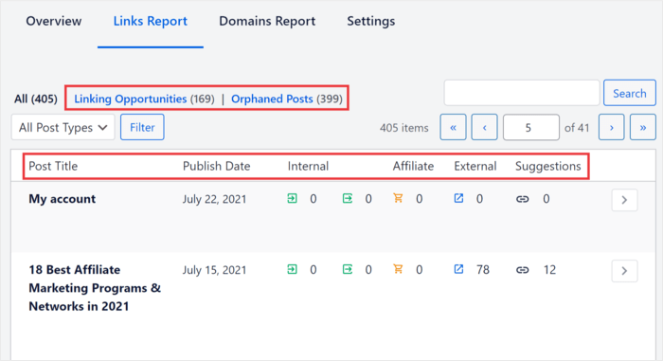 This tool will automatically generate a link report for your site and provide link suggestions that you can apply to your content in 1-click.
10. Increase Your Rankings with Backlinks
Besides internal linking, attracting external links to your content plays a significant role in ranking your new website.
Also known as backlinks, they tell Google that your website is credible and worth ranking. So you'll need a good backlinking strategy to increase your authority and website rank.
Increase Backlinks by Guest Blogging
One of the most effective ways to generate quality backlinks is to guest blog on other websites. Guest blogging works because you offer value to site owners in exchange for a link back to your website.
If you choose your guest blogging targets carefully, you can soon build diverse and authoritative inbound links.
To guest blog effectively, you need to:
Find sites that accept guest posts
Pitch and create high-quality content
Create an author bio that links to your website
Check out this ultimate guide to guest blogging for more helpful tips.
Drive Backlinks by Commenting
Another way you can increase backlinks to your website is by commenting on other blogs and online communities. But don't make the mistake of spam commenting, as this can hurt your marketing efforts.
Instead, take the time to research blog posts and online discussions relevant to your industry. Then write a detailed response that adds value to the conversation.
Some popular places for promoting your content and achieving backlinks include:
11. Fix Missing or Broken Links
As your new website grows and you add more content, you may end up with links that no longer work. While broken links may not seem that bad on the surface, they can impact your website's rankings if left unchecked.
If search engines can't crawl a link because it's broken, they won't index it, meaning it won't appear in search results.
Luckily you can solve this easily by redirecting broken links to the correct URL or a relevant piece of content.
Another way that broken links can impact your rankings is by causing users to leave your site right away. This can result in high bounce rates that search engines use as a ranking factor.
With this in mind, it's good practice to have a 404 page in place. With a custom 404 page, you can redirect visitors about to leave to other pages on your website.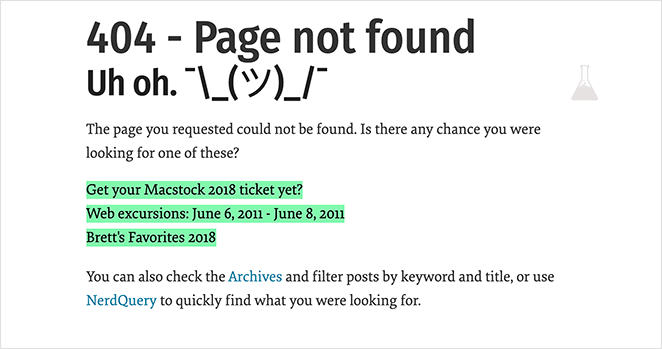 SeedProd is the best plugin for creating custom 404 page landing pages in WordPress. In fact, it has a 404 page mode ready-to-go right out of the box.

You can choose from various pre-made 404 landing page templates and customize them in the visual editor. Then you can add page elements designed to keep visitors on your site for longer, such as relevant products, recent blog posts, and more.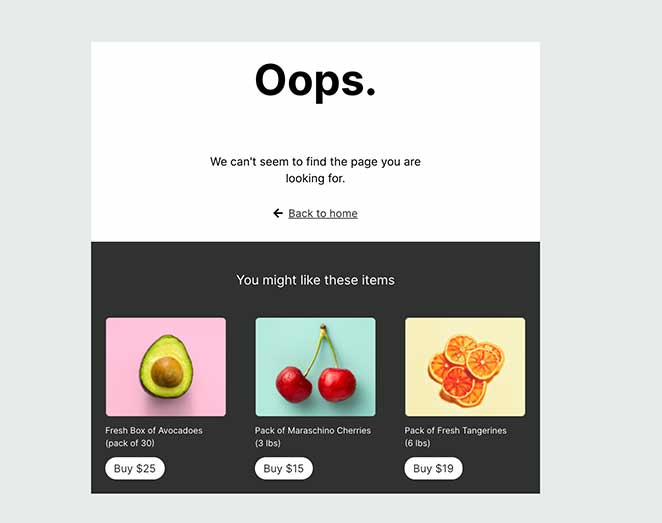 You can even convert those visitors into leads by asking them to subscribe to your newsletter.
12. Tell Search Engines About Your Social Media Networks
Optimizing your social media is important because it can strengthen your brand. It can increase your visibility and generate more leads for your business. Plus, the more your content is shared on social media, the more people will see it and link to it, resulting in increased backlinks.
More importantly, promoting your social media networks can help you get more visibility in search. After all, social media profiles are often ranked on the first page of search results.
The easiest way to tell search engines about your social media profiles is by entering your profile links in your SEO plugin.
All In One SEO lets you connect up to 11 Social Profiles to let Google know which are associated with your website: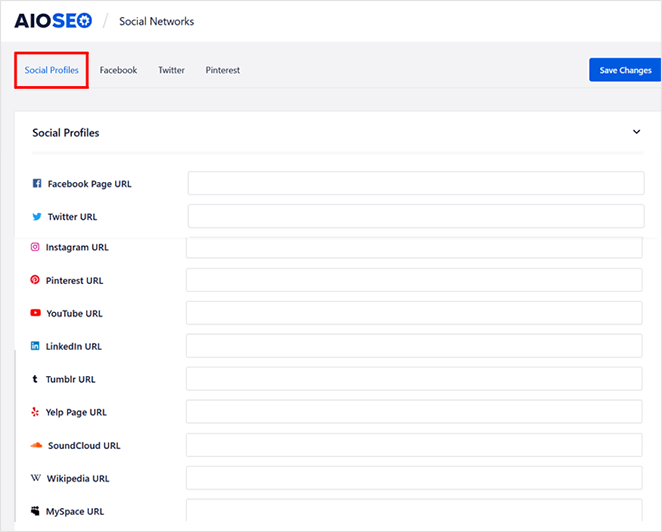 Just paste your profile links, and All In One SEO will take care of the rest.
13. Embed Social Feeds on Your Website
Considering that social media profiles rank so high in search results, they can help your new site rank higher if you add social media feeds to your website.
Instead of adding a plain social media button, you can embed your entire social media feed on your WordPress site using a social media feed plugin like Smash Balloon.
Smash Balloon lets you create completely customizable social media feeds tailored to your website.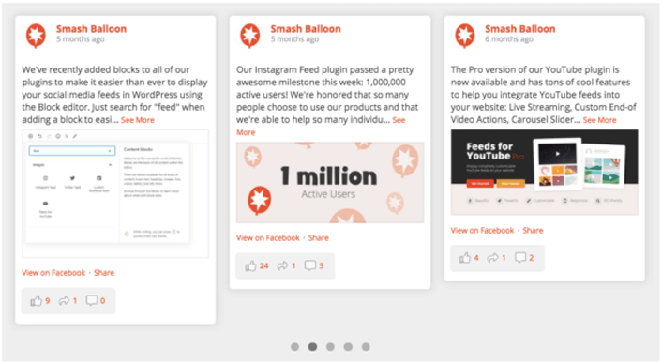 Unlike regular social media plugins, Smash Balloon adds dynamic, indexed, and search engine crawlable content to your site. This will help boost your new website's rankings even further.
14. Use Schema to Rank in Rich Snippets
No doubt you've seen those eye-catching search results on Google with star ratings and prices or questions and answers.
They're called rich snippets, and they can help you achieve the highest rankings and traffic for your new website. They're an easy way to add extra information about your business in search results.
Here's an example of a rich snippet for recipes: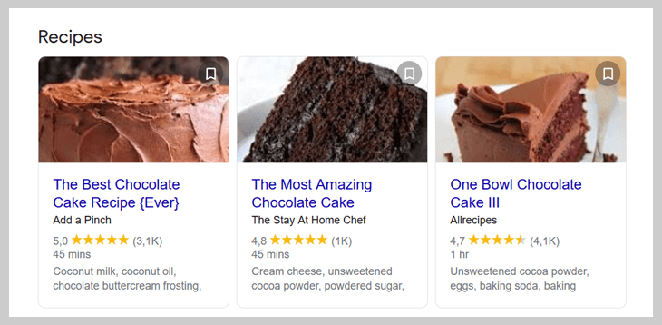 As you can see, they show information like star ratings, cooking time, and ingredients right inside the search results. This makes your content more noticeable, making it more likely to drive organic traffic to your site and increase sales.
Unlike most SEO changes, it doesn't take long to see results from rich snippets. You can often see results in under 30 minutes.
Google rich snippets are created by adding schema markup or structured data to your web pages. You can easily add schema markup to your pages using All In One SEO.
For more details, check out their guide on how to add rich snippets to WordPress.
15. Optimize Your Site for Local SEO
For any business that serves customers in a specific location and wants to rank a new website, it's important to optimize your website for local SEO. This will help local customers find your brick-and-mortar stores or local services.
You can start by creating a Business Profile in Google My Business.
A Google My Business profile is important for SEO because it makes you more visible in local search and Google Maps, where potential customers can easily find you.
You'll have your own profile, and you can add your business's information, photos and showcase reviews straight from the search results.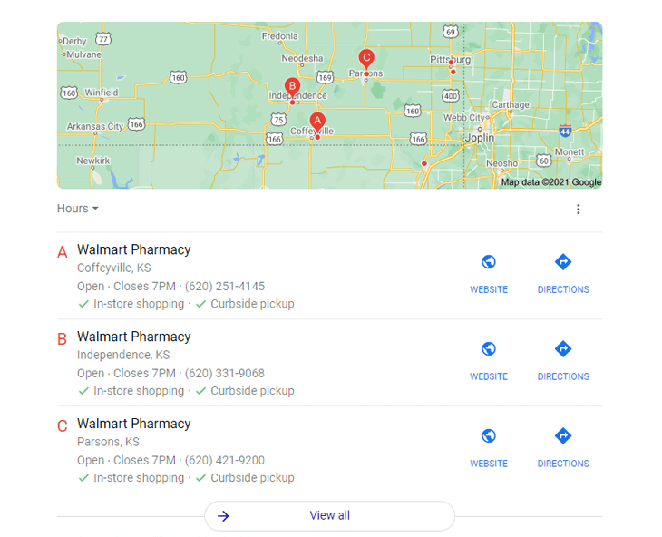 This makes it easy for people to find your physical locations and puts your company at the top of the results. But to increase your chances of getting featured in Google's Knowledge Panel, you need to add Google's local business structured data or schema markup to your website.
With AIl In One SEO's Local Business SEO addon, you can easily set this up and start increasing your rankings in the local search results, Google Maps, and the Knowledge panel in no time.
16. Track Your Website Analytics
After following the tips above to rank your new website in search results, you'll need to track your SEO efforts. By connecting your website to an analytics tool, you can measure your new website's performance and see which SEO strategies deliver the best results.
The easiest way to track your website analytics is with Google Analytics.
It allows you to monitor:
Who visits your website
When people visit your website
How people find your website
What people do on your website
How people interact with your content
After creating a Google Analytics account, the easiest way to set up Google Analytics on your website, especially if you use WordPress, is with MonsterInsights.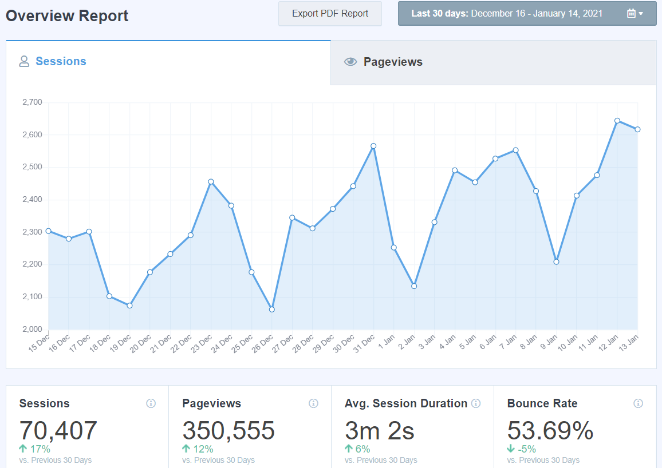 MonsterInsights is the best Google Analytics plugin for WordPress. It makes linking your website to Google Analytics super-easy and doesn't require hiring a developer.
Once it's installed, you can see your analytics reports right inside your WordPress dashboard.
You can view analytics for:
eCommerce, including WooCommerce, Easy Digital Downloads, MemberPress, and more.
Outbound link tracking to see where your site sends visitors.
File download tracking to see which files are getting the most downloads.
Custom events tracking without writing any JavaScript.
Affiliate link tracking for bloggers and affiliate marketers
And more.
You can also use MonsterInsights' Search Console report to see how your new website site ranks in Google's search results.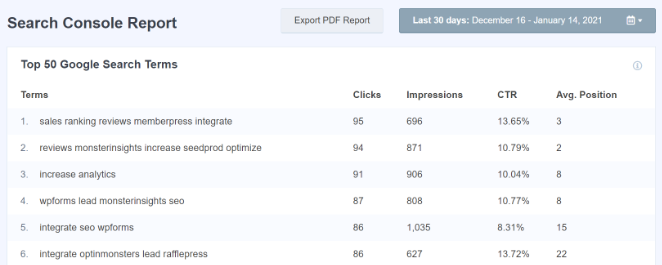 Check out this step-by-step guide on how to add Google Analytics to WordPress.
And there you have it!
Ranking a new website is a long-term strategy that takes some time to get results. With the right SEO tactics, you'll see your site climb up in Google's search results in no time.
And in the end, this will translate to traffic, leads, and sales for your business.
While you're here, you might also like this article on how to increase landing page conversions to boost your revenue further.
If you liked this article, then please follow us on YouTube, Twitter, and Facebook for more helpful content to help grow your business.