Do you want to create a high-converting event landing page on your WordPress website?
As an event marketer, a dedicated event registration landing page is one of the best ways to spread the word and attract plenty of attendees. But getting your landing page looking how you want is tricky if you don't know where to start.
In this article, we'll share some excellent event landing page designs and show you how to make one for your business.
What Is an Event Landing Page?
An event page is a type of web page designed to encourage visitors to register for an upcoming event. It could be an in-person event like a conference or meetup or virtual event such as webinars and online summits.
Whatever the type of event, event website pages share the same goals: raise event awareness and get people to sign up for your event or purchase tickets.
Why Do You Need an Event Landing Page?
You might still be thinking, "why do I need an event page?" As tempting as it is to send event traffic to your website's homepage, doing so won't yield the best conversion rates.
That's because people who visit your homepage will click around. They may head to your about page, dive into your blog posts, or even click an affiliate link and leave your site.
However, if you send traffic to a dedicated event landing page, there's nowhere else for users to go. Their choices are:
Engage with your page and register for your event
Decide it's not for them and leave your site
Bottom line: an event landing page focuses your traffic's attention on a single purpose instead of filtering it away to many different places.
What Should a Great Event Landing Page Include?
Event pages are a lot like party invitations. You need to include enough information to convince people to attend on the invitation.
It's the same for your event page. So, think about the details people might want to know and how you can use that information to encourage them to register.
Make sure you include the following essential landing page elements when creating a page for promoting your event:
Host – Who are the event organizers? What makes you (or the host) an authority on that topic? Share some background information to reassure people of your credibility.
Topic – What is the event about? Is it promoting a product or service or teaching users how to do something? Tell people what they can expect from attending your event. Go into detail about what you'll cover. If your event is broader in scope, include an agenda of when you'll present each topic.
Time and Location – Where are you holding the event? Be clear about whether this is a virtual event or a physical one. If it's virtual, tell event attendees the date and time that they should log in to attend. And if it's a physical summit, tell attendees more about the location, local amenities, and the time of each talk.
Speakers – If your event features several popular speakers, feature them on your landing page. Use a high-quality headshot, their name, and what their talk will cover.
Call-to-Action – The best event page designs generally include at least 1 call-to-action (CTA) to encourage visitors to book a ticket. If your page has lots of information, you can add more CTAs at intervals as you scroll through the page. Don't make people work for your CTA. Make it easy to register.
Sharing – If you want to raise awareness about your event, include ways for people to share your page. Social media sharing buttons are an easy way to do this. You could even offer attendees an incentive for sharing, such as free entry into a giveaway.
Let's dive in and look at some of the best landing page examples with all the above in mind.
10 Examples of Successful Event Landing Pages
The following event pages are actual pages from real companies promoting their conferences and events.
Let's look at the following event landing page examples to see what they're doing right. They could even inspire your event page design.
1. WPEngine Decode Event Landing Page Design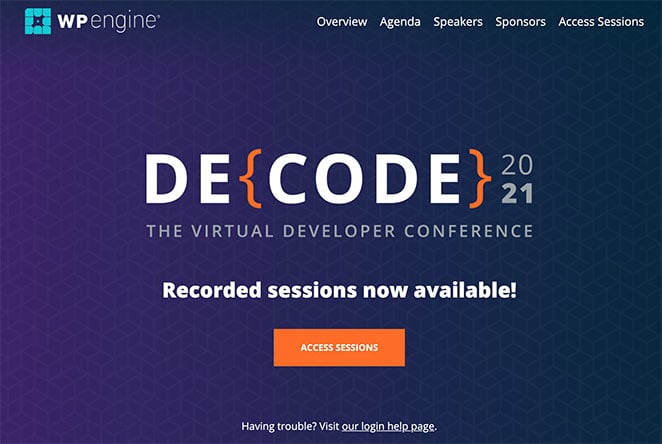 First up is an event page from WPEngine's Decode virtual developer conference. As soon as you visit the page, you know that this event is aimed at developers by the cleverly formatted heading.
As you scroll through the page, it explains what the conference is about, who is speaking, and even snapshots from previous Decode events and other key details. It also features several CTA buttons for visitors to sign up and access the conference sessions.
Takeaways from this event page design:
Headline – The headline is eye-catching and aimed at their target audience.
Description – Visitors can quickly learn what the event is about and when they can attend.
Speakers – The main speakers are featured with headshots, titles, and expertise.
Sponsors – Adding sponsor logos to the event page gives the event more credibility.
CTA – With more than 1 CTA, it's easier for users to sign up and register for the event.
2. Collision Conference Ticket Landing Page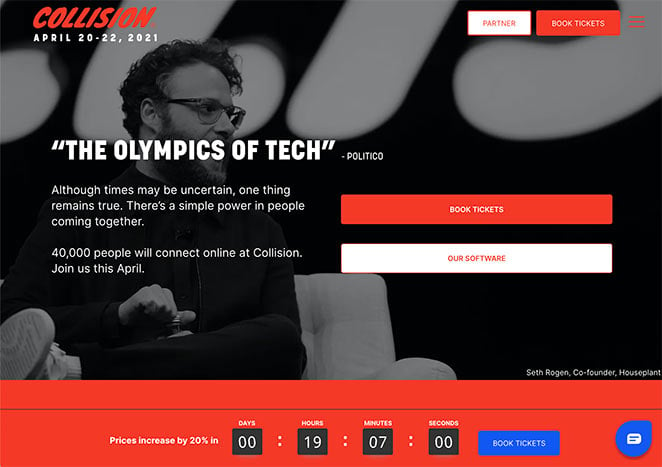 Collision conference is an event designed to talk about the role of technology in today's world. It hosts big names from the business, academic, and entertainment industry and is one of America's fastest-growing tech conferences.
The conference landing page is eye-catching, easy to navigate, and completely on-brand. This makes it an excellent example for the foundation of your event page design.
Takeaways from this ticket landing page:
Branding – The page has a consistent branded design that is easy for visitors to recognize.
Social Proof – Throughout the page, several examples of quotes, testimonials, and social proof give the event trust and credibility.
Presenters – The speakers appear prominently on the page, and you can click each headshot to learn more.
Video – The use of video makes the page more engaging and convincing to potential attendees.
Urgency – A countdown timer ticking down until the price increase encourages people to get their tickets now, generating the fear of missing out (FOMO).
CTA – Multiple CTAs make it easy for users to register for the event.
3. Superweek Digital Marketing Conference Landing Page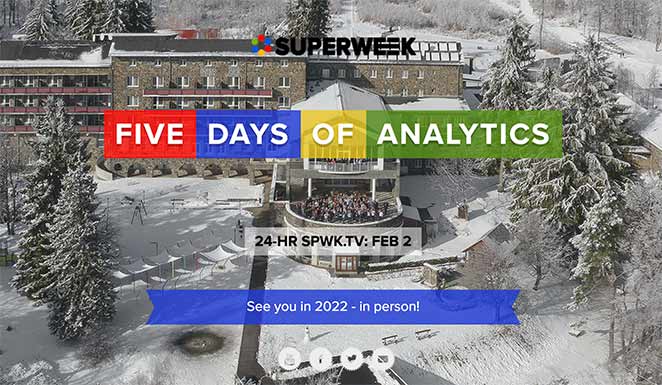 Superweek is an annual conference for digital marketing professionals, thought leaders, and analysts. As soon as you land on the page, you can see it's dedicated to the analytics industry.
This perfect event page design is eye-catching, packed with detailed information, and easy to browse.
Takeaways from this event page design:
Images – The use of images throughout the page makes it exciting and engaging for users.
Video – Adding video to the page gives users a taste of the type of content they can expect.
Social Stream – Embedding a social media feed on the landing page shows a vibrant and active community, adding trust and credibility.
Agenda – A detailed agenda with travel and flight information helps people plan for the event in advance.
4. Marketing Exchange B2B Event Landing Page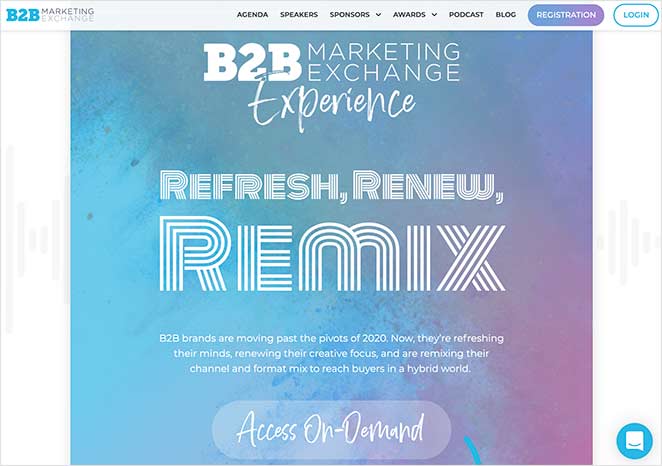 Next is an example from the B2B Marketing Exchange Experience. Their event page has a streamlined flow that directs visitors from one section to another.
The design is simple, straightforward, and easy to navigate, with all the essential features of a successful event page.
Takeaways from this event page design:
Animation – The use of simple animations helps guide the eye down the page to each different section.
Sections – Each part of the page is divided into sections that focus on a different part of the event.
Testimonials – Reviews and testimonials make the event more trustworthy and worth attending.
Speakers – Each speaker is featured with a link to learn more about what they do.
Social Feeds – By including a Twitter feed from past events, it's clear that the event is popular.
Sponsors – Using sponsor logos is another way to give the event more credibility.
CTA – There are many CTAs throughout the page, making it easy to register.
5. Email Marketing Virtual Event Landing Page Example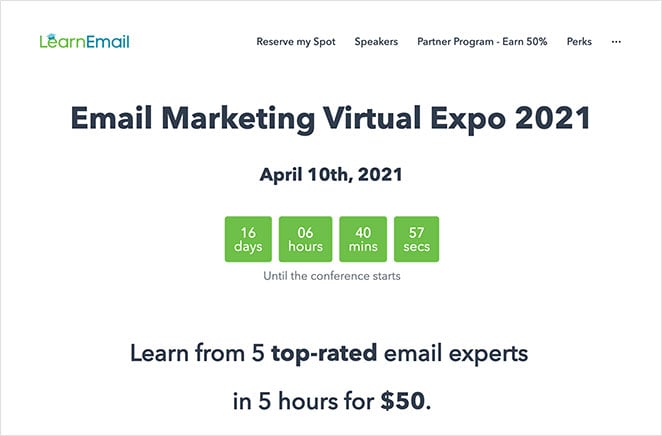 This email marketing virtual expo page from Learn Email has a simple yet effective design that ticks all the right boxes. It's an excellent example of how even a minimal event landing page design can get your desired results.
Takeaways from this event page design:
Design – The minimal design puts all the focus on the page content.
Headline – The headline and sub-headings are benefit-driven, making it more likely you'll keep reading.
Countdown Timer – The countdown timer creates urgency, spurring people to register before the event starts.
Form – The registration form has only a single form field, making it easy for people to sign up.
Speakers – The speaker carousel takes up less space on the page, keeping the whole design compact and attractive.
Sponsors – The use of sponsor logos adds authority and credibility to the event.
CTA – Users have multiple opportunities to register.
6. Adobe Virtual Summit Landing Page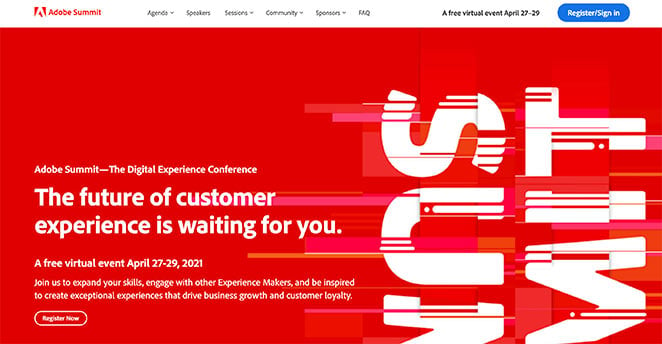 Adobe's Digital Experience Conference is an excellent example of good branding and great event page design. Right away, you can see it's an Adobe event from the way the hero area is designed with its brand colors.
As you scroll through the page, it explains everything you can expect from attending the event. There's even a sneak peek at some featured celebrities to generate excitement.
Takeaways from this event page design:
Branding – Something you'd expect from Adobe is how the entire page is on-brand and beautifully designed, giving it a professional look and feel.
Speakers – The speakers feature right after the main page header, giving the page weight and authority.
Headings – All page headings are benefit-driven, explaining what you can learn from attending.
FAQ – The FAQ section answers the most common questions potential attendees may have.
7. Affiliate Summit West Event Page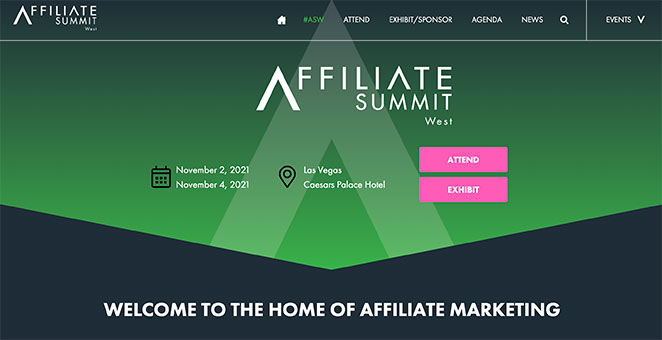 Affiliate Summit is a conference dedicated to the world of affiliate marketing. Their page covers all the information needed to attend without compromising the eye-catching design.
Takeaways from this event page design:
Design – The overall page design is consistent, attractive, and sectioned, making it easy to navigate and find the information you need.
Location – The conference's locations and timing are immediately visible in the page hero area, so it's easy for visitors to plan.
Animation – We love the slide-up tab animations for the different points of interest. It makes the page engaging without distracting from the primary goal.
Speakers – The speaker grid is an excellent use of space that doesn't detract from the overall design.
Testimonials – With reviews and testimonials, it's easy for users to see the value of registering.
CTA – Multiple CTAs make it easy to sign up for the event.
8. Confab Event Landing Page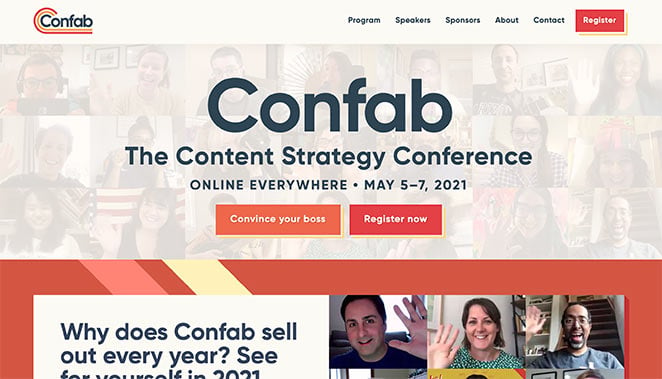 Confab's content strategy conference page has a bold design that stands out from the other landing pages on this list. It has an almost retro color palette with a bold layout that's both eye-catching and engaging for visitors.
Takeaways from this event page design:
Branding – The entire page design links with the Confab logo colors and style. This gives the page a unified look that's pleasing to the eye and easy to recognize.
CTA – The CTA buttons contrast with the page and use action-oriented copy to encourage users to click now.
Speakers – The speaker grid links to a page dedicated to each speaker, making it easy to learn more about them.
Social Proof – The testimonials grid is a great way to add trust and credibility to the page without looking overwhelming.
Social Media Buttons – Social buttons in the footer help users find the brand elsewhere online.
9. Red Hat Summit Landing Page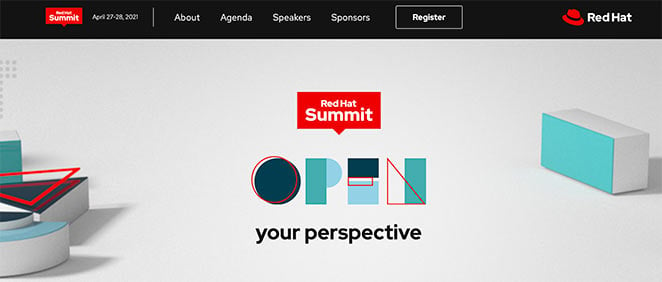 Red Hat's enterprise IT summit has a modern landing page design tailored to its target audience. It clearly outlines what users can expect by attending without being too overwhelming or distracting for visitors.
We especially love the use of color on this page to tie the design to the brand's logo. The clever use of white space draws your attention to the necessary page details.
Takeaways from this event page design:
Hero – The hero area features a great image that links to the main heading. By using similar typography to the image, it adds interest to the page, making it more engaging.
Video – The use of video immediately after the hero section keeps users on the page to learn more about the event.
Guests and Speakers – Focusing on different speakers and guests is an excellent way to give the event authority.
Schedule – The recommended schedule helps users plan their day around the event.
CTA – Multiple CTA buttons give users more opportunities to register.
10. Running Remote Event Page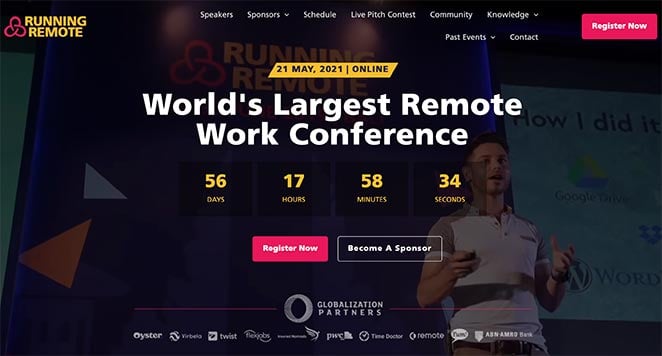 Running Remote's event page is a fantastic example of event promotion. As soon as you visit, you know what the conference is about, when it takes place, and how to register.
The hero area has all of that information right at the top of the page. This makes it easier to see the details you need right away.
Takeaways from this event page design:
Video – Video is used in the hero area background and further down the page to keep visitors engaged.
Numbers – By using the number of attendees, speakers, sessions, and hours, it convinces users that this event is worth attending.
Speakers – The speakers are featured prominently and are linked to individual pages with more information.
Testimonials – A section dedicated to testimonials helps users see the value of registering.
CTA – Multiple CTA buttons throughout the page give users plenty of chances to sign up.
After looking at these excellent event page examples, you're probably wondering how to make one. We'll cover that next, so keep reading.
How Do I Create an Event Landing Page?
If your business is hosted on WordPress, the easiest way to create your next event landing page is with a page builder plugin like SeedProd.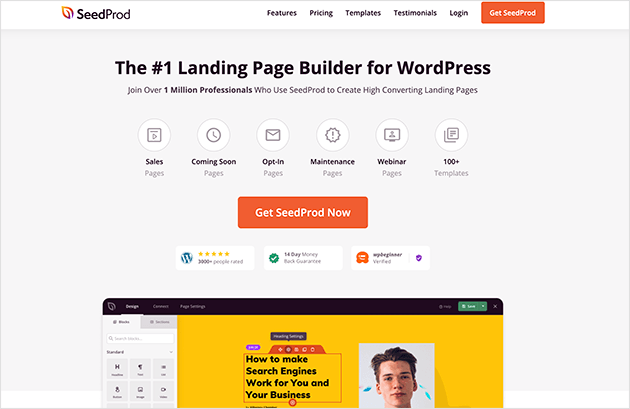 SeedProd is the best WordPress landing page builder with drag-and-drop functionality. It makes it super-easy to create any type of landing page in WordPress without hiring a developer.
This plugin comes with several different landing page modes. This allows you to activate a coming soon page, maintenance page, login page, and even a 404 page without installing separate WordPress plugins.
With tons of responsive landing page templates, getting your event page to look how you want is super easy. Every design is completely customizable in the visual drag-and-drop builder. This means you won't have to write a single line of code.
Did you know you can get an unlimited free trial of SeedProd? Click the link to find out how.
Follow the steps below to create an event landing page and the best event page design with SeedProd.
Step 1. Install and Activate SeedProd
First, click here to get started with SeedProd and download the plugin to your computer. Then install and activate the plugin on your WordPress website.
If you need help with this, you can follow these instructions for installing a WordPress plugin.
After installing SeedProd, you'll see a welcome page asking you to enter your license key. You can find your key by logging into your SeedProd account area and clicking the Downloads link.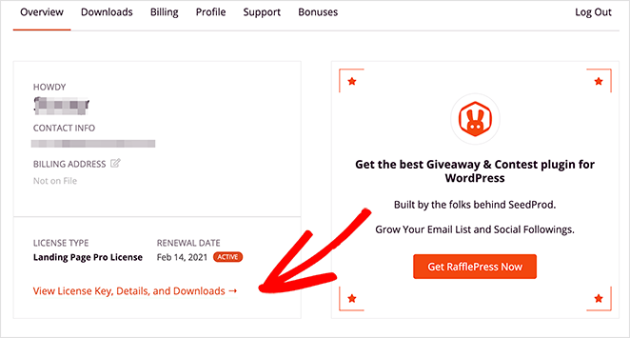 Paste your license key into the field provided, and click the Verify Key button.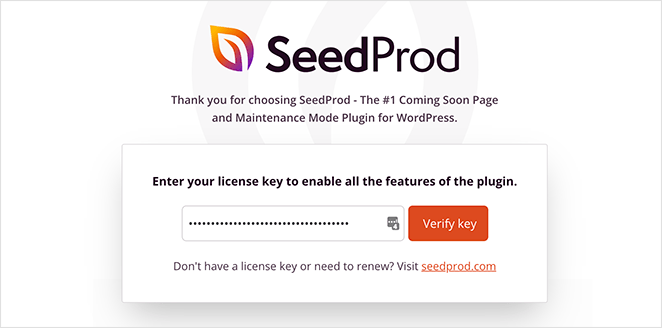 Next, scroll down the page and click the Create Your First Page button to view your landing page overview area.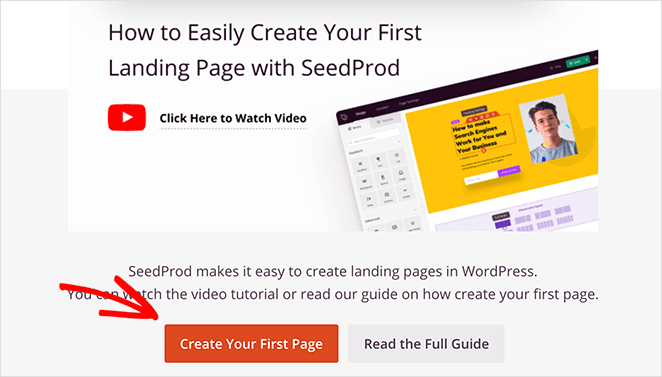 On this page, you'll see 4 different page modes you can activate in SeedProd, including: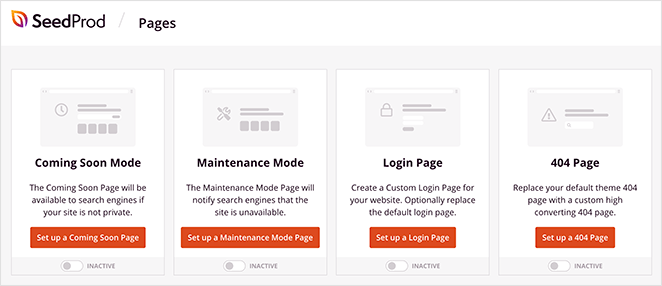 As we mentioned earlier, the different page modes allow you to add this functionality to your website without installing separate WordPress plugins.
Beneath that section is where you'll see the landing pages you create with SeedProd. Click the Create New Landing Page button to start your first page.

Step 2. Choose a Landing Page Template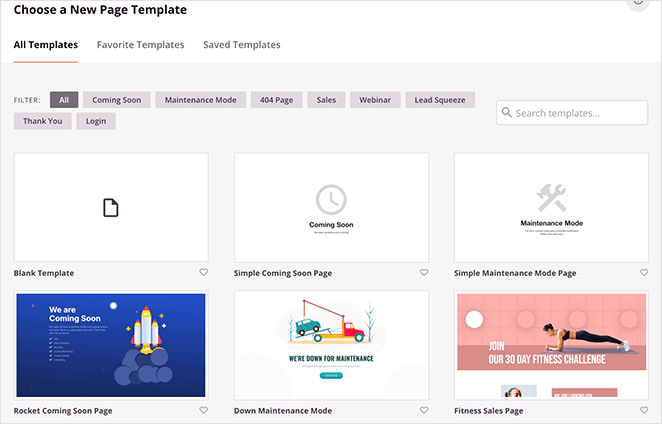 You can see SeedProd's WordPress landing page templates library on the following screen. The templates are separated by industry and goal, such as:
And the great thing is every element of each template is customizable in the drag-and-drop builder. This means you can use any type of template to create a custom event template design for your page.
Once you've picked a template that closely resembles the type of design you want, hover your mouse over the template thumbnail and click the tick icon.

Next, you'll see a lightbox popup asking you to enter your landing page name and URL. Once you've entered that information, click the Save and Start Editing the Page button.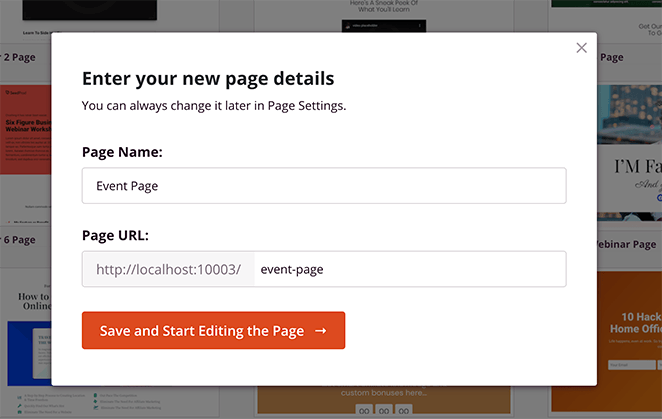 Step 3. Customize Your Event Landing Page
After launching your template, you'll see it in SeedProd's drag-and-drop visual editor. Here you can customize every inch of your event page to look exactly how you want.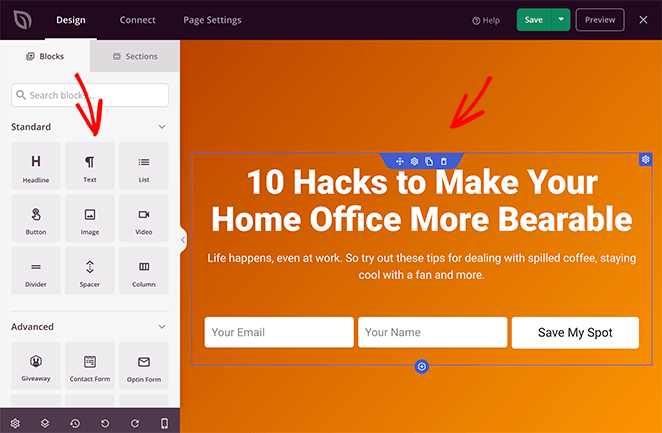 The builder is really easy to navigate. On the left are the building blocks of your page that you can drag and drop onto your template, while on the right is a live preview of your design.
Clicking any block opens the content settings panel on the left. Here, you can edit the block contents, including any text, field labels, positioning, and more.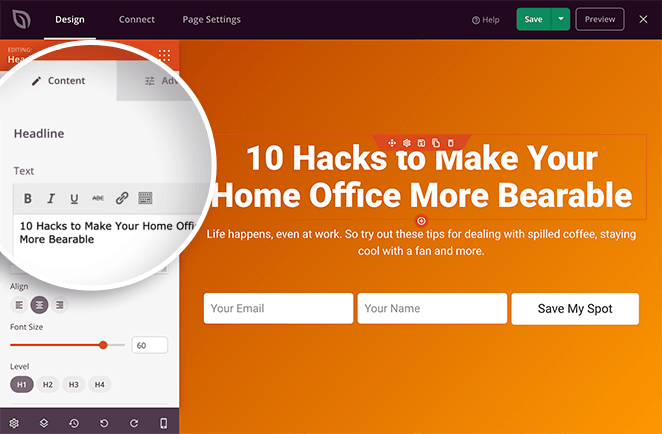 Most of SeedProd's landing page blocks also have dedicated block templates. Just click the Templates tab to see different styles you can use with a single click.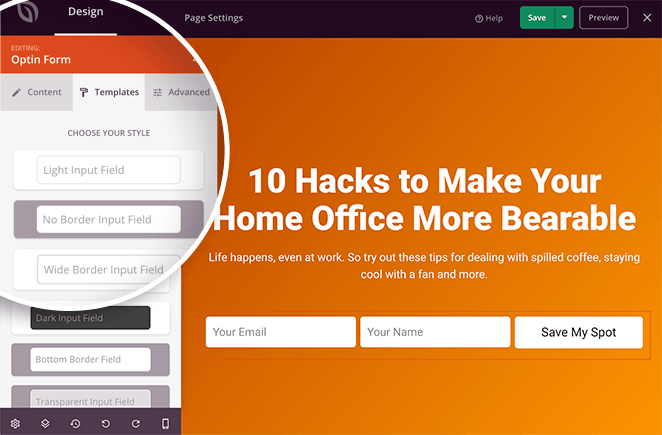 In the Advanced tab of your block settings, you can change individual settings like colors, borders, spacing, etc.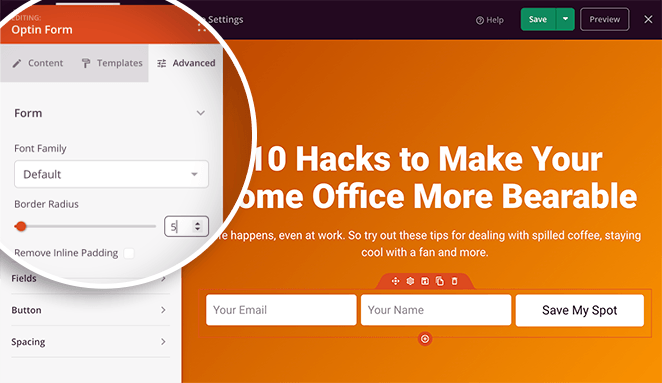 Since you're creating an event landing page, you'll want to add page elements to collect registrations, create urgency and engage your visitors. SeedProd's Advanced landing page blocks are ideal for this.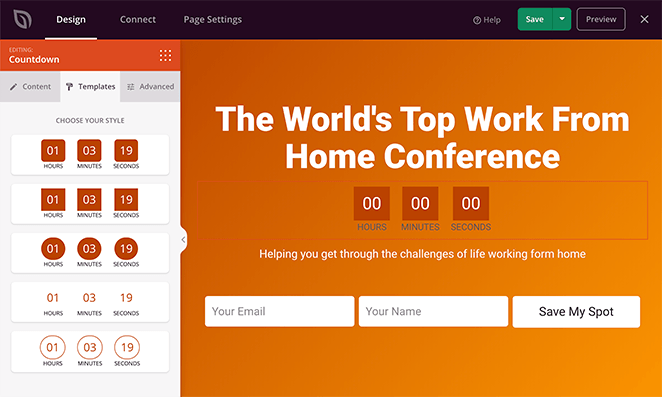 They include everything you need to generate leads for your event page, including:
Contact forms that allow users to register for your event
Optin forms to collect email addresses
Countdown timers to create a sense of urgency
Login forms for attendees to view their accounts
Testimonials to show social proof
…and many more.
After adding lead-generating blocks to your page, you can also use SeedProd's Sections to add extra content to your event page.
Just click the Sections tab to add pre-made areas to your page with a few clicks, like:
Headers
Footers
Hero
FAQ
Call-to-Action
Features
For instance, you can instantly use the FAQ section to add a FAQ area to your event landing page. This is an excellent way to answer popular questions from your visitors before they register.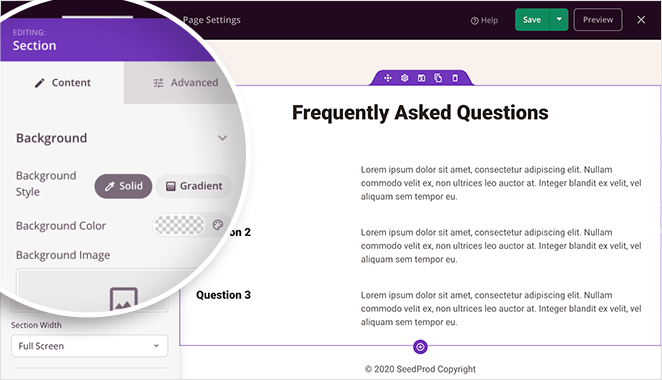 Customizing your page colors, fonts and backgrounds are just as easy. Just click the gear icon in the bottom-left corner of your screen to view the global page settings.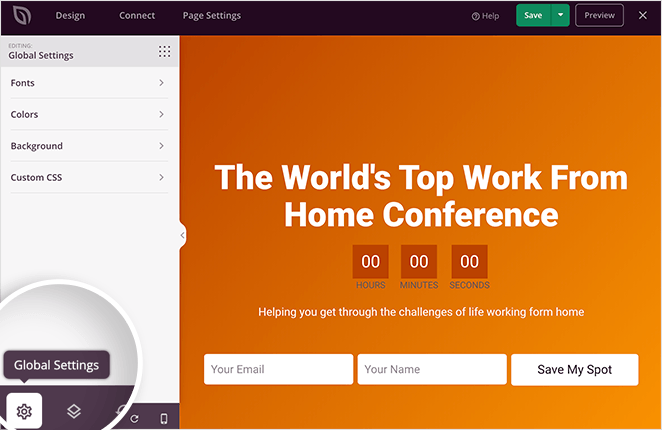 Click any heading to customize that area of your page. For example, changing your page's background color is as simple as clicking the Background section and picking a new color, gradient, or background image.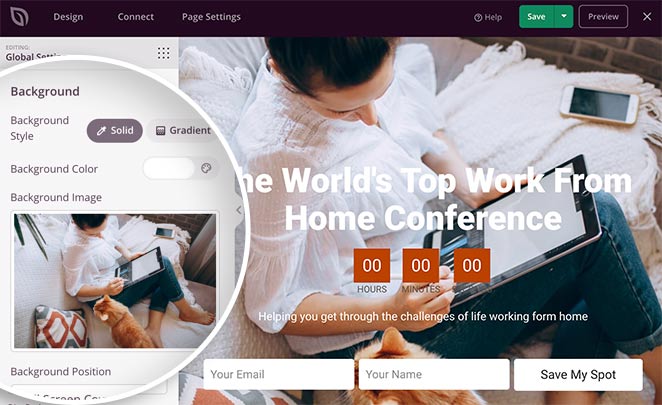 You can even upload a video background by pasting a link to a YouTube video to make your page more engaging.
Repeat the same process to control your event page's global colors and font settings. You'll see that you can pick individual colors for your heading, buttons, and body text under the Colors tab.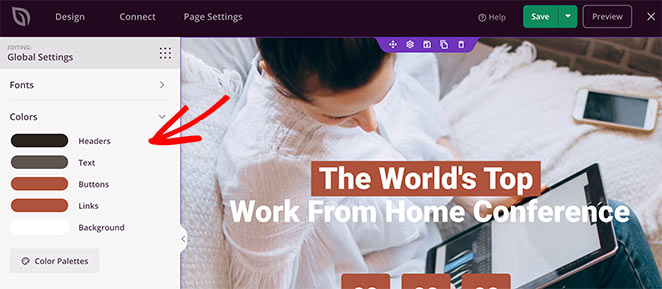 You can choose your own custom color scheme or click the Color Palettes button to browse 20+ ready-made color combinations.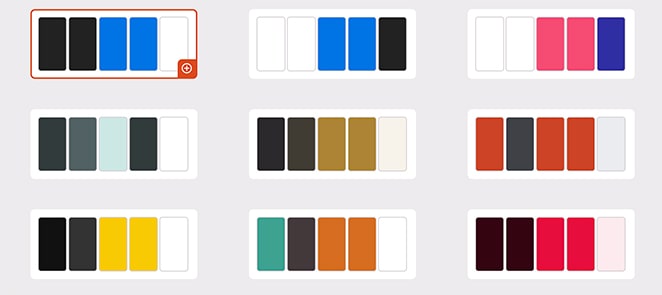 Similarly, in the Fonts tab, you can select different fonts for your page or click the Font Themes button to preview several curated font pairings you can add to your page with a single click.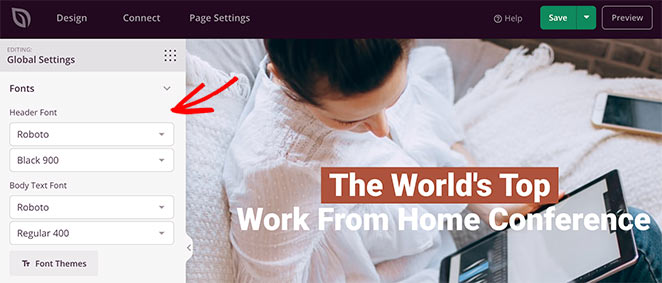 When you're happy with how your event landing page looks, click the Save button in the top-right corner of your screen. This ensures you don't lose your progress.

Step 4. Configure Your Landing Page Settings
After customizing your event page design, it's time to configure a few settings to ensure everything works correctly.
First, you'll want to connect SeedProd to your preferred email marketing service.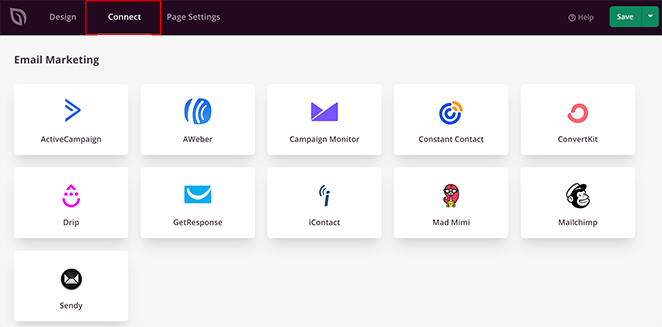 Click the Connect tab at the top of the screen to see the popular email marketing services that integrate with SeedProd, including:
Drip
Constant Contact
AWeber
ConvertKit
Campaign Monitor
Mailchimp
And more
You can even connect to tons of other services using the Zapier integration.
To connect your email list, choose your preferred email service, click Connect and follow the instructions.

See our email integration documentation for instructions on integrating each email marketing service.
You can also see who subscribes to your email list by navigating to SeedProd » Subscribers from your WordPress admin area.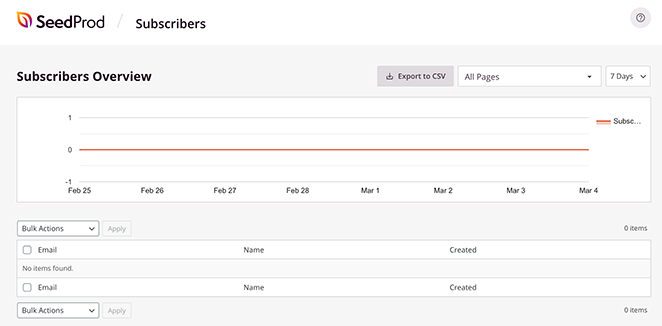 This takes you to SeedProd's subscriber overview, where you'll see the details of your new subscribers.
After connecting your email list to your event landing page, click the Page Setting tab to view the other settings you can customize.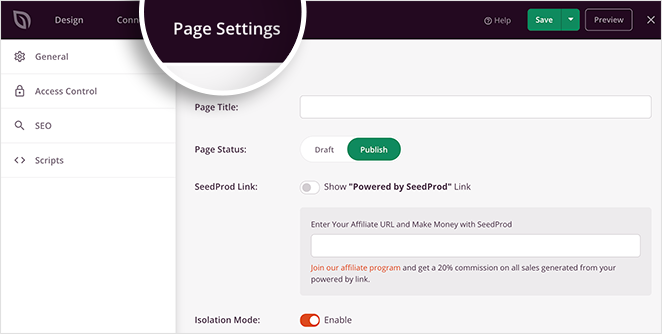 Here you can edit your General settings and give your page a new name and URL or set it to draft or publish.
In the Analytics section, you can view your event page performance settings in Google Analytics plugins like MonsterInsights. You can do the same in the SEO section and set your page's SEO metadata using WordPress SEO plugins like All in One SEO.
The Scripts area allows you to add custom scripts and code snippets, such as cookies and tracking pixels.
Lastly, the Custom Domain section lets you connect your landing page to any domain name you like without installing WordPress on it.
You can learn all about domain mapping for landing pages in our step-by-step guide: How to Point a WordPress Landing Page to a Different Domain.
When you've finished configuring your event landing page settings, click the Save button.
Step 5. Publish Your Event Landing Page in WordPress
Before publishing your event page, it's a smart idea to see if it displays correctly on mobile devices. If it doesn't, you could miss out on potential registrations.
Luckily, you can preview your page on mobile with SeedProd. Just click the Design tab and select the mobile icon at the bottom of your screen.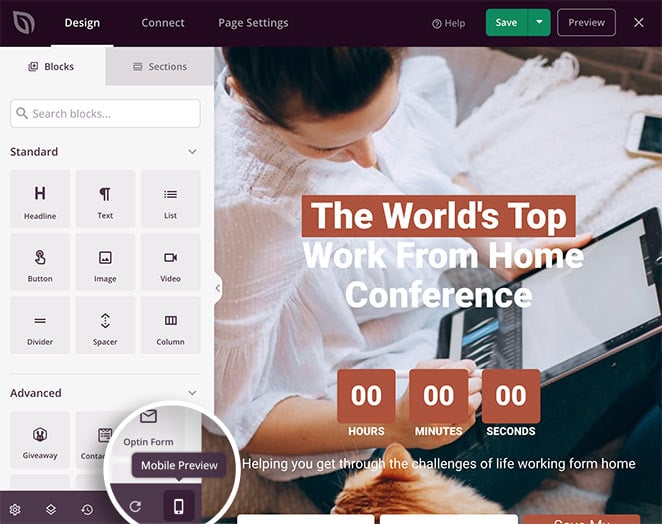 This shows a mobile preview of your landing page. If anything doesn't look right, click anywhere on the page to adjust your design.
Any changes you make are automatically applied to your page's desktop and mobile layout.
Once your page looks the way you want, it's time to publish it in WordPress. To do that, click the down arrow next to the Save button and select Publish.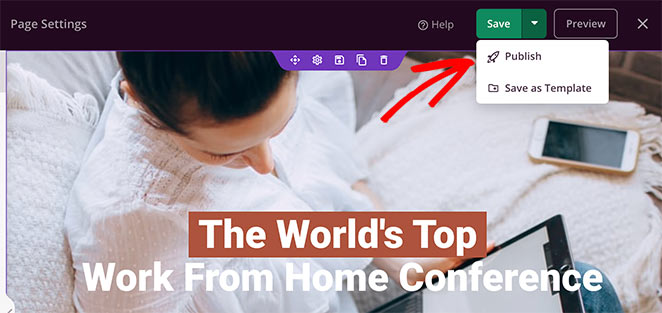 Next, you'll see a window telling you that your page is now live.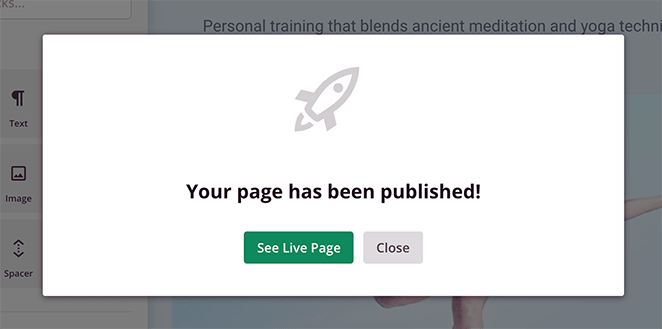 Click the See Live Page button to see how your event page looks.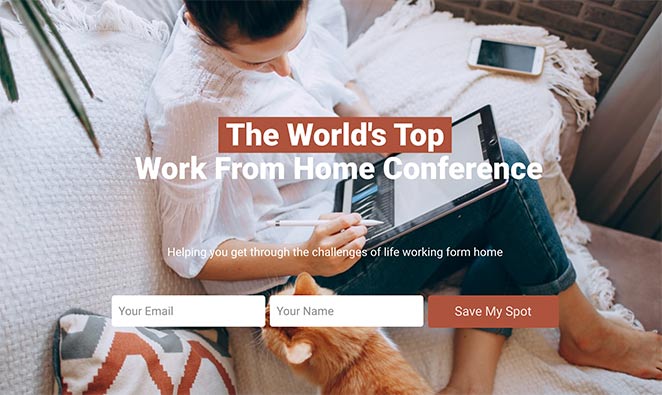 Congratulations!
You now know how to create event landing pages in WordPress without hiring a developer.
All that's left is for you to create one and start getting more registrations for your next event. And with SeedProd, it's super easy!
So what are you waiting for?
Frequently Asked Questions
What is the purpose of an event landing page?
The purpose of an event landing page is to drive conversions for a specific event, such as registrations, ticket sales, or sign-ups.
What should I include in the copy on my event landing page?
The copy on your event landing page should focus on the benefits of attending the event, using clear and concise language to explain what attendees can expect and why they should attend.
What is the best way to drive traffic to my event landing page?
There are several ways to drive traffic to your event landing page, including social media advertising, email marketing, and search engine optimization (SEO) strategies.
How can I optimize my event landing page for SEO?
To optimize your event landing page for SEO, make sure to include relevant keywords in the headline and throughout the page content. Use descriptive, keyword-rich meta tags and descriptions to help search engines understand the content of the page.
You can also optimize images and videos by using alt tags and providing descriptive filenames.
How can I measure the effectiveness of my event landing page?
There are several ways to measure the effectiveness of your event landing page, such as tracking page views, click-through rates, conversion rates, and bounce rates. You can use tools like Google Analytics to gather this data and make informed decisions about how to improve your landing page.
If you liked this article, please follow us on YouTube, Twitter, and Facebook for more useful content to help grow your business.