Are you thinking about creating a social media landing page?
A social landing page is a standalone web page linked to your social media campaigns. After clicking an ad or a social media post, your target audience can learn more about your products or services and convert to leads and potential customers.
In this article, we'll share some excellent social media landing page examples and show you the best way to use them in future digital marketing campaigns.
What Are Social Media Landing Pages For?
Social media landing pages are destination pages that are part of a specific marketing campaign or promotion. When your social media audience clicks a promotional link, like a social media ad, or a link in your bio, they'll "land" on a landing page.
Landing pages are different from homepage links. Instead of asking visitors to browse, your social media landing page may direct visitors to join an email newsletter, register for a webinar, or buy a product.
Additionally, it's easier to track promotions with this type of landing page. You can track metrics and behaviors like link clicks, time spent on the page, bounce rate, and purchases.
Here's a social media landing page example that WPBeginner made with SeedProd's landing page builder. The trackable link in their bio points to a custom landing page with a curated list of tutorials.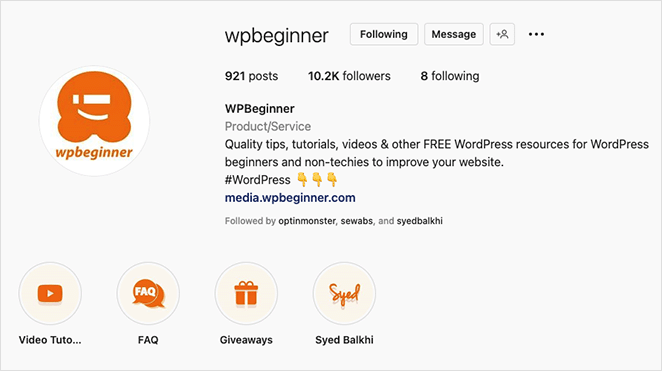 Rather than point visitors to their homepage, they've hand-picked content they think will be most valuable to their audience.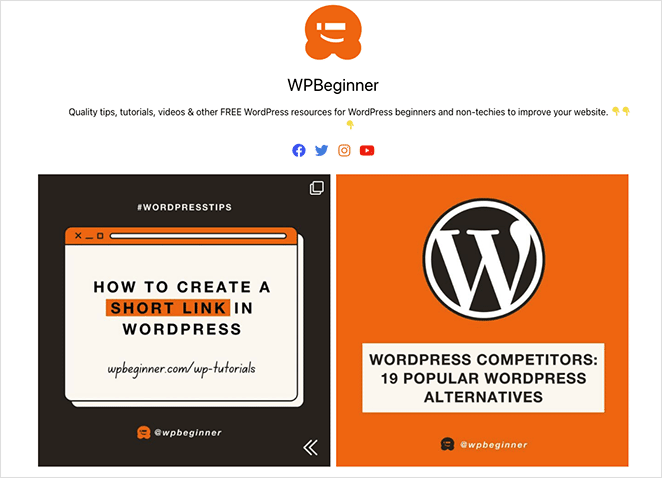 Because WPBeginner's goal is to educate users, their landing page serves as a vehicle to make it happen quickly.
Other brands may use a social landing page for product launches and new promotions. Over time, you'll learn what content and tactics perform well and can create new landing pages by adding new copy and creatives.
With that in mind, what makes a good landing page?
What Are the Essential Elements of a "Good" Landing Page?
Companies have a lot of creative freedom when creating landing pages. However, there are some common elements that the top-performing landing pages include:
Compelling Content: your landing page should guide visitors from A to B without friction. Use a combination of creative copywriting and engaging visuals to keep readers scrolling until they reach your call-to-action button (CTA button).
Simplicity: a good landing page isn't too busy. Don't overwhelm visitors with too much information. Keep your content brief, and use clear fonts and a minimalist color palette to ensure your page is easy to digest at a glance.
Mobile Friendly: your landing page should be responsive by default. This will ensure your page adapts seamlessly across mobile devices, offering the best user experience.
Social Proof: consumers respond better to reviews and testimonials from other customers rather than accepting your word. Include social proof on your page to boost trust and credibility and combat buyer hesitation.
Call to Action: every good landing page should include a call for users to take action. It could be a button to buy your goods, a sign-up form to join your list, or even a form to register for an event. A well-placed CTA button will help you reach your social media marketing goals and increase conversion rates.
Now that you know what to add to your page, let's look at some examples of excellent social media landing pages from genuine brands.
Inspirational Social Media Landing Page Examples
The examples below are connected to ads from different social media platforms. We'll show you what works for each company and how you can use these examples to improve your social media marketing strategy.
First is an example from the Adobe Max Creativity Conference. After clicking a Facebook ad for the conference, you'll land on an optimized landing page that aims to encourage you to register for the event.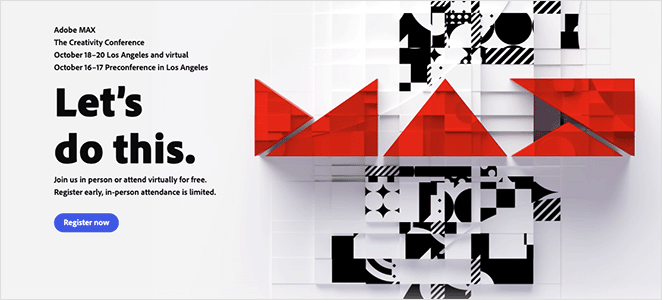 As you can see, the most important information is at the top of the page. You can learn the date and location, how to attend, and register your interest before needing to scroll down the page.
The landing page design is minimalist and uses high-quality visuals to keep you engaged as you scroll. Plus, you can see headshots of the professionals who will talk at the event, giving the page authority and credibility.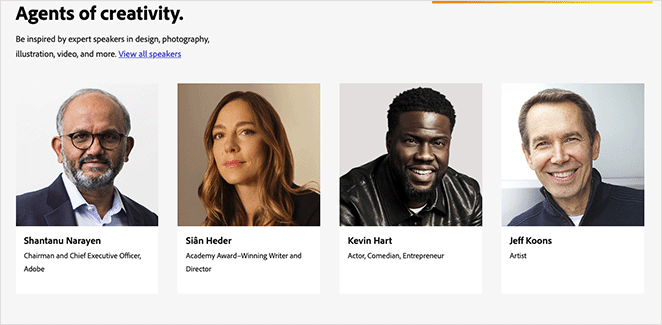 Adobe also uses testimonials from previous attendees as social proof. You can also click to register at multiple points with the many CTA buttons and links.
Overall this is a well-designed social media landing page that perfectly meets Adobe's goals of increasing attendance for its event.
Next is a social media landing page example from Readly. Again, users can reach this page by clicking a Facebook ad in the newsfeed.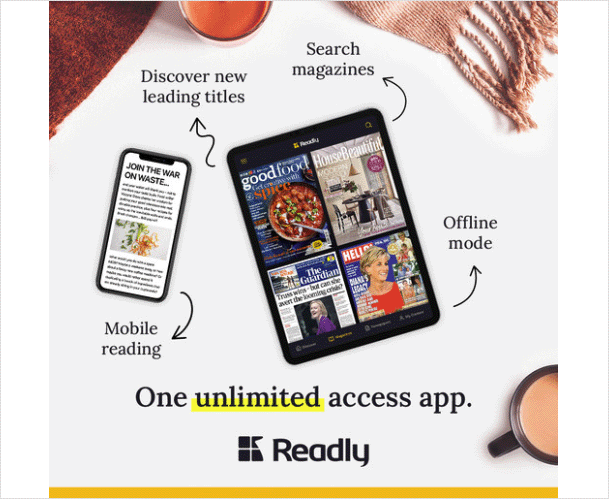 This is an excellent example of the importance of matching your ad creative to your landing page design.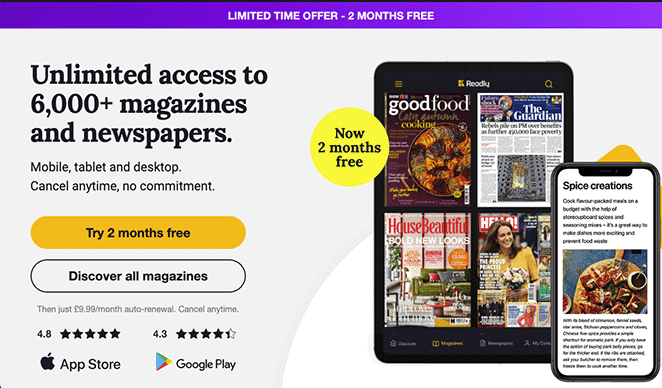 Both creatives include the following elements:
Similar colors
Matching offers
Similar copy
Matching CTAs
It creates a consistent look that helps visitors know they're in the right place, which increases credibility and trust and combats buyer hesitation. After all, if neither creative matched, you'd think something was amiss.
The landing page itself has everything it needs to convert visitors. For instance, it has visuals that demonstrate the product, examples of what users can read, star ratings and testimonials, and award badges that improve trustworthiness.
The only thing we'd change would be to remove the header navigation, giving visitors fewer opportunities to exit the page and more to convert.
Hawes & Curtis use Pinterest for their social media ad campaign. Pinterest is the go-to platform for food, fashion, and home decor inspiration, which makes it an ideal choice for a menswear brand.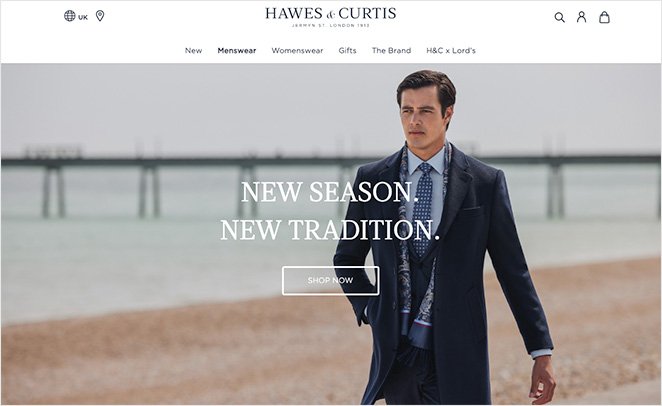 After clicking the promoted pin in the Pinterest feed, you'll head to the menswear product page on Hawes & Curtis' eCommerce site. While it isn't a traditional social media landing page, it's an excellent springboard for interested users to learn more about the different products and services.
The landing page includes excellent quality product photos, copy that clearly explains their sustainability goals, and multiple CTA buttons to find the best products.
Instead of linking to the product category page, you could create a social media landing page that targets Pinterest users.
For example, you could showcase user-generated content from influencers wearing your clothing with their review and a button to purchase that product directly from your landing page. Alternatively, you can use dynamic text to change your headline to something more personal, like "Check Out Our Most Pinned Products."
Next is a social media landing page example from the SaaS business, Walnut. This company uses LinkedIn to reach professionals with compelling ad campaigns.
In this example, the ad encourages users to request a demo, and visitors will see a stunning landing page after clicking the creative.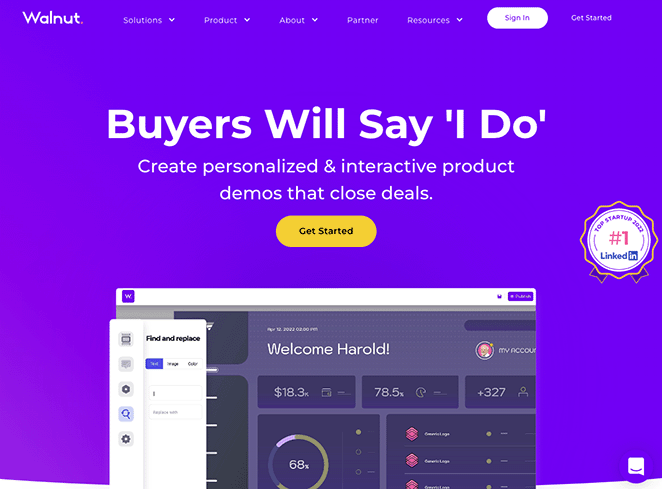 We love that this web design includes a trust badge indicating the company is LinkedIn's #1 top startup. It links the landing page directly to LinkedIn while building trust right away.
Beyond that, you'll see all the essential landing page elements:
Powerful headlines with a value proposition
High-quality GIF demonstrating the software
Client logos for credibility
Video for engagement and product education
Easy-to-digest bullet points
Customer testimonials
Multiple CTA buttons
Since this page has various elements, we'd a/b test each to optimize the page for maximum conversions.
If you're an online retailer selling products via WooCommerce, Shopify, or other eCommerce platforms, you'll love this social media landing page from Nordace. After clicking a promoted ad on Twitter, you'll see a landing page dedicated to the Nordace Siena backpack.
The main focus of this landing page is to teach potential customers about a single product. It does that through benefit-driven copywriting, excellent product imagery, and engaging animated gifs.
This page is a visual journey, taking users through each feature. It addresses customer pain points at each stage, such as storage space, security, functionality, and comfort.
At the bottom of the page, you'll see reviews with star ratings from happy customers, color options, and a bold CTA button to buy now.
Adding this type of landing page to your website design will help improve your SEO for keywords related to that product. As a result, the page can attract organic traffic from search engines.
Shudder is a video streaming platform that uses Reddit to advertise to its target audience. In this creative, the platform promotes one of its horror shows, which is an excellent way to gain traction over the Halloween season.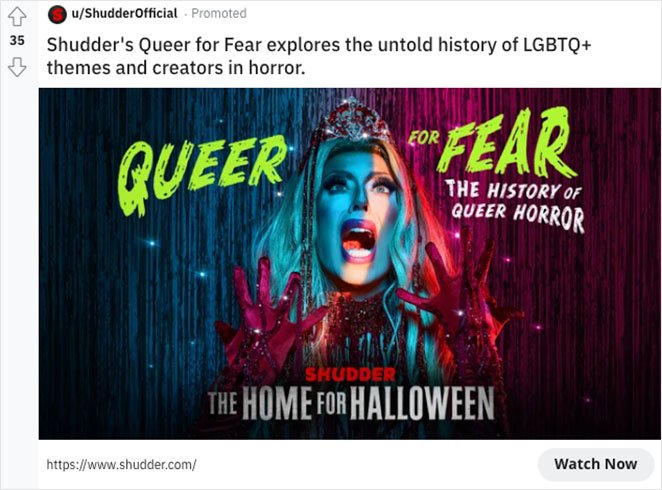 After clicking the creative, you'll head to a landing page with a limited-time Halloween offer for 31% off its annual subscription.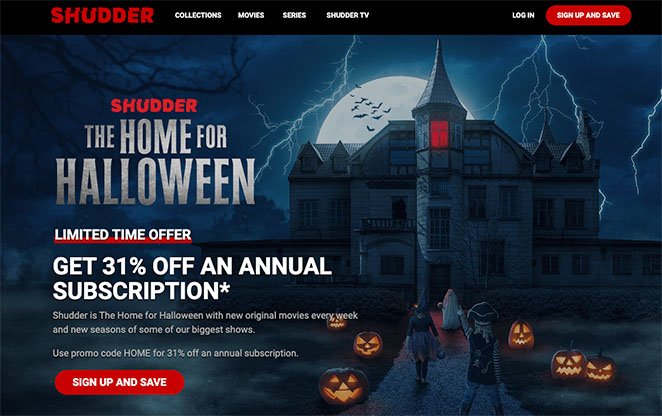 Here are several areas where Shudder's social media landing page excels:
The main background image is relevant to the Halloween theme
Using words like limited time creates urgency
They state they're an official AMC partner, which shows credibility
The Halloween trailer gives potential subscribers a preview of what they'll get
Testimonials improve trust
FAQs remove buyer hesitation
If we were Shudder's marketing agency, we'd reduce the number of exit links on the page, such as social media icons and unnecessary menu links, forcing users to focus only on the Halloween offer.
Our final social media landing page example is from an Instagram ad by Amazon Music. The landing page promotes Amazon Music's Unlimited deal with a free 90-day trial.
Immediately after entering the page, you'll see the offer under a bold, eye-catching headline.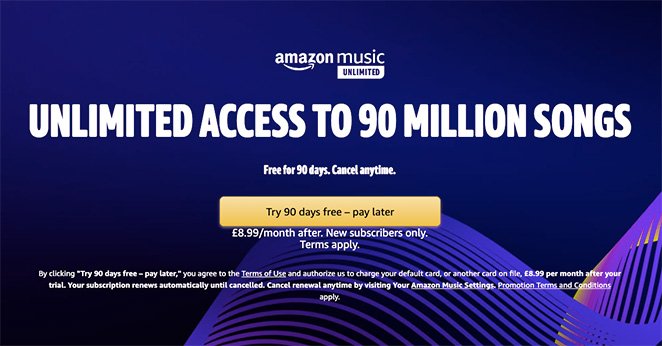 One thing that works well on this page is the statement that you can "cancel anytime." It addresses the fear of being locked into a subscription you don't want, an objection many consumers have about online subscriptions.
Additionally, Amazon clearly states the pricing under the main CTA button, giving potential customers all the information they need before checking out. Plus, they keep the page short, only mentioning the most important information before displaying a final CTA button.
The combination of actionable and reassuring copy, minimalist design, and multiple CTA buttons is a brilliant example of a successful social media landing page.
Now that you know how a good social media landing page looks, how do you create one?
If you're a WordPress website owner, keep reading because we have just what you need.
How to Create a Social Media Landing Page in WordPress
The easiest way to create any type of landing page in WordPress is with a landing page builder. Allow us to introduce SeedProd, the best WordPress page builder plugin.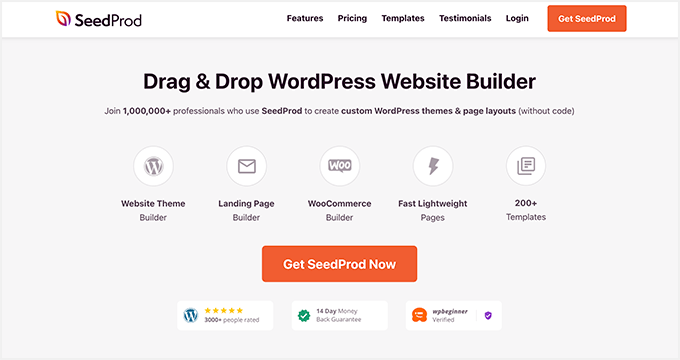 SeedProd comes with hundreds of pre-made landing page templates and a visual drag-and-drop editor that makes building any WordPress layout a breeze. It offers countless WordPress blocks for adding the page elements you need, including:
CTA buttons
Testimonials
FAQs
Video embeds
Pricing tables
WooCommerce products
And much more
You can also use it to create a custom WordPress theme from scratch; no coding required.
This powerful page builder integrates seamlessly with popular email marketing services, WordPress themes, and other WordPress plugins. It also adapts effortlessly to different mobile devices for the ultimate user experience.
Follow this step-by-step guide to create a landing page in WordPress for your social media campaigns.
There you have it!
We hope this article has helped you find the best social media landing page examples for future digital marketing campaigns.
Ready to create a successful social media landing page design?
If you're interested in more social media management tips, check out these other guides:
Thanks for reading. Please follow us on YouTube, Twitter, and Facebook for more helpful content to grow your business.