Are you looking for fun ways to pick raffle winners? As a business with a reputation to uphold, choosing a winner fairly and accurately is crucial for your contest's success. With hundreds and thousands of entries, drawing a giveaway winner is a challenge even for the most prepared brands.
This article will show you how to pick a random winner for your next social media contest. Then you can delight the winner with the exciting news and reap the rewards of a bigger, more engaged audience.
Here's a breakdown of what we'll cover today:
Let's dive in.
Picking a Winner Manually Vs. Automatically
When asking the question, "how do you pick a random winner?" the answers you receive will often tell you to add your contest entrants into a spreadsheet or one of the many name picker websites available. Then you can choose a winner from the list at random.
We call this the manual way to draw a winner, and while it's a popular solution, it has several drawbacks.
First of all, it takes a long time to qualify each user's entry. You'll have to manually verify how many people joined your email list, followed you, shared your contest on social media, etc, to enter your giveaway.
You'll then need to filter those participants from the people who said they entered but who didn't take the required actions.
After all that, you'll have to leave your website to enter your final list of names into the random winner picker.
The whole process is pretty time-consuming and leaves a lot of room for error.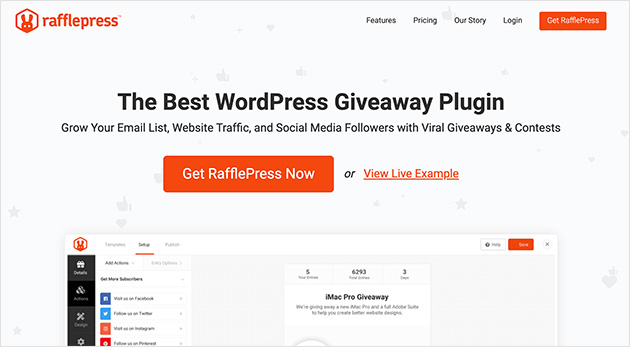 The alternative is to run your giveaway with a contest app like RafflePress, the best WordPress giveaway plugin. Then you can take advantage of its built-in random winner generator to pick a winner fairly and accurately.
RafflePress makes it easy to verify contest entries and gives you the ability to manage entries from a single place inside your WordPress dashboard.
It removes the need to manually count entries from sites like Twitter, Facebook, Instagram, etc. It also gives you the ability to randomly pick a winner with a single click, all without leaving your WordPress website.

Even better, you can filter out spam entries with Google Recaptcha and Invisible Recaptcha.
Now that you know the difference between picking a random winner manually vs. automatically, let's look at the steps involved for each method.
How to Pick a Random Winner Automatically (the Easy Way)
As we just mentioned, choosing a winner automatically is much easier than manually. 
When you create an online contest with RafflePress, you get instant access to a suite of features designed to make verifying your giveaway entries a breeze.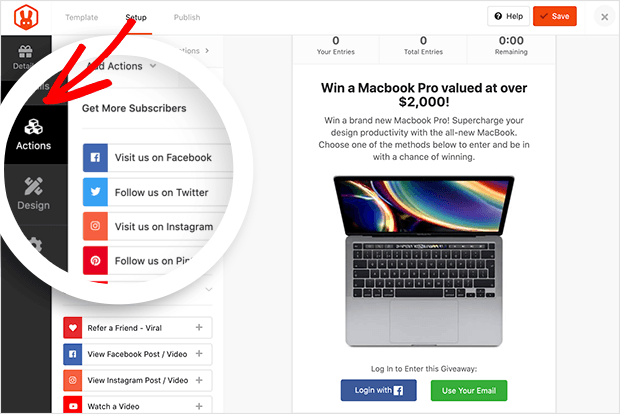 Whenever someone enters your contest via one of the built-in 1-click entry actions on your contest widget or giveaway landing page, the entry is recorded in the RafflePress contest management dashboard in WordPress.
This means you won't need to hunt on social media for each entry or add them to a spreadsheet yourself.
Instead, they're displayed in a clear list complete with each person's action, their contact information, and if the action qualifies for the prize draw.
With that in mind, let's look at how to pick a random winner the easy way with RafflePress.
Step 1: View Verified Entries
When your giveaway has come to an end, navigate to your WordPress admin area and click the RafflePress icon in the admin panel on the left. This takes you to a list of all your current RafflePress giveaways.
On this page, look for your recently ended contest and click the Needs Winners link on the right.

Upon clicking the link, you'll see a list of everyone who entered your giveaway.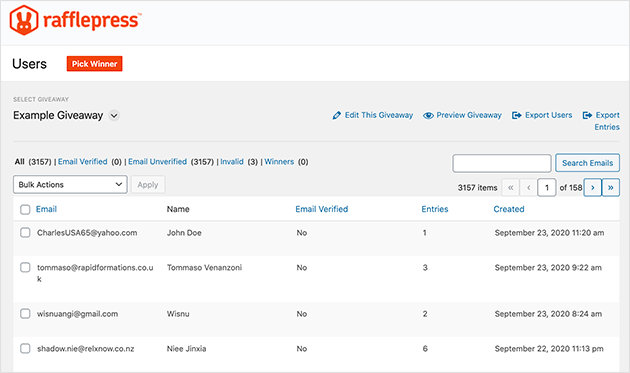 This is the entry management dashboard, and it shows the following information for each user:
Email address
Name
If their email is verified
Total number of contest entries
Date of entering
With these details, you can now move on to picking a winner.
Step 2: Choose a Random Winner
You'll see the Winner Selection tooltip in the top-left corner of your screen on the same page. You can select how many winners you wish to pick in this box and if the winners should have verified or unverified email addresses.
After entering your options, click the Choose Winners Now button.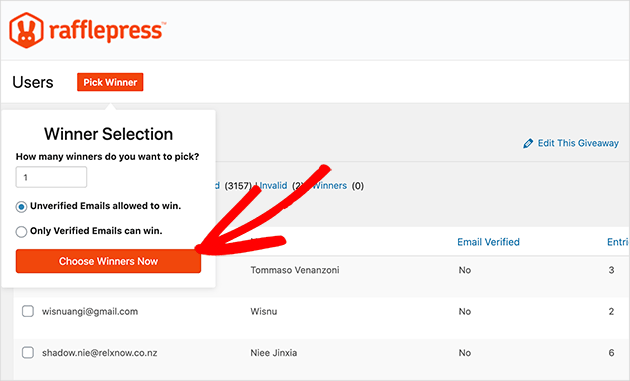 RafflePress will then randomly select a winner using the built-in random winner generator and highlight the winning entry at the top of your entry management dashboard.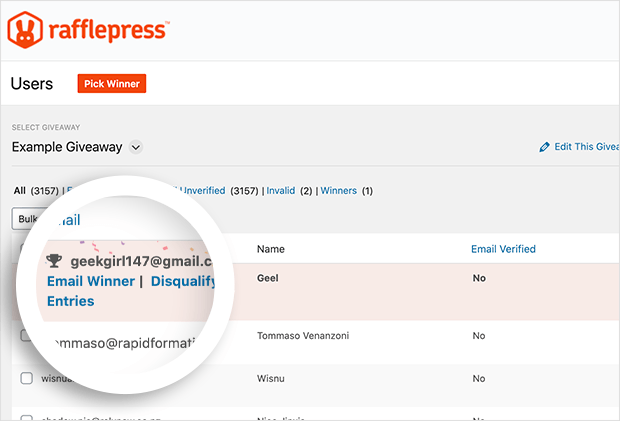 You can then click the Email Winner link to tell the winner the great news.
Wasn't that easy?
How to Pick a Random Winner Manually
If you want to pick a winner from a list of names manually, you'll first need to create a list of the people who entered your giveaway correctly.
Step 1: Verify Your Contest Entries
Verifying who has qualified for your prize draw depends on the entry methods you chose.
For instance, if users had to join your email list to enter your contest, you'll need to count the number of new subscribers you gained during the contest.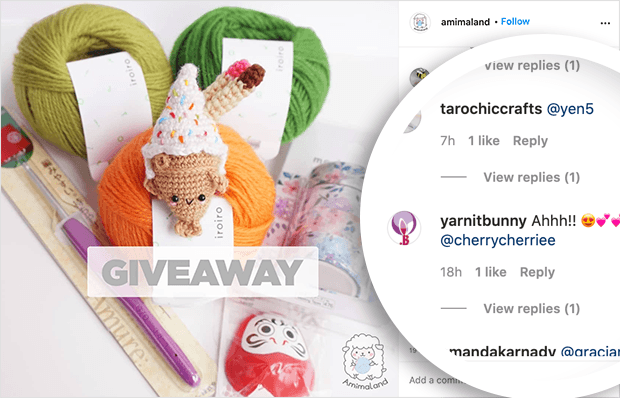 If the entry requirement was to follow you on Twitter, you'd need to count how many new Twitter followers you gained during that period. And if you asked people to tag a friend in the comments on Instagram, you'll need to do the same.
Step 2: Add Verified Entries into a Document
Once you've verified your giveaway entries, you need to add those participants' names to a document to create a list.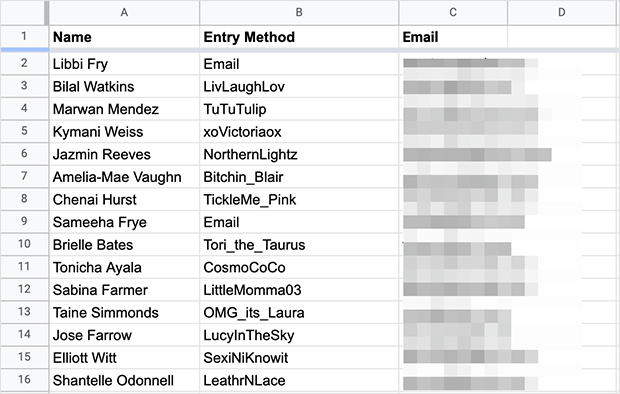 The easiest way is to create a spreadsheet with 1 column for names, 1 column for entry methods, and 1 column for contact details like their Twitter or Instagram handle or email address.
Step 3: Add Names to a Random Name Picker Tool
With your list of entries in hand, you can head to a random name picker tool like the Comment Picker website.
Highlight the names column in your spreadsheet and copy them to your clipboard. Then paste the names into the comment picker with 1 name on each line or separated by commas.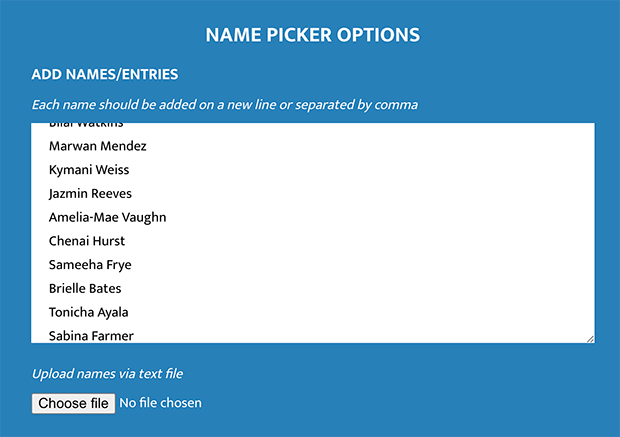 If you prefer, you can upload your list of names as a .txt file by clicking the Choose File button.
Next, scroll down the page and click the Start button.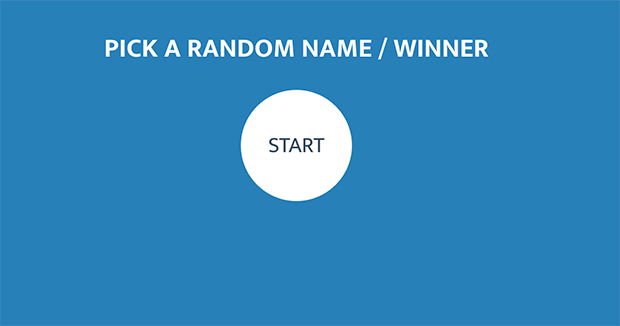 After a few seconds, the tool will randomly choose a winner from the list of names and display it with the total number of names and the date.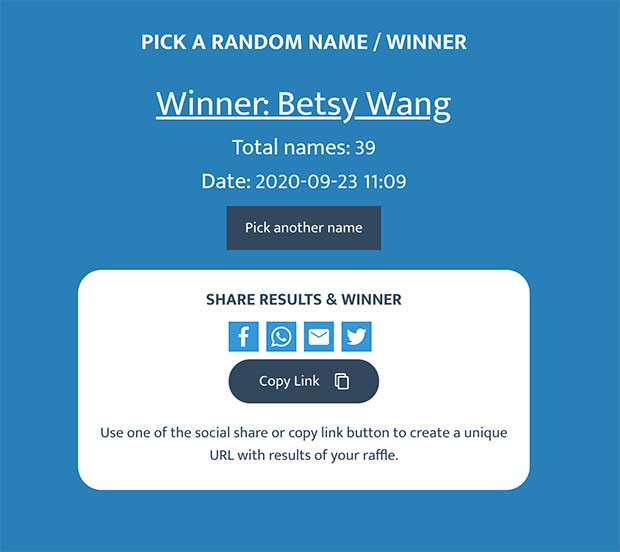 Now you can go ahead and give the winner the good news using the contact details from your spreadsheet.
We hope this article helped you learn how to pick a random winner for social media contests easily. When you create an online contest with RafflePress, not only is choosing a winner super-easy, it's also the best way to ensure your giveaway is fair and accurate.
What are you waiting for?
Get started with RafflePress today.
And if you liked this article, do follow us on Twitter and Facebook for helpful WordPress tips.