Last updated on: July 3, 2020
Running a giveaway is an easy way to attract your ideal audience to your brand's website. But converting those visitors into verified entries and potential customers isn't as straightforward.
Without a giveaway landing page, visitors get distracted easily. That can result in fewer people entering your giveaway and less qualified leads for your business. That's why building a landing page for your giveaway is crucial for ensuring your contest's success.
But don't worry if you don't know how to create one. This article will show you how to create a giveaway landing page that converts your target audience into leads and sales for your brand.
Here's a table of contents to help you navigate this post:
Why You Need A Giveaway Landing Page
A giveaway landing page isn't merely a place to add your giveaway details. Creating a landing page for your contest lets you hone in on your giveaway, making it the main focus for website visitors.
Sure you could post your contest on any old post or page. But chances are those pages have other information on them like:
Advertising banners
Coupons and special offers
Links to popular blog posts
Call to action buttons for products
Social media feeds
Here's an example of a giveaway page with too much going on.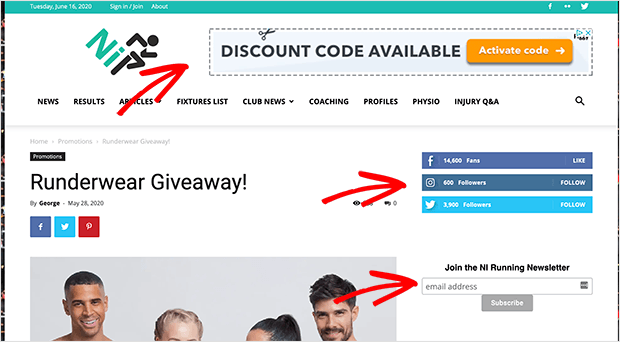 With so many elements on your page, visitors could overlook your giveaway altogether.
Yet a dedicated giveaway landing page is free of those distractions and puts the focus on your contest.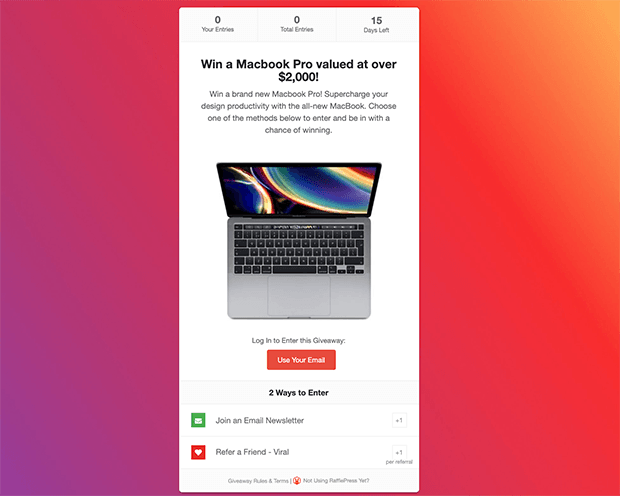 That way, you can show people exactly what you want them to do and what steps to take to make it happen.
Elements of a Giveaway Landing Page
Before we get into the "how-tos" of creating a giveaway landing page, let's look at the critical elements every landing page should have. It'll be easier to put yours together and get the results you want by understanding what makes a high-converting landing page.
1. Attention-Grabbing Copy
The copy on your landing page should jump off the page and tell your visitors how awesome it is that they're there. People should get excited by reading your copy and imagine winning your prize.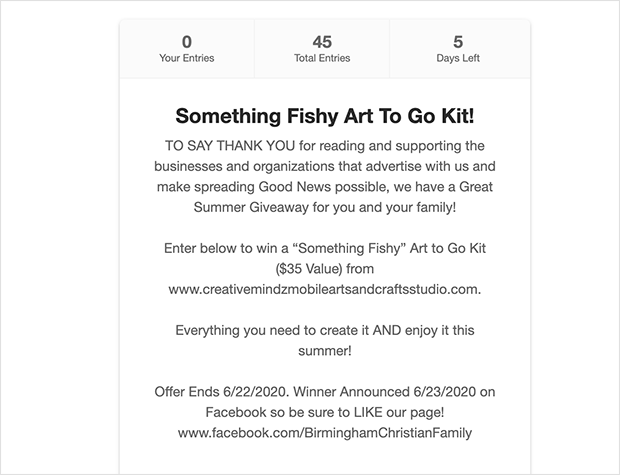 If you set the scene with your words, visitors will want to sign up to enter immediately.
2. Eye-Catching Images
You also need a visual element that engages your landing page visitors right away. That could be an image of the grand prize, a background image, or even a video welcoming people.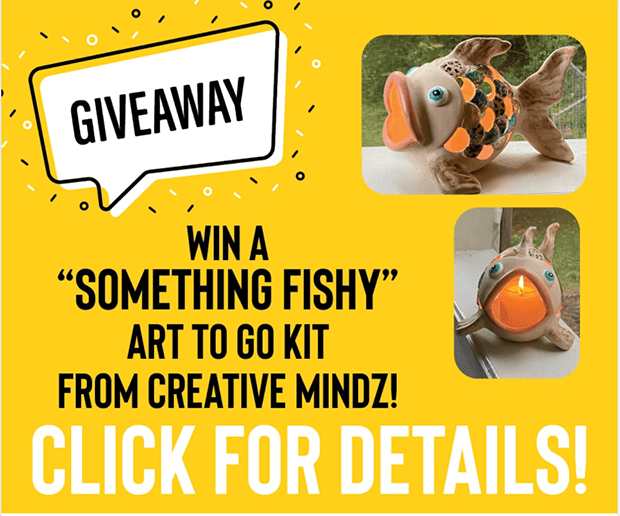 The visual content on your page sets the tone for the type of contest you're running.
3. Sharing Options
Making your giveaway landing page easy to share is vital if you want to spread the word. While some people will copy and share your landing page's URL, most won't. So you need to make it as simple as possible to do so.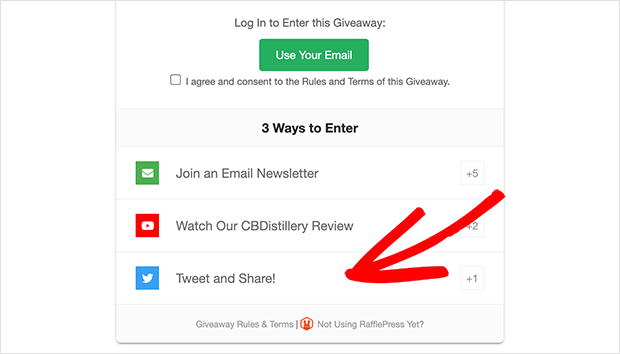 One way to do that is to ask people to share your giveaway in return for more entries. You can also send an email confirming people's entries, a thank you for entering, and a request to share your giveaway with their friends.
4. Easy Ways to Enter
If it's difficult to enter your giveaway, visitors will lose interest and abandon the page. Instead of adding complex sign up forms, you can use a contest app that lets people enter with a couple of clicks. This removes the frustration from lengthy forms and offers instant satisfaction when they enter.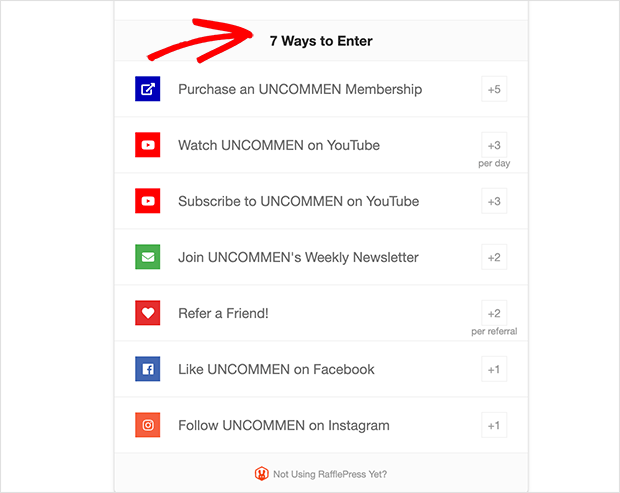 Even better, if it's easy to enter your giveaway, it gives people more incentive to share it. It's all about creating a fun and seamless experience for users.
How to Create a Giveaway Landing Page
Most giveaway landing pages start as a blank page. Then you have to design the look and feel of the page, add all your contest details, and create forms for people to enter.
Creating a giveaway landing page from scratch takes a lot of work. And if you don't have much experience building web pages, it'll be hard to get things looking how you want.
The easiest way to create a giveaway landing page is to use giveaway software like RafflePress.
RafflePress, the best WordPress giveaway plugin, makes it easy to grow your email list, traffic, and followers with contests. With its ready-made giveaway templates, you'll never have to build contests from scratch again.
The giveaway builder offers easy ways to design your contest using pre-made templates. Plus, verified entry methods give visitors the ability to enter with a single click while eliminating fraud entries.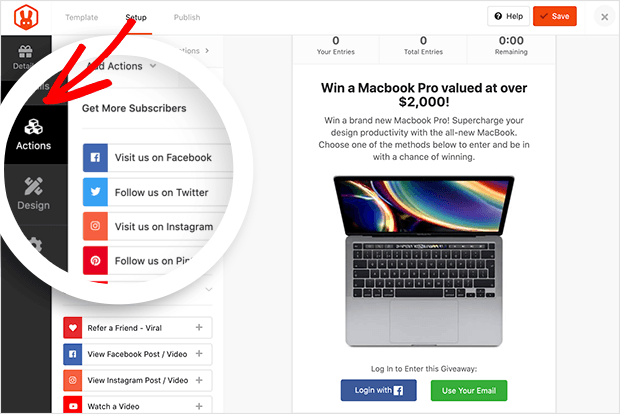 Even better, RafflePress has a distraction-free giveaway landing page optimized to get you the best results.
For this tutorial, we'll use RafflePress to show you how to create your contest's landing page.
Get started with RafflePress here.
1. Create Your Contest With RafflePress
Once you've downloaded the RafflePress plugin, you need to create a plan, so you know what you want to get out of running a giveaway.
Your plan should include the following information:
Who your target audience is
What your contest goals are
The type of contest you'll run
Your giveaway rules and eligibility
A time-frame for running your contest
How you'll promote your giveaway
Your method for drawing a winner
We've put together a step-by-step guide to create an online contest here, that includes all those details. It'll also teach you how to create your first online contest with RafflePress.
2. Design Your Giveaway Landing Page
Now that you've followed the steps to create a giveaway with RafflePress let's look at designing your landing page.
RafflePress includes several ways to get your contest looking exactly how you want, including:
The option to add images of your prize
Title and description areas to write your landing page copy
Several font styles to make your copy stand out
Different layouts for your giveaway widget
Custom colors for buttons
Custom landing page background colors
The ability to upload a custom background image
Let's look closer at each option.
Adding Your Landing Page Copy
In the RafflePress giveaway builder, click the Details tab to see an overview of your contest widget. When you click the pencil icon under the Giveaway Prize Details section, you can edit your contest's title.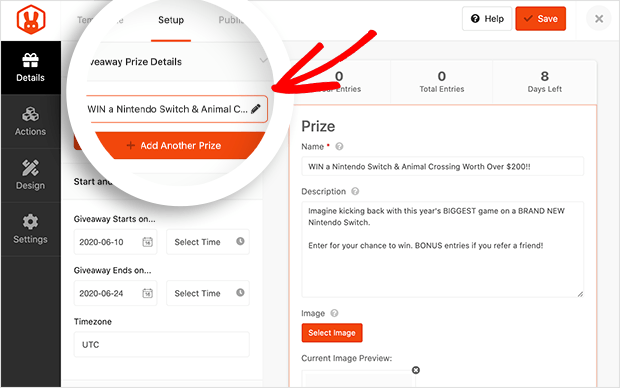 On the right-hand side of your screen, you can also add a description. Try to paint a picture of what winning your prize will look like, to encourage people to enter.
Upload a Prize Image
To add an image of your giveaway prize, click the Select Image button. Then you can upload an image or photo from your computer to display in the giveaway widget.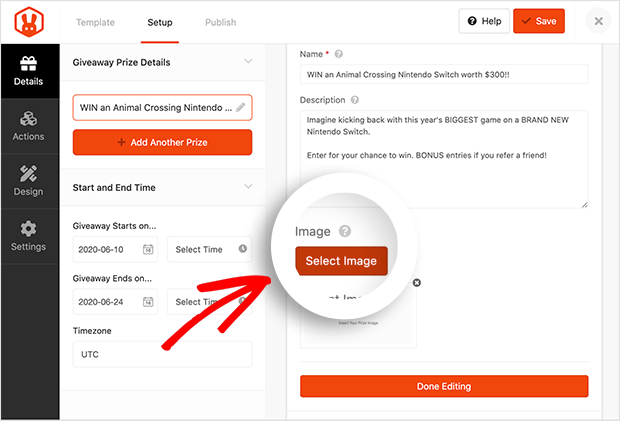 When you're happy with how it looks, click Done Editing.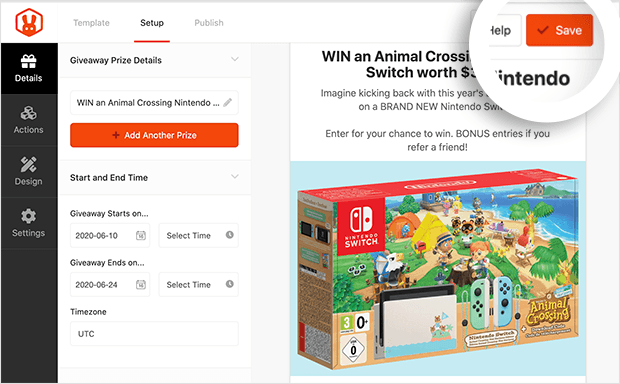 Remember to save your giveaway often by clicking the Save button in the top-right corner.
Change the Contest Widget Layout and Font
Next, click the Design tab to customize the layout, font, and colors of your giveaway.
Under the Layout heading, you'll see 2 different ways to display your contest widget.
First, you can display the header, text, and then your image.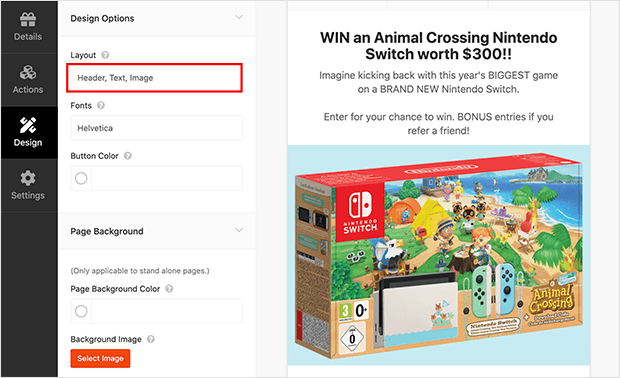 Or you can show the image first, then the header and description text.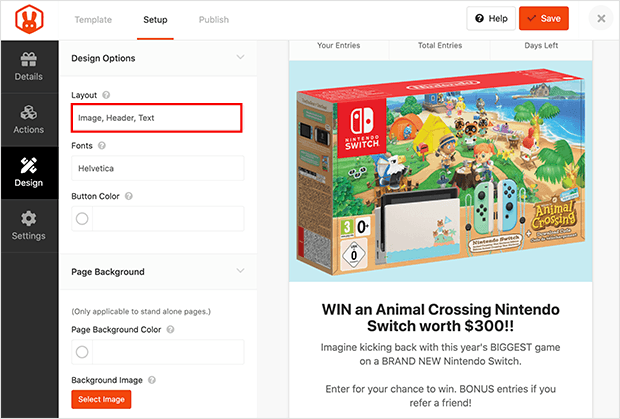 Under the Fonts heading, you can choose from a drop-down list of different font pairings. This will help your giveaway stand out on your landing page.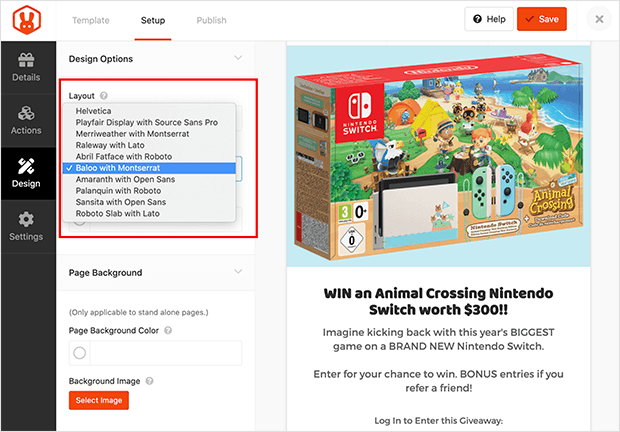 Choose any fonts you like the best to see the changes in the preview on the right.
Add Custom Button Colors
Changing the color of the main action button on your giveaway landing page is just as easy.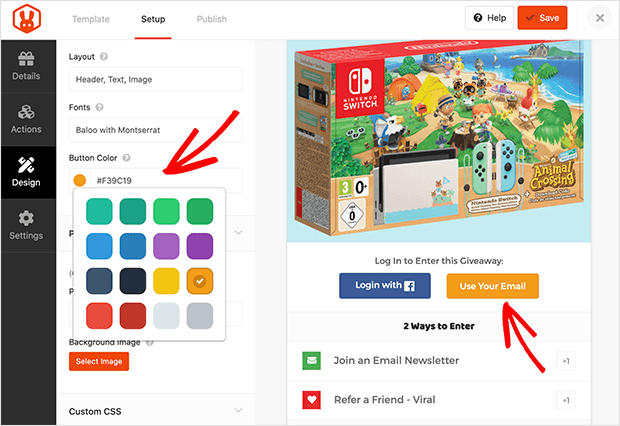 Simply click the circle icon under the Button Color heading and choose a color from the palette. You can also enter more colors by adding your preferred hex value.
Changing Your Landing Page Background
The next section is the page background. This only applies to the background of your giveaway landing page.
Here you can choose a custom color for your background, or upload a background image.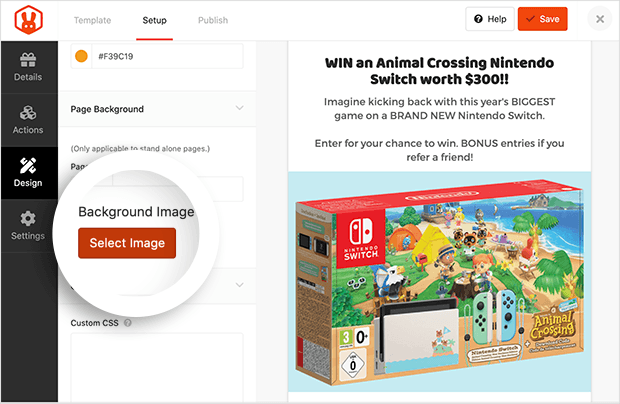 To add a new background image, click the Select Image button and upload an image from your computer.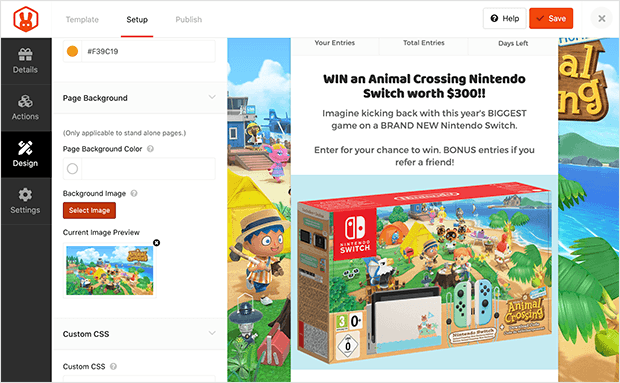 If you're feeling technical, you can enter your own Custom CSS to make your contest page stand out even more.
3. Publish Your Giveaway Landing Page
When you've finished designing your landing page, it's time to make it live.
To publish your giveaway on a landing page, click the Publish button at the top of the contest builder.
You'll see 3 different options for publishing your competition. But to publish it as a landing page, you'll need to click the Giveaway Landing Page option.
Upon clicking that option, you can to set up your page's permalink by clicking "click here" as shown below.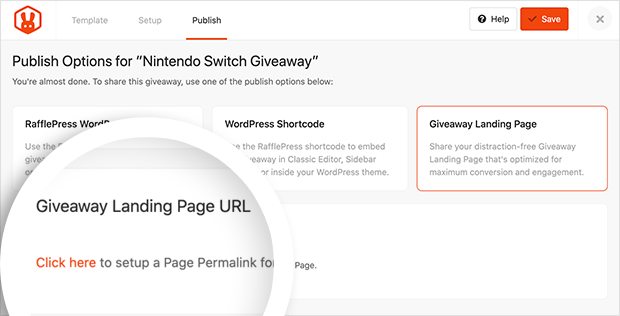 You're then taken to a screen where you can enter the URL for your page.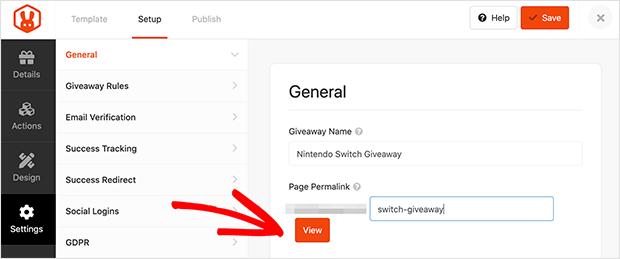 Once you've entered the URL, click the View button to preview your page.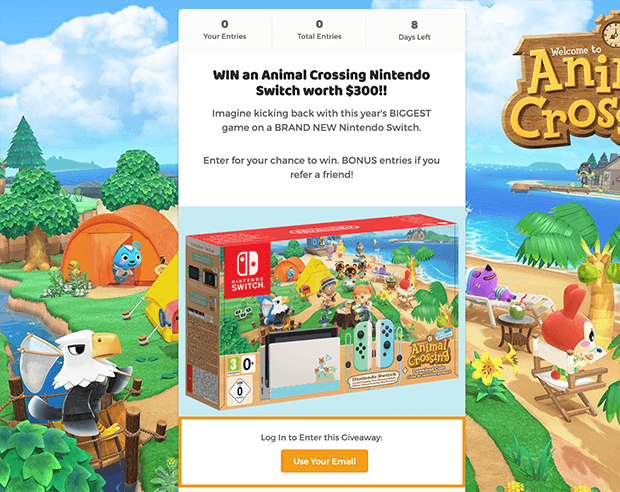 Congratulations! Now anyone visiting that specific page can enter for a chance to win.
Advertise Your Giveaway Landing Page
Since your landing page exists outside your normal navigation menu, visitors won't be able to find it easily. That's why after creating a giveaway landing page; you should promote it to ensure you get as many entries as possible.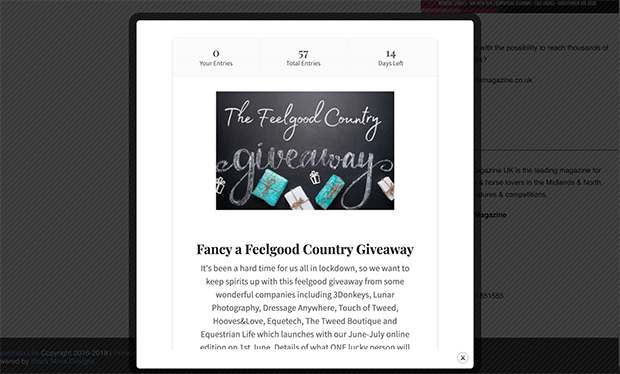 There are several ways to promote your competition which we'll explain below:
Add an exit-intent popup to catch people before they leave your website and direct them to your giveaway page.
Add a call-to-action in your website's sidebar to notify people you're running a giveaway they can enter.
Submit your landing page to contest directory websites to attract targeted traffic.
Share your giveaway on social media to raise awareness and generate excitement.
You can also check out these proven contest promotion ideas for more inspiration.
Test Your Landing Page
There's one more thing you should do to ensure the success of your giveaway, and that's to test it. By testing your landing page, and analyzing your traffic, you can understand how well it's working for your audience.
One way to test your landing page is to use MonsterInsights, the best WordPress analytics plugin. With MonsterInsights, you can track visits to your contest's landing page during your giveaway. And you can also see how visitors find your website.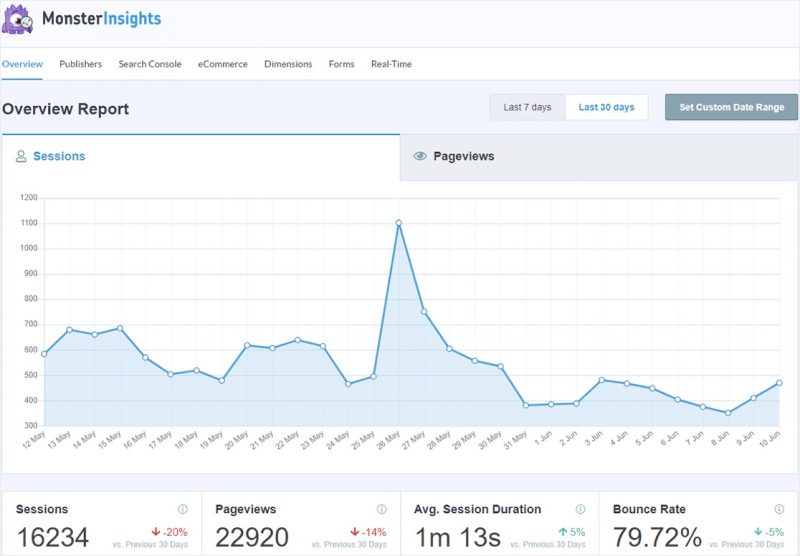 MonsterInsight's dashboard reports, also let you see your data within your WordPress dashboard. That removes the need for you to leave your site and track your data elsewhere.
Even better, real-time statistics makes it easy to track your landing page traffic while your giveaway is running. Then you can make adjustments as you go to get the best results.
Create a Giveaway Landing Page The Easy Way
Now that you know how to create a giveaway landing page that converts go ahead and get started! When you create a distraction-free landing page for your giveaway, you tell visitors exactly what you want them to do. For participants, it's a chance to win a fantastic prize, and for you, it's more targeted leads to grow your business.
Get started with RafflePress today.
And don't forget to follow us on Facebook and Twitter for more helpful tips and tutorials