Want to create a landing page for Facebook ads?
With a landing page, it's easier to convert visitors from your Facebook ads campaign into leads and customers. But only if you include the right features to compel your audience to take action.
In this article, we'll show you how to create a landing page for Facebook Ads and get the best results from your Facebook advertising campaigns.
What Is a Facebook Ads Landing Page?
A Facebook ads landing page is a standalone page on your website. After a visitor clicks your ad on Facebook, they can learn more about the offer, product, or service you're promoting. From there, your page should convince them to take action.
Unlike other pages on your site, like your homepage, that offers lots of information, landing pages focus on converting your target audience.
For example, you might create a Facebook ad landing page to:
Whatever the reason, your ads page should bridge the gap between users clicking on your Facebook ad and qualifying as a lead.
What to Include on a Facebook Ads Landing Page?
Since your landing page connects to your Facebook advertisement, you need to ensure your page's design, tone, and content match your ad. Otherwise, you'll confuse users, or worse, turn them away.
In digital marketing, we call this message matching, and it ensures a consistent user experience across your promotional material.
Here's an example from a charity's Facebook ad: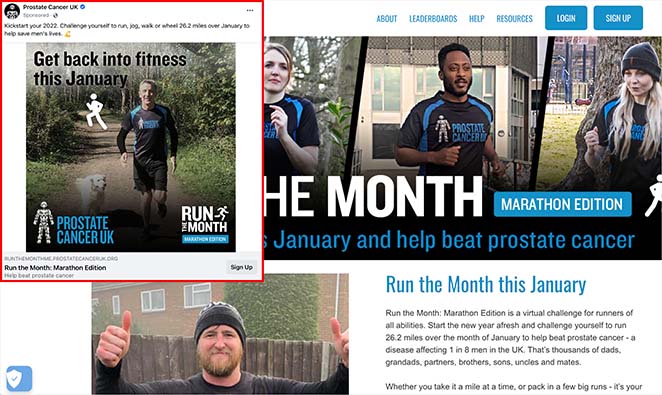 As you can see, the ad campaign has a similar design and message to the landing page. But what else should you include on your page?
The best Facebook Ads landing pages include the following elements:
In the end, your landing page should include everything your target audience needs to choose your business over your competitors.
How to Create a Landing Page for Facebook Ads
So how do you create a Facebook landing page for your ads campaign? The easiest way for WordPress website owners is to use a landing page plugin like SeedProd.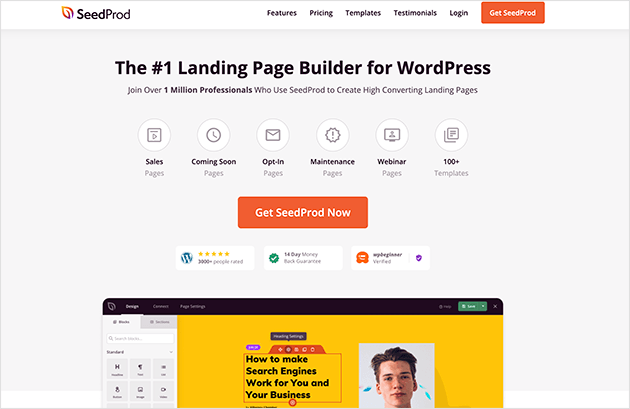 SeedProd is the best WordPress page builder with over 1+ million users. It lets you create any landing page quickly and easily without writing code.
Whether you want to create product pages, squeeze pages, 404 pages, or Facebook ad pages, SeedProd has a landing page template that suits your needs. Moreover, you can customize your page in the drag and drop builder without any design skills.
In addition, SeedProd has tons of elements to boost your lead generation efforts. There are many ways to encourage your visitors to convert from optin forms and countdown timers to product grids and testimonials.
And it's not just pages you can create either. SeedProd is a complete WordPress theme builder, letting you make custom WordPress themes visually. And the best part is, you won't need a developer.
Besides, this plugin is fast and bloat-free so that it won't slow down your website or impact page speeds.
With that in mind, let's dive in and learn how to create a landing page for Facebook ads with SeedProd.
Step 1. Install and Activate SeedProd
The first step is to download SeedProd and install and activate it on your WordPress website.
If you need help with this step, you can follow this guide for installing a WordPress plugin.
Next, log into your SeedProd account dashboard and click the Downloads heading. On that page, copy your SeedProd license key, then head back to your WordPress site.
After installing SeedProd, you'll see a welcome screen like this: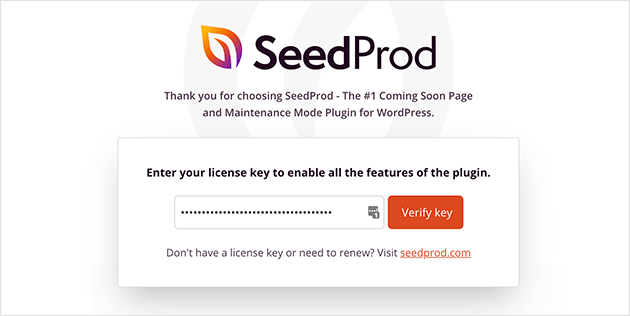 So paste your license key into the box and click the Verify Key button.
Now, you can scroll down and click the Create Your First Page button to get started.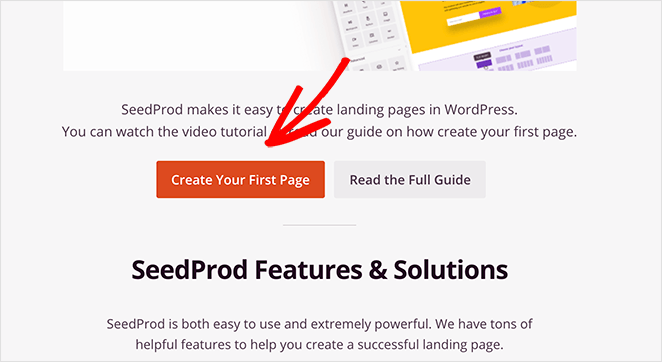 Step 2. Create a New Landing Page
You'll see SeedProd's landing page dashboard on the next screen.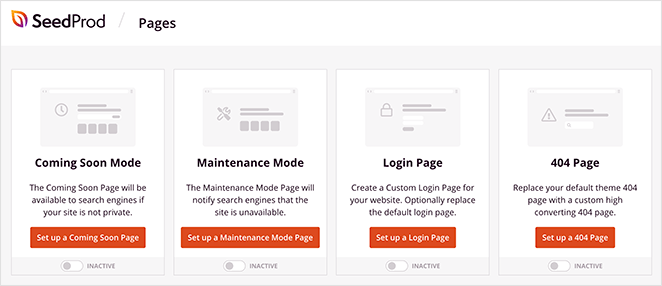 This is where you can activate different landing page modes, like:
Under that section, you can start creating standalone landing pages for your site. So click the Add New Landing Page button to make a new page.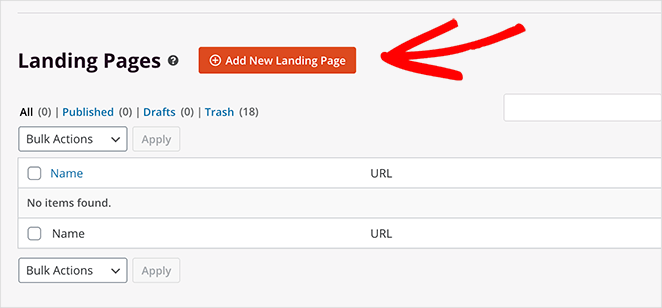 Clicking that button will take you to the templates library.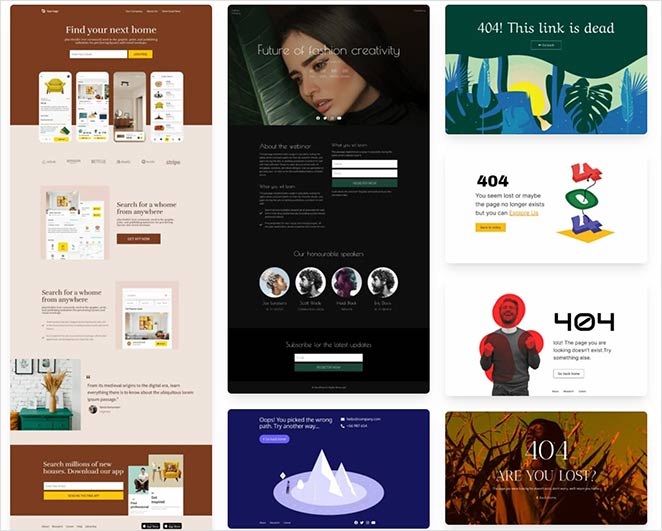 SeedProd has over 150+ mobile responsive landing page templates you can launch with a few clicks, including:
Select any tab along the top to filter the designs and find a template you like. Then, hover your mouse over the template image and click the checkmark icon.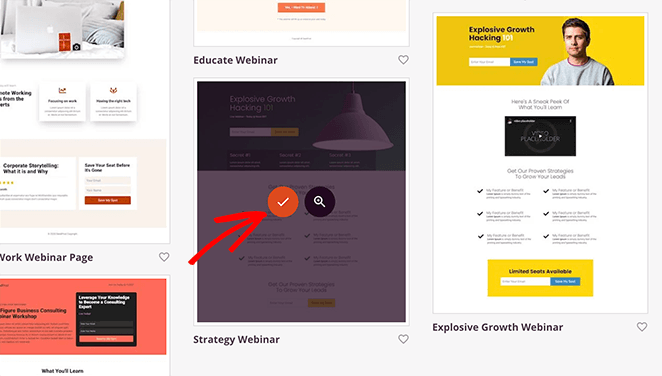 Next, you'll see an overlay asking you to enter your landing page name and URL. From there, click the Save and Start Editing the Page button.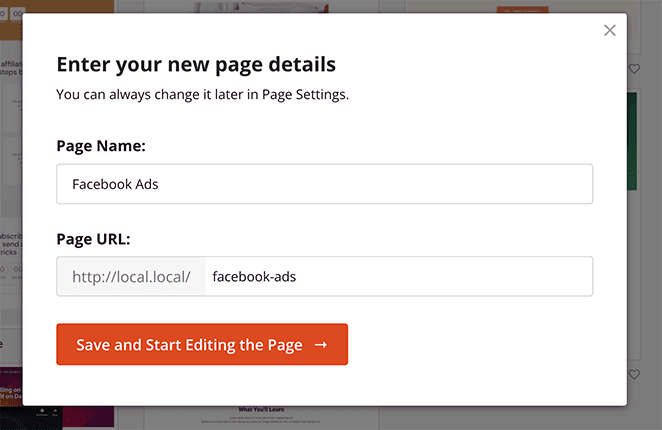 Step 3. Add Content to Match Your Facebook Ad
After launching your template, it will open in SeedProd's drag and drop visual editor. The page builder is easy to navigate and doesn't require any technical skills.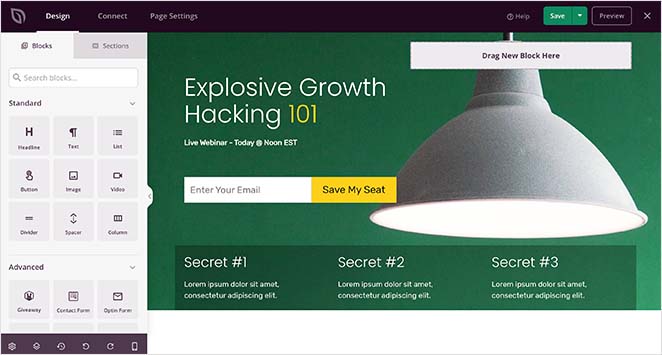 On the left are blocks and sections for customizing your design. And on the right is a preview of how your page will look.
Simply choose a block and drag it over to the preview to add content to your page. That way, you'll see the changes instantly and in real-time.
Now that you know how to navigate the page builder let's start matching it to your Facebook ad.
First, click the headline to view its content settings on the left and change it to match your advertisement.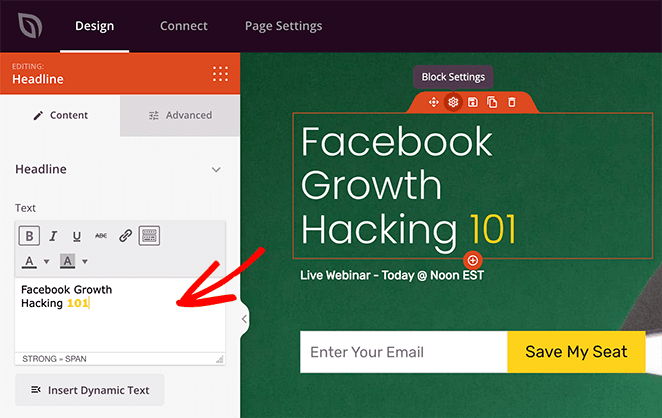 As you can see, editing the content is as simple as deleting the existing text and typing in yours.
You can also change the heading level, alignment, and font size. Then in the Advanced tab, you can control the headline colors, spacing, and more.
Let's move on to changing the hero image. To do that, hover over the top section until it has a purple border. Then, click the cog icon to see the section settings panel.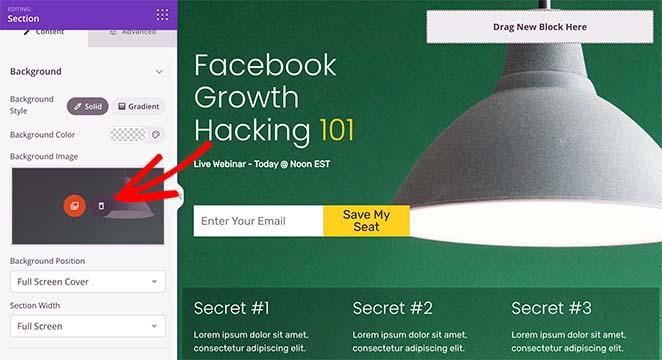 You can change the section background and upload a background image in that area. So click the trashcan icon on the existing image and upload a new one from your media library, computer, or SeedProd's stock photo library.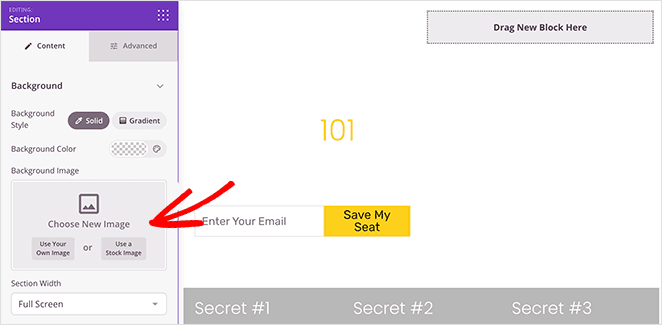 The template we're using automatically includes a subscription box to collect email addresses. To customize it, click the block settings and choose from the options on the left.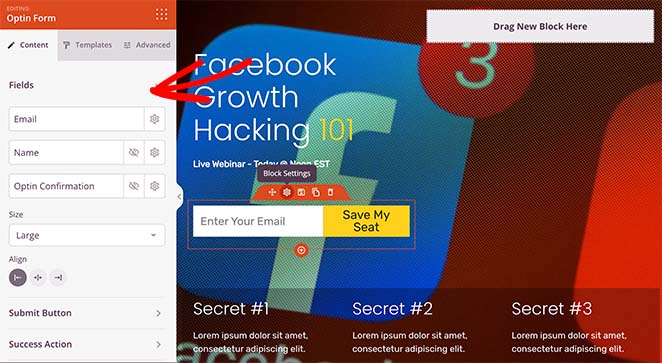 For instance, you can customize your optin form fields, the form size, alignment, and CTA button. And if you click the Templates tab, you can choose pre-made designs for your form.
Earlier, we talked about using urgency to compel visitors to take action. Luckily, SeedProd has urgency timers built into the plugin. That way, you can show a timer counting down until your offer ends.
You can find the countdown block in the Advanced panel and drag it onto your page with a few clicks. From there, you can choose the countdown type and customize the styling to match your Facebook ad.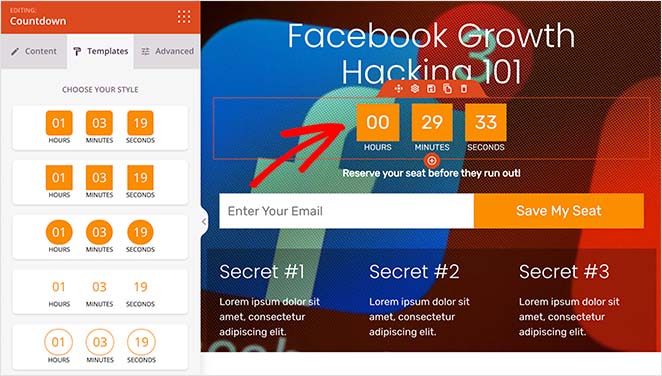 Keep customizing your Facebook landing page until you're happy with how it looks. For example, you could add testimonials from happy customers to boost trust and add social media sharing buttons to broaden your offer's reach.
Remember to click the Save button in the top right corner to save your changes.
Step 5. Configure Your Settings
After designing your Facebook ads landing page, you can move on to configuring your settings. First, click the Connect tab at the top of the screen.
On that page, you can connect your email list to popular email marketing services like Constant Contact, Mailchimp, and more.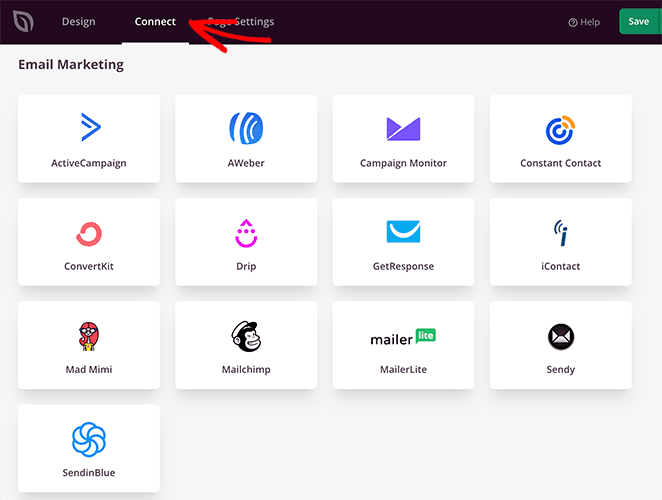 Additionally, you can integrate with Google Analytics, Zapier, and Recaptcha. For more help, see our email documentation.
Next, click the Page Settings tab to configure a few more things.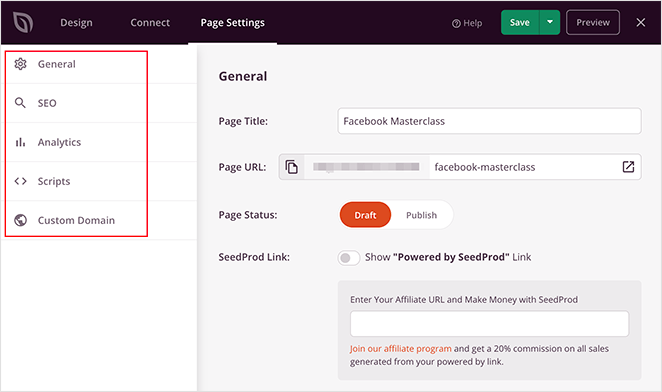 Here's a quick overview of the settings you customize on this page:
Step 6. Publish Your Facebook Ads Landing Page
Before publishing your Facebook ads landing page, click the Mobile Preview icon in the bottom navigation bar.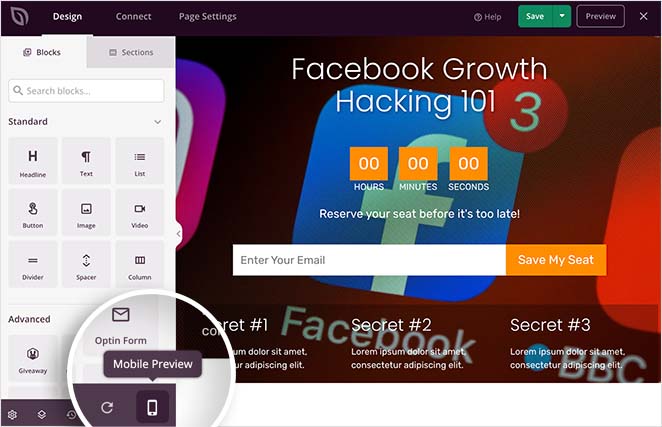 Doing that displays your landing page as it would look on mobile devices. That way, you can change anything that doesn't look right before publishing.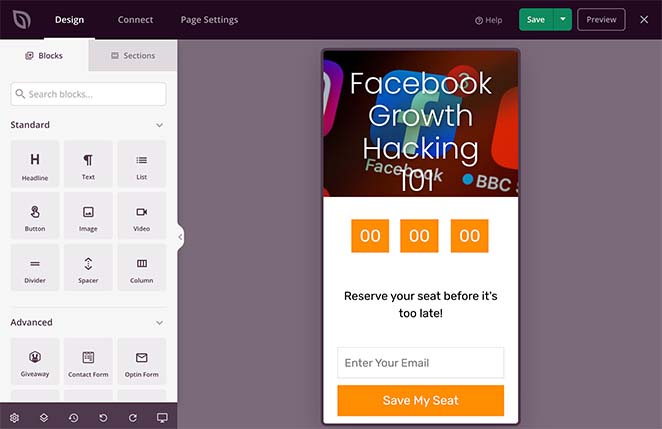 When you're happy with your mobile and desktop design, navigate to the green Save button in the top-right corner of your screen. Then click the dropdown arrow and select Publish.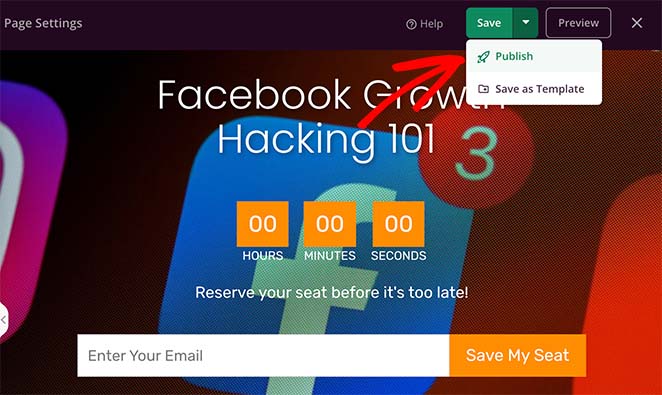 Congratulations! You can now preview your page to see how it looks live on your website.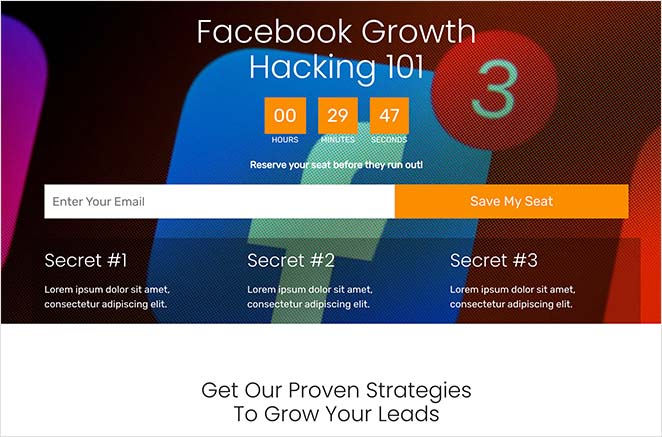 We hope this article helped you learn how to create a landing page for Facebook Ads without writing code.
With SeedProd, it's easy to make any landing page in WordPress. It's fast, bloat-free, and has everything you need to run successful advertising campaigns.
You might also like these guides on how to create a membership landing page or social media lead generation strategies while you're here.
Thanks for reading. Please follow us on YouTube, Twitter, and Facebook for more helpful content to grow your business.