Looking for WordPress 404-page Templates?
What if you could create a custom 404-page design and many other landing pages with 1 plugin?
SeedProd's powerful drag and drop website builder allows you to create a customized 404 error page in WordPress optimized to deliver the highest conversion rates. It's the most effective way to generate leads for your WordPress website.
Whether you want to grow your email list, get more leads, or increase sales, our built-in 404-page mode and custom 404-page templates make it super easy.
You also won't need any design or coding skills.
What Is a 404 Not Found Error in WordPress?
404 errors are HTTP status codes that mean you can connect to a server but can't find the page you need. Unlike a 301 redirect that tells search engines something has moved permanently, 404 errors indicate something is broken. Those errors can also show as; Error 404, 404 error messages, and HTTP 404 codes.
Typically, 404 not found errors happen when:
Users visit broken links
People misspell URLs
A page is moved or deleted
The settings permalinks structure isn't set up correctly
A redirection plugin isn't working
Your web server shuts down or malfunctions
As a result, you'll see a web page with the not found error.
Create a Custom WordPress 404 Page Design
While all WordPress themes have a 404.php file in the wp-content area, the default 404-page design doesn't look good or offer ways to engage with your website visitors.
A successful 404 page should easily redirect visitors to the information they need. Creating one will keep them on your site instead of forcing them away.
That's where SeedProd's WordPress plugin comes in. Our powerful page builder lets you easily create custom 404 pages without needing help from a developer.
With our user-friendly drag and drop landing page builder and 404 templates, you can:
Use optin form blocks to collect email addresses from your custom page
Add a FAQ section to answer popular search queries and customer questions
Embed CTA buttons to send visitors to eCommerce product pages
Use button blocks to link to your home page
Add and customize Product Grids with our WooCommerce integration
Embed a search form to help users find what they're looking for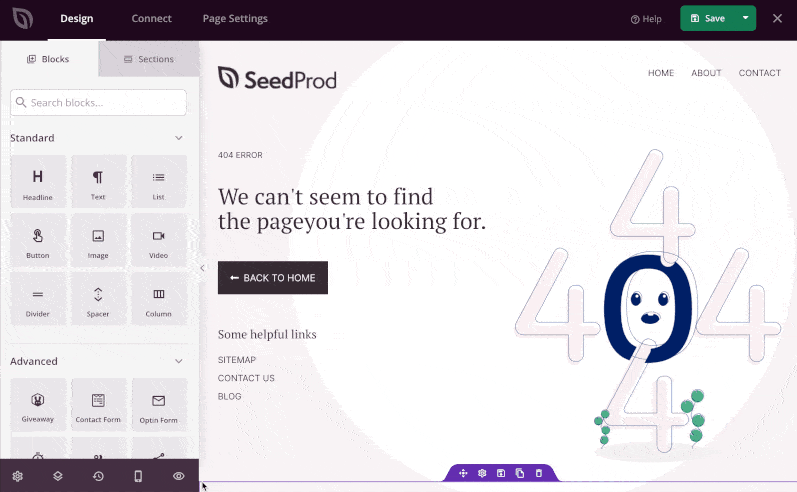 Plus, you won't need to start from scratch with your design.
Customizable WordPress 404 Page Templates
SeedProd offers tons of optimized 404-page templates to increase your new page's leads and conversions.
Our landing page templates are easy to edit in the visual page builder. And there's no need for any CSS, HTML, and other complex coding languages.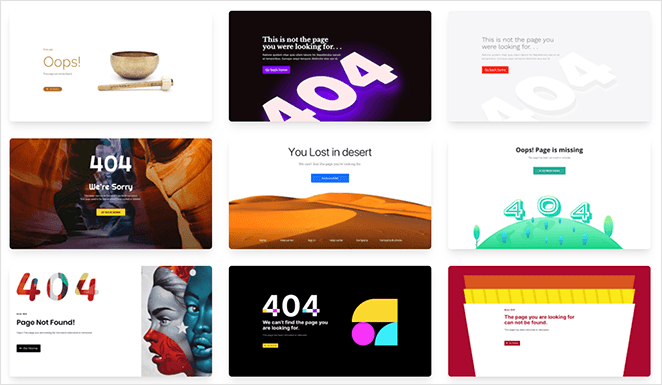 But what if you want to start from scratch? No worries!
In that case, you can use our blank template to build a custom 404 page. And with our drag-and-drop builder, it'll match your WordPress site branding – no code necessary.
Plus, all SeedProd templates are mobile-responsive. They're 100% mobile-friendly and look great on phones and tablets.
More importantly, you can turn your custom 404 page on and off with our built-in 404-page mode.

Seamless Integration with WordPress and Email
And if that wasn't enough, SeedProd works with all types of WordPress themes.
Whether you use your own custom WordPress theme with SeedProd's theme builder feature or free themes like Twenty Thirteen, your 404 pages always look fantastic. That's because SeedProd works independently from your WordPress theme for minimal issues.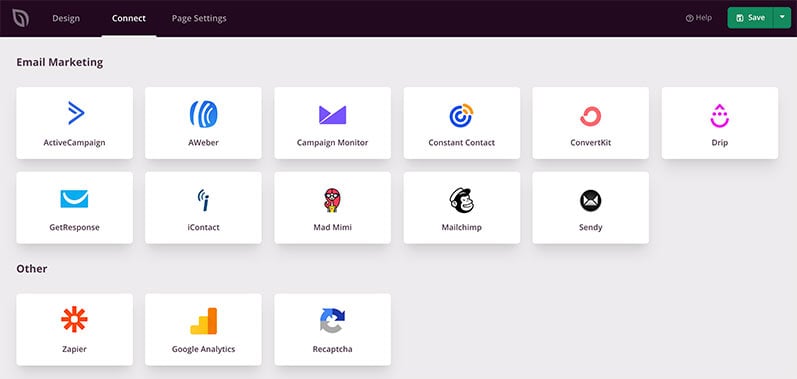 In addition, SeedProd integrates with major email marketing service providers such as:
MailChimp
AWeber
CampaignMonitor
ConstantContact
and dozens more.
You can also connect to Google Analytics to track 404-page statistics in your WordPress dashboard. And if you want to optimize your page for search engines, you can integrate easily with an SEO plugin.
Best of all, SeedProd is lightweight and lightning-fast. As a result, there's no bloat, and it won't slow down your website.
So why settle for loading your site with a separate WordPress 404 plugin? With SeedProd, you get the power of multiple plugins in 1.
So dive in and use SeedProd to build a mobile-responsive 404 page and many other landing pages.