How to Grow Your Email List the Easy Way (29 Proven Tactics)
Want to know how to grow your email list quickly? Smart marketers know that email marketing is one of the most effective ways to get more email subscriptions and grow a business.
Building an email list can take a lot of time and effort… but it doesn't have to.
In today's article, we'll guide you through some tried and tested methods that can help you learn how to grow your email list. With the proven tactics below, you'll be able to skyrocket your list growth and secure more email subscribers in no time!
Let's get started…
1. Use a Coming Soon Page Before Launch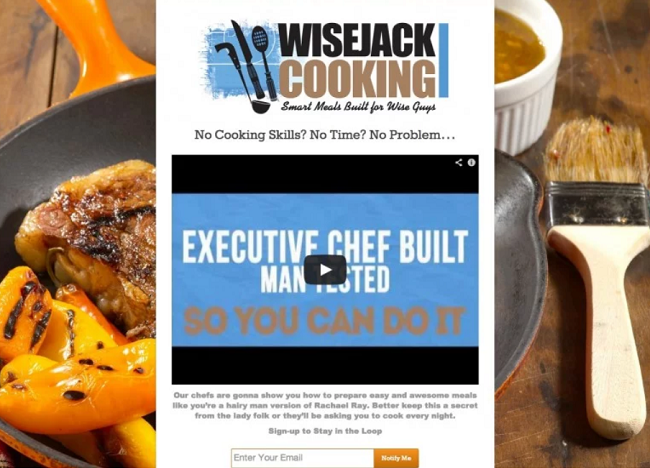 If you really want to learn how to grow your email list, don't wait until your site launches. Start working on it the day you buy your domain name.
Not sure how to do it? Just add a beautiful coming soon page to your website. This can help you get a head start on growing your email list even when your site isn't ready to go live. You can use it to build buzz and create excitement about your upcoming site.
Even better, creating a coming soon page, lets you rank your website in Google before you launch which will help your sites' SEO.
Add a nice welcome page and give your visitors a hint of what to expect and don't forget to tell them how it can make their lives better. Then just add an option to subscribe to your newsletter to stay in the loop.
If you don't know how to create an email newsletter here's a guide to help.
2. Create Actionable Landing Pages
Creating good landing pages for your website is crucial if you really want to convert visitors into new subscribers and grow your WordPress mailing list.
Unlike a homepage that contains all kinds of distracting information, landing pages are designed to direct your traffic towards a specific action, like buying a product or using a sign-up form to join your email list.
A powerful landing page is a helpful way to boost your online marketing campaigns. However, many website owners find it difficult to create high-converting landing pages without the help of a developer.
That's why we recommend using a landing page builder like SeedProd to make the process much easier.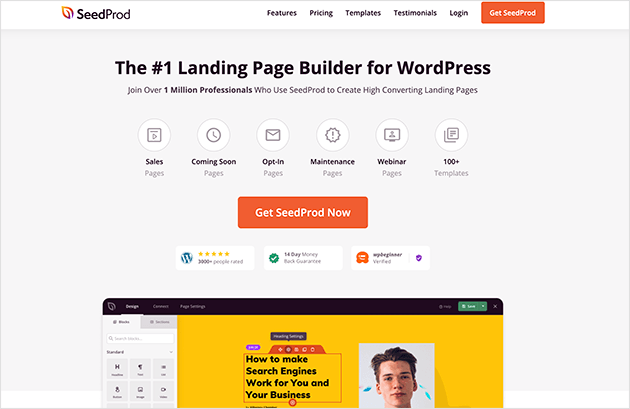 SeedProd is the best landing page builder for WordPress. With its drag and drop visual builder you can create any type of landing page with no coding required.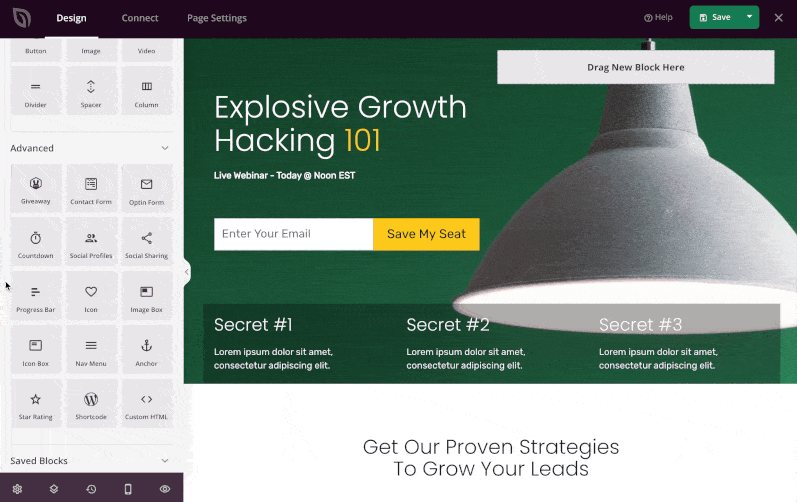 It comes with a growing library of landing page templates to help you get started quickly, including:
You can also work on your site in private by activating the built-in coming soon and maintenance mode pages with a single click.
Even better, SeedProd is a bloat-free WordPress plugin, which means it won't slow down your website, making it even easier to offer an excellent user experience.
Related: What Is a Squeeze Page? (and How to Create One)
3. Create a Powerful Lead Capturing Form for Your Site
Adding a lead capture or lead generation form to your website is another way to grow your email list.
A lead generation form or opt-in form helps you collect important data from visitors like their email addresses, phone numbers, etc. Here's an example from the Daily Harvest site.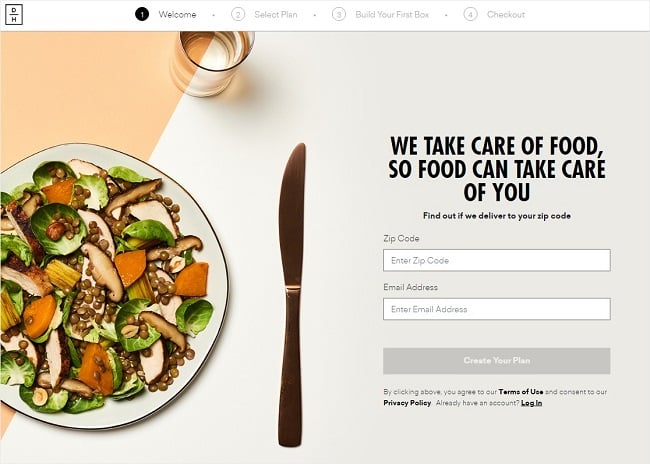 You can also use a CTA on these forms to direct visitors to a landing page that requires their email address. Plugins like WPForms can make creating forms super easy.
4. Improve Your Lead Generation Form Design
Lead generation forms are crucial for your website. But not all forms have the power to convert. By following a few simple rules, you can make your email optin forms convert much more easily to grow your list.
Here are a few tips you can follow:
Keep your forms short
Use eye-catching colors and images
Create a multi-step form if your form is too long
Use compelling calls-to-action
Check out these lead generation form examples for even more lead capturing ideas and to get more users subscribing. That said, remember to keep your visitors engaged and your forms short.

5. Be Smart With Your CTA Text
A good CTA text has the power to persuade people to want to click. Studies show that words like "Submit" or "Register" have the lowest click-through rates.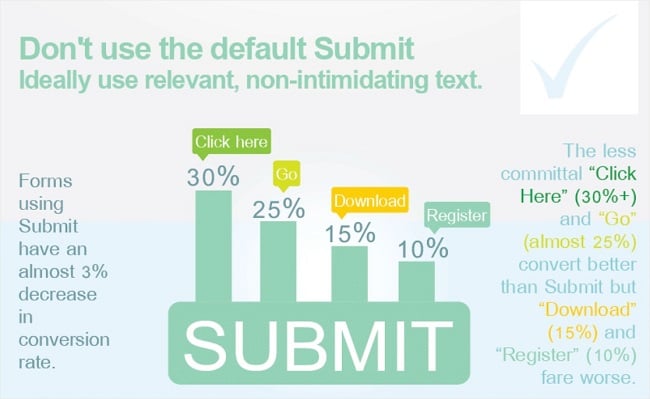 To avoid that you can use your creativity to come up with better alternatives.
Here are some examples to inspire you:
Let's go
Click here
Let's begin
Show me
Prove it
After, make sure you A/B test your CTA to learn which works best.
6. Create High-Quality Email Content
The emails you send to your WordPress mailing list should be amazing if you want to increase open rates, get users excited for your emails, and stay subscribed to your list.
If your emails are particularly entertaining, users may even forward your email content to their friends and contacts. Otherwise, they can just as easily unsubscribe and you may never hear from them again.
Creating great content for your email starts with writing high-converting email copy. Only then will your readers start converting to new customers and spreading the word with their wider network.
7. Grow Your Email List With Gamification
An interesting way to capture your visitor's attention, particularly for eCommerce sites, is by using coupon wheel optin forms to grow your email list.
Gamification is a psychological trick that smart marketers use to get even more leads and grow their email list faster.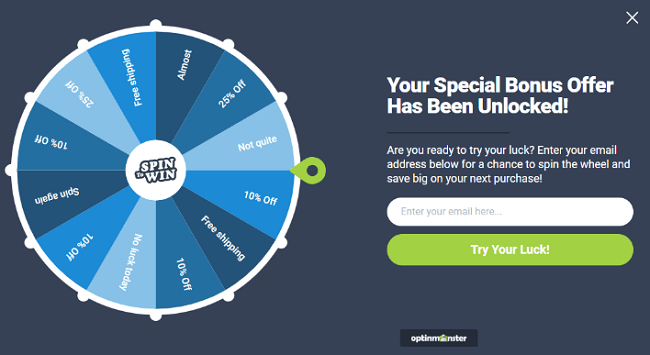 Here's a tutorial on how to create a spin-to-win email signup form.
8. Organize Giveaways
People love free stuff. And offering something for free to help your visitors solve a problem can be a good bait to draw their attention. You can do this by organizing giveaways for your online business and then publicizing it using your social profiles in a tweet or status update.
It can be anything related to your niche. A digital download for example. In return ask them to sign up using their email address.
Here's a guide on how to run a successful viral giveaway to grow your email list. It also shows you how to create a distraction-free giveaway landing page.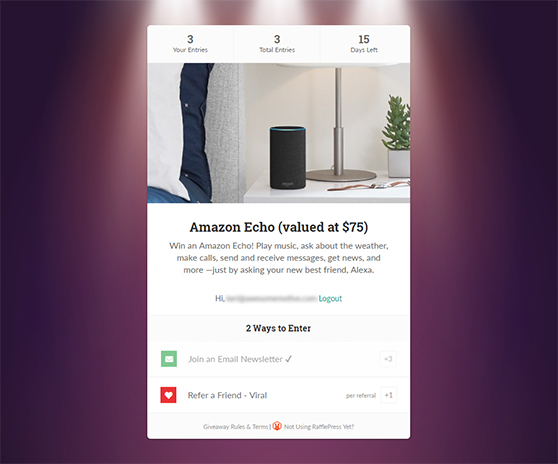 9. Offer a Discount Coupon
The next brilliant way to attract visitors to your site ane grow your email list is by offering discount coupons and birthday rewards.
If you're selling your products or services online, you can offer a discount coupon in exchange for your visitor's email address. They will happily give it to you to get the discount.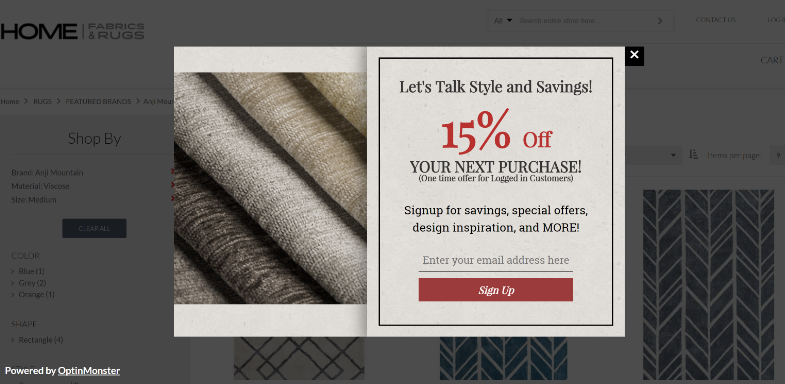 10. Use Lead Magnets to Grow Your Email List
A lead magnet is an incentive that you offer to your potential buyers in exchange for their email address or other contact information. Your lead magnet is generally a piece of content in the form of a digital download.
It can be anything – a cheatsheet, a PDF file, a video, an eBook, a whitepaper, or anything of that sort. Just make sure that you're creating content that offers value to your users. Now let users download it in exchange for their email address.
Here are some lead magnet ideas to get you started.
11. Grow Your Email List With Content Upgrades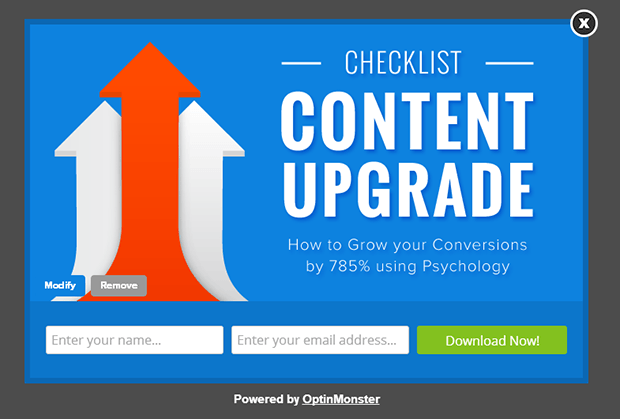 Similar to lead magnets, content upgrades are another form of bribe that incentivizes users to subscribe to your email list.
Often, they're used to add extra value and insight to existing content, in return for the users email address.
For example, you can create a handy swipe file of important information used in a blog post, that people can download and access whenever they need it. Or if you run a podcast you can offer the show notes or transcription as a content upgrade.
Alternatively you can create a checklist of steps used in an article so users can check off each step as they follow them.
12. Add Exit-Intent Popups
Using exit popups is a technique in which the website traces the activity of your visitor based on the cursor movement. As soon as it detects the user's intention to exit your site, it displays a popup with a message.
You can use these popups with signup forms to encourage visitors to join your newsletter and grow your WordPress mailing list a result.
By adding exit popups to your website you can have a double benefit. It can help you:
reduce your bounce rate
reach your conversion goals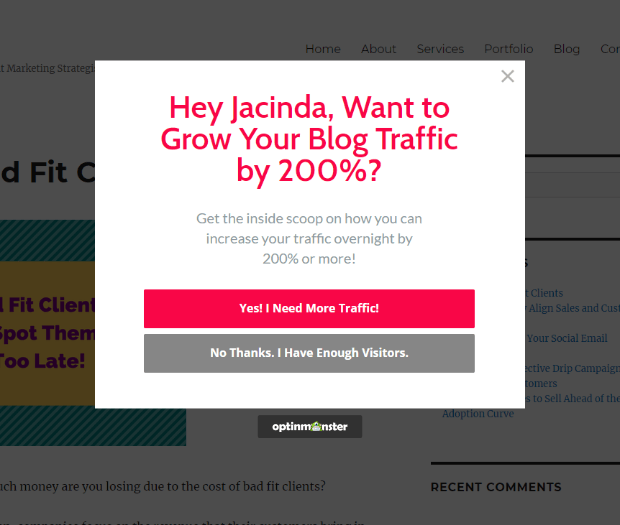 Exit popups can draw all the attention of your visitors just when they are about to leave. According to OptinMonster, using these popups on your site can make 53% of your customers take action before they leave.
Pro Tip: Many Exit popups use a stunning lightbox effect to remove page distractions. Learn all about the best WordPress lightbox plugins here.
13. Lock Your Content
Adding locked or gated content can be another way of collecting emails from your visitors. This kind of content needs your visitors to provide their email addresses in order to gain access to the entire post.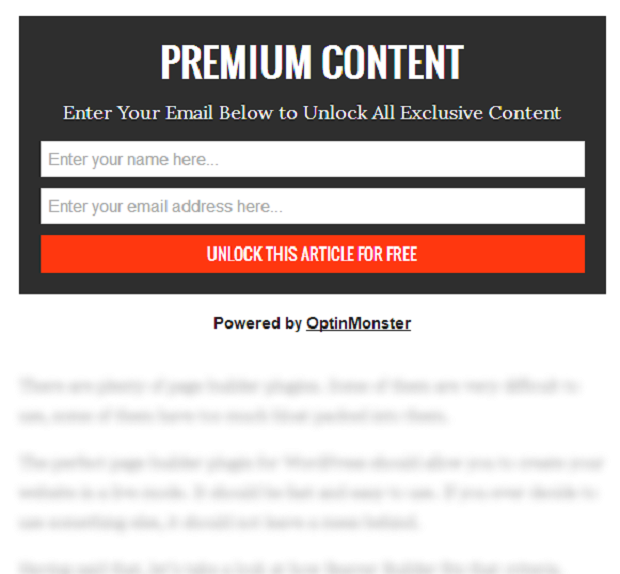 Just remember to add a powerful introduction so you can hook your readers. This will make them want to continue reading which they can do only by providing their email address.
You can also start writing blog posts to offer free tips for beginners in your niche. Then add advanced tips and keep it gated. Ask your user to access the full content in exchange for their email address.
14. Add Social Proof
By adding social proof to your website you can instantly add more value and credibility to your business. It's like adding a testimonial from users who approve of your product or service.
There are various types of social proof :
industry experts making recommendations
celebrity or influencer endorsements
customer reviews
huge social media following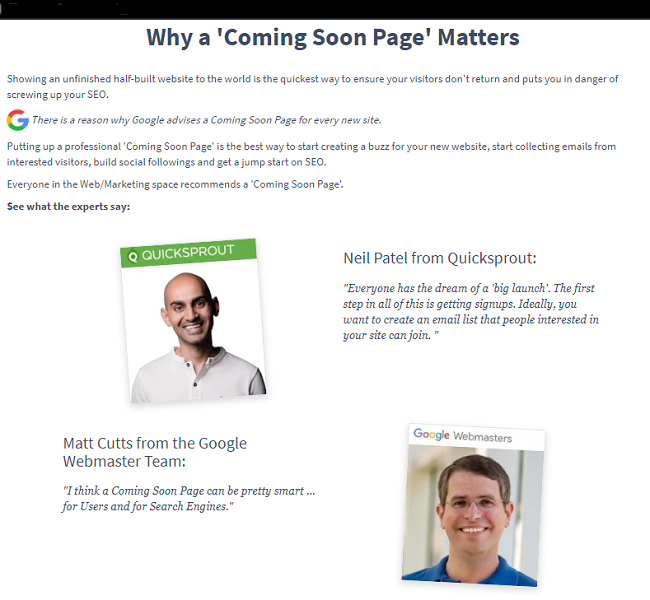 This adds genuine value to your business and encourages users to happily respond to your CTA. TrustPulse makes adding social proof to your site super easy.

15. Organize Online Quizzes and Contests
Come up with interesting and peculiar quizzes and contests that draw your user's attention. Make sure your questions are engaging enough to captivate your participants until the end.
At the end of it ask them to submit their email address so they can download the results.
Learn how to create an online contest here.
16. Host a Free Challenge
Hosting challenges is in trend right now. You must have seen various challenges like "30-day blogging challenge" doing rounds on the internet.
These challenges inspire and motivate people to do something that they have procrastinated for long. And many people join these challenges just to get started or in the hope of getting better at what they are doing.
You too can host such a challenge and ask people to join by registering with their email address. RafflePress is an easy way to do this with daily giveaway entries.
17. Guest Blog
Guest blogging is a brilliant way to expand your mailing list through content marketing. You can reach out to popular websites in your niche that accepts guest posts and pitch your idea.
Once approved come up with a great post and add a link to your website in the author byline. Make sure your visitors land on to a page that needs them to submit their email address.
18. Add a Call-to-Action to Your Social Pages
This point is similar to the above one. Except for this time, we'll shift the focus to your social pages.
Social platforms like your Facebook page, LinkedIn, Twitter, Pinterest, etc. can be amazing in helping you reach out to hundreds of people at the same time. By adding a call-to-action to your social profile, you can easily direct your visitors to a landing page that needs them to submit their email addresses.
Call-to-action buttons or CTA buttons are what you use to direct your visitors towards your conversion goal. In this case, your conversion goal is to make people subscribe to your email list. To come up with a strong CTA that converts, follow our next step.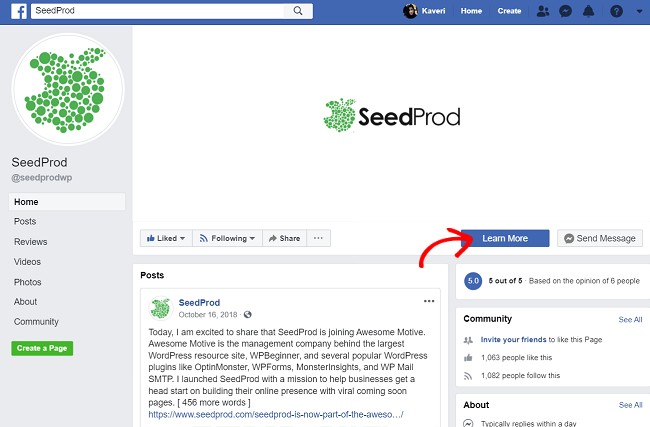 19. Host a Webinar
People love attending webinars. By signing up for one, visitors can easily get direct advice from industry experts and thought leaders. Here's how to host a successful webinar.
Then use the opportunity to collect email addresses by asking people to register for it as a way to bolster your email list building efforts. Here is a list of software you can use to host your webinar.
20. Add Cards to Your YouTube Videos
If you have a YouTube channel try adding hyperlinked end cards to your videos. This can boost engagement on your website and also encourage visitors to subscribe. Here's a screenshot to help you understand better.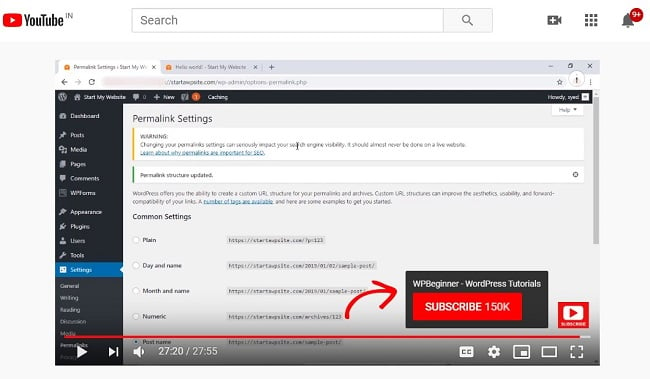 21. Set Up Cross Promotions
Instead of promoting your own business all by yourself, try setting up a cross-promotion campaign.
Collaborate with other bloggers in your niche and you can both promote each other's business on your respective sites and social profiles. In the process, you can end up with a longer email list.
Not sure how to connect with a potential prospect? Don't worry. Platforms like Madneto can help you find partners to collaborate with.
22. Segment Your List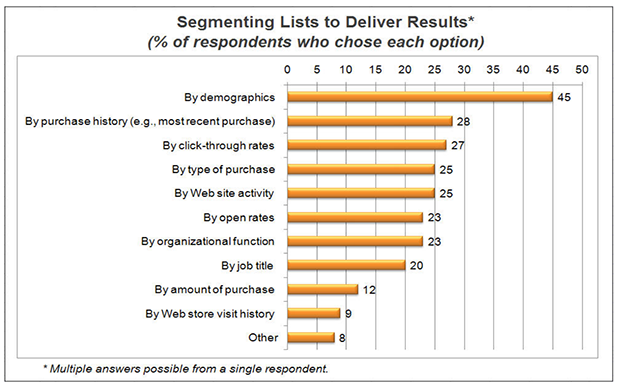 Now that you have managed to grow your list a little using the above-mentioned tactics, its time to use it to increase your sales and collect more email addresses.
Your subscribers are more likely to click through email newsletters that cater to their interests. So if you really want your emails to work, create targeted content and then segment them based on the interest of your subscribers.
If your users like your emails, chances are that they'll refer them to a friend or family.
23. Add a Link to Your Email Signature
Link your email signature to a landing page on your website, where your visitors can sign up for your email list.
24. Run a Twitter Campaign
Twitter is a great platform to reach out to hundreds of followers all at once. You can use it to run a paid ad campaign for promoting a free resource that needs the user's email address.
Here are more ideas for using Twitter for lead generation.
25. Use Facebook Ads to Drive Traffic
You can also use Facebook ads to drive traffic to your most important landing pages. This is a great idea if you have an active following on the social platform that regularly engages with your updates.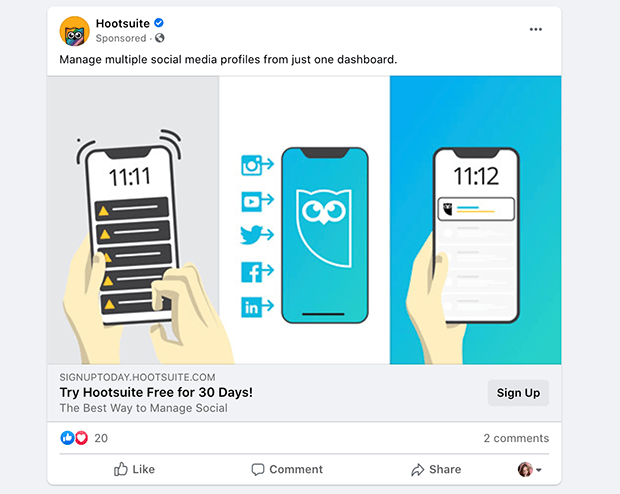 Your ads can include a call to action to visit your landing page, where you can add an optin form to get more subscribers. Just make sure you optimize your Facebook ads to increase conversion rates.
26. Pin Your Optin Landing Page to Pinterest
If you're already using Pinterest as part of your marketing strategy to increase the reach of your content, it's a smart idea to pin your optin landing page to Pinterest too. Then you can promote the pin with Pinterest ads to attract more leads.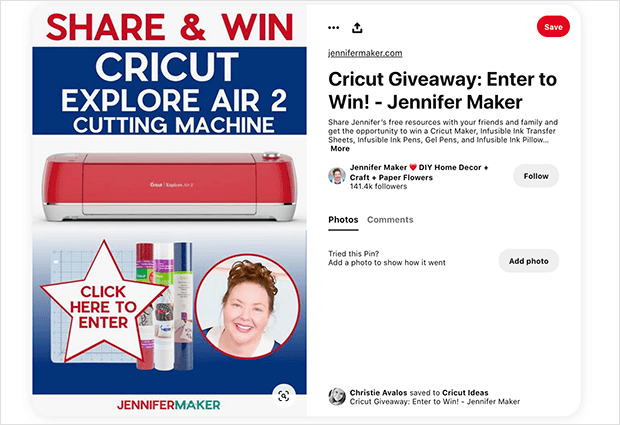 Remember to include a keyword rich description in your pin, along with a great image to help you show up in search engine results.
27. Add QR Codes to Leaflets and Flyers
You can also use your printed materials to encourage signups and grow your email list. Then all people need to do is scan the code to view your optin page and join.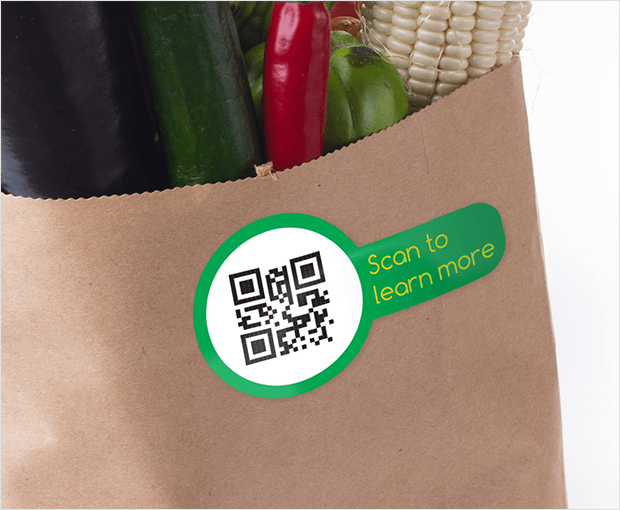 Here's a handy guide on how to do it.
28. Publish Case Studies
Case studies are an excellent way to show potential customers how your existing clients are accomplishing great things with your products or services.
Not only are case studies super actionable, but they also give uses the exact tactics used to get the results they want.
When you're serving your readers with fantastic content they can use to grow their business, they're more likely to want to be notified when there's more of that content to read. So it's the perfect opportunity to ask them for their email address in return.
29. Scrub Your Email List
Our final and the most important tip for your list building efforts is to scrub your email list.
Do you know that up to one-third of your subscribers never open your emails? Let alone click on your CTAs.
So what's the point in having them on your list? That's when email scrubbing comes in.
If you already have an email list make sure you keep it clean so you know that whatever data you have is useful and can yield results. Here's how you can clean up your email list.
We hope this article helped you learn how to grow your email list. Once you have a powerful list, you can use it to make money with email marketing.
We hope you found this article helpful. If you did, do follow us on Twitter and Facebook for more of such content.
Further Reading: